Here's an interesting statistic from Zippia: 82% of people don't use a time management system or work management tool. And that's not it; only 20% of people feel they have control over their work tasks. Coincidence? Maybe not! (Just kidding, that's not how Statistics work).
But from these statistics, it's safe to infer that task management plays a crucial role in work efficiency and should be implemented strategically. We present the top 10 task management software of 2023.
What is Task Management Software? 
Task management software is an app that assists users in digitally managing, organizing, and tracking their tasks list and projects. This software can provide an overview of all the functions in progress, who they're assigned to, and their deadlines.
The right task management software can make or break productivity, whether it's for that one critical task or multiple routine activities. Some also allow file sharing, integration with other software, and customization to suit different workflows.
Task management features often allow users to create and assign tasks, set deadlines and reminders, track progress, communicate within tasks, manage task dependencies, and generate reports.
Benefits of Using a Task Management Software
Opting for the right task management software can significantly enhance your team's efficiency, focus, and achievement. There are numerous essential factors to think about when weighing your purchasing choices.
Accessible Anywhere: Task management software, often a SaaS product, allows global progress tracking from any internet-connected device. This remote accessibility ensures work continuity and flexibility, thereby enhancing team efficiency and responsiveness.
Boost Productivity and Collaboration: Task management software boosts productivity by automating repetitive tasks and fostering a collaborative environment for uninterrupted teamwork. This dual function significantly enhances both team collaboration and the quality of project outcomes.
Divide and Conquer: Utilizing this tool simplifies tracking, allocating work, and delegating tasks, while also enabling users to set due dates and notes. It offers functionality to divide tasks into subtasks, ensuring equitable work distribution and enhancing overall team efficiency.
Customize to Your Heart's Content: Software customization features help in adapting project frameworks to accommodate team needs, workflows, and priorities. This personalization, coupled with automated reminders, ensures task completion, reduces stress, and fosters efficient workflow management.
How We Selected These Task Management Software 
No projects are the same, requirements can differ based on resource availability, time constraints, and cross-functional dependencies. There are projects that would need regular hands-on interactions with clients while some would need to accommodate large teams.
Luckily, there is a wide variety of task management software built with different audiences in mind. We based our selection on the following considerations to determine what task management software is best for unique situations. 
Alignment with Requirements
First things first, you should have a clear understanding of what your team and project needs. Why do you need task management software? What specific problems are you hoping to solve with it? You can't evaluate a software tool if you don't identify the target usage outcomes. It's critical to first identify the key pain points you're hoping to fix with it
Team Size and Specific Needs
This criteria is crucial because the size of your team can significantly influence the features and functionalities you require. If you have a small team, you might need simpler software, but for larger teams, you might need robust features such as collaboration tools, dependency management, and advanced task assignment capabilities.
Integration Capabilities
You'll want to find out if the task management software integrates well with other tools your team is already using. Does it sync with your calendar app? Can it integrate with your communication tools or email platform? These integrations can enhance your team's productivity by centralizing workflows.
Customization Options
Is the software flexible enough to adjust to your team's workflow? Customizable software allows you to tailor processes according to your needs, which can lead to more efficient task management.
Ease of Use
Before committing to a particular task management software, test its user experience. Is it user-friendly and intuitive? If the software is too difficult to navigate, it can hinder the productivity of the team instead of boosting it.
Reviews & Ratings
Reviews and ratings from other users can provide you with valuable insights about the software's pros and cons. Pay close attention to common praises or complaints to help determine if the software is right for your team
Pricing
Last but not least, consider the software's pricing. Keep in mind your budget, and think about whether the software's cost matches its value. Does it offer a free trial or freemium version? This could be a great way to test the software before making a financial commitment.
Remember, the best task management software for you is the one that fits your needs and improves your workflow. It's a good idea to take advantage of free trials and test out a few options before making your final decision.
A Quick Summary of the Best Task Management Software
We've handpicked a list of the best task management solution in 2023, each excelling in specific domains. From overall performance to unique niches like client portals and collaboration, here's a quick tour of the top contenders to streamline your workday.
Take note: All the software listed offer a free version, though these packages may have some limitations in comparison to their paid counterparts. Free task management software is only recommended for small-scale projects as a simple task manager and project management tool.
1. Monday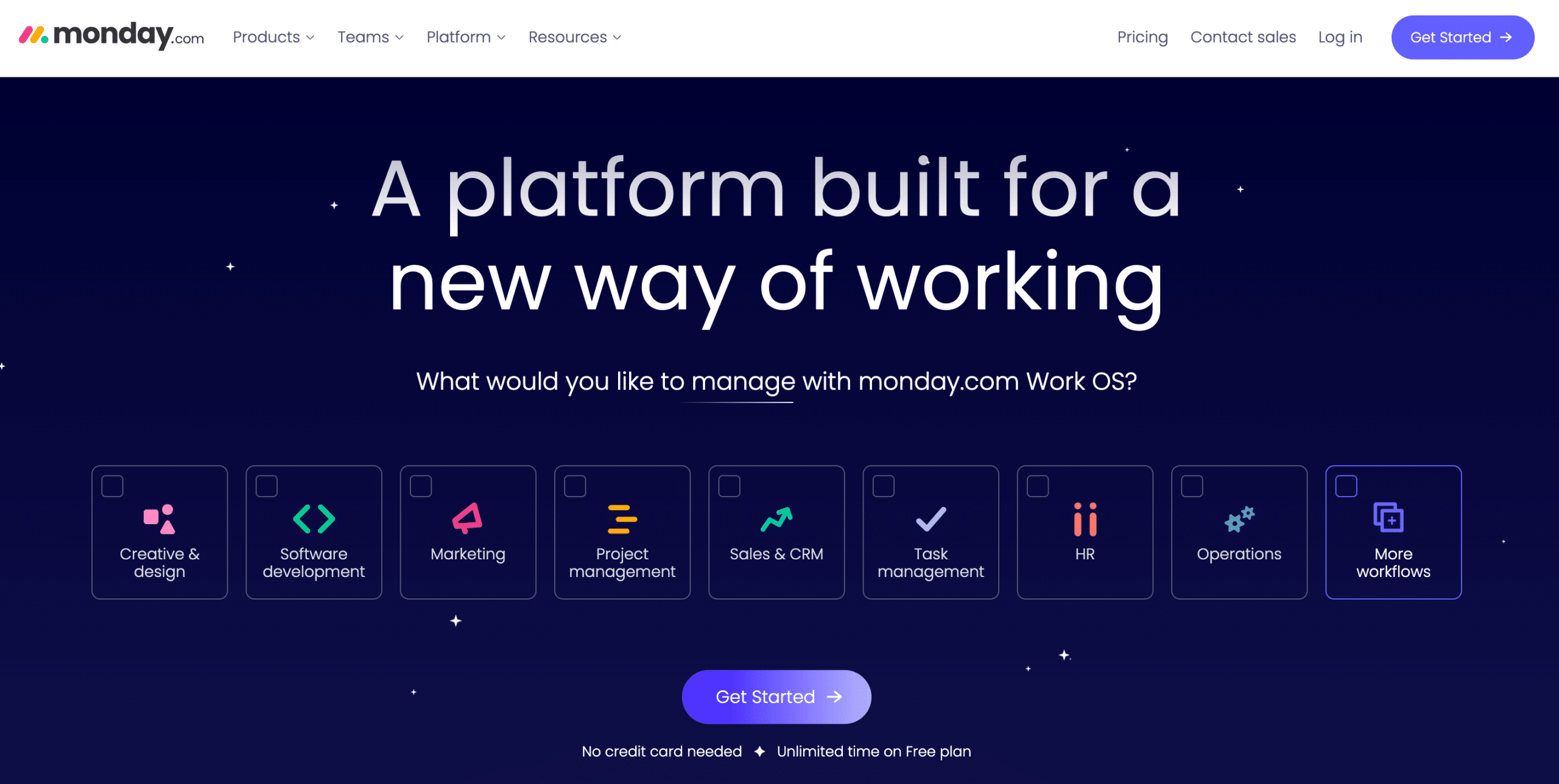 Monday.com is a popular platform that lets you customize any workflow to fit your needs, whether creative, software development, marketing, sales, or anything else. According to its website, monday.com has over 180,000 customers worldwide and is trusted by leading brands like Universal Music Group, Genpact, and Indosuez Wealth Management.
One of the most notable features of monday.com is its visual boards, which allow you to see all your tasks, projects, and processes in one place. In addition, Monday.com supports task automation, integrates with other tools, and creates dashboards to get a high-level overview of your work.
The free plan includes main boards with limitations, and you start with 200 items which can be increased by referrals.
Pricing:
Basic ($8 user/month)
Standard ($10 user/month)
Pro ($16 per user/month)
2. Ahsuite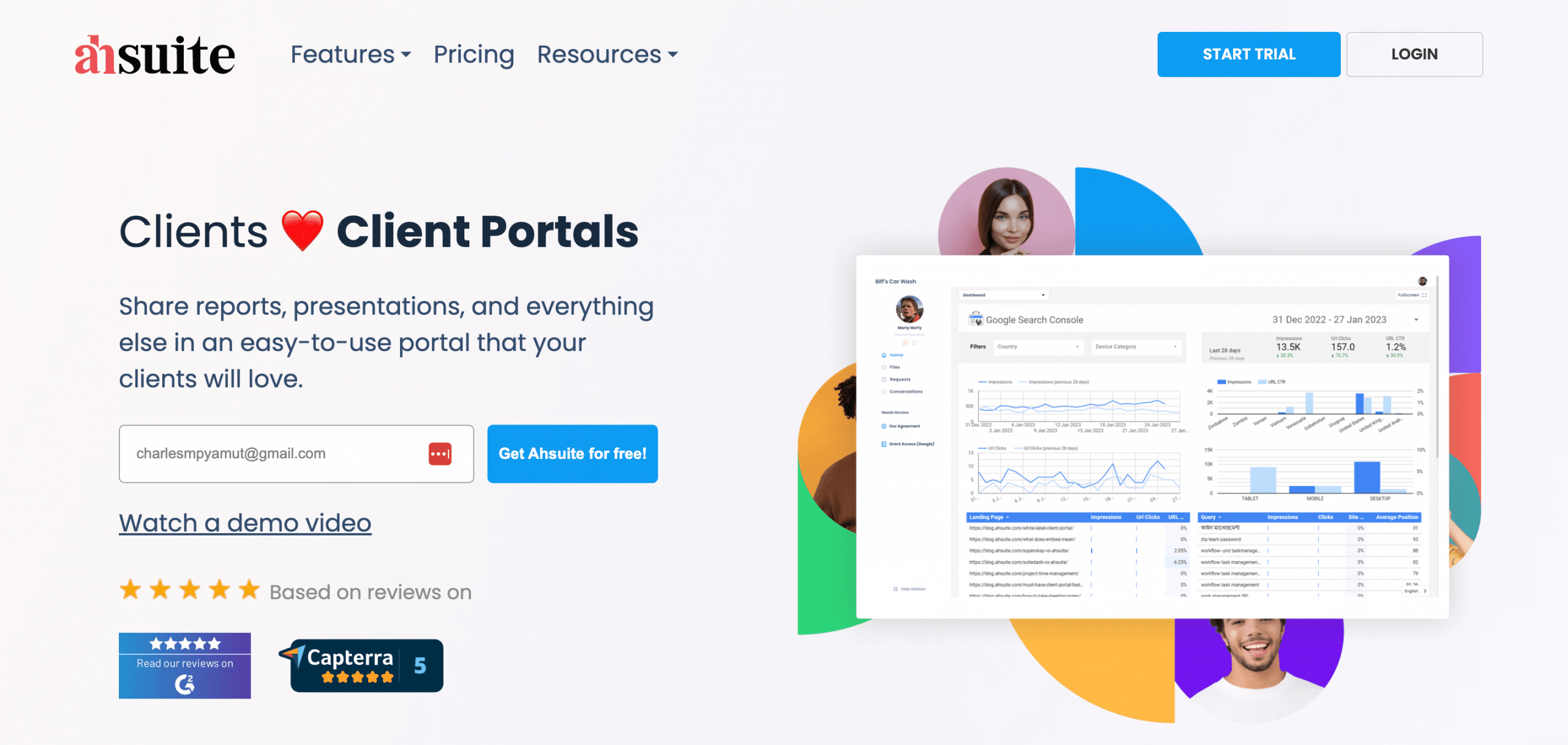 Ahsuite is a client portal tool widely recognized for its clean, intuitive, and feature-rich environment, catering to agencies, freelancers, coaches, and virtually anyone working with clients online. It's unique in its ability to embed a wide range of content within a secure portal, thus streamlining client communications and enhancing productivity.
Among its numerous features, Ahsuite's most notable is its robust task management system, touted as one of the most powerful dedicated client portal software. This system simplifies assigning tasks to teams and clients, fostering a more organized and efficient remote collaboration environment. The free plan is limited to three clients. 
Pricing:
Free (3 clients)
Professional ($24)
Agency ($57)
3. Asana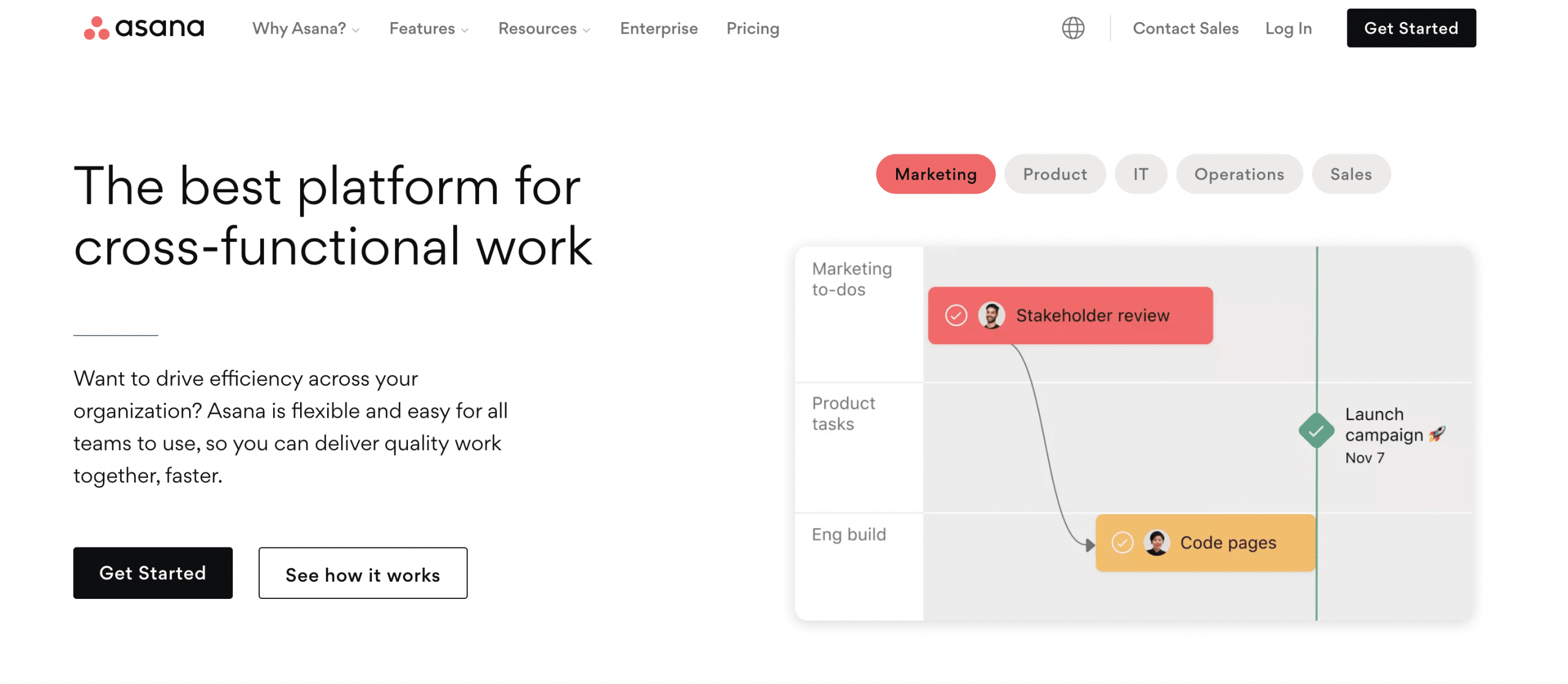 Asana is considered one of the best task management software tools, a cloud-based project management software designed to promote team collaboration and work management. It allows teams to create projects, assign tasks, set deadlines, and communicate directly within the platform. 
The app can also track task progress and measure results with reporting tools, goal tracking, and dashboards, making it a robust visual task management tool. Furthermore, it has over 200 integrations with popular tools like Google Drive, Slack, Zoom, and Salesforce.
With templates and built-in automation, you can streamline your workflows, manage your intakes, and connect your work to top business priorities.
Pricing:
Premium ($10.99 user/month)
Business: $24.99 user/month)
Enterprise: Contact sales for a quote.
4. ClickUp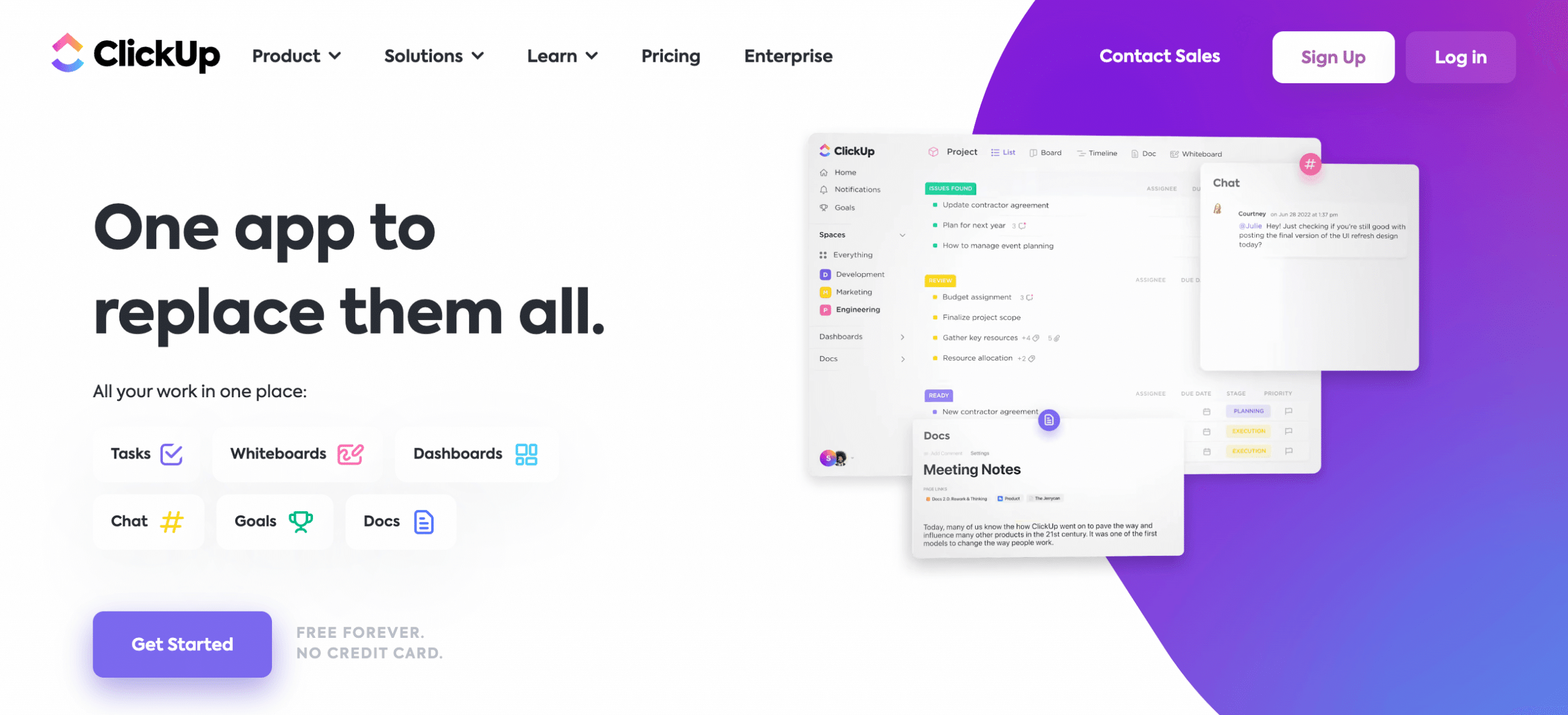 ClickUp is an all-in-one project and task management app that lets you plan, organize, and collaborate on any project with powerful features and customization options. This year alone, the platform has amassed over 200,000 teams and 10 million users.
You can choose from over 35+ ClickApps to tailor your task management for any work need. You can also view your tasks and subtasks in multiple ways, such as a list, board, calendar, or whiteboard. This makes it easy to visualize and manage your work from any device.
The "Free Forever" plan is best for personal app use and provides an industry-leading number of features.
Pricing:
Unlimited Plan ($5 per user/month)
Business Plan ($9 per user/month)
Enterprise Plan (Pricing on request)
5. Trello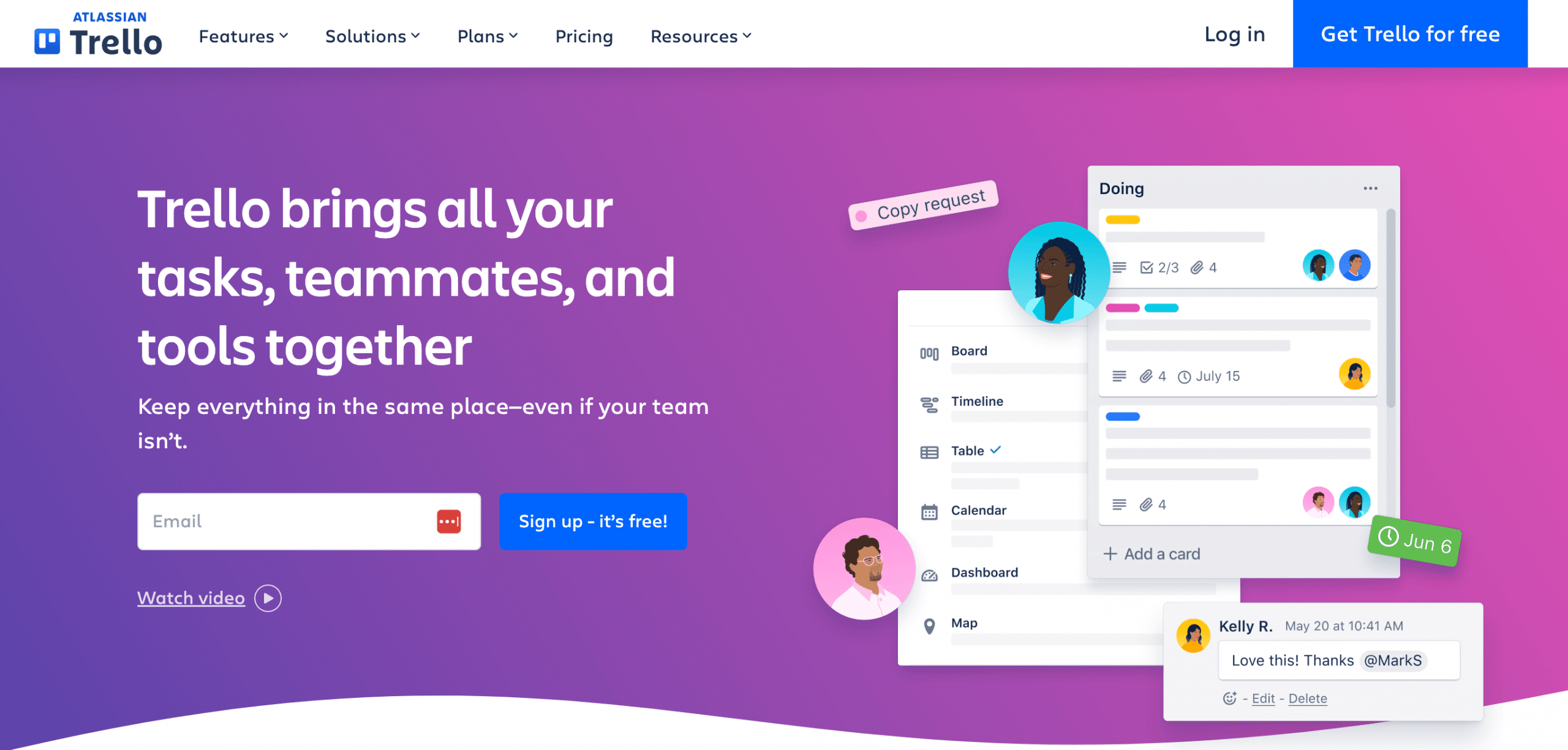 Trello helps you organize and track tasks in one place using cards, task lists and kanban boards. You can assign project tasks, manage deadlines, and add more context and details to streamline team collaboration. This online task management software is known for its simplicity and visually intuitive design have increased in popularity among professionals because of visual tasks and workloads. 
Trello's unique board and card system is the critical element of its popularity as a simple task management tool. Everyone in a project team knows the status of multiple tasks as cards move across lists to Done. Power-Ups from third-party platforms such as Jira, Bitbucket, or Confluence can also boost cross-functional workflows.
The free plan offers unlimited cards, up to 10 boards per workspace, unlimited power-ups per board, and more.
Pricing:
Standard: ($5 per user/month)
Premium: ($10 per user/month)
Enterprise: ($17.50 per user/month)
6. Todoist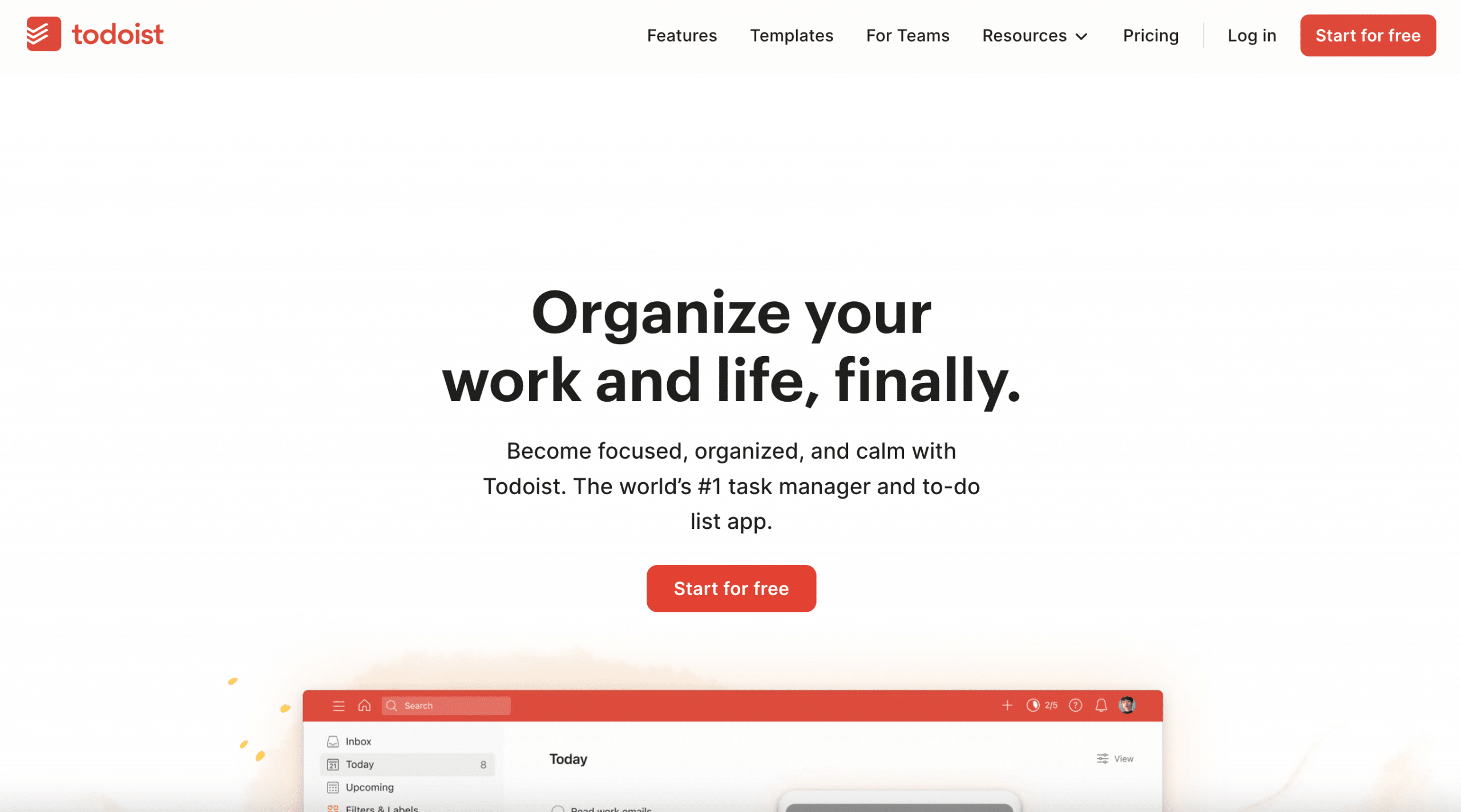 Todoist, a leading to-do list and task management tool, has won the favor of workers worldwide with its elegant, intuitive design. As of 2023, it boasts a user base of 25 million people across 200+ countries, reflecting its global acceptance as efficient task management.
Users consider the 'Karma' system a standout feature of the platform. Karma is a gamified productivity tracking tool. It rewards points for task completion and maintaining streaks, motivating users to remain productive. With the help of advanced task management, you can both track progress and KPIs while empowering your teams.
The free plan includes fundamental project management features, task and project management, syncing across devices, integrations with other apps and services, and primary productivity metrics.
Pricing:
Pro ($4 user/month)
Business ($6 user/month)
Enterprise: Contact sales for a quote.
7. Wrike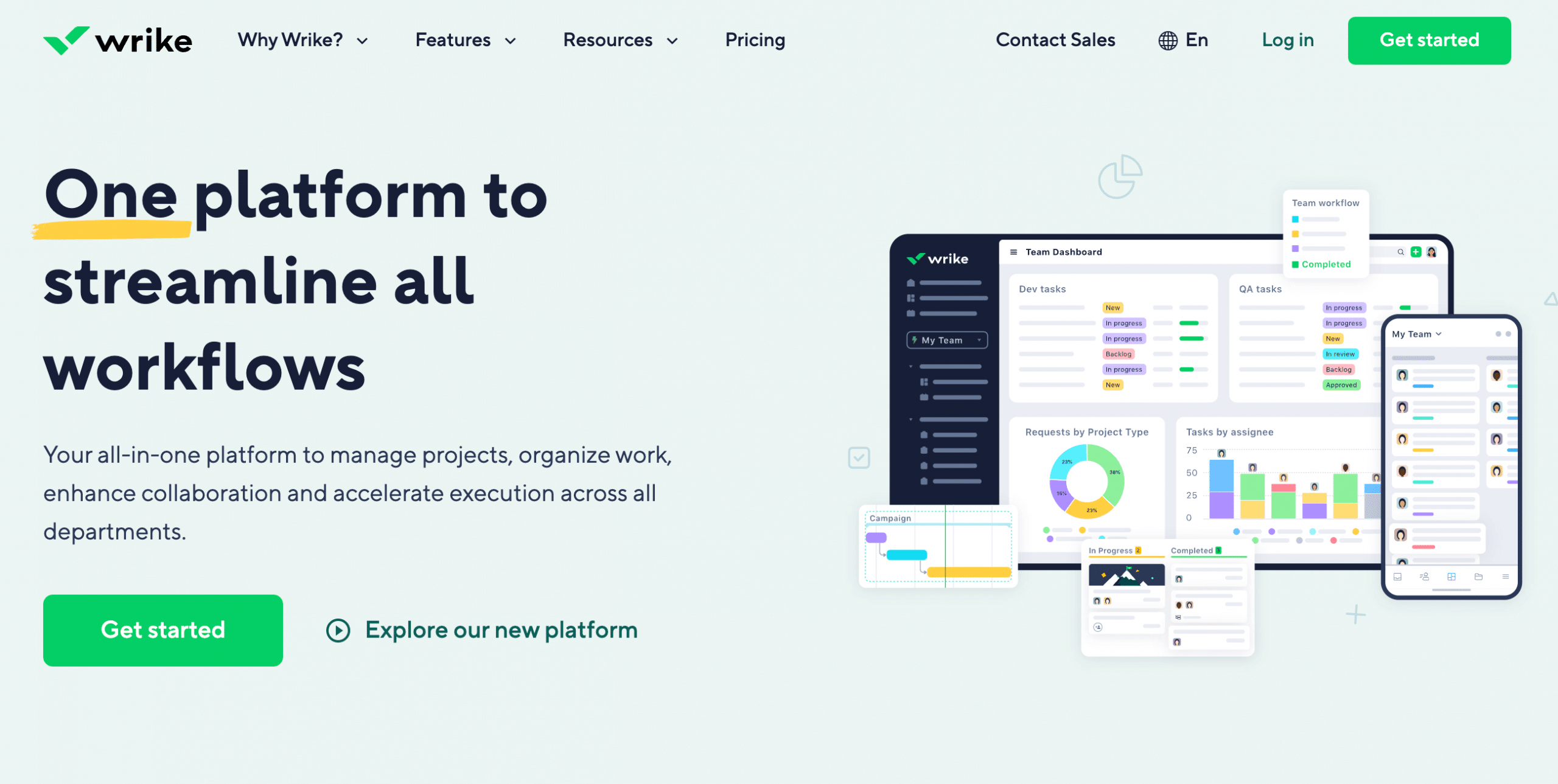 Wrike, a trusted name in cloud-based project management, is recognized for its exceptional task management, reporting, resource management, and time-tracking capabilities. Notably, it serves as the work management platform of choice for more than 8,000 companies worldwide, speaking volumes about its popularity and reliability.
This task management app is ideal for you if you have a medium or large team. It allows up to 200 users and offers 5GB of storage space. You can also benefit from portfolio management, real-time reports, custom templates, blueprints and items.
Wrike also has powerful automation and reporting tools that help you save time and achieve your goals. The free plan is available for individuals or teams that need project management software.
Pricing:
Team: ($9.90)
Business: ($24.80)
Enterprise: Price Varies
Pinnacle: Price Varies
8. Airtable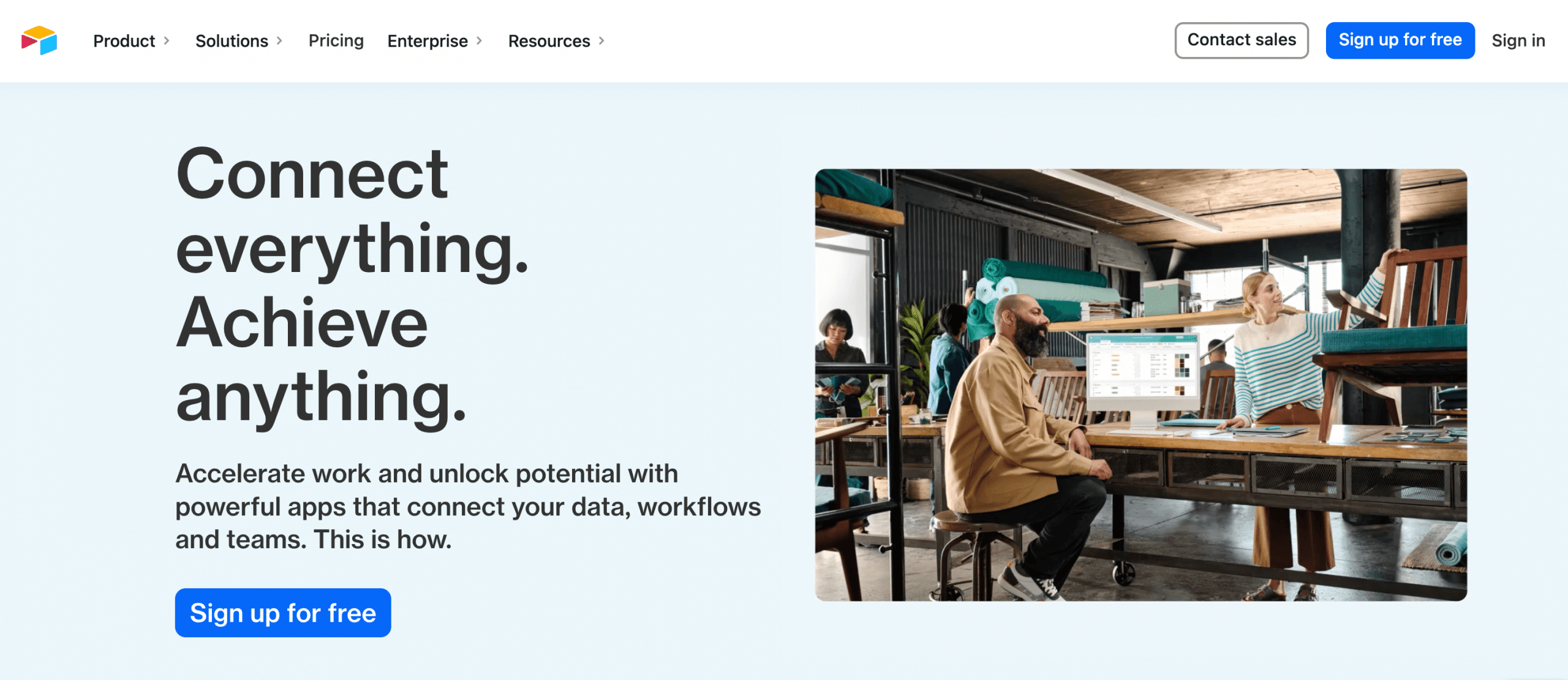 Airtable, known for its distinctive spreadsheet and database functionality blend, is a sought-after task management software. By 2023, it has been adopted by over 200,000 companies worldwide, catering to a wide variety of industries and working professionals.
Airtable's standout attribute is its robust reporting feature. Users can create customized views for every task, and filter and sort data to generate detailed reports, providing critical insights and better decision-making capabilities. The free version comes with unlimited databases with 2GB storage and you can add up to 5 users.
Pricing:
Plus ($12)
Pro ($24)
Enterprise (Varies)
9. Smartsheet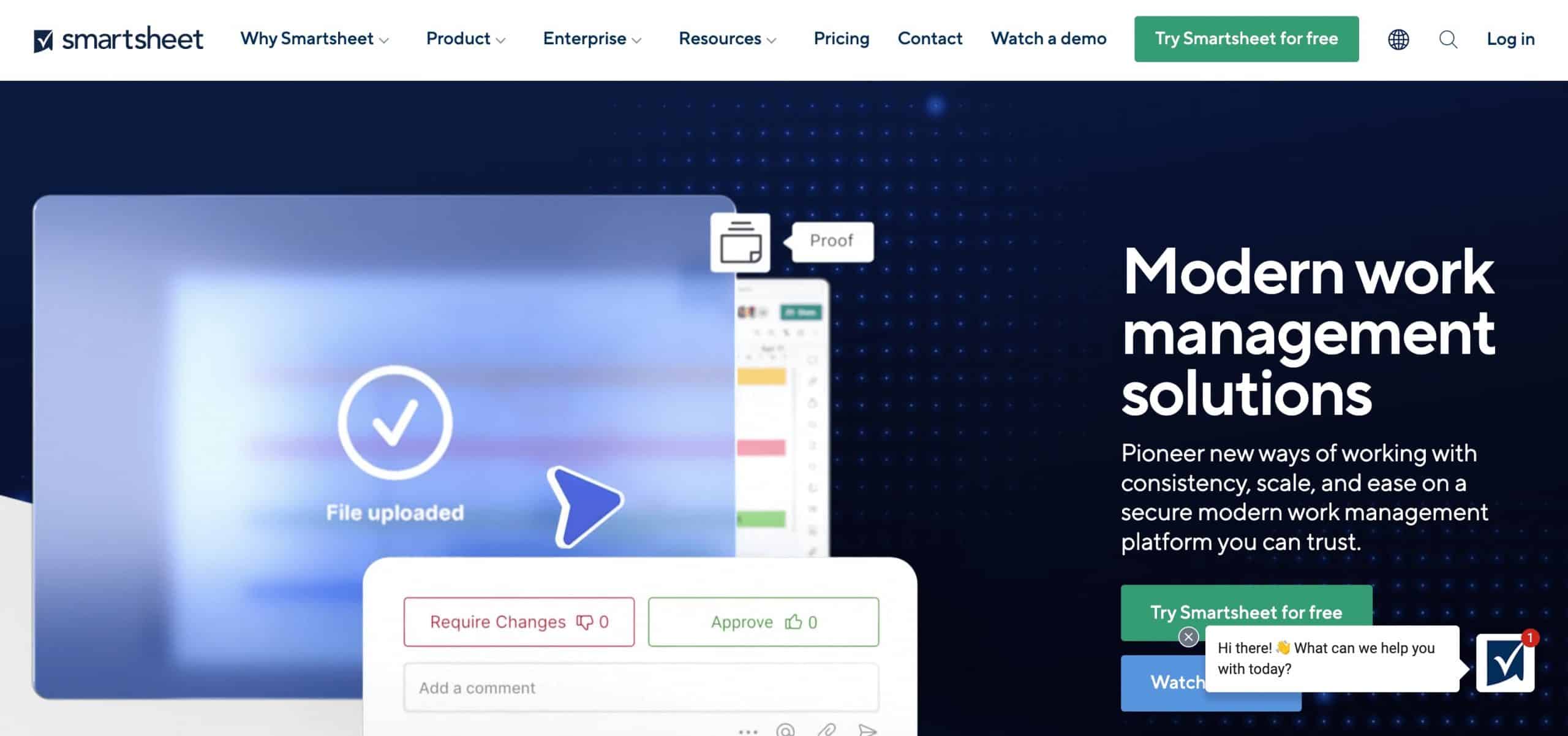 Smartsheet has positioned itself as a leading work and task management tool, particularly praised for task management features like calendar management and progress tracking for projects. This cloud-based platform caters to millions of users from over 190 countries.
Excel users will find comfort in Smartsheet due to its grid-view feature, resembling an Excel spreadsheet, and its capacity to handle complex mathematical formulas. This platform hence shines in managing Excel-heavy projects, making it indispensable for professionals dealing with large-scale data management.
Pricing:
Pro ($7)
Business ($25)
Enterprise (Varies)
10. Notion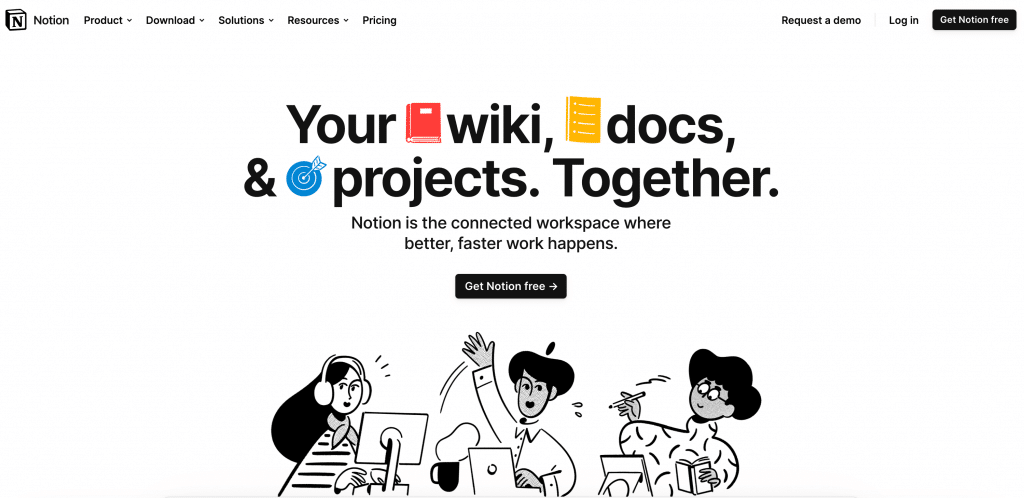 Notion is software used originally as a note-taking app, which has morphed into a versatile project management software suitable for solopreneurs and small teams. This app can consolidate all project-related information, rapidly build workflows, and facilitate sharing across teams of all sizes. 
One of Notion's most laudable features is its organizational structure based on pages that can be interlinked or nested. This provides a user-friendly workspace where blocks of content – from to-do lists to videos – can be added and customized as templates, enhancing productivity and project management efficiency.
Notion offers a free version with limited functionality. Particularly for remote workers, Notion acts as a digital office, enabling a swift setup of collaborative workspaces and offering tips and tricks for optimizing remote collaboration​. You can use this free task management app if you don't need complex features.
Pricing:
Free
Plus ($8)
Business ($15)
Enterprise (Varies)
Summary
When configured properly, task management software helps in paving the way for enhanced productivity, improved task allocation, increased collaboration, and workflow customization. The key factors to consider when choosing software include user needs, team size, integration capabilities, and user experience.
Implementing task management software can significantly improve work efficiency. The choice of software should consider your specific needs, budget, team size, and usability. Exploring different options and taking advantage of free trials will help you find the perfect fit for your work.
Among the top picks, Ahsuite is the best client portal tool, ideal for agencies, freelancers, and coaches. It offers a robust task management system and a feature-rich environment, significantly improving progress tracking and remote collaboration. A 30-day trial is available for users to explore Ahsuite's features.