Running a business smoothly involves navigating a complex web of tasks and responsibilities, especially for project managers in the era of remote work. The role demands balancing past performance, current initiatives, and future plans. Amidst the myriad of project management tools available, choosing the right one becomes crucial. As popular as Asana is, it might not be the perfect fit for every company. In this article, we'll simplify the search by exploring some of the top Asana alternatives, ensuring you find a tailored solution without unnecessary features.
What is Asana?
Asana is renowned as an outstanding project management tool designed primarily for projects by large enterprises. Hence, it is known for getting things done when a tool for complex project management is needed. Unlike traditional tools that focus solely on tasks, many Asana features seamlessly integrate every task with overarching business goals.
As one of the most popular project management tools in the world, Asana can be changed and molded to fit various project types. With its reputation as a visual project management tool, you can just drag and drop the tasks on simple projects.
Pros:
Designed for complex project management.
Integrates tasks with business goals.
Highly customizable for various projects.
Drag and drop functionality.
Integrates multiple tools for a holistic workspace.
Has in-built automation.
A mobile app is available for on-the-go updates.
Ready-to-use templates and real-time dashboards.
Ensures robust data security.
Cons:
Important notifications can get lost in email.
Automatic opt-in to email notifications.
Confusion on project visibility and access.
Limited functions for recurrent tasks.
11 Best Asana Alternatives in 2024
From task prioritization to advanced collaboration platforms, here's a glimpse into some of the best project management tools similar to Asana.
Basecamp – Best overall
Monday.com – Best for customization
Trello – Best for Kanban-based collaboration
Airtable – Best for data-intensive projects
ClickUp – Best all-in-one Solution
Teamwork – Best for client work
Wrike – Best for versatility
ProofHub – Best for simplified project management
Nifty – Best for remote collaboration
Notion – Best for documentation
Ahsuite – Best for client management
1. Basecamp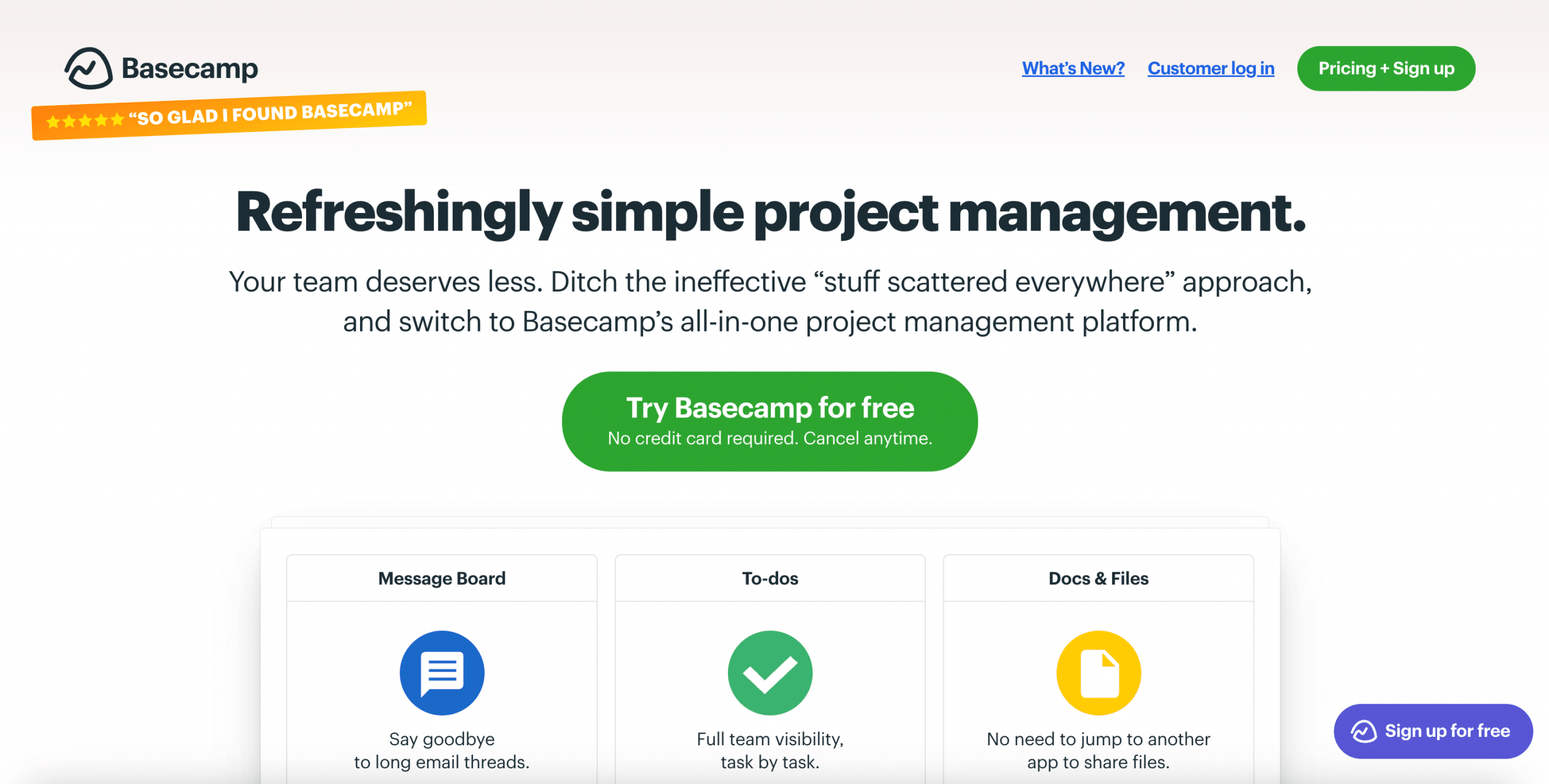 Basecamp stands out as one of the most intuitive project management tools around. Emphasizing simplicity and efficiency, it compiles the best aspects of project management into one comprehensive platform. No fluff, just essential features to streamline your workflow and keep everything organized.
Unlike Asana, Basecamp offers a straightforward dashboard, making it easy to learn and use. It also provides a real-time micro-view of all activities. Plus, if you're a fan of Gantt charts and exporting tools, Basecamp has you covered. Unfortunately, Basecamp doesn't offer a free plan.
Pros:
Simplicity in the project and task management
Effective team collaboration
Straightforward user interface
Central platform for global communication and content sharing
Cons:
Room for improvement in membership pricing
Occasional challenges with tracking progress
Potential confusion in file organization
Requires regular (and tedious) check-ins
Plans & Pricing:
Basecamp Pro: $15
Basecamp Pro Unlimited: $349
Customer Ratings:
G2: 4.1 out 5 (5261 reviews)
Capterra: 4.3 out 5 (14371 reviews)
Related: 10 Best Basecamp Alternatives
2. Monday.com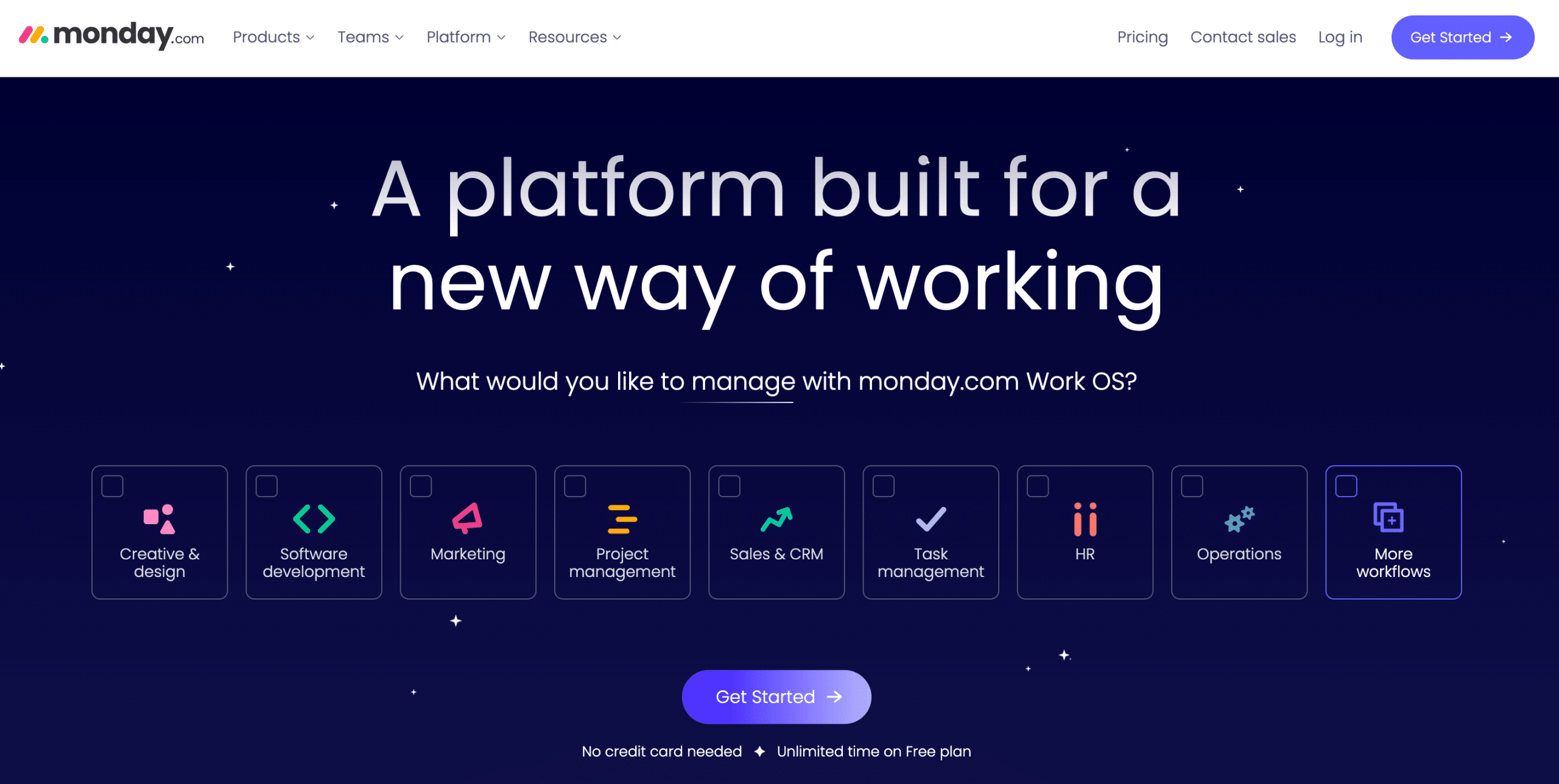 Monday is a widely popular project management tool regarded as a powerhouse for customization. It allows users to strategize objectives, manage resources, and streamline business operations by providing customizable boards. This is one of the best Asana alternatives on this list if you want a bird's eye view of ongoing projects across teams.
For those seeking automation, this tool is a strong contender. Its emphasis on easy task management and a high-level overview of projects makes it user-friendly. Plus, its resource management capabilities ensure every asset is put to good use.
Pros:
Visually appealing and user-friendly interface
Features are robust and effective
Comprehensive templates, access rights, automation, and integrations.
Essential due date function and calendar integration
Cons:
Lack of a robust CRM
Customer service needs improvement
Unwanted email notifications.
Plans & Pricing:
Free
Basic: $10
Standard: $12
Pro: $20
Enterprise: Custom Pricing
Customer Ratings:
G2: 4.7 out 5 (9861 reviews)
Capterra: 4.6 out 5 (4492 reviews)
Related: 10 Best Monday.com Alternatives
3. Trello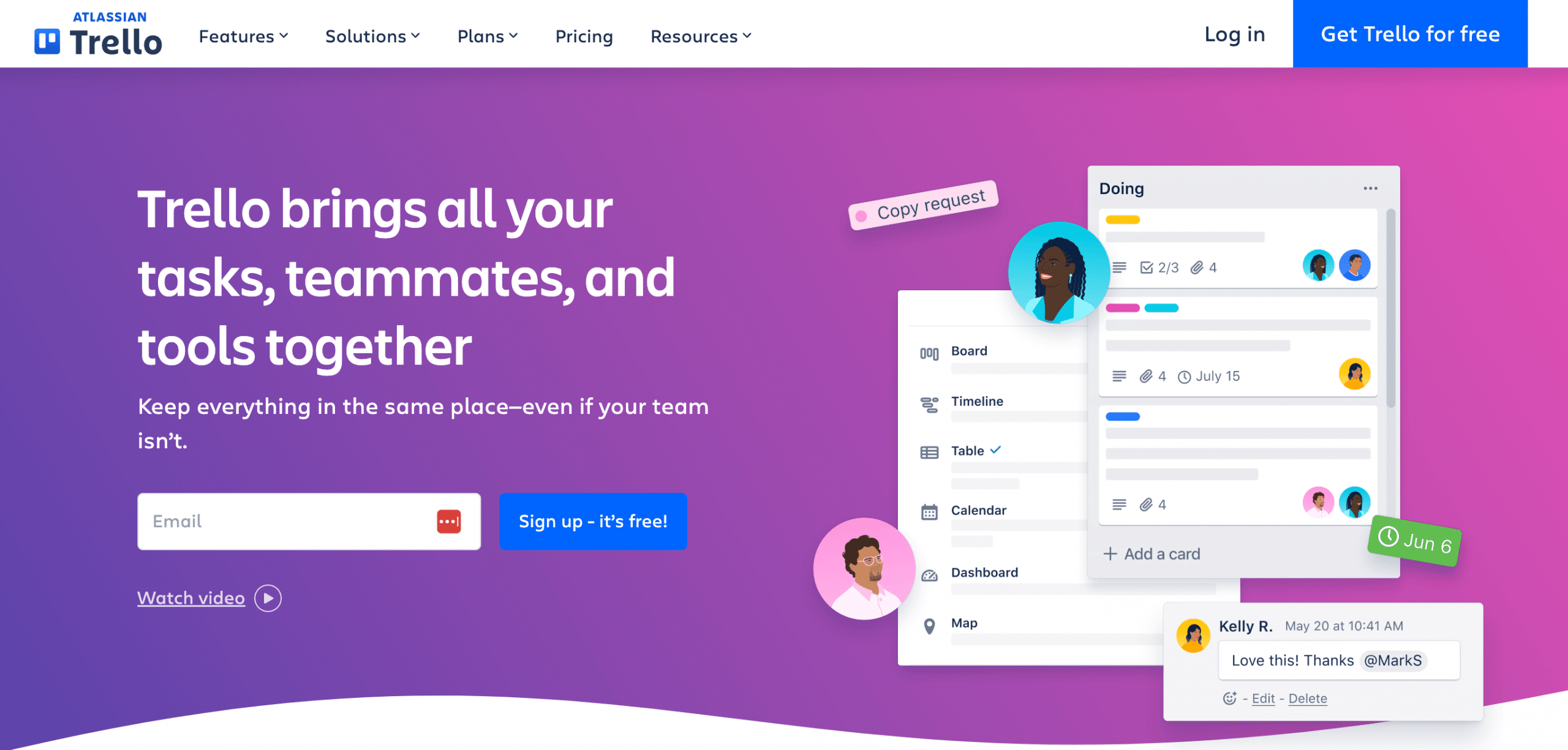 Trello is known for its simplicity and flexibility, making it a go-to for many professionals. It's a widely-used tool due to its effective implementation of the Kanban board. It keeps interfaces simple while giving users access to the most important features.
Using boards, lists, and cards, Trello provides a crystal clear perspective on tasks, their progress, and who's handling them, all in a vibrant, intuitive layout. The effortless process of moving cards across lists mirrors the task's progress. Trello also offers unlimited cards for individuals/teams without a subscription per month.
Pros:
Highly customizable for new projects/task categories
Simple, user-friendly UI
Efficient for keeping notes and passwords
Easy and natural to use
Visually appealing with excellent search functionality
Efficiently integrates processes, enhancing team collaboration
Excellent for team progress tracking with comprehensive tools
Cons:
Limited note-taking capabilities compared to tools like Excel
No sections for private notes or brainstorming
Accidental "drag/move/delete" can be problematic
Concerns about app security and misuse
Inability to view archived tasks on the calendar
Plans & Pricing:
Free
Standard: $5
Premium: $10
Enterprise: $17.50
Customer Ratings:
G2: 4.4 out 5 (13442 reviews)
Capterra: 4.5 out 5 (23070 reviews)
Related: 10 Best Trello Alternatives
4. Airtable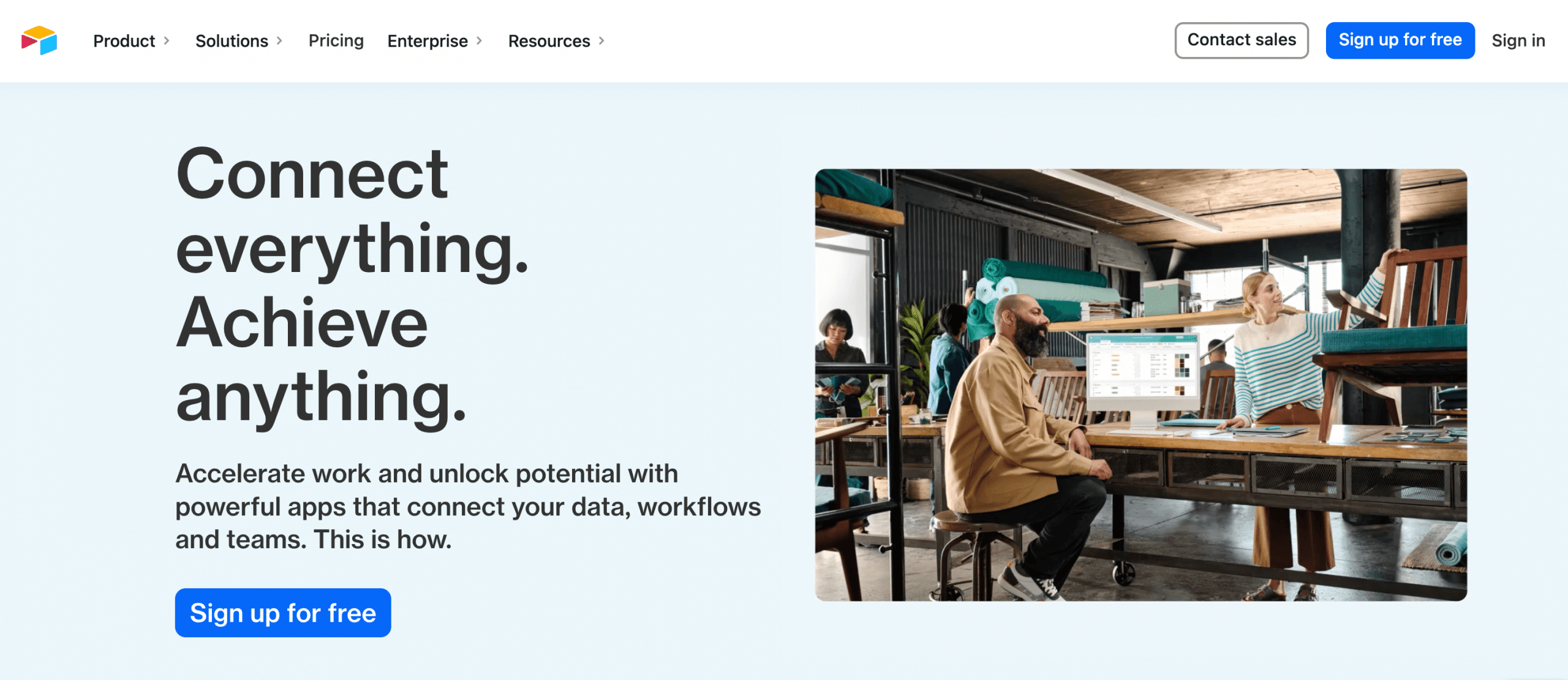 Airtable's strength is in its data-focused approach which can be adapted to diverse workflows. Its seamless integrations with platforms like Salesforce, Slack, and even Trello make data transfer and communication streamlined. In comparison to Asana, Airtable's strong filtering and grouping option can help you organize a long list of tasks.
As an alternative to Asana, Airtable brings simplicity and adaptability to the table. Its user-friendly view options, including the classic Gantt and Kanban, paired with automatic syncing and real-time collaboration, make project tracking more efficient.
Pros:
Combines and links data in one place
Flexible data movement and connection
Premade templates, including social media calendar
Low cost with excellent customer service
Allows simultaneous content uploading and downloading
Cons:
iOS app has limitations and isn't intuitive
Missing features around forms
Difficult to type extended sentences
Challenges integrating workarounds
Setup, especially enterprise plan, can be complicated
Plans & Pricing:
Free
Plus: $10
Pro: $20
Enterprise: Contact Sales
Customer Ratings:
G2: 4.6 out 5 (2193 reviews)
Capterra: 4.7 out 5 (1932 reviews)
Related: 11 Best Airtable Alternatives
5. ClickUp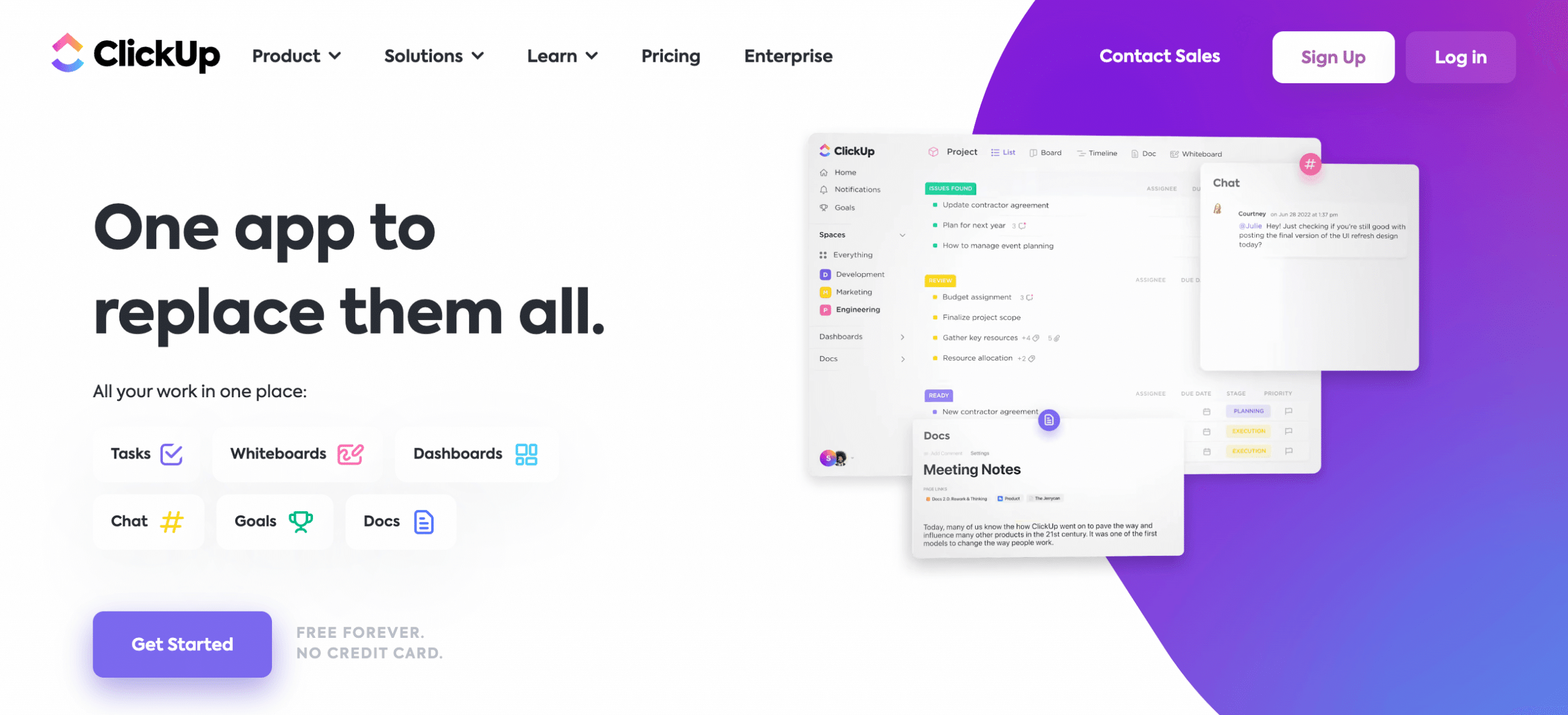 ClickUp shines as a flexible project management tool with its unique Hierarchy system which can support both small teams and large enterprises. With 15+ powerful views, customizable tasks, and robust organization structures like Spaces, Folders, and Lists, it provides users with comprehensive oversight and granular control over their projects.
Compared to Asana, ClickUp supports nested subtasks and boasts a Gantt view for effective planning. With integrations spanning over 1,000 tools, ClickUp offers compatibility with the most popular platforms, ensuring that teams can integrate their favorite tools seamlessly.
Pros:
Intuitive interface with dynamic feature expansion.
Boosts efficiency, collaboration, and organization.
Outstanding customer support.
Rich in automation, integration, and personalization.
Comprehensive video tutorials and free guest invites.
Cons:
Missing an on-screen undo action button.
Limitations in Formula columns' functionalities.
Can be complex for individual users.
Android app receives negative feedback.
Confusing hierarchy and occasional errors without documentation.
Plans & Pricing:
Free
Unlimited: $7
Business: $12
Enterprise: Contact Sales
Customer Ratings:
G2: 4.7 out 5 (9201 reviews)
Capterra: 4.7 out 5 (3948 reviews)
Related: 10 Best ClickUp Alternatives
6. Teamwork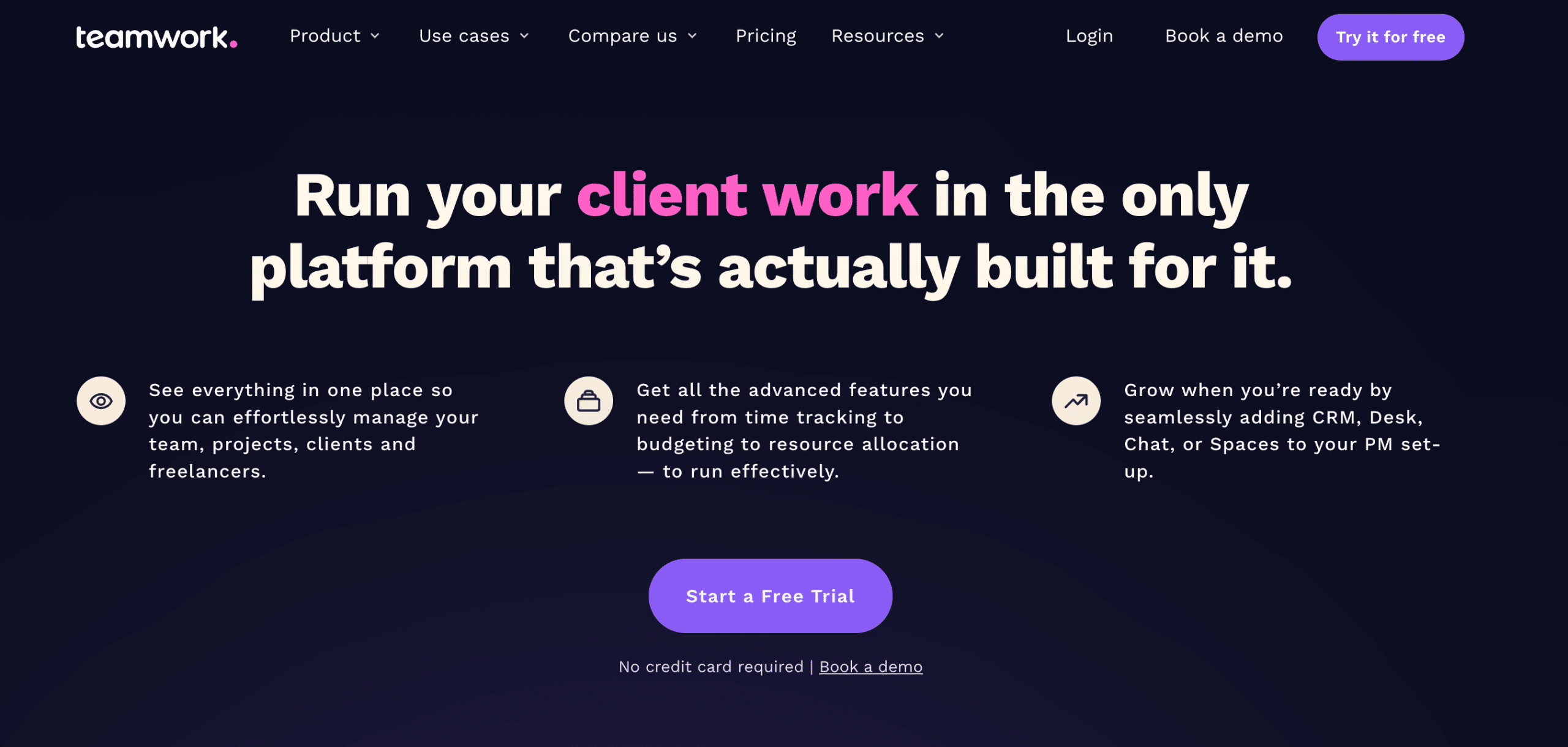 Teamwork offers a cohesive platform, tailored for client-oriented projects. Its primary focus lies in ensuring timely and budgeted project deliveries, backed by features like advanced time tracking and efficient resource management.
As an alternative to Asana, Teamwork prioritizes understanding where time is spent, making it ideal for billing and profitability. Furthermore, advanced time reporting ensures precision in time allocation and monitoring.
Pros:
Comprehensive task management with continuous updates.
Centralized documentation space.
Useful notifications and extensive customization options.
Enables collaboration across different companies.
Constant addition of valuable features.
Cons:
Users may use software inconsistently.
Assigning tasks correctly is crucial; otherwise, projects get lost.
Sending tasks to billing requires hours attached, even if only materials are used.
Lack of two-factor authentication warnings.
May risk sensitive info due to missing security prompts.
Plans & Pricing:
Free
Starter: $5.99
Deliver: $9.99
Grow: $19.99
Scale: Contact Sales
Customer Ratings:
 G2: 4.4 out 5 (1072 reviews)
 Capterra: 4.5 out 5 (837 reviews)
7. Wrike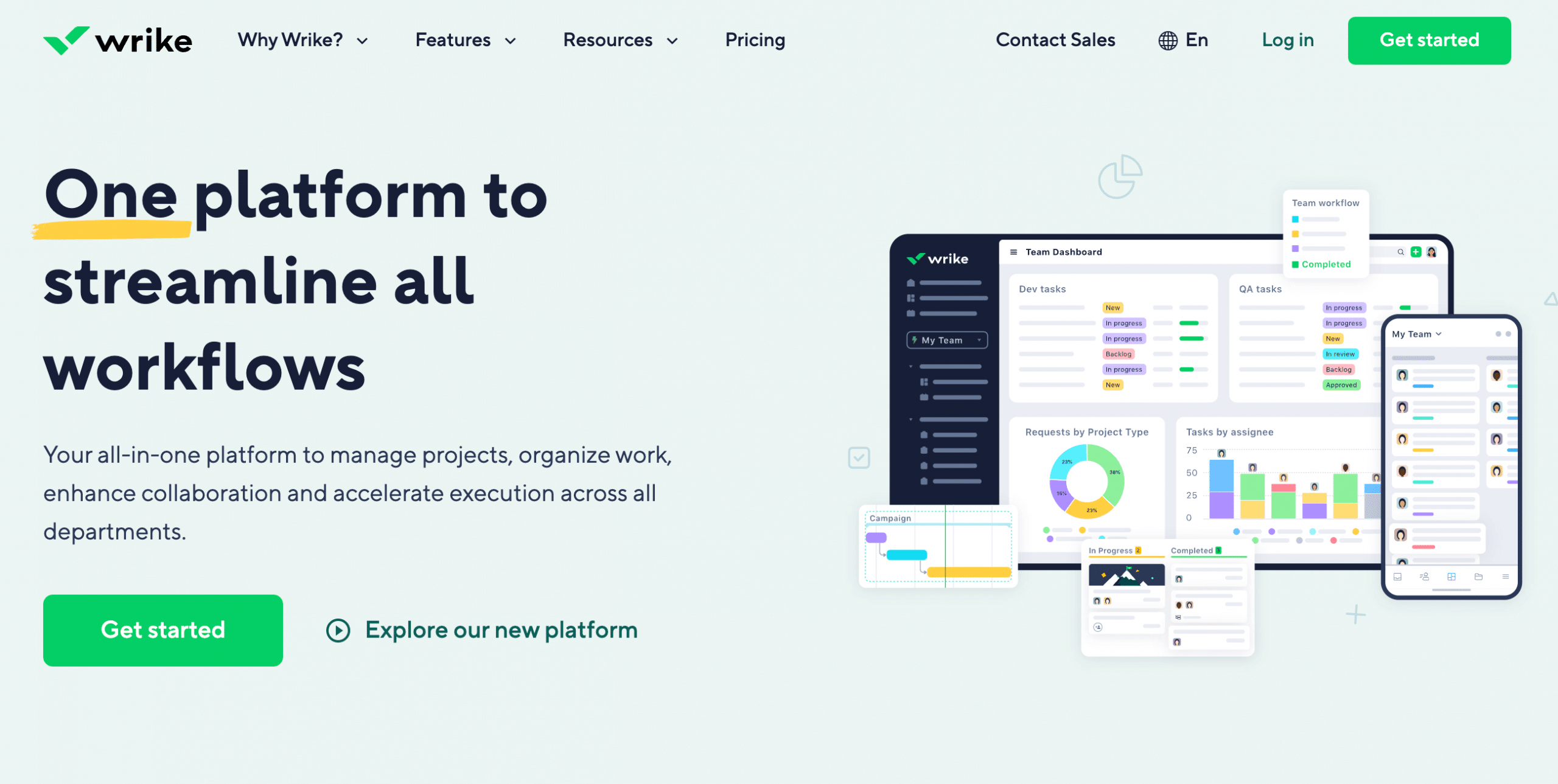 Wrike's versatile feature set is designed to streamline project management and enhance team collaboration. For organizations that seek a well-rounded alternative to Asana, Wrike offers a balance solution that focuses on automation, visualization, and integration.
This tool serves as a worthy alternative to Asana with its straightforward Kanban boards, advanced time reporting via Gantt charts, and a vast integration suite of over 400 apps. Its dynamic request forms, resource planning, and robust mobile/desktop apps ensure an efficient and flexible project management experience.
Pros:
Efficient management of roadmap dependencies and allocation of resources.
Enhances collaboration and real-time communication among teams.
Comprehensive solution for data security and access permissions.
Comprehensive platform: everything in one place for organizational tasks.
Offers free plans, new templates, and visual tools like Gantt charts.
Cons:
Limitations in dependency management for teams with complex task relationships.
Difficulties for users without an internet connection.
Advanced features are available only in higher-priced plans.
Tracking conversations and files can be challenging due to subtasks.
Issues with unauthorized charges and access logs.
Plans & Pricing:
Free
Team: $9.80
Business: $24.80
Enterprise: Contact Sales
Pinnacle: Contact Sales
Customer Ratings:
G2: 4.2 out 5 (3500 reviews)
Capterra: 4.3 out 5 (2555 reviews)
Related: 11 Best Wrike Alternatives
8. ProofHub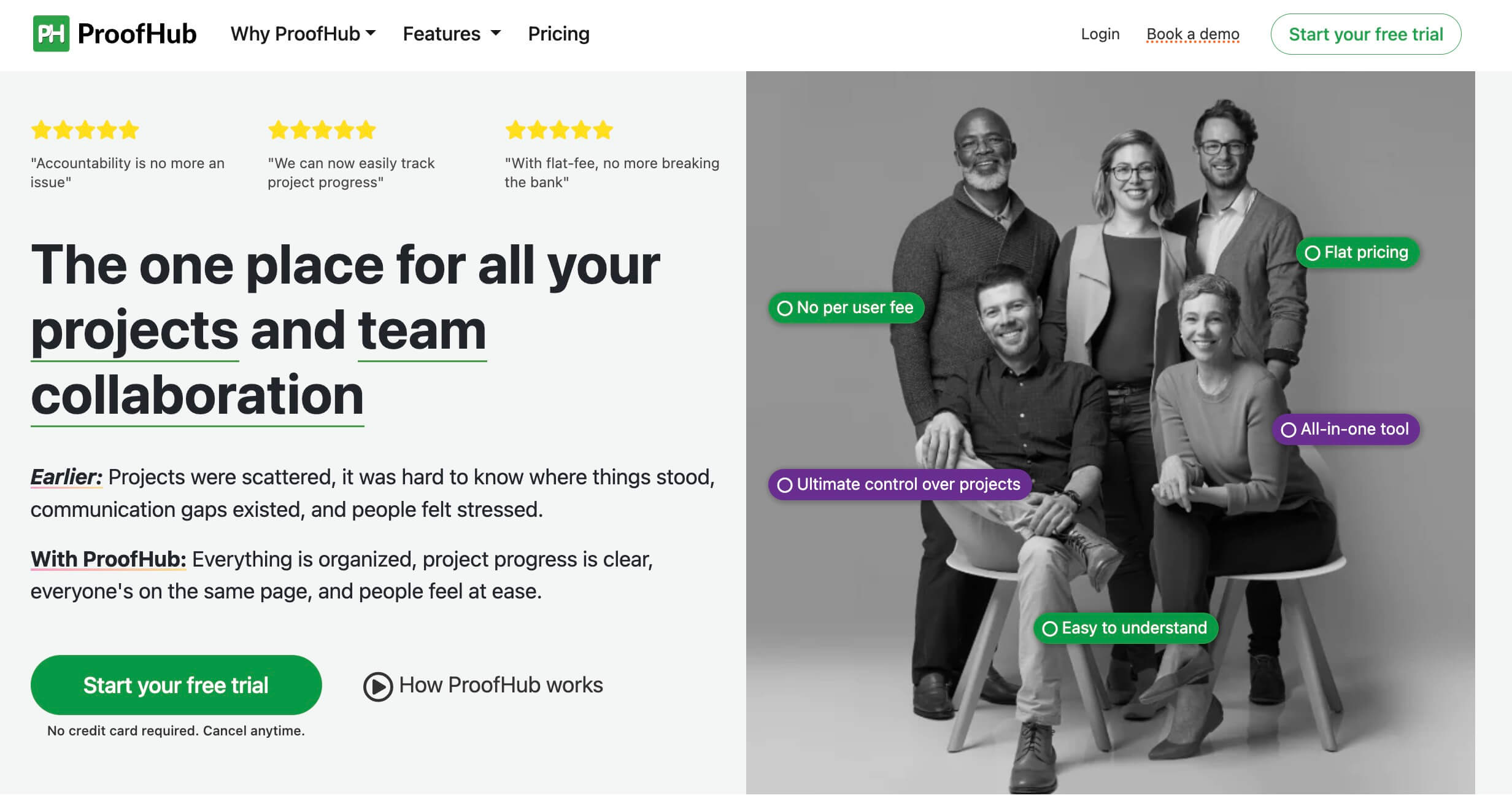 ProofHub is one of the most unique top Asana alternatives and project management solutions due to its focus on effortless task management and specialized proofing tools. Boasting unique features like custom roles and an integrated chat system, it's designed to ensure seamless collaboration and efficient project oversight.
As an alternative to Asana, ProofHub excels with its intuitive board and table views, in-depth time reporting, and robust Gantt chart tools. It presents a compelling choice for project managers seeking a more encompassing toolset other than core PM functions.
Pros:
Intuitive and user-friendly interface; easy to use even with a range of features.
Customization capabilities for roles, access, workflows, and information
Centralizes tasks for better task delegation, management, and tracking.
Built-in chat feature for real-time team communication.
Great customer support, time tracking, and online proofing features.
Cons:
Annoying and persistent notification pop-ups.
Limited integrations with other software platforms.
Difficult to track all projects while viewing others' projects, especially with many users.
Basic and potentially ineffective training modules.
Users might find the vast number of features overwhelming.
Plans & Pricing:
Essential: $50
Ultimate Control: $150
Customer Ratings:
 G2: 4.5 out 5 (84 reviews)
 Capterra: 4.5 out 5 (94 reviews)
9. Nifty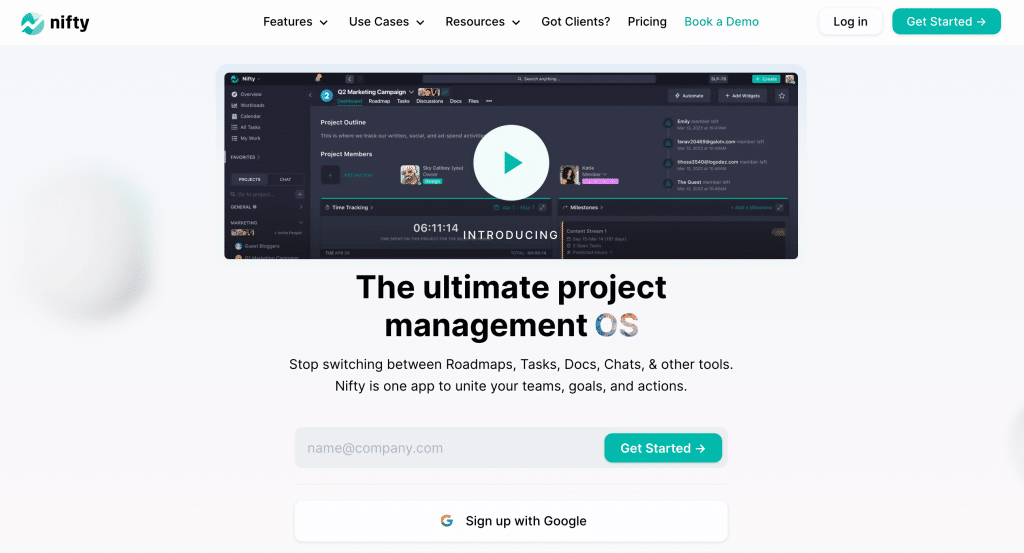 Nifty has earned popularity for its multi-view work organizing and seamless collaboration features. Its unique offerings, such as Swimlane View and Collaborative Docs integration with Google Drive, ensure that projects are both visually organized and efficiently executed.
The straightforward features like Kanban, List, and Timeline views combined with detailed time breakdowns make it a comprehensive tool.
Pros:
Consolidates essential project management features.
Offers Kanban, List, and Timeline views.
Built-in discussions and document-sharing.
Integrates with Google and Outlook calendars.
Customizable design features.
Cons:
Interface may be overwhelming for new users.
Missing advanced features like cost tracking.
Over-reliance on Zapier/Integromat.
Calendar UI can be challenging.
Difficulties coordinating large teams.
Plans & Pricing:
Free
Starter: $39
Pro: $79
Business: $124
Unlimited: $399
Customer Ratings:
G2: 4.7 out 5 (430 reviews)
Capterra: 4.7 out 5 (414 reviews)
10. Notion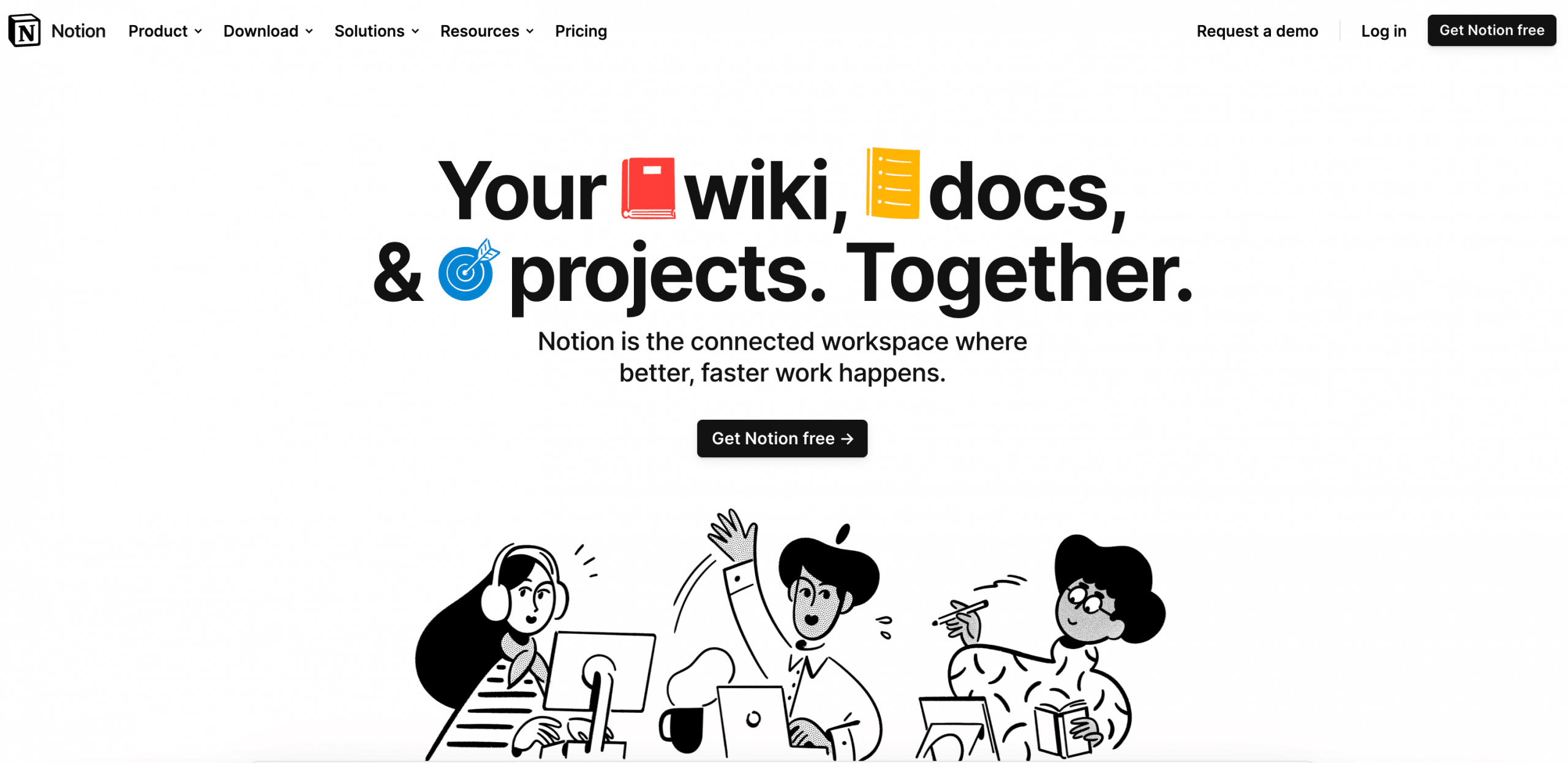 Notion is revolutionizing project management with its sleek, customizable interface and powerful organizational features. It excels in providing a unified workspace, allowing users to craft unique experiences that cater to their brand, all while ensuring seamless navigation and data retrieval through its intuitive search and linking capabilities.
As an alternative to Asana, Notion offers a user-friendly experience that requires no technical expertise. The tool's features, such as timeline views and customizable tags, are straightforward.
Moreover, the newly-added automation feature promises enhanced efficiency, ensuring Notion's adaptability to various team workflows and broader tool integration.
Pros:
Integrated templates for quick project launches.
Easy integration of information from multiple sources.
Organizing and linking notes is easy and intuitive.
Promotes team visibility and collaboration.
Changed perception of note-taking apps.
Cons:
Limited mobile app widgets.
Steeper learning curve for the user interface.
Offline mode requires preloading of pages.
Some notes may become inaccessible offline.
Tools were challenging to navigate.
Plans & Pricing:
Free
Plus: $8
Business: $15
Enterprise: Contact Sales
Customer Ratings:
G2: 4.7 out 5 (5014 reviews)
Capterra: 4.8 out 5 (2033 reviews)
Related: 11 Best Notion Alternatives
11. Ahsuite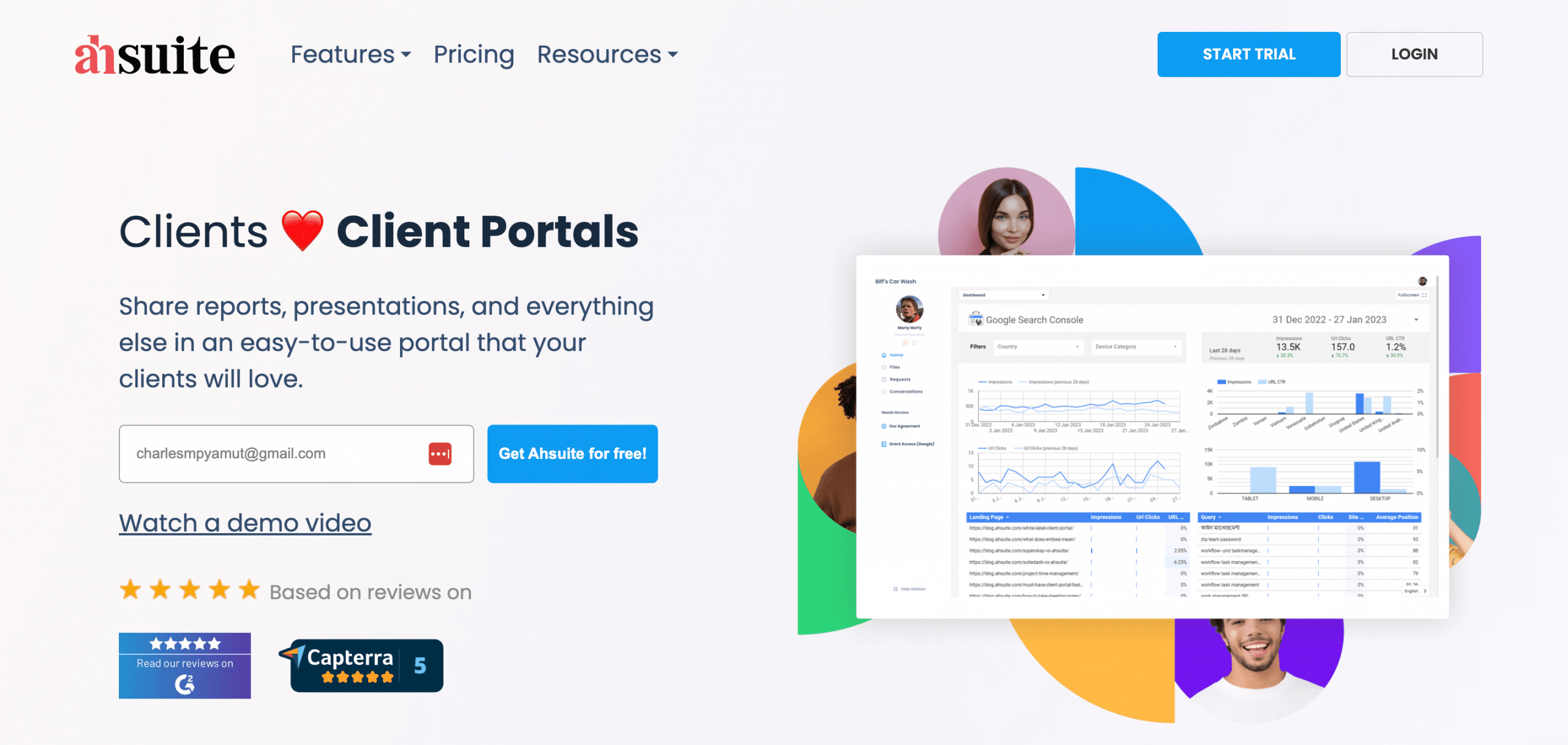 Tired of feature bloat? Ahsuite might be for you. Its essence is focused on simplicity, eliminating feature bloat, and providing essential functionalities with a responsive experience. It also has work journals for organized note-taking and a client portal for easier reporting.
Ahsuite is a refreshing Asana alternative due to its straightforward approach to task management. With a user-friendly interface, it allows easy assignment of tasks, labeling, and user tagging while offering access to 90% of features that users actually uses.
Pros:
Fast and lightweight, perfect for web development.
Comprehensive platform amalgamating crucial tools.
Advanced task management boosting collaboration.
Streamlined client approvals for web projects.
Encrypted password sharing ensures security.
Cons:
Absence of a mobile application (already in the roadmap)
Requires hovering to view certain interface elements.
Deep project management features might be missing.
Potential challenges in navigating the entire suite for new users.
Plans & Pricing:
Free
Professional: $24
Agency: $57
Customer Ratings:
G2: 4.8 out 5 (56 reviews)
Capterra: 4.9 out 5 (19 reviews)
Tips for Transitioning to Asana Alternatives
Embracing change can be challenging, especially when shifting from a trusted tool like Asana. Asana users need to deal with changing workflows just to get access to features that Asana doesn't have.
Getting a reliable tool is important, but using the right project management tool for your teams can be a life changer. Here are five tailored tips to guide your move to a new project management alternative.
Evaluate the need: Before transitioning, assess if the new tool addresses any shortcomings or desired features, guiding a well-informed decision on the best Asana alternative.
Export data from Asana: Use Asana's export feature to back up tasks and projects, ensuring you have a safety net against potential data loss.
Check import options: Investigate how the new tool handles Asana's exported data, as some tools might require manual adjustments or provide direct Asana imports.
Pilot test: Check the new platform with a small team first to gather feedback and make necessary adjustments, ensuring an easier overall transition.
Training: Organize training sessions for your team, providing them with the necessary resources and support to smoothly adapt to the new tool's environment.
Conclusion
Project management tools, including Asana, play a vital role in today's remote work environment. While many love its features, some professionals search for a list of Asana alternatives to find the perfect match for their specific needs.
If you're budget-conscious, consider the Ahsuite Starter Package. This offers core project management features free of charge, suitable for up to 10 portals. It's a top pick for remote workers, small teams, and startups.
Choosing the right tool hinges on your unique requirements. Whether you need advanced integrations or straightforward solutions, an Asana alternative is out there to streamline your projects. Dive in and discover the best tool for your team!