On the lookout for excellent alternatives to Basecamp?
Basecamp has undoubtedly paved the way in team communication, thanks to its pioneering features. Jason Fried and David Heinemeier Hansson, the minds behind it, have been influential in reshaping work culture. However, despite its established reputation, Basecamp might not align with your current needs for effective team collaboration and project management.
In this article, we'll delve into the essential features of Basecamp and present the top ten alternatives in 2024. We'll explore their strengths, weaknesses, pricing, and customer ratings to help you make an informed decision. Let's dive in!
What is Basecamp?
Basecamp is considered one of the easiest-to-use PM tools due to its simplicity. This centralized platform facilitates the seamless organization of projects, tasks, and schedules. It offers core project features such as to-do lists, calendars, file-sharing, and instant chat features for both team members and clients.
Furthermore, it is known for giving a unified view of ongoing operations and streamlining project management. With an intuitive design, Basecamp appeals to millions globally, making it ideal for teams and businesses of varying sizes. However, there are no free basecamp plans available to try its features.
Pros:
Post team announcements on boards
Track progress with hill charts
View upcoming tasks in the plan
Powerful messaging and chat
Perfect collaboration tool for real-time messages
Clear planning and task records
Attractive pricing for unlimited
Emphasis on essential features
Cons:
Limited functionalities and customization
No time, expense, or cost tracking
Limited visuals like Gantt charts
Difficult to view the full project progress
No tags, labels, or team hierarchy
Limited cross-project and portfolio views
Limited reporting, exporting, and integrations
Fixed pricing, can be costly for small teams
10 Best Basecamp Alternatives in 2024
Basecamp's schtick lies in its popularity as a simple project management tool and collaboration software. It is easy to use and is considered best for individuals with straightforward workflows.
However, as the demand for effective project management tools grows, more customizable and feature-rich Basecamp alternatives have been appearing in the competition. Here, we unveil the top 10 Basecamp alternatives poised to revolutionize your workflow this year.
ClickUp – Best overall
ProofHub – Best for collaborations
Asana – Best for all-Around features
Nifty – Best for portfolio view
Teamwork – Best for scaling teams
Monday.com – Best for workload flexibility
Airtable – Best for analytics and reporting
Wrike – Best for visuals
Hive – Best for usability-customization
Ahsuite – Best for client management:

1. ClickUp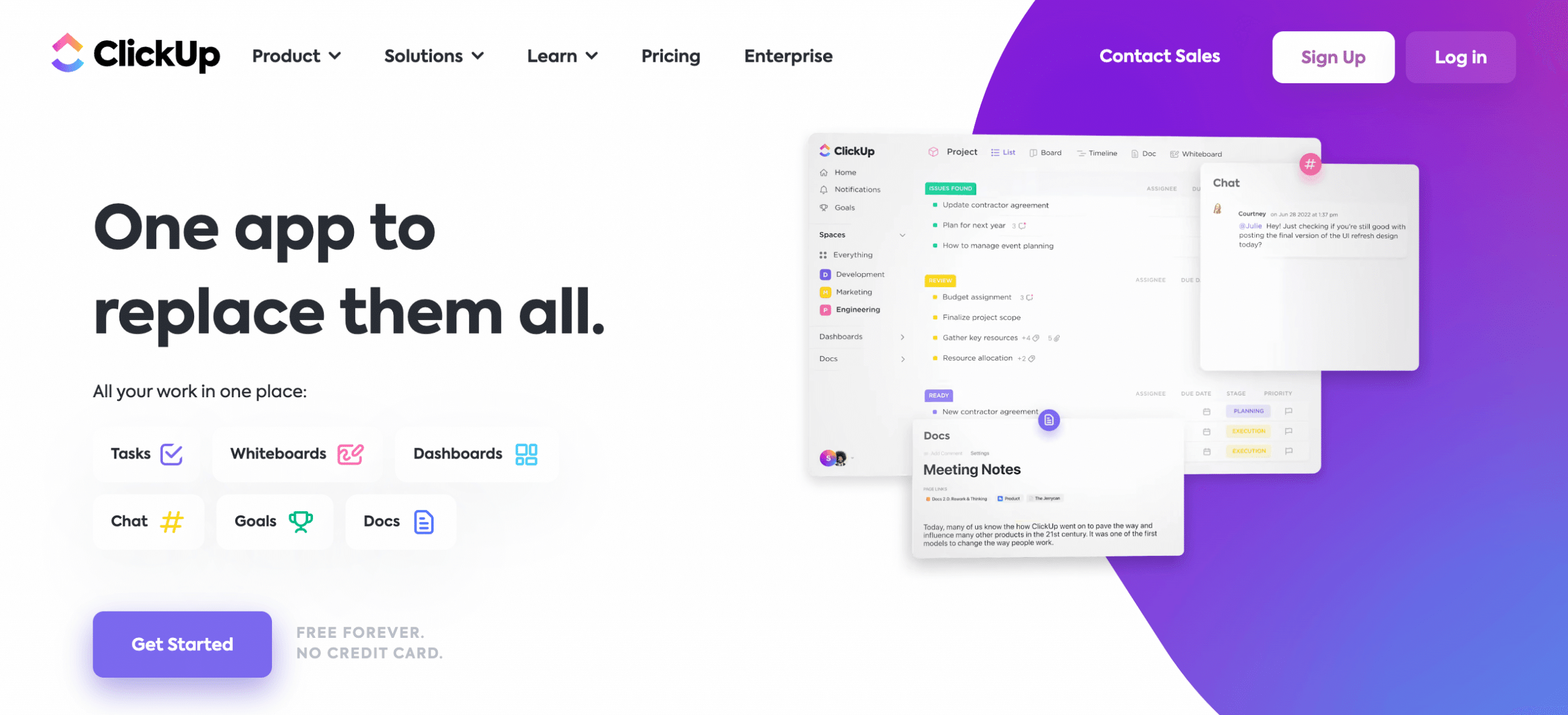 ClickUp is known for its resource management, team communication, and global time-tracking features and possesses more features. It also has a free plan that allows guests to access workspaces as long as the permissions are fully established.
With various views and a simplified task hierarchy, ClickUp offers unique functions that cater to diverse project needs. You can also integrate with various communication tools including Slack, Microsoft Outlook, HubSpot, Salesforce, Timely, Google Drive, and more.
Unlike Basecamp, ClickUp stands out with its comprehensive customization options, including custom task statuses. It also offers time tracking, expense management, and Gantt charts for visualizing progress. With robust reporting, exporting, and integration capabilities, ClickUp connects with over 1,000 tools.
Pros:
Multiple views for organization
Customizable task statuses
Extensive integration options
Supports multiple assignees
Has a Recurring tasks feature
Cons:
The learning curve for beginners
May require additional setup
Limited free plan features
Occasional performance issues
The mobile app needs improvement
Plans & Pricing:
Free
Unlimited: $7
Business: $12
Enterprise: Contact Sales
Customer Ratings:
G2: 4.7 out 5 (9201 reviews)
Capterra: 4.7 out 5 (3948 reviews)
Related: 10 Best ClickUp Alternatives
2. ProofHub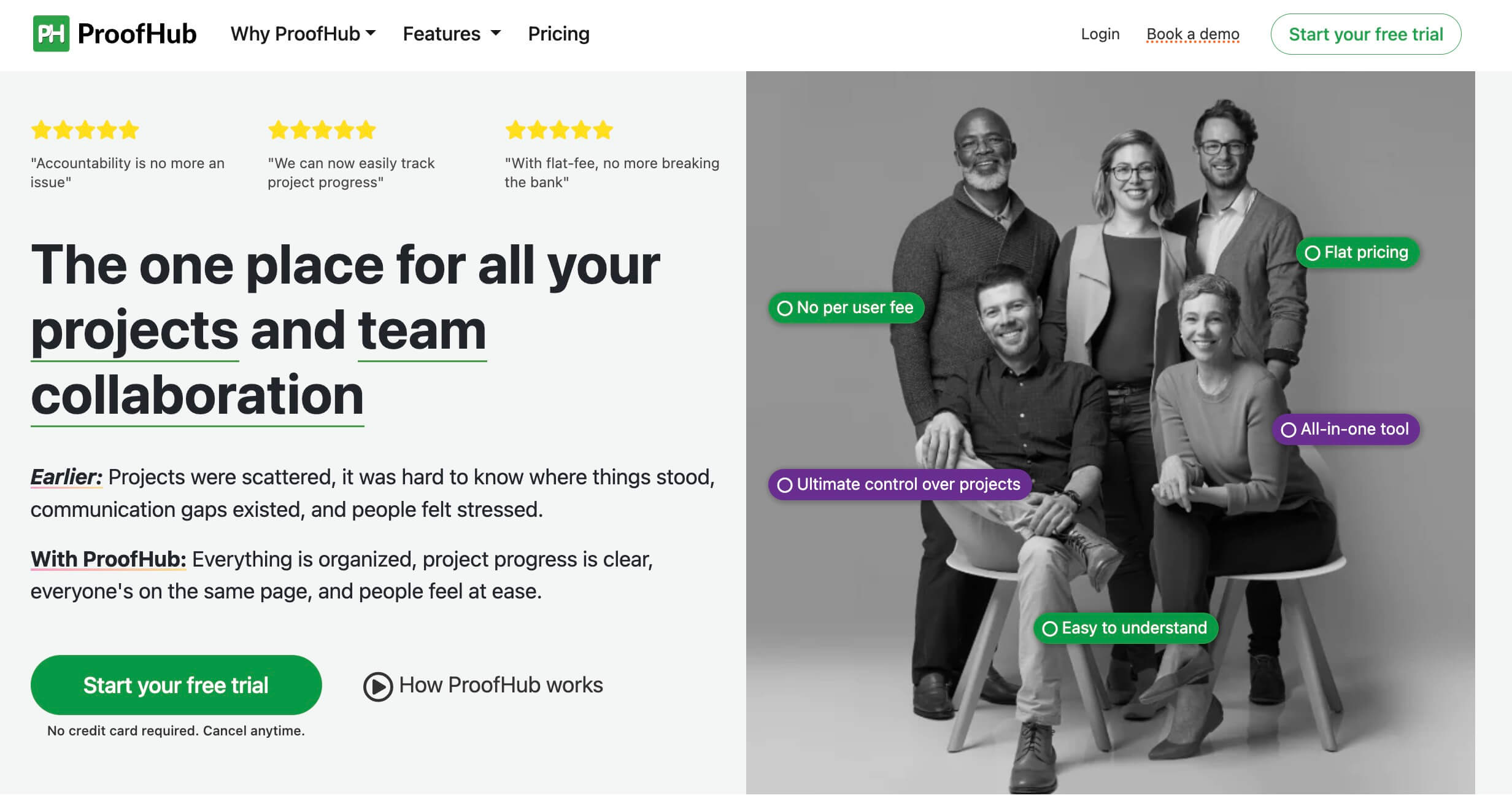 ProofHub is another well-known project management software that blends projects, tasks, team coordination, and client communication seamlessly. It is very similar to Basecamp due to its dedicated approach to delivering team-focused PM tools and features.
It's recognized for its interactive views, time tracking, and detailed reports. With functionalities like Gantt charts and customizable workflows, it presents an all-encompassing platform for modern project managers.
Compared to Basecamp, ProofHub shines with its Custom Roles feature, offering managers greater control over team permissions. ProofHub is best for teams with unconventional roles that require the perfect balance between collaboration and project management.
It showcases Gantt charts for visual tracking and project planning, while its comprehensive reporting and integration make project oversight a breeze. With set monthly pricing regardless of user count, it's also budget-friendly. Unfortunately, the company doesn't offer a free plan just like Basecamp.
Pros:
Intuitive, user-friendly interface with comprehensive features.
Enhances productivity with customizable roles and workflows.
Streamlined task delegation, management, and tracking.
Centralizes tasks, reducing reliance on emails.
Effective for real-time team communication and performance reporting.
Cons:
Intrusive notification system.
Lacks some features like a robust note tool.
Incomparable to certain functionalities in ClickUp.
Challenges in transitioning from other tools.
Plans & Pricing:
Essential: $50
Ultimate Control: $150
Customer Ratings:
G2: 4.5 out 5 (84 reviews)
Capterra: 4.5 out 5 (94 reviews)
3. Asana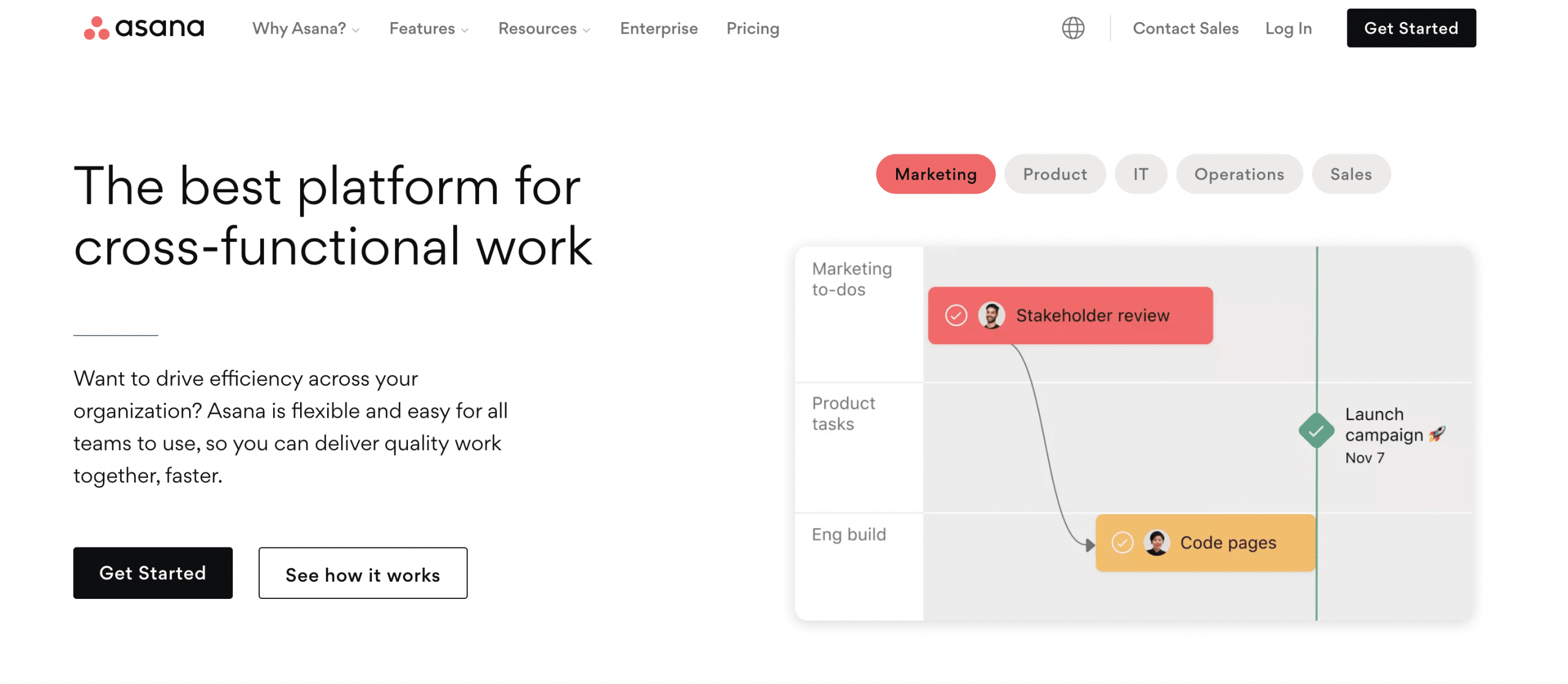 Asana can be an ideal Basecamp alternative if you're looking for a more complex tool. It also offers tons of impressive and comprehensive features, which are available on the free plan. Asana is specifically designed for large-scale or complex projects. With this feature-rich product, you will likely get features that Basecamp lacks.
As a Basecamp alternative, Asana shines with its superior customizability through various tool integrations and workflow customization. This tool is one of the best holistic tools due to its wide umbrella of project management features that cater to both remote workers and business owners.
Furthermore, Its drag-and-drop functionality, calendar, board views, and real-time dashboards can empower users with visuals and an overall progress view. The platform's focus on robust data security and flexible workspace options adds to its appeal.
Pros:
Variety of integrated project management methods.
Real-time chat for instantaneous task discussions.
Noteworthy automation and delegation functions.
Email integration enables direct work requests.
Overview of the entire team's performance and tasks.
Cons:
Subtask copy-pasting lacks hierarchy retention.
Occasional slow-loading website bugs.
Key notifications can be overlooked.
Onboarding email notifications can overwhelm users.
Plans & Pricing:
Free
Premium: $10.99
Business: $24.99
Customer Ratings:
G2: 4.3 out 5 (9530 reviews)
Capterra: 4.5 out 5 (12310 reviews)
Related: 11 Best Asana Alternatives
4. Nifty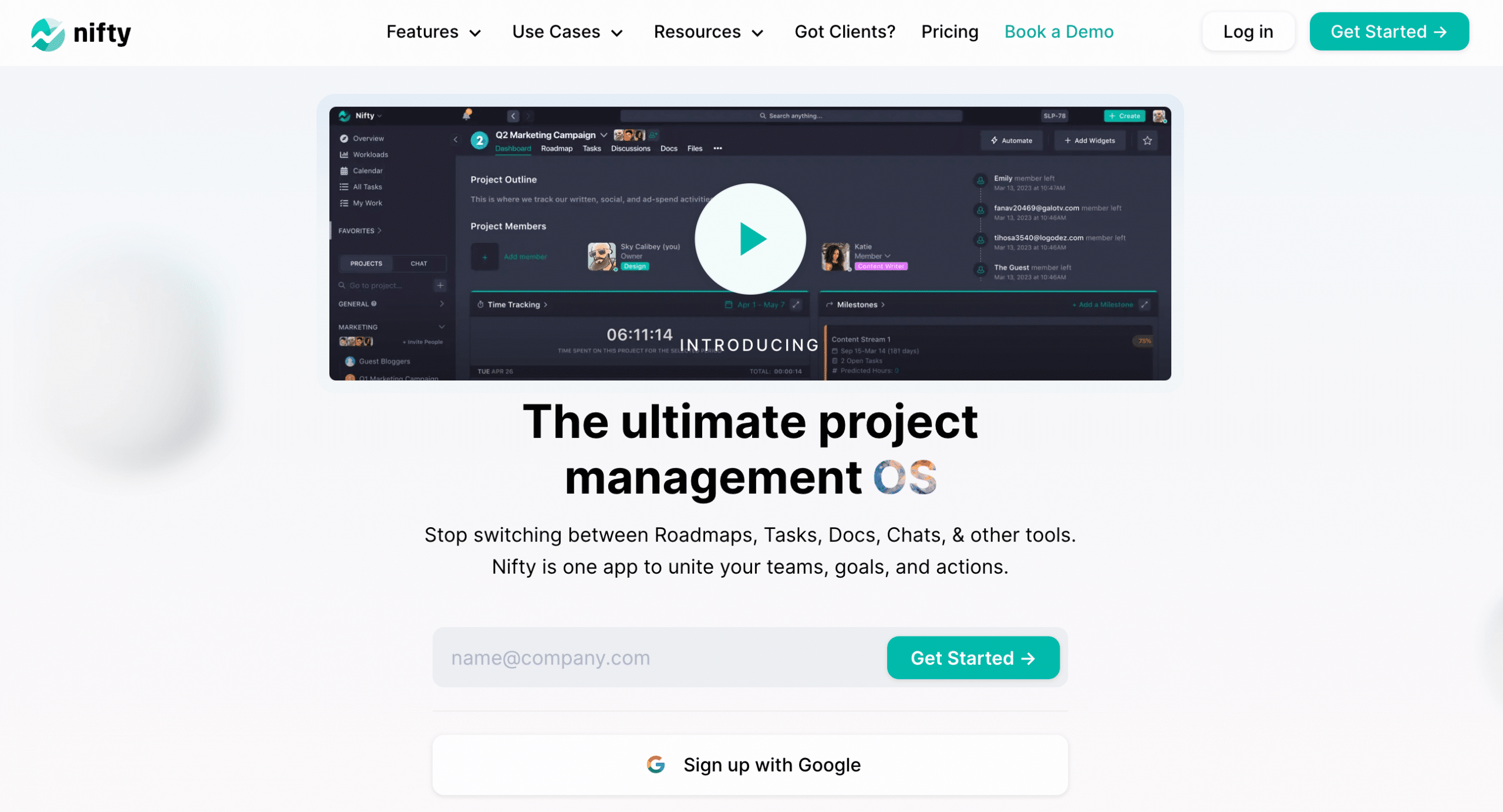 Nifty is on the list due to its simplicity and customizable workflows. Coupled with dynamic features such as milestone setting, portfolio management, and time tracking, it provides an option for more robust milestone planning, portfolio management, and reporting than Basecamp.
The simple yet customizable workflows allow users to create recurring tasks, automation, and other godsend features that make project management easier.
As a great alternative to Basecamp, Nifty addresses teams who have surpassed Basecamp's constraints but wish to maintain its user-friendliness. In addition, Nifty emphasizes detailed visuals, including roadmaps and overviews.
Pros:
Intuitive design with comprehensive task management.
Milestone configuration: efficient and user-driven.
Consolidates essential project management tools.
Offers diverse Kanban, List, and Timeline views.
Seamless integration with Google and Outlook calendars.
Cons:
Requires page refresh for new file visibility.
Missing advanced features like cost tracking.
Over-reliance on Zapier/Integromat.
Calendar UI can be challenging.
Difficulties coordinating large teams.
Plans & Pricing:
Free
Starter: $39
Pro: $79
Business: $124
Unlimited: $399
Customer Ratings:
G2: 4.7 out 5 (430 reviews)
Capterra: 4.7 out 5 (414 reviews)
5. Teamwork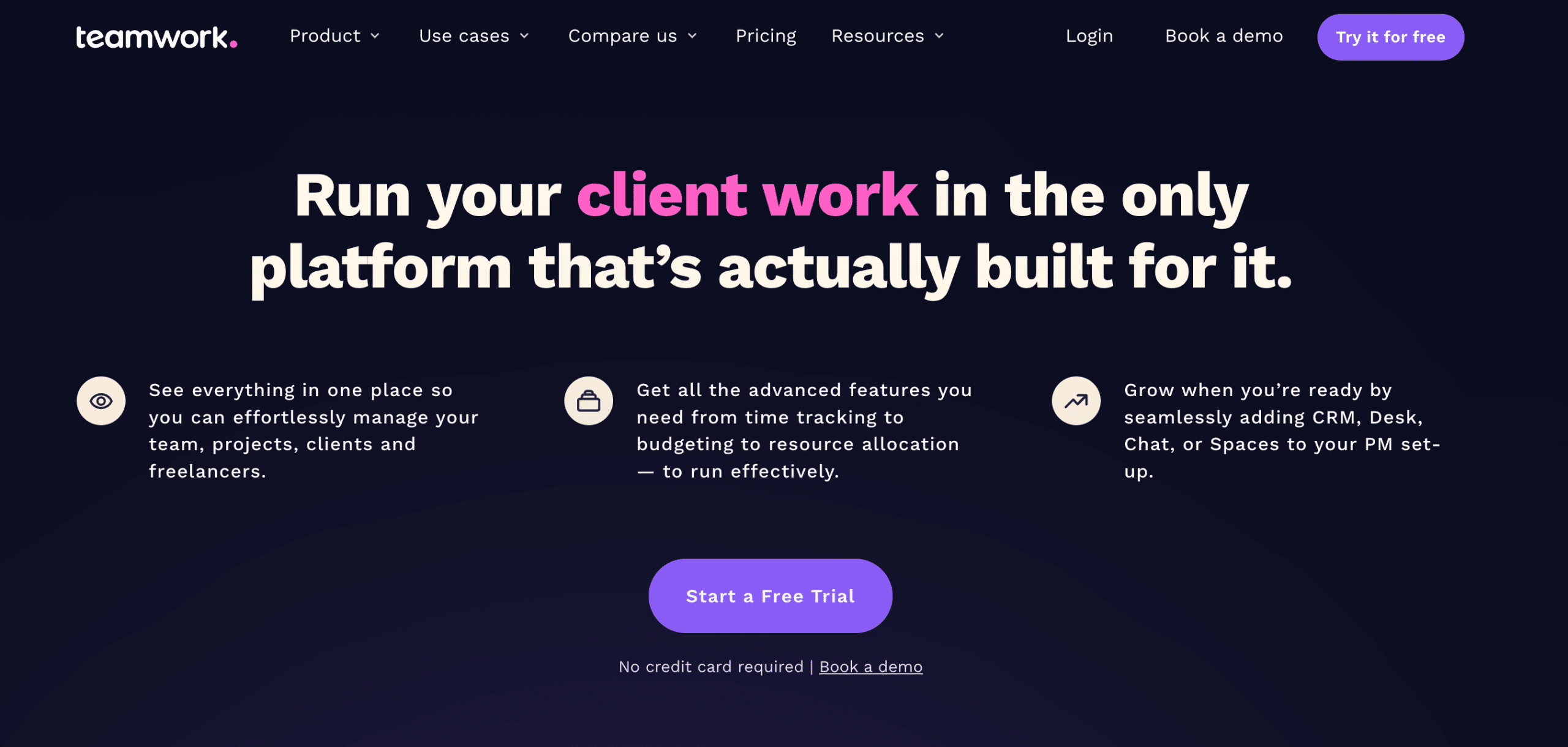 Teamwork is a cloud-based tool that provides a suite of project management, team collaboration, and client communication tools for businesses of all sizes. But with added applications like Teamwork CRM, Desk, Spaces, and Chat, this tool caters more towards scaling businesses.
Why is Teamwork a strong Basecamp alternative? For starters, its platform heavily focuses on time tracking and workload management. It can also track invoices, control permissions, and manage real-time status updates.
Teamwork's capability to visualize project data is a game-changer. Need to share a report? Configure and export it as PDF, CSV, or Excel.
Pros:
Comprehensive task management and continuous updates.
Centralized space for documentation.
Extensive customization with useful notifications.
Enables cross-company collaboration.
Constantly adds valuable features
Cons:
Possible inconsistent software use by users.
Crucial task assignments or projects get lost.
Billing tasks require hours, even for materials.
Missing two-factor authentication warnings.
Risks due to absent security prompts.
Plans & Pricing:
Free
Starter: $5.99
Deliver: $9.99
Grow: $19.99
Scale: Contact Sales
Customer Ratings:
G2: 4.4 out 5 (1072 reviews)
Capterra: 4.5 out 5 (837 reviews)
6. Monday.com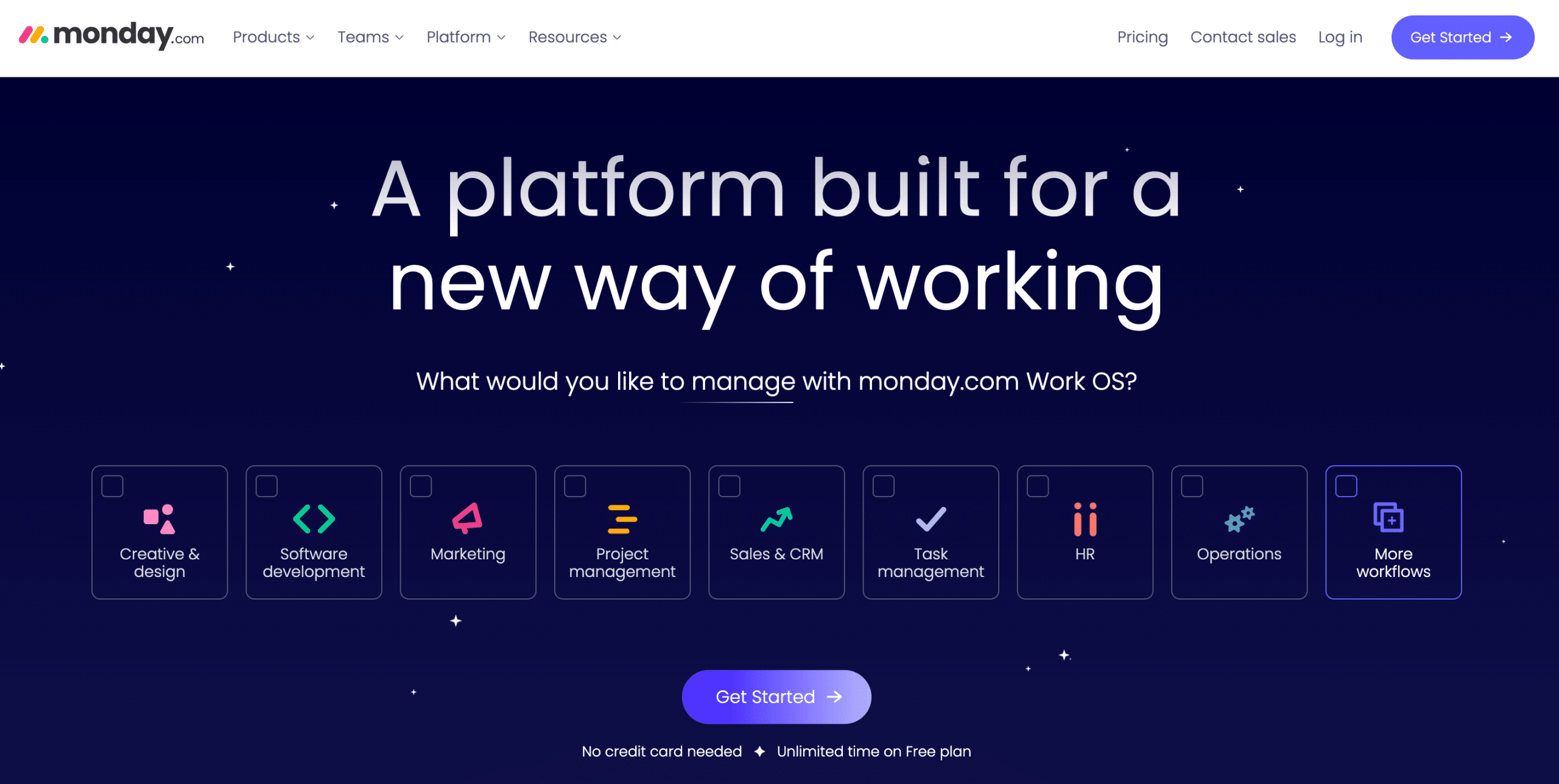 Monday.com is a collaborative, visually intuitive software. It's designed for crafting tasks, assigning them to team members, setting deadlines, and tracking progress. With a rich array of templates and customizable options, it adapts to your unique workflow while keeping all project essentials in one place.
This platform is unique in the Basecamp alternatives list because of its discounts for students, NGOs, and nonprofit organizations. Discounts are great if your team is still small, and that $99/month price is needed somewhere else.
Integration with platforms like Zoom and Salesforce amplifies its versatility. It offers powerful reporting and analytics, along with the ability to see overall progress and task status.
Pros:
User-friendly, visually appealing interface.
Robust features and effective tools.
Comprehensive templates with automation and integrations.
Essential calendar and due-date functions.
Vibrant, visual project tracking.
Cons:
Absence of a strong CRM.
Customer support needs refinement.
Unwanted email notification spam.
The mobile app lacks the robustness of the desktop version.
Limited report customization options.
Plans & Pricing:
Free
Basic: $10
Standard: $12
Pro: $20
Enterprise: Custom Pricing
Customer Ratings:
G2: 4.7 out 5 (9861 reviews)
Capterra: 4.6 out 5 (4492 reviews)
Related: 10 Best Monday.com Alternatives
7. Airtable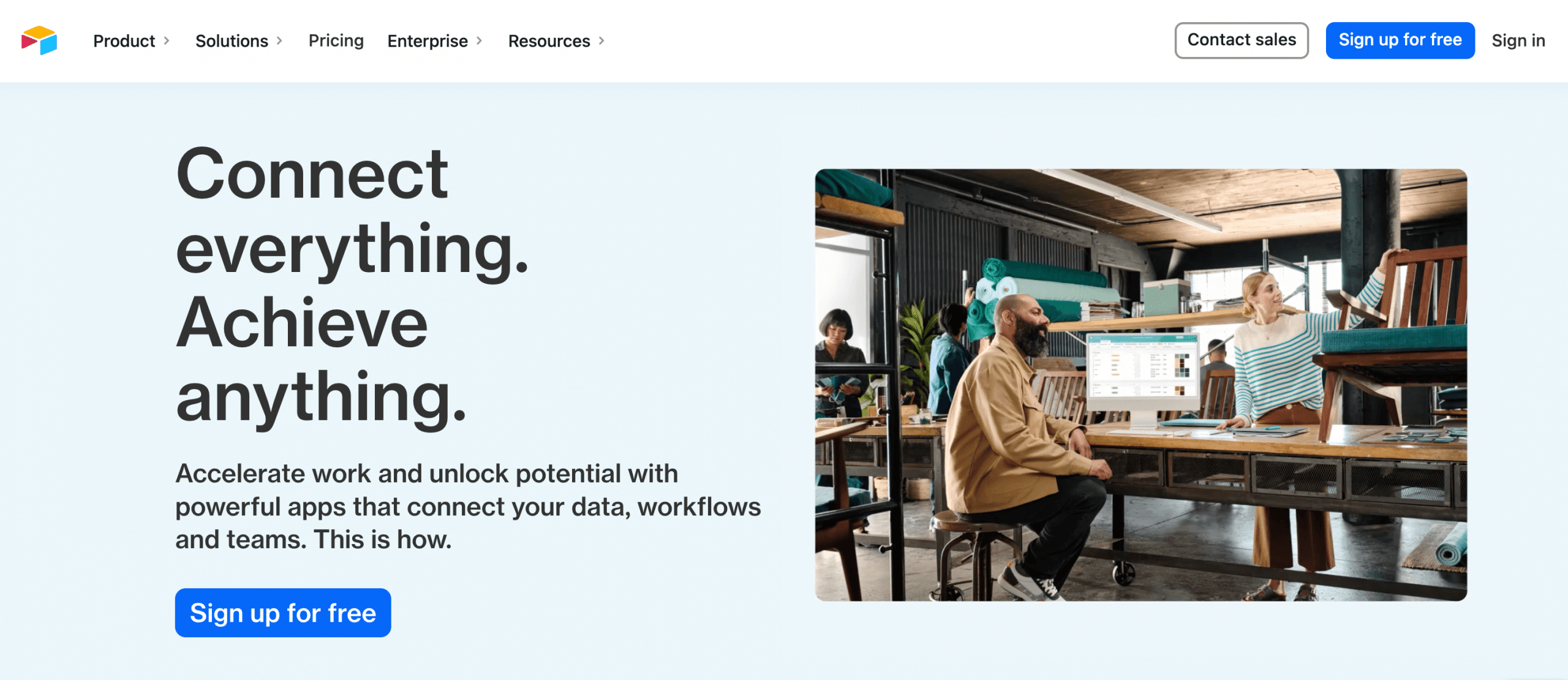 Airtable is a versatile, low-code project management solution known for its unique take on PM features. This platform can easily be mistaken for a spreadsheet. However, due to its product design, Airtable can serve as a workspace and data management tool at the same time.
Famed for its custom workflows and integrations, Airtable's grid-like views, Kanban boards, Gantt charts, and calendar displays enhance the collaborative experience. It's the answer for teams seeking robust visual tools and integration capabilities.
Why pick Airtable over Basecamp? Beyond its wide-ranging customization features, Airtable offers unique visualization options. The platform's adaptability extends from grid views to Kanban and Gantt charts. Plus, with a commitment to integrating popular tools, Airtable ensures a seamless project management experience.
Pros:
User-friendly with robust visual design.
Rich API integrations and adaptability.
Centralized task tracking and storage.
Smart features for cross-platform collaboration.
Transformative task cards to forms.
Cons:
Has a steep learning curve.
Occasional slow load times.
The mobile application lacks responsiveness.
Formula syntax can be improved.
Limited advanced reporting features.
Plans & Pricing:
Free
Plus: $10
Pro: $20
Enterprise: Contact Sales
Customer Ratings:
G2: 4.6 out 5 (2193 reviews)
Capterra: 4.7 out 5 (1932 reviews)
Related: 11 Best Airtable Alternatives
8. Wrike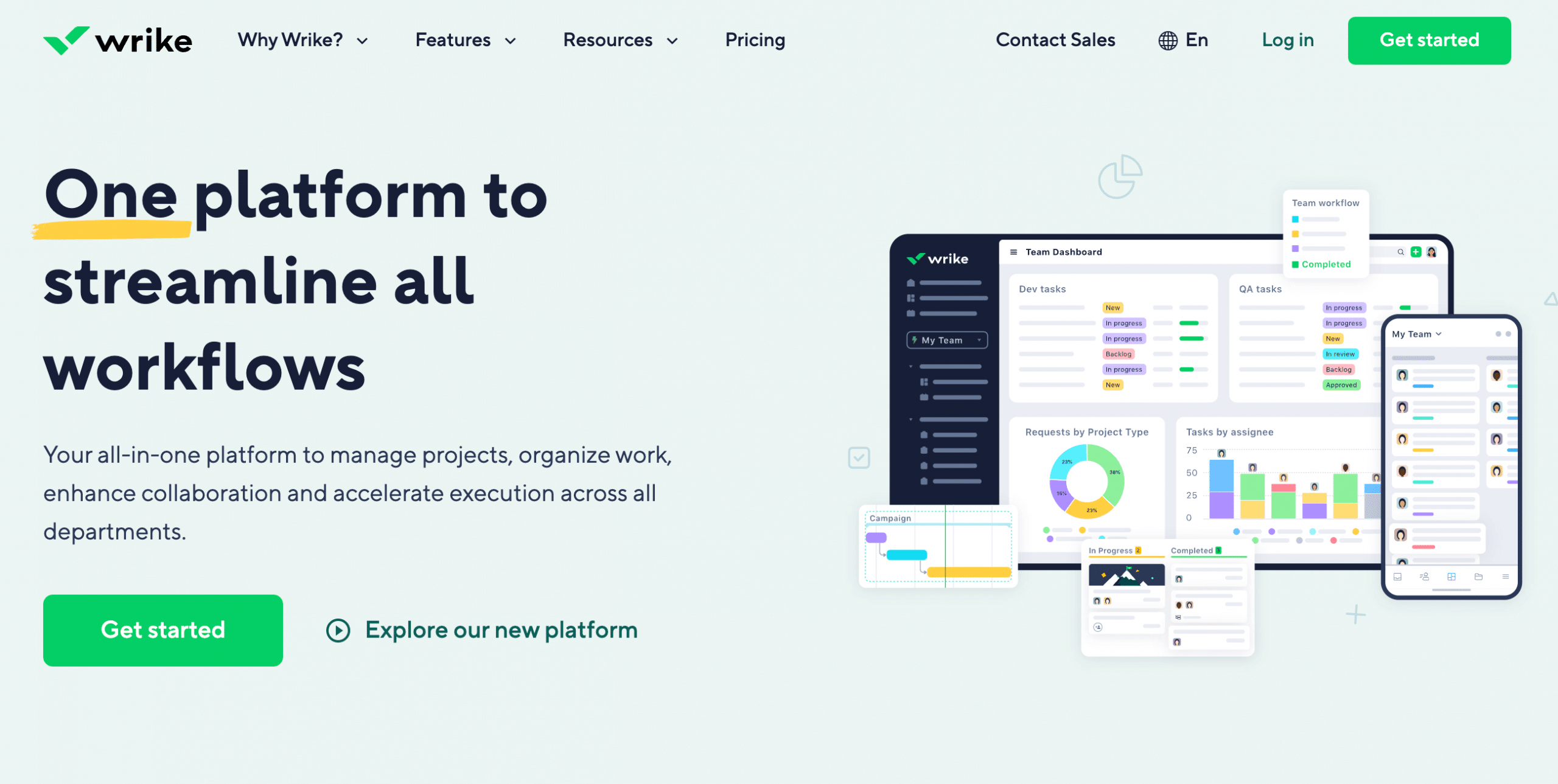 Wrike is known for its automated workflows, detailed time-tracking, and customizable dashboards. Its strong emphasis on project resource planning and cross-team collaboration ensures that teams can seamlessly manage projects, making it a popular choice among mid to large-sized businesses.
Wrike's comprehensive customization capabilities and detailed resource tracking make it a formidable Basecamp contender. It boasts visuals with Kanban, Calendar, and Table views and provides clarity on overall progress through its neat layout. With its ability to offer custom reporting, forms, and cost-effective pricing, it aptly caters to diverse team needs.
Pros:
Easy-to-use, intuitive interface.
Effective project and subtask management.
Customizable for marketing and services teams.
Allows 20 free external collaborators.
Supports unlimited projects in a free account.
Cons:
Gantt view is restricted to paid plans.
Timer feature limited to the Business plan.
Some users find it non-intuitive.
Customer support concerns were raised.
Abrupt account deactivation issues were reported.
Plans & Pricing:
Free
Team: $9.80
Business: $24.80
Enterprise: Contact Sales
Pinnacle: Contact Sales
Customer Ratings:
G2: 4.2 out 5 (3500 reviews)
Capterra: 4.3 out 5 (2555 reviews)
Related: 11 Best Wrike Alternatives
9. Trello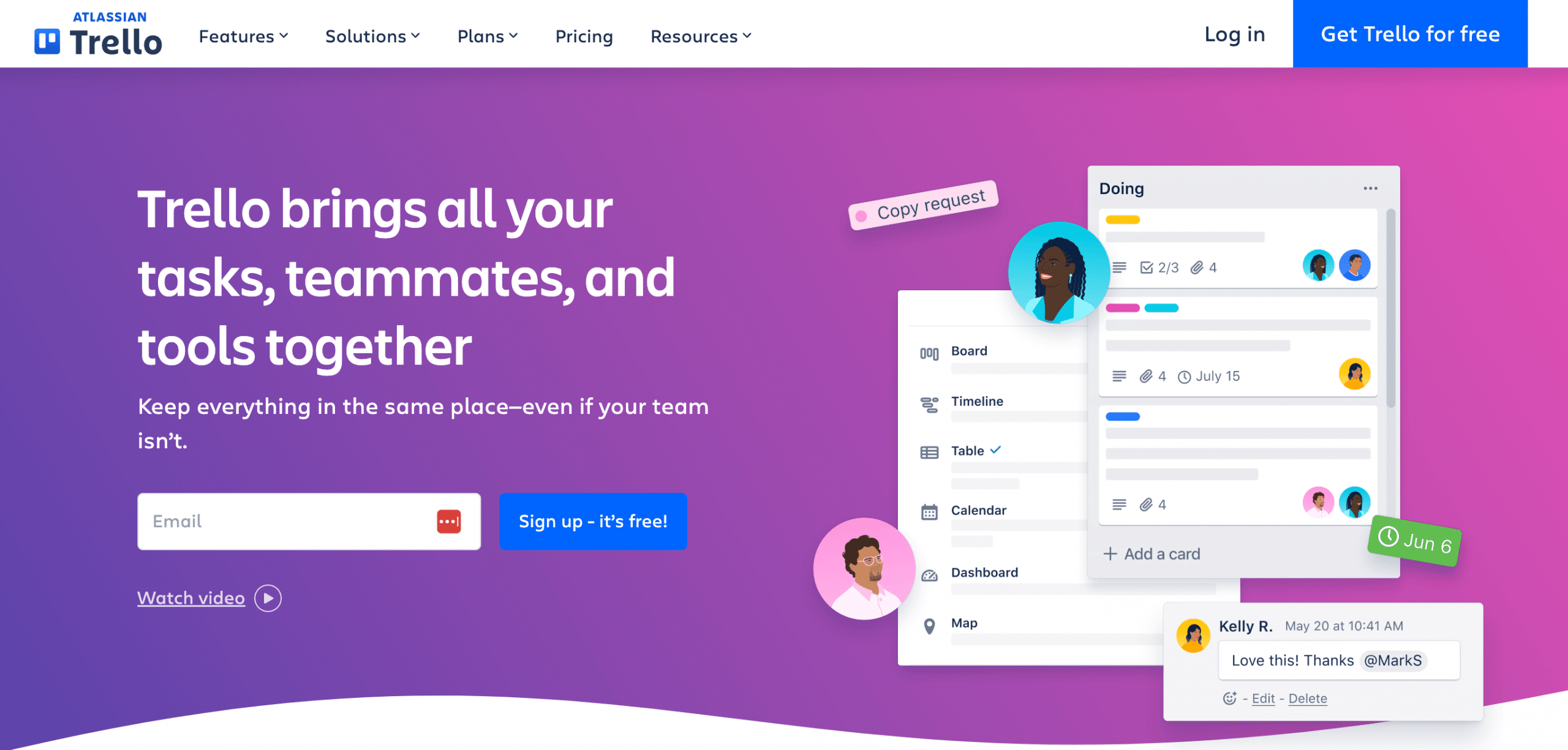 Trello is known for its user interface and iconic Kanban boards, which offer simplicity combined with effective task organization. Integrations with tools like Slack, Dropbox, and Google Calendar make collaboration and project tracking easier and more efficient.
As a Basecamp alternative, Trello is particularly appealing to smaller teams or individual users who need a free and functional platform. The simple drag-and-drop interface, progress-tracking checklists, and efficient labeling system position Trello as a favorite for teams that value visual project management and integrated collaborations.
Although Trello's free plan supports unlimited users, the limited option for integration might not be great when dealing with complex projects. Trello's free plan offers 10 boards per workspace.
Pros:
Visually pleasing, user-friendly interface.
Simple, collaborative Kanban boards.
Efficient notification and activity log.
Offers useful templates and inspiration.
Adequate and cost-effective free version.
Cons:
No native support for Linux.
Limited card management options.
No side-scrolling with the mouse.
Task management struggles in the operational phase.
Risk of losing typed comments in-app.
Plans & Pricing:
Free
Standard: $5
Premium: $10
Enterprise: $17.50
Customer Ratings:
G2: 4.4 out 5 (13442 reviews)
Capterra: 4.5 out 5 (23070 reviews)
Related: 10 Best Trello Alternatives
10. Ahsuite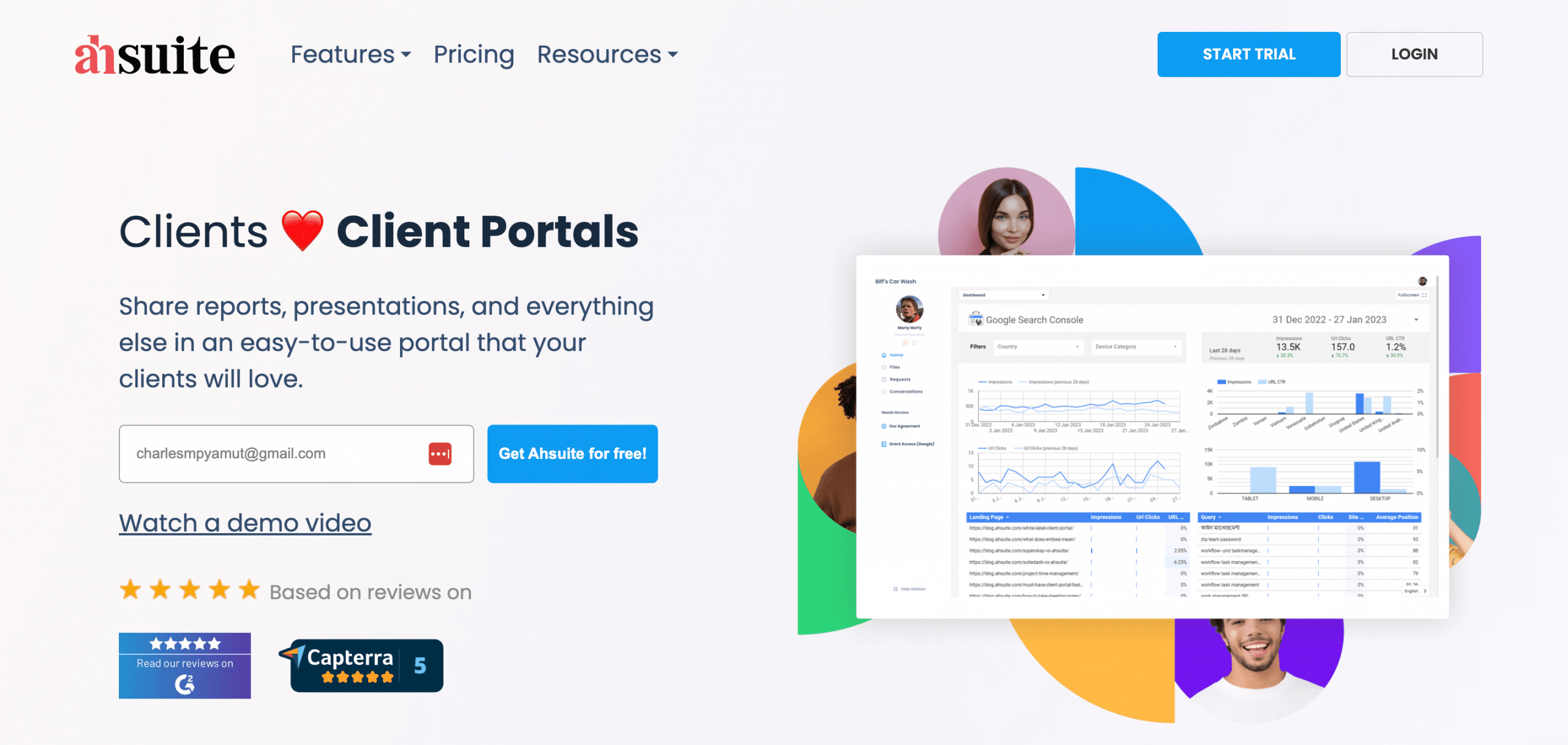 Ahsuite is specifically a client portal and not an exclusive project management tool. But with its suite of collaboration and productivity tools, you can manage your projects AND client touchpoints in one single platform.
The platform offers secure portals that can display embeddable content- from Google Data Studio reports to Figma boards. This can provide a streamlined and organized interaction experience for both providers and their clientele.
As a unique free Basecamp alternative on the list, Ahsuite shines with its robust task management system. Its emphasis on eliminating scattered communication, combined with its integrated file manager, client approvals, and team password manager, makes it a great all-in-one solution for collaborative endeavors.
In addition, Ahsuite has counterparts for features that Basecamp offers when it comes to client management, delivered in a fast and minimalistic interface. This feature is called "views" which centralizes approvals, files, tasks, and communications. The same system that you use when interacting with clients is integrated with the same system that your team members use.
Pros:
Intuitive dashboard with vivid colors.
Versatile features: password saver, client templates.
Streamlines team and client communication.
Facilitates preview of team progress.
Multilingual client template options.
Cons:
Visual issues with some options.
Requires to hover when setting task date.
Limited screen mode adaptability.
Plans & Pricing:
Free
Professional: $24
Agency: $57
Customer Ratings:
G2: 4.8 out 5 (56 reviews)
Capterra: 4.9 out 5 (19 reviews)
Tips for Transitioning to Basecamp Alternatives
As the digital landscape evolves, transitioning to potent alternatives can offer enhanced functionality and adaptability. Here's a list of best practices to make the shift from Basecamp to your new project management software seamless and successful.
Choose your tool: Research and select a suitable alternative that meets your needs, such as Asana, Trello, ClickUp, or Smartsheet. Consider weighting what these project management software have that Basecamp is lacking to provide an informed purchasing decision.
Export data from Basecamp: Create a backup of your projects, tasks, files, and other relevant information from Basecamp in a format that can be imported into the new tool.
Learn the new tool: Before phasing out Basecamp, you should familiarize yourself with the features, functionalities, and user interface to successfully adapt your processes and user hierarchy.
Import your data: Transfer the data you exported from Basecamp into the new tool, using built-in import features if available.
Train your team: Provide training and resources to help your team members adapt to the new project management tool. This is especially important when moving into a more feature-rich PM tool since Basecamp is known for its simple interface.
Conclusion
And here we have it, the top Basecamp alternatives to consider if the platform isn't the best fit for your projects. While it's a seasoned player with much to offer, there's an emerging crop of alternatives in 2024 poised to cater to modern project management demands more adeptly.
Among these alternatives, Ahsuite stands out for client management. It offers a free task and project management tool through the Ahsuite starter package. This "Task" feature makes it easy to track projects.
You can also use Ahsuite's client portal feature, which supports up to 10 users per account. If 10 per account is not enough, you can also try the Grow plan which offers more portals compared to the free plan.
Considering a switch? Experience its efficiency firsthand with a free forever Ahsuite Starter package, or take a look at its collaboration tools with a free trial for its professional and premium tiers.