Finding the right online writing jobs can be challenging for newcomers and veteran writers, especially in a highly dynamic industry like freelance writing. According to the Bureau of Labor Statistics, about 15,200 writing job openings for writers and authors are projected each year. This reflects the burgeoning demand for digital content.
Are you a new freelance writer hoping to get your first remote job? Or are you an experienced writer searching for the next opportunity to turbo-charge your freelance career? In this article, let's explore the most popular freelance writing site to help you land the best gigs.
A Quick Summary of the Best Freelance Writing Websites
From exclusive writing platforms to versatile general freelance writing platforms, there's something for everyone!
7 Best Freelance Writing Websites
Thousands of freelance websites offer writers, editors, and even AI content developers opportunities. However, not all platforms are created the same; some sites might be optimal based on your experience and expertise. Find your next professional home or first freelance gig with the list of websites for content writers below.
1. Mediabistro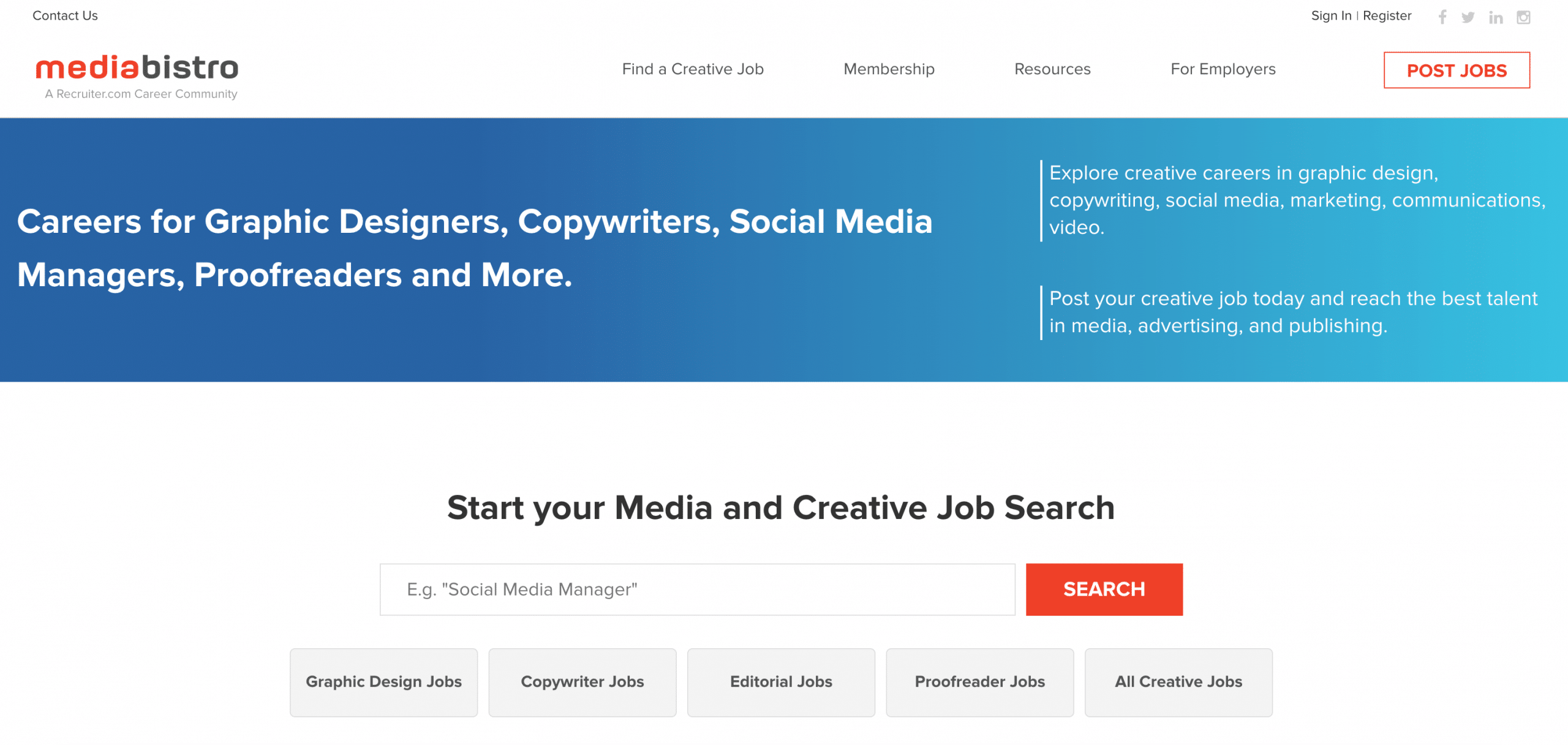 Known for its industry dominance, Mediabistro is a writing job board specifically curated for media professionals looking for high-quality writing gigs. It's a popular hub for media professionals seeking freelance opportunities, resources, and services in graphic design, copywriting, social media management, proofreading, and more.
Mediabistro's unique fusion of job opportunities and career enhancement tools makes it one of the best sites for freelance writers. Its interactive platform offers an extensive job board alongside dedicated training courses, effectively serving employment seekers and those aiming to polish their skills.
Pros:
Known for integrity and longevity within the freelance writing industry
Offers skill-enhancing training courses and career services
User-friendly interface for seamless navigation
Wide range of job opportunities from well-known sites like CNN.
Cons:
Customer service may be less than optimal
Occasional technical issues experienced by users
Valuable resources are paywalled through MB unlimited subscription
Fierce competition, not beginner-friendly
2. ProBlogger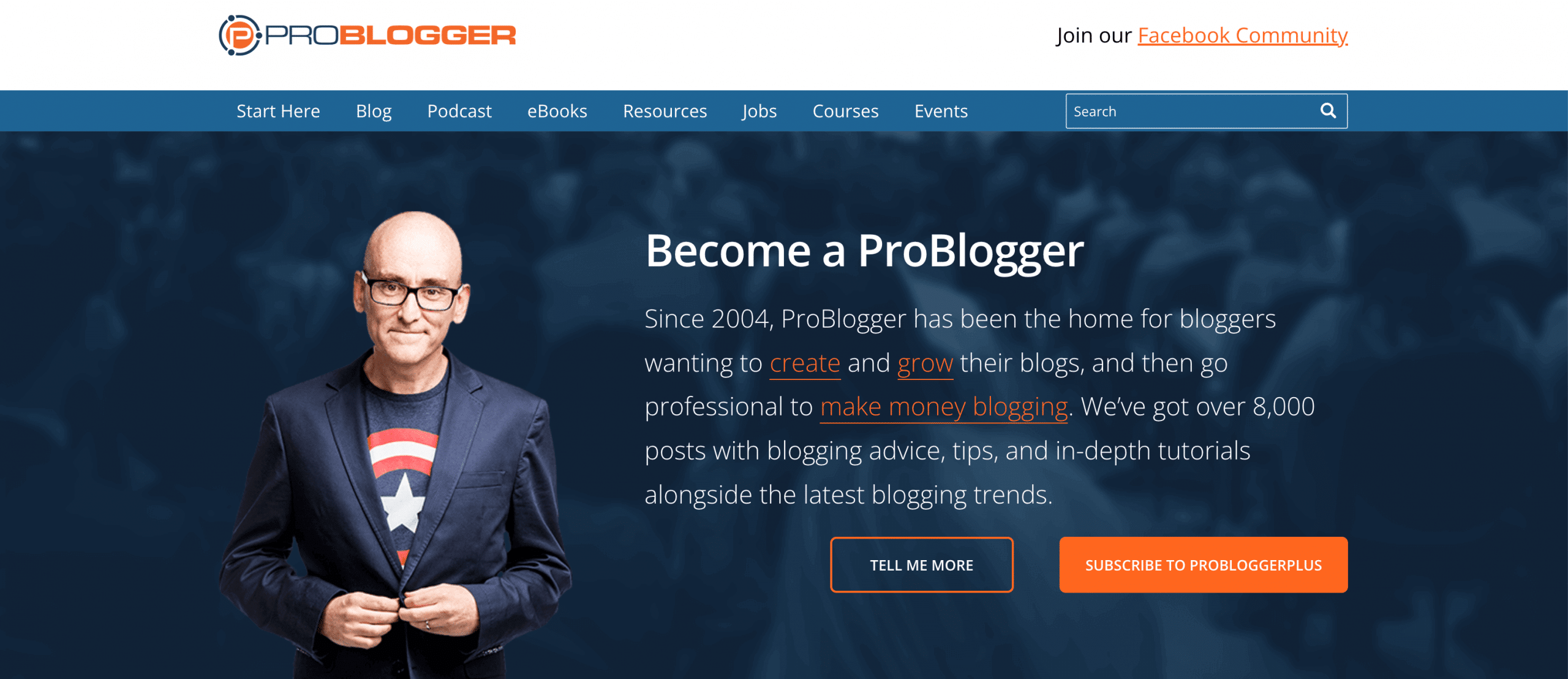 ProBlogger is a unique platform among freelance sites because it primarily caters to blogging enthusiasts. It evolved from a blog to an extensive repository of remote writing resources and opportunities. You might find your next project here if you're looking for an in-depth writing gig.
The platform's unique selling proposition is its community of bloggers who share advice, tools, and preferences to improve blogs and catch new industry practices. It is an open space offering many free resources, from courses to podcasts, live events, and webinars.
Pros:
A premium site focused on blogging opportunities
A wealth of free resources for content creation
Access to jobs and regular content updates with free membership
Cons:
Highly competitive job board due to the caliber of freelancers
Some resources like eBooks and courses are paid
It may not be budget-friendly for freelancers seeking entirely free content
3. Writer Access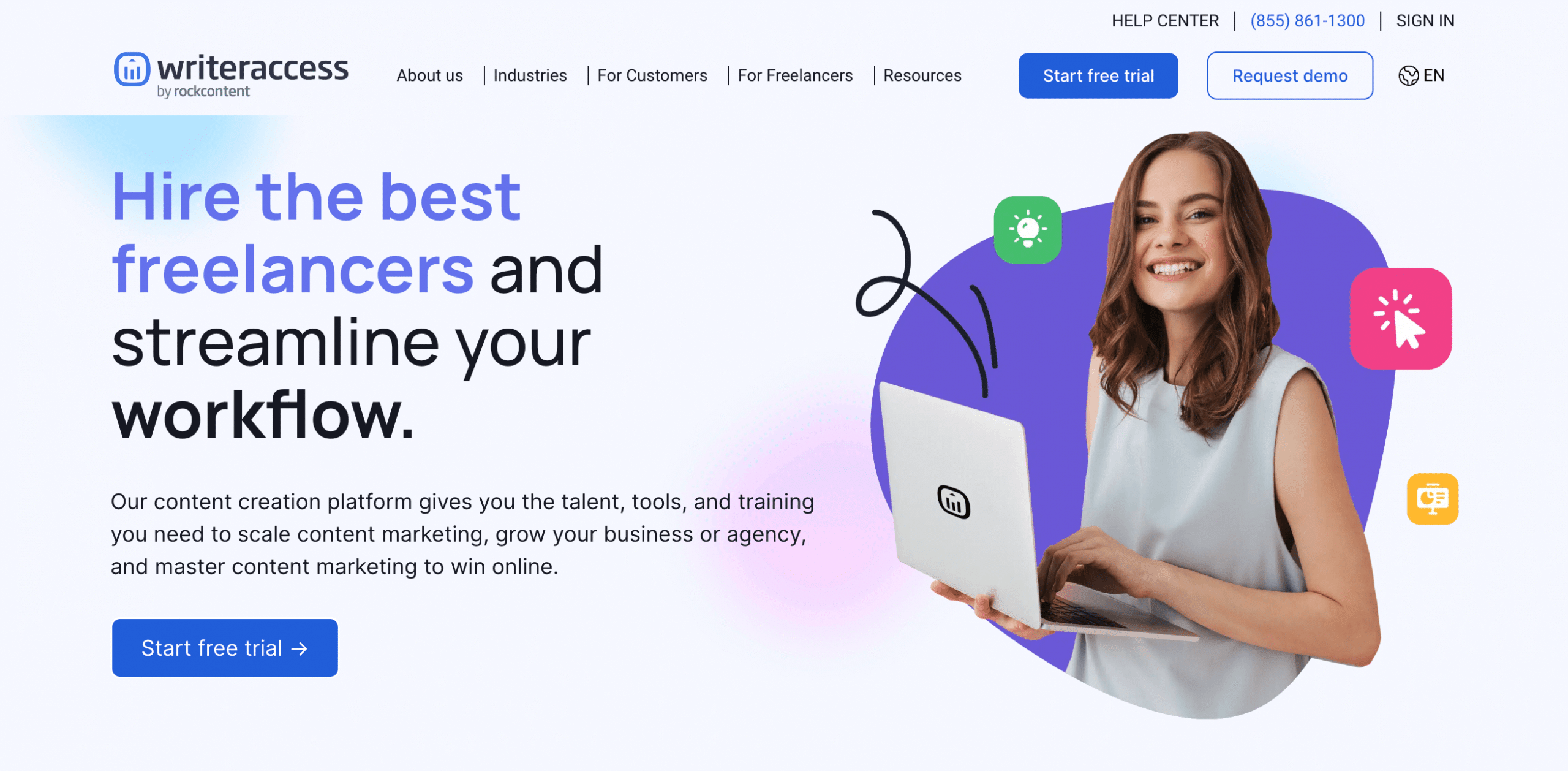 WriterAccess offers writing jobs for writers of all skill levels, with orders ranging from product descriptions and blogs to technical content. Its broad talent pool serves diverse industries with services like content writing, editing, and marketing. Currently, the platform only accepts applications by Native English speakers, but they maintain a no-entry-fee policy.
The platform performs a comprehensive screening of applicants' education, writing expertise, SEO and social media knowledge, and the extent of their online authority. Once accepted, writers are assigned a specific level of writing quality based on their skills and experience.
Pros:
No joining fees for freelancers
Pay rates tied to skill levels
AI-enhanced client-writer matchmaking
Supportive community through writer forums
Cons:
Limited access to writer profiles
Less control over projects
Challenges in finding consistent work
High competition among writers
4. Contena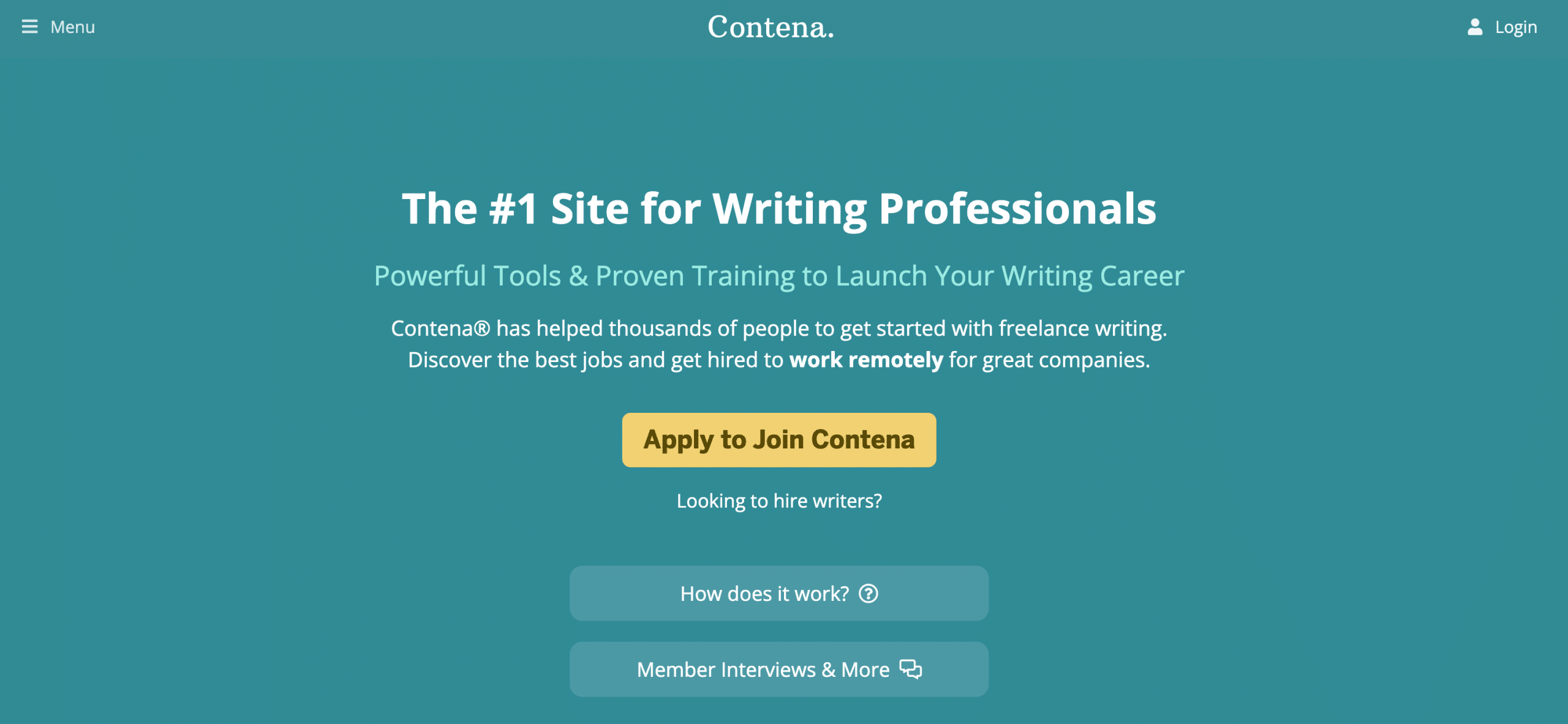 Contena is an all-in-one platform for remote writers and communication specialists. It connects freelancers to high-paying clientele from diverse industries like marketing, healthcare, and technology. Although membership-based, it offers educational resources and a decent mobile experience for workers.
Businesses hire freelance writers from this platform for various projects like blog posts, articles, ebooks, product descriptions, case studies, and whitepapers. What sets Contena apart is its commitment to freelancer growth. Beyond job postings, it hosts webinars, offers courses, and provides personalized coaching sessions.
Pros:
Comprehensive job sourcing and learning resources
Access to high-paying clients from varied industries
Beginner-friendly platform design
Resources to elevate your career as a freelance writer
Cons:
Membership can be a financial burden
Fewer job opportunities for novice
High competition due to extensive user community
5. Contently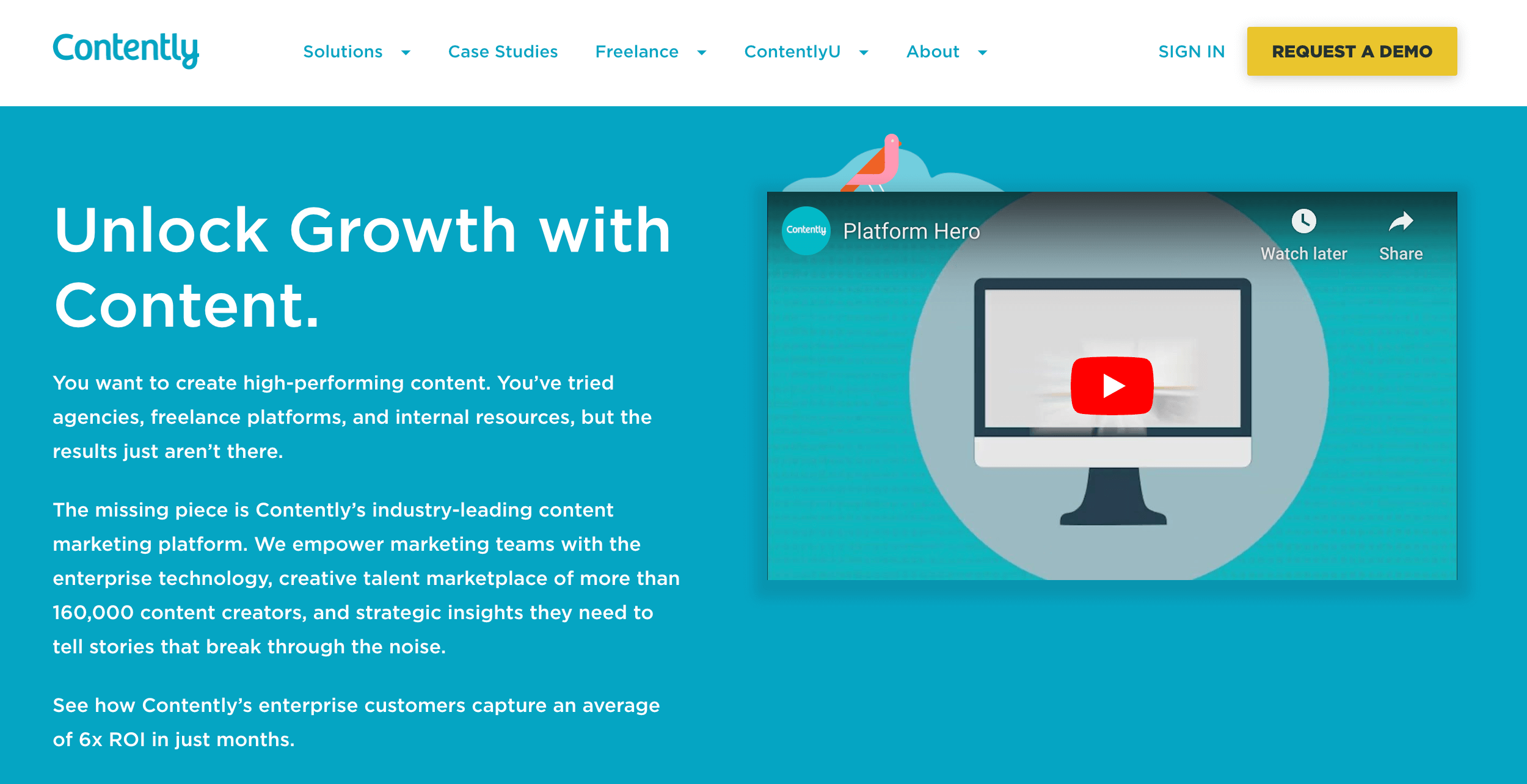 Contently shines as one of the top-rated websites for writers for its reputation as the platform for housing high-quality, well-compensated projects within the content marketing space. It caters to various industries, including freelance finance, tech, and healthcare projects. Contently has a network of over 160,000 content creators, including writers, filmmakers, designers, and editors from renowned publications like Wired, The New York Times, and Popular Science.
The standout feature of Contently is its user-oriented approach. Freelancers can create a writing profile and showcase their portfolio to access the marketplace for free. This, coupled with its clear workflow, user-friendly interface, and flexibility in user roles, makes it an attractive choice for many freelance writers.
Pros:
An extensive network of professional freelancers
User-friendly platform facilitating collaboration
Swift payment post-project completion
Exposure to high-profile clients like Wired and The New York Times
Offers some of the highest rates within the industry
Cons:
Basic, non-searchable portfolio with no filters
Uncertain immediate job matches, demanding portfolio updates
Hefty yearly client subscription fees
Limited job availability
6. ClearVoice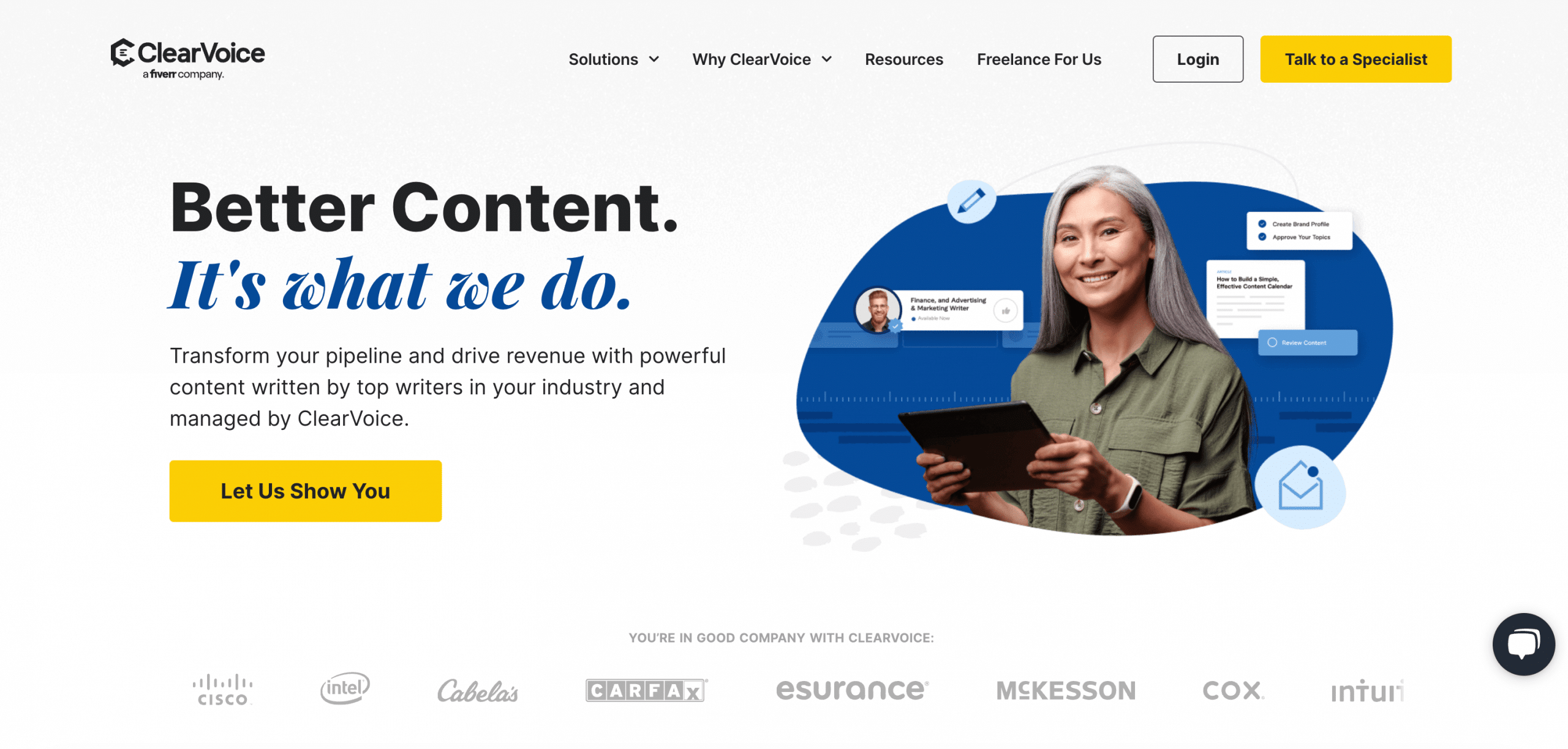 ClearVoice is a content marketing platform that offers managed content creation, distribution, and solutions for businesses. This platform is one of the best websites to find and get writing jobs across various industries. In addition, the platform provides managed workflows that guide freelancers through the content creation process, from ideation to completion.
Writers can join for free and are paid per word, typically between $0.10 and $0.20. Its simplistic, modern design facilitates easy navigation and efficient project discovery. Though clients are charged for articles, the platform is backed by well-known brands.
Pros:
Simple, contemporary platform design
A broad network of industry-specific professionals
No freelancers' membership fees
Exposure to a variety of content projects
Cons:
Limited opportunities in certain expertise areas
Job matching is not always immediate
Client article costs may impact project availability
7. WritingCreek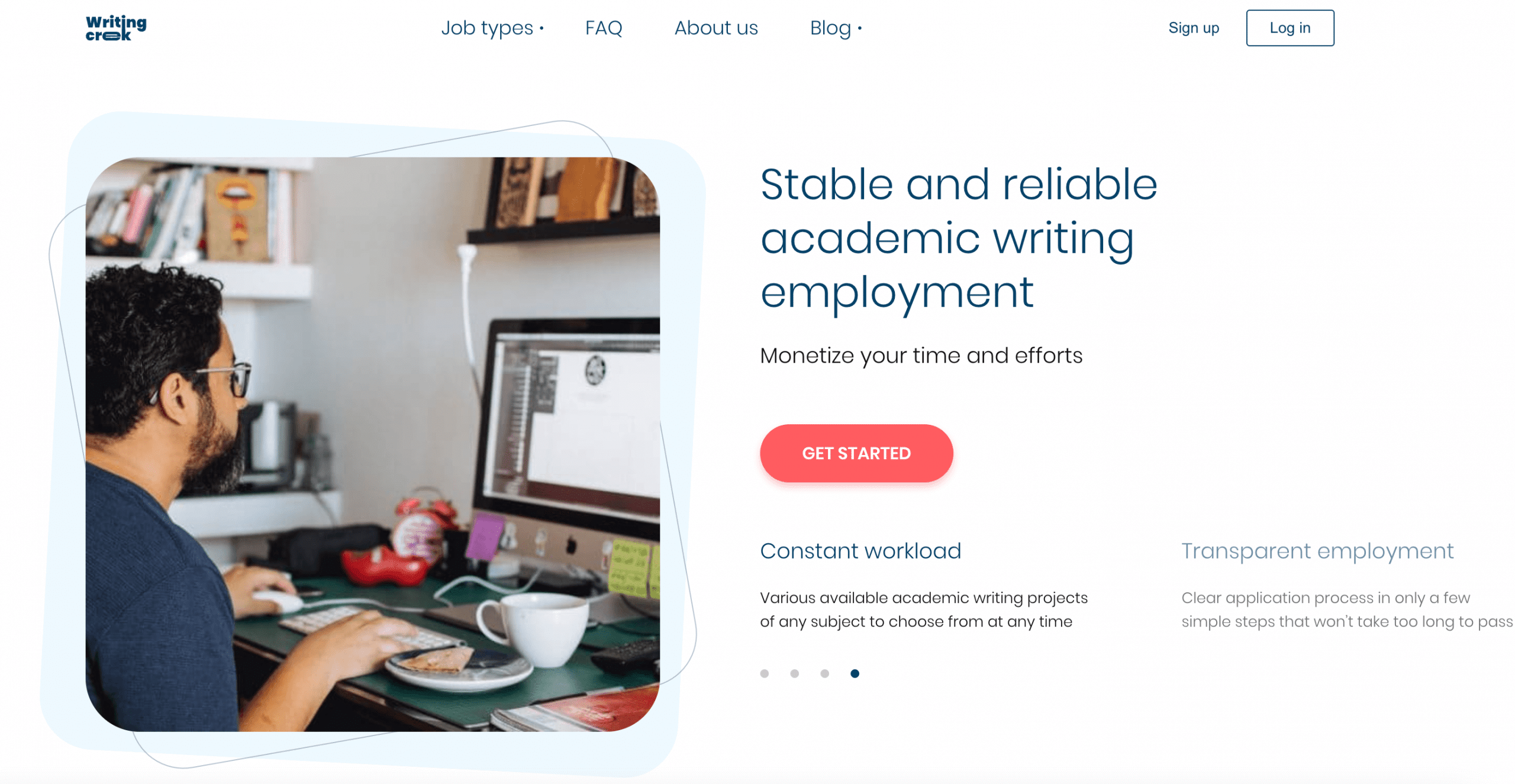 WritingCreek is an online platform that offers freelance writing jobs for college students, scholars, and beginners. It's a hot spot for gigs like essays and research papers. It's a hub for newcomers and experienced freelancers looking to break into academic writing.
The platform can provide a competitive salary based on your domain expertise- $4 to $12 per page based on the project's nature and the writer's expertise. Its user-friendly interface and clear submission guidelines make the platform approachable.
Pros:
Simple onboarding process
Variety of academic writing gigs
Prompt payments (PayPal, Payoneer, Skrill)
Helpful feedback from in-house editors

Cons:
Limited opportunities for some specializations
No instant job matches; portfolio updates needed
Some freelancers find securing clients challenging
Lacks defined career progression paths
Conclusion
Now that you have discovered the top-rated writing websites to level up your writing skills, it's time to take action. Explore these platforms, create compelling profiles, polish your writing portfolio, and start bidding on high-paying projects. Don't forget to create and provide a high-quality writing sample to increase your hiring chance.
Remember to tailor your pitches based on the project, showcase your expertise through your projects/portfolio, and demonstrate your dedication to building a successful freelance writing career. Sign up for the platforms that resonate with you and embark on an exciting journey toward financial freedom and writing excellence!
Managing various writing projects across different platforms can be a challenging task. Try Ahsuite, which offers a 30-day trial to stay organized and productive. This robust tool aids in balancing multiple clients, ensuring a smooth freelance writing journey.