Monday.com has been a go-to project management platform for over a decade, earning praise for its robust features and dependable project management capabilities. Despite its continued high rankings, some companies may find themselves seeking Monday.com alternatives either due to outgrowing its capabilities or the desire to explore comparable collaboration options.
In this compilation, we've curated a list of the leading Monday.com alternatives that not only provide similar functionality but also offer advantages such as better pricing, enhanced user interfaces, or additional features for added utility.
Join us as we evaluate some of the best Monday.com alternatives, aiming to elevate your project management experience in 2024.
What is Monday.com?
Monday.com is a project management tool used by industries to facilitate real-time collaboration, allowing team members to work together seamlessly across the globe. Its features let members plan, monitor, and manage resources, dependencies, and timelines within a customizable project management system.
In addition, it streamlines project management with customizable boards, multiple views, dashboards, integrations, automation, and pre-built templates. This adaptability and versatility allow teams to efficiently plan, create, and collaborate on projects within a single platform.
Pros:
Offers a 14-day free trial for the Pro plan.
Customizable automation options.
Efficient task and status tracking.
Timeline and Kanban views are available.
Integrated communication tools.
Organized project management functionalities.
Varied templates for different industries.
Cons:
Pricing can escalate quickly (depending on the number of users).
The "Buy seats" model is pricy for large companies.
Advanced features are paywalled.
Challenges with tracking time and expenses.
No Gantt chart, though alternatives were provided.
The mobile app has limitations.
Limited third-party integrations.
10 Best Monday.com Alternatives in 2024
Explore the top Monday.com alternatives in 2024, each offering a unique blend of project management capabilities, improved user interfaces, and cost-effective solutions. From ClickUp to Asana and Trello, discover the best Monday.com alternatives tailored to enhance your project management experience.
ProofHub – Best for flat rate pricing
Trello – Best for free plan & ease of use
Asana – Best for advanced project management
ClickUp – Best for customization & flexibility
Hive – Best for user-focused optimization
Nifty – Best for centralized knowledge base
Wrike – Best for time tracking and resource management
Todoist – Best for light task management
Airtable – Best for databases
Ahsuite – Best for client management
1. ProofHub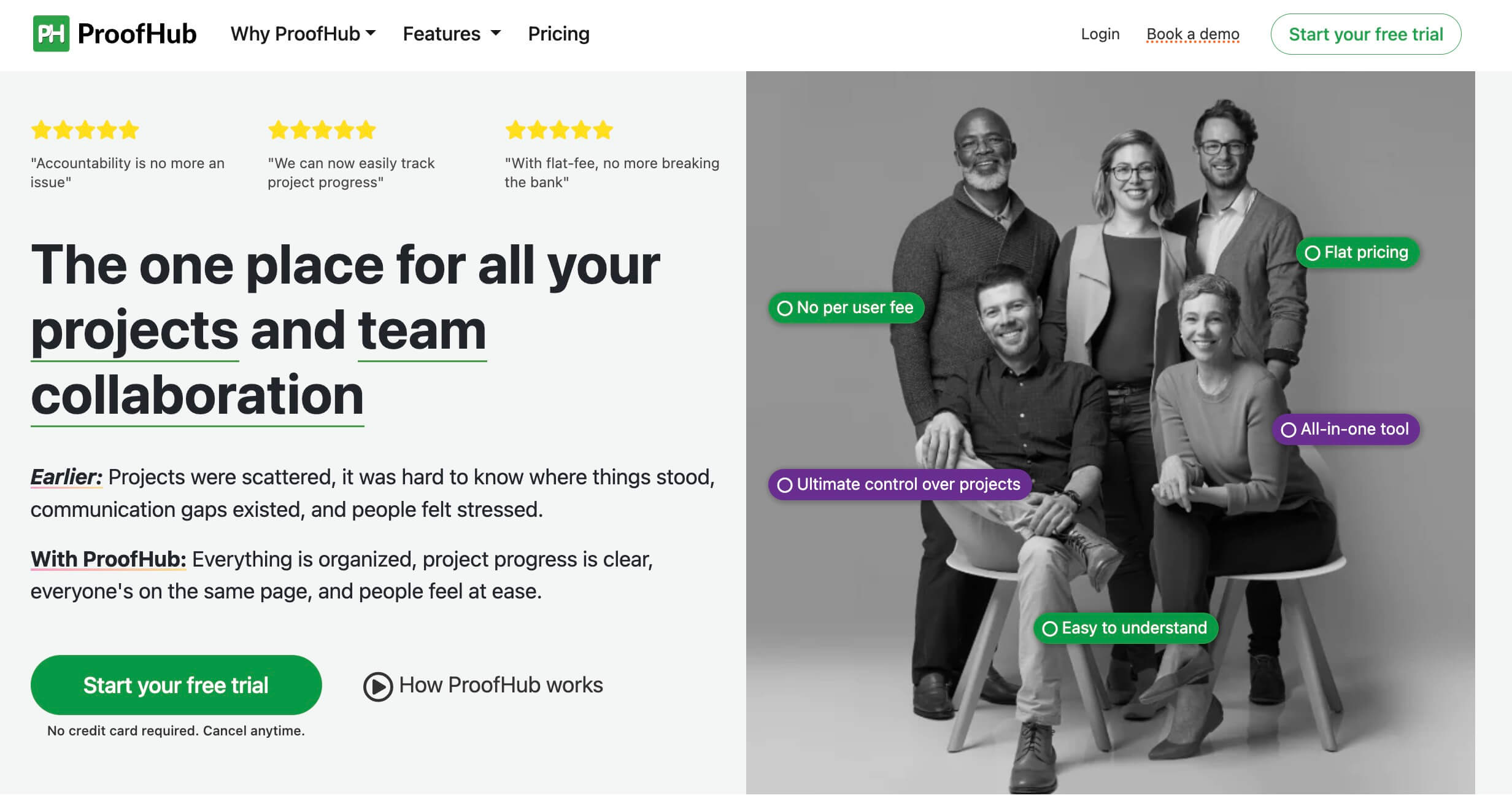 ProofHub is known for its robust project management capabilities that offer seamless and intuitive experiences. Its comprehensive feature set can streamline workflows with an emphasis on enhanced time management. All of these features are available within a cost-effective pricing model that many users find appealing.
As a strong contender against Monday.com, ProofHub is the best fit for budget-conscious teams (SMEs) due to its flat-rate pricing model. In addition, its built-in proofing tool, Gantt chart capabilities, and traditional project management features are perfect for dynamic small-scale management and teams.
Pros:
Quick, hassle-free setup.
Affordable flat-rate pricing.
A balanced mix of simplicity and features.
Impressive, team-oriented kanban boards.
Comprehensive task and file management.
Cons:
Notifications can be intrusive and bothersome.
Users often report intra-team adoption challenges.
Limited features, parallel to a price point.
Needs more integration options.
Plans & Pricing:
Essential: $50
Ultimate Control: $150
2. Trello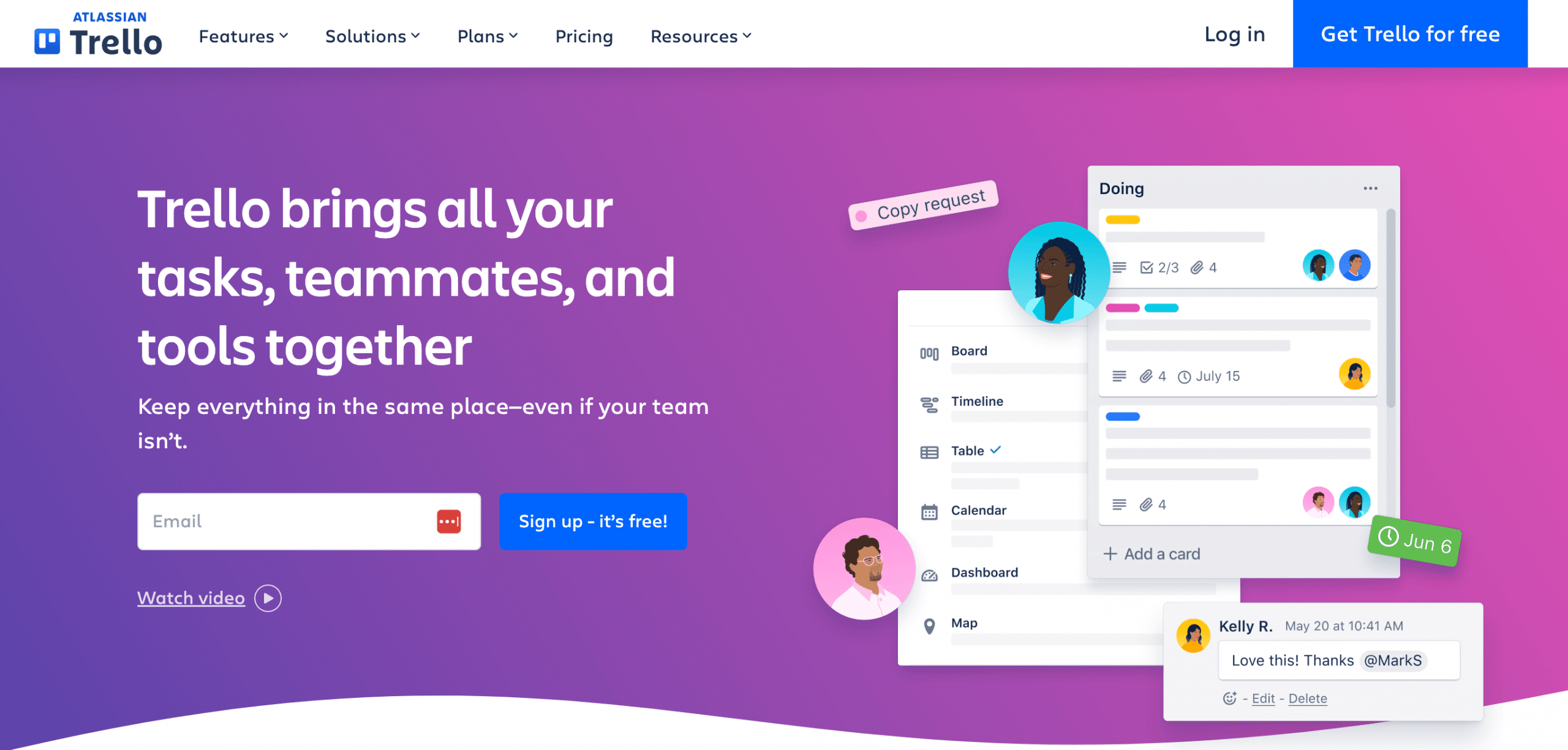 Trello is a favorite among project managers because of its simple yet effective visual approach to project management. Used by millions globally, its Kanban board system and friendly interface make managing projects a breeze. It also supports third-party integrations like Google Drive and Slack.
In addition, Trello's Kanban boards are easy on the eye. Its straightforward, colorful design ensures a more intuitive user experience. While not as extensive as Monday.com, its wide array of integrations and ease of use make it an attractive choice for many.
Pros:
Visually appealing, user-centric design.
Ease of collaboration across teams.
Versatile with templates and blog inspiration.
Assignable cards with customizable colors.
Excellent value for its price point.
Cons:
No offline mode or Linux client.
Kanban might not be ideal for some project management methodologies.
Side-scrolling can be difficult.
Limited task management as projects advance.
Risk of losing comments if the app exits.
Plans & Pricing:
Free
Standard: $5
Premium: $10
Enterprise: $17.50
Related: 10 Best Trello Alternatives
3. Asana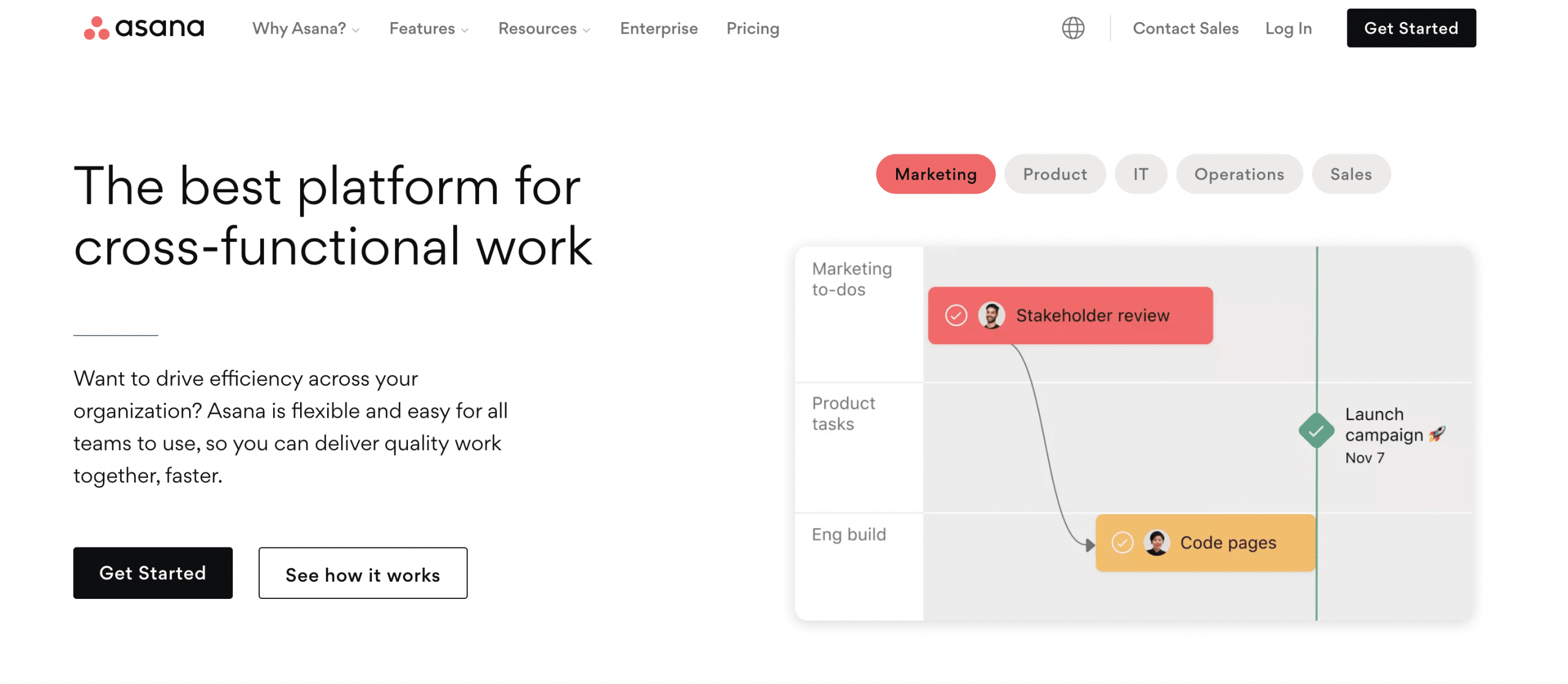 Asana offers an all-encompassing array of features that help users make sense of complex projects and timelines. This includes team collaboration, task management, and boosting productivity. Its core functionalities and multiple viewing options make it one of the best project management software for large teams.
Compared to Monday.com, Asana boasts a more comprehensive approach to advanced project management. Its capability to effortlessly handle intricate workflows, combined with its extensive suite of integrations, can elevate the overall precision of plan execution.
Monday.com and Asana both offer comparable feature sets for managing tasks, projects, and timelines, making it a popular choice for those who need a Monday.com alternative.
Pros:
Expansive integration options and project management methods.
Enables collaboration and tracks task progress.
Clean, intuitive interface with continuous updates.
Multiple ways to visualize project progress.
Comprehensive integrated feature set.
Cons:
Relies heavily on plugins for scalability.
Limited onboarding assistance.
Inadequate reporting features.
Missing recurrent task functionalities.
Email notifications can become bothersome.
Plans & Pricing:
Free
Premium: $10.99
Business: $24.99
Related: 11 Best Asana Alternatives
4. ClickUp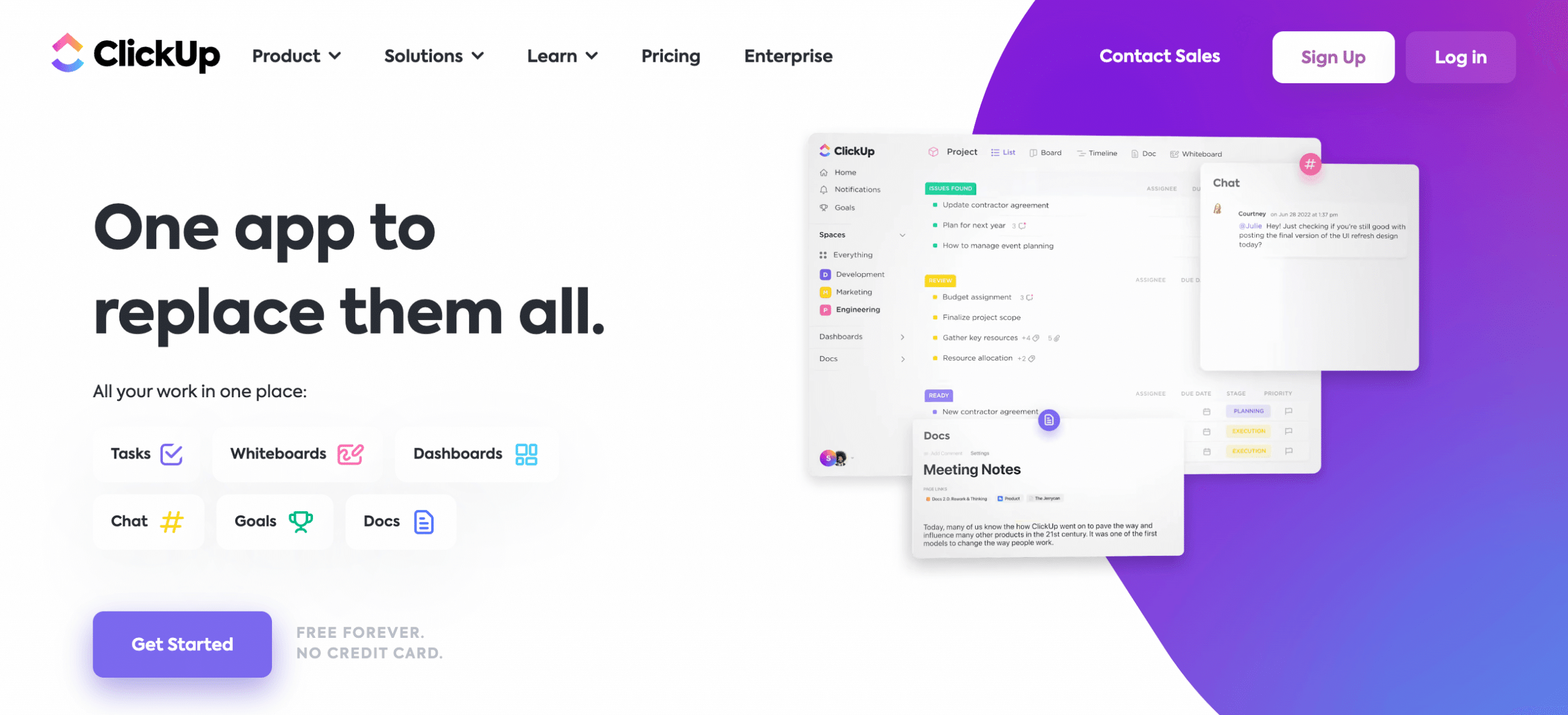 ClickUp offers a variety of customization options, making it one of the optimal options for specialized projects. Designed as an all-in-one productivity platform, it's packed with handy features such as task management, time-tracking, and collaboration tools.
Its ability to offer customizable views (such as list, board, and calendar), and its "hierarchy" mechanism make it a great alternative to Monday.com. Along with its vast integrations, ClickUp provides adaptability in project and task management, perfect for complex workflow requirements on both small and large teams.
Pros:
SaaS format promotes accessibility and seamless usage.
Integration with Microsoft Teams enhances collaborative capabilities.
Efficiently gathers and manages client feedback.
Offers a structured approach to monitor application progress.
Cons:
Occasional delays when inputting new tasks.
Sporadic email response glitches were reported.
Design is called "monochromatic" by a few users.
Font size might be a readability concern for some.
Plans & Pricing:
Free
Unlimited: $7
Business: $12
Enterprise: Contact Sales
Related: 10 Best ClickUp Alternatives
5. Hive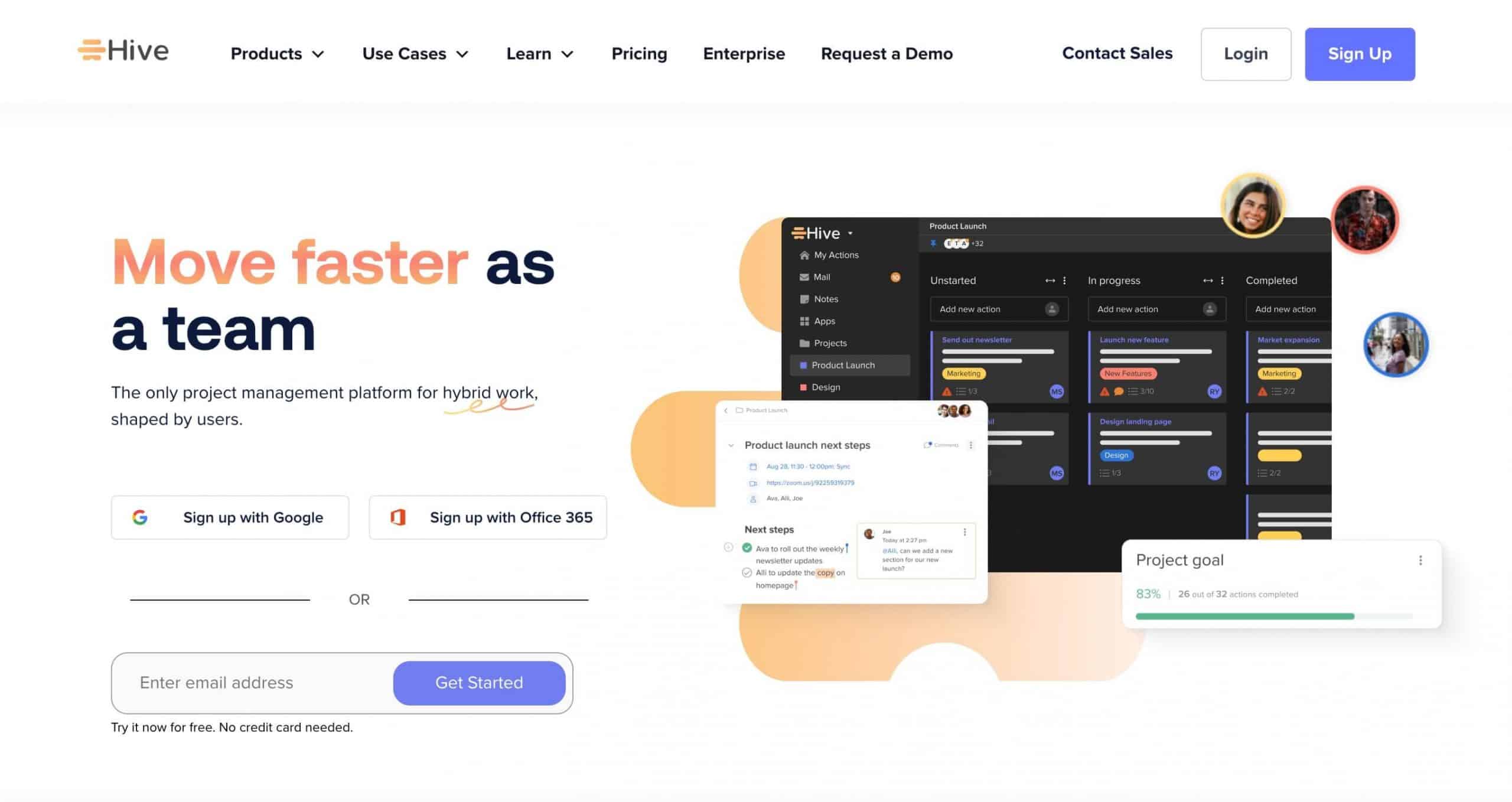 Hive is gaining traction for its collaboration-focused design. The tool has handy project management features such as task lists, sub-tasks, and dependencies to ensure team/stakeholder alignment with project deliverables. Furthermore, its AI capabilities help simplify project initiation and ensure optimal productivity.
In addition, the tool also offers various tools used for resourcing, timesheets, and native chat management which are crucial for projects of all sizes. Its expansive 1,000+ app integrations, user-focused features, task auto-scheduling, and integrations elevate user-centric optimization.
Pros:
Robust template design for quick project plans.
Simplified approval and feedback process.
Stellar customer support, especially during onboarding.
Seamless management from sales to shipments.
Cons:
Image loading issues in chats/groups.
Inconsistent chat notifications.
HIVE email integration lacks attachment support.
Time tracking is only available in the paid version.
Plans & Pricing:
Free
Teams: $12
Enterprise: Contact Sales
6. Nifty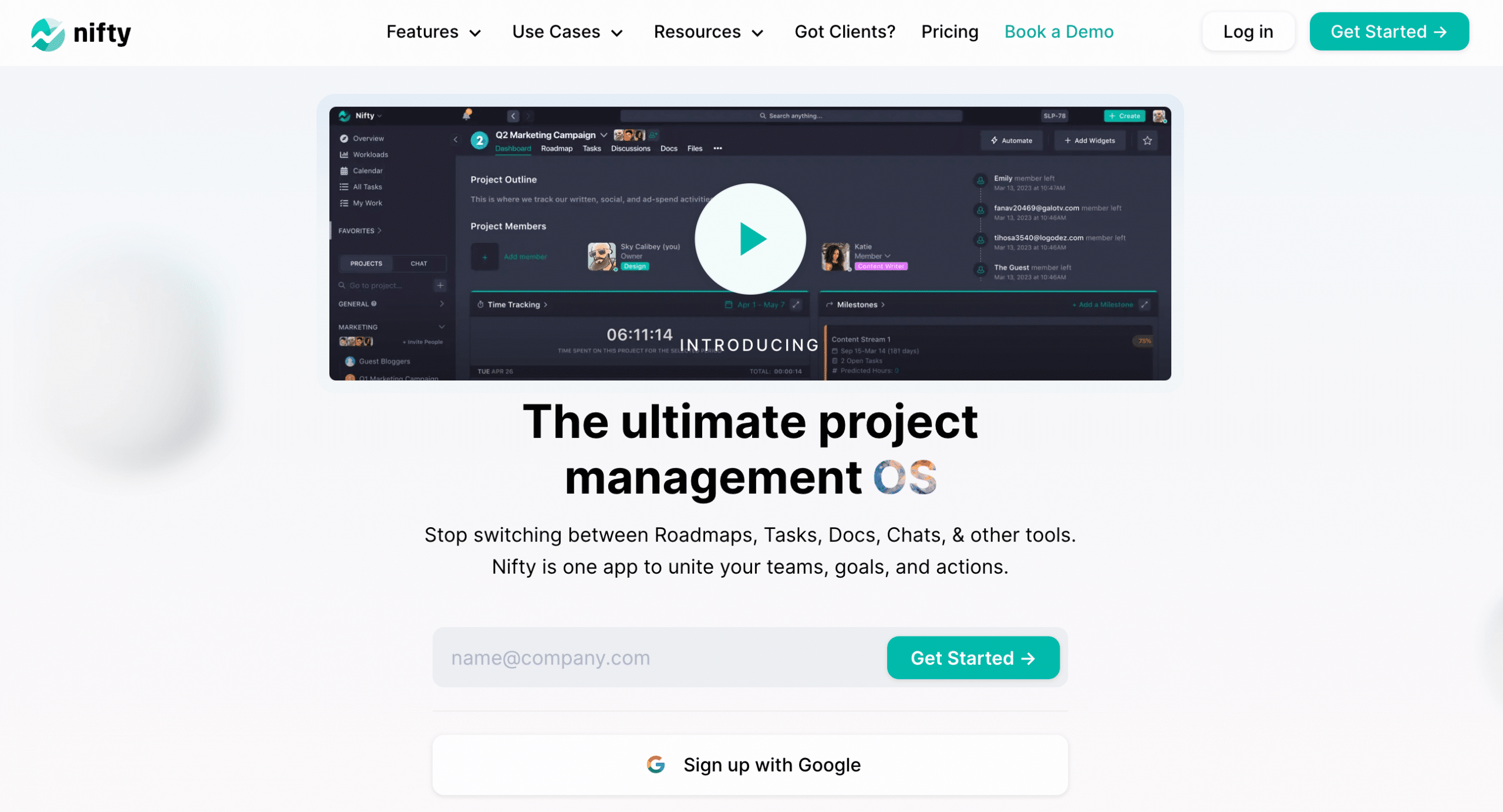 Nifty joined the roundup of the best alternatives to Monday.com due to its ability to centralize and modernize interactive dashboards and task visualization. These features ensure that teams of all sizes across a wide array of industries achieve streamlined project oversight.
Notably, Nifty's features like customizable views, Gantt charts, and the ability to convert discussions into actionable tasks underscore its superiority. In addition, it provides a unified documentation space with its Docs & Wikis functionality that includes version tracking.
Pros:
Unified documentation space with Docs & Wikis.
Streamlined collaboration through integrated discussion threads.
Adaptable task and project views for varied visualization.
Efficient portfolio management for team oversight.
Seamless third-party app and website embedding.
Cons:
The interface may be overwhelming for new users.
Missing advanced features, including cost tracking.
Forms not included in standard plans; require separate add-on purchases.
Only offers tasks and subtasks; additional levels would be beneficial.
Plans & Pricing:
Free
Team: $9.80
Business: $24.80
Enterprise: Contact Sales
Pinnacle: Contact Sales
7. Wrike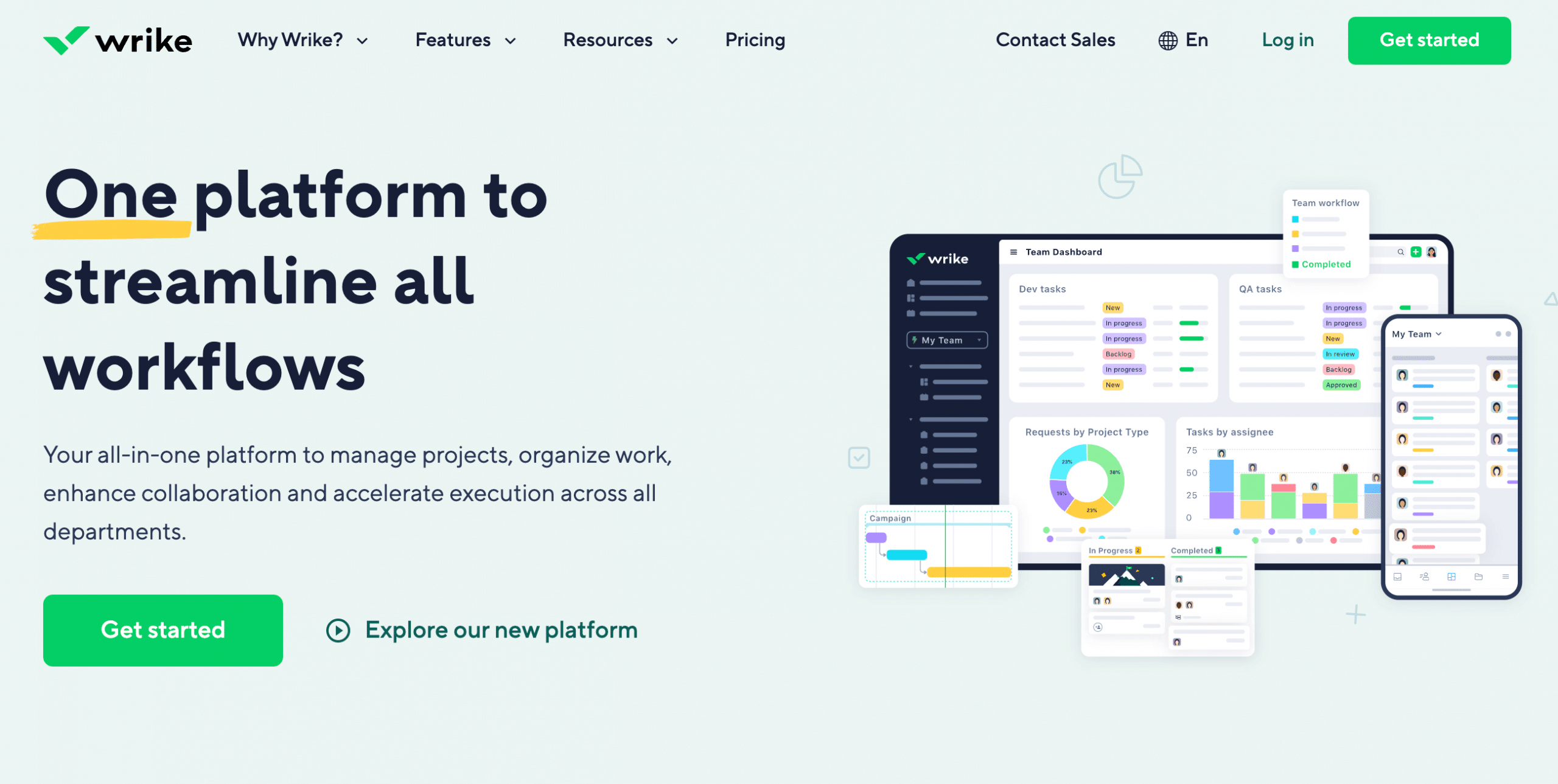 Wrike is a project management tool designed to improve processes for real-time collaboration, approvals, and powerful reporting. It offers project visibility, an intuitive interface, and a great learning phase compared to other competitors like Monday.com.
As a Monday.com alternative, Wrike's robust time tracking and resource management feature can serve as a deal-maker as it improves efficacy in both planning and plan adjustments. It is designed to help teams monitor work hours while optimizing how resources are tracked and handled.
Pros:
Comprehensive time-tracking capabilities.
Effective resource tracking and management tools.
Flexible pricing options.
Offers free plans and new templates.
Cons:
Has a steep learning curve for new users.
Gantt charts are not available in the free version.
Incompatibility with agile project management.
Occasional customer service issues.
Plans & Pricing:
Free
Team: $9.80
Business: $24.80
Enterprise: Contact Sales
Pinnacle: Contact Sales
Related: 11 Best Wrike Alternatives
8. Todoist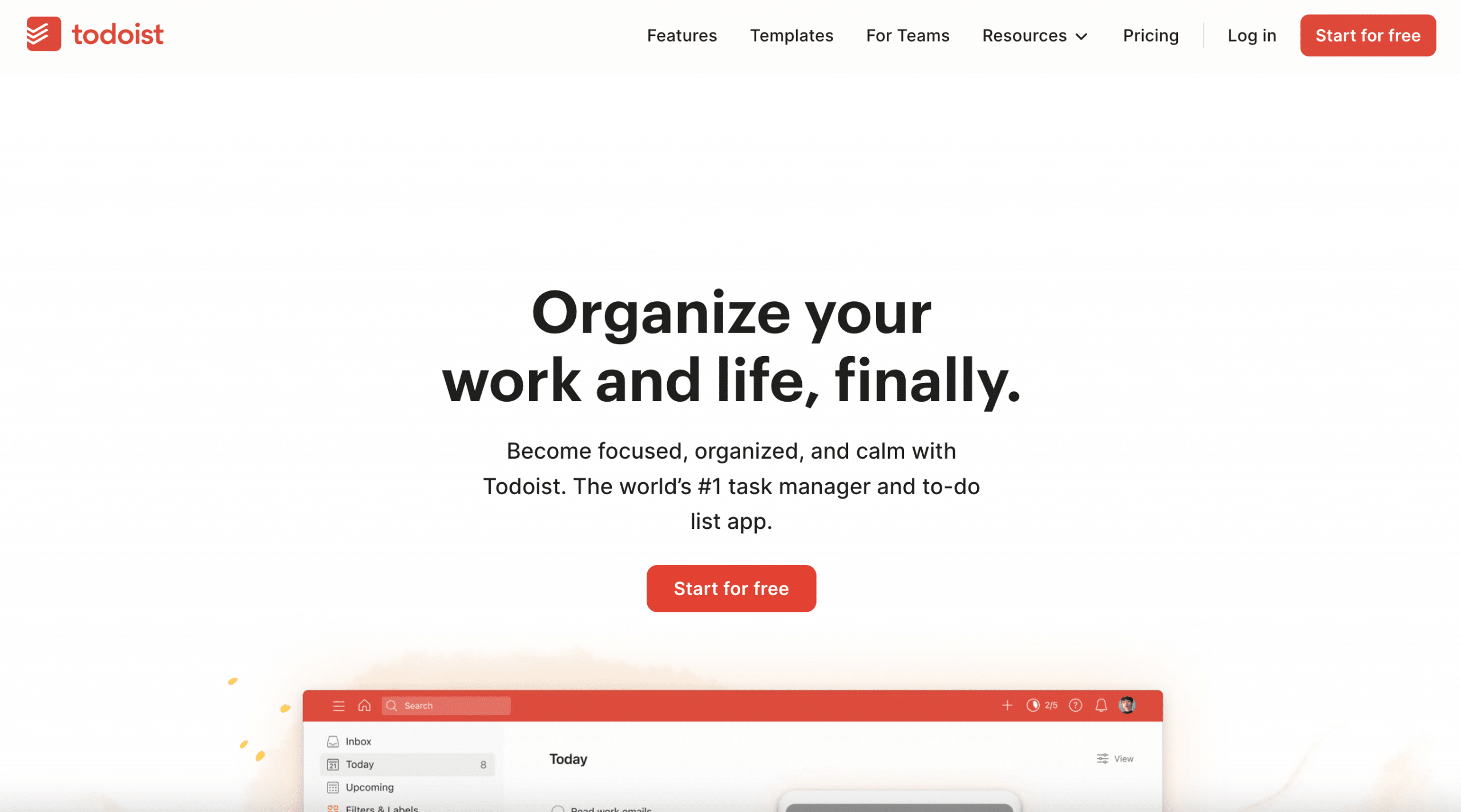 Todoist is a task management and to-do list app designed for professionals and small businesses. It helps users stay organized and manage tasks effectively through basic project management and collaboration features.
This lightweight method of managing tasks, projects, attachments, and notifications can help projects adapt to changing needs due to feature simplicity and implementation speed.
True to its design principle, Todoist is one of the alternatives that offer a lightweight approach to task management. Its user-friendly interface, cross-platform accessibility, and wide range of integrations make it popular for short or temporary projects.
Pros:
Kudos feature and yearly reports.
Promotes a sense of accomplishment.
Beautiful UI and productivity strategies.
Advanced tagging for organization.
Cons:
Daily unfinished task reminders.
Limited features in the free version.
Collaboration challenges with groups.
No built-in time tracking.
Plans & Pricing:
Beginner Plan: Free
Pro Plan: $5
Business Plan: $8

9. Airtable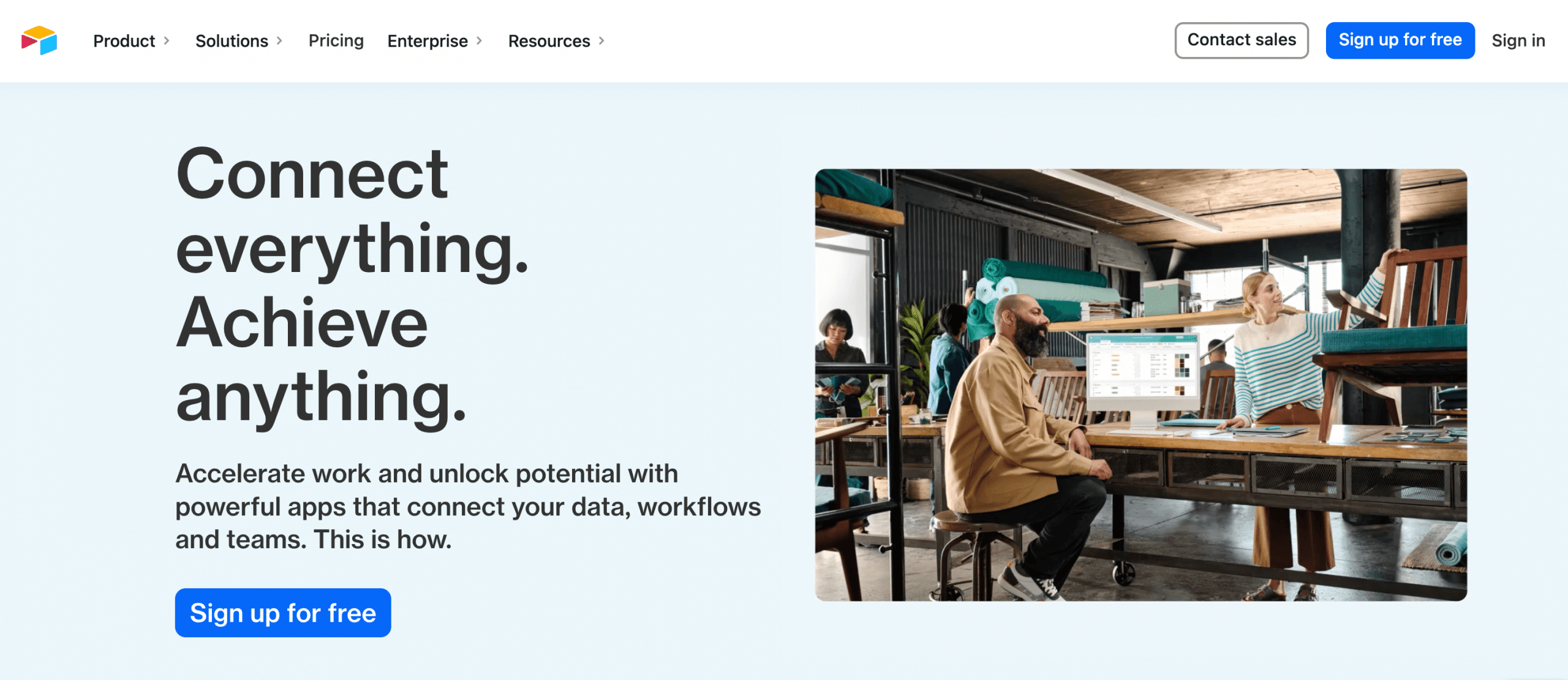 Airtable stands out as a flexible project management tool, specializing in database creation and organization. It boasts a range of features like customizable workspaces, tasks, and projects. This adaptability has made Airtable a go-to choice for database-driven project management.
In comparison to Monday.com, Airtable provides a unique blend of spreadsheet aesthetics and powerful management features. Its intuitive interface, rich template selection, and built-in time tracking make it a de-facto choice for projects with a strong focus on databases.
Pros:
Customizable automation using JavaScript.
Visual gallery view for creative work.
Easy onboarding with pre-built templates.
Integrated video chat for collaboration.
A broad selection of third-party integrations.
Cons:
Limited sync integration in the free plan.
Restricted workspace appearance customization.
Costly for enterprise-sized teams.
A steeper learning curve for some users.
Potential limitations in the free option.
Plans & Pricing:
Free
Plus: $10
Pro: $20
Enterprise: Contact Sales
Related: 11 Best Airtable Alternatives
10. Ahsuite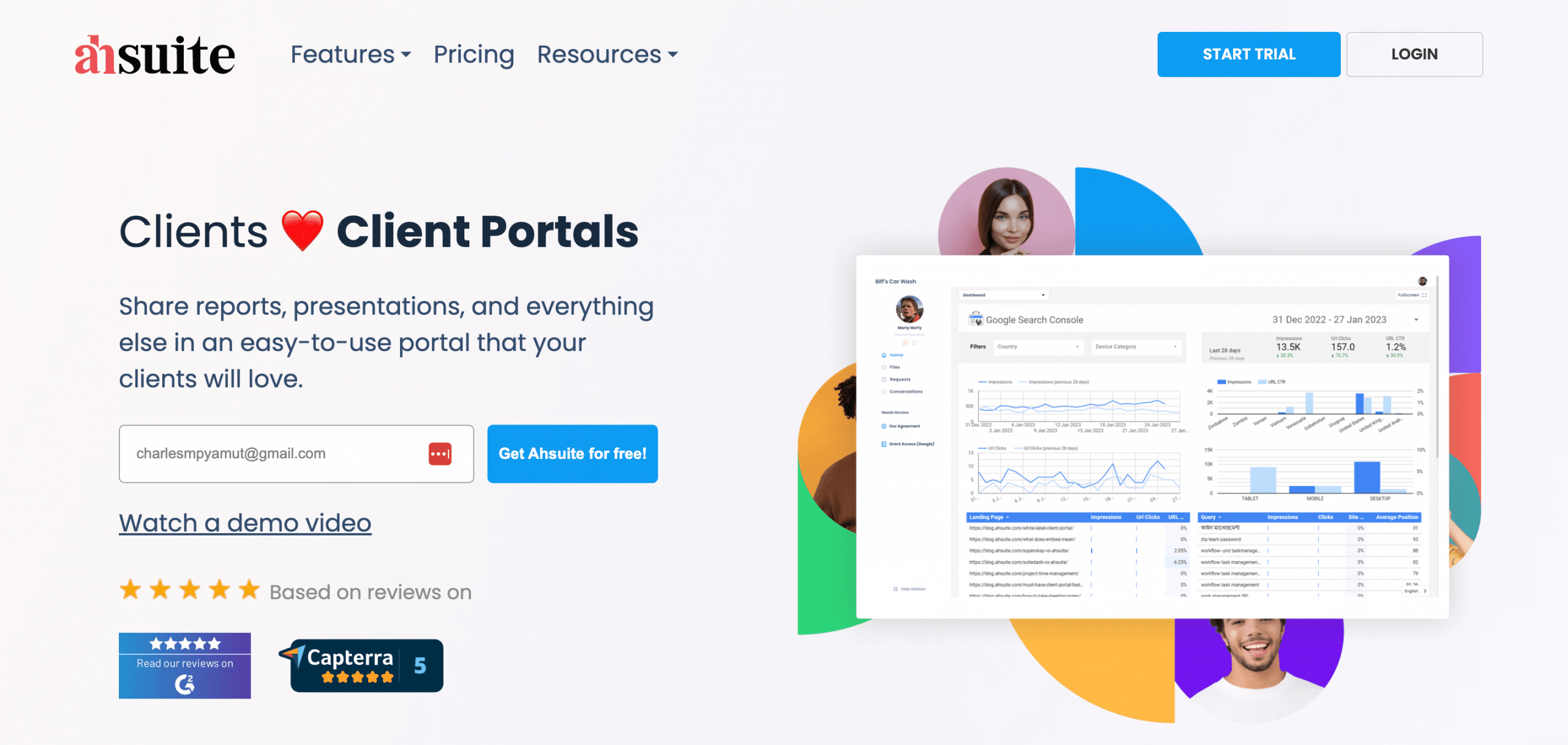 Ahsuite is an easy-to-use, versatile client portal and team management platform. With Ahsuite View, Conversations, Tasks, Files, and work journals, it has become a top choice for businesses aiming to manage work, enhance client collaboration, and optimize project efficacy, all at once.
Although considered a client portal, Ahsuite can serve as a Monday.com alternative due to its ability to facilitate secure messaging and streamlined task management using its built-in task list management feature. This tool serves as an attractive option for users who like to balance client collaboration and efficient processes.
Pros:
Intuitive, free platform.
Forms customization with minimal coding.
Streamlined task management.
Secure file sharing and approval.
Progress tracking with work journals.
Cons:
Focused on basic task management.
Room for more automation options.
Absence of a mobile application (already in the roadmap).
Plans & Pricing:
Free
Professional: $24
Agency: $57
Tips for Transitioning to Monday.com Alternatives
When moving from Monday.com to a new project management platform, follow these key tips to ensure a smooth transition for you and your team.
Evaluate your needs: Thoroughly evaluate the features you rely on Monday.com and the pain points you want to resolve by switching platforms.
Research top options: Research top alternatives like Asana, Trello, Wrike, Smartsheet, and Basecamp. Find out which fits your needs, budget, and use cases.
Sign up for free trials: The selection of work management or task management tools should be based on your overall initial experience. Select options that offer a free trial to mitigate the buyer's regret later on.
Migrate existing data: Many alternatives allow you to import data from Monday.com. This makes the transition smoother, especially if you're working on multiple projects.
Train your team: Provide training resources and documentation to your team on using the new platform. Make yourself available for questions.
By evaluating your needs, testing top options, migrating data, and training your team, you can successfully switch from Monday.com to an alternative that is ideal for your workflow.
Conclusion
While Monday.com holds a strong position as a robust project management software, several alternatives are worthy of checking before settling down. Each comes with unique features addressing the limitations of Monday.com, ranging from pricing concerns to interface issues.
If you're honing in on robust client management, consider Ahsuite. Dive into its offerings with a 30-day trial and see if it aligns with your business requirements. Ahsuite also offers a free plan with its Starter Package to let users try its free project management and client portal features.