In the competitive landscape of service-based businesses, standing out hinges on delivering an exceptional client experience. Satisfied clients mean repeat business and a thriving revenue stream. SuiteDash has been a go-to choice for many, but in 2024, several robust alternatives offer a wealth of features.
This article delves into the best SuiteDash alternatives tailored for freelancers, agencies, and firms. We'll meticulously assess each software's features, pros, cons, and pricing structures. Whether you're steering a small business or managing a large enterprise, there's a client portal software solution crafted to meet your specific business needs.
What is SuiteDash?
SuiteDash combines essential business tools, offering client portals, Customer Relationship Management, and invoicing under one digital roof. It's a harmonious space where marketing, file management, and client and staff communications intersect seamlessly.
This platform has been a juggernaut for managing client relationships, projects, and financial transactions without the hassle of switching between apps. But its wide-ranging versatile features come with a steep learning curve, require technical know-how for users, and time-consuming integration phase.
Users without experience in client portals or similar software might find it challenging as a daily business driver. Since it has extensive features, getting the free trial is an excellent idea before purchasing paid plans.
Pros:
Directly links work requests to invoices.
A unified platform for varied needs.
Extensive client portal customization options.
Feature-rich for diverse applications.
Offers both affordability and value.
Cons:
Some features lack intuitive usability.
The "All in your face" approach can be overwhelming.
Requires a long implementation phase.
A free trial extension is available after the trial period.
Plans & Pricing:
Start ($19)
Thrive ($49)
Pinnacle ($99)
10 Best SuiteDash Alternatives in 2024
Discover the best SuiteDash alternatives in 2024, providing diverse solutions for integrated business management and collaborative project execution.
Ahsuite – Best for client management
Copilot – Best for service-based businesses
OneHub – Best for file sharing and storage
Moxo – Best for streamlined workflows
vCita – Best for automated pipeline management
Clinked – Best for unified project management
Agiled – Best for integrated business operations
Zoho CRM – Best for sales pipeline management
Plutio – Best for built-in invoicing
Accelo – Best for real-time monitoring
1. Ahsuite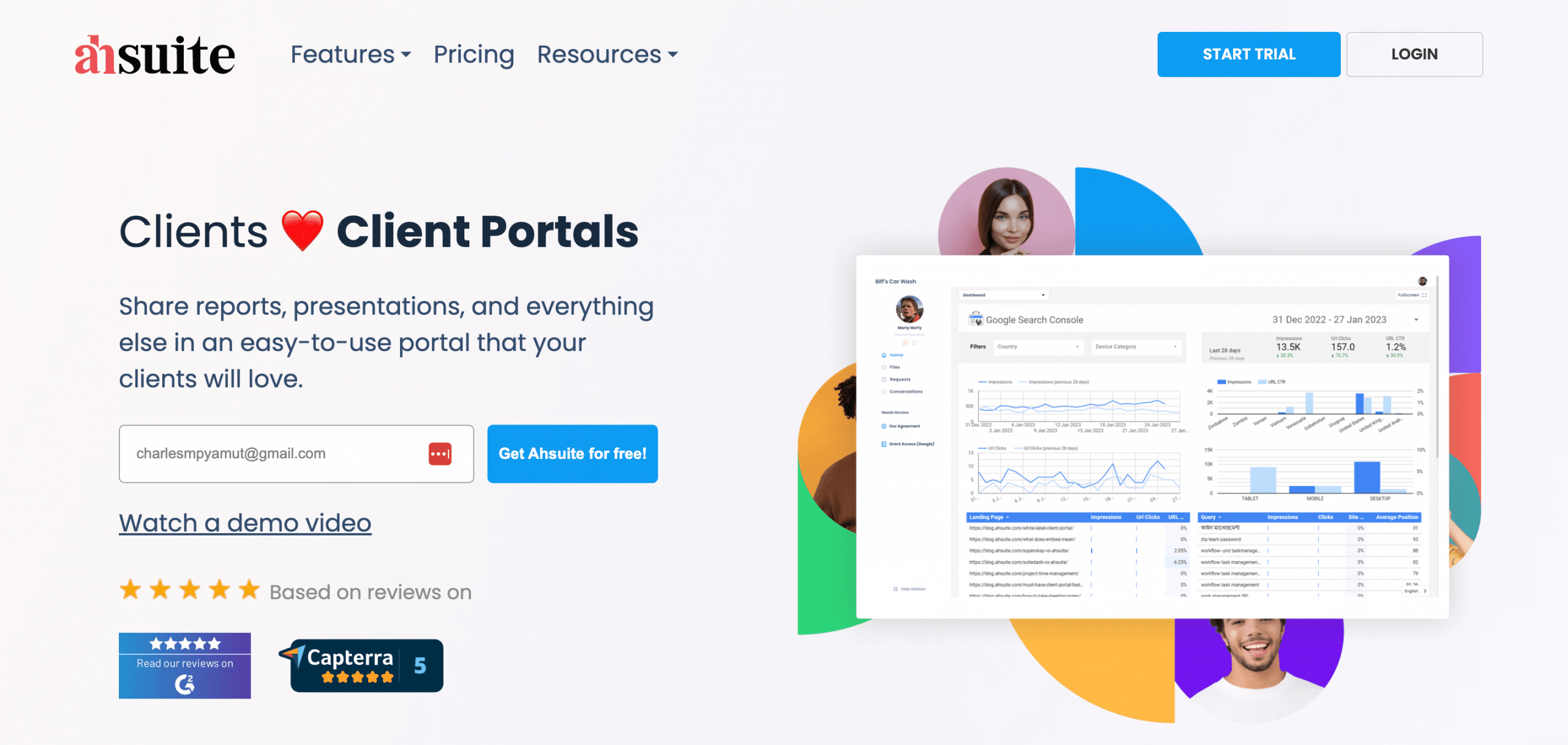 Ahsuite wins hearts with its user-friendly design and practical client management tools. It offers a template creator, task manager, password saver, and client portals. Users can share files, boost productivity, and manage client touch points in one software solution.
As another potent business tool option, Ahsuite has an easy-to-learn interface that appeals to those who prioritize straightforward client portals and responsive performance. It optimizes client touchpoint management through content embedding options within the client portal.
Pros:
Intuitive, easy-to-navigate interface.
Efficient client template creation.
Handy password saver feature.
Supports diverse content embedding.
Offers a free client plan.
Cons:
Limited to external resource linking.
Cannot create sections within the app.
Needs certain integrative features.
Plans & Pricing:
Free
Professional: $24
Agency: $57
Customer Ratings:
 G2: 4.8 out 5 (56 reviews)
 Capterra: 4.9 out 5 (19 reviews)
2. Copilot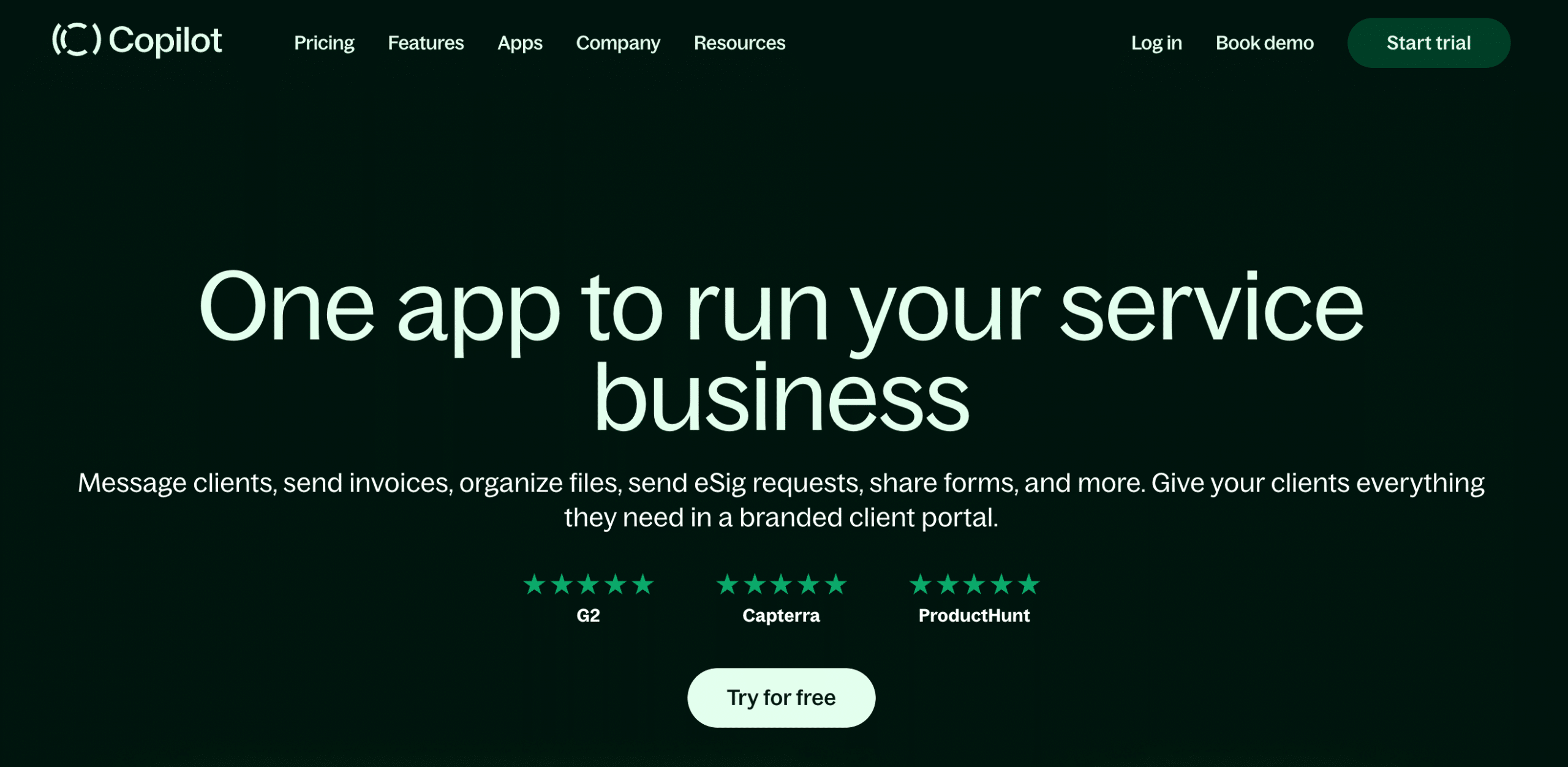 Copilot is a modern client portal that offers a range of features that streamline and centralize client communication, payments, and file-sharing processes. It enhances client-business interaction by simplifying operational processes in a user-centric manner.
Like SuiteDash, Copilot provides fantastic support for their users. SuiteDash flaunts affordability and a broad feature range but grapples with a steeper learning curve and a complex interface. On the other hand, Copilot offers a user-friendly and smooth experience but may pose challenges when customizing its features.
Pros:
Exceptionally user-friendly and intuitive interface.
Stellar, responsive customer support team.
Offers flexible pricing plans based on number of clients.
Provides a unified client portal.
Caters specifically to service businesses.
Cons:
Lacks an archiving feature for information.
Determining specific needs can be challenging.
Some find initial training tricky.
Multi-user signature requests are not supported.
Plans & Pricing:
Starter ($39)
Professional ($89)
Advanced ($139)
Supersonic ($1,500)
Customer Ratings:
 G2: 4.8 out 5 (120 reviews)
Capterra: 4.9 out 5 (19 reviews)
3. OneHub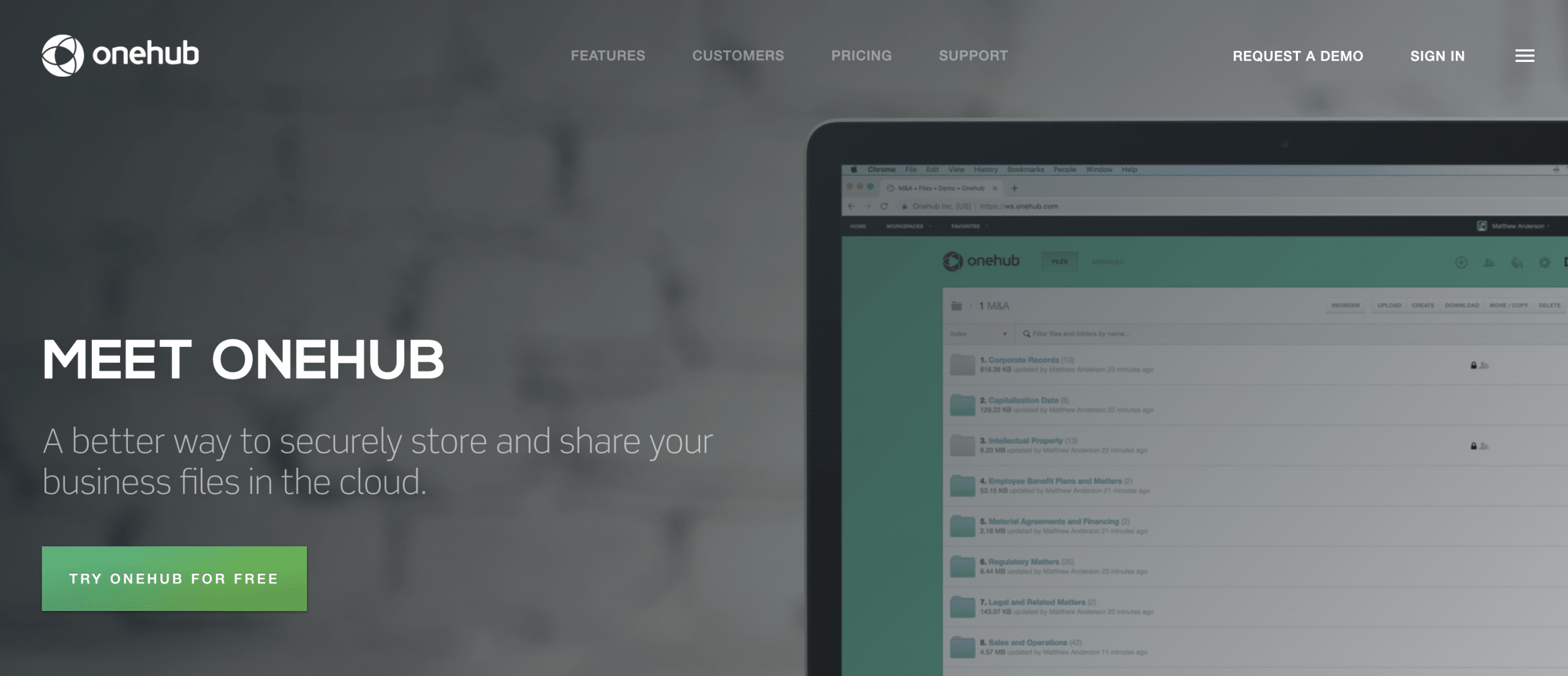 OneHub is a cloud-based client portal that offers secure file storage and sharing for businesses with bank-level encryption and granular, role-based permissions. The platform provides various services, including virtual data rooms, client portals, and branded workspaces.
To combat SuiteDash, OneHub leverages exemplary file-sharing and storage solutions to gain a competitive edge. This can be a game changer if your business needs secure file storage and sharing without worrying about high pricing plans. OneHub also offers enterprise solutions for more complex organizational structures.
Pros:
Offers secure, bank-level data encryption.
Easy setup, intuitive user operation.
Robust mobile app for on-the-go access.
Users can create multiple data rooms.
Affordable pricing with efficient functionality.
Cons:
Dependence on the internet can hinder speed.
No offline version is available for use.
Absence of file and document tagging.
Some users struggle with data room access.
Users reported Issues with document processing delays.
Plans & Pricing:
Standard ($15)
Advanced ($25)
Data Room Edition ($375)
Unlimited Edition ($575)
Customer Ratings:
 G2: 4.2 out 5 (45 reviews)
 Capterra: 4.5 out 5 (33 reviews)
4. Moxo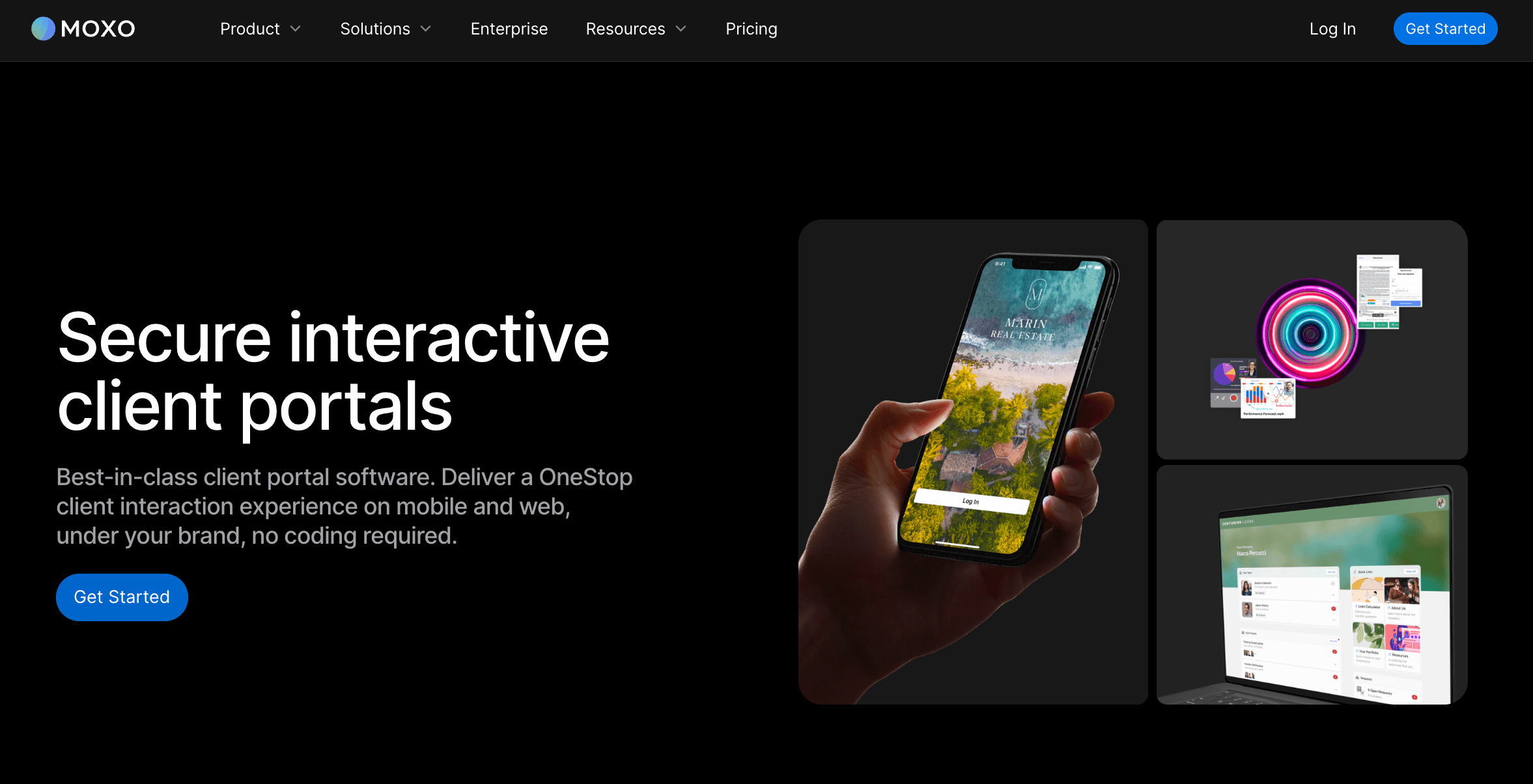 Moxo effortlessly elevates document sharing and communication for businesses demanding swift, digital, and secure interactions. Users can use branded software, OneStop Portals, to enhance client experiences by enabling file sharing and digital signature collections.
As one of the best alternative solutions for SuiteDash, Moxo facilitates smooth workflows and enhances real-time communication from the get-g. However, it is not known for its robust project management features.
Pros:
Facilitates sharing of diverse file types.
Enables real-time screen and document sharing.
Enhances communication via instant messaging.
Offers convenient mobile user interaction.
Commended for its organized user interface.
Cons:
Messages are not stored past 90 days.
It can induce lag or freezing in systems.
Some find the interface somewhat clunky.
Lacks robust project management features.
Plans & Pricing:
Starter ($100)
Business ($480)
Advanced (Contact Sales)
Customer Ratings:
 G2: 4.5 out 5 (121 reviews)
 Capterra: 4.1 out 5 (16 reviews)
Related: 10 Best Moxo Alternatives
5. vCita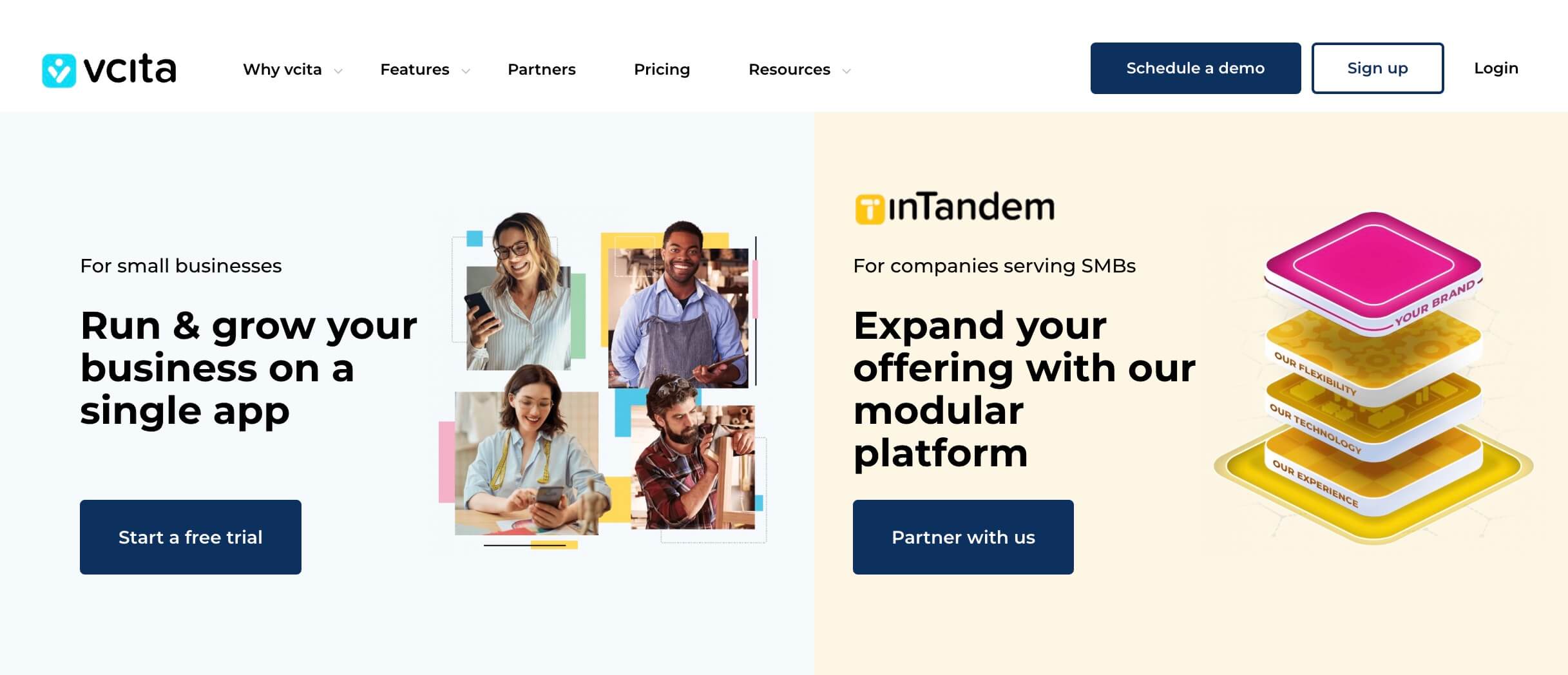 vCita offers a well-integrated platform for small businesses to manage interactions, billing, and appointments. The platform offers a user-friendly dashboard for tracking customer interaction and payment history, easy billing management, and email & SMS campaign execution.
As a SuiteDash alternative, vCita automates information collection from potential and existing customers, serving a dual purpose of appointment scheduling and Customer Relationship Management solutions. In addition, vCita is simpler and easier to navigate than SuiteDash.
Pros:
Integrates seamlessly with website and calendar.
Automated relationship and new-client pipeline management.
Convenient and professional appointment scheduling.
Facilitates effortless email and SMS campaigns.
Offers great price plans for solopreneurs or small teams.
Cons:
Challenging customer service experiences.
Glitches and downtimes are reported.
Needs learning investment for total utilization.
Limited HIPAA-compliant features
Plans & Pricing:
Essentials ($29)
Business ($59)
Platinum ($99)
Customer Ratings:
 G2: 4.5 out 5 (63 reviews)
 Capterra: 4.5 out 5 (253 reviews)
6. Clinked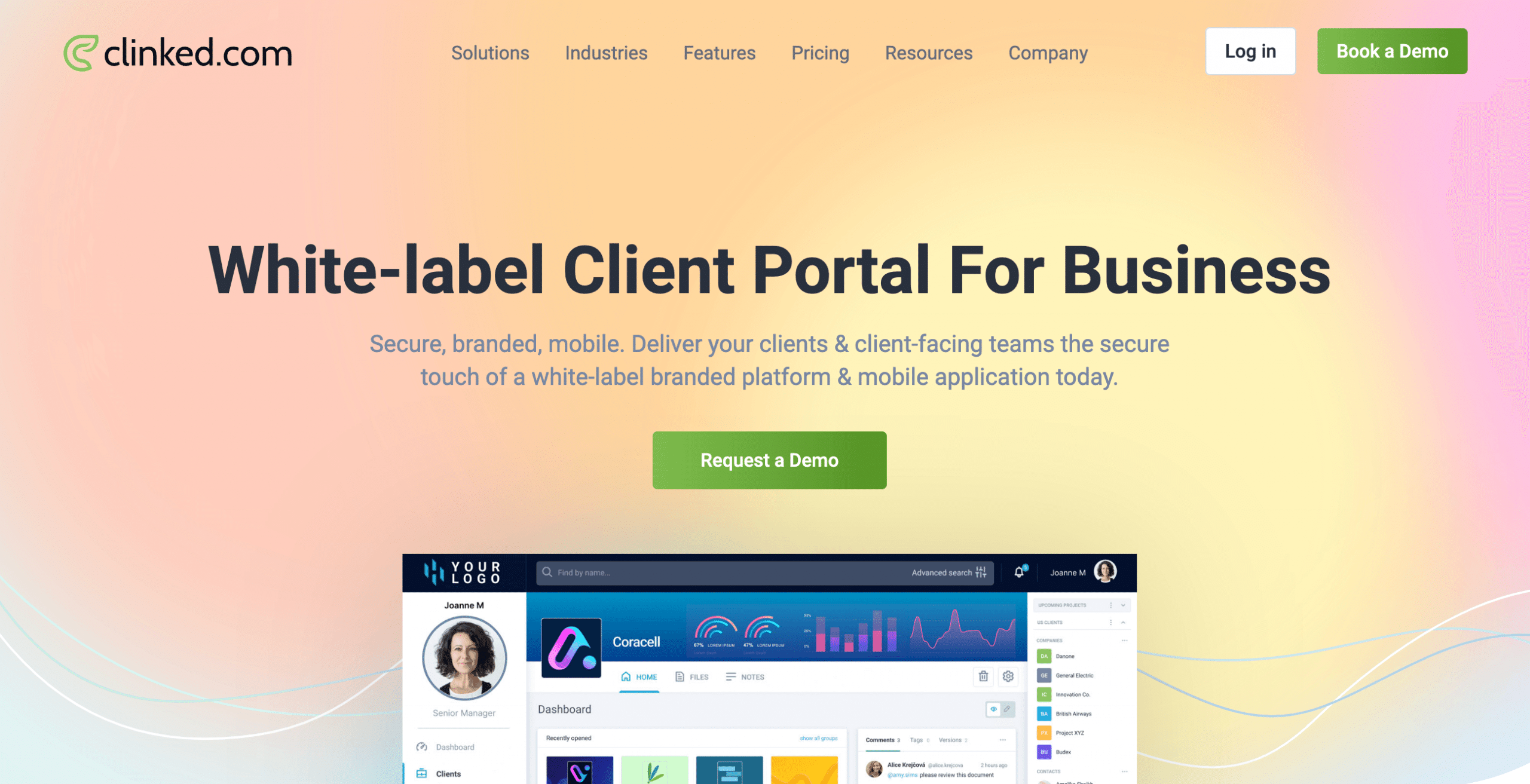 Clinked offers secure client portals with collaborative tools like file sharing and task management for various industries. The platform facilitates secure project management through custom client portals and collaboration.
As a compelling SuiteDash alternative, Clinked impresses with its completely white-label, user-friendly interface and adept integrations with platforms like Zapier and Google Workspace. It offers a clean user experience, robust data management, and secure collaboration in a branded, intuitive environment, ideal for businesses.
Pros:
Highly customizable and brandable client portals.
User-friendly, organized interface, and features.
Seamless integration with brand and website.
Offers 2FA, audit trails, and end-to-end encryption.
Mobile apps are available for iOS and Android.
Cons:
Occasional issues with email firewall.
Limited task options in some groups.
Lack of a spell-check feature.
Possible delays due to customizations.
Varying customer service response times.
Plans & Pricing:
Lite ($95)
Standard ($239)
Premium ($479)
Enterprise (Contact Sales) 
Customer Ratings:
 G2: 4.7 out 5 (57 reviews)
 Capterra: 4.8 out 5 (57 reviews)
Related: 11 Best Clinked Alternatives
7. Agiled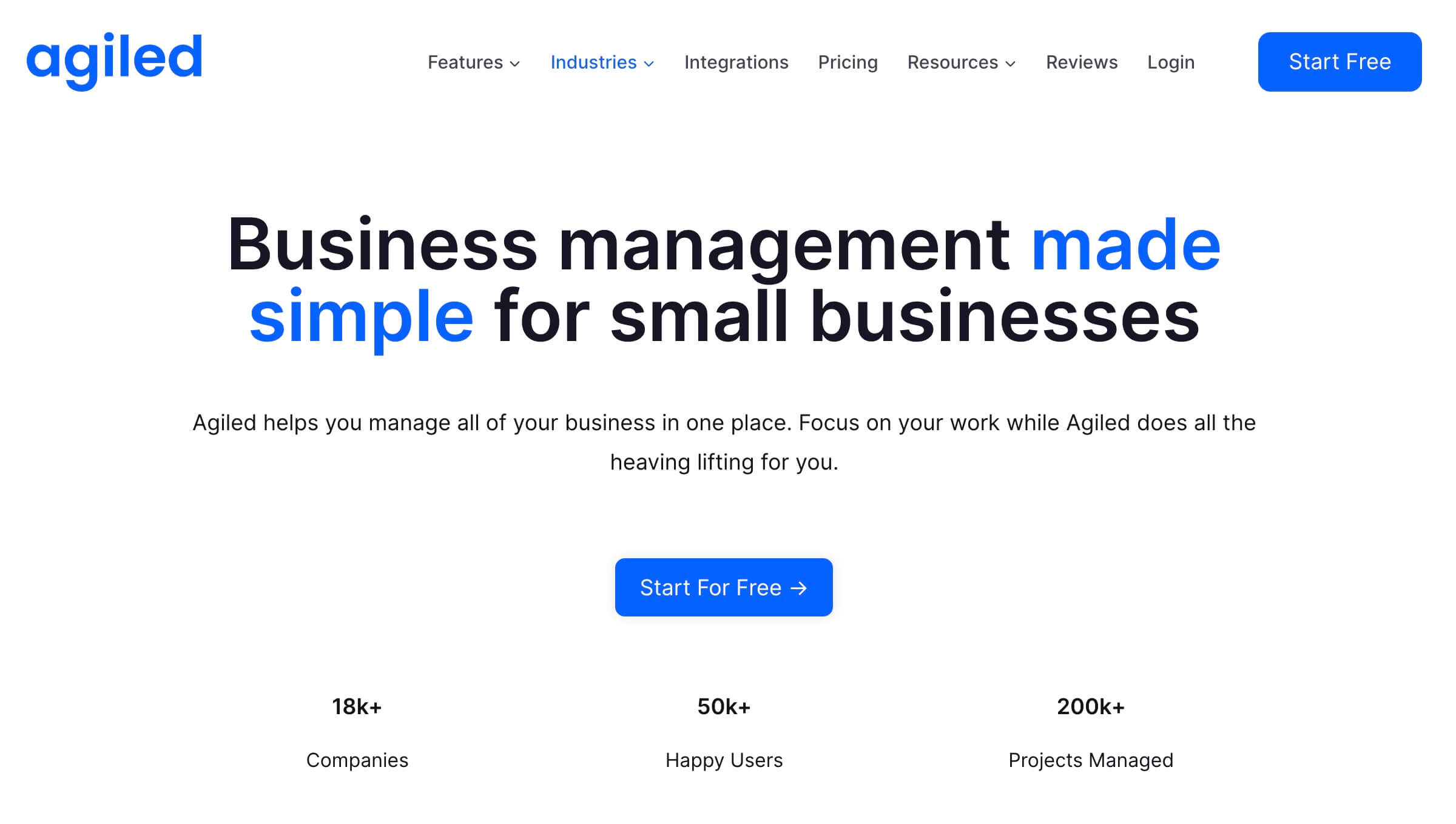 Agiled is a comprehensive business management platform integrating CRM, HRM, finances, and project/task management. It offers handy functionalities, including invoicing and estimates, proposal and contract creation, zapier integrations, and document management.
As a standout alternative to SuiteDash, Agiled offers expense and task management in an integrated workspace. The platform prioritizes organized contact and lead management and is known for continuously evolving its integrations and functionalities.
Pros:
Incredible price for an integrated platform.
Potent contract and proposal management.
Extensive integrations and API availability.
Supportive and responsive customer service.
Encourages efficient expense and financial tracking.
Cons:
Absent group appointment booking system.
Lacks a mind map for projects.
Gantt chart could be more intuitive.
Needs an archive system for decluttering.
Limited cloud storage integration options.
Plans & Pricing:
Free
Pro ($9.99)
Premium ($14.99)
Customer Ratings:
 G2: 4.7 out 5 (385 reviews)
 Capterra: 4.7 out 5 (344 reviews)
8. Zoho CRM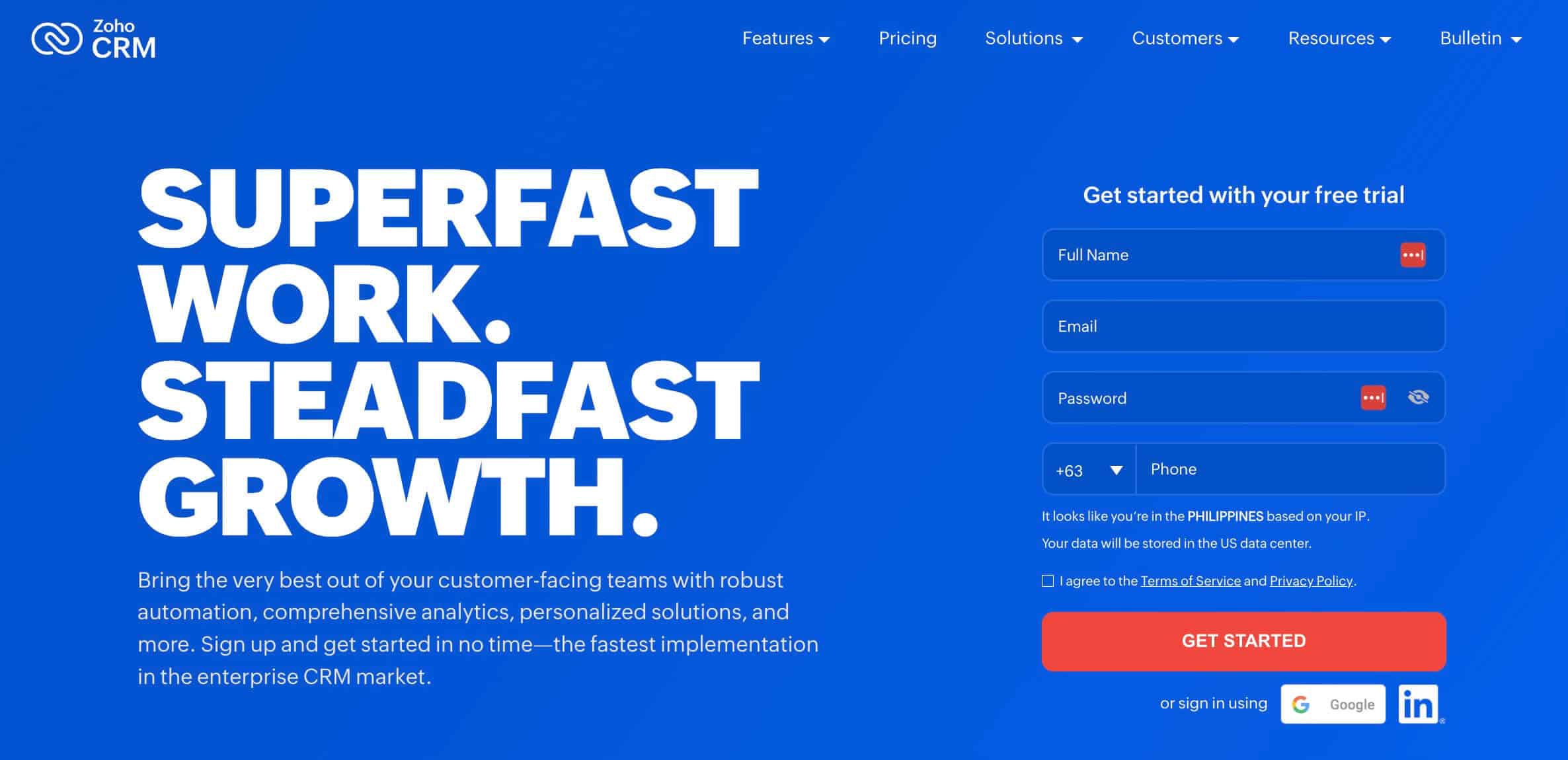 Zoho CRM elegantly crafts a structured, centralized platform for comprehensive lead management, nurturing, and robust sales enhancement. With its ability to integrate with many apps and improve team connectivity in real time, this tool is essential for businesses looking to boost sales and improve client interactions.
The user-friendly interface and mobile accessibility mark it as an outstanding SuiteDash alternative. Its focus on sales and email marketing automation ensures businesses succeed during lead nurturing phases with unparalleled ease and efficiency.
Pros:
Substantially enhances lead conversion rates.
Vastly integrative with numerous apps.
Promotes efficient, real-time team communication.
Provides extensive lead management capabilities.
Incorporates mobile-first functionalities.
Cons:
Identified as more expensive by some.
Occasional integration issues experienced.
Experienced user interface frustrations.
It has limited document merge functionality.
Encounters with undesirable support solutions.
Pricing & Plans:
Standard ($20)
Professional ($35)
Enterprise ($50)
Ultimate ($65)
Customer Ratings:
 G2: 4.0 out 5 (2505 reviews)
 Capterra: 4.3 out 5 (6570 reviews)
9. Plutio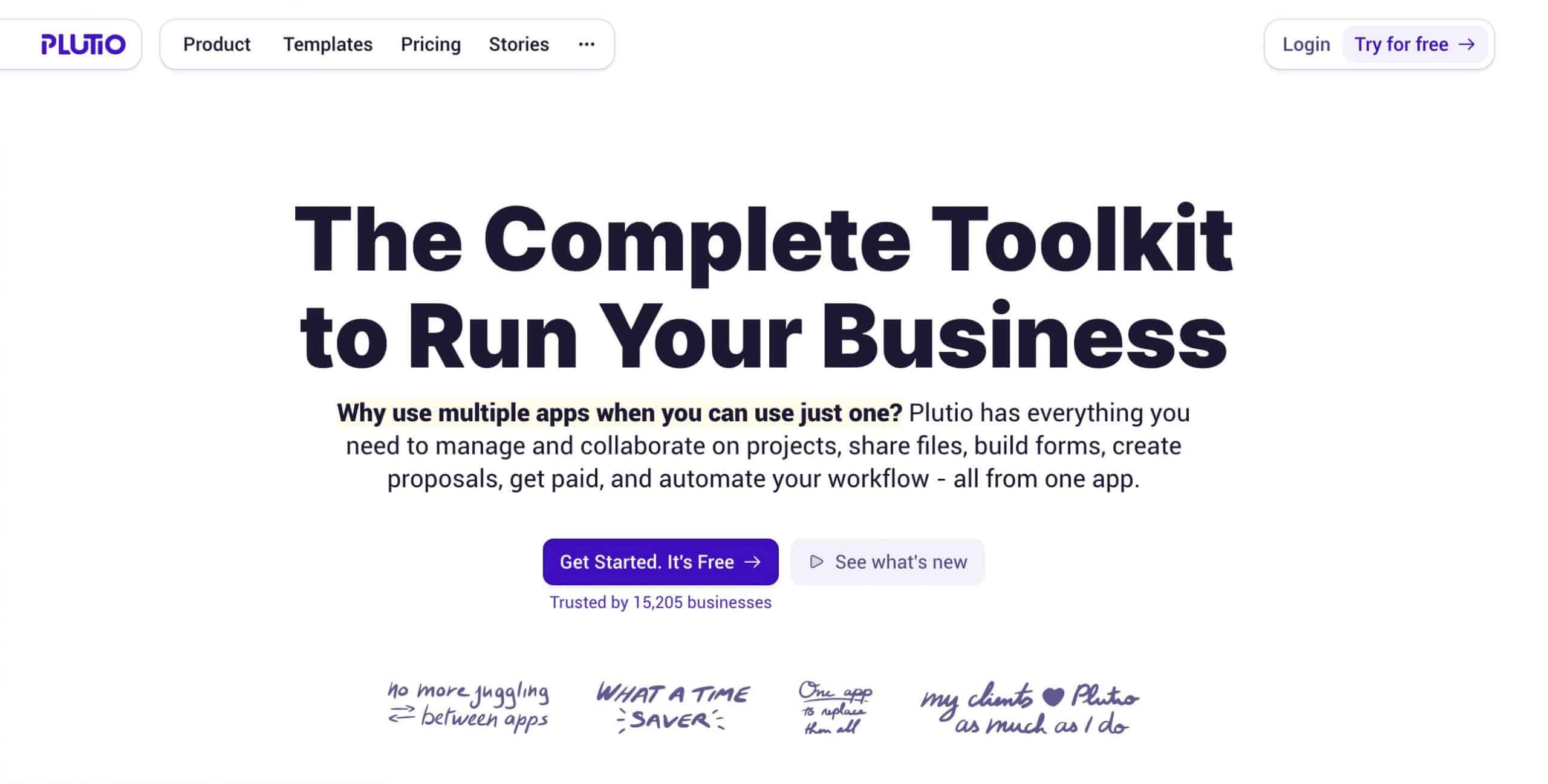 Plutio is a comprehensive all-in-one platform that helps tackle myriad tasks confronting freelancers and small businesses. It offers a single platform for streamlining workflows for project management, client communications, and financial processes.
As a SuiteDash alternative, Plutio shines through its built-in invoicing functions. Its multi-currency and recurring billing features, varied payment method support, and payment notifications provide users with seamless financial management through the project cycle. Additionally, its drag-and-drop features make platform navigation easy.
Pros:
Comprehensive business management functionalities.
Inclusive of robust invoicing capabilities.
Offers a clean, navigable user interface.
Enables efficient real-time collaboration and communication.
Offers extensive project and time management functionalities.
Cons:
Users have reported encounterable bugs.
Editing proposals can be inefficiently slow.
The initial setup can be challenging for new users.
Initial setup may present challenges for some.
Pricing & Plans:
Solo ($19)
Studio ($39)
Agency ($99)
Customer Ratings:
 G2: 4.4 out 5 (53 reviews)
 Capterra: 4.6 out 5 (161 reviews)
10. Accelo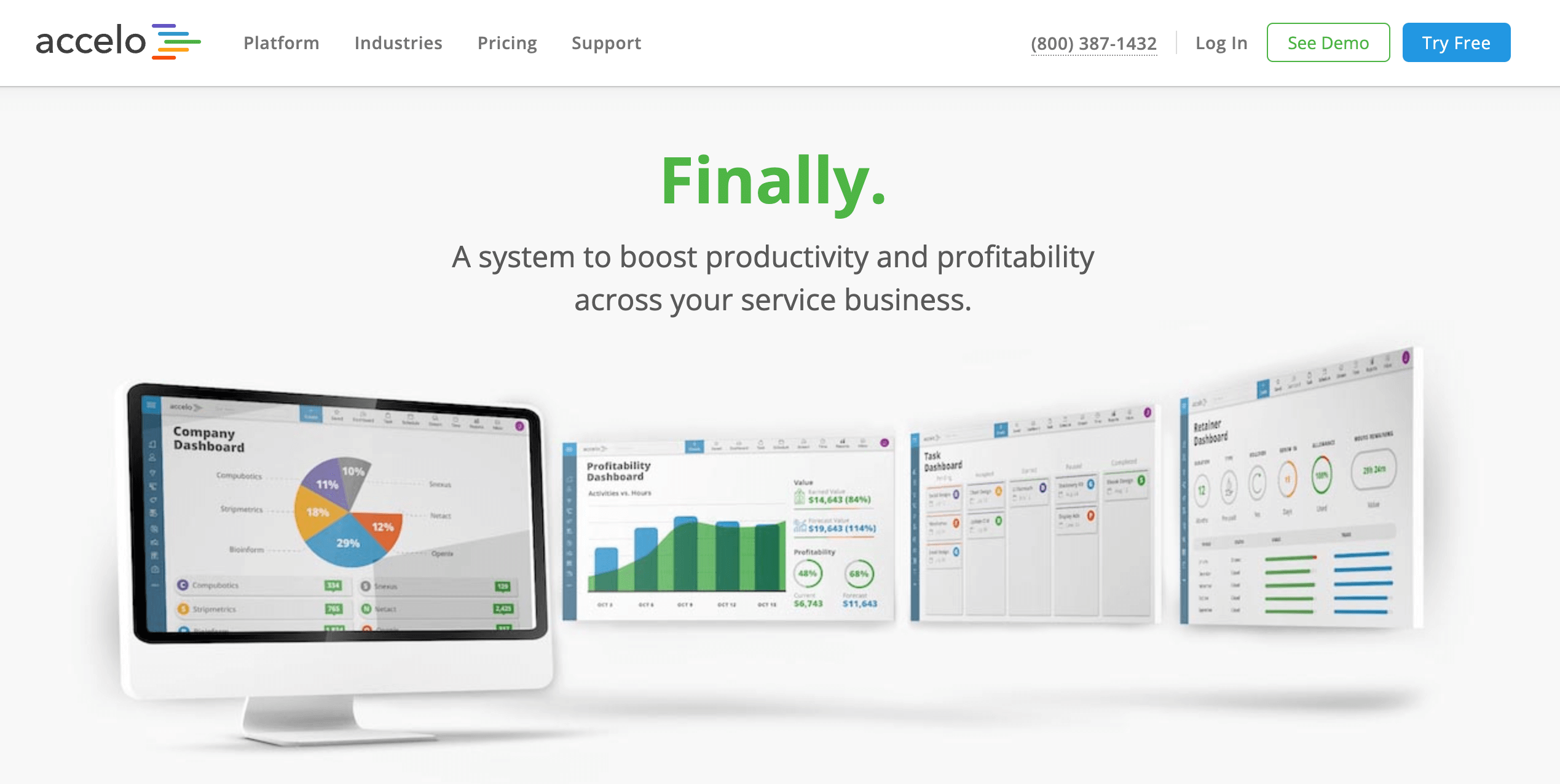 Accelo delivers a comprehensive, automated project management experience with a noteworthy activity stream, precise time tracking, and customized triggers. Its insightful approach to automating processes enables intelligent, integrated, and transparent project oversight.
As a SuiteDash alternative, Accelo's ability to automatically generate bulk invoices and manage recurring work significantly streamlines billing and financial processes. Its bulk invoice auto-generation significantly elevates billing and financial dealings.
Pros:
Holistic, real-time activity stream visibility.
Automated, precise time tracking.
Intuitive, customizable trigger features.
Seamlessly converts quotes to projects.
Efficiently manages retainers and billing.
Cons:
Desired milestones are absent on the task board.
QuickBooks integration could be smoother.
Limited future visibility on the Deadline Task Board.
Email fetching from Gmail can lag.
Pricing & Plans:
Core ($60)
Professional ($250)
Business ($350)
Advanced ($900)
Elite ($1,900)
Customer Ratings:
 G2: 4.4 out 5 (491 reviews)
 Capterra: 4.5 out 5 (165 reviews)
Tips for Transitioning to SuiteDash Alternatives
Transitioning from SuiteDash requires meticulous planning to seamlessly orchestrate integrations, data migration, and team training for a smooth transition to your selected platform.
Start with a free trial: Nothing beats the experience of testing the solution before committing. It can help you see and understand the inner workings of a platform, which can help to determine if it can manage all of your business operations.
Set up integrations: Identify which apps and software to integrate with the new platform and connect them while minimizing friction. Make sure that your project management software and other apps are supported.
Streamline data migration: While the platform supports businesses of all sizes, transferring extensive data is a hassle. Export your existing data and import it into the new system to retain crucial information and ensure a smooth transition.
Review and optimize: Maintain the old system during the transition. After settling into the new platform, review processes and fine-tune things that aren't working smoothly.
Train employees: Conduct training sessions and workshops to teach employees how to use the new system. This will help everyone transition faster and work efficiently, especially with SuiteDash's range of features.
Inform clients: Notify clients about the transition and guide them on accessing the new portal. This maintains transparency and prevents confusion.
Successfully migrating from SuiteDash enhances operational efficacy when deliberate steps, from integration setup to client communication, are diligently executed, paving the way for optimized project management.
Conclusion
When looking for a new cloud-based client portal software, you need to consider the following: integrations with other software, real user reviews, client onboarding process, learning curve, and pricing, among others.
We hope this list of client portal software solutions and project management tools will be the best solution for your business. Make sure to capitalize on opportunities to test the platform before purchasing.
Ahsuite provides a 30-day trial for its premium subscriptions and a free-forever plan for its core client portal features (for up to 10 clients). Start your Ahsuite free trial today for the professional plan. No credit card is required to start.