With data playing a pivotal role in our lives, setting up protection for online endpoints has become more and more important. In fact, 66% of individuals turn to VPNs for personal protection, and 88% of these respondents are dedicated to increasing their security, as reported by Forbes.
The VPN market has been growing rapidly in the last decade, with the question "How to choose a VPN" being a well-known consideration when using the internet. Let's explore high-popular VPN products according to Reddit user recommendations in 2023.
Best VPN Reddit Users Recommend in 2023
Looking for the best VPN Reddit users recommend in 2023? We've researched countless Reddit content to take a good look at how users are finding the best VPN on the platform.
Explore the detailed list of the best VPNs according to Reddit users, feel free to check the products below through a limited trial if you need a VPN (whether it's an all-purpose product or something more niche).
1. NordVPN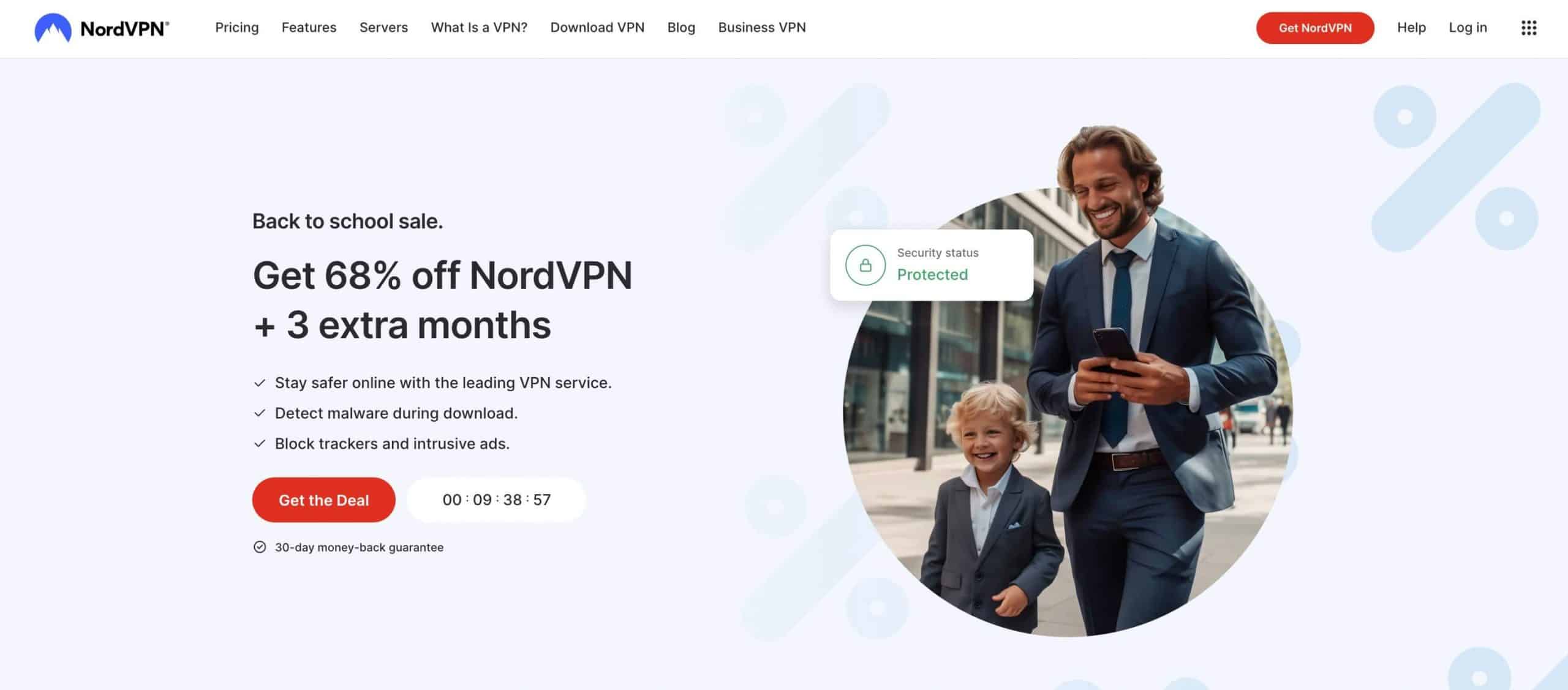 NordVPN is one of the best VPNs according to users on Reddit community, thanks to its advanced features such as next-generation encryption and Dark Web Monitor. With 5400 locations in 59 countries, it ensures a seamless internet experience while guarding privacy with its strict no-logs policy.
Best for overall performance, NordVPN is a highly trusted product. Users value its smooth browsing and streaming experiences, especially due to the NordLynx protocol.
Pros:
Versatile features including Onion Over VPN and SmartPlay
Excellent customer support is available 24/7
Lightning-fast speeds thanks to NordLynx protocol
Cons:
Higher cost compared to other alternatives
Some users have encountered DNS leak issues
The dark Web Monitor feature may not be user-friendly for everyone
Pricing:
$12.99/mo
$4.99/mo (1-year plan)
$3.19/mo (2-year plan)
2. ExpressVPN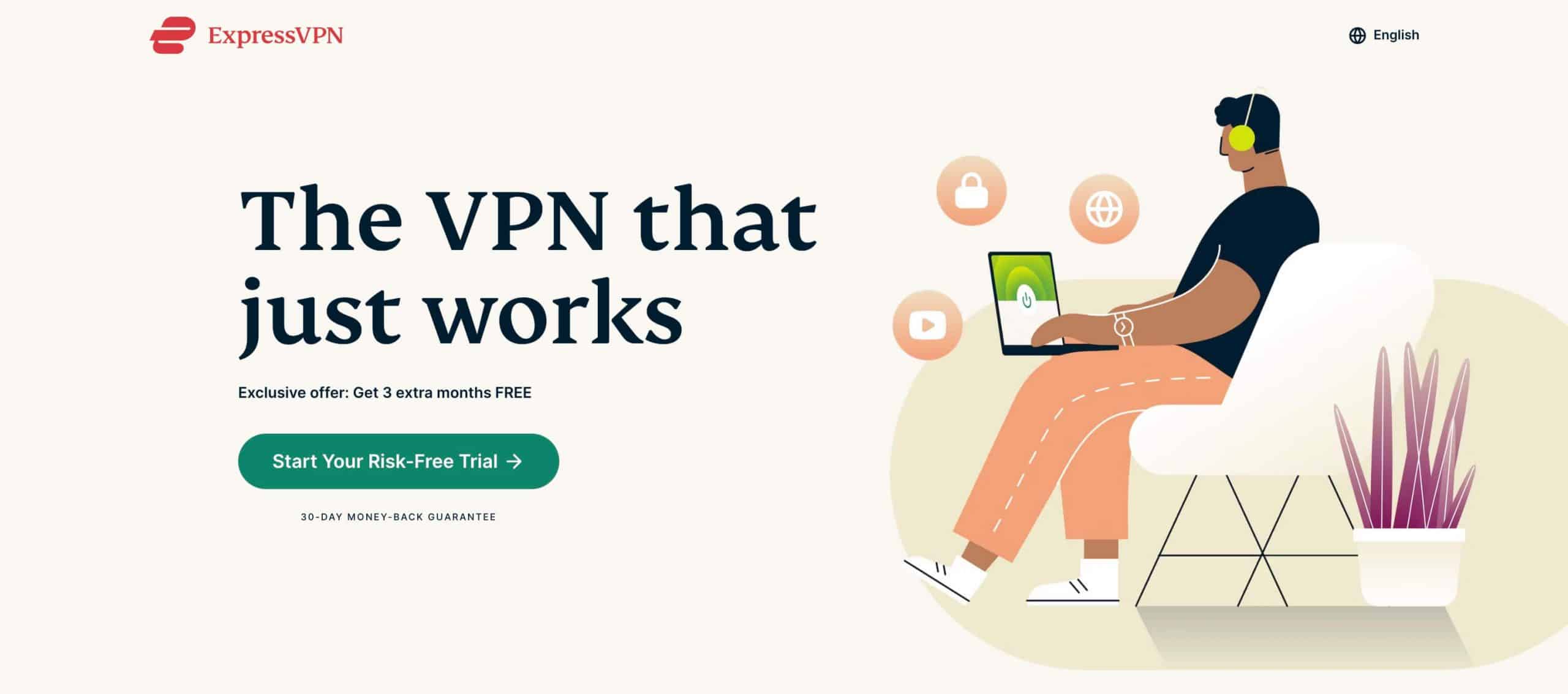 ExpressVPN offers a reliable connection through various locations in 94 countries. With features like IP masking, split tunneling, and Network Lock, it can keep your connection secure and fast at the same time. Its encrypted DNS and no-log policy further ensure user safety.
What makes ExpressVPN the best for reliability is its unique approach of never writing data to hard drives and the use of AES-256 encryption. Cross-platform users consider the product the best VPN for iPhone, MAC, and Android when it comes to accessibility.
Pros:
No-log policy ensures complete privacy
Prevents ISPs from throttling connection speeds
AES-256 encryption for maximum security
Installed on routers, allowing strong encryption over WiFi
Cons:
More expensive than other options
Limited to five simultaneous connections, though can be installed on many devices
No specific features like dedicated IP addresses or Dark Web Monitor
Pricing:
$12.95/mo
$9.99 (monthly, for six months)
$8.32 (monthly, for 12 months)
3. CyberGhost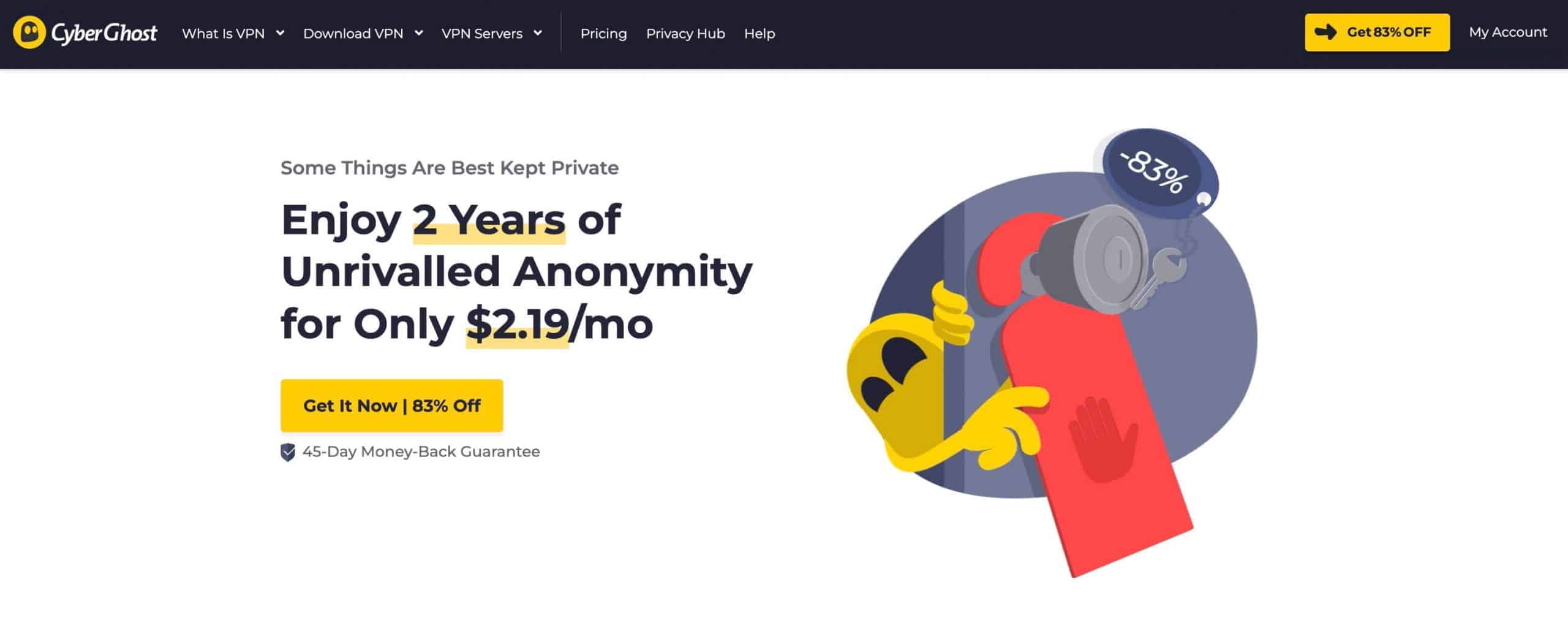 CyberGhost VPN is a reliable choice for private torrenting, balancing a variety of essential features for a secure and efficient P2P file-sharing experience. Whether it's watching Netflix without geo-blocks or downloading torrents securely, CyberGhost's offerings align well with the needs of remote professionals working online.
Private torrent demands a secure and dedicated service. CyberGhost VPN is tailored to this need with specialized P2P servers and a firm commitment to privacy. Its NoSpy feature and automatic kill switch make it a top choice for privacy-conscious torrenters.
Pros:
Strict no-logs policy confirmed by an independent audit.
Wide network with 9600+ VPN servers across 91 countries.
High-quality 256-bit encryption, automatic kill switch, and DNS leak protection.
Cons:
Limited to up to 7 devices, which might not be enough for some.
Potential lack of dedicated apps for specific platforms or gadgets.
May exhibit occasional bugs.
Pricing:
$12.99/mo
$6.99 (monthly, for six months)
$2.19 (monthly, for 2 years)
4. PureVPN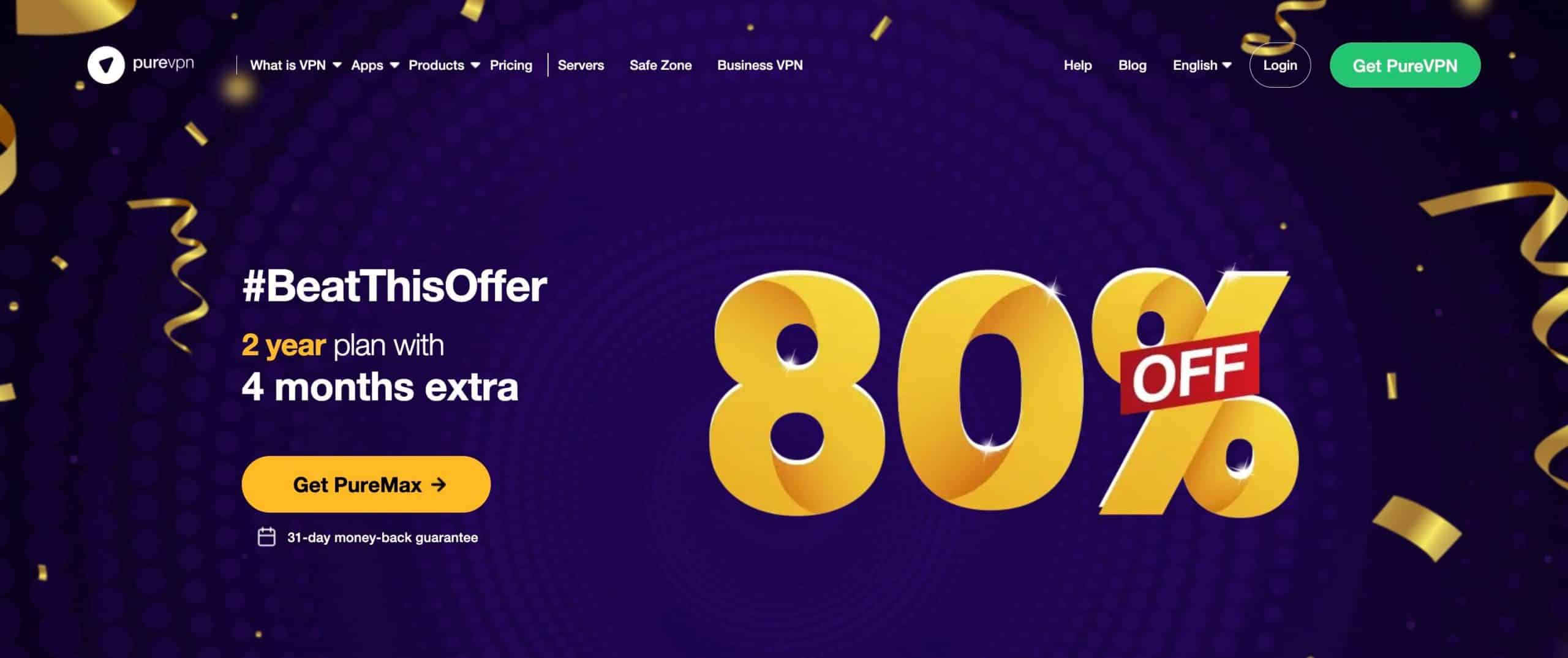 PureVPN stands out as a choice solution for unblocking geo-restrictions. With over 6,500 servers in 140+ locations, it offers a global reach for streaming, gaming, and browsing. Additionally, its high-speed connections and robust security features provide a reliable online experience, making it a favorite among Redditors.
Unblocking geo-restrictions requires a vast server network and consistent performance. PureVPN's extensive server locations and impressive speed are engineered to provide seamless access to regionally restricted content.
Pros:
Large server network in 140+ locations for global access.
Allows up to 10 simultaneous connections for multi-platform use.
Split tunneling feature for personalized traffic routing.
Cons:
Some users report slow server connections at times.
Past concerns about logging policies may raise privacy questions for some.
UI might confuse new users and dirty IPs can lead to annoying captchas.
Pricing (Most Popular Plan):
$19.95/mo
$6.24 (monthly, for 1 year)
$3.99 (monthly, for 2 years)
5. Private Internet Access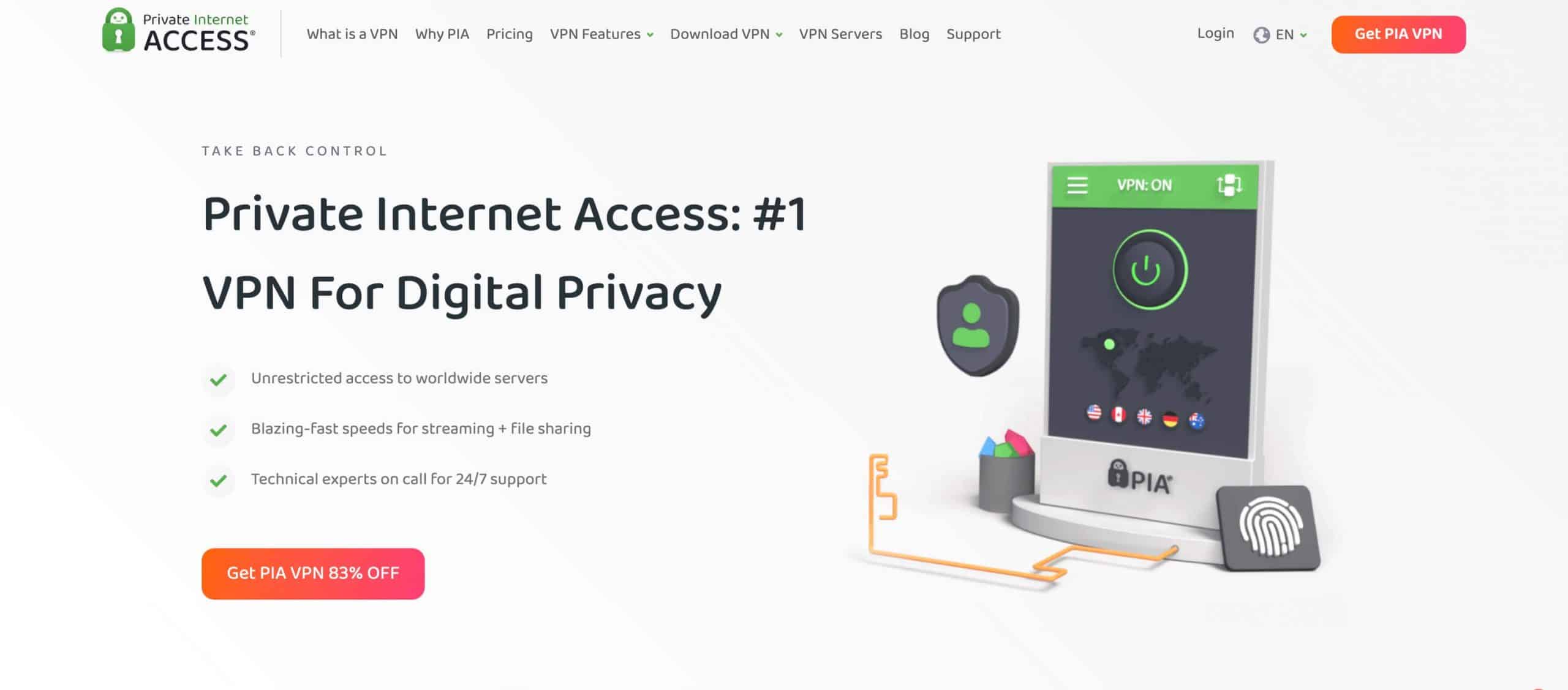 Private Internet Access (PIA VPN) is a prime choice for streaming among Reddit users in 2023. Offering over 20,000 servers in 77 countries, robust security with AES-256 encryption, and a no-log policy, PIA VPN ensures a fast and smooth online streaming experience.
What makes PIA VPN ideal for streaming? It's the specially optimized servers that guarantee higher success in unblocking popular services like Netflix and Hulu. PIA's reliable speeds and support for simultaneous connections on 10 devices make it a favorite for users who can't afford to miss their favorite shows.
Pros:
Fast speeds and low pings for seamless streaming and gaming.
Strong security features including malware, tracker, and ad blocker.
No-logs policy, ensuring maximum privacy.
Cons:
Netflix works but may take time buffering.
Lack of app exclusion or whitelisting feature.
Pricing:
$11.95/mo
$3.33 (monthly, for 1 year)
$2.03 (monthly, for 2 years)
6. Surfshark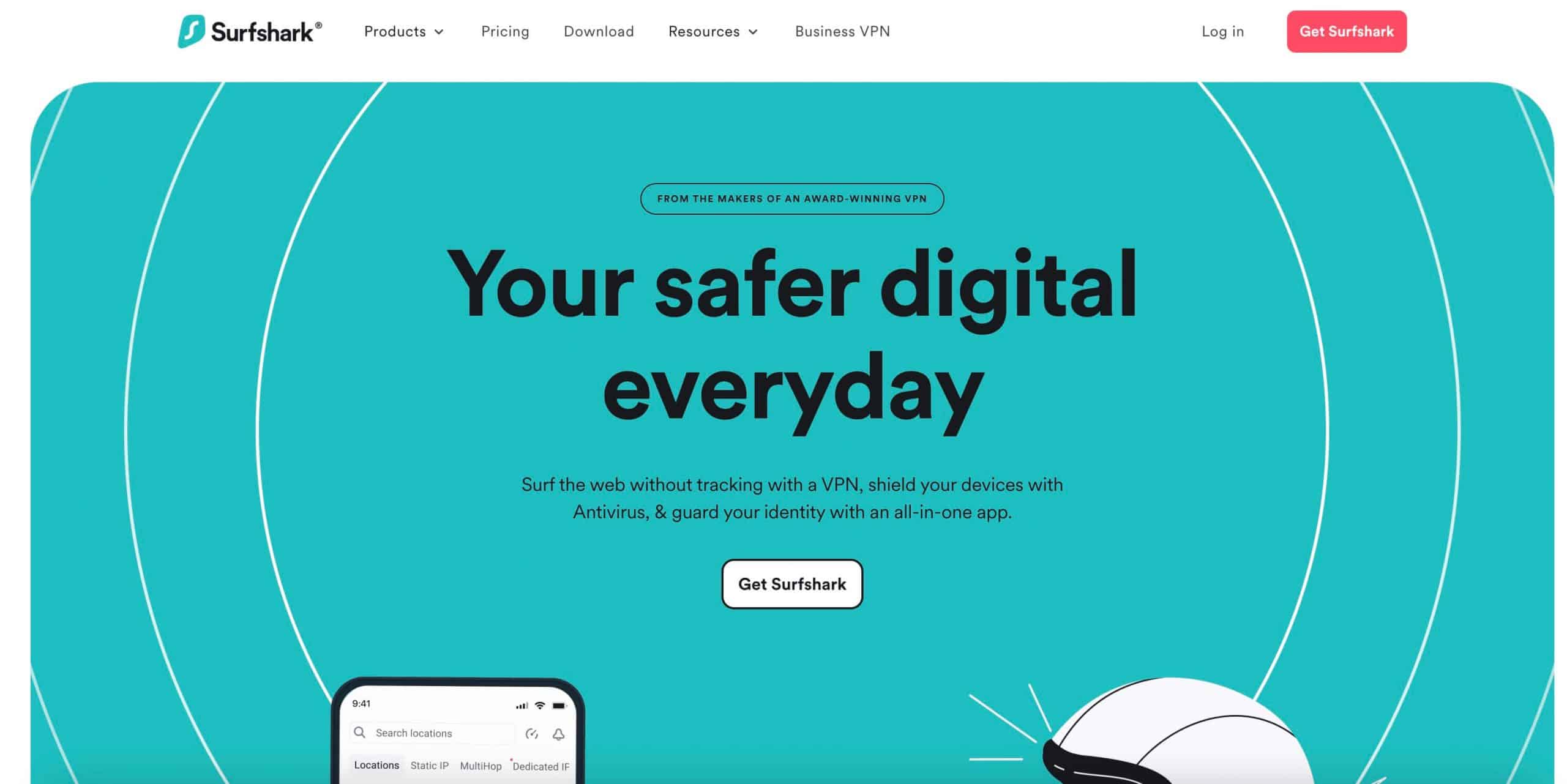 Surfshark VPN is known for providing unlimited access to internet resources, it's a perfect blend of affordability and quality. It offers secure VPN connections, ad blocking, cookie pop-up blocking, and more.
Whether you're a global worker or simply need unrestricted browsing, Surfshark ensures a seamless online experience. The features like CleanWeb and MultiHop add an extra layer of security and privacy.
Pros:
Affordable pricing with no compromise on quality.
Unlimited simultaneous connections allow for coverage of all your devices.
Features such as Camouflage Mode for bypassing VPN detection.
Cons:
The Whitelister (split-tunneling) feature isn't available on Apple devices.
The Surfshark One page might be seen as an intrusive ad if you haven't opted for it.
A higher concentration of features might be overwhelming for some users.
Pricing(for Surfshark One):
$17.95/mo
$4.49 (monthly, for 1 year)
$3.49 (monthly, for 2 years)
7. Atlas VPN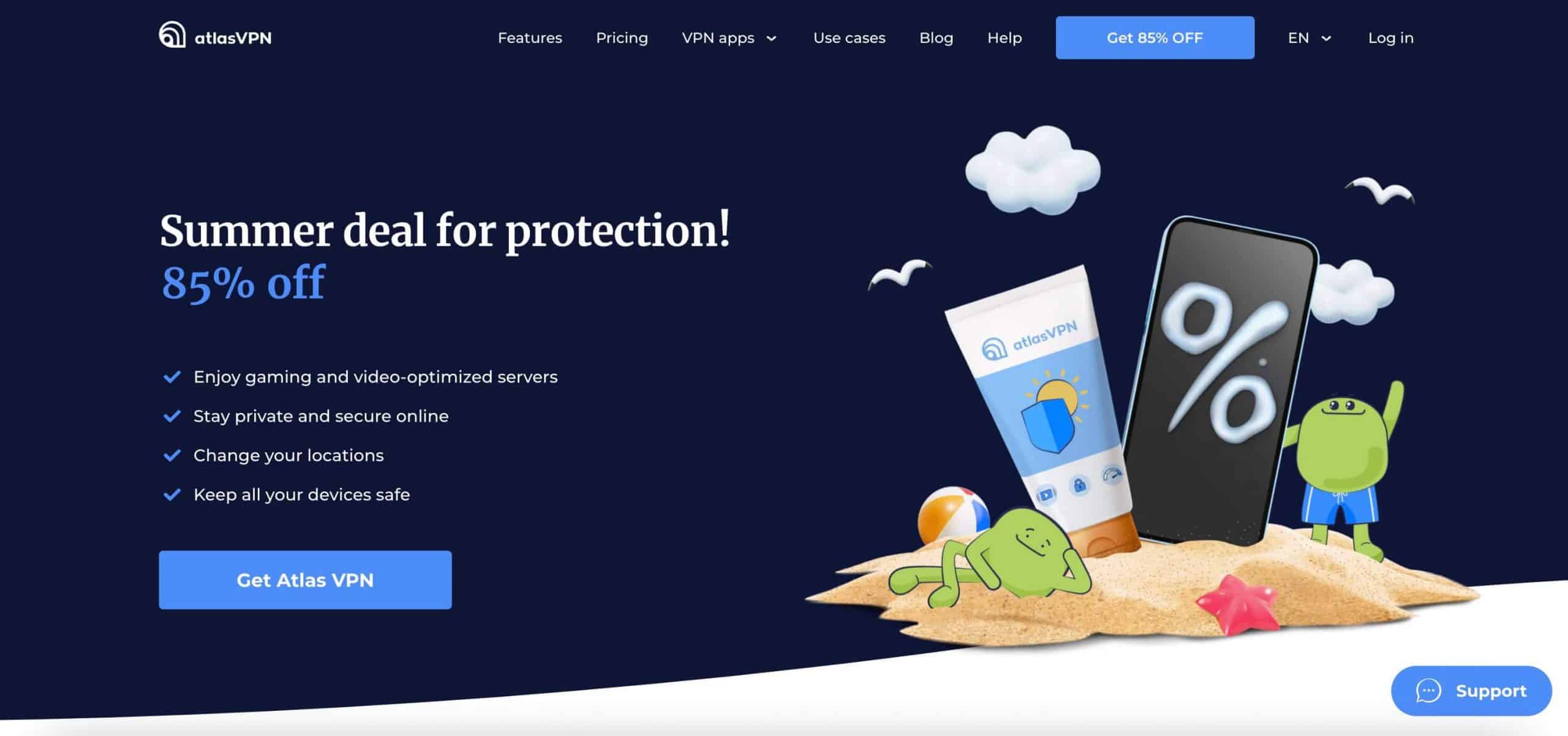 Atlas VPN is known for offering free tier for Windows, Android, macOS, and iOS. This tier provides unlimited device access and three free locations, making it a preferred choice for those who are just starting with VPN.
As the go-to choice for the best free VPN, Atlas VPN's emphasis on security, privacy, and affordability aligns well with users on a budget. The free tier option, complemented by a user-friendly application, offers the perfect gateway to secure browsing.
Pros:
Offers a free tier with unlimited devices, making it accessible.
A strong emphasis on security and privacy ensures peace of mind.
Affordable pricing plans for those seeking additional features.
Cons:
Smaller server networks might limit global access compared to competitors.
Limited advanced features may hinder customization.
The free version restricts servers to three locations.
Pricing:
Free
$11.99/mo
$4.08 (monthly, for 1 year)
$1.83 (monthly, for 3 years)
8. Hotspot Shield VPN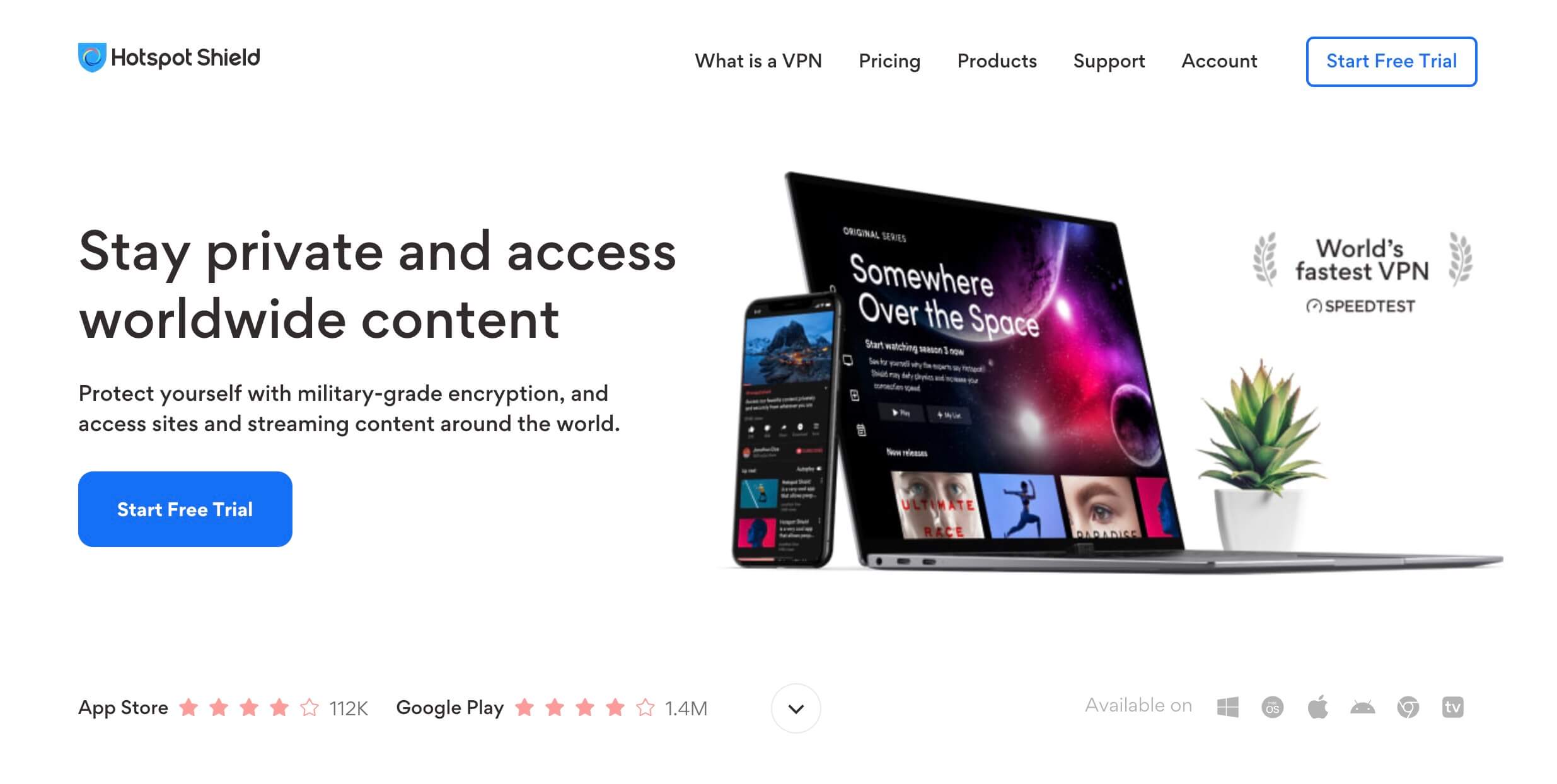 Hotspot Shield VPN is renowned for its user-friendly interface, offering a smooth experience across various platforms. Its compatibility ranging from desktops to mobile devices and browser extensions makes it a slick and approachable client.
What sets Hotspot Shield apart is its emphasis on user experience. Tailored for those seeking simplicity, its intuitive interface and features like split-tunneling by domain allow even the most novice users to navigate securely.
Pros:
Numerous server locations provide a wide reach.
A user-friendly client facilitates effortless interaction.
Offers additional control through Chrome and Firefox browser extensions.
Cons:
Higher pricing might deter budget-conscious users.
The free version is limited and supported by targeted ads, specifically on Android.
Lack of third-party infrastructure audit and limited WireGuard support.
Pricing:
$12.99/mo
$7.99 (monthly, for 1 year)
$2.99 (monthly, for 3 years)
9. Windscribe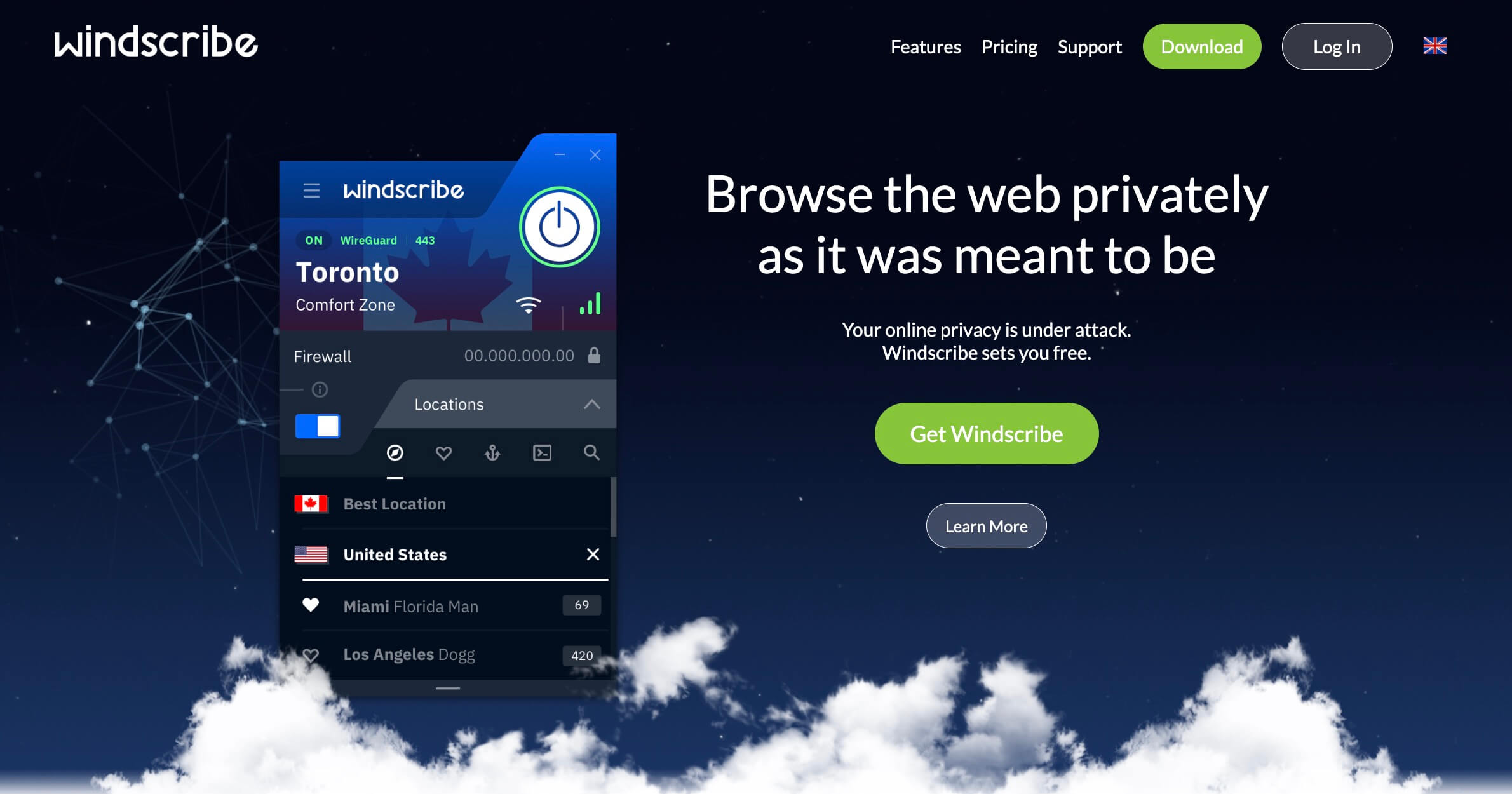 Windscribe VPN caters to casual users, offering an intuitive experience with competitive pricing options. With a mix of free and paid plans, powerful site-blocking features, and consistent performance, Windscribe emerges as an accessible solution for daily browsing needs without complex requirements or high costs.
Designed for simplicity, Windscribe's key strengths lie in its casual use appeal. In fact, it also has split tunneling and automatic banning of various websites (clickbait, gambling, etc). Windscribe is distinctly known to use memes to add spice to their emails.
Pros:
The fast speed supports seamless streaming and browsing.
Effective split tunneling and content-blocking features for a personalized experience.
Flexible and affordable pricing plans, including a functional free tier.
Cons:
Some users have reported occasional software bugs, affecting connectivity.
Lack of massive discount promotions compared to competitors.
Fewer servers and an interface that might not appeal to all users.
Pricing:
$9/mo
$5.75 (monthly, for 1 year)
10. Mullvad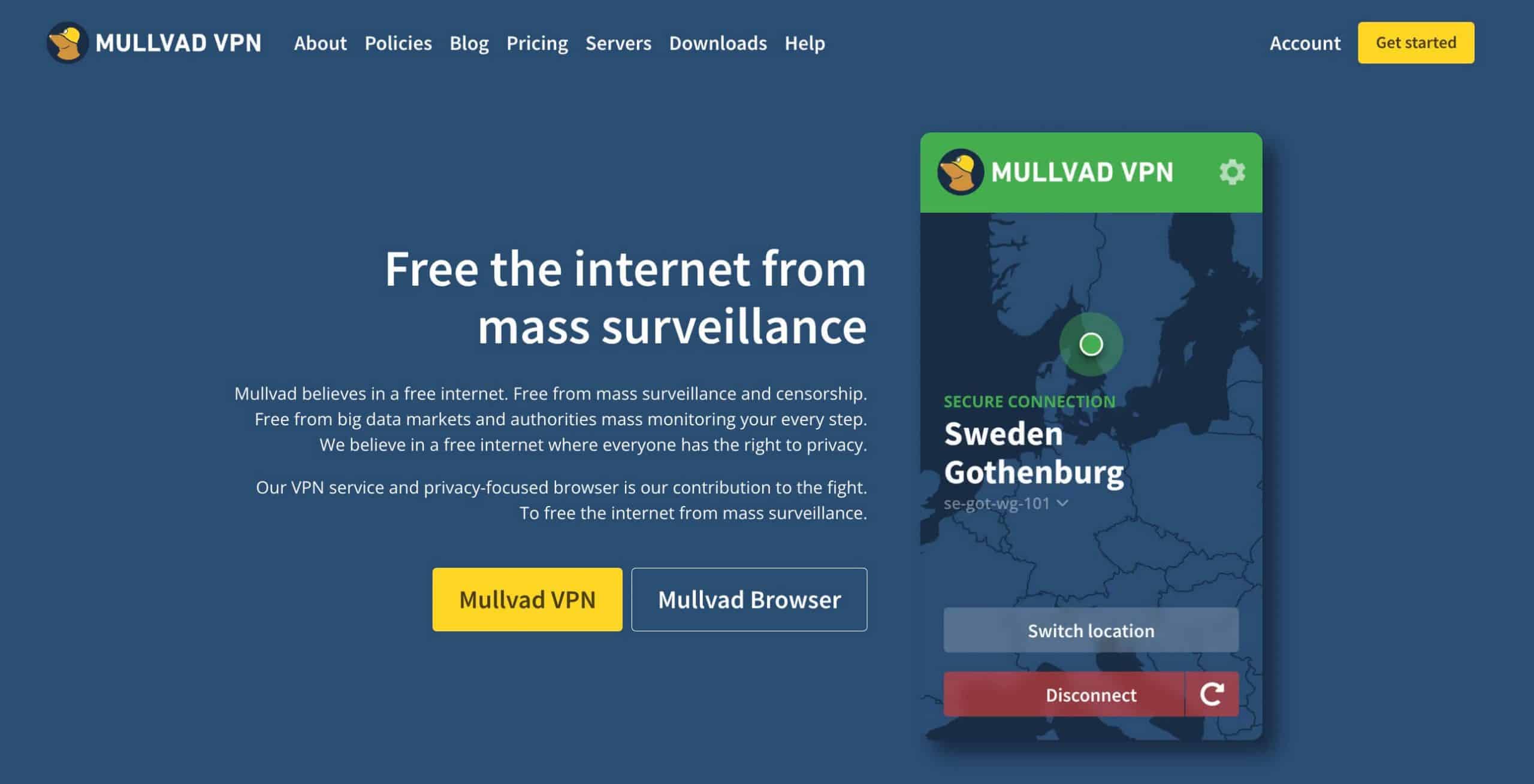 Mullvad VPN is one of the most recommended by Reddit users who value security and anonymity. With unique features such as anonymous accounts, cash, and crypto payment options, as well as an open-source app, it's designed to offer the ultimate privacy-oriented experience.
In addition, Mullvad features, such as port-forwarding and split-tunneling, along with its audited no-logs policy, resonate with privacy enthusiasts. Reddit's community commends its transparent practices, and the trust it has earned is evident in user testimonials.
Pros:
No need for email addresses, and acceptance of cash and crypto payments.
Support for torrenting, IPv6, and YouTube content unblocking.
Affordable pricing at $5 a month without requiring long-term commitments.
Cons:
Limited in unblocking some popular streaming services.
Fewer servers compared to competitors.
Inflexible pricing options with no free trial available.
Pricing:
What Do Reddit Users Rely on When Offering Their Opinions About VPNs?
Due to the culture of anonymity and platform virtues within the Reddit community, using a VPN has been one of the best practices. Hence, most experienced Reddit users tend to give detailed VPN recommendations due to their familiarity with different VPN services. Without further ado, 
Security and Privacy Features: Reddit users value a strongly enforced no-logs privacy policy and independent audit, which ensures that different VPN providers prioritize user privacy and security.
Fast Tunneling Protocols: Users prefer protocols like WireGuard or its modern variations such as NordLynx or Lightway due to their speed and reliability.
Unblocking: VPNs have become a gateway to access geo-restricted content on Netflix, Hulu, HBO Max, Disney+, BBC iPlayer, Amazon Prime Video, and YouTube TV.
Price: The best VPN, according to Reddit users, offers good value, balancing quality with a reasonable price point. Make sure to catch sales and deals to save on subscriptions.
Logging: Reddit users praise the option for no-logging policies since this feature guarantees that all online activities remain confidential and safe.
Speed: Reddit users prefer VPN that offers fast connection speed, especially for torrenting and streaming activities. Products with minimal impact on the online experience are recommended by VPN enthusiasts on Reddit.
Torrenting, P2P Servers: For torrenting, VPNs that support dedicated servers are sought after due to their stable performance, less throttling, and uninterrupted download.
Jurisdiction: VPNs outside of 14 Eyes countries are preferred due to added security against citizen surveillance. 14 Eyes countries are known for surveying their citizens and may be subject to data retention laws.
Free vs. Paid: Free VPNs may seem enticing, but a paid VPN is generally "Reddit Recommended" due to better reliability, controls, and features.
These are the factors to look out for when choosing VPNs according to Reddit users. The perfect VPN should be able to conceal data from third parties, ensure privacy, and provide speedy connections.
Are All Reddit User Comments about VPN Reliable?
Reddit's culture strongly emphasizes cybersecurity, which makes VPN usage a significant part of that culture. Experienced platform users provide valuable insights and VPN recommendations to help other users stay safe online.
However, like any community-driven platform, Reddit users should still do their thorough research to decide on the product that suits them.
While the platform offers many "Reddit VPN" preferences, users should still create informed opinions through personal research and a careful evaluation of product features.
Like other purchases, weighing in factors and individual requirements is key before you dive into anything. Choose the best VPN provider for your usage.
Summary
There you have it! We've successfully discussed the 10 best VPNs recommended by Reddit users in 2023. These tools are focused on providing less restricted, safer, and better internet experiences to their users.
With the growing importance of online privacy and security, investing in a trusted VPN endorsed by the Reddit community ensures a safer, more confidential digital experience. It's a wise move for anyone looking to enhance their online presence in 2023 and beyond.