As project managers, getting deliverables within the defined time, scope, and budget is always better than any rush. To achieve this, you need a versatile yet dependable tool to aid in navigating the challenges of managing projects. 
Join us as we explore the top workload management tools and project management software in 2024 that will help make your journey through all project phases smoother and more efficient.
What are Workload Management Tools? 
With a simple definition, workload management is efficiently distributing and managing tasks across a team or organization. Hence, a workload management tool optimizes productivity and ensures tasks align with team capacity. These tools should be in place to prevent heavy overload from overwhelming your team.
An effective workload management tool can provide a platform for teams to communicate, delegate, and track tasks. These platforms help manage workload by prioritizing tasks, tracking progress, and allocating resources.
By balancing workloads, these tools are crucial in maintaining team performance and morale, ensuring projects are completed efficiently without overburdening team members.
How Do Workload Management Tools Help in Organizing Tasks? 
Workload management tools enable leaders and managers to assign tasks across different team members, accurately utilize time tracking, and distribute workload effectively in one place. It maximizes your team's efficiency and productivity while averting potential burnout by maintaining a workload throughput that is best for your team. 
These tools can balance team workload by efficient planning, simplifying task assignments, workload visibility, and resource allocation. Ultimately, these platforms let you communicate with your team quickly and prioritize effectively.
23 Best Workload Management Tools
Efficiently managing workloads is crucial for any organization, and this can be achieved through workload management software utilizing workload management tools. Here are our top picks for the best tools to help you manage your workloads effectively.
1. Ahsuite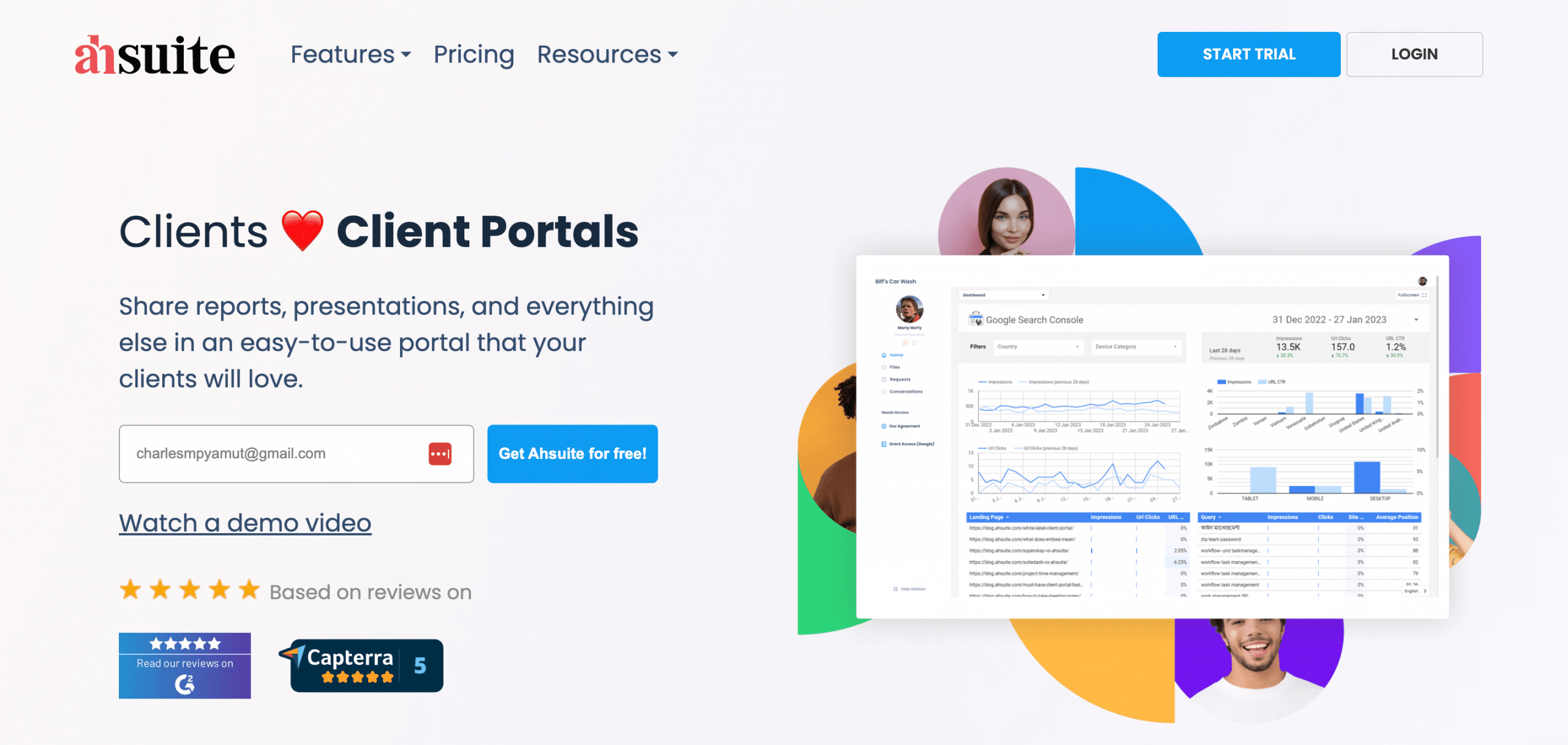 Ahsuite, a robust workload management tool, offers an intuitive solution for managing your team's workload. Ideal for professionals, it streamlines team and client interactions with its easy-to-use interface. This tool's popularity is due to its ability to handle work management tasks, appealing to those who need to oversee complex projects and communicate efficiently.
Key Features:
Views
Conversations
Tasks
Files
Password Management
Work Journals
Pros:
Streamlines complex work distribution.
Facilitates seamless client communication.
Free plan available for essential use.
Consolidates various tools in one place.
Enhances overall team collaboration efficiency.
Cons:
Customization options have more potential.
Specific features cater to digital agencies.
Advanced features require a paid plan, but ten client portals are free.
2. Jira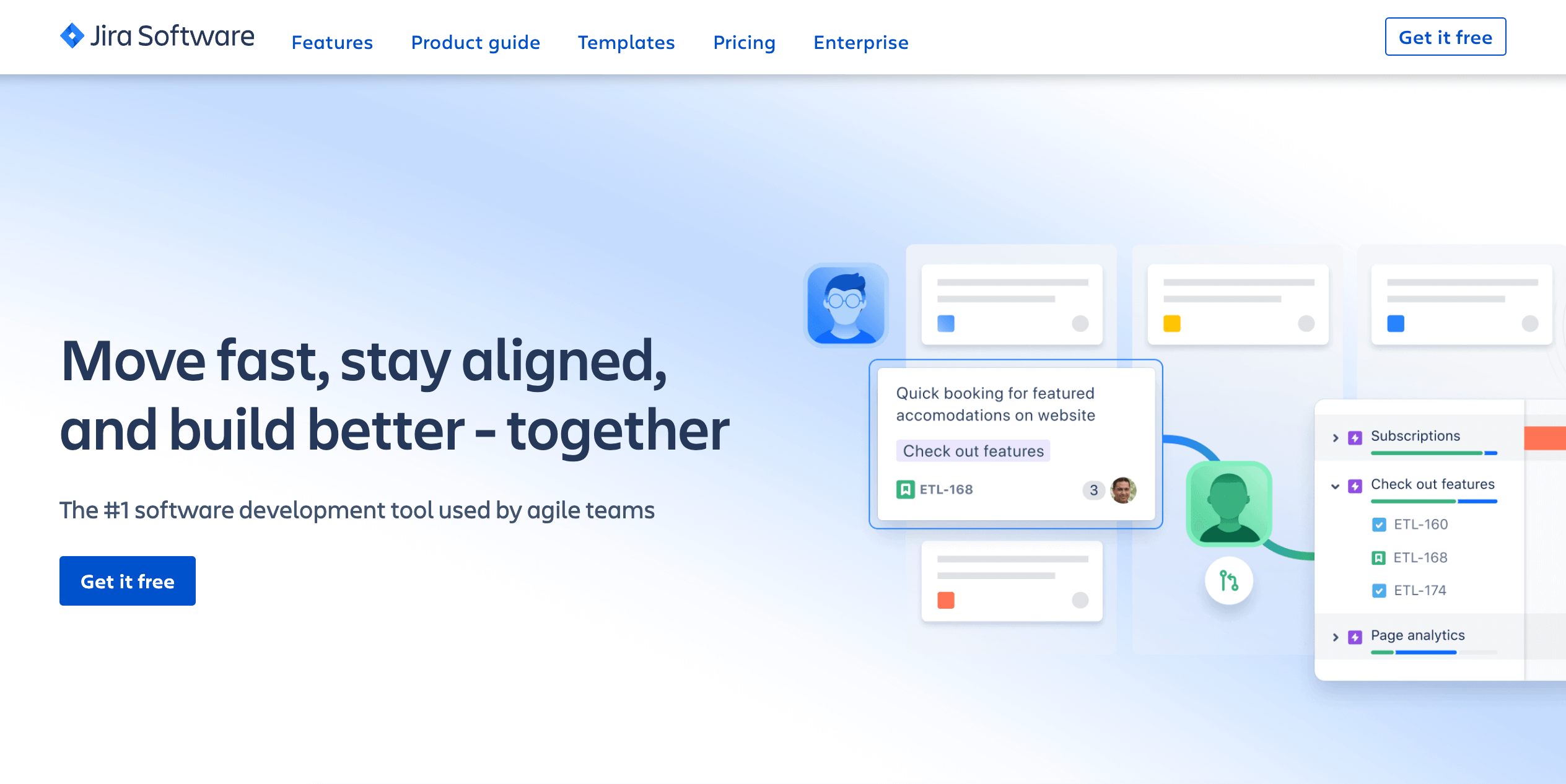 Jira is a powerful tool for agile teams, streamlining everything from planning to execution. It's ideal for various project sizes, simplifying resource management and allocation. Its adaptability and efficiency in workflow management make it a top choice for teams aiming for productivity and clear communication.
Key Features:
Issue Tracking and Management
Customizable Workflows
Agile Project Management
Reporting and Analytics
Integration with Other Tools
Customizable Fields and Screens
Access Controls and Permissions
Notification and Communication
Search and Filters
Pros:
Agile-friendly, versatile workflow.
Efficient issue tracking system.
Customizable for various needs.
Strong collaboration and integration.
Comprehensive reporting and analytics.
Cons:
It can be complex to set up.
It may need heavy customization.
The steep learning curve for some.
Advanced options can overwhelm users.
Risk of information overload.
3. Trello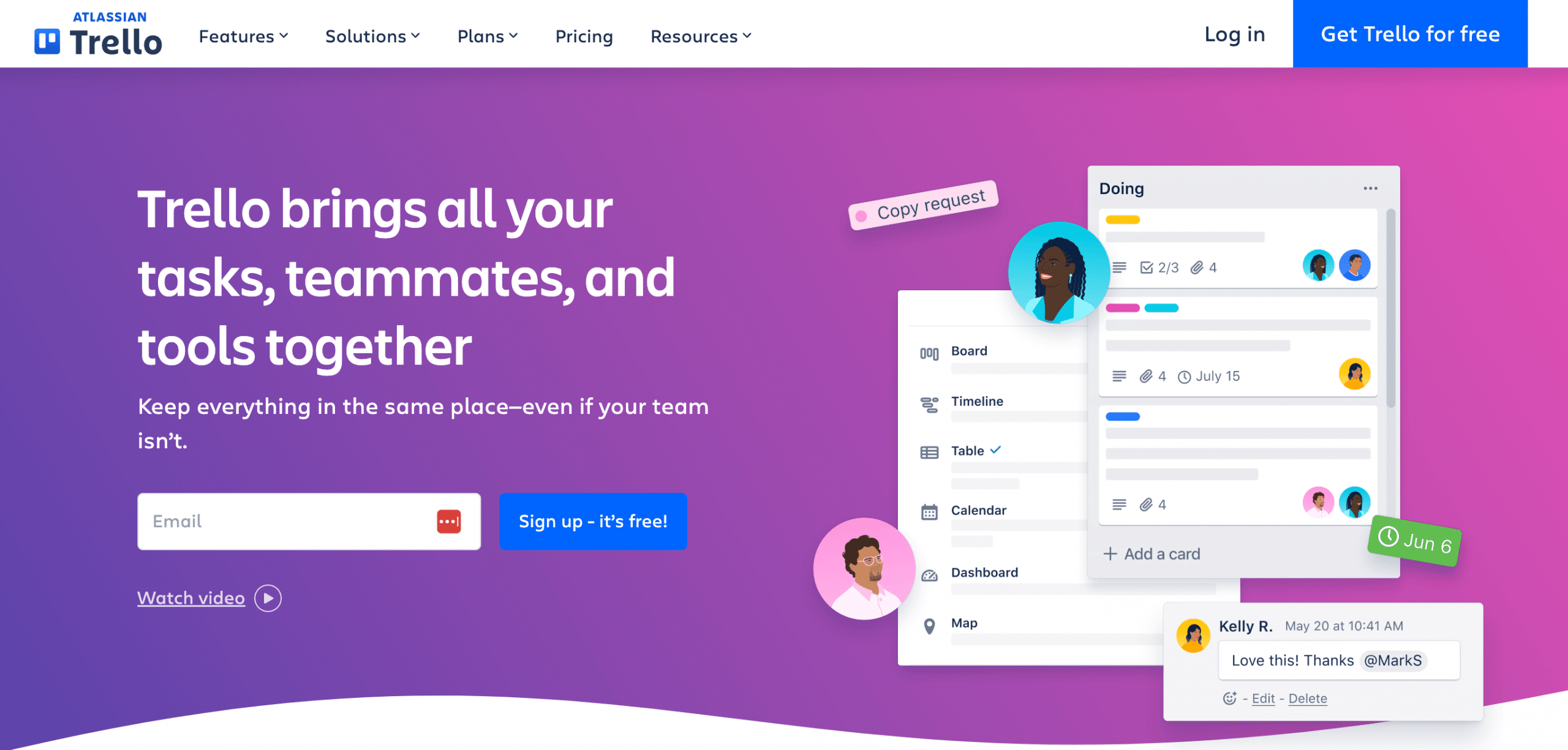 Trello takes the hassle out of project management with its straightforward Kanban-style approach. Ideal for those who prefer a simple, no-fuss method, it's great for organizing everything from daily tasks to big projects. Its boards, lists, and cards are super intuitive, making it a go-to for teams needing an easy way to track their workload.
Key Features:
Boards, Lists, and Cards
Drag and Drop Interface
Customizable Kanban Cards
Collaboration Features
Integrations & Automation
Templates
Notifications
Mobile Accessibility
Pros:
User-friendly with a sleek design.
It simplifies collaboration and is super easy to use.
Organizes tasks in a snap.
Packed with helpful templates.
Excellent value for the price.
Cons:
Lacks a Linux client.
Can't erase cards; it can be annoying.
No mouse side-scrolling.
Exiting apps can lose unsaved comments.
4. Monday.com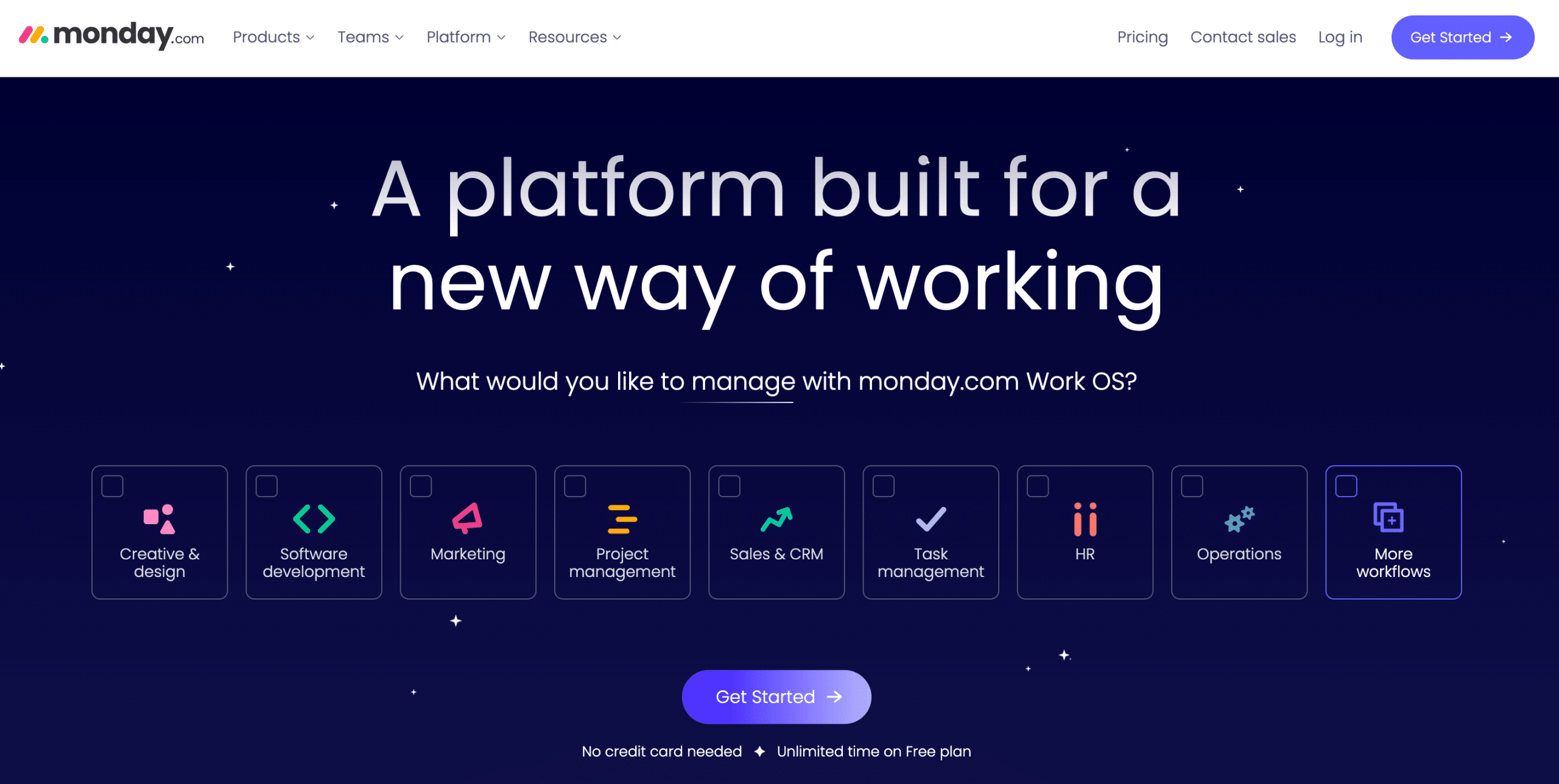 Monday.com excels in workload view and resource allocation, making it a top pick for HR, Sales, Marketing, and Media departments. Its intuitive, Excel-like setup is excellent for managing tasks and enhancing collaboration. While straightforward projects are a breeze, they may be better for handling more intricate, multi-step processes.
Key Features:
Customizable Workspaces
Boards and Items
Columns for Data Management
Visual Project Tracking
Automation & Integration
Project Management
Portfolio Management
Resource Management
Goals & Strategy
Pros:
Engaging, user-friendly design.
Excellent for organizing workloads.
Suitable for tracking resource allocation.
Customization caters to specific needs.
The quick learning curve for beginners.
Cons:
The layout may seem confusing.
Limited in report customization.
Info box features feel restrictive.
Default collapsed boxes are less convenient.
5. Asana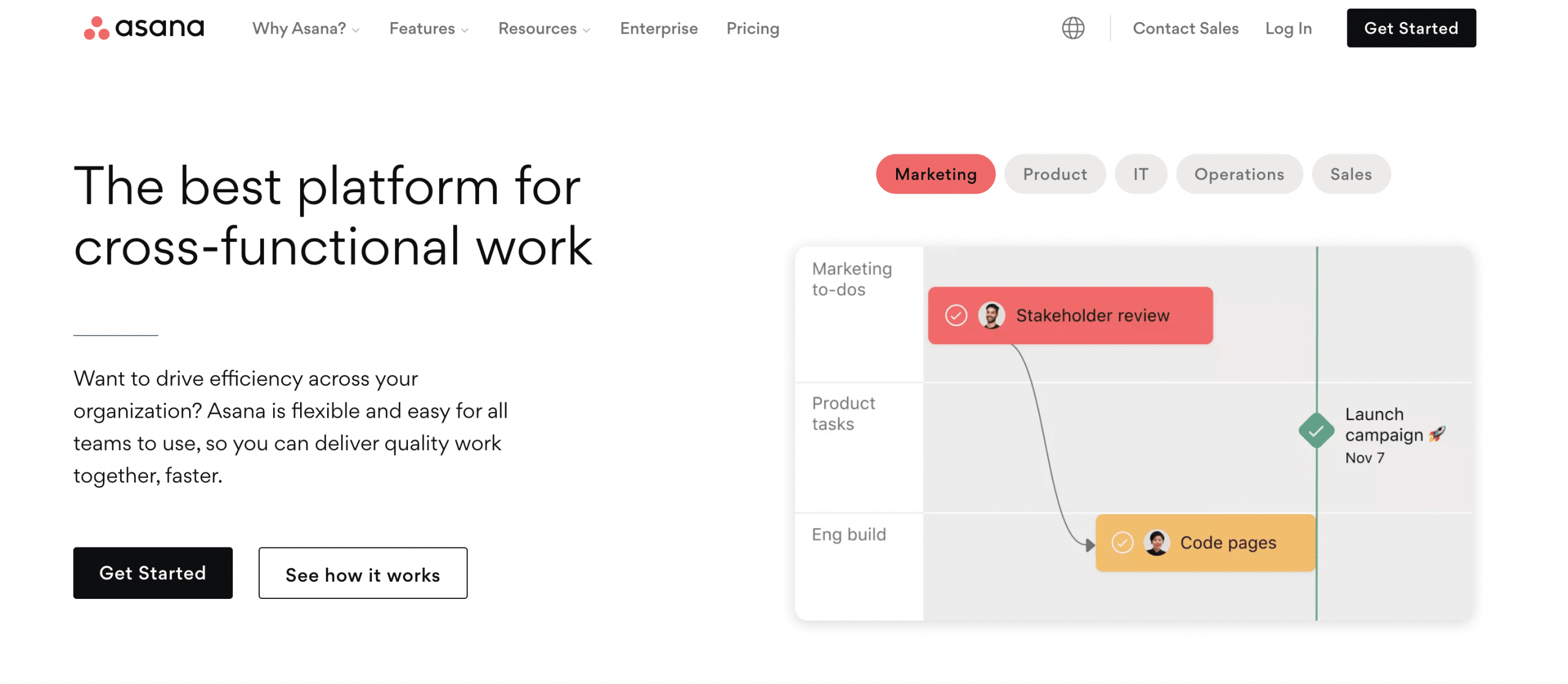 Asana streamlines work across various scales, from daily tasks to large strategic initiatives. It's particularly beneficial for teams seeking a unified platform for collaboration with organization tools like lists, boards, and calendars. Its popularity stems from its ease of use, scalability, and the efficient workload view it provides. 
Key Features:
Project Management
Workflows and Automation
Resource Management
Time-Tracking
Goals and Reporting
Admin and Security
Timeline and Gantt Chart
Status Updates
Pros:
Facilitates team communication on tasks.
Clean interface; tracks project progress.
Intuitive, constantly improving features.
Wide range of integrated features.
Supports various project management methodologies.
Cons:
Important notifications are sometimes missed.
Default opt-in to email notifications.
It can be confusing to manage projects.
Lacks features for recurrent tasks.
Setting routines can be challenging.
6. ClickUp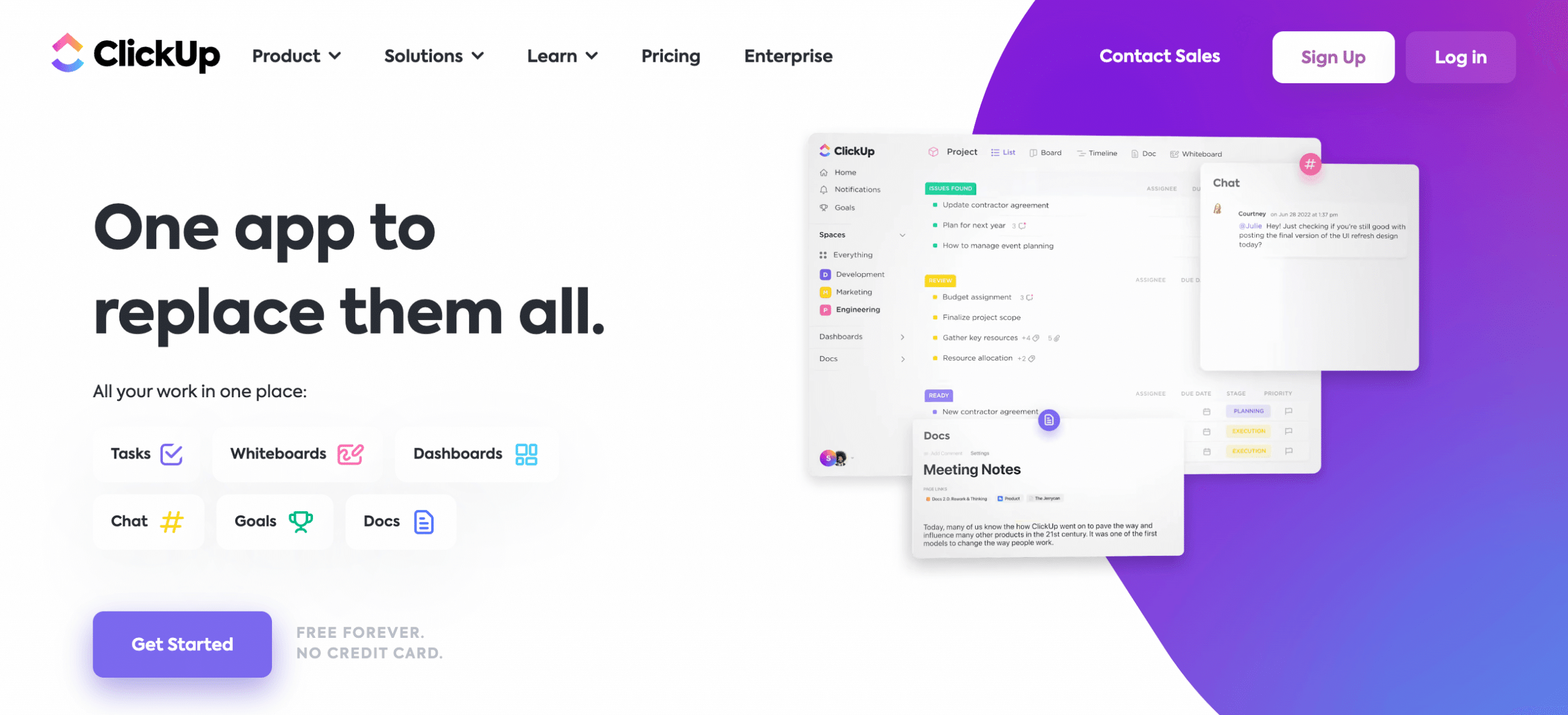 ClickUp is an all-in-one productivity platform ideal for a wide range of teams. It offers a unified space for tasks, documents, chats, etc. It is known for customization, intuitive design, and the ability to replace multiple devices, resulting in a more efficient and clear view of the workload.
Key Features:
Task/Goals Management
Documentation and Communication
Visualization and Reporting
Customization and Efficiency Tools:
ClickApps & Integrations
Pros:
User-friendly with SaaS convenience.
Free version suitable for growing teams.
Easy setup of automation.
Effective for client feedback and communication.
Simplifies tracking application progress.
Cons: 
Occasional delays in board updates.
Unwanted, irritating reminders.
The email reply feature sometimes fails.
Grey interface, small font size.
7. Toggl Plan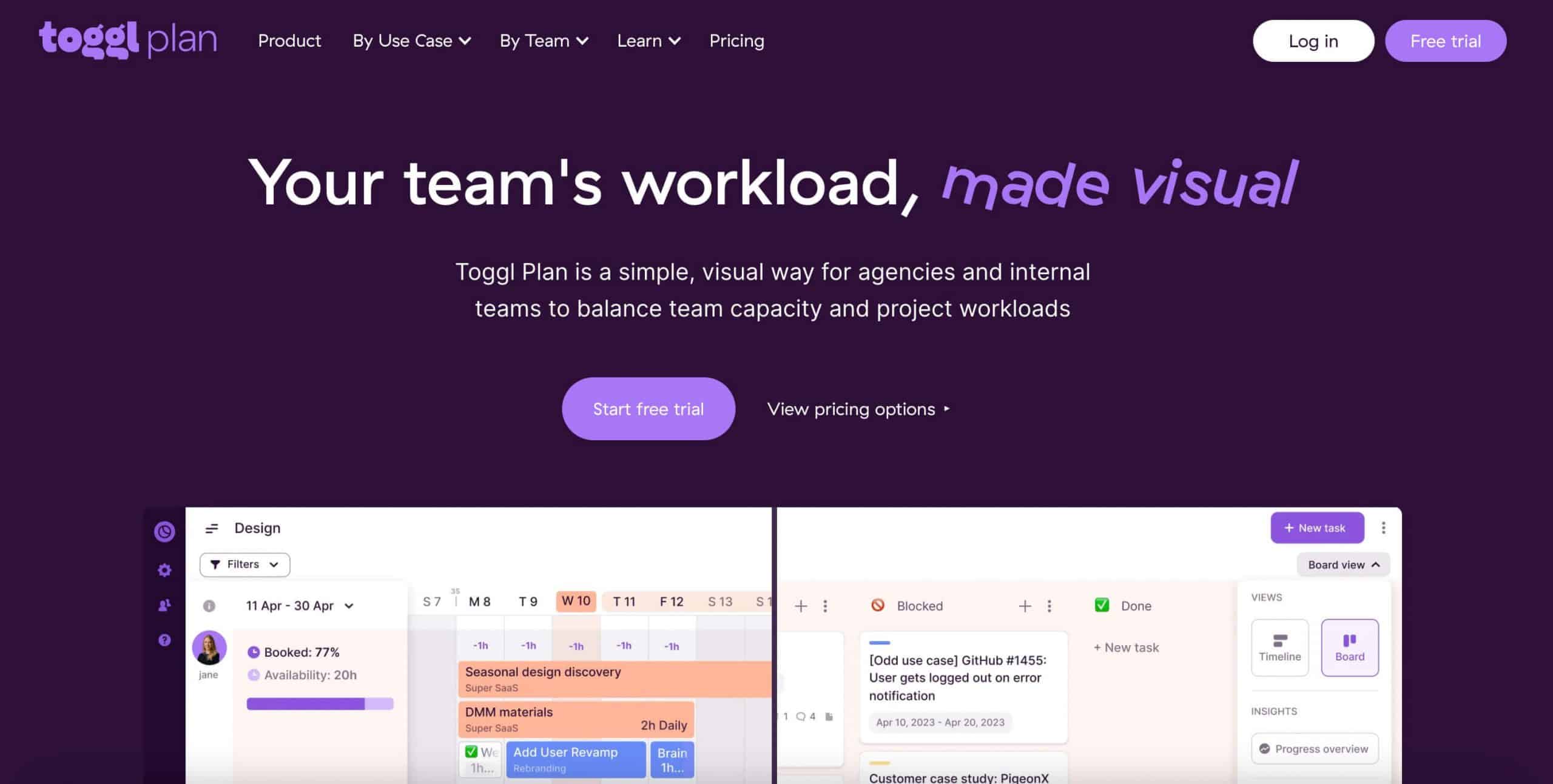 Toggl Plan is an intuitive project management tool known for its visual planning capabilities. It's especially beneficial for small to medium-sized teams looking for a straightforward way to manage projects and workloads. Its popularity is mainly due to its user-friendly timeline and board views, making it easy to track tasks and adjust plans with a simple drag-and-drop interface.
Key Features:
Project Planning
Resource Planning
Task Organization
Scheduling
Multiple Views
Time Tracking
Pros:
Easy to plan and divide tasks.
Timeline view offers real-time team insights.
Competitive pricing with continual improvements.
Notably, it is user-friendly and straightforward.
Provides precise, visual project management.
Cons:
Integration with Toggl Tracker is limited.
Deleting placeholders removes multiple team members.
Lacks certain calendar functions.
Dependency on the tool for organization.
Some functions may feel lacking.
8. Wrike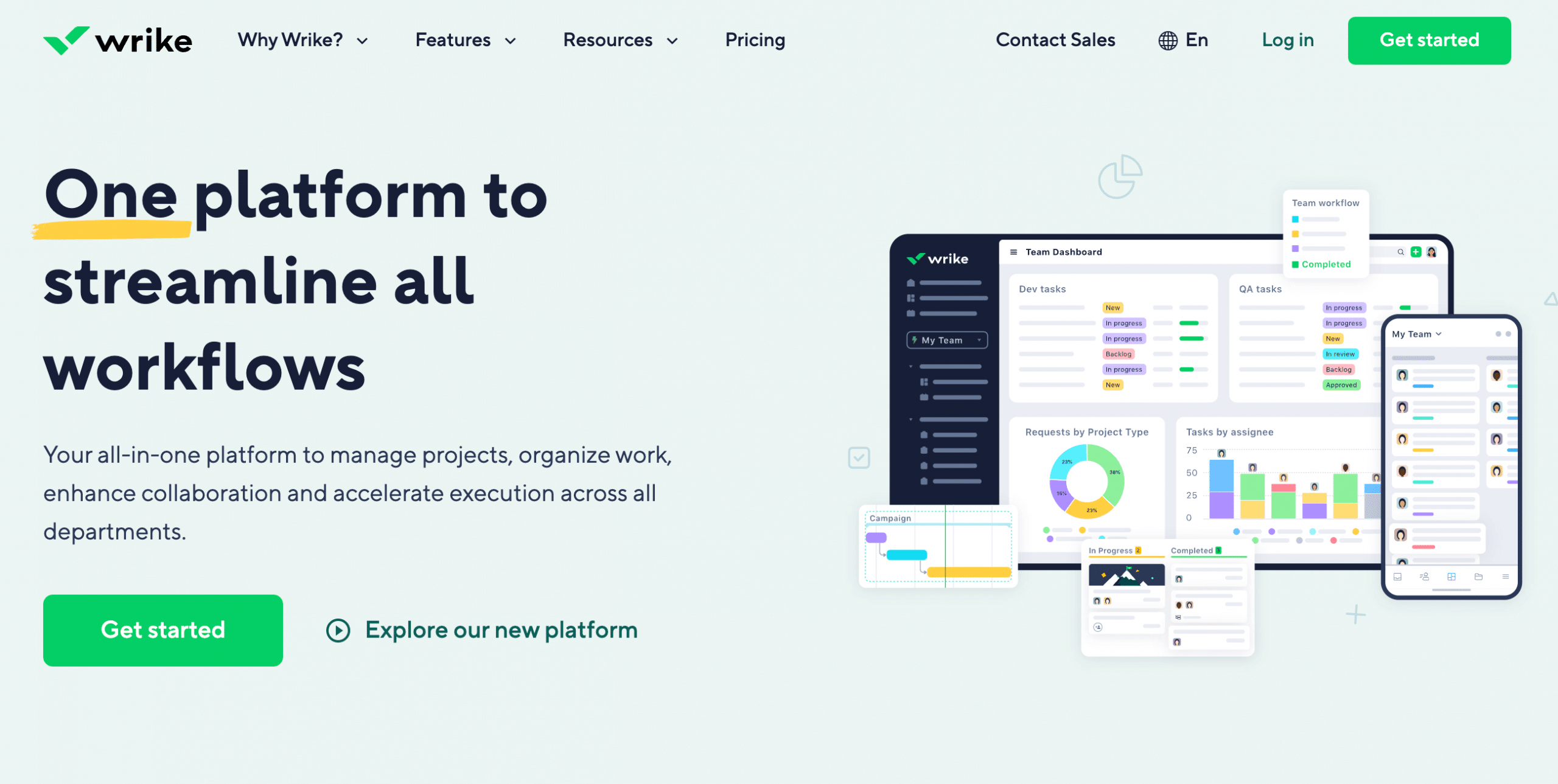 Wrike is a platform ideal for teams and organizations aiming to enhance collaboration and productivity. It integrates all aspects of work into one place, simplifying complex tasks and empowering users to focus on meaningful work. Its appeal lies in its power, versatility, and ease of use. 
Key Features:
Project Visualization and Management
Automation and Efficiency
Collaboration Tools
Resource and Task Management
Accessibility and Integration
Pros:
User-friendly with an excellent interface.
Reliable customer service and support.
Facilitates natural workflow transition.
Keeps teams on top of projects.
Cons:
Issues with unauthorized charges.
Customer support can be lacking.
Sudden account deactivation without warning.
Inadequate communication from customer success managers.
9. Proofhub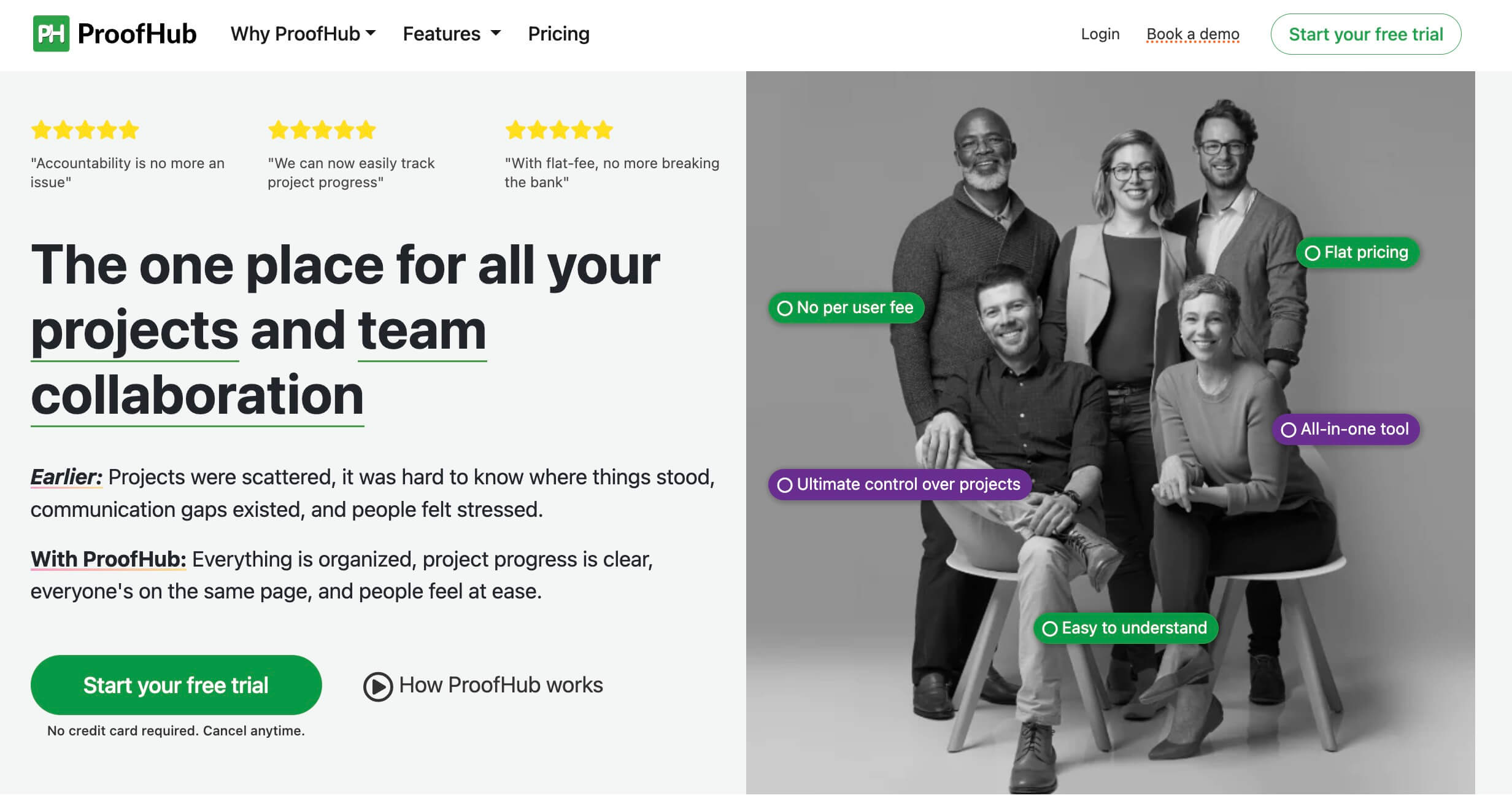 ProofHub is a cloud-based tool favored globally by teams. It offers a centralized view of tasks and progress and enables communication from anywhere. Its appeal lies in its simplicity and power, making it a preferred choice for efficient work organization across various industries.
Key Features:
Task Management
Forms & Templates
Gantt Chart
Custom Roles
Board, Table & Calendar
View Proofing & Notetaking
Announcement & Reports
Time Tracking
Pros:
Kanban boards enhance team workflows.
Exceptional customer support with custom roles.
Seamless, intuitive, and user-friendly.
Syncs tools for higher productivity.
Consolidates projects and teams efficiently.
Cons:
Unmatched at its price point.
Team discomfort after extended use.
Reflects on time wasted without it.
10. Bitrix24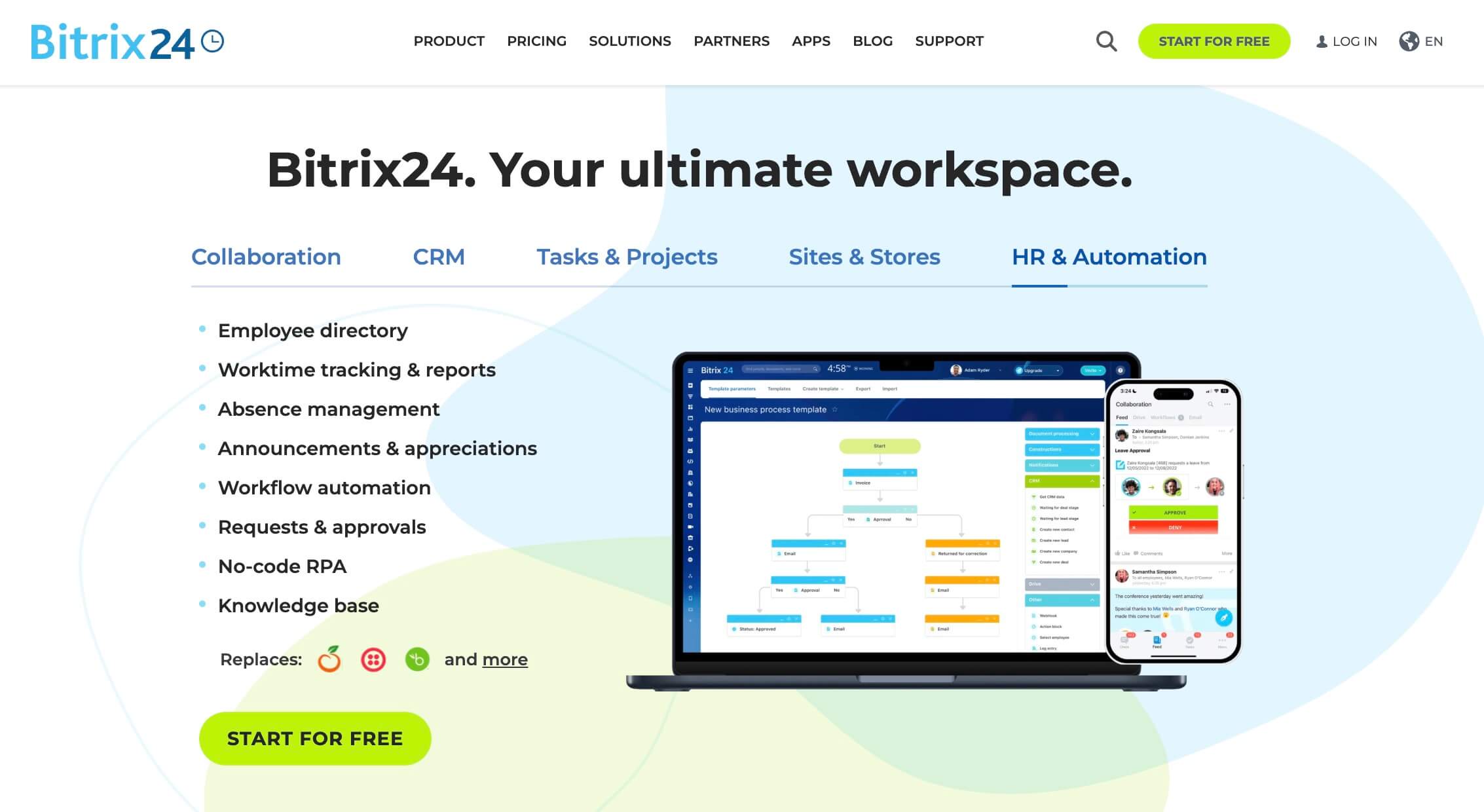 Bitrix24 is a dynamic online workspace, adept in simple task management and seamless team communication. This versatile platform is perfect for businesses needing an efficient workload view to see and manage tasks. It's widely popular, offering comprehensive tools for easily communicating with team members and organizing workloads.
Key Features:
Communication and Collaboration Tools
Simple Task and Project Management
CRM and Sales Tools
Calendar and Scheduling
Comprehensive Document and Data Management
Pros:
Centralizes lead management efficiently.
Simplifies sales process automation.
Ideal for client and team collaboration.
User-friendly with comprehensive tutorials.
Facilitates effective workload planning.
Cons:
Service quality is sometimes below expectations.
Interface can be disjointed.
Misleading QuickBooks integration claims.
CRM system is occasionally buggy.
Navigation and file management are challenging.
11. nTask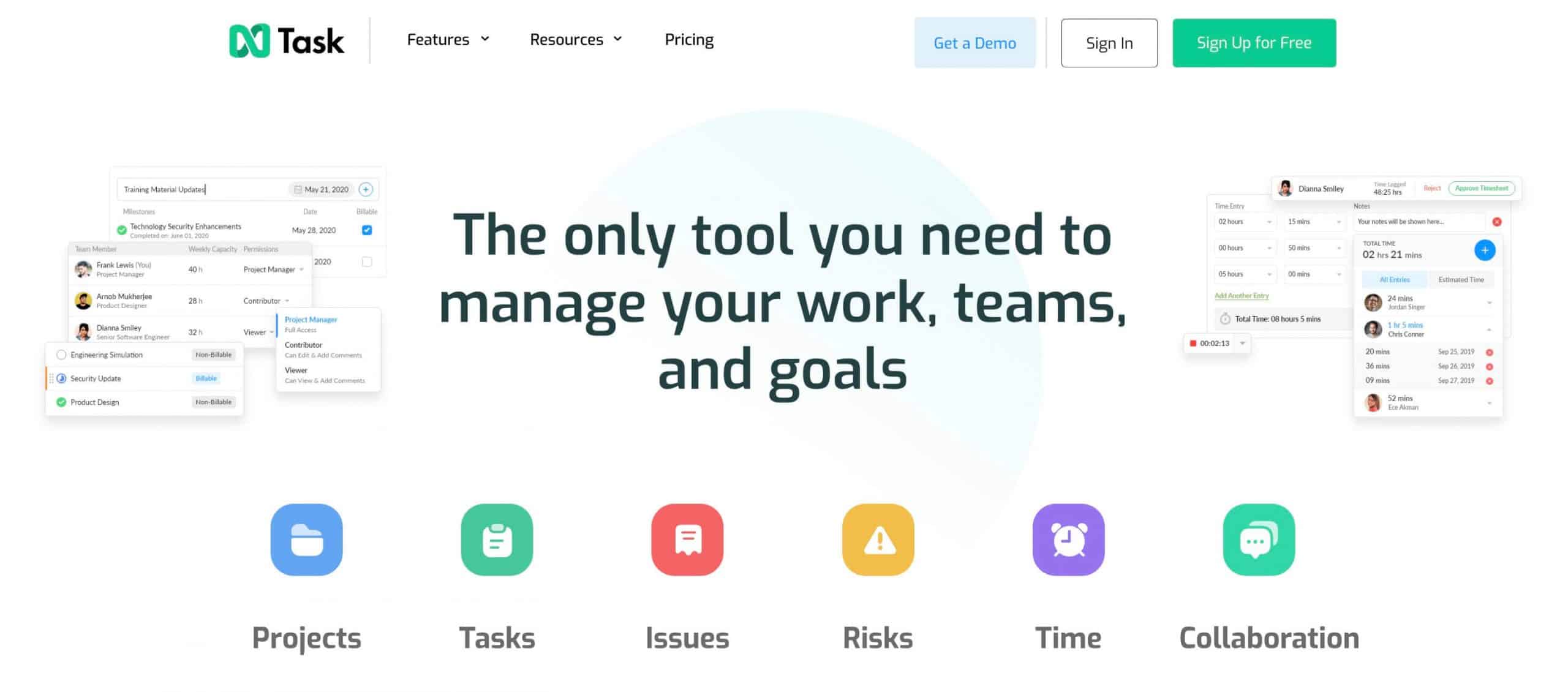 nTask is an online project administration platform that excels in simplifying work oversight. It's designed for teams of all sizes across various industries, helping them manage everything from campaigns to company goals. Its affordability and extensive customization options make it a popular choice for efficiently balancing team workloads. 
Key Features:
Project and Meeting Management
Task/Team Management with Kanban Board
Gantt Charts and Issue Tracking
Time Tracking & Timesheet
Risk Management
Pros:
Affordable with a free version available.
Supports team creation and multi-tasking.
Streamlines team task leadership and document sharing.
Integrates with Slack for added functionality.
Excellent customer support.
Cons:
Some features require a premium subscription.
Customer support can be lacking.
Potential data loss issues were reported.
The calendar view is not customizable.
Integration features not fully explored.
12. MS Project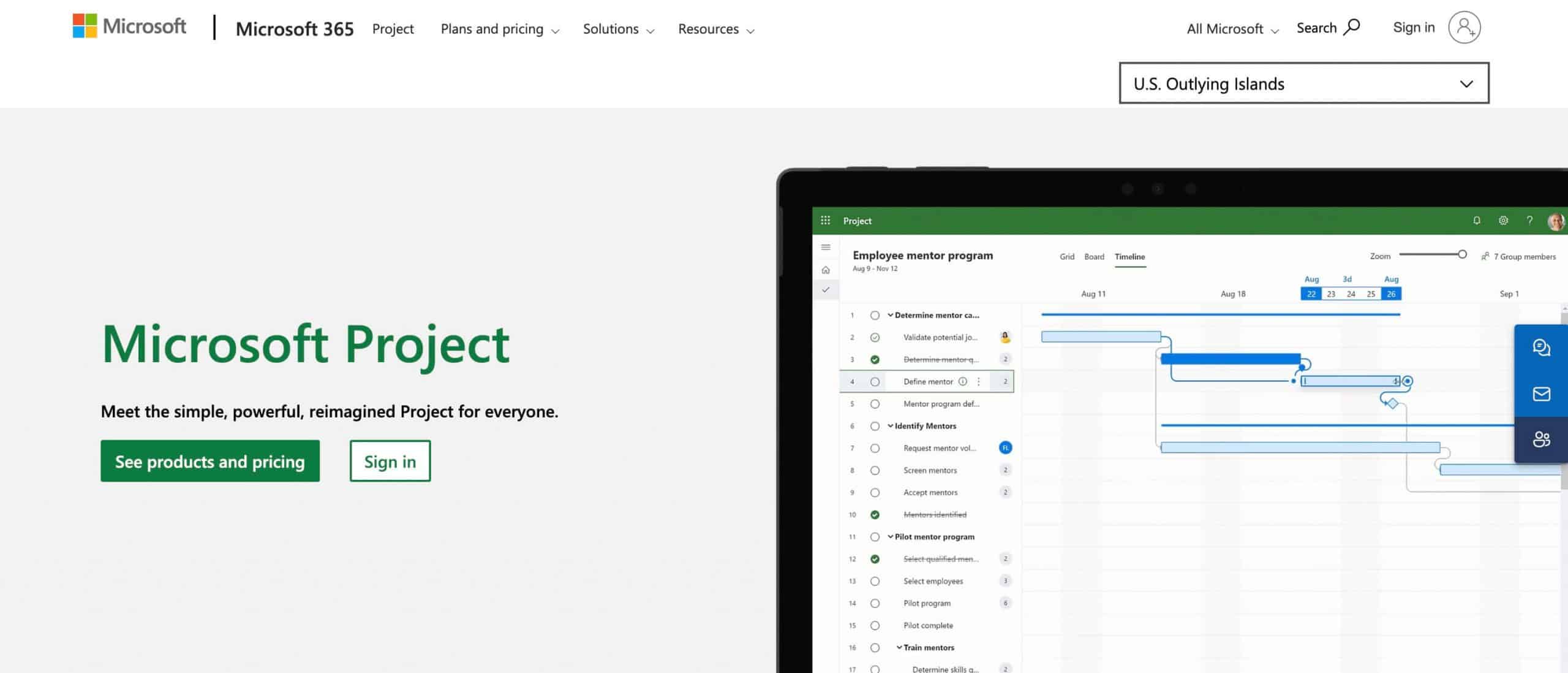 Microsoft Project is designed to keep track of diverse project needs, especially in remote work scenarios. It's widely used for collaborating with teams, streamlining processes, and managing resources and costs efficiently. Its popularity stems from the familiar Office tools integration and customizable features, making it a go-to choice for staying on top of your workload. 
Key Features:
Resource/Project Planning
Team Communication and Coauthoring
Customizable Views and Dashboards
Detailed Reporting and Roadmap Creation
Timesheets for Work Tracking
Pros:
Features easy to learn and adjust.
Enhances creativity in data presentation.
Simple, user-friendly interface.
Helpful customer support for report creation.
Cons:
Typing errors can lead to complications.
Requires additional license outside Office suite.
Costly compared to other solutions.
Customization options are limited.
Licensing process can be cumbersome.
13. Teamwork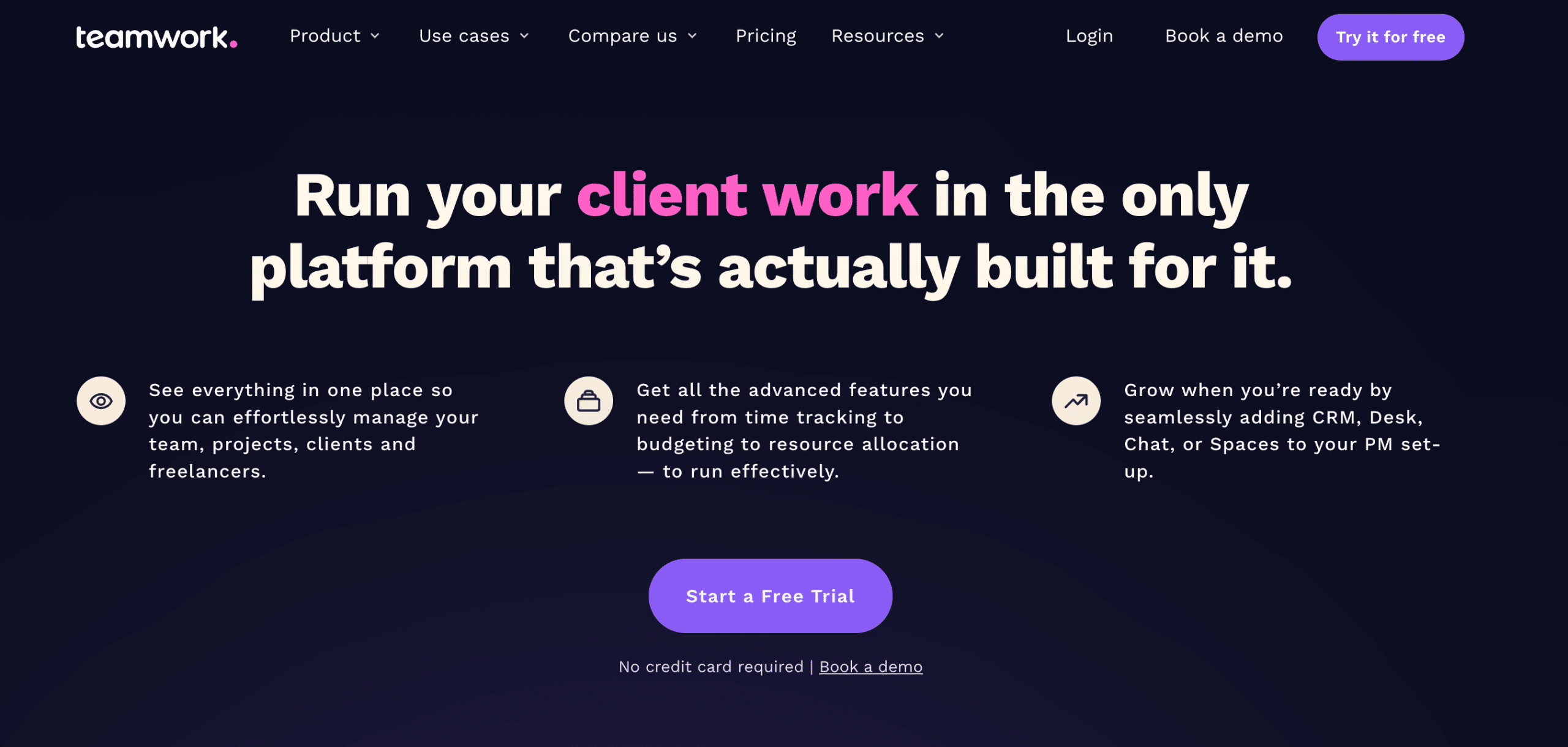 Teamwork enables businesses to deliver projects on time and within budget while offering clear insights into profitability. Favored for its ability to inspire collaboration and provide detailed tracking, it's ideal for teams seeking efficient workload management to ensure every team member can contribute effectively and transparently.
Key Features:
Resource & Workload Management
Time Tracking and Invoices & Budgets
Tasks & Subtasks with Multiple Views
Project Health Monitoring
Templates & Forms
Pros:
Excellent, responsive customer service.
Detailed project and task insights.
Facilitates effective remote collaboration.
User-friendly interface, easy to use.
Regularly updated with helpful features.
Cons:
Lacks internal team chat functionality.
Current CRM needs improvement.
API data integration needs to be more consistent.
The customer service approach could be improved.
Some features may only partially meet needs.
14. Zoho Projects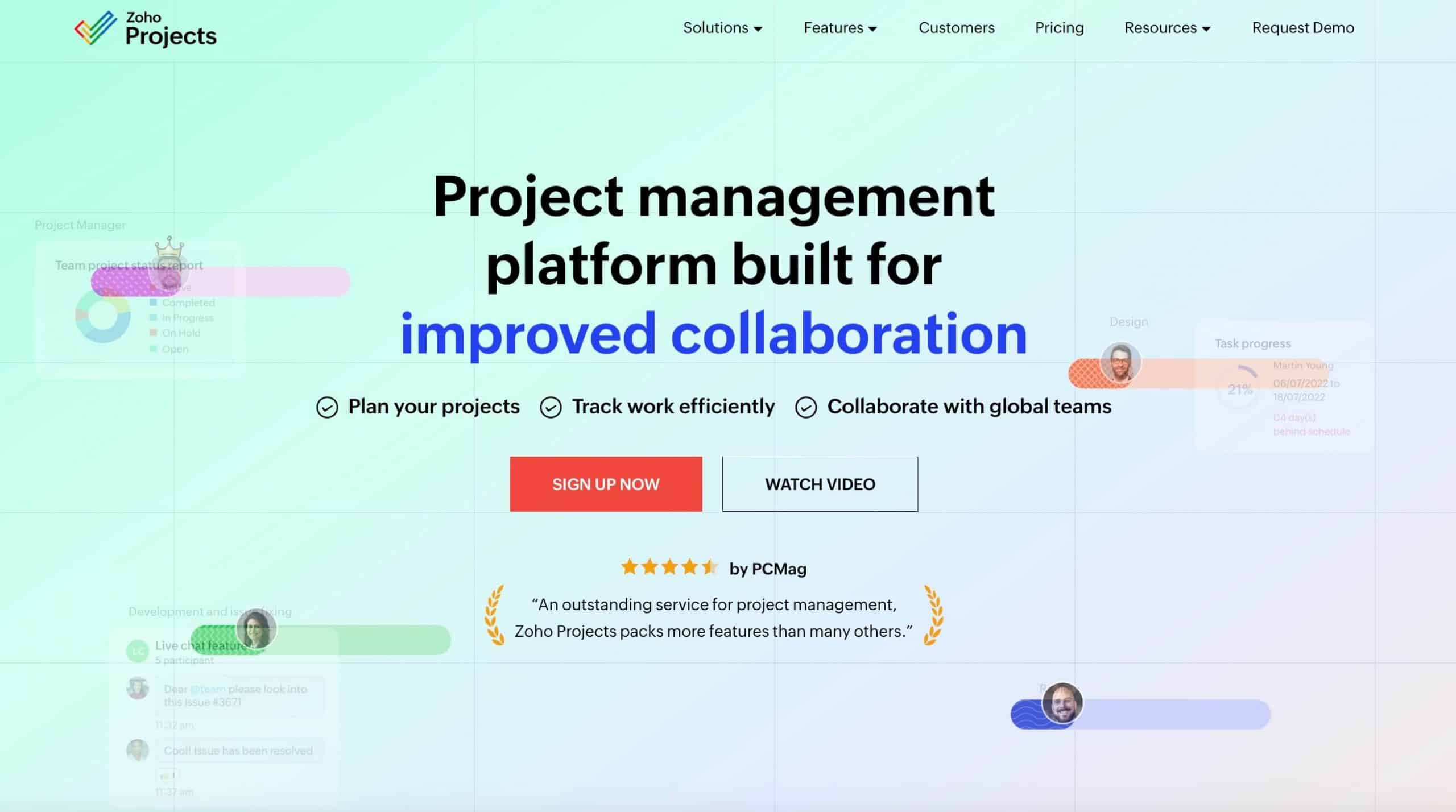 Zoho Projects streamlines the entire project lifecycle by offering a user-friendly interface for collaboration and task management capabilities. Its integration with popular business tools, like Google and Microsoft apps, makes it a popular choice for seamlessly adapting to various business workflows.
Key Features:
Task Oversight with Customizations
Team Cooperation and Automation
Time Management, Charts, and Reports
User Administration with Zoho Integrations
Additional Integrations, Add-ons, and Apps
Pros:
Robust capabilities with a user-friendly interface.
Flexible template modification.
Supports business growth effectively.
Affordable and easily accessible.
Quick to learn and use.
Cons:
Navigating settings can be challenging.
Some integrations could be more reliable.
Data formatting issues encountered.
Custom field options are limited.
Multi-select feature not available.
15. Slack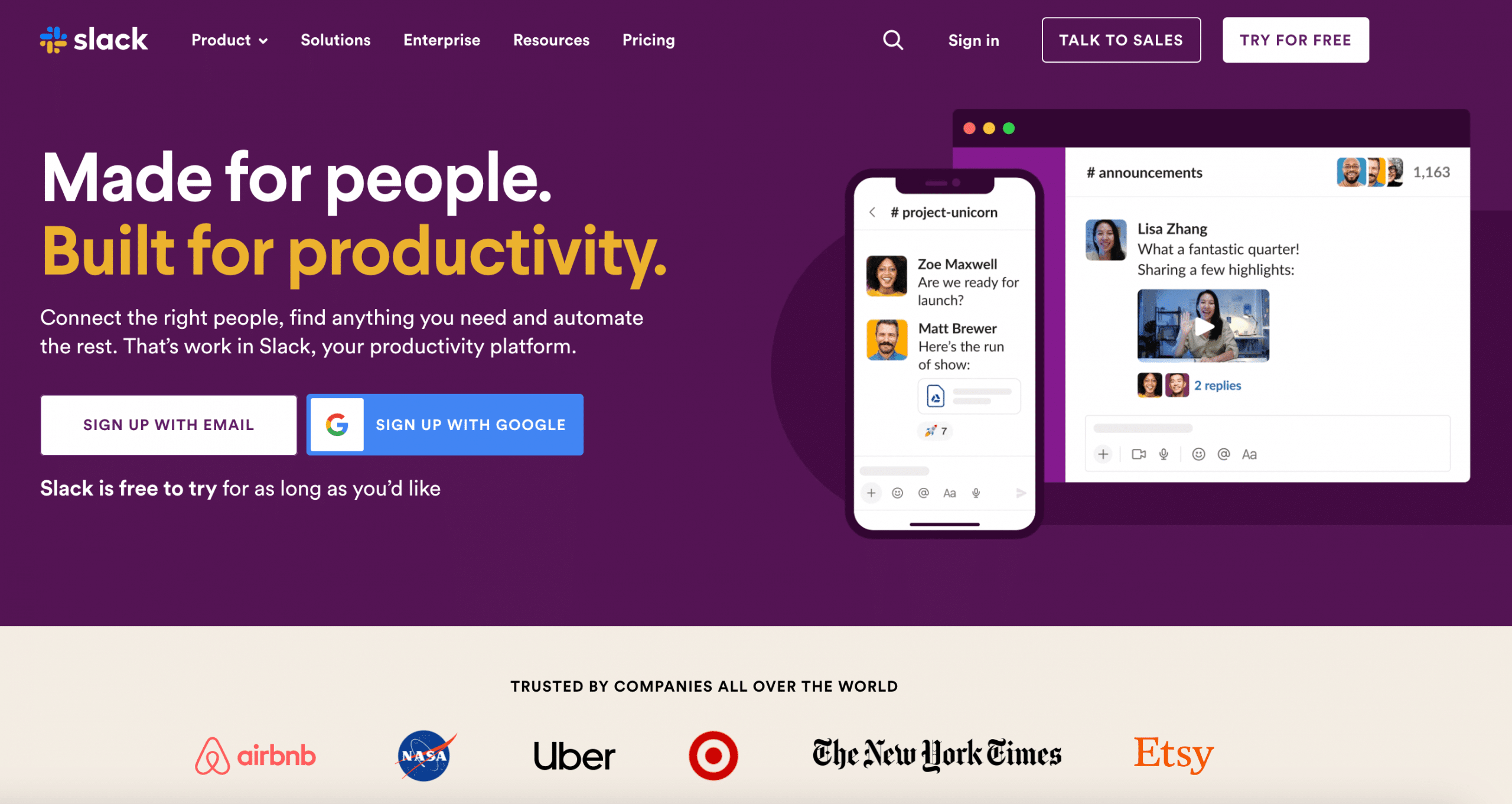 Slack revolutionizes team communication by centralizing it in one digital workspace. Teams use it for everything from project kick-offs to task coordination, making it a valuable asset for efficient work organization. Its popularity is due to its streamlined communication features, integrating chat, file sharing, and real-time collaboration, catering to diverse professional needs.
Key Features:
Organized Team Chat and Messaging
Channels for Focused Project Spaces
Apps and Integrations, including Slack Connect
Workflow Builder for Routine Automation
Advanced Security and Enterprise Key Management
Pros:
Community-centric support is encouraging.
User-friendly UI is essential for job success.
Consolidates work conversations effectively.
Easy to use with versatile plugins.
Cons:
Channels can be confusing and numerous.
Overwhelmed by multiple communication platforms.
Separate login for each channel could be more convenient.
It can be bothersome due to poor etiquette.
16. Basecamp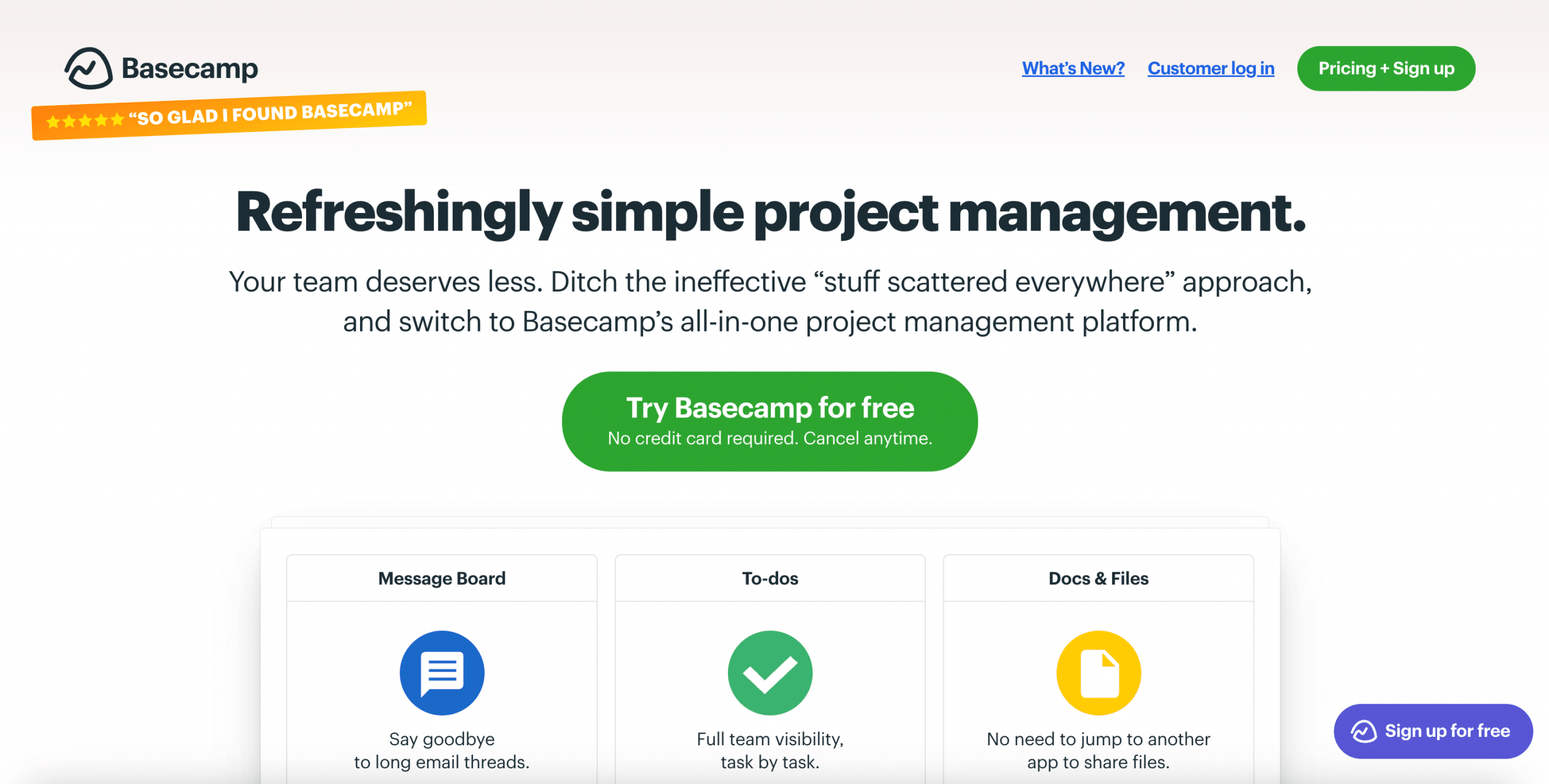 Basecamp is renowned for bringing various organizational tools into one streamlined platform, such as message boards, schedules, and document storage. Regarding workload management, Basecamp's popularity lies in its ability to synchronize team activities, ensuring nothing falls through the cracks and maintaining task visibility.
Key Features:
One Page Dashboard for Overview
Team Discussions and Task Tracking
Scheduling and Automatic Check-In
Portfolio View for Project Overview
Analytics & Reporting for Insightful Data
Pros:
Simplicity aids in focus and synchronization.
Strong mobile support and fair pricing.
User-friendly with adequate client access.
Excellent task visibility and ease of use.
Organizational features well-suited for team management.
Cons:
Some features are missing in all versions.
Different versions create complexity.
Negative experiences leading to product switch.
Lacks comment deletion functionality.
Inconsistency across various Basecamp versions.
17. Teamhood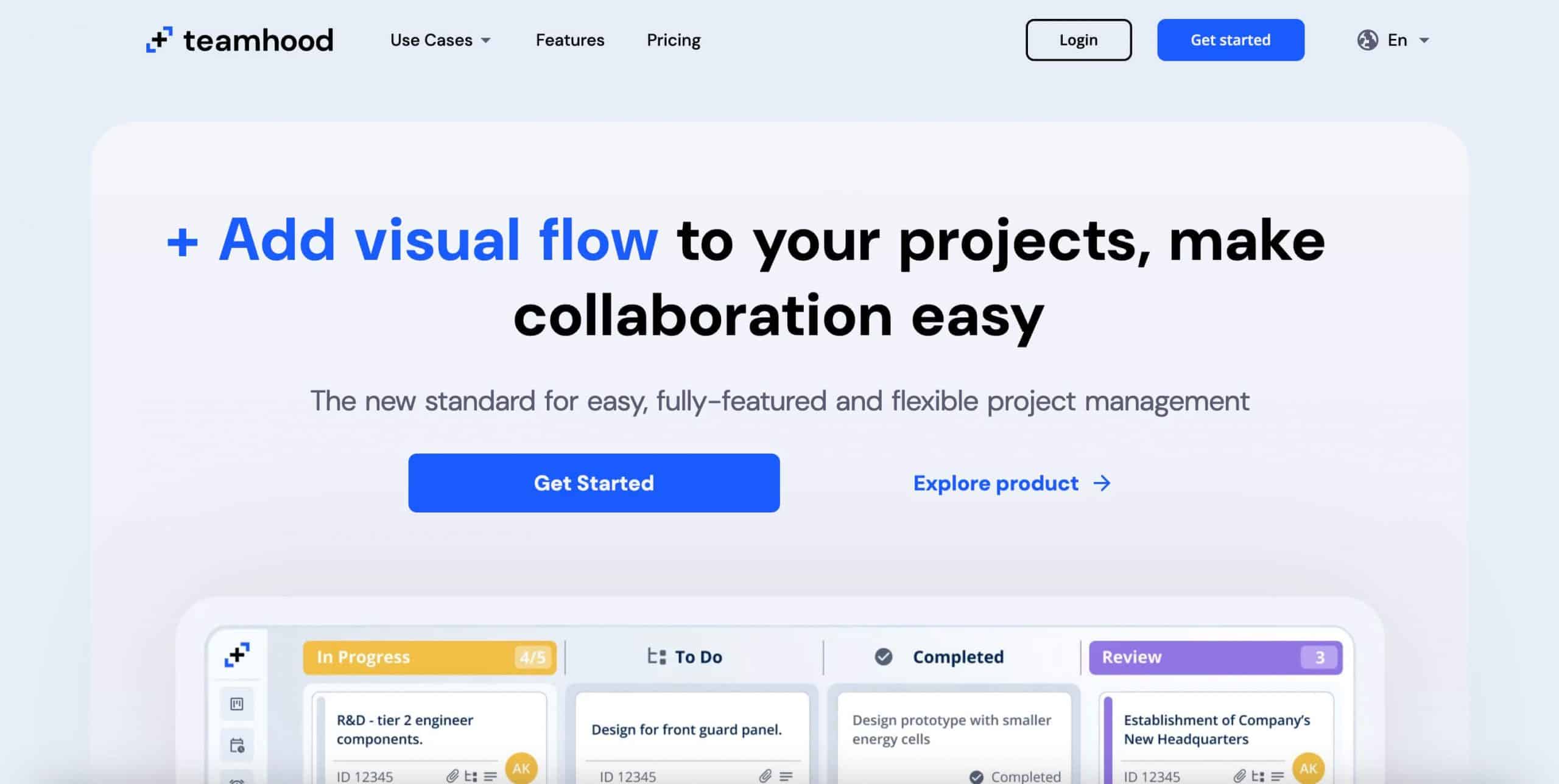 Teamhood is an innovative platform for managing projects and enhancing team collaboration. It's known for merging Kanban and Gantt chart functionalities, making it a top choice for upstream and downstream process management. Its speed and intuitive design benefit teams seeking agile solutions and effective workload capacity management.
Key Features:
Integrated Budget Tracking and Workload Capacity
Enhanced Discussions and Document Collaboration
Advanced Tagging with Email Notifications and Status Updates
Customizable Forms, Templates, and Portfolio Coordination
Combined Gantt and Kanban for Progress Monitoring
Pros:
User-friendly interface with exceptional support.
Instant support with brilliant task time tracking.
Effectively satisfies team task administration needs.
Informative content for effective remote teamwork.
Agile metrics report aids in task tracking.
Cons:
Some inaccuracies in time management.
Minor ergonomic issues were encountered.
Experiences time differences in usage.
18. Eylean Board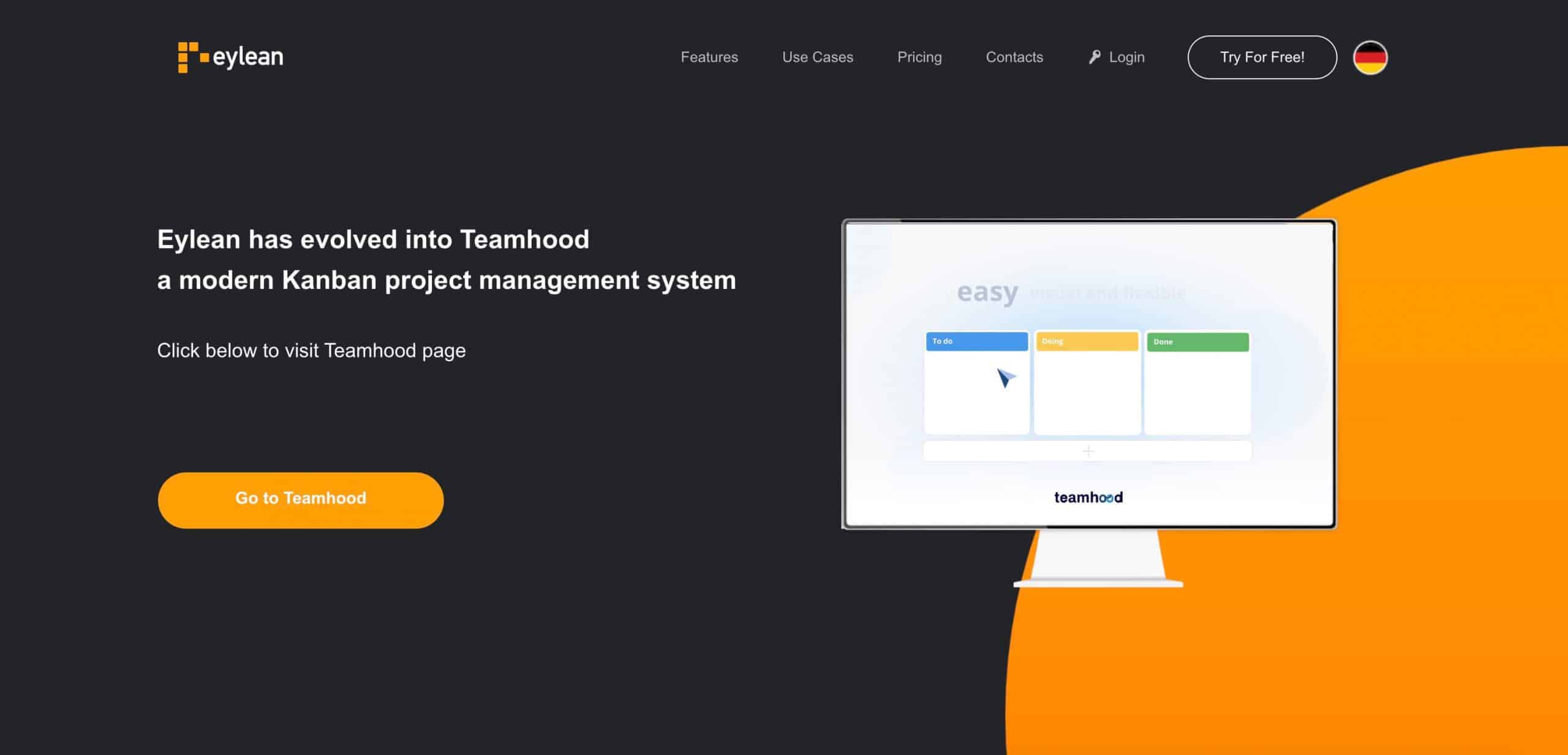 Eylean Board excels in customizing to fit organizational workflows, offering an intuitive environment for project lifecycle management. Its ease of use and diverse reporting capabilities, like burndown and time reports, make it highly effective for teams looking to streamline their productivity and workload tracking.
Key Features:
Kanban and Scrum Boards
Team Assignment and User Permissions
Roadmap View and Scheduling
Time Reports and Cumulative Flow Diagram
Task Board with Drag and Drop, Time Tracking
Pros:
Offers extensive, adaptable functionality.
Integrates smoothly with Outlook.
Perfectly aligns with team workflows.
Superior in usability to other tools.
Great GUI enhances user experience.
Cons:
Complex navigation; features hard to find.
User experience and tool placement need improvement.
The absence of a web mode limits accessibility.
19. Scoro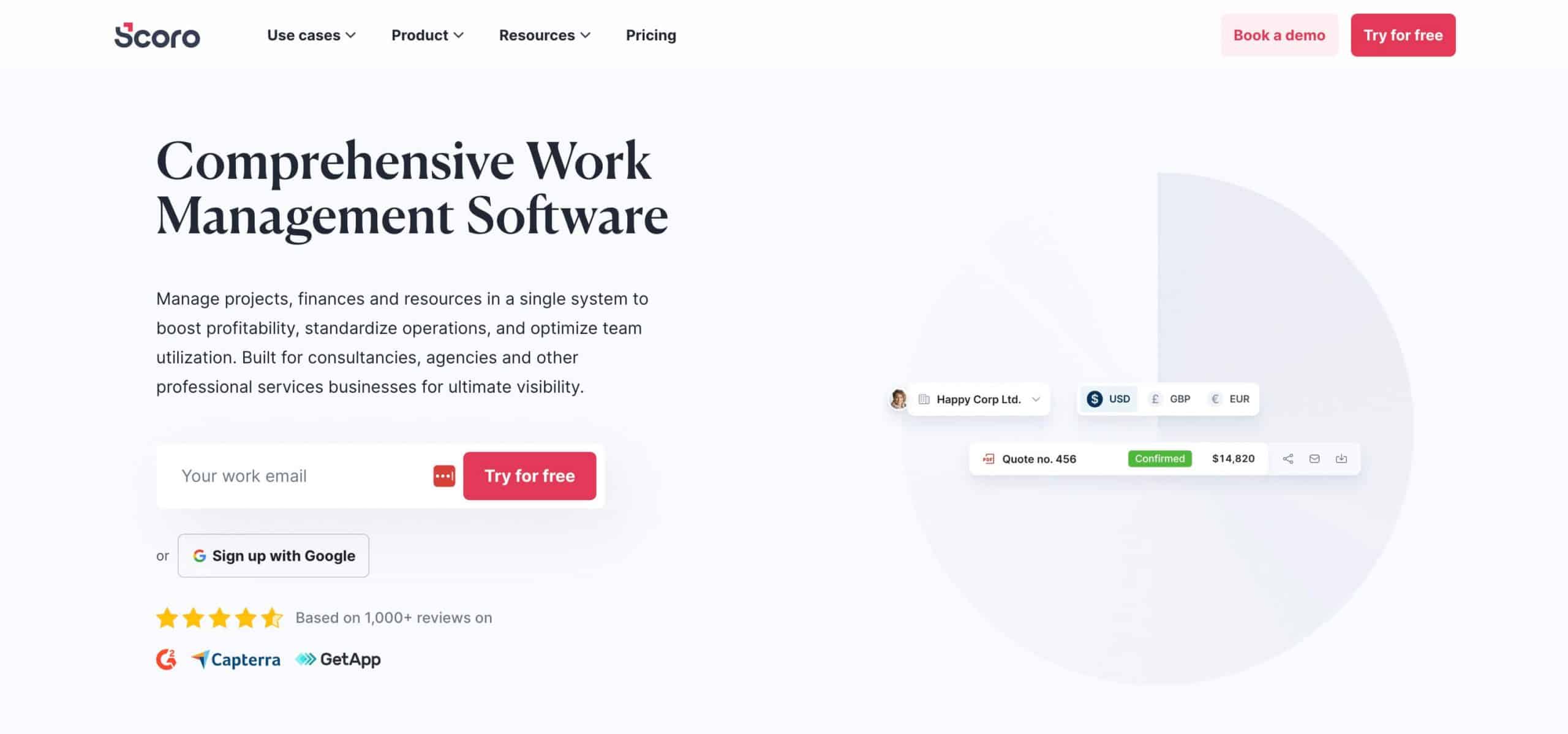 Scoro stands out as a comprehensive work management solution tailored for service businesses. It efficiently integrates project administration, time tracking, and invoicing, streamlining operations from start to finish. 
Key Features:
Real-Time Gantt Chart
Multiple Views of Progress and ROI
Task Automation
Resource Planning
Team Utilization
Pros:
Flexible, powerful time and budget tracking
All-in-one solution
User-friendly, clean interface
Enhances sales and customer service efficiency
Cons:
Limited custom PDF templates
Challenging for beginners
Email deliverability issues
Some unmodifiable default parameters
20. Podio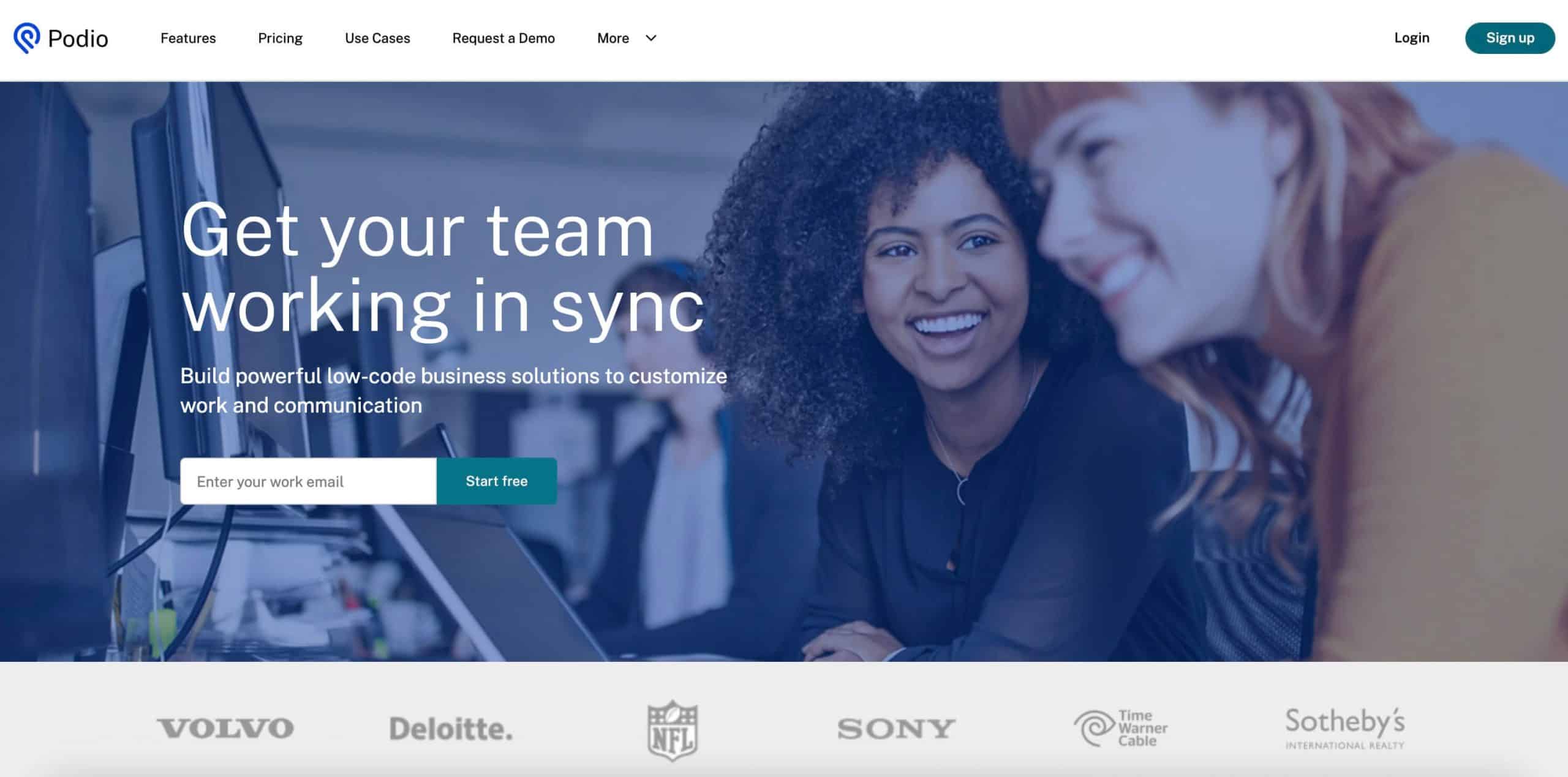 Podio offers a flexible, customizable collaboration platform, streamlining work across various industries and departments. It digitizes and automates vital business processes, enhancing productivity and operational efficiency. Its popularity is rooted in its ability to unify disparate teams and processes. 
Key Features:
Customizable Podio Apps and Workspaces
Integrated Communication and Online Meetings
Task, File, and Calendar Management
Broad Range of Integrations
Extensive API and Mobile SDKs
Pros:
A versatile tool for various departments.
Simplifies collaboration and project tracking.
Efficient in managing emails, tasks, and projects.
Offers cost-effective customization and training.
Ideal for project and business management.
Cons:
Some features need more scalability.
Customer service is below expectations.
Missing markup and time-lapse features.
Difficulties in integrating with other platforms.
Overpriced, according to some users.
21. OpenProject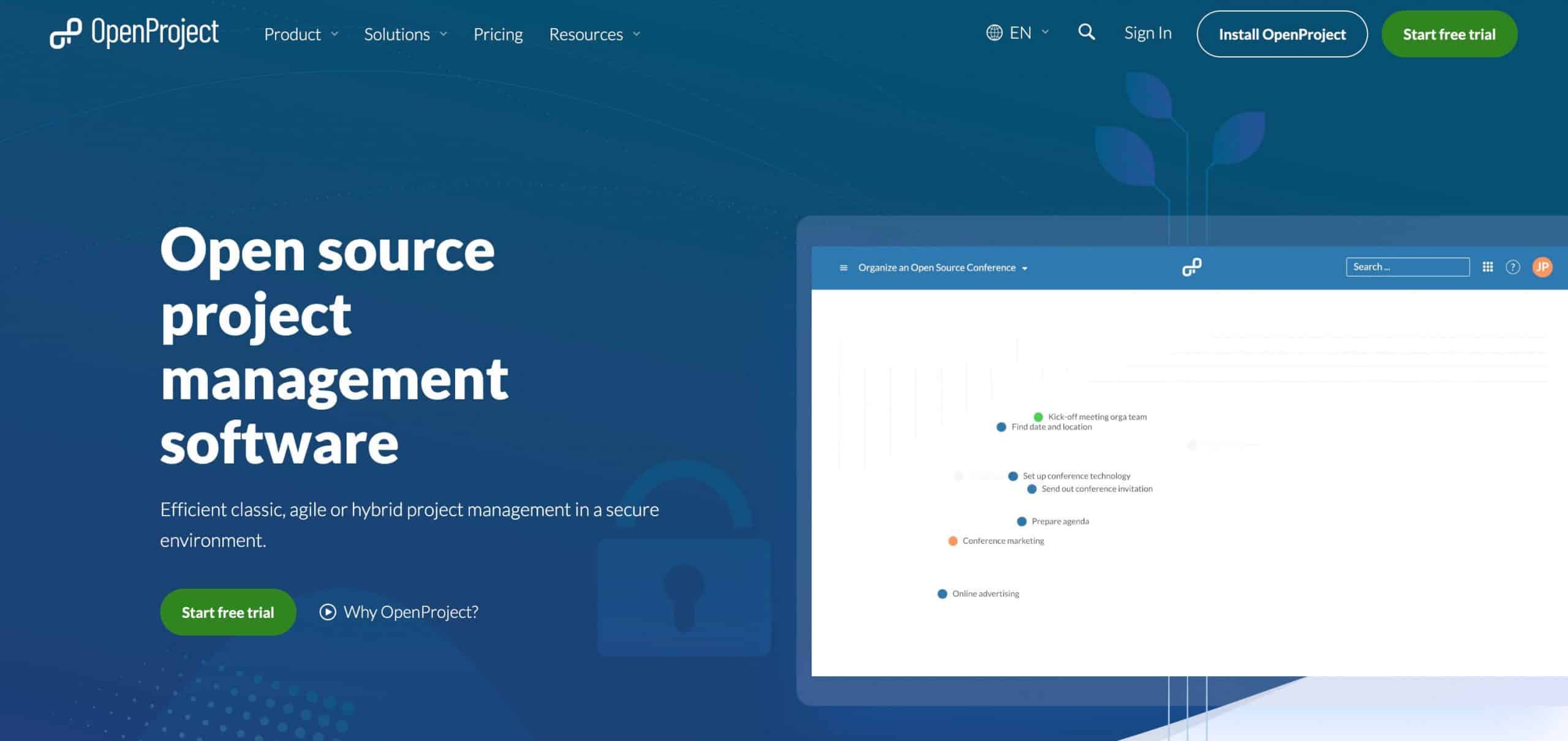 OpenProject is a comprehensive, open-source software designed to enhance collaborative project work. It supports various methodologies, making it suitable for diverse project leadership styles and accessible to teams anywhere. Its appeal lies in its strong focus on data privacy and security and its adaptability to different languages. 
Key Features:
Advanced Project Administration and Planning
Agile Boards, including Scrum and Kanban
Time and Cost Tracking with Budget Planning
Efficient Meetings Management
Pros:
Highly functional, time-saving, and cost-effective.
Ideal for managing projects from concept to closing.
Easy to organize projects, free implementation.
Simplifies proposal and timeline creation.
Cons:
The budgeting feature needs more flexibility and clarity.
Need help in making edits.
Instances of unexplained account blocking.
Timeline management could be more flexible.
22. Breeze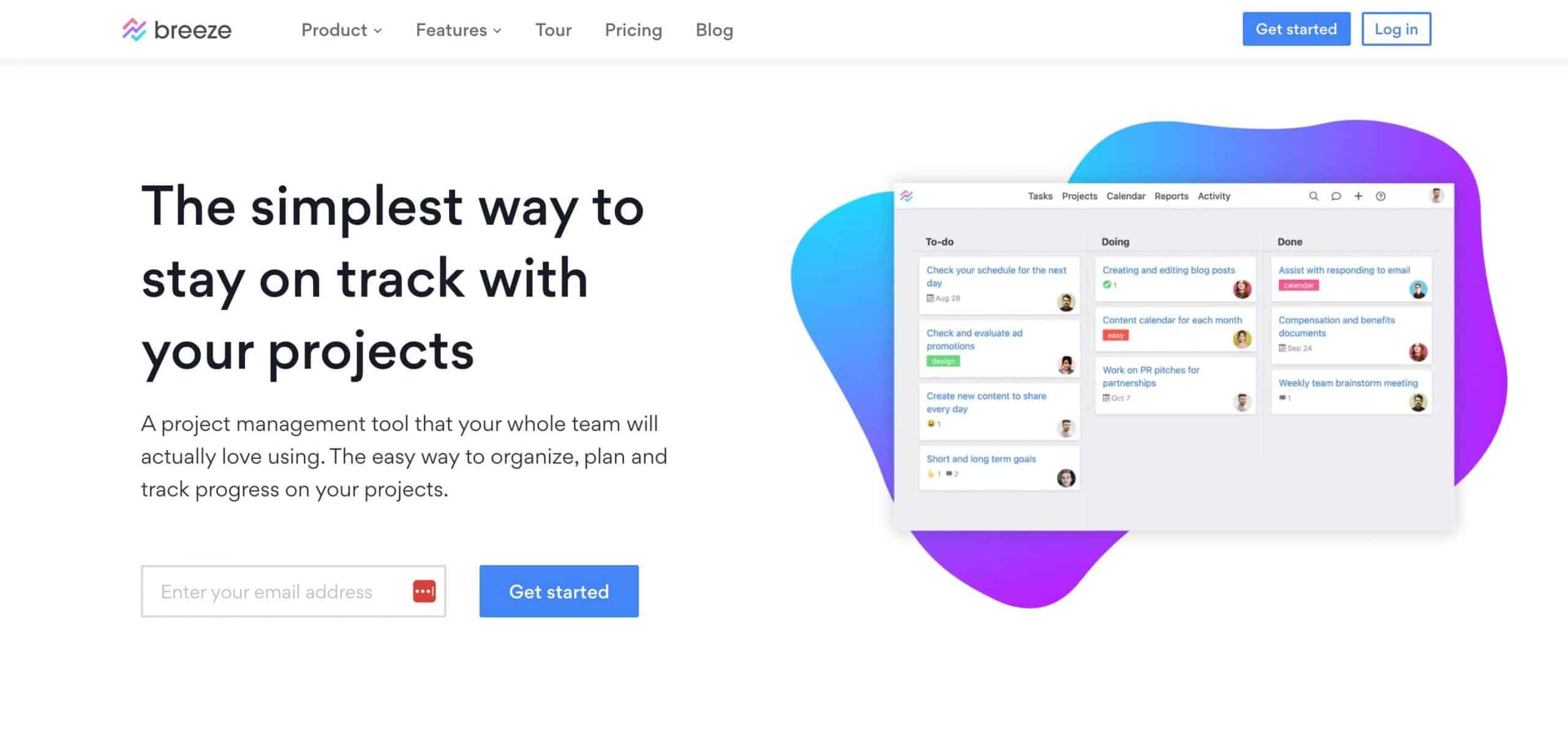 Breeze is known for its simplicity and effectiveness in organizing, planning, and tracking projects. It's used by many professionals, from marketers to developers, and is equally beneficial for freelancers and large companies. Its popularity stems from its ability to streamline workflow, enhance team coordination, and provide comprehensive project oversight.
Key Features:
Comprehensive Task and Project Management
Kanban Tool for Workflow Tracking
Automated Project Routines
Detailed Project Reporting and Calendars
Customizable Project Roadmaps and Timelines
Pros:
Strong policies for growth and communication.
Encourages innovative strategy implementation.
User-friendly and affordable for students.
Ideal for software development project management.
Simplifies complex project tasks effectively.
Cons:
Initial team adoption can be challenging.
Time-tracking features are sometimes overlooked.
Overwhelming email/message alerts.
Limited report generation options.
23. Nifty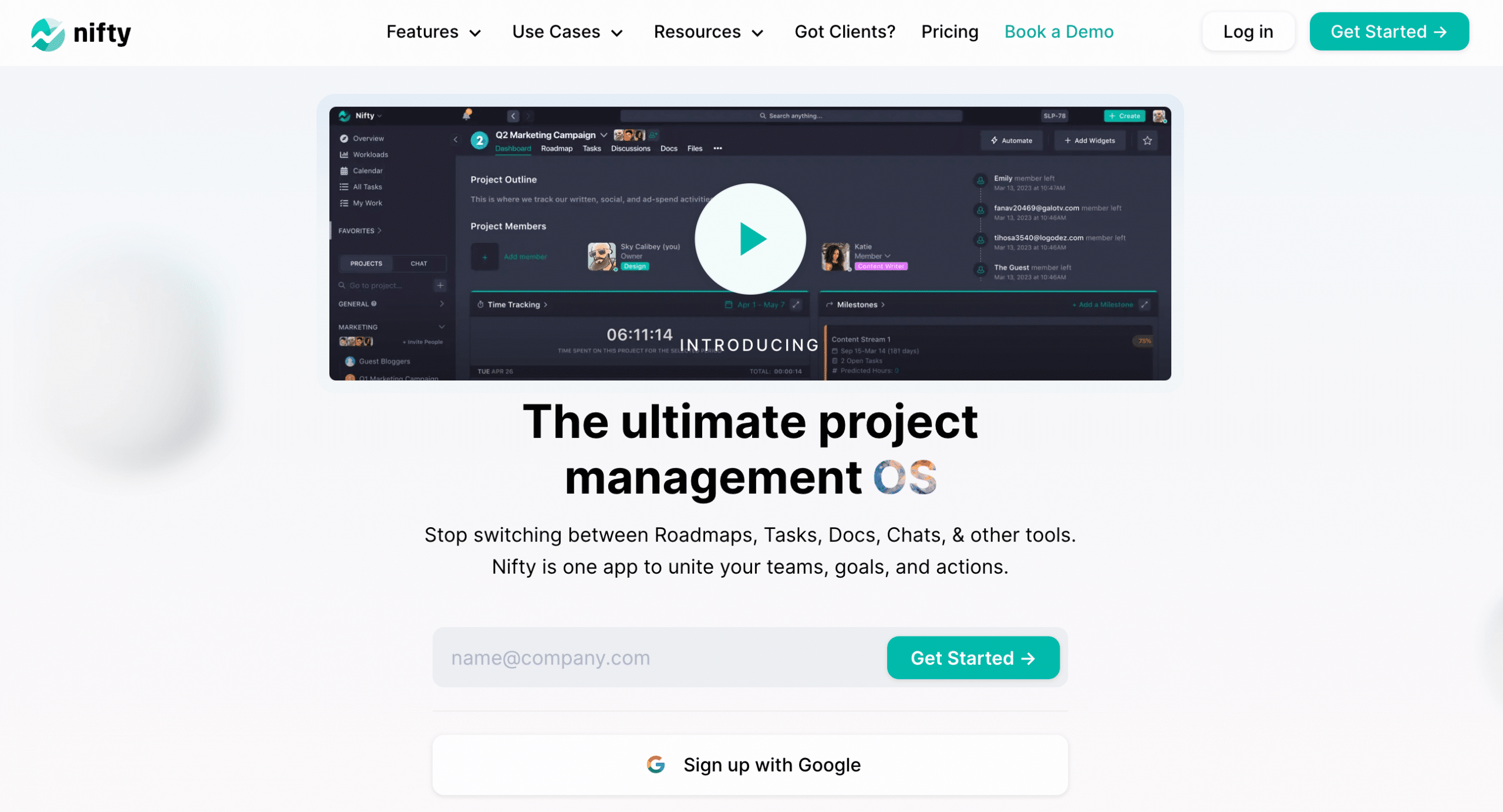 Nifty streamlines project and task management by offering an all-in-one workspace solution. It's designed to align an organization's people, projects, and functions, facilitating focus on work rather than tool management. 
Key Features:
Integrated Discussions and Roadmaps (Gantt Chart)
Precise Goal Setting and Comprehensive Task Management
Customizable Forms, along with Docs and files Management
Time Tracking and Detailed Reporting
Project Home and Project Portfolios for Overview
Pros:
Comprehensive task and project management features.
High-quality design, interface, and customer support.
Responsive support with openness to suggestions.
Consolidates all needs in one platform.
Constantly improving user experience.
Cons:
Requires page refresh for new file visibility.
Delayed implementation of CNAME feature.
Inability to delete system notifications in discussions.
Subpar iPad app experience, awaiting improvements.
Frequently Asked Questions
Can workload management tools integrate with other apps or software? 
Yes, many workload management tools, especially those designed as project management tools, offer extensive integration capabilities. These integrations allow for seamless workflow planning and execution. They can connect with various apps and software, enhancing their functionality as a workload planning tool.
How secure are workload management tools? 
Team workload management tools prioritize security by incorporating robust encryption, secure data storage, and regular security updates. This ensures that sensitive information remains confidential and protected.
Are there mobile versions of workload management tools? 
Yes, most workload management tools often have mobile versions and provide competent management features. Team members can manage tasks, communicate, and receive updates via smartphones, ensuring seamless workflow management from any location.
Summary
We've explored a variety of software to pinpoint the best workload management tools for teams. Our journey through these top solutions showcases how the right workload management tool can significantly enhance team efficiency and project handling.
If you want to combine workload management and client relationship management in your operations, try the Ahsuite Starter Plan. You can get a free task manager and up to 10 client portals that can streamline workload distribution.