Law practices are now utilizing client portal software for all their firm needs in an effort to improve productivity and keep their clients happy. According to Bain & Company, a great customer experience can increase revenue by 4% to 8% above average. Because of this, the importance of an easy-to-use and secure client portal for law firms cannot be overstated within the modern business world.
Client portals can provide a secure and efficient way to share files, communicate notifications, and synchronize schedules between legal practices and their clients. These legal software solutions allow practitioners and their clients to access cases, documents, and billing information, which improves matter management.
In today's fast-paced business environments, customers expect quick responses and productive engagements. Client portals and practice management apps support different methods of communication to provide staff and clients with real-time case updates and instant messaging.
This efficiency drives customer satisfaction and reduces the burden on attorneys, allowing them to focus on higher-value tasks and improving overall practice efficiency.
Must-Have Features for Client Portals Used By Law Firms
Client portals are essential for law firms to streamline communication, enhance client relationships, and securely share sensitive information. Here are some must-have features for client portals used by law firms:
Secure document management: A secure repository for uploading, sharing, and accessing legal documents. This includes version control, audit trails, and encryption for confidentiality.
Client communication tools: Integrated communication tools such as secure messaging, email, or chat, allowing seamless interaction between lawyers and clients.
Case status and updates: Clients should have real-time access to their case status, including updates on developments, court dates, and next steps.
Billing and invoicing: Capability to view billing statements, invoices, and payment history. Integration with billing systems for transparency and ease of payment.
Task management: To assign, track, and manage tasks and deadlines related to the client's case, ensuring transparency and accountability.
Calendar and scheduling: An integrated calendar for clients to view upcoming appointments, meetings, and important deadlines related to their case.
File sharing and collaboration: Ability for both clients and attorneys to upload, review, and collaborate on documents and case-related materials securely.
Secure access and permissions: Granular control over access levels to ensure confidentiality and privacy, allowing different permissions for various stakeholders.
Mobile accessibility: Compatibility with mobile devices to facilitate access and communication on the go.
Compliance and security: Strong security measures to comply with legal regulations and standards, including two-factor authentication, encryption, and regular security audits.
Integration with legal software: Integration with legal practice management software or other tools used by the firm for a seamless workflow.
Custom branding: Customization to reflect the law firm's branding and provide a personalized experience for clients.
User-friendly interface: Intuitive and user-friendly design for easy navigation and usage by clients, ensuring a positive user experience.
Implementing a client portal with these features helps law firms provide better service, streamline processes, and enhance client satisfaction while maintaining the necessary security and compliance standards.
Best Client Portals for Law Firms
Explore our top 7 client portal software picks designed to enhance your customer experience metrics, centralize communication, and improve practice efficiency.
1. Ahsuite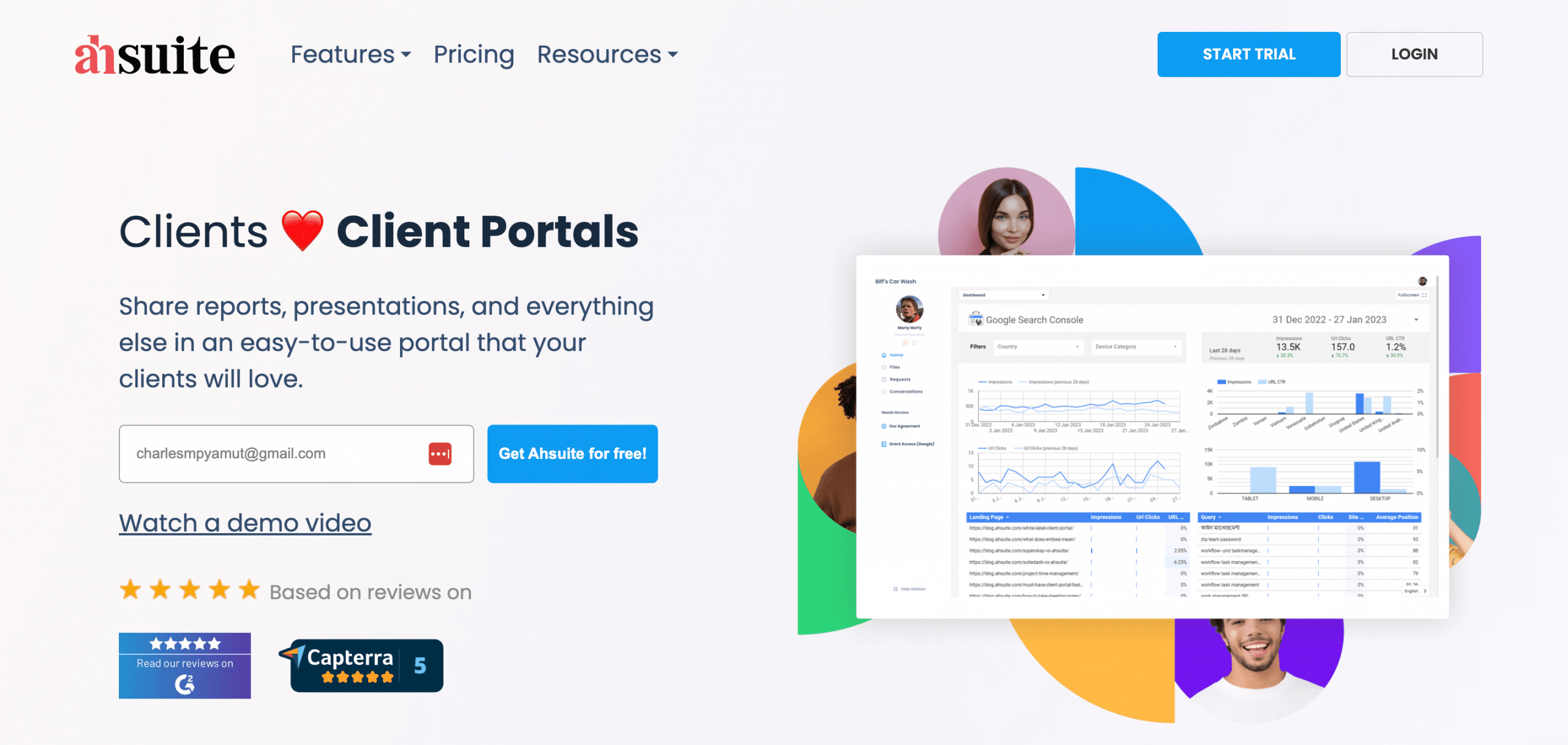 Among the top contenders, Ahsuite stands out with its comprehensive feature set, user-friendly interface, and competitive pricing, making it a noteworthy choice for professionals seeking reliable legal practice management software for lawyers and law firms.
Ahsuite is a robust cloud-based legal client portal software with an Instant Messaging function that ensures seamless communication among legal professionals. It also features a Calendar View helping users manage appointments, deadlines, and meetings.
The minimalist file manager supports various document types and offers unlimited storage, which simplifies document organization, file sharing, and retrieval. Combined with customizable dashboards, Ahsuite enables detailed reporting, which is essential for maintaining transparency and trust.
Pros:
Ease of integration, learning, and usage
Simplifies and standardizes operational processes
Promotes a polished professional image with branding customization
Offers a centralized way to communicate with clients
Simplified document organization processes
Unlimited storage for paid plans
Cons:
Limited advanced customization options
Absence of colored "status indicators" on task cards
A foundational app, but with feedback-driven ongoing improvements
Pricing:
Free
Professional: $24
Agency: $57
2. Clio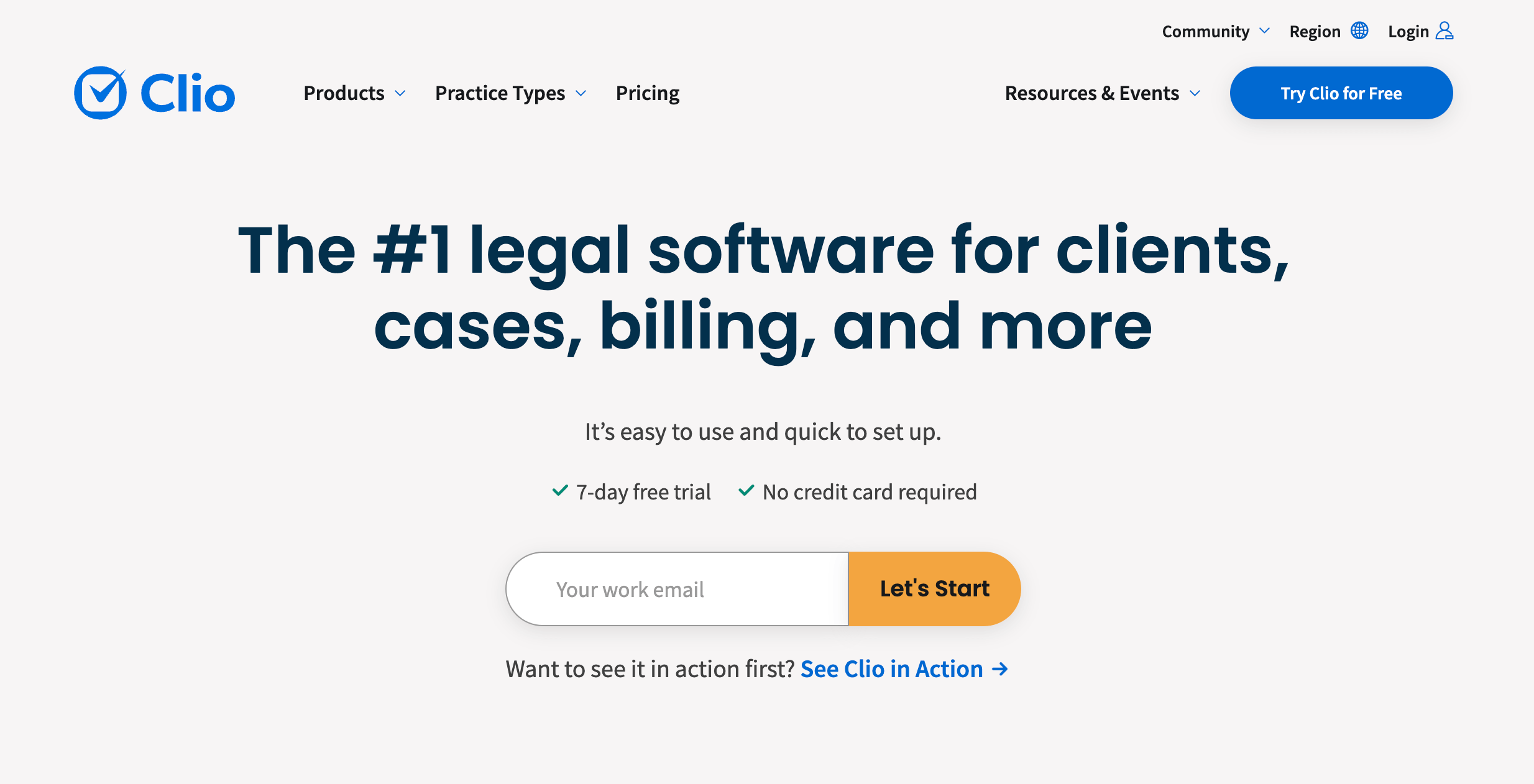 Clio offers a straightforward option for managing contacts documents, files, and folders. It also provides efficient time tracking and billing functionalities which enhances functions like Reporting, Dashboards, and Cloud Support.
The platform has a streamlined intake process and easily syncs with Outlook calendars, making it essential for efficient practice management and scheduling. The inclusion of online payment integration allows practices to track their billable figures and get paid faster.
Pros:
Offers simplified billing process
With handy Outlook calendar synchronization
Efficient client and information intake processes
Cons:
It can be overwhelming to use for beginners
Limited customization in specific areas
It may be costly for solo practitioners
Pricing:
EasyStart: $39
Essentials: $69
Advanced: $99
Complete: $129
3. Lawmatics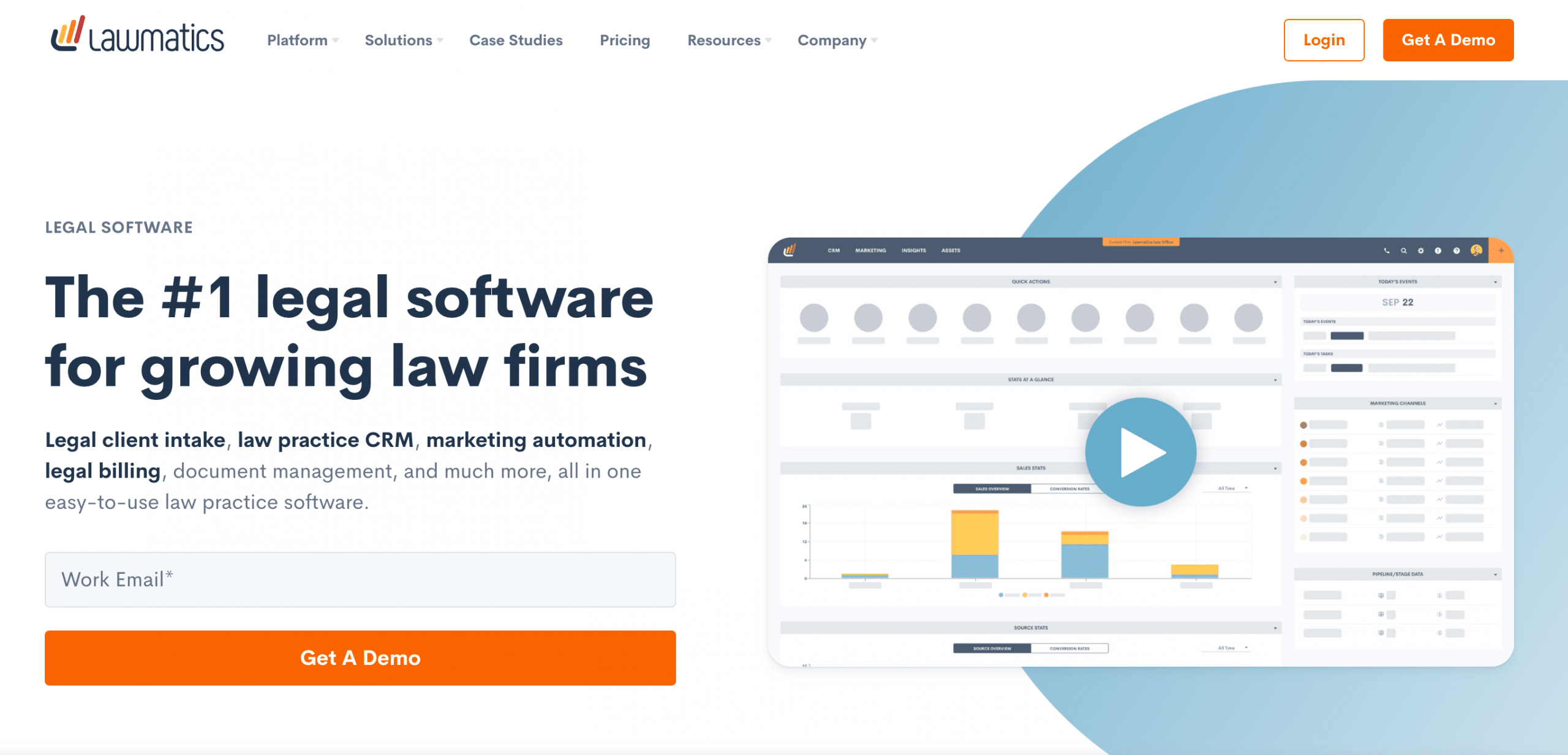 Lawmatics provides an all-in-one solution for law firm professionals with tools like client intaking, legal CRM, and an automated email builder. The platform's reporting and dashboard functions enable users to track progress and manage cases easily. Its SMS system facilitates uninterrupted communication with clients.
The platform's immense customization potential allows legal practices to tailor the platform to their specific needs. Lawmatics provides robust functionality that dramatically enhances operational efficiency, from automating complex work processes to optimizing daily tasks.
Pros:
Excellent onboarding and customer service experience
Confusing, but robust automation process
Offers high customization potential if given time investments
Cons:
There is no free option
It may be expensive for solo practitioners
The billing system could use some improvement
It can be overwhelming for first-time users
Reporting feature lacks the CSV export option
Pricing:
Lite: $199
Pro: $249
Enterprise: Custom pricing
4. PracticePanther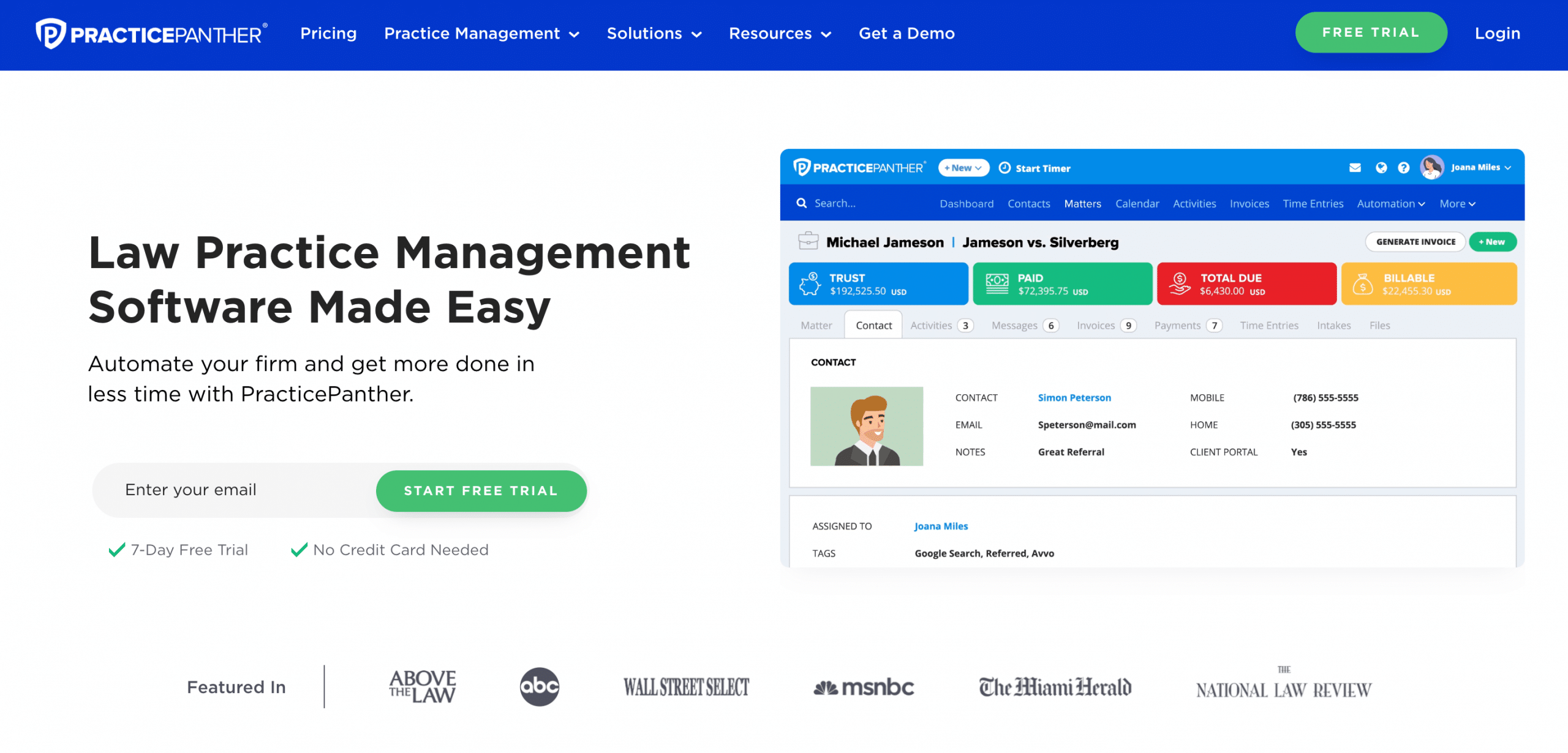 PracticePanther provides an all-in-one solution with tools such as real-time messaging and alerts, automatic SMS, payments, and workflow management. The platform's document management, calendar integration, and brand customization features make it a powerful tool for professionals to enhance their operations.
The convenient calendar and task monitoring capabilities make PracticePanther indispensable. Superb cloud integration allows users to access files and data anytime, anywhere, while easy tracking and organization feature help professionals stay on top of their workload.
Pros:
Real-time messaging and alerts
Feature-rich document and file management
Convenient calendar and task monitoring
Superb cloud integration
Easy information tracking and organization
Cons:
Confusing documentation for new users
Slow or unresponsive customer support
Calendar scheduling can be improved
Occasional slow and unresponsive performance
Pricing:
Solo: $49
Essential: $69
Business: $89
5. Rally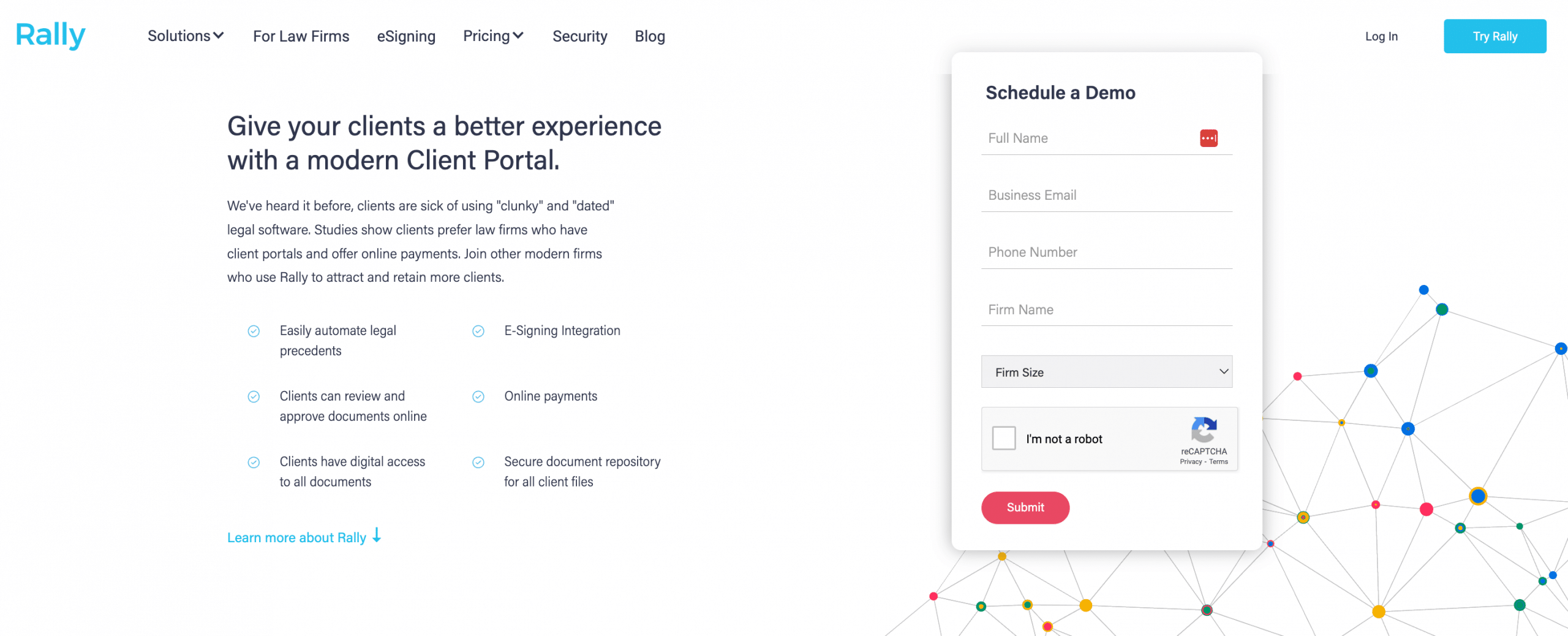 Rally is a versatile client portal solution that offers tools such as client intake, document generation, communication, templates, meeting bookings, and eSigning. Its comprehensive feature set allows professionals to manage their operations with greater efficiency.
With great progress and performance tracking capabilities, Rally helps users stay informed about their work and maintain organization. However, the platform's user interface and user experience may be less intuitive and more prone to bugs compared to other competitors in the market.
Pros:
Automating client intaking and documentation
Communication and template features
Meeting bookings and eSigning
Robust progress and performance-tracking capabilities
Cons:
Non-intuitive UI/UX compared to competitors
Occasional bugs in the system
Pricing:
Lite: $99
Essential: $399
Premium: $999
6. MyCase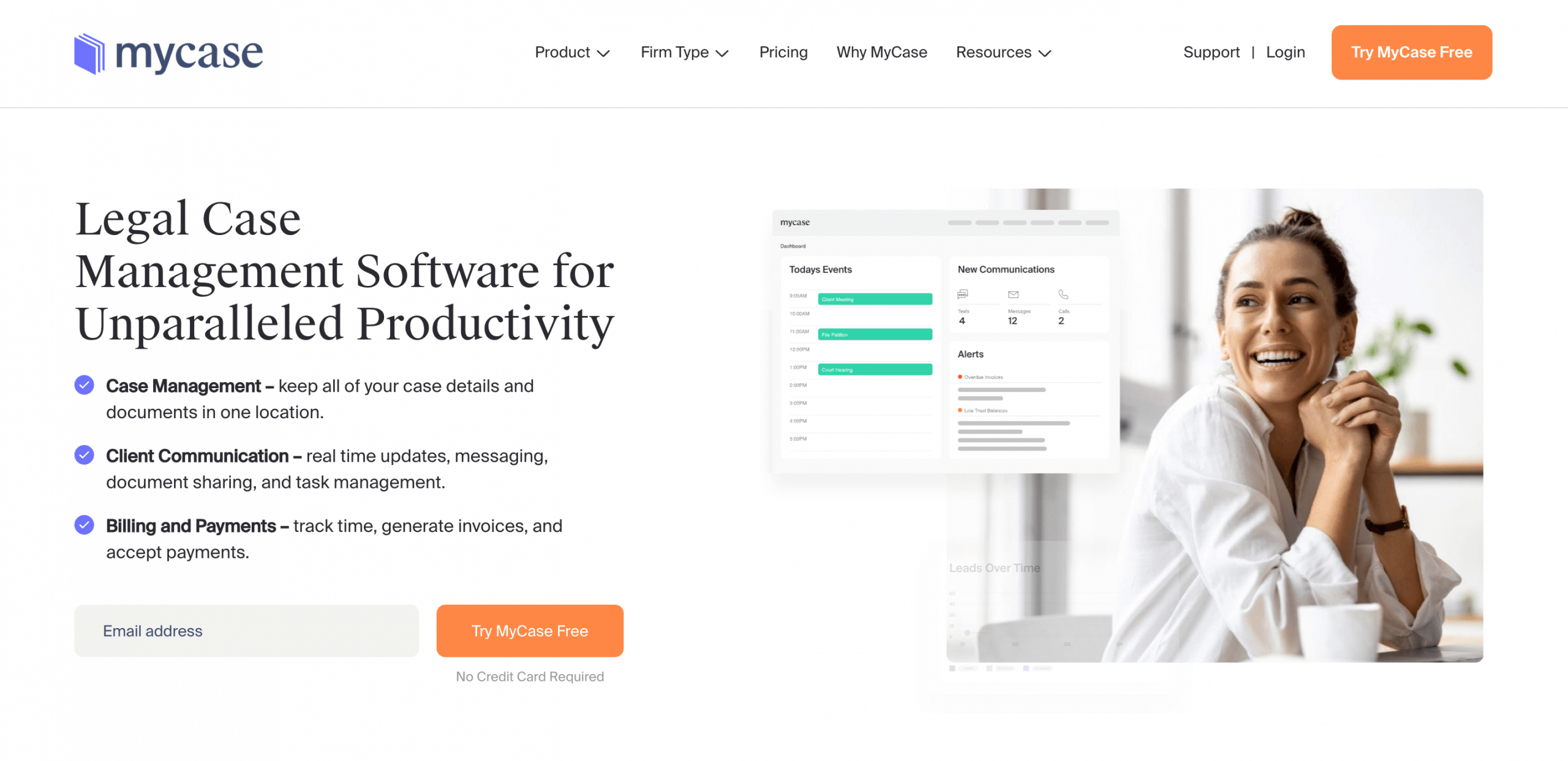 MyCase offers an all-in-one client portal solution with tools such as client and information intake, lead management, eSignature, CRM, and website creation. The platform also provides calendar integration, case analytics, task flows, document automation/management, billing, invoicing, and SMS functionality.
MyCase boasts numerous integration options, including QuickBooks and Lex Reception, which enhance its capabilities. Improved client interactions and support for multiple file uploads contribute to MyCase's user-friendly nature, making it an efficient tool for professionals.
Pros:
Can Integrate with Lex Reception and Quickbooks Online
Has eSignature and CRM features
Wide range of integration options
Straightforward controls for client interactions
Supports multiple file uploads
Cons:
Challenging billing options
Room for improvement in support
Issues for clients with multiple cases
No drag and drop option in the storage interface
Pricing:
Basic: $39
Pro: $69
Premium: $89
7. Lawcus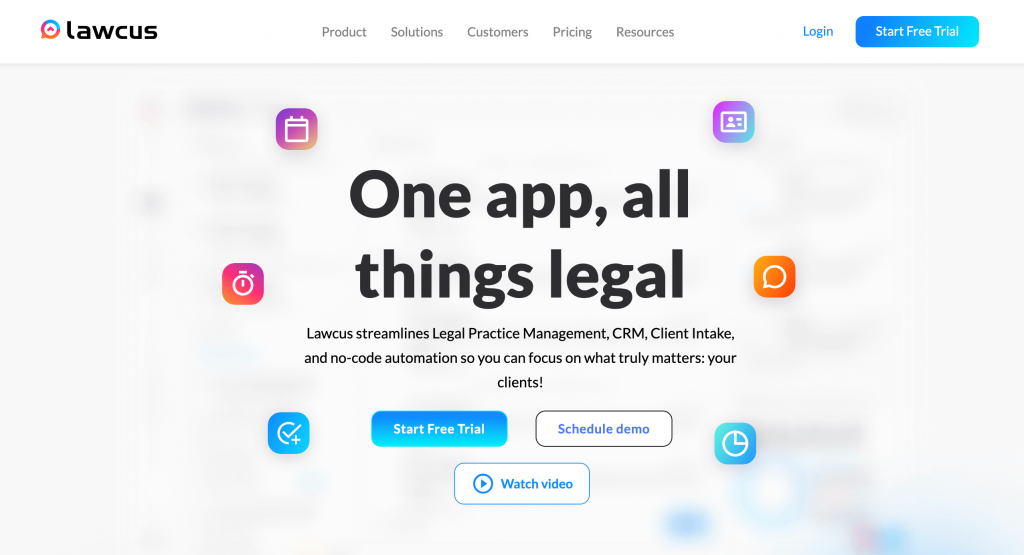 Lawcus is a client portal solution that securely enables client intake, email, client communication (SMS), documentation, and case management. It also offers task delegation, customizable reports, and security features with alerts.
The platform is known for its free data migration, cost-effectiveness, and intake customization capabilities which can be automated based on firm needs. Despite its many features, Lawcus delivers a cost-effective solution, making it an attractive option for professionals seeking client portal management software within a tight budget.
Pros:
Offers client intaking and communication tools
Document generation and case management
Task delegation and customizable reports
No-code automation process and no-fuss security features
Free data migration and cost-effective pricing
Cons:
Features correspond to price expectations
Buggy client portal
Training and onboarding materials could be improved
Pricing:
Standard: $34
Plus: $44
Business: $59
Summary
In today's fast-paced, digitally-driven world, the importance of client portal software in providing a delightful client experience cannot be overstated. A suitable solution should address your firm's unique needs while providing a seamless and secure user experience. If you haven't invested in client portal software yet, you might want to consider doing so, as it can ultimately contribute to your business's success and growth.
One option worth your consideration is Ahsuite. With its one-month free trial, you're granted ample opportunity to thoroughly explore its features and ascertain whether it's the right client portal solution tailored to your law firm's specific needs. Just click here to start your free trial and you can build your first client portal in minutes!