The widespread shift to cloud-based platforms has been the lifeblood of the operational success of both SMBs and remote freelancers. Client portals address the growing demand for tools that improve team interactions, branding, and client touchpoint management.
Let's take a closer look at Ahsuite and ClientJoy, some of the best client portals in the market, to weigh in the right feature set for your business.
ClientJoy vs. Ahsuite at a Glance
In this concise comparison, let's examine the cloud-based Ahsuite platform versus ClientJoy, providing insights to help you find the best tool for your requirements.
ClientJoy
Clientjoy is a cloud-based customer relationship management tool for freelancers and agencies, facilitating the client journey from lead management to project completion. Its strength lies in its centralized management system, allowing users to handle leads, proposals, contracts, invoicing, and payments all in one place.
This comprehensive feature set makes it a one-stop solution for managing client relationships efficiently. Choose Clientjoy if you're a freelancer or an agency looking to centralize and improve the client management processes.
Ahsuite
Ahsuite is a collaborative platform focusing on task management and team-client collaboration. Initially designed for the marketing industry, it offers a user-friendly interface that makes it adaptable to various collaborative industries. Eventually, its feature set has evolved into a productivity-focused client portal and business management platform.
Its greatest strength is its robust task management and team collaboration features, simplifying interactions with team members and clients. Ahsuite is an all-in-one tool for teams and businesses that need a shared space for task management, team communication, client engagement, simplifying task management, and client interactions.
How ClientJoy and Ahsuite Stack Up
This comparison reviews how ClientJoy and Ahsuite, as portal software options, stack up against each other and how they can help businesses optimize their operations for better efficiency and user engagement.
ClientJoy
Ahsuite
Pricing
– Starter Plan ($15)
– Agency Plan ($25)
– Enterprise Plan ($49)
– Free (10 Portals)
– Professional ($24)
– Agency ($57)
Key Features
– White Labelled Portal
– Customer Relationship Management (CRM)
– Invoicing
– Email Automation
– Leads Management
– Document Templates
– Task Manager
– Form Builder
– Views
– Conversation
– Task & File Manager
– 2FA Password Manager
– Work Journals
– File Approval
– While Label Client Portals
Collaboration & Communication
Focused on Customer Management from Lead Generation to Payment
Focused on Centralizing Communication, Tasks, and Client Management
User Interface & Experience
Integrated Client Relationship Management (CRM) Platform
Portal-Based Client Interactions and Collaboration
Customizations & Integrations
Zapier, Pabbly, Integrately, Integromat, Syncspider, KOnnectzIT, Quickbooks, and Pipedrive
Zapier, Pabbly, and more
Customer Service & Support
9.1 on G2
9.7 on G2
User Reviews
Read ClientJoy Reviews on G2
Read Ahsuite reviews on G2
ClientJoy vs. Ahsuite Feature Comparison
Our feature-by-feature breakdown scrutinizes both platforms, offering insights into how each portal software performs to assist businesses in selecting the right tool for their unique needs.
Client Portal
Ahsuite's portal is a clean, easy-to-navigate space with a multipage function that enhances organization. Its responsive design allows for fullscreen usage and interactive dashboards.
Customizable per client, it integrates well with Google Sheets and Spreadsheets. Users can use templates to add new portal pages to new and existing clients simultaneously.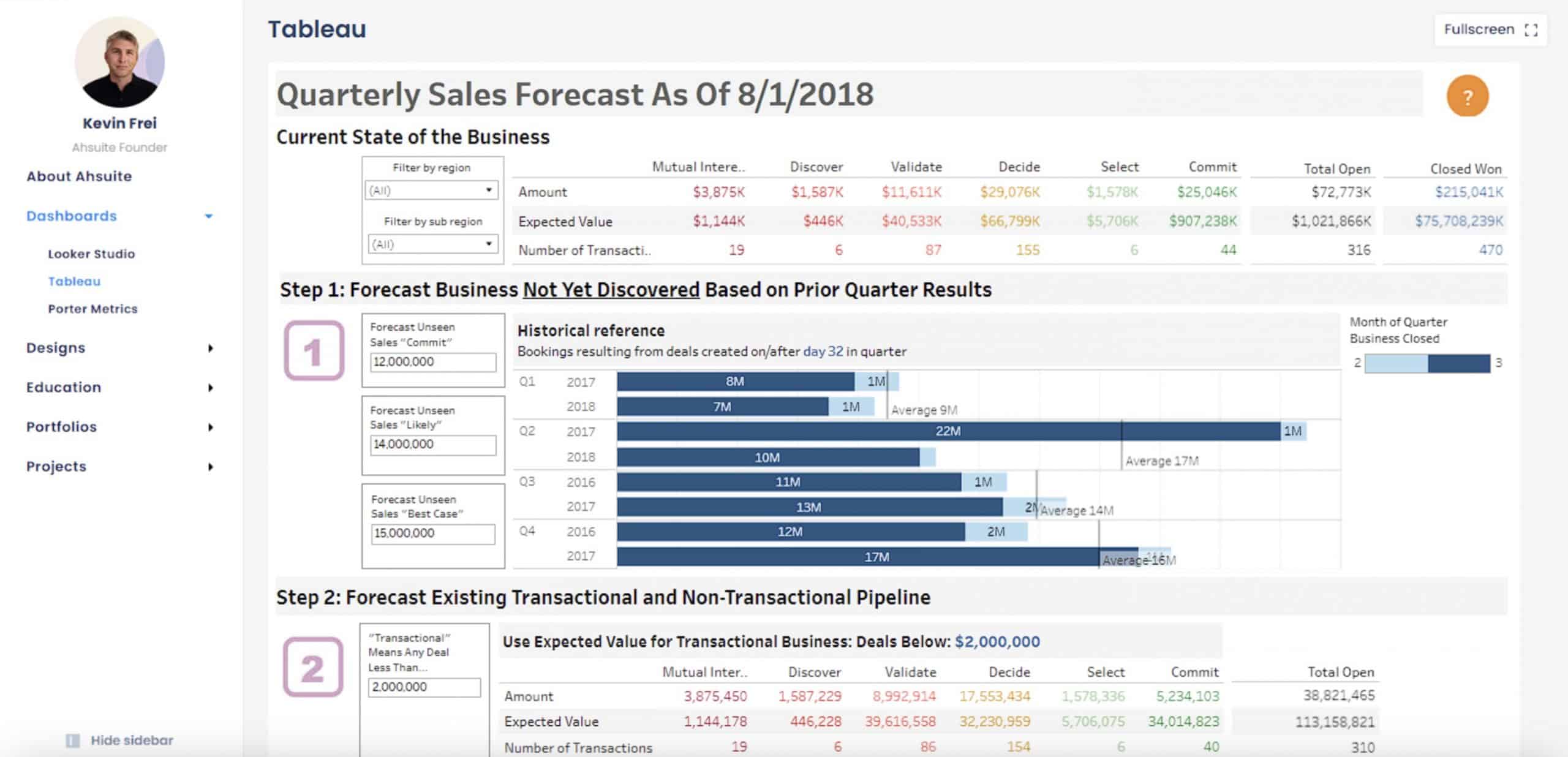 ClientJoy presents a minimalistic, user-focused portal that provides robust pre-defined templates and the ability to fine-tune with CSS.
While highly customizable, it can be less intuitive for those new to client portals. The lack of a "back button" feature and convenient template-saving features could be smoother, but the white-label options are a plus.
File Manager
For those seeking a centralized platform for file management, Ahsuite presents a modern and intuitive way to handle documents. Each client's files are organized individually to prevent mix-ups, with the bonus of automatic activity logs. While it shines in organizations, its file-sharing capabilities might fall short for some users.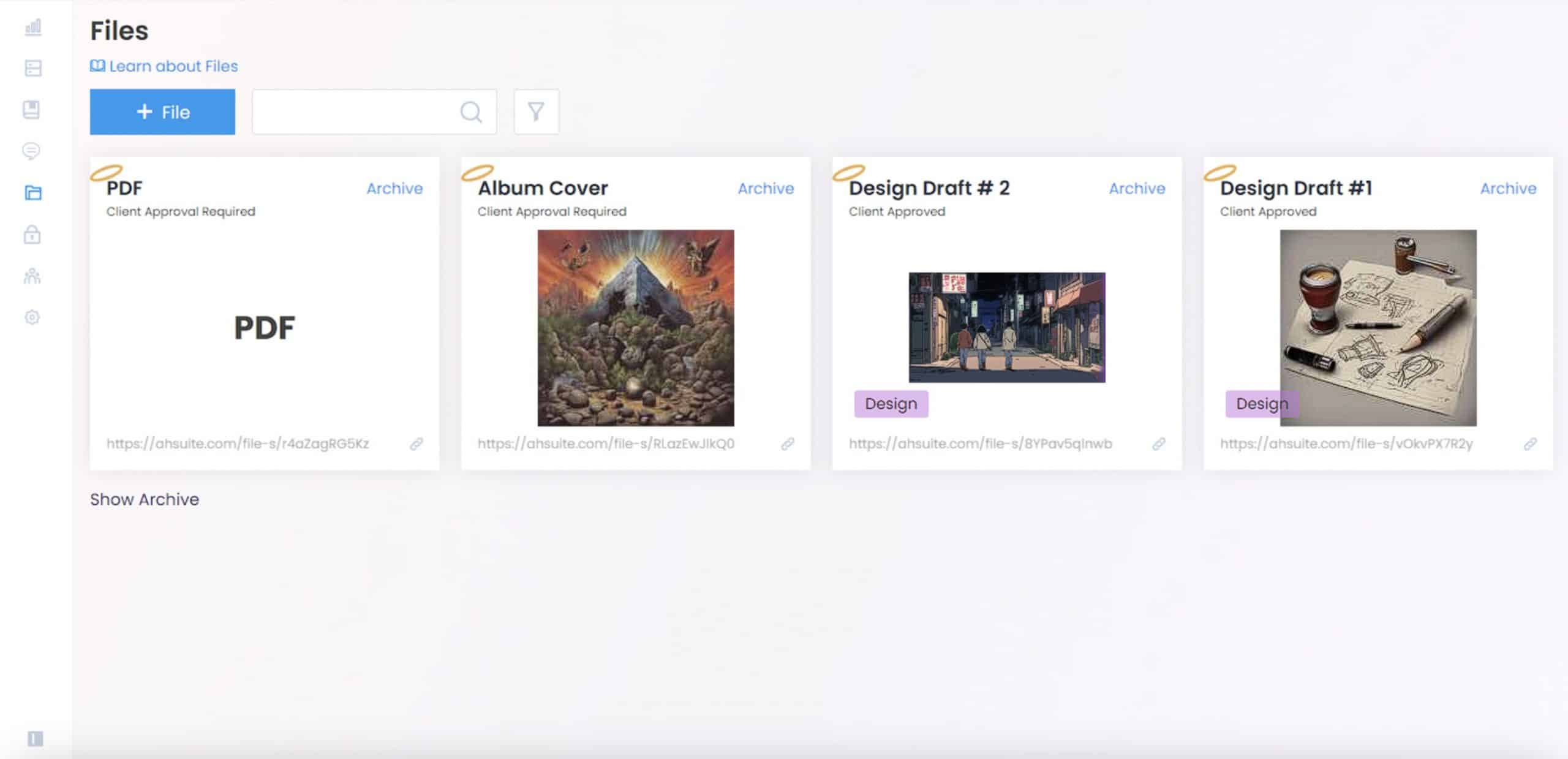 The file management experience with ClientJoy is straightforward, featuring a dedicated tab system and easy view-switching for efficiency. Approval processes are automated for documents, which simplifies the workflow. However, the platform limits file filtering and label customization, which may challenge thorough file categorization and organization.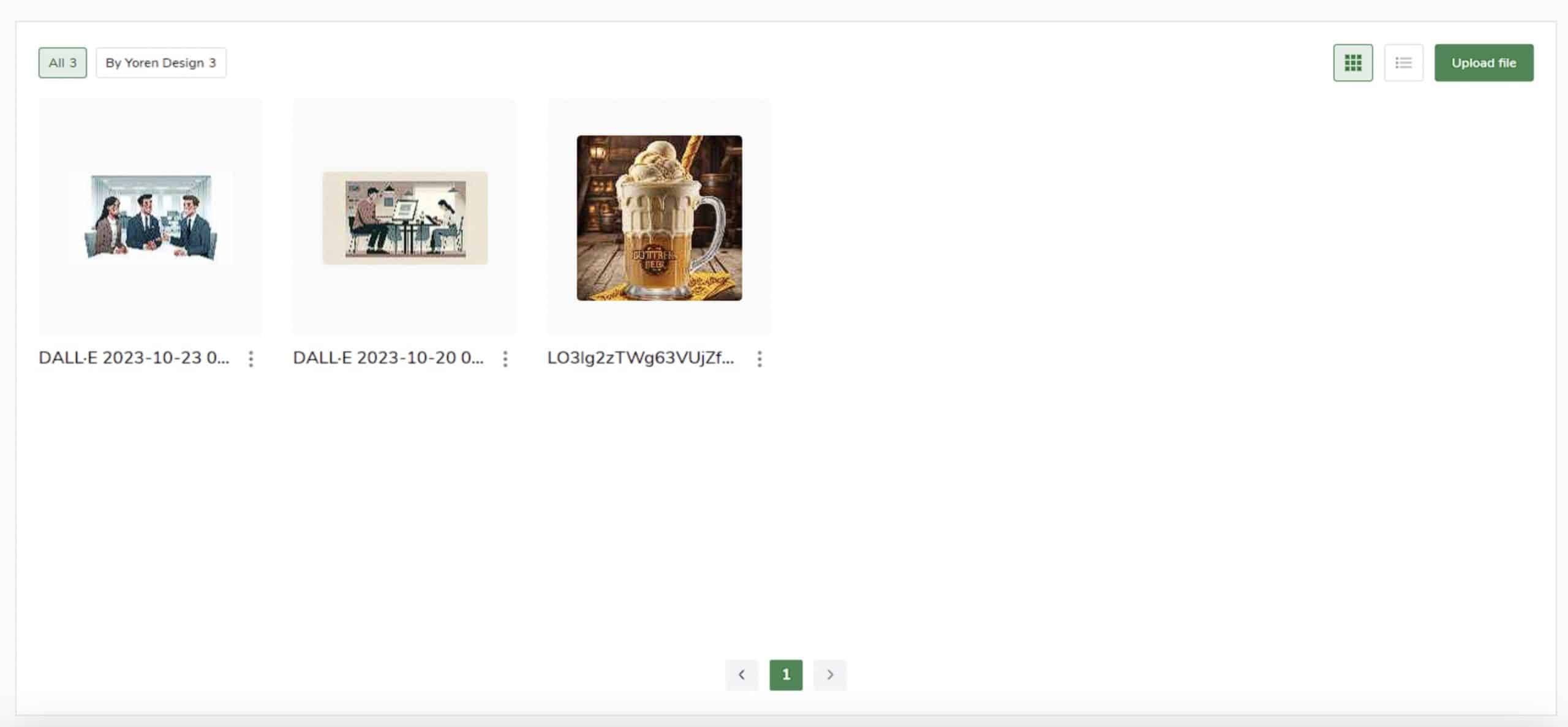 Task Manager
Boosting workflow productivity, the task management feature in Ahsuite is intuitive and user-focused, offering a clear static Kanban view. It supports task customization with labels, tracks dependencies, and supports file attachments and checklists. The absence of drag-and-drop and rigid reminder settings are the only notable limitations.
For a more minimalistic approach, the task management tool in ClientJoy permits task color customization for easy identification. Its structure is essential, grouping tasks into three categories without options for attaching additional files or adding checklists, potentially impacting detailed project management and productivity tracking.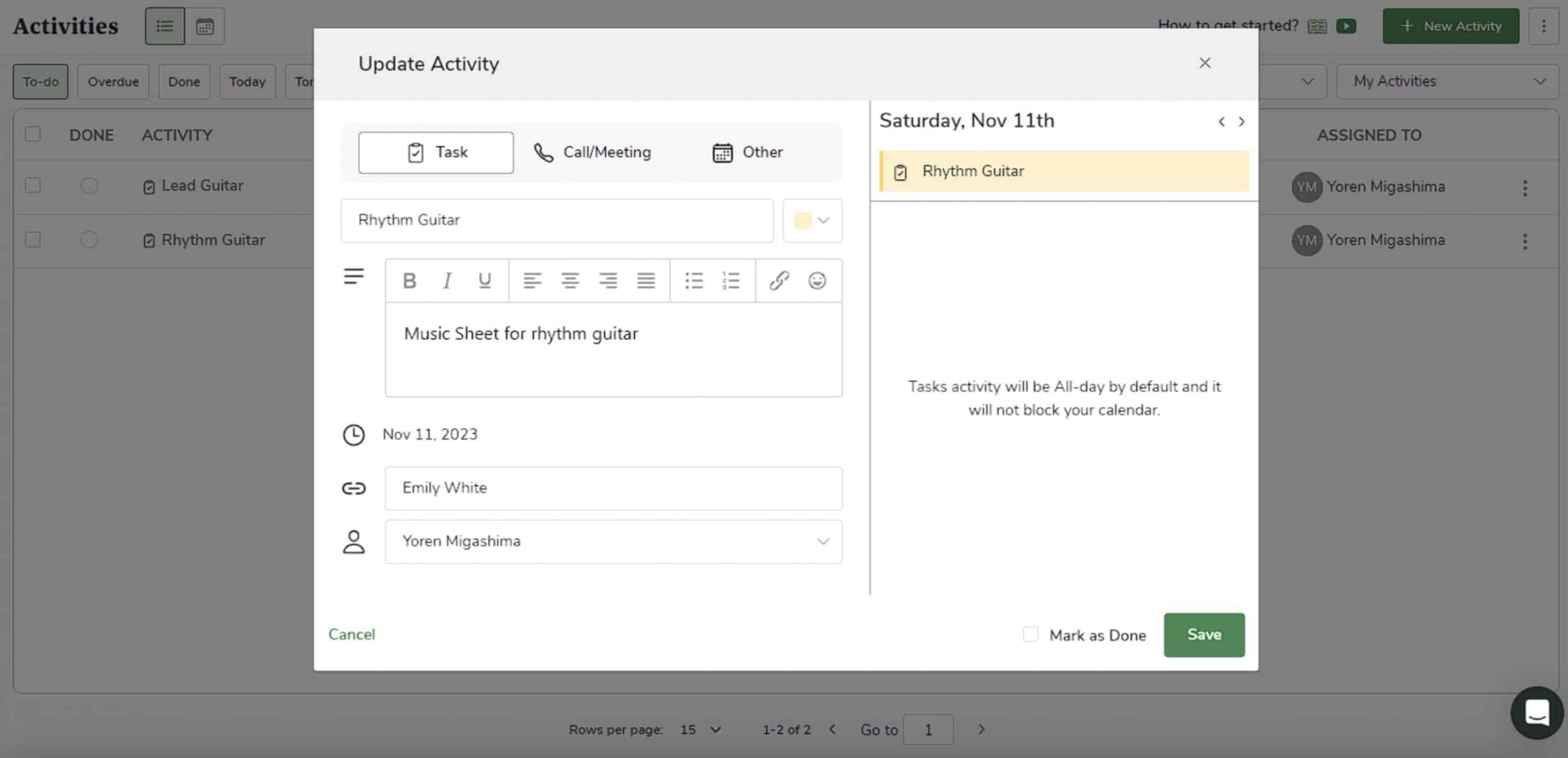 Password Management
Ahsuite's password manager is a secure, suitable for businesses tool that simplifies login management with 256-bit encryption. Its intuitive design makes password handling clean and straightforward, aligning with the needs of modern teams. Despite its ease of use, some may need help understanding additional features like login sharing or password health checks.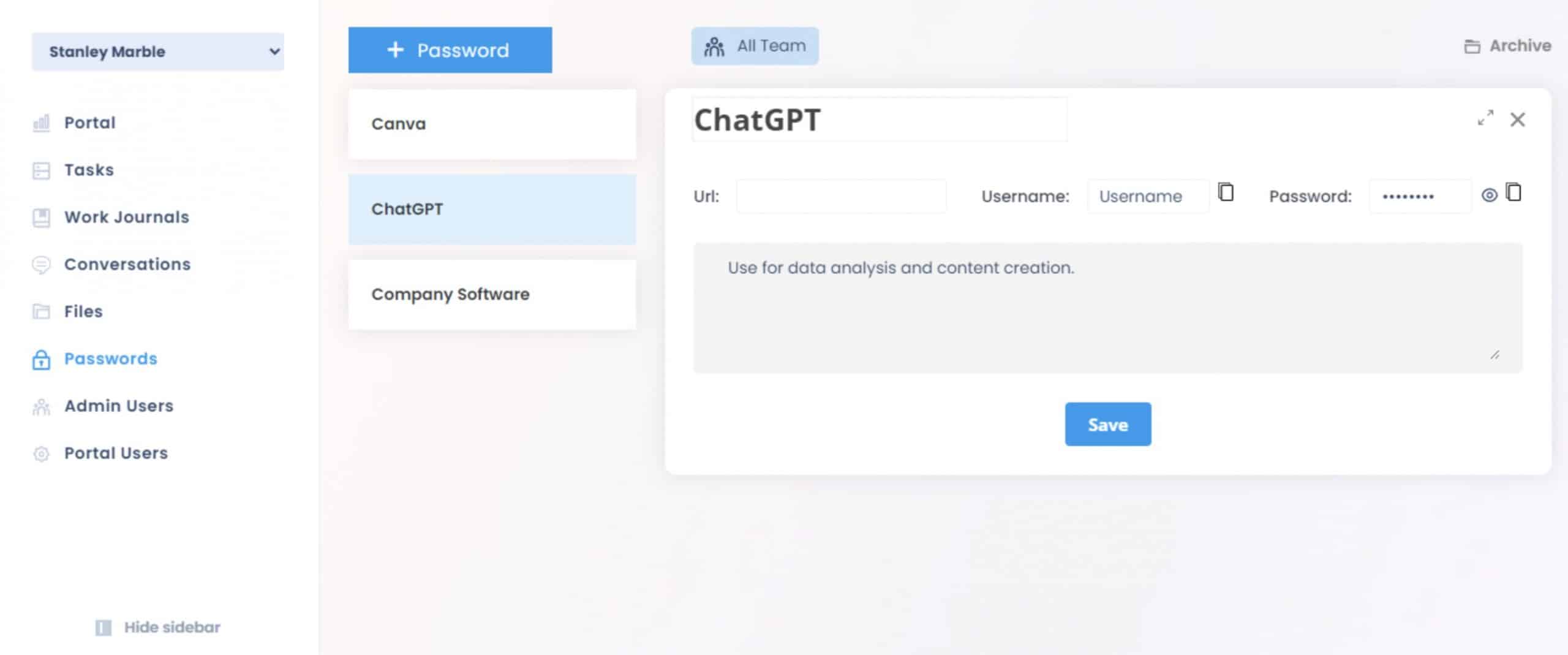 ClientJoy does not feature a password manager. Businesses requiring integrated password management might find this absence a gap in an otherwise robust platform. For secure password handling, users must rely on external solutions alongside ClientJoy's offerings.
Messaging
Ahsuite's communication management adopts a modern, chat-box-style approach, offering a clean and intuitive interface for real-time client interactions. This easy-to-use feature fosters a responsive and user-focused relationship, making it suitable for businesses that value informal yet direct client engagement.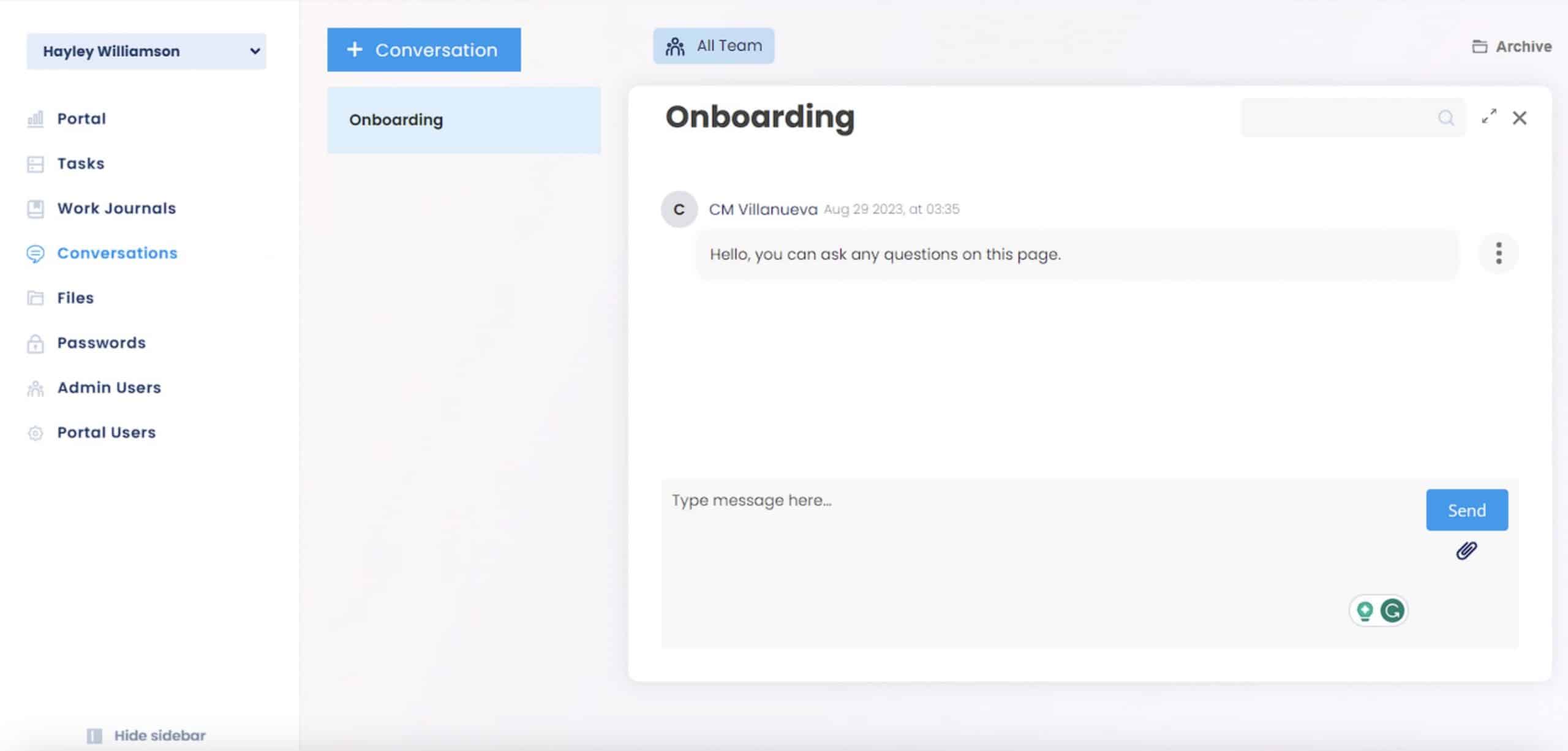 ClientJoy embraces a more traditional, email-centric system for CRM, akin to platforms like Mailchimp or HubSpot. This method is ideal for those who prefer structured email automation features. However, it may not be as instantaneous as chat options for businesses aiming for immediate client dialogue.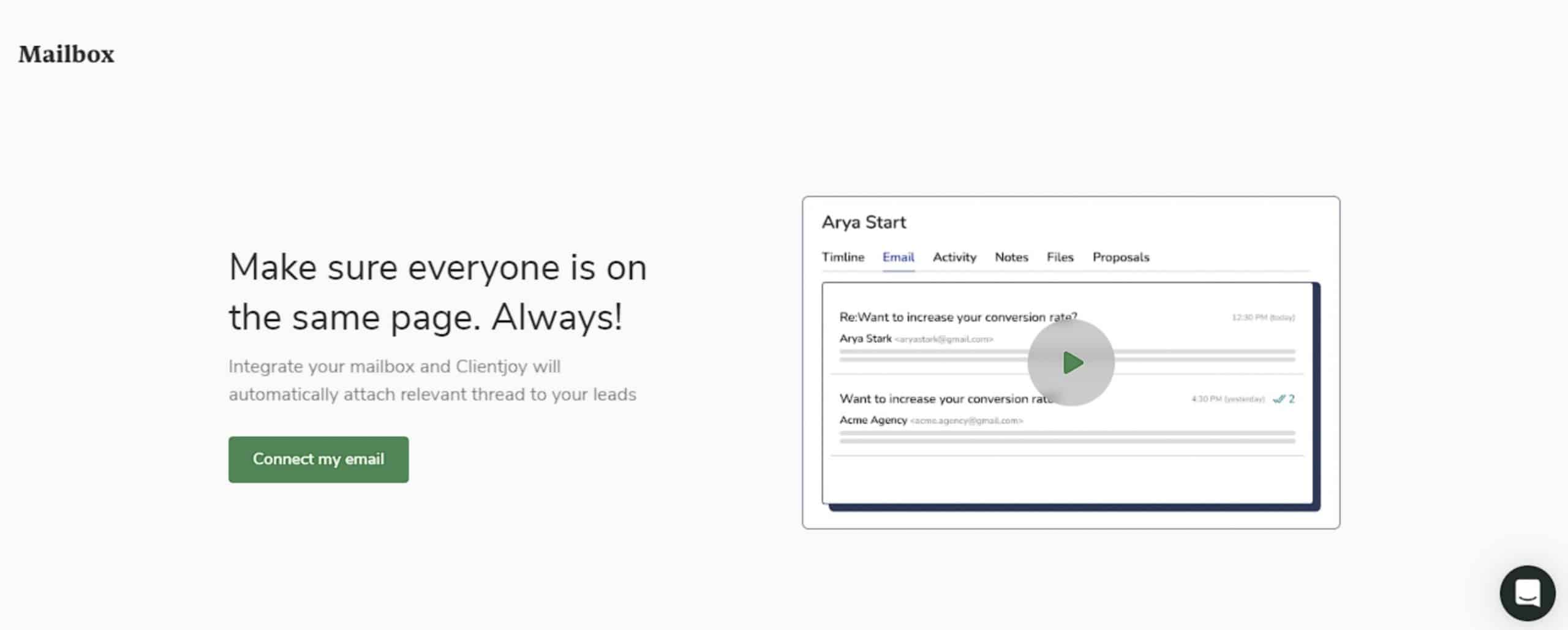 Customization & Integration
For businesses looking to customize and automate, Ahsuite connects smoothly with tools like Zapier, supporting clean and modern operations. While its integration process is robust, users may find the interface less intuitive than some alternatives, requiring a slight adjustment period to leverage its capabilities thoroughly.
Offering an integration experience akin to Zapier's ease, ClientJoy also boasts a public API, facilitating a smooth connection with essential services like Gmail and Google Calendar. This tool's user-friendly approach to notification management is helpful for those prioritizing immediate updates and streamlined operations.
Ease of Use
Navigating Ahsuite is a breeze once you're acquainted with its layout. Its strengths lie in a clean, minimalistic design that surfaces only the most essential daily tools, making work management for SMBs straightforward. Ahsuite excels in file retrieval, task assignment, and organization, streamlining the user experience even further.
ClientJoy matches Ahsuite in user-friendliness, presenting a minimalistic interface that reduces complexity. It's tailored for SMBs, focusing on ease of use with settings that are intuitive and modern. This responsive design ensures that new users can quickly become proficient, making daily operations smooth and efficient.
Pricing & Plans
We delve into the cost-effectiveness and value offered by Ahsuite and ClientJoy, helping you decide which service aligns best with your business's financial strategy.
Ahsuite Pricing
Free (10 client portals)
Professional ($24)
Agency ($57)
ClientJoy Pricing
Starter Plan ($15)
Agency Plan ($25)
Enterprise Plan ($49)
User Feedback
Users commend Ahsuite for its user-focused design, clean layout, and intuitive navigation that simplify complex tasks like file sharing and client onboarding. Its ease of use is particularly noted in handling sensitive data, offering peace of mind. The desire for more diverse integrations is its only frequent user feedback.
ClientJoy receives accolades for its straightforward and efficient operation, making it a favorite for managing business workflows. While its overall performance earns high marks, users sometimes encounter hiccups with billing access. The platform's ability to centralize client and prospect management is a significant benefit.
Customer Service & Support
Earning a 9.7 for support quality, Ahsuite provides a standout customer service experience. It helps users manage and resolve issues through an efficient, user-focused system with a clean and modern interface, demonstrating its commitment to responsive and practical support.
ClientJoy's customer support, with a 9.1 rating, shows a dedication to quality that surpasses CRM averages. The support team is geared towards helping users manage their systems effectively, offering timely assistance. While they perform well, there's room to grow to achieve the exceptional standards seen in some competitors.
Factors to Consider When Choosing Between ClientJoy and Ahsuite
When selecting management software designed to help streamline your business, there are several critical factors to consider in your software research.
Comprehensive Collaboration: Seek a platform that enriches teamwork with robust collaborative features, ensuring seamless communication and a synchronized workflow.
CRM and Email Automation: Ensure the software combines CRM excellence with automated emailing, providing a cohesive solution for customer communication.
Invoicing and Financial Tools: Integrated invoicing and financial management tools are crucial for handling transactions and billing within the software.
Project and Task Management: A competent project management tool is essential, one that allows you to track progress and manage tasks effectively.
Advanced Security and Organization: Prioritize software that includes advanced security measures like 2FA and excels in organizing tasks/files for easy team access.
Alternatives to ClientJoy and Ahsuite
Looking for both ClientJoy and Ahsuite alternatives? Check these cloud-based business management solutions that align more closely with your operational demands.
| | Zoho CRM | SuiteDash | Clinked |
| --- | --- | --- | --- |
| Free Trial | 15 days | 14 days | 10 days |
| Starting Price | Standard ($20) | Start Plan ($14) | Lite Plan ($119) |
| Key Features | Salesforce Automation, Process Management, Omnichannel Communication, Analytics, Partner Portals, Calendar, Integrations | Project Management, CRM, Invoicing and Billing, Document Management, Team Collaboration, White Label Branding, Integrations | Task Management, File Management, Group Discussion, Team Calendar, Mobile App, Activity Stream |
| User Reviews | Read Zoho CRM reviews on G2 | Read SuiteDash reviews on G2 | Read Clinked reviews on G2 |
The Bottom Line
ClientJoy is a CRM powerhouse, perfect for freelancers and agencies eager to manage the entire client lifecycle from prospecting to payment. It is known for its sales and marketing focus from end-to-end, offering a centralized relationship management suite.
Ahsuite dominates task and file management, which is ideal for teams needing collaborative project management tools. Its platform simplifies team-client communication and is suitable for various industries beyond marketing.
Try the entire suite with a 30-day free trial, or start immediately with the complimentary Starter Plan. It's the ideal software for your organization to enhance team collaboration and efficiency.