If you work with clients online, you probably recognize the shortcomings of conducting business over email. A better way is to use a client portal that can consolidate and organize all your client communication in one secure space.
In this article, I will show you how to create your own client portal using Ahsuite. The process is easy, intuitive, and it will be a huge upgrade to your client communication.
Creating your client portal will only take a couple of minutes, and you can have up to three client portals with a free Ahsuite account. To learn more, read on!
What is a Client Portal?
A client portal is a website where you can share files, tasks, messages, and more with your clients behind a login.
Some client portals are designed for specific use cases, like customer support. Others are simply a guest access option in a tool that is otherwise designed for internal use.
And then there are dedicated client portal tools like Ahsuite that put the client first and are adaptable to multiple use cases.
Advantages of Client Portals
Do you find yourself jumping between tools, adjusting permissions, sharing links over email, and cajoling your clients to utilize your preferred communication channel?
If that sounds like you, then creating a client portal will make life easier for you and your clients alike.
A client portal lets you organize all your client communication in one place rather than scattered across multiple applications and emails.
Tasks, files, messages, and more can all be integrated together in one tool, one subscription, one login.
And with Ahsuite client portals in particular, client convenience is king. The interface is so intuitive and simple that your clients will instantly know how to use it.
How to Create Your Own Client Portal
Setting up a client portal in Ahsuite is a snap. Just follow these simple steps on how to create a client portal and you will be onboarding your clients in no time.
1. Add a client
First you have to add a new client to your account. To do that, you can navigate to your My Clients page, or you can simply click Add a Client at the bottom of the clients menu in the header.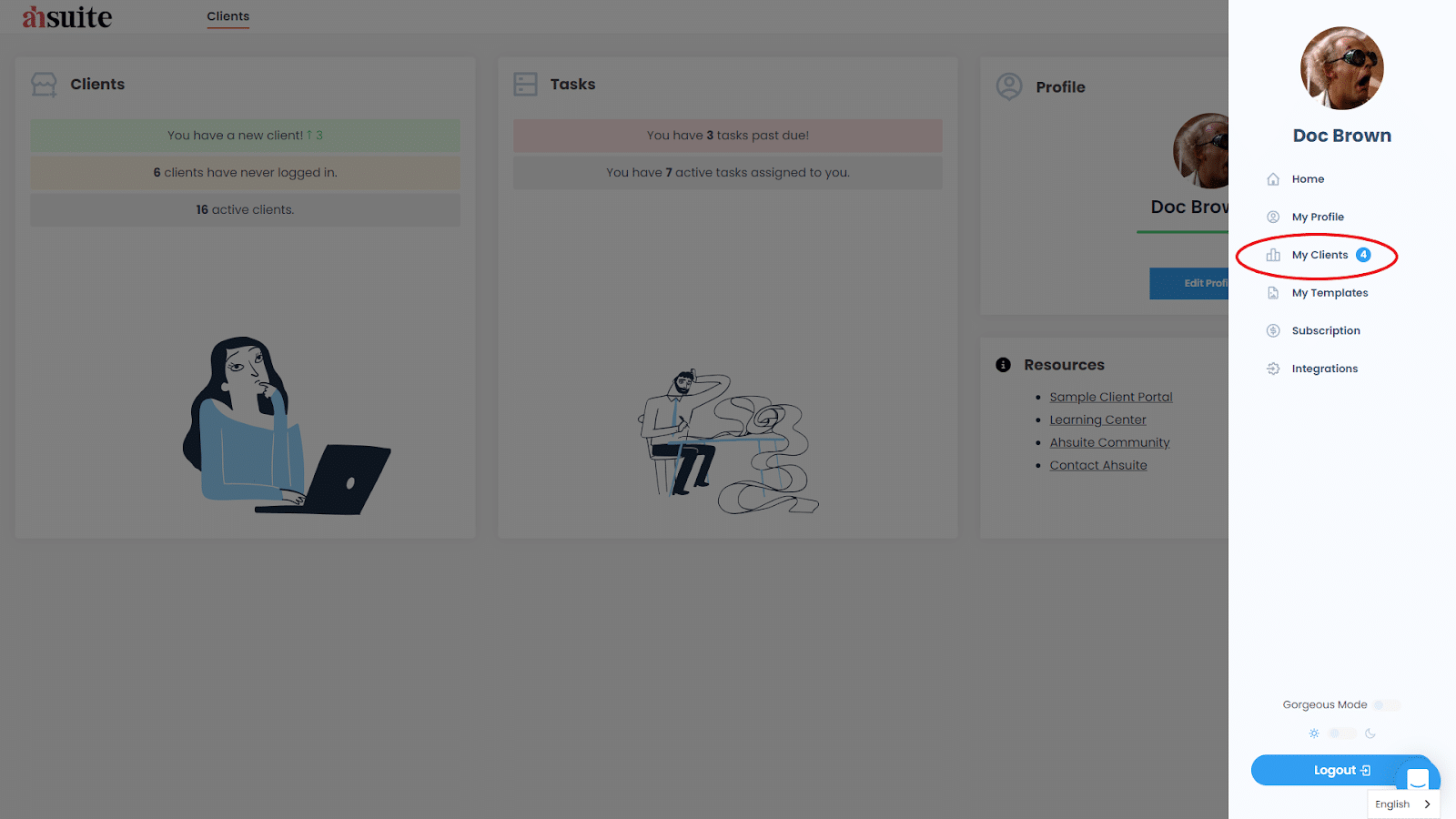 You can input a client as a Business or an Individual. If you choose Business, then you can decide whether to add a client Contact or whether to save that for later.
Once you have entered the client details, click Save and you will be redirected to the Client Portal tool page for that client.
2. Customize the sidebar
Once you are in the Client Portal tool page, you can customize the client portal by clicking Portal Options.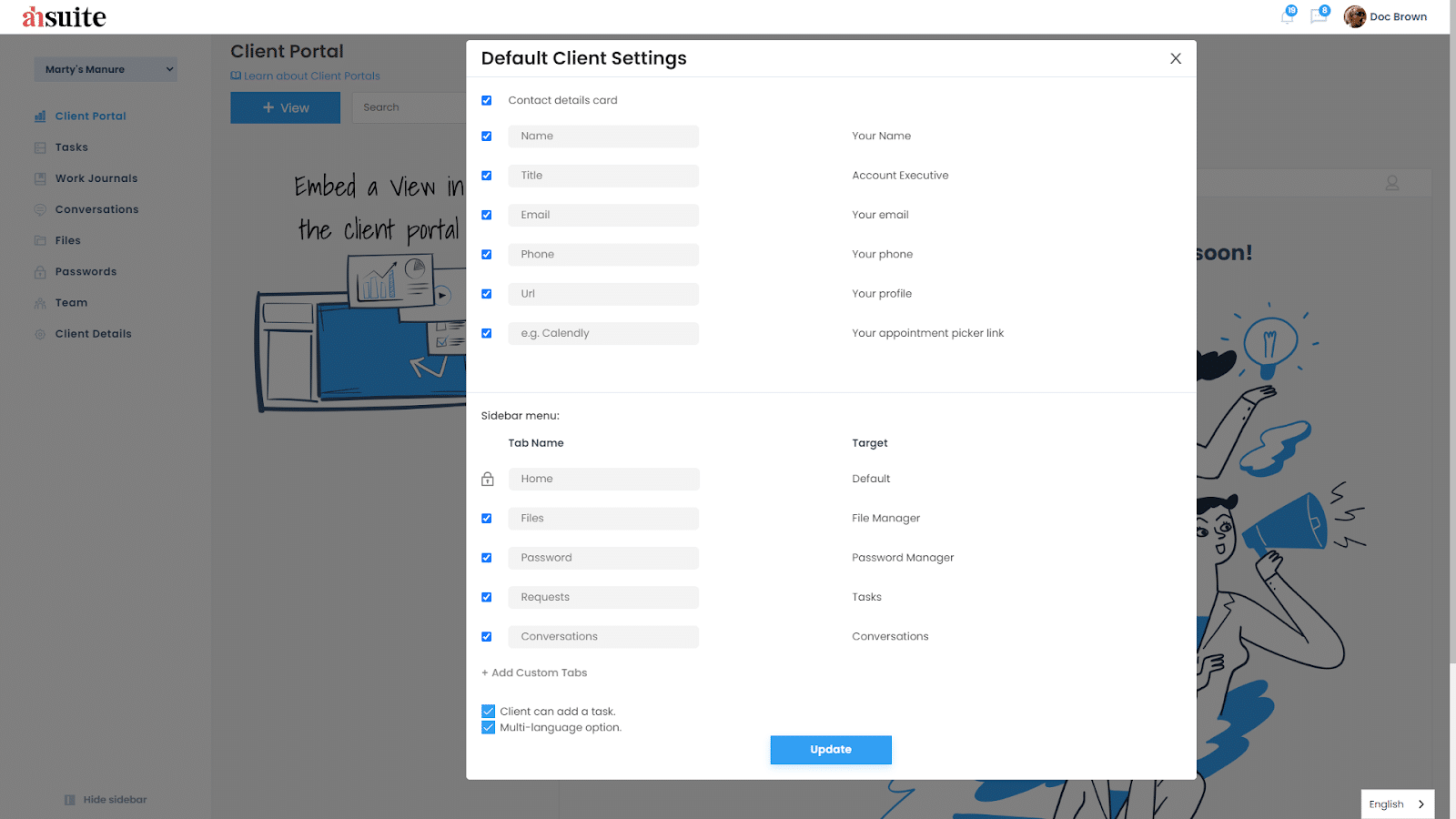 Do you want to show a contact card with your information? Do you want to include tabs for tasks, files, conversations, and passwords? This is where you will make those customizations.
You can also edit tab names or create custom tabs. A custom button can point to an external url, or you can point it to a specific View for easy navigation.
3. Add a welcome message
An Ahsuite client portal is empty until you add a View, which is anything you would like to embed in an iframe.
Views can be analytics reports, design boards, pitch decks, videos, or anything else. In the case of a new client you may not have anything to present yet, so it is a good opportunity to add a welcome message to greet your new client.
I recommend using Google Presentation for creating an attractive message to embed, but you can use any tool you would like.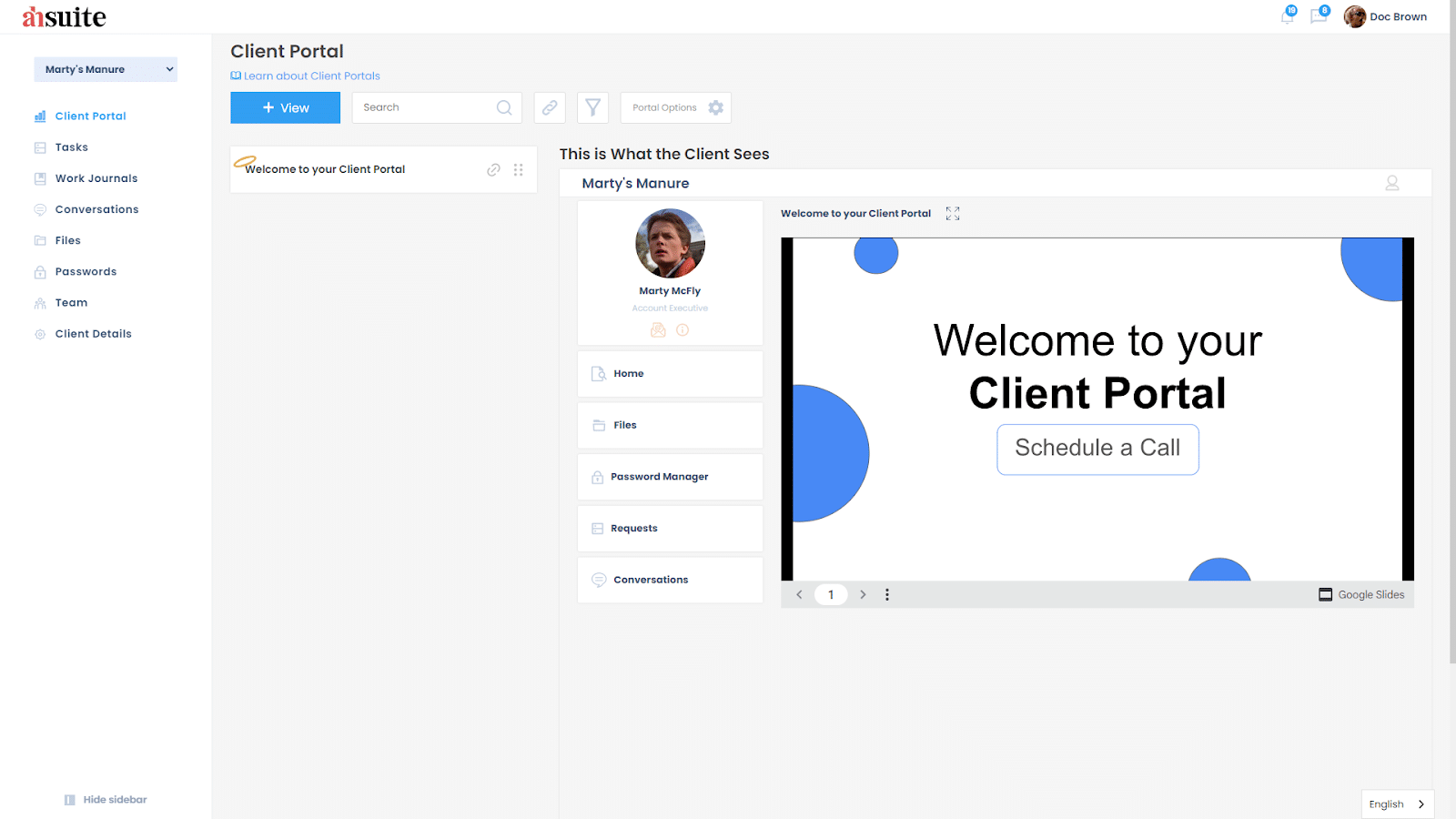 You could also record a quick message on Loom or YouTube that greets the client and introduces them to their client portal. It's up to you! What do you think your client should see when they first log in?
4. Add an onboarding task
You may have a series of steps you want your new client to take.
This could be filing out an intake form, granting permissions to marketing accounts, uploading files or documentation, or anything else you need to get started.
The Tasks tool is ideal for assigning instructions to your client. If needed you can include screenshots in the task description for detailed instructions, and you can add a checklist of subtasks you need them to accomplish.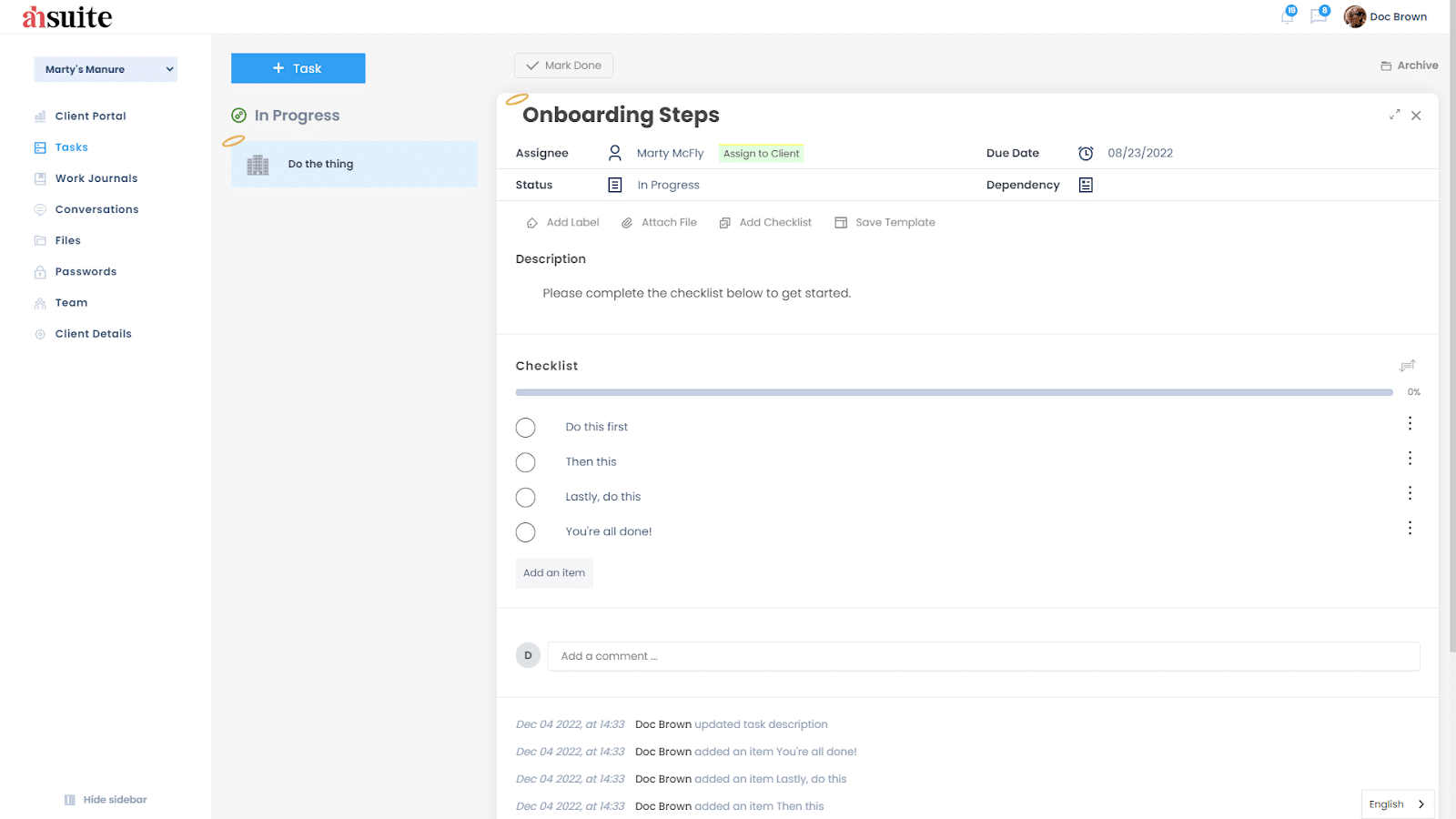 When the client finishes and they click Done, you will receive a notification so you know to move forward.
Alternatively, some users embed an intake form as a View.
5. Generate an autologin link
An easy way to share the client dashboard is to generate an autologin link that your client can use for view-only access to their client portal.
Simply click the link icon and then click Generate. The unique url can be used to preview the client portal and then sent to the client.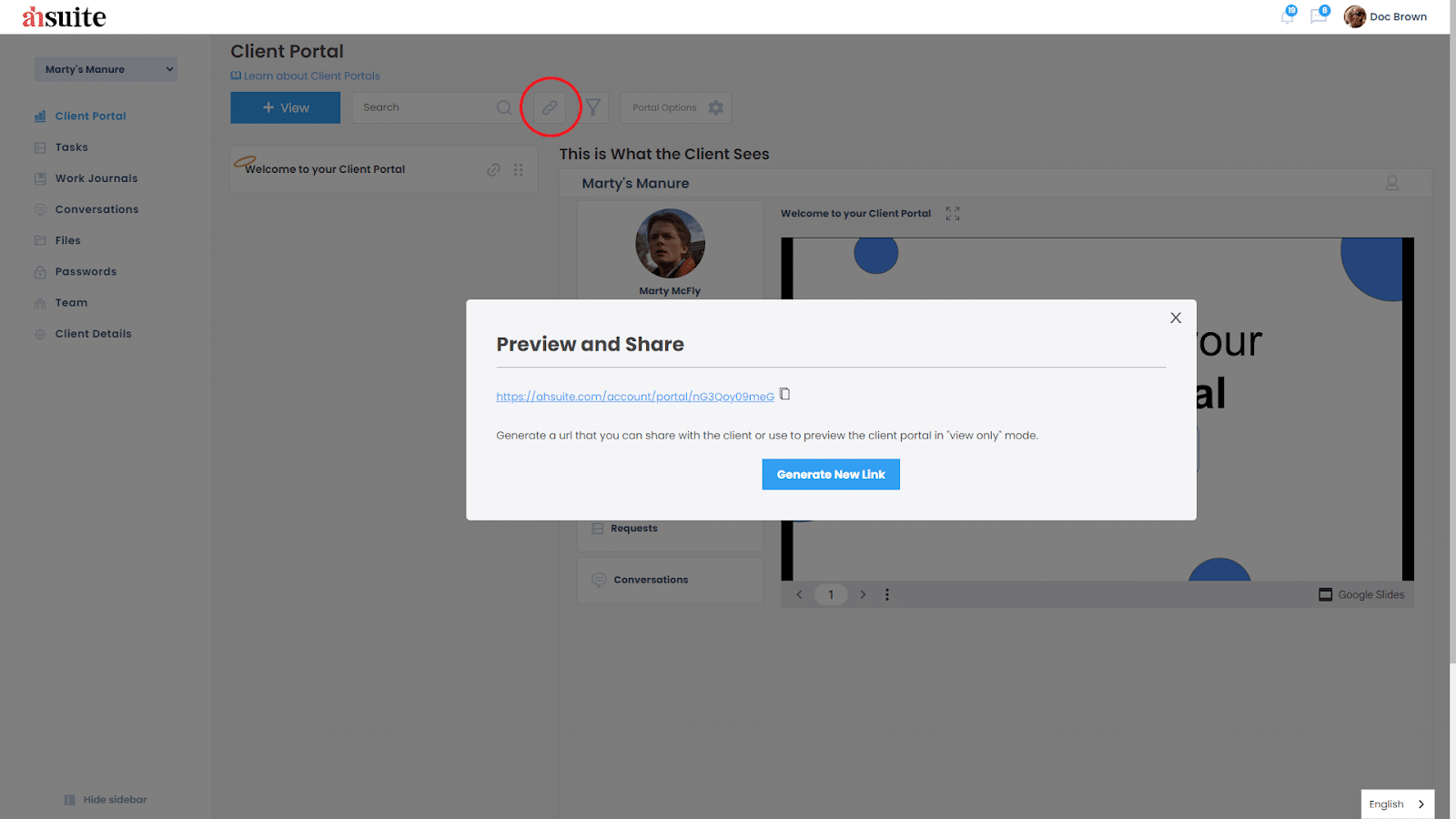 If the client tries to access any of the secure content in the portal such as tasks or files, they will be prompted to log in with their email and password.
6. Send an invitation to the client.
Now that you have set up your client portal, it's time to invite your client to check it out.
If you use the Conversation tool to send your message, it will forward your message to the client's email. Just be sure to select the Client in the sharing settings.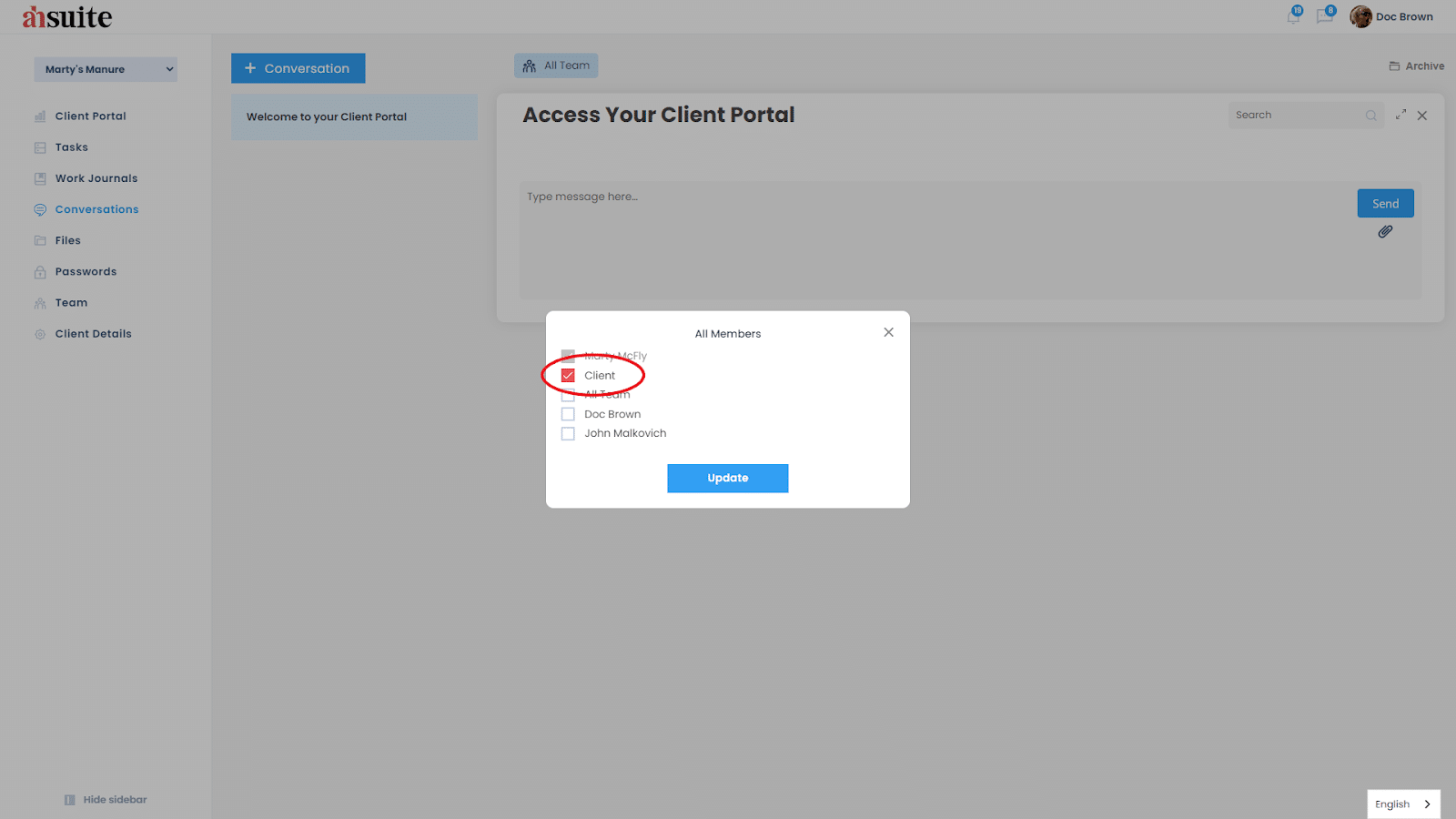 You can message them with the autologin link, or you can direct them to your profile to log in with their credentials.
7. Set defaults for future clients using templates
Once you have created the ideal client portal for your business, you may want to create client portal templates that you can reuse for multiple clients.
To set the defaults for all your future client portals, or to apply changes to your existing portals, go to My Clients and then click the gear icon for options.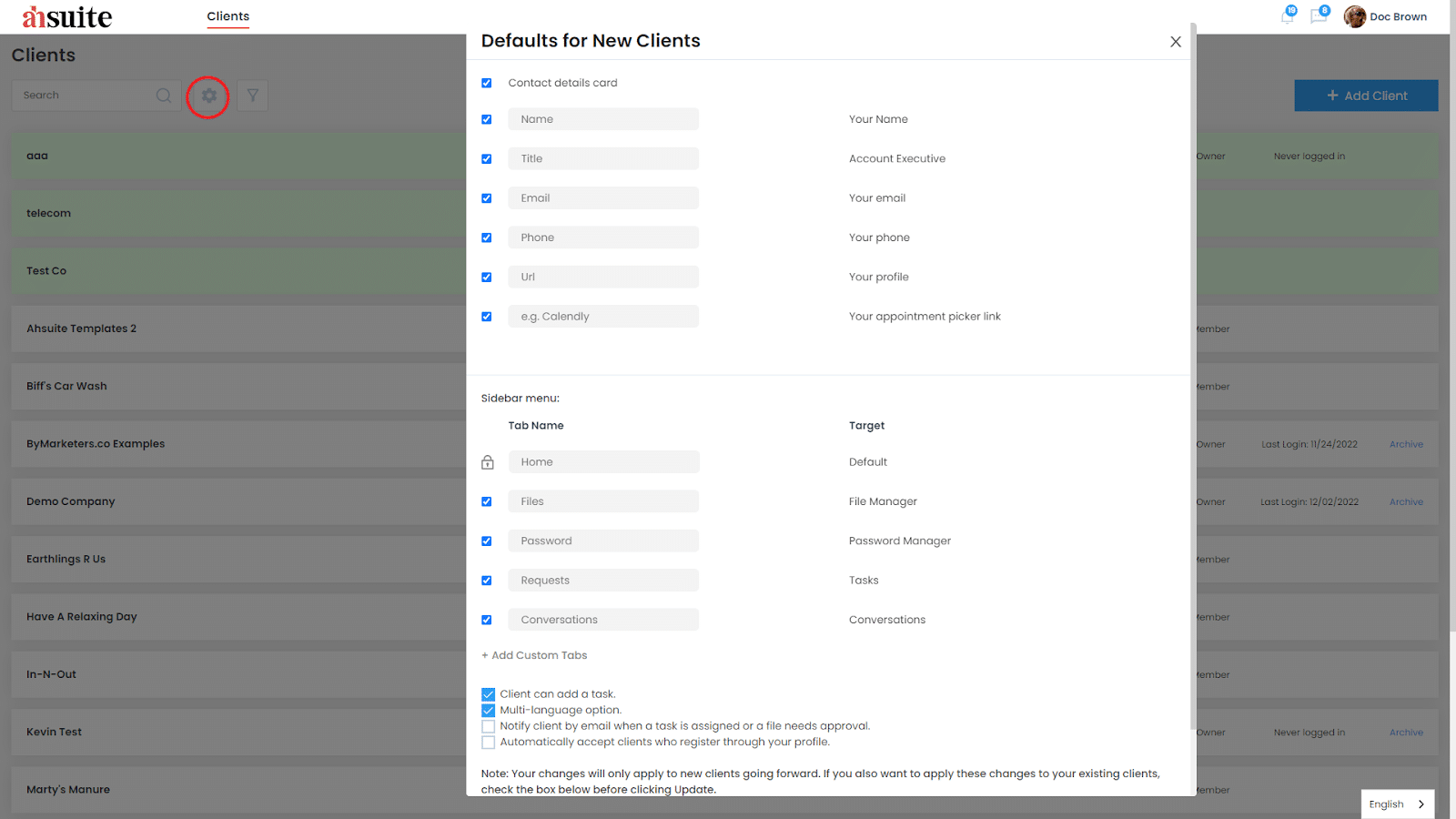 If you have an onboarding task or welcome message you want to reuse, go to edit them and click Make a Template.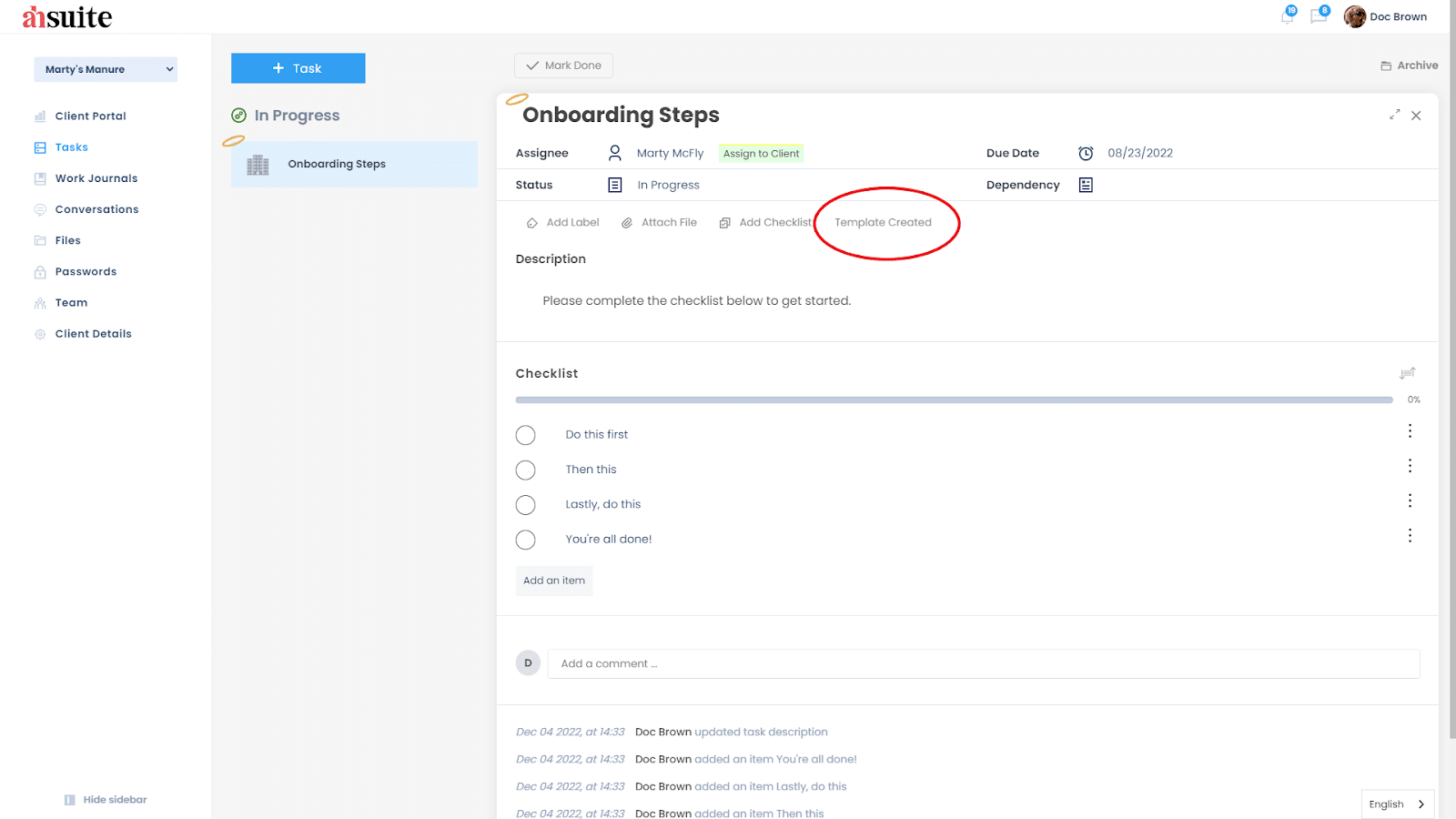 Then you can go to your My Templates page, select the template you want and set it to be automatically added for new clients.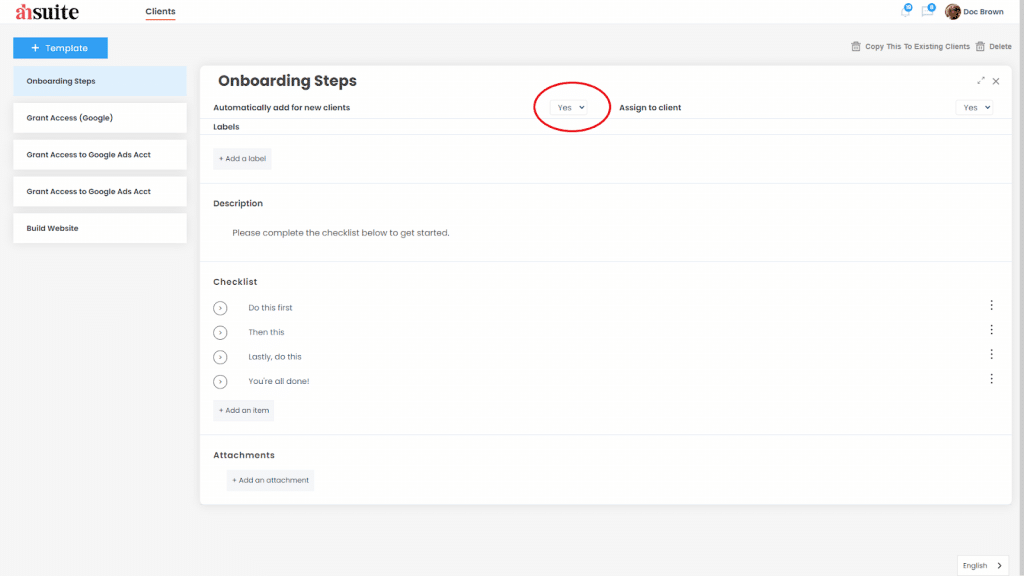 You can also create a template from scratch from the My Templates page.
Build Your Client Portal Today with Ahsuite
Now that you know how easy it is to create a customer portal in Ahsuite, why not make one yourself?
Ahsuite client portals have a clean, minimalistic design that can be customized with your brand. No more sending links over email; now you can give your clients a more convenient and organized experience with their own client portal.
Ahsuite gives you three client portals for free, or you can try a more feature-packed plan with a free month trial. Check out our pricing to select the right plan for you!