Ahsuite and Kitchen.co are some of the modern client portals available in the market today. While both platforms are designed to enhance remote work experiences, their diverse strengths cater specifically to different user requirements. We're diving deep into Kitchen.co and Ahsuite to help you discern which platform aligns best with your goals.
Kitchen.co vs. Ahsuite at a Glance
Here's an overview to help you get a better understanding of each platform's capabilities, making it easier to decide which one best suits your needs and preferences.
Kitchen.co
Kitchen.co is a client portal software designed to streamline collaboration and communication between creative agencies and their clients. The platform offers a range of features, including file sharing, communication, project organization, and integration with popular payments.
Additionally, Kitchen.co allows users to create and receive project requests through customizable forms. It can also integrate with apps through Zapier.
Ahsuite
Ahsuite is a versatile client portal tool designed for professionals like agencies, freelancers, coaches, educators, and accountants. It offers a secure, organized, and streamlined experience for both users and their clients.
Ahsuite's primary feature is the ability to embed various content types, such as Google Data Studio reports, Figma boards, and slide decks. It also features collaboration and productivity tools such as a file manager, team password manager, work journals, group messaging, and a robust task management system.
How Kitchen.co and Ahsuite Stack Up
Can't decide which one to choose? Here's a side-by-side comparison of Kitchen.co and Ahsuite, showcasing their respective strengths and improvement areas. This comprehensive comparison aims to help users determine which solution is the best fit for their specific requirements and preferences.
Kitchen.co
Ahsuite
Pricing
– Free (2 Users)
– Agency ($29)
– Lifetime ($599)
– Free (10 Portals)
– Professional ($24)
– Agency ($57)
Key Features
– Folders
– Conversations
– Boards
– Docs
– Files
– Invoicing
– Embed URL
– File Feedback
– White-Label
– Views
– Conversation
– Tasks
– Files
– Password Manager
– Work Journals
– File Approval
– White Label Client Portals
Collaboration & Communication
Password Protected Client Portal (Needs upgrade for 2FA)
Password Protected Client Portal (2FA on all plans)
User Interface & Experience
Folder-Based Clean Workspace
Portal-Based Intuitive Interface
Customizations & Integrations
– FreeAgent
– FreshBooks
– Xero
– QuickBooks
– Zapier
– WordPress Gravity Forms
– Zapier
– Pabbly
Customer Service & Support
No available info
9.7 in G2 (Average for client portals is 8.9)
User Reviews
Read Kitchen.co reviews on G2
Read Ahsuite reviews on G2
Kitchen.co vs Ahsuite Feature Comparison
Let's examine each platform's unique capabilities and offerings with a big-picture view. This comparison aims to uncover a clearer understanding of how each tool differs, and which one might be the ideal choice for your specific needs, preferences, and workflow requirements.
Task Management
Ahsuite's task management is designed with creative agencies and professionals in mind, offering a clean and minimalist design. In addition, it isolates each client portal management to reduce upload mistakes while bringing automation through custom templates.
It also tracks dependencies, offers custom labels, and allows for extensive filtering by status, due date, assignee, and labels. However, Ahsuite lacks drag-and-drop cards and reminder options for its task management features.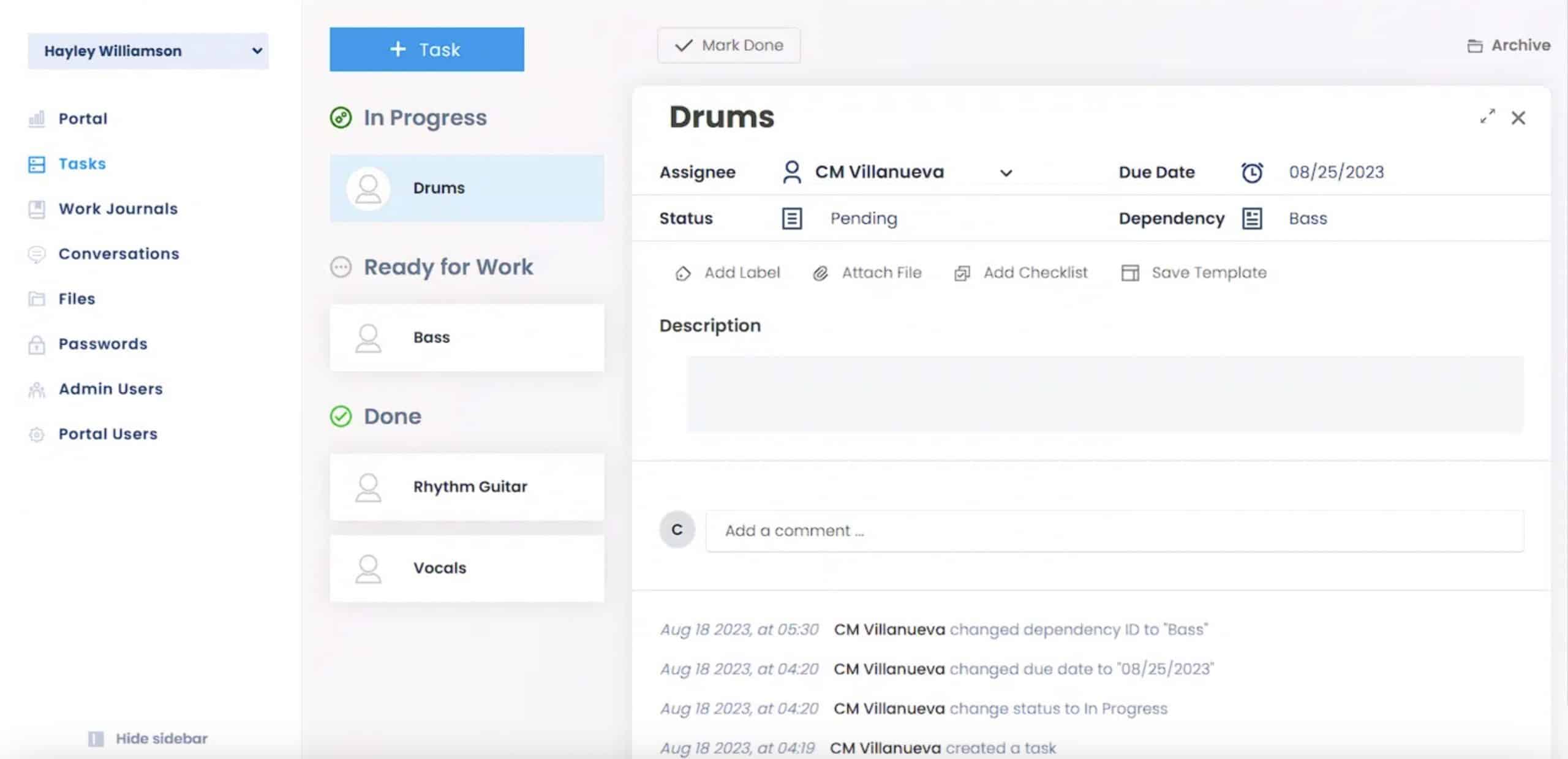 Kitchen.co is a versatile tool with Kanban, Table, and Calendar views, which can be tweaked based on your work style or team requirements. It includes time tracking (though manual input is required) and custom fields, allowing for a personalized experience.
In addition, Kitchen.co also enables users to view tasks from all clients using the task widget. On the downside, the platform requires selecting the client folder drop-down arrow for certain actions and offers limited task filtering options.
File Management
Ahsuite's file management offers several advantages for users, such as the ability to add custom file labels, versioning/documentation, and easy file privacy adjustments. You can also display a file in your client portal. File approvals are set in a way that complies with relevant e-Signature laws.
While Ahsuite doesn't have native support for popular cloud storage services like Dropbox, OneDrive, or Google Drive, it does allow users to utilize URLs from these services for file access, client portal embedding, and seamless information sharing.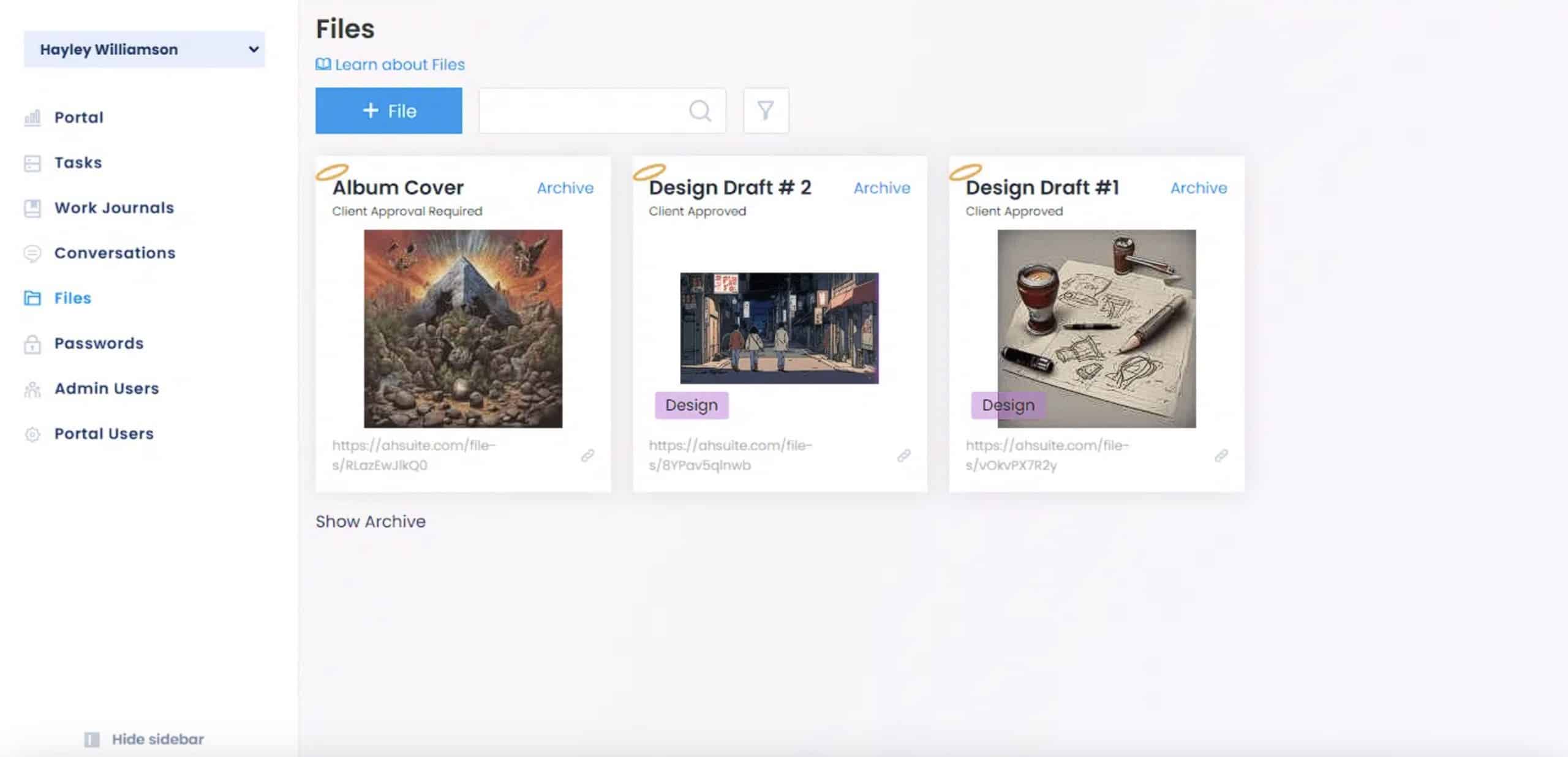 On the other hand, Kitchen.co provides native support for Dropbox, OneDrive, and Google Drive, making it convenient for users who rely on these services. It also allows users to integrate payment and file approval for invoicing.
However, users must change folder privacy settings directly if they want to modify file privacy. You might have to re-upload your file with different privacy settings just to change who can view and access them.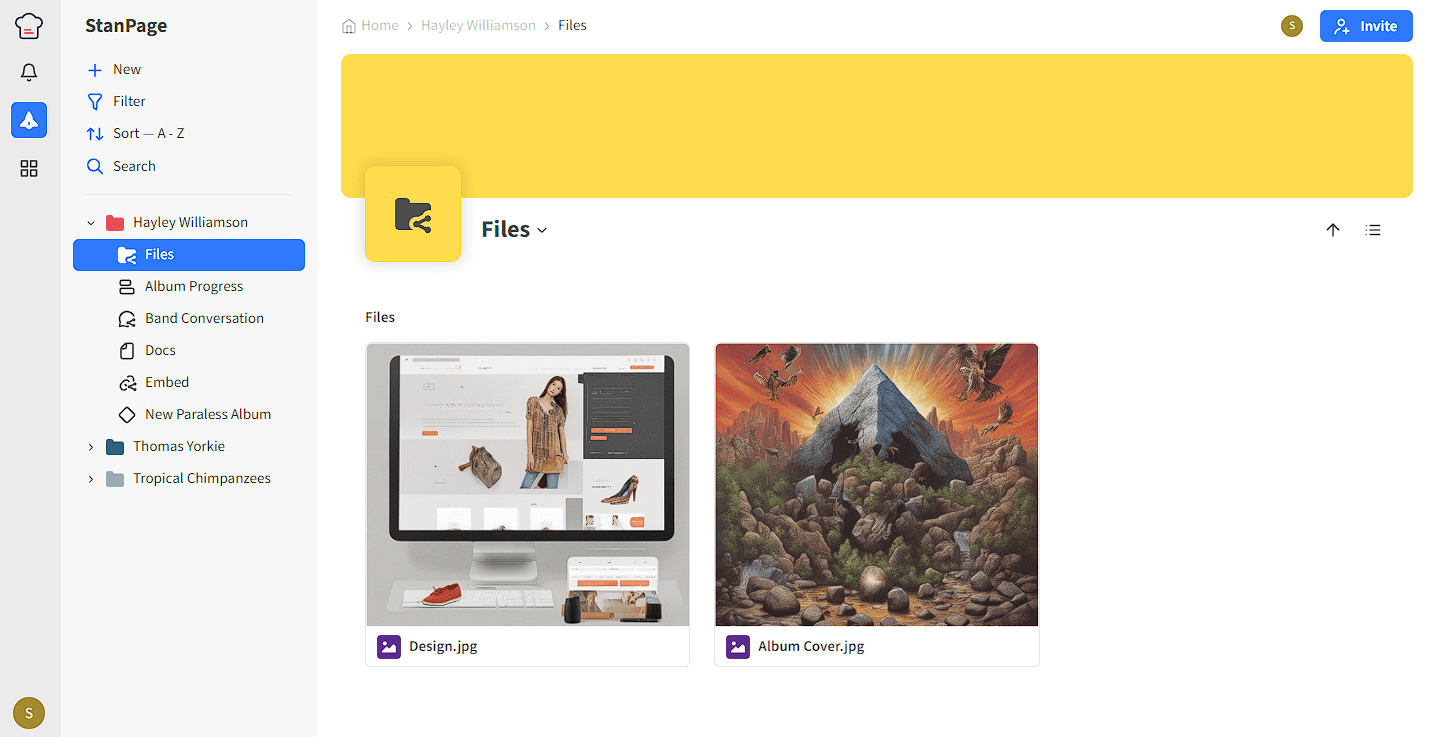 Password Management
Ahsuite offers a secure built-in password manager, which is a valuable feature for users who need to securely store and share passwords. This eliminates the need to send sensitive information through emails or spreadsheets.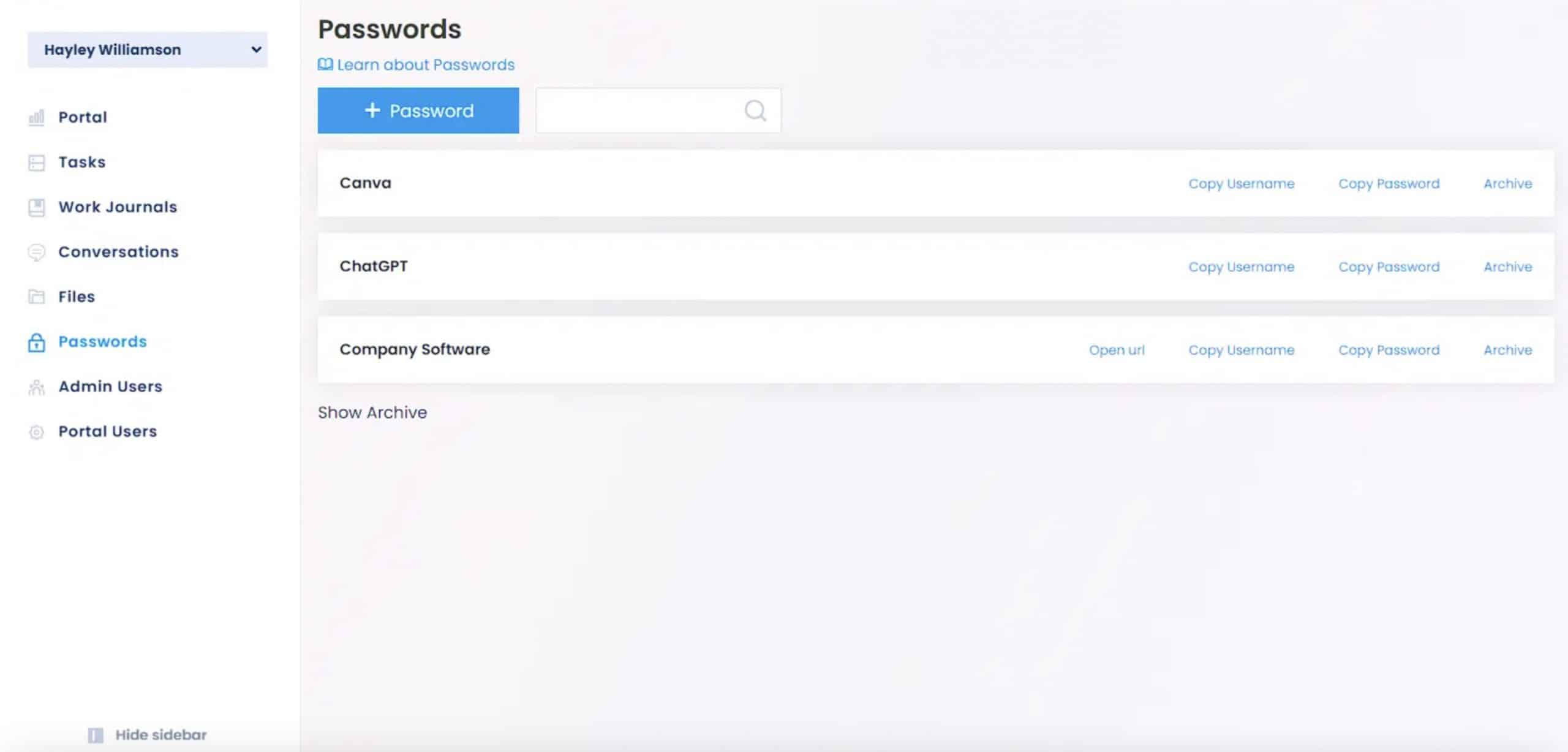 Kitchen.co does not have a password manager feature. Users who require password management capabilities may need to look for alternative solutions.
Messaging
Ahsuite's messaging feature comes with a useful search functionality, allowing users to easily find specific messages or conversations. This can be particularly helpful when trying to locate important information within a large volume of messages.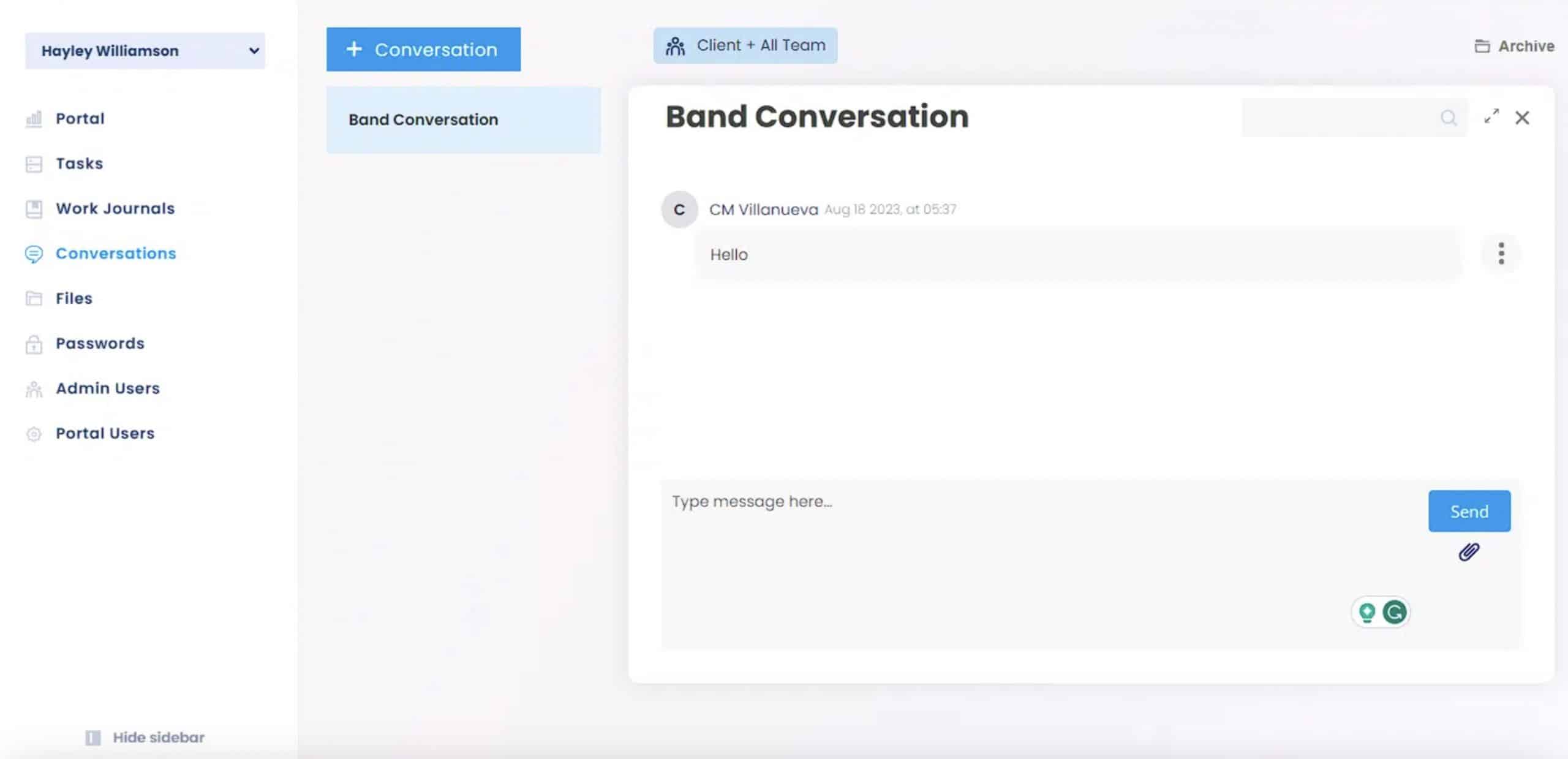 Kitchen.co offers support for scheduled messages and rich formatting options, giving users greater control over their communication. Additionally, Kitchen.co enables users to move messages from one conversation to another for easy organization.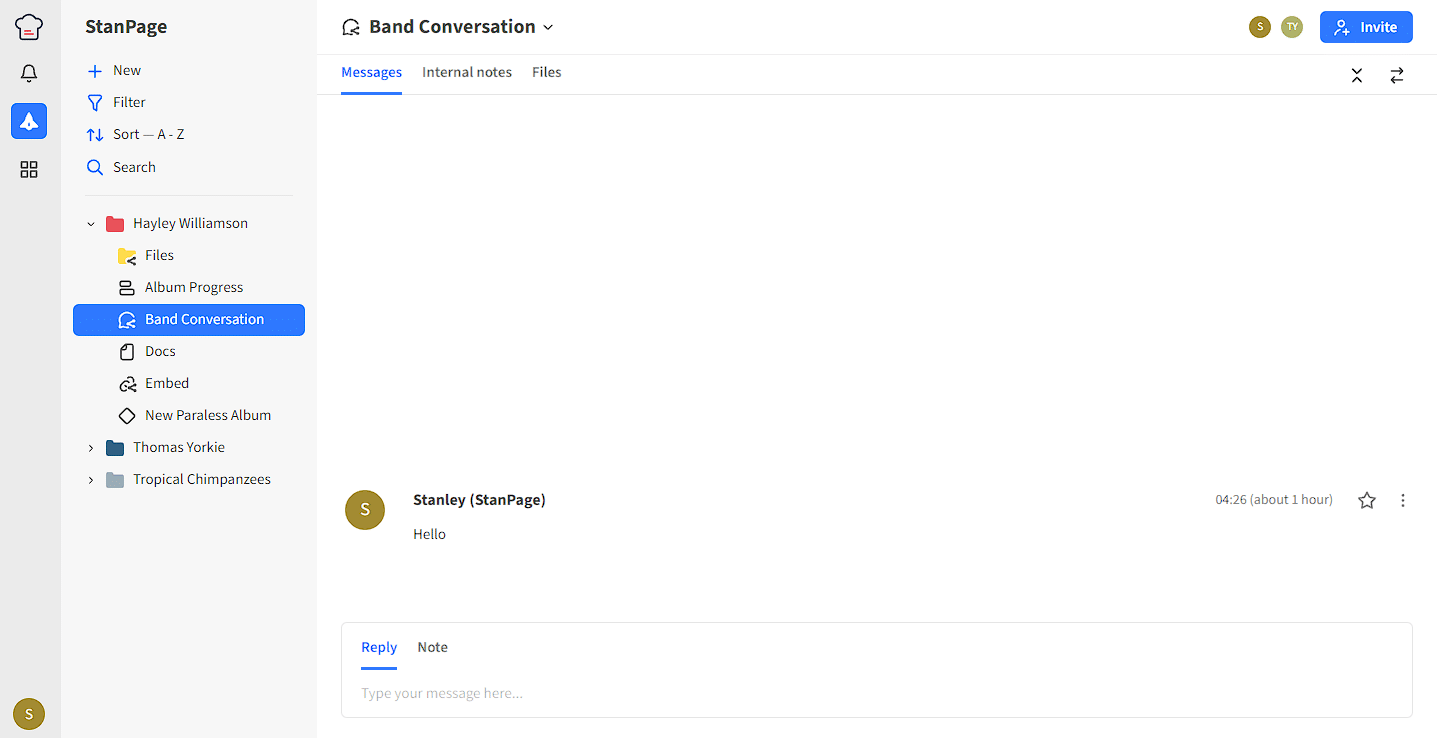 Customization & Integration
Both Ahsuite and Kitchen.co offer a wide range of integrations, including support for Tableau, Looker Studio, Google Docs, Google Sheets, Google Presentations, Figma Boards, YouTube, Vimeo, Loom, and Airtable. These integrations allow users and their clients to work seamlessly with third-party tools and platforms.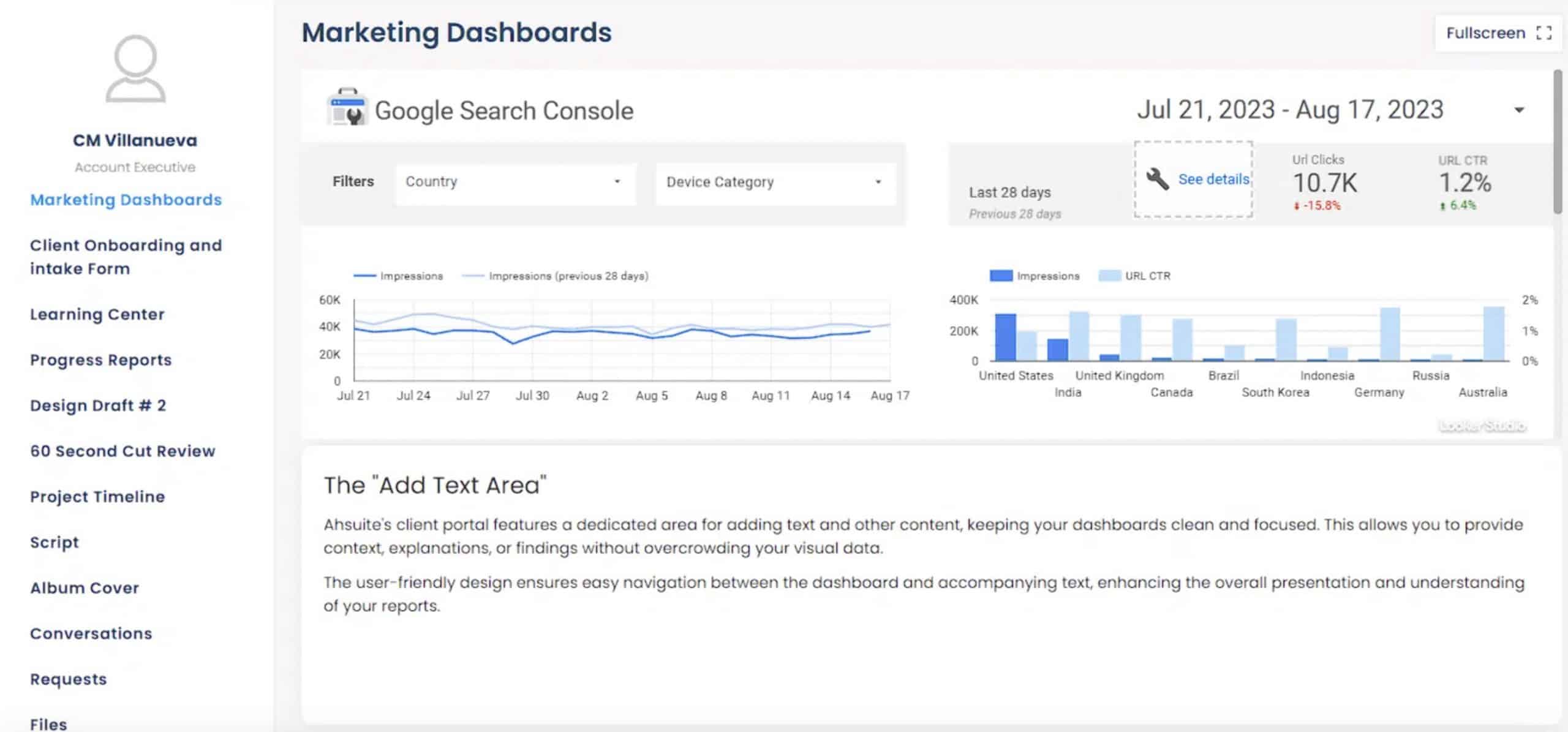 While both Ahsuite and Kitchen.co offer similar support for various file types and services, Ahsuite's native support for data-centered tools like Airtable, Tableau, and Looker Studio may provide an edge for users who require more advanced data management capabilities.
Ease of Use
Ahsuite is known for its intuitive interface, ease of navigation, and intuitive features. Default boards, conversations, and file managers are already set up when opening a portal for a client. This eliminates manual configuration per client which saves time and effort.
Kitchen.co boasts a more modern design, which may appeal to users who prioritize aesthetics. While it may not have the same level of intuitive navigation as Ahsuite, it still offers a user-friendly experience. Both Ahsuite and Kitchen.co are fast and responsive, ensuring a smooth and efficient workflow for users.
User Feedback
Users from G2 have praised Ahsuite as a powerful client portal solution for its numerous advantages in streamlining business operations. Its lightweight and fast performance makes project management more efficient, while the versatile, feature-packed platform offers effective task management and seamless client collaboration.
The simplified client approval processes and secure file sharing and password management are also appreciated. With an intuitive, easy-to-navigate interface and user-friendly design, clients can easily adapt to the software.
Currently, Kitchen.co does not have any reviews on G2 or similar sites. As of now, information about user experiences and feedback for this platform remains unavailable.
Pricing & Plans
When choosing between Ahsuite and Kitchen.co, pricing is a crucial thing to consider to ensure that you're getting the best value for your needs. Let's compare the pricing structures and options offered by both platforms, helping you make an informed decision based on your budget and requirements.
Ahsuite:
Free (10 portals)
Professional ($24)
Agency ($57)
Kitchen.co:
Free (2 users)
Agency White Label ($29)
Lifetime ($599)
Customer Service & Support
Ahsuite has already garnered a reputation for providing excellent customer support, as evidenced by the positive reviews from its users. This indicates that the platform is committed to addressing user concerns and ensuring a smooth experience for its customers.
As for Kitchen.co, there isn't enough information available in the form of user reviews to evaluate the quality of their customer support. It's important to consider this factor when making a decision, as reliable customer service can be crucial for resolving any platform issues.
Factors to Consider When Choosing Between Kitchen.co and Ahsuite
When comparing Kitchen.co and Ahsuite, it's crucial to evaluate key factors to make an informed decision. This list will guide you through the aspects to consider for each platform.
Integrations: Consider the range of data-centered integrations and native support for popular cloud storage services offered by each platform.
Messaging features: Evaluate the messaging capabilities provided, and determine which features are most important for your workflow (scheduled messages, rich formatting options, message organization, etc.)
Ease of use: Compare the intuitiveness of each platform's interface and the availability of pre-configured client portals. Personal preference and ease of use should be considered when making a decision.
Customer support: Examine the quality of customer support provided by each platform based on user feedback. Reliable customer support can be crucial for resolving issues and ensuring a smooth experience.
Pricing and plans: Compare the pricing structures and options offered by each platform to ensure you're getting the best value for your needs and budget.
Carefully assess factors like integrations, messaging, ease of use, support, and pricing when choosing a platform. The right choice can greatly impact your productivity and workflow, so take the time to evaluate each option thoroughly.
Alternatives to Kitchen.co and Ahsuite
While Kitchen.co and Ahsuite have made their mark, there's a world of alternatives out there tailored to fit unique needs. Dive in as we explore other project management and collaboration platforms, ensuring you find the perfect fit for your online endeavors.
ClickUp
SuperOkay
ClientJoy
Free trial
Yes (14 days)
Yes (14 days)
Yes (14 days)
Starting price
$7
$19
$15
Key features
– Hierarchy
– Multiple views
– Customization
– Task management
– Team collaboration
– Time tracking
– Dashboards
– Goals
– Templates
– Third-party integrations
– White-labeled and custom domain name
– Embed apps
– Quick links
– Sales pipeline management
– Creating and e-sign documents
– Appointment scheduler
User Reviews
Read ClickUp reviews on G2
Read SuperOkay reviews on G2
Read ClientJoy reviews on G2
The Bottom Line
Choose Ahsuite if your priority is to streamline touch points, approvals, and integrations using embed functions, and if you value tested customer service. Opt for Kitchen.co if you require invoicing options and folder-based workflows.
However, keep in mind that invoicing options are already part of Ahsuite's future development plans. Ultimately, your choice should align with your specific needs and preferences.