Once upon a time, having private label products in the digital landscape was the way for businesses due to the added benefits such as consistent quality and customization.
The right white label solution can also achieve this effect by improving tech stacks and methodologies. White label marketing automation software is becoming a favorite due to its effectiveness in both cost, scalability, and brand consistency.
Let's find out what other white-label digital products are available with this list of the best white label marketing software below.
What Features Should I Look for in White Label Marketing Software?
When scouting for a white label marketing software, certain features stand out as essential. These marketing solutions should not only streamline your workflow but also empower your strategies and maintain brand integrity across all client interactions.
Customizable branding: Brand your software with logos and colors to reflect your identity and professionalism in all client interactions.
Integrated analytics: Opt for software that delivers detailed campaign analytics, helping you understand and improve performance metrics and, ultimately, client outcomes.
Real-time dashboards: Choose software with client-accessible interactive dashboards to enhance transparency and collaboration.
Task automation: Automate routine marketing tasks with software to prioritize creative and strategic endeavors, as efficiency is critical.
Access control: Ensure the software allows fine-tuned control over user permissions to maintain the integrity and confidentiality of client data and internal processes.
Scalable solutions: Your chosen software should grow with you, handling an increasing number of clients and more extensive campaigns without a hitch.
Support and SEO tools: Strong customer support can help navigate any challenges, while integrated SEO tools enable you to enhance online visibility and content relevance.
10 Best White Label Marketing Software for Agencies
Here are the top white label marketing software for various tasks, industries, and use cases. 
Ahsuite – Best white label client portal
SE Ranking – Best for SEO optimization
Social Pilot – Best for white label social media management
OptinMonster – Best for lead generation
Vendasta – Best for sales and marketing support
Invoice Ninja – Best for invoicing and payment management
ActiveCampaign – Best for email
Constant Content – Best for content marketplace
Landingi – Best for landing page creation
Weblium – Best for website building

1. Ahsuite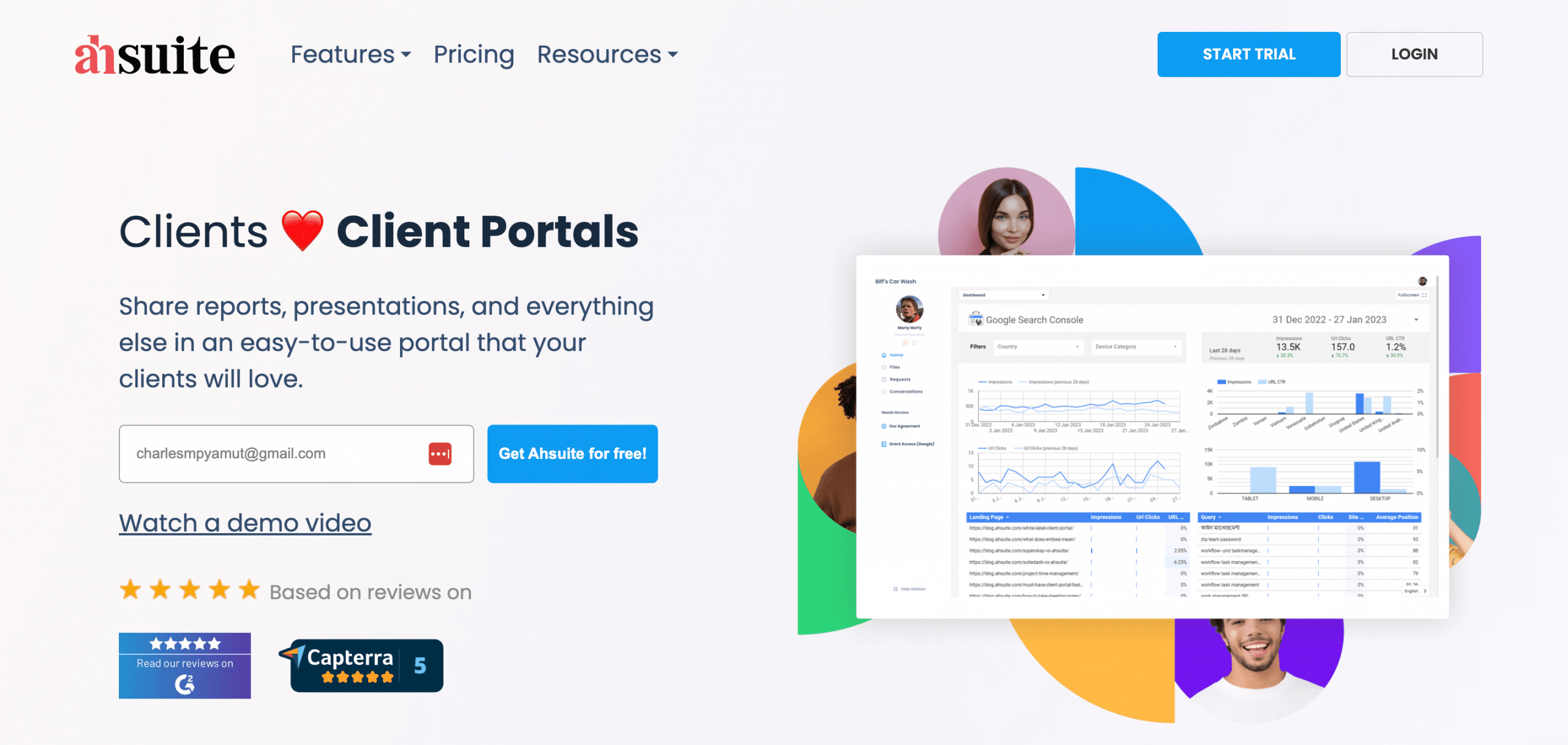 Ahsuite transforms client interactions by infusing them with your brand's unique flair. It benefits those who seek to present a unified brand image to their clients, and its popularity is due to its ability to personalize client interaction and elevate brand presence.
Key Features:
File Approval
While Label Client Portals
Pricing & Plans:
Free
Professional ($24)
Agency ($57)
2. SE Ranking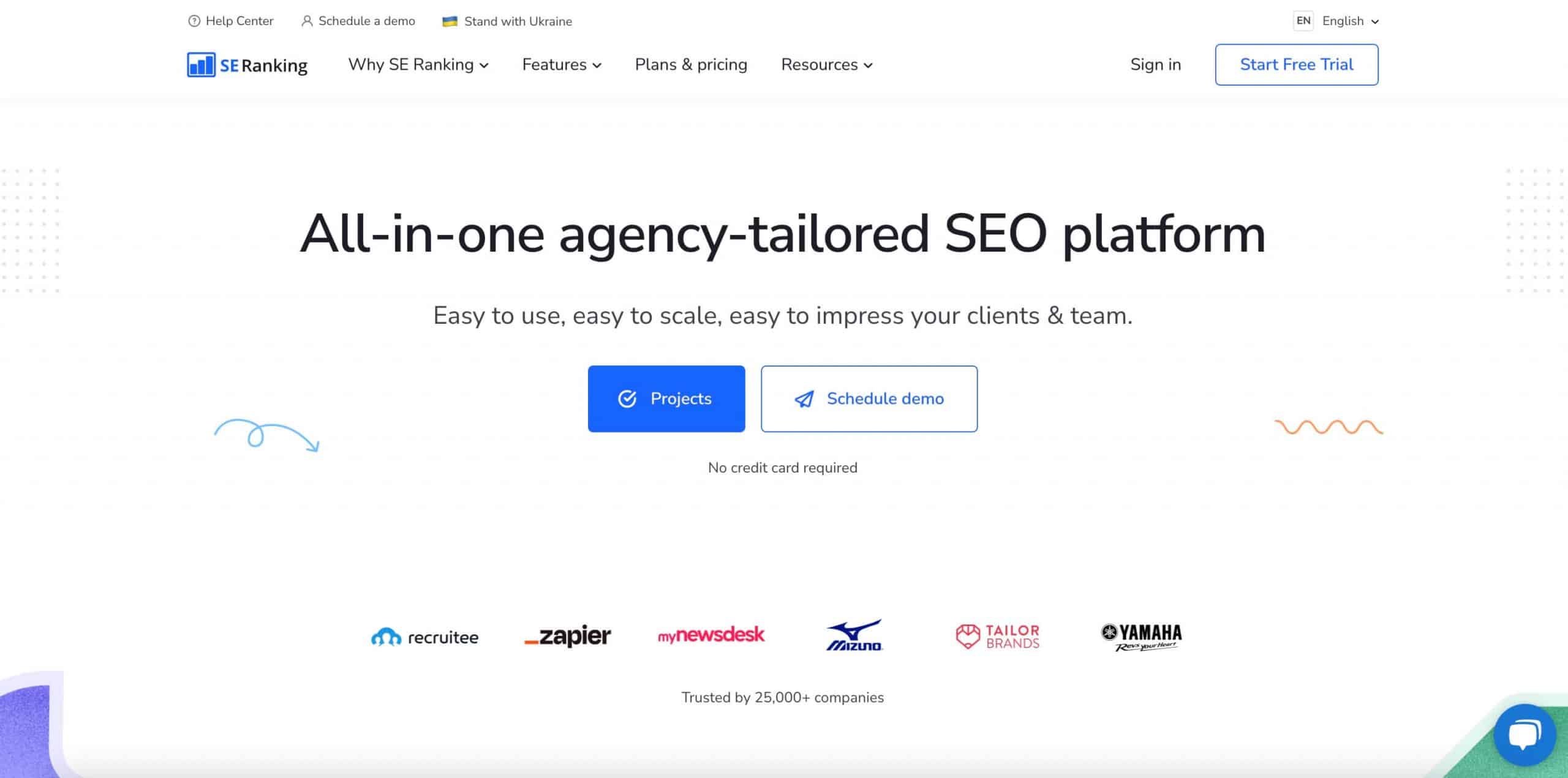 SE Ranking stands out as a white label platform focused on SEO optimization. Agencies and in-house teams use it to sharpen their SEO strategies and enhance their online visibility. Comprehensive tools and AI-powered insights make SEO intuitive and impactful.
Key Features:
Keyword Research
Keyword Rank Tracker
Backlink Checker
Competitive Research
On-page SEO checker
Report Builder
SERP Checker
Local Marketing Tool
Pricing & Plans:
Essential ($44)
Pro ($87.20)
Business ($191.20)
3. Social Pilot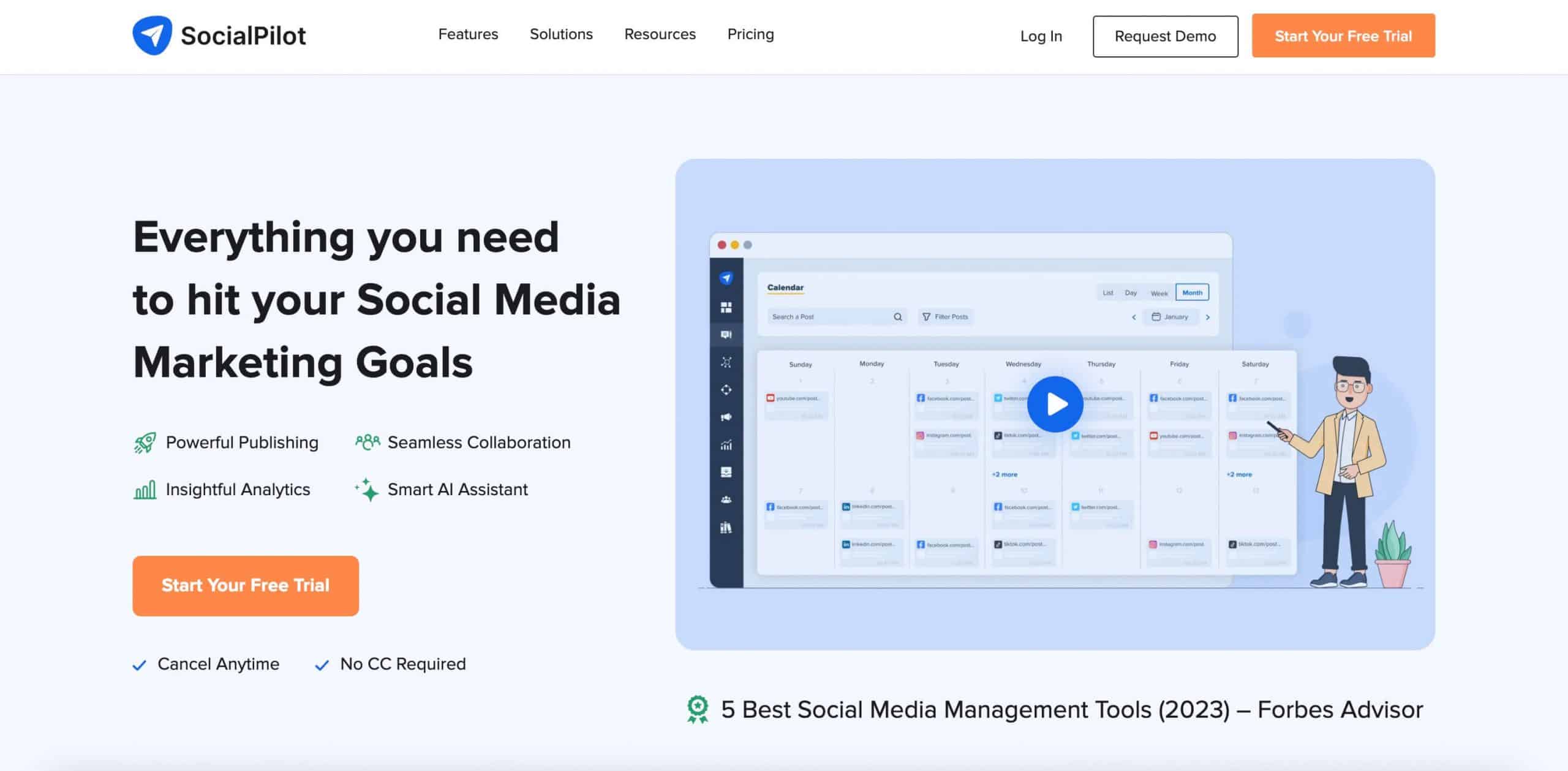 Social Pilot revolutionizes social media strategy as a white label software, especially for those seeking a comprehensive social media management tool. It streamlines posting across platforms, making it a hit with agencies handling multiple client accounts. Its ease of use and efficiency explain its popularity among social media professionals.
Key Features:
Social Media Calendar
AI Assistant
Team Management
Advanced Reports
Bulk Scheduling
Content Library
Client Management
Approvals On-The-Go
Integrations
Pricing & Plans:
Professional ($30)
Small Team ($50)
Agency ($100)
Agency+ ($200)
4. OptinMoster
Optinmoster is a white label software specializing in lead generation, aiding online businesses to expand their email lists and drive sales. It's particularly beneficial for marketers aiming to engage website visitors with targeted calls to action.
Key Features:
Drag and Drop Builder
Campaign Type Selector & Triggers
Analytics and User Behavior
Targeted Campaigns
Seamless Integration
Conversion Analytics
A/B Testing
Real-Time Behavior Automation
Pricing & Plans:
Basic ($16)
Plus ($22)
Pro ($69)
Growth ($99)
5. Vendasta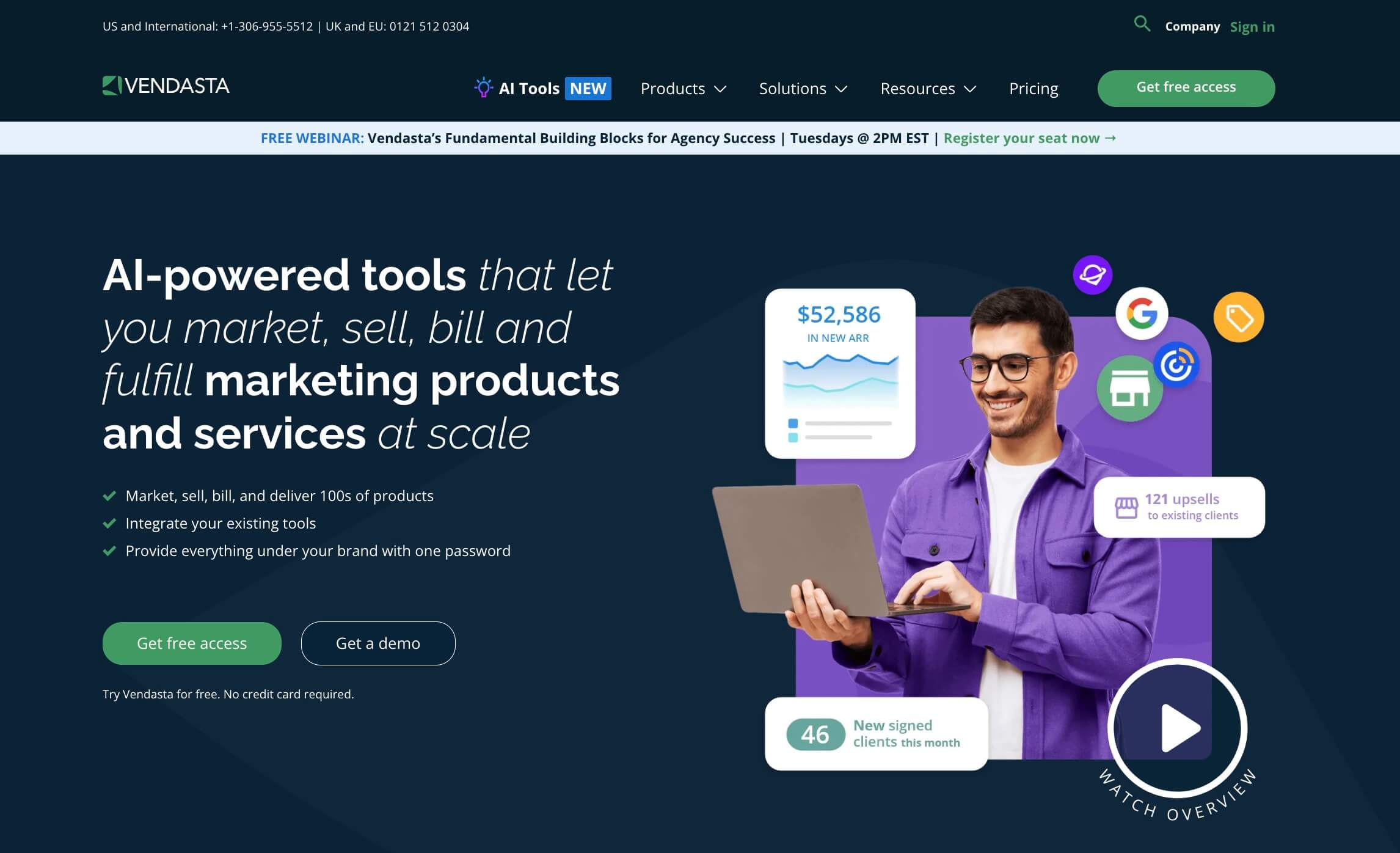 Vendasta emerges as a robust white label marketing service, offering a full suite for sales and marketing support. Agencies and media companies use it to deliver digital solutions to SMBs under their brand. Its popularity springs from a unified approach to managing multiple services, making it indispensable for sales and marketing support.
Key Features:
Agency Management Software
Client-Specific Insights
Project Management Tools
Billing and Payments
Sales CRM
Marketing Automation
In-Platform Chat
Pricing & Plans:
Starter ($99)
Professional ($649)
Premium ($1,279)
Enterprise (Contact Sales)
6. Invoice Ninja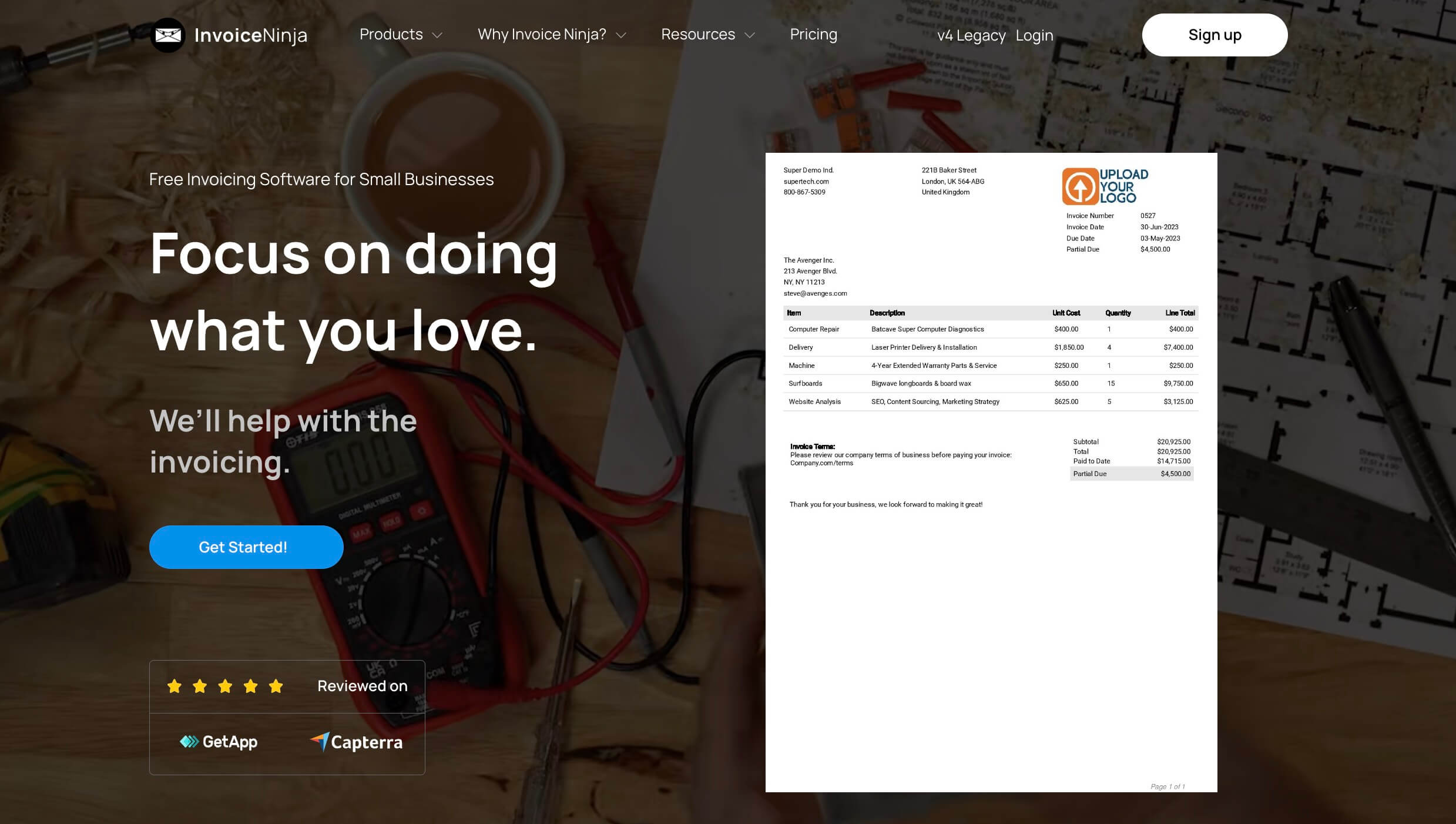 Invoice Ninja is a white label marketing software tailored for invoicing and payment management. It's designed for freelancers and small business owners looking for a professional billing solution. Users adore its ease of creating and sending branded invoices, making it a hit for those who value efficiency and professionalism in their financial interactions.
Key Features:
Invoicing, Quotes, and Payments
Vendor & Purchase Management
Project and Task Management
Expense and Time-Tracking
Dynamic Dashboards
Pricing & Plans:
Free
Ninja Pro ($10)
Enterprise ($14)
7. ActiveCampaign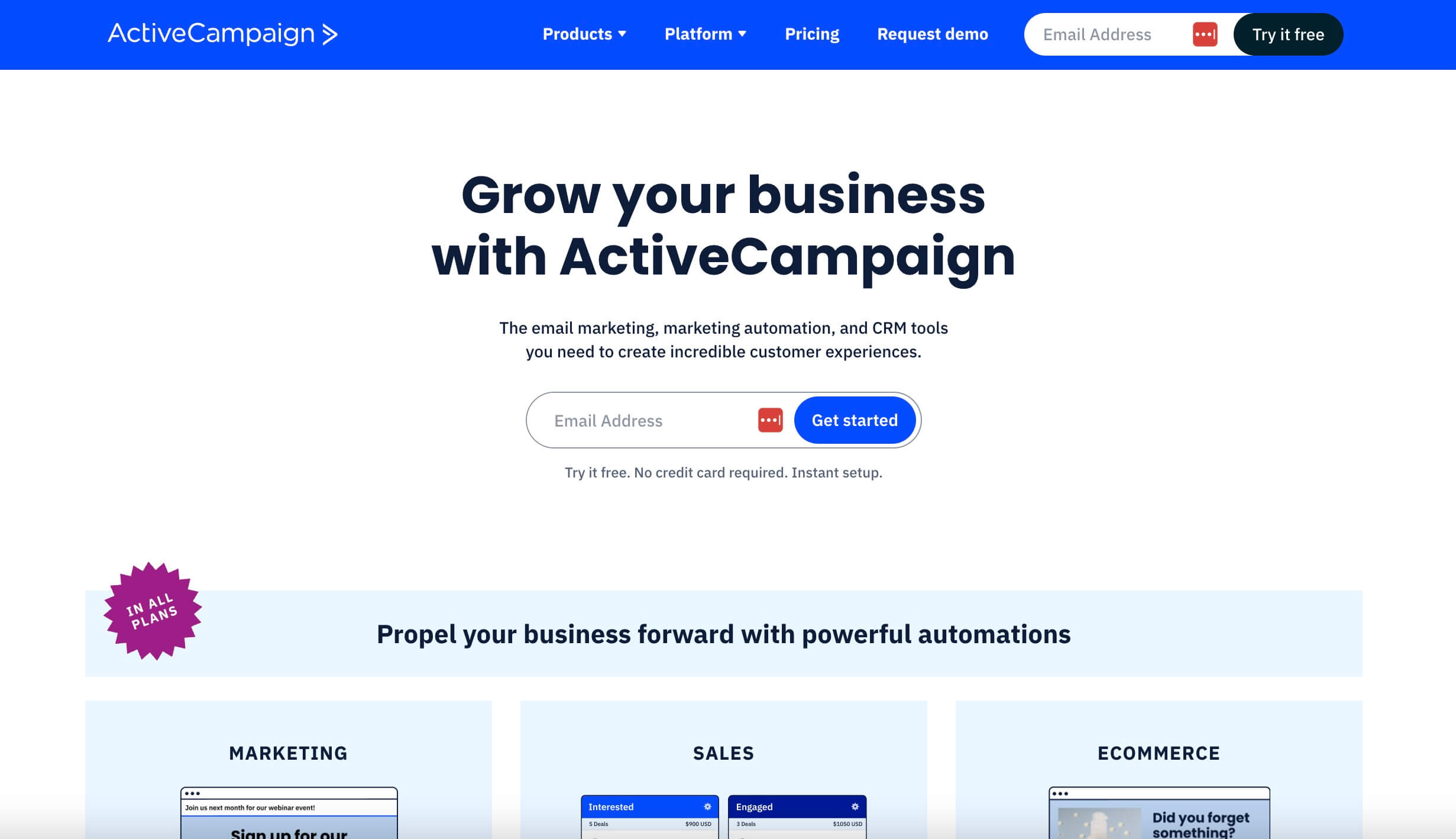 ActiveCampaign is a white label email marketing product. It's a boon for businesses that want to automate their marketing campaigns without losing a personal touch. Its popularity stems from its ability to connect various marketing channels and automate interactions.
Key Features:
Customer Experience Automation
Apps & Integrations
Artificial Intelligence
Custom Objects
Developer Resources
Mobile App
Pricing & Plans:
Lite ($29)
Plus ($49)
Professional ($149)
Enterprise (Contact Sales)
8. Constant Content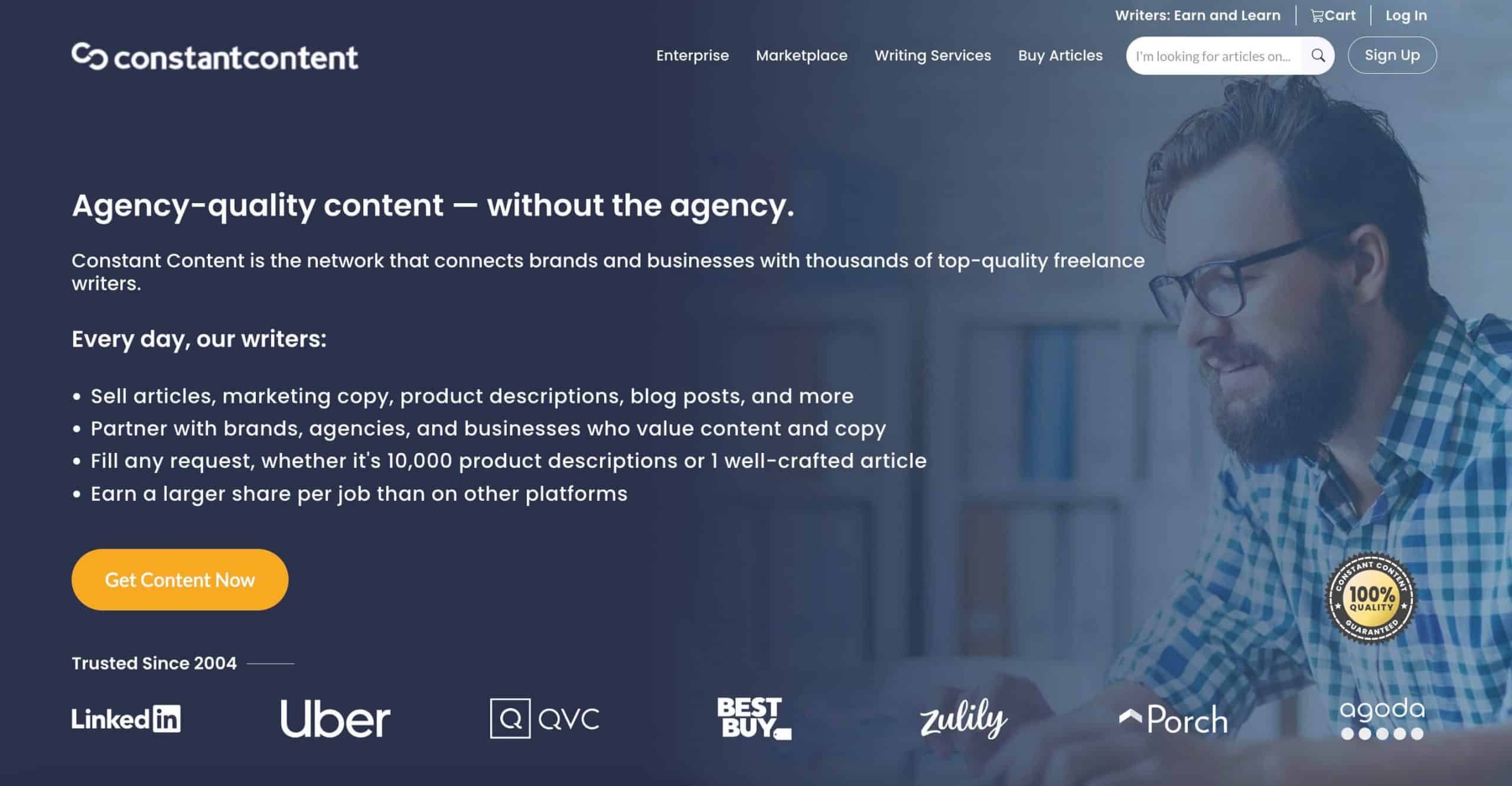 Constant Content streamlines content marketing with a platform that connects businesses with freelance writers. It's widely used by companies looking to tailor their content to specific needs. The service offers both ready-to-use and custom content for robust marketing strategies.
Key Features:
Content Publisher
Version Control
Email Integration
Task Management
PDF/Data Export
Pricing & Plans:
Catalog Article($40 per order)
Custom Content ($120 per order)
9. Landingi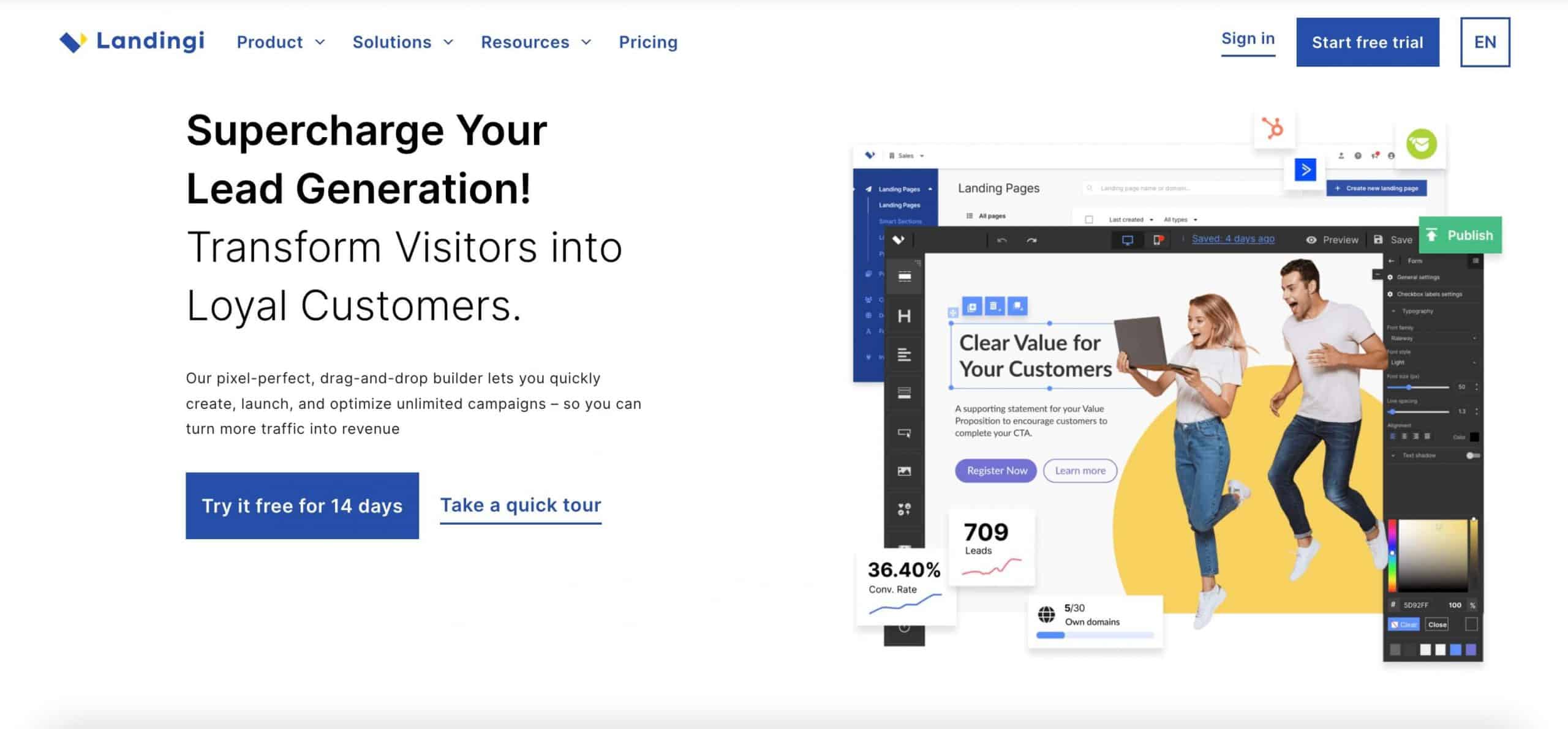 Landingi is a dynamic white label landing page builder that helps marketers craft, launch, and optimize campaigns easily. The platform is a boon for those aiming to increase conversions through stunning landing pages known for user-friendly design features and templates.
Key Features:
Landing Page Builder
Drag & Drop Editor
Templates
Smart Sections
Responsive Web Design
Custom HTML/CSS
Publishing Options
Scheduler
Pricing & Plans:
Lite ($29)
Professional ($49)
Agency ($149)
Unlimited ($1,000)
10. Weblium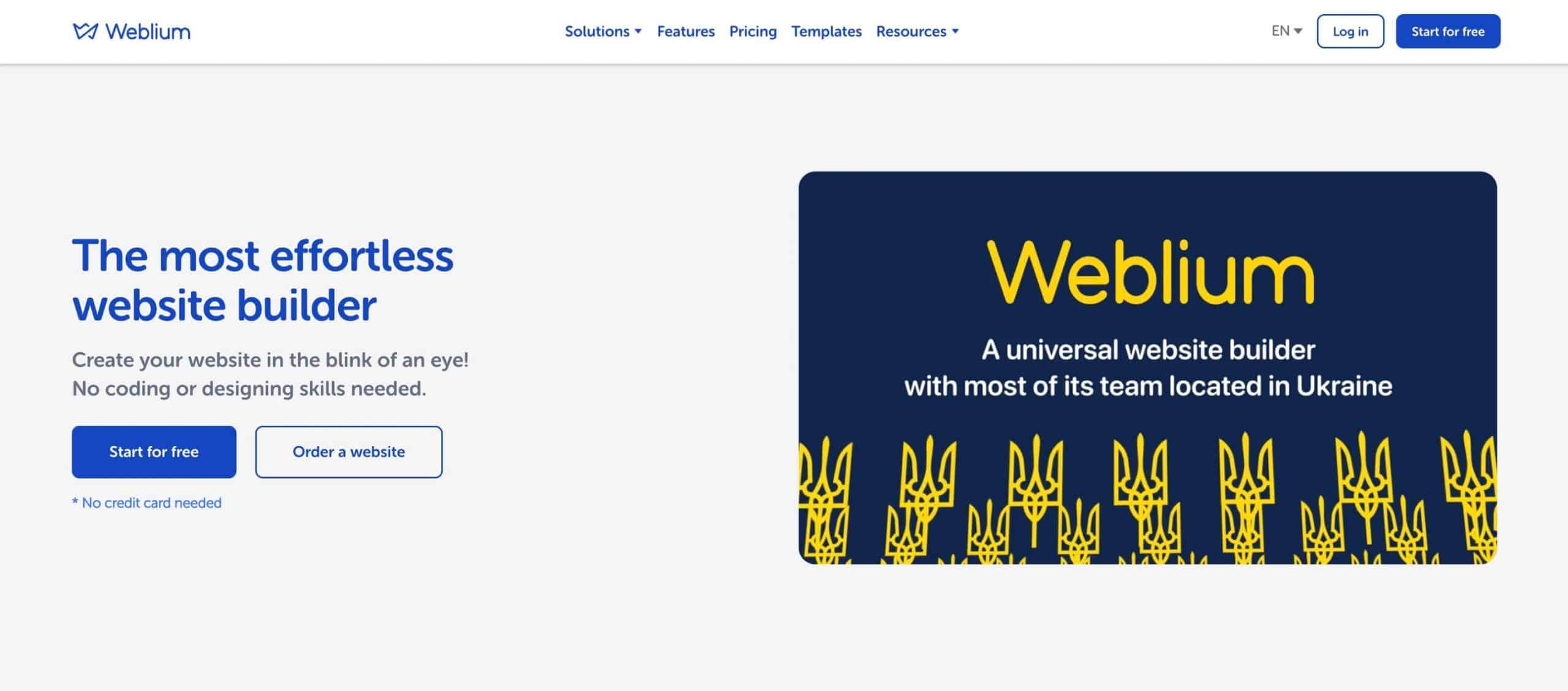 Weblium is a versatile white label website builder that caters to anyone needing an online presence. With its user-friendly platform, it simplifies creating anything from landing pages to online stores. Its popularity is due to its ease of use, professional design templates, and comprehensive tools.
Key Features:
Ready-made Templates and Blocks
Marketing Automation
Online Store
CRM & SEO
Pricing & Plans:
Free
Pro ($15)
Studio (from $250)
Frequently Asked Questions
Is data security ensured in white-label marketing software?
Data security can vary depending on the provider. Companies should scrutinize the security protocols to ensure the safety of data while they use the software. It is essential to engage with reputable providers who prioritize data security within their software solutions.
Is white-label marketing software suitable for businesses of all sizes?
White-label digital solutions work for businesses of all sizes, especially when providers offer tailored services. Digital agencies, in particular, can expand their services while maintaining consistent branding by using white-label solutions to offer software under a client's brand.
What are the costs associated with white-label marketing software?
White label products have diverse costs depending on the SaaS provider. This includes setup fees, subscription fees, and revenue sharing. Companies must understand the pricing structure and ensure it aligns with their budget and objectives.
Summary
Thank you for joining us as we explore various white label marketing software. We hope you've found the perfect marketing tool to cater to your unique needs, one that simplifies client management and automates your marketing strategies with precision and ease.
Ahsuite stands out as a comprehensive solution, offering a range of white label marketing tools for agencies. It's an all-in-one platform that can redefine how you use white label marketing with its client portals and team collaboration tools.
Curious to see how Ahsuite can transform your agency's approach? We encourage you to explore the Ahsuite Agency plan. It's an opportunity to experience firsthand the best white label SaaS solution for complete marketing and client management optimization.