In the realm of project management tools, Airtable has gained popularity for its user-friendly interface reminiscent of spreadsheets like Excel or Google Sheets. While it provides a familiar layout for businesses comfortable with such tracking methods, it does have its limitations. The structured, spreadsheet-style views may pose challenges for scaling your company, and the software might lack some features present in alternative options.
If you find Airtable's constraints limiting your business goals, fret not. In this article, we explore several noteworthy alternatives tailored to enhance your project management experience. Whether you're drawn to the spreadsheet functionality similar to Airtable, there are viable options to elevate your business processes. Join us as we delve into the landscape of Airtable alternatives, each with its unique strengths to help you manage projects more efficiently.
What is Airtable?
Airtable is known for its visually appealing and user-friendly spreadsheet interface. This relational database and PM tool is a no-code database, combining spreadsheet and project management functions to allow real-time collaboration and task management customization.
The platform not only incorporates automation but also guarantees centralized management of data. Users can start immediately with its ready-to-use templates for various use cases. It also has multiple views, including Gantt charts and Kanban boards for different PM styles.
This software has been widely used in different industry verticals, from marketing teams organizing campaigns to HR departments managing employee data. Its flexibility and collaborative features make it a go-to for sales teams tracking deals, content operations organizing editorial calendars, and finance departments managing budgets and expenses.
Pros:
Has freemium options after the 14-day free trial.
Affordable paid plans for smaller teams.
Visually appealing, user-friendly interface.
Offers easy-to-setup templates.
Enables real-time collaboration.
Features customizable task management.
Integrates a wide range of automation capabilities.
Adaptable to various project needs.
Centralizes data management effectively.
Provides multiple, intuitive views (Grid, Calendar, Gallery, Kanban, and Gantt)
Cons:
Limited customization on the free plan.
Gantt tools require premium accounts.
Advanced features may be challenging to use.
Limited mobile functionality.
Beginners may face a learning curve.
The mobile experience could be improved.
Permission is rigid and challenging to customize.
Stacking price may hinder scalability.
Workspace logic can be costly for Enterprise Plan.
Has 500 fields per base, even on the highest Airtable plan.
Plans & Pricing:
Free
Team ($20)
Business ($45)
Enterprise Scale (Contact Sales)
11 Best Airtable Alternatives in 2024
Explore the best Airtable alternatives in 2024, offering innovative solutions for streamlined data management and collaboration.
Notion – Best for all-in-one workspace
Smartsheet – Best for spreadsheet-based project management
Coda – Best for document-driven collaboration
ClickUp – Best for project views and core PM features
Stackby – Best for database and workflow creation
Zoho Projects – Best for comprehensive planning and tracking
Fusioo – Best for automation features
Podio – Best for app-based project management
Quip – Best for focused and straightforward collaboration
Basecamp – Best for ease of use 
Ahsuite – best for client management

1. Notion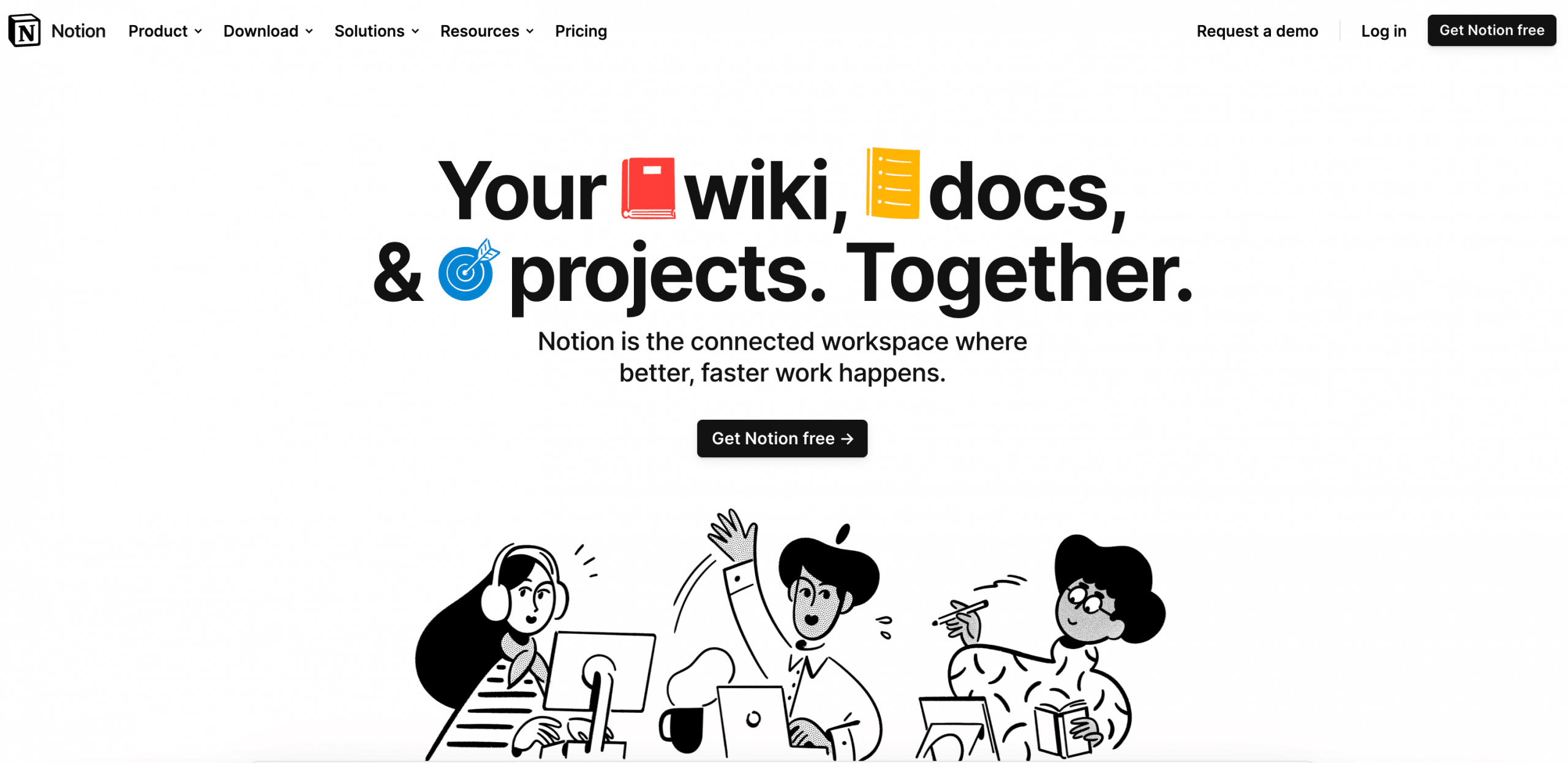 Notion is known as an all-encompassing workspace because it combines various tools and functions into a single platform. This tool provides multiple views for project visualization, to-do lists for task management, custom labels, and tags for data categorization. Teams can enjoy live collaboration through comments, mentions, and admin features.
Like Airtable, Notion provides a user-friendly spreadsheet-like interface while not compromising project management features like filtering and sorting. You can customize your views, properties, and tasks to visualize where you are in your projects and what's working correctly.
Pros:
User-friendly with powerful features.
Robust universal search and navigation capabilities.
Efficient collaboration and notification management.
Integration with popular apps like Slack, Google Drive, and more.
Comprehensive task and data management.
Cons:
Limited integrations for niche apps.
Has a big learning curve for advanced features.
The mobile version lacks some functionalities.
Limited templates for specific industries.
Plans & Pricing:
Free
Plus ($8)
Business ($15)
Enterprise (Contact Sales)
Related: 11 Best Notion Alternatives
2. Smartsheet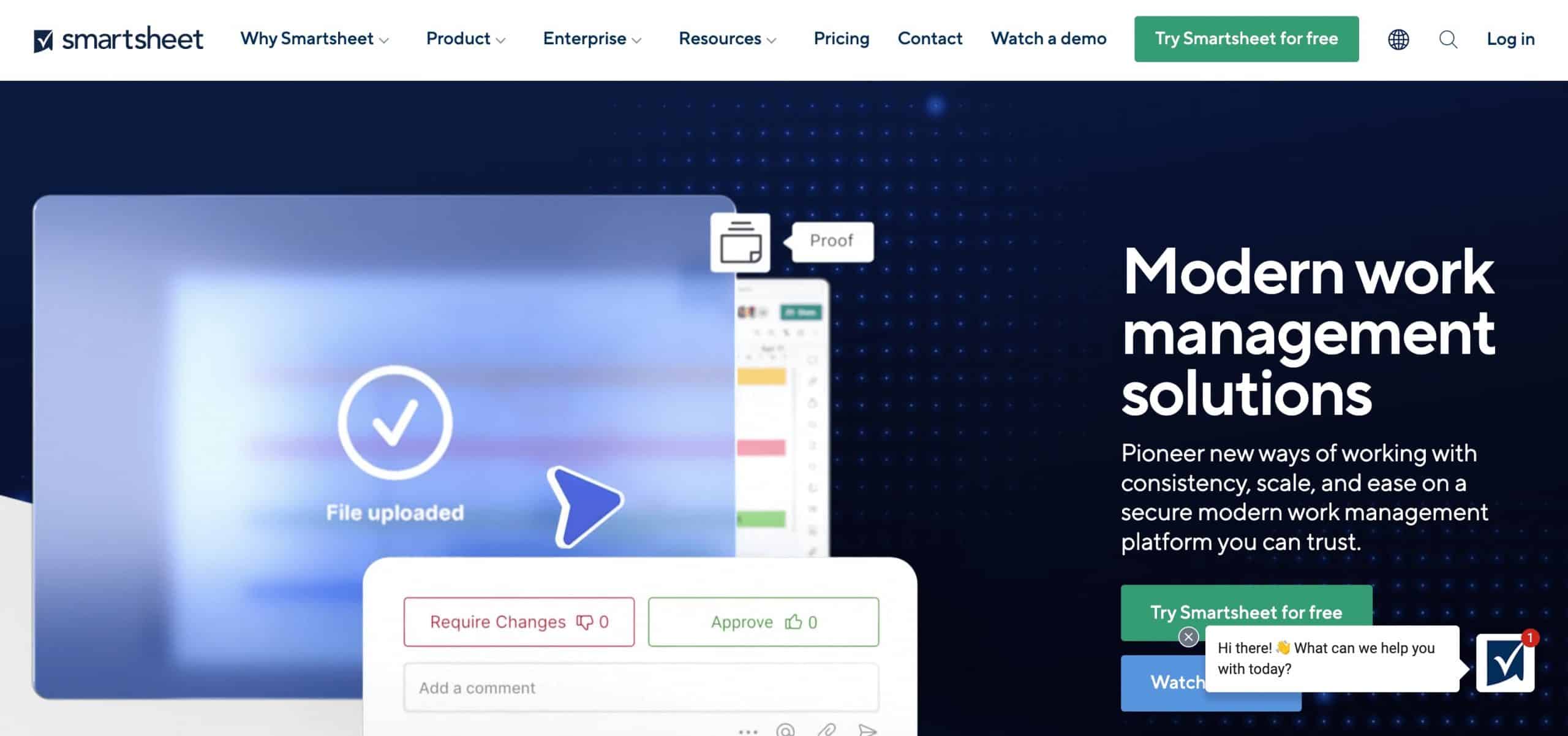 Smartsheet offers a sleek, user-friendly interface with wide-ranging features accessible through multiple views, well-designed collaboration tools, templates, and dashboards in a spreadsheet environment. It provides project managers and business owners with a versatile tool for meticulous planning and tracking.
Like Airtable, Smartsheet shines particularly for those accustomed to spreadsheet navigation. It offers robust features while providing advanced, built-in resource and document management tools. Its collaborative features, such as shareable sheets, can enhance team synergy, making it a potent tool for detailed, coordinated oversight.
Pros:
Familiar, simple user interface.
Compelling team collaboration features.
User-friendly mobile application.
Advanced security features are available.
Seamless Google Apps integration.
Cons:
Hard-to-use project report system.
Lacks real-time communication features.
No free version is available.
Absent native time tracking.
Limited pre-built templates.
Plans & Pricing:
Free
Pro ($7)
Business ($25)
Enterprise (Contact Sales)
Related: 10 Best Smartsheet Alternatives
3. Coda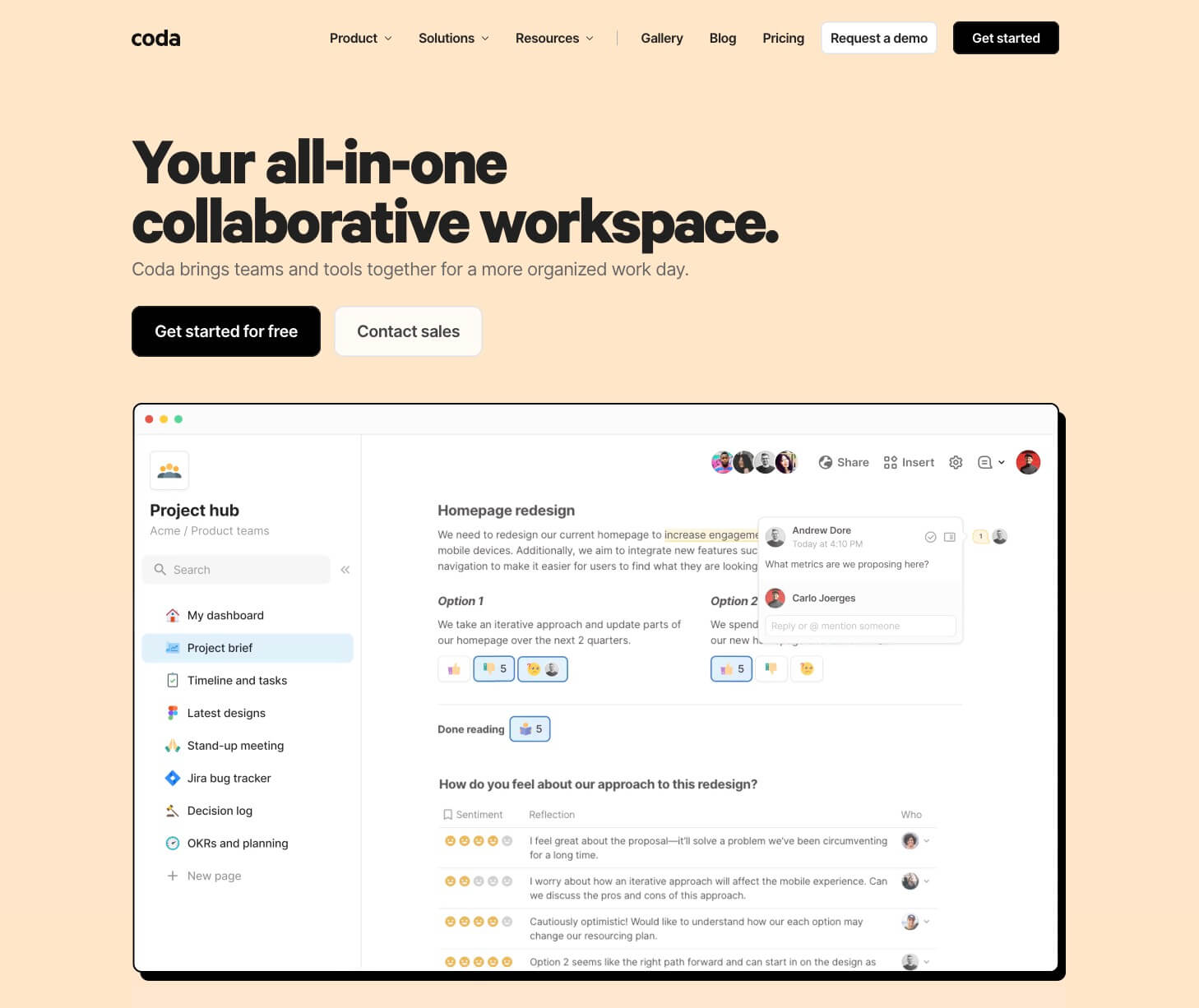 Coda is a popular tool for document collaboration, allowing businesses to create and manage text documents and spreadsheets easily. Its templates make it easy to personalize documents and initiate successful information sharing. This unified approach is crucial for document-centric collaboration and management.
While both tools aid project management with database management tools and integrations, Coda's robust editing tools make organizing and using documents, tables, and apps accessible. Whereas Airtable is more table-focused and provides easy-to-implement formulas, connectivity, and views to different end users.
Pros:
Comprehensive document management solution.
Customizable templates for varied uses.
Robust editing and collaboration tools.
The main types of views include Table, Cards, Kanban Boards, and Calendar.
Offers a free plan option.
Cons:
Has a steep learning curve for new users.
Limited native integrations compared to Airtable.
The mobile app needs some features for ease of use.
Limited workflow automation capabilities.
Coda has yet to have a large user community and support structure.
Plans & Pricing:
Free
Pro ($10)
Team ($30)
Enterprise (Contact Sales)
4. ClickUp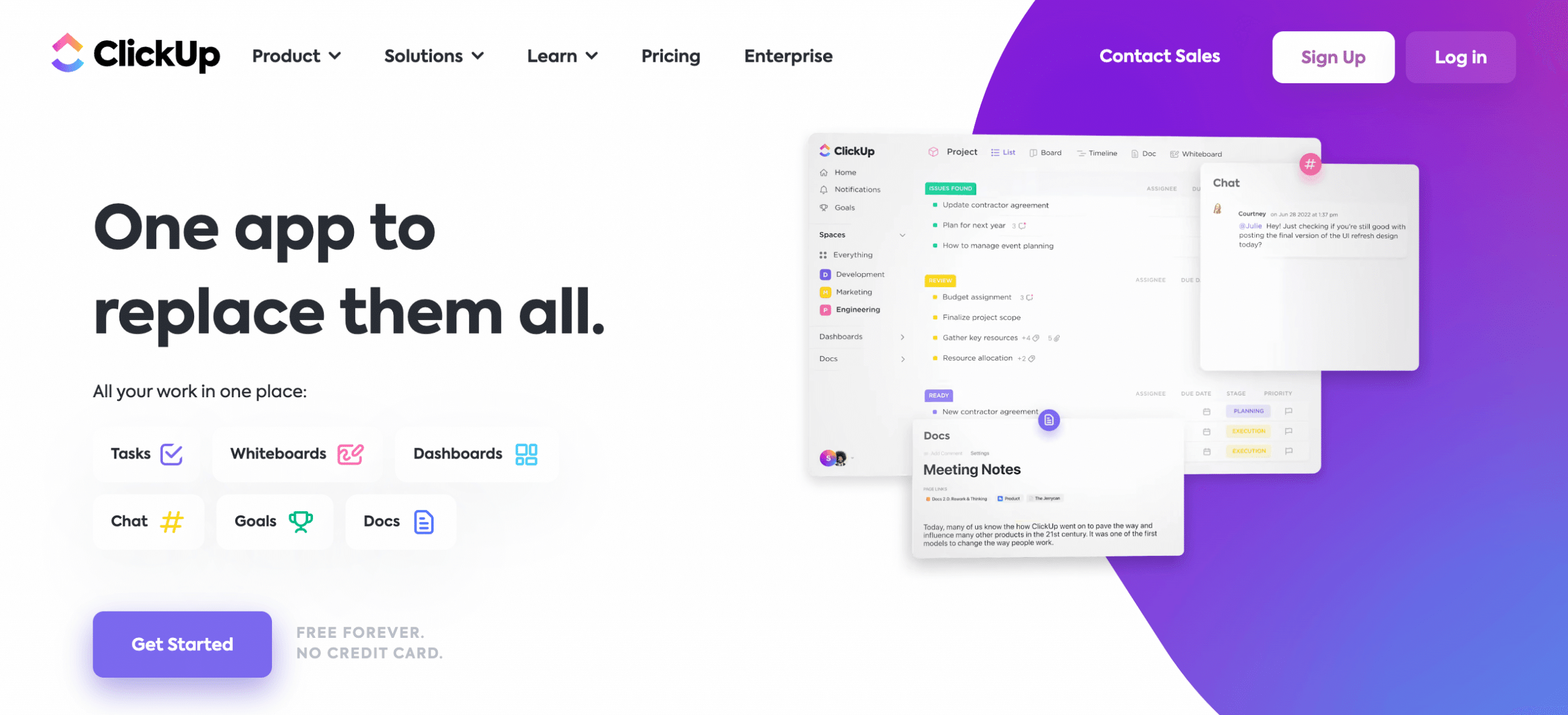 ClickUp excels primarily in task tracking and team collaboration; these features are easier to use compared to Airtable. It brings tasks, tracking, goal setting, and teamwork into one vibrant, user-friendly space. In addition, ClickUp offers more native integration than Airtable, which makes it easier for managers to incorporate all the software they currently use.
As an alternative to Airtable, ClickUp's holistic approach to project management centers around facilitating productivity while ensuring nothing falls through the cracks. Airtable offers highly customizable view options, and ClickUp takes it further by integrating features that unify task management, efficient communication, and documentation into a single platform.
Pros:
Batter task and project management functionalities.
User-friendly with tailored features.
Integrates with popular digital tools.
Offers a generous free plan.
Has a better document management feature.
Cons:
It can be confusing for new users.
Mobile app views are limited.
Some features may be complex.
Advanced features require premium plans.
Plans & Pricing:
Free
Unlimited: $7
Business: $12
Enterprise: Contact Sales
Related: 10 Best ClickUp Alternatives
5. Stackby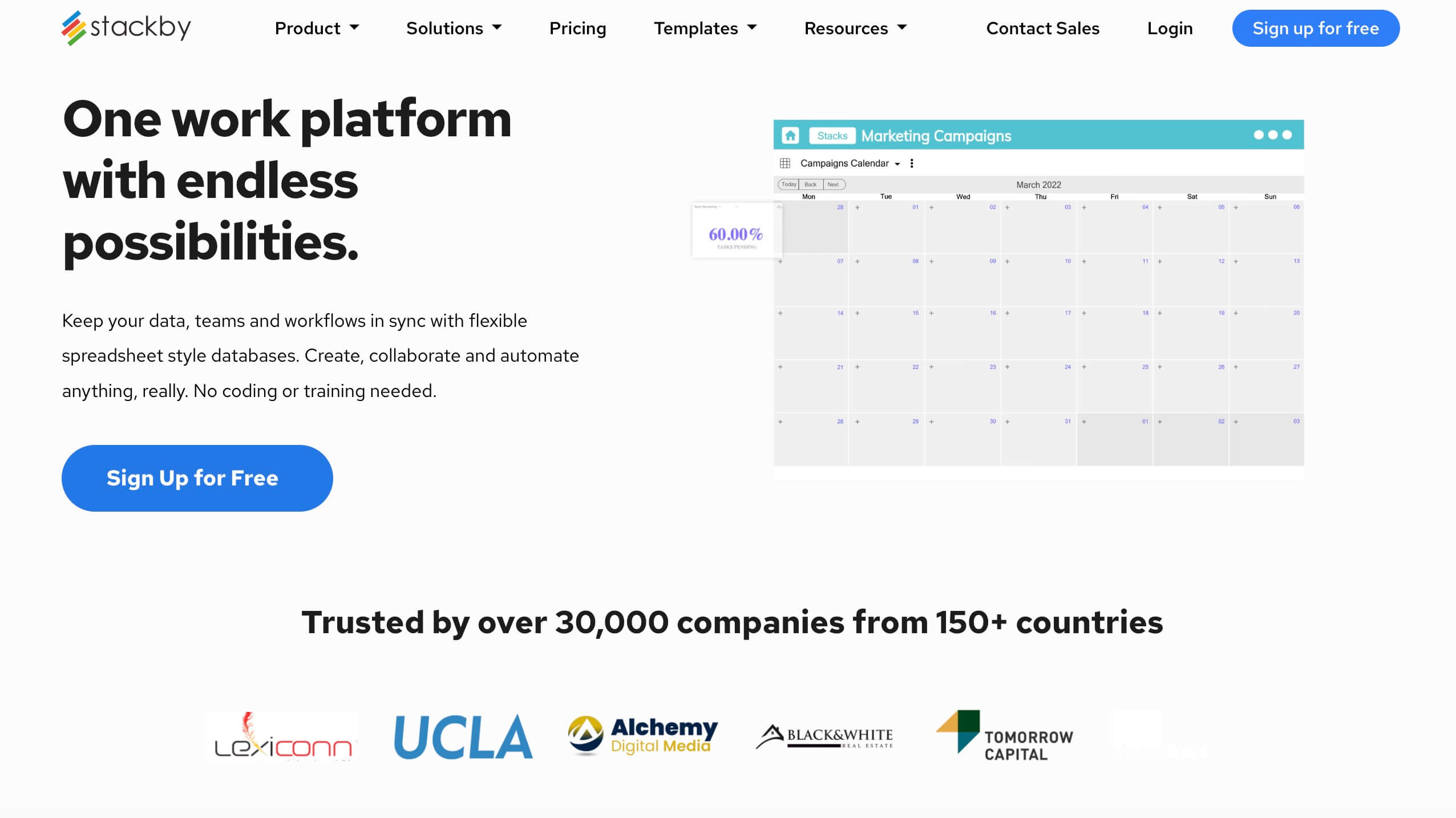 Stackby is known for blending the simplicity of spreadsheets with the power of databases and robust API integrations. It adapts to your workflows to ensure your projects run smoothly without needing a single line of code. In addition, Stackby offers 25 unique column data types, which can help transform a relational database into a full-fledged business solution.
Why consider Stackby as an Airtable alternative? Stackby builds upon the familiar spreadsheet-style interface with enhanced database functionality and integrations with top business APIs like YouTube and Google. Users also love to use the "pre-fill default data" to save time and minimize errors.
Pros:
Customization for various workflows and use cases.
Collaborative editing and information sharing.
Integrates with popular business APIs.
Out-of-the-box apps for reporting dashboards.
Supports detailed database functionality.
Cons:
The learning curve for advanced features.
Needs more industry-specific templates.
Limited third-party integrations are available.
Could use more interactive tutorials.
Some users desire more explicit documentation.
Plans & Pricing:
Free
Personal ($5)
Economy ($9)
Business ($18)
Enterprise (Contact Sales)

6. Zoho Projects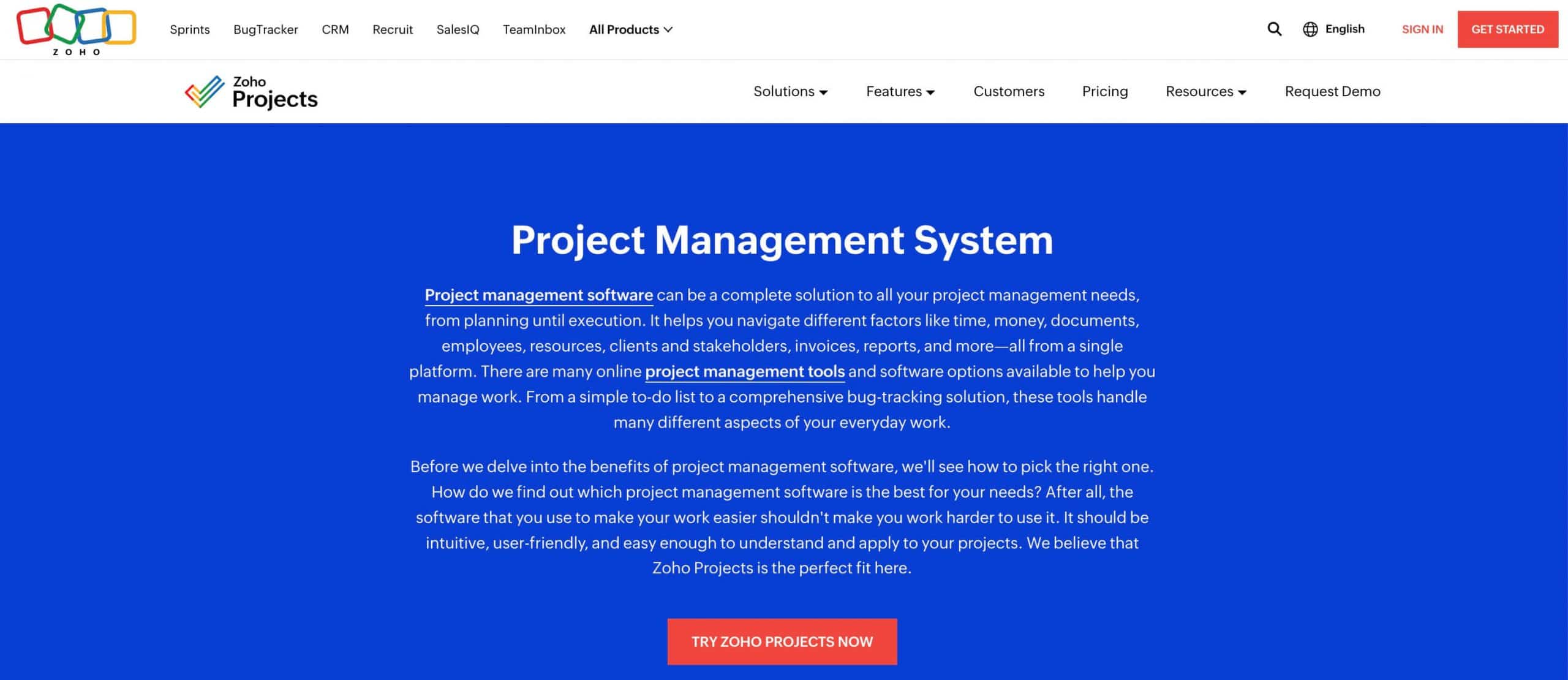 Zoho Projects is highly regarded for its comprehensive planning and tracking capabilities by over 200,000 customers worldwide. It's not just about managing tasks; it's about fostering teamwork, automating workflows, and ensuring every milestone is visibly tracked and achieved, making it a top pick for project managers and business owners.
As an Airtable alternative, Zoho Projects is better for its core PM features, which include time logging, invoicing, budgeting, expense tracking, resource utilization, and dependencies. It also integrates natively with various Zoho, Google, Microsoft, and Slack applications.
Pros:
Comprehensive planning and tracking capabilities.
Robust SLA integration and Critical Path features for complex projects.
Offers top-notch customer service.
Integrates with Zoho suite and Google Apps.
Provides a user-friendly, social-media-like feed.
Cons:
Issues encountered with 2FA setup.
Task assignment visibility can be improved.
Mobile usage requires software installation.
The dashboard design needs to be updated.
Some features may be hard to locate.
Plans & Pricing:
Free
Premium ($5)
Enterprise ($10)
7. Fusioo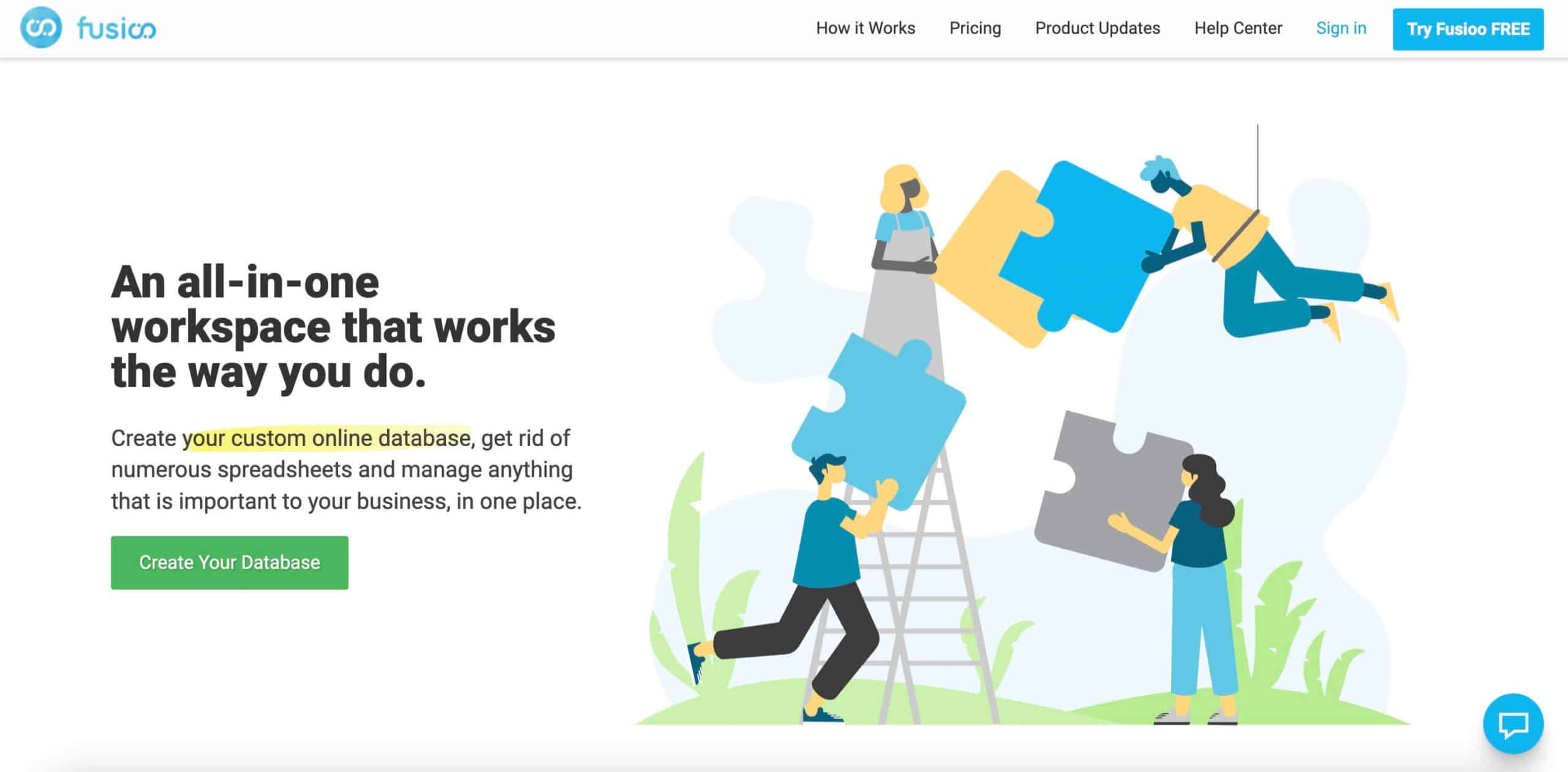 Fusioo, a cloud-based database solution, is making waves among project managers and business owners for its unparalleled customization and robust automation features. This includes a visual workflow builder and trigger-based events. For example, you can trigger workflows once you restore something from recycle bin or if the user has role-based privileges.
As another Airtable alternative, Fusioo steps up the game with its exceptional customization capabilities, allowing teams to create dashboards and templates tailored precisely to their needs. Unlike Airtable, Fusioo offers advanced triggers and actions, eliminating manual work and enhancing workflow efficiency.
Pros:
Exceptional customization of dashboards/templates.
Useful for project management, customer database management, issue tracking, etc.
Advanced ways to automate with triggers/actions.
Easier to use than Airtable, with granular permission control.
Supportive and responsive customer service.
Cons:
Absence of a mobile app.
There is no custom domain option yet.
It can be complex for beginners.
Limited integration options are available.
Some users find Fusioo slow at times.
Plans & Pricing:
Free
Basic (€9)
Standard (€19)
Enterprise (Contact Sales)
8. Podio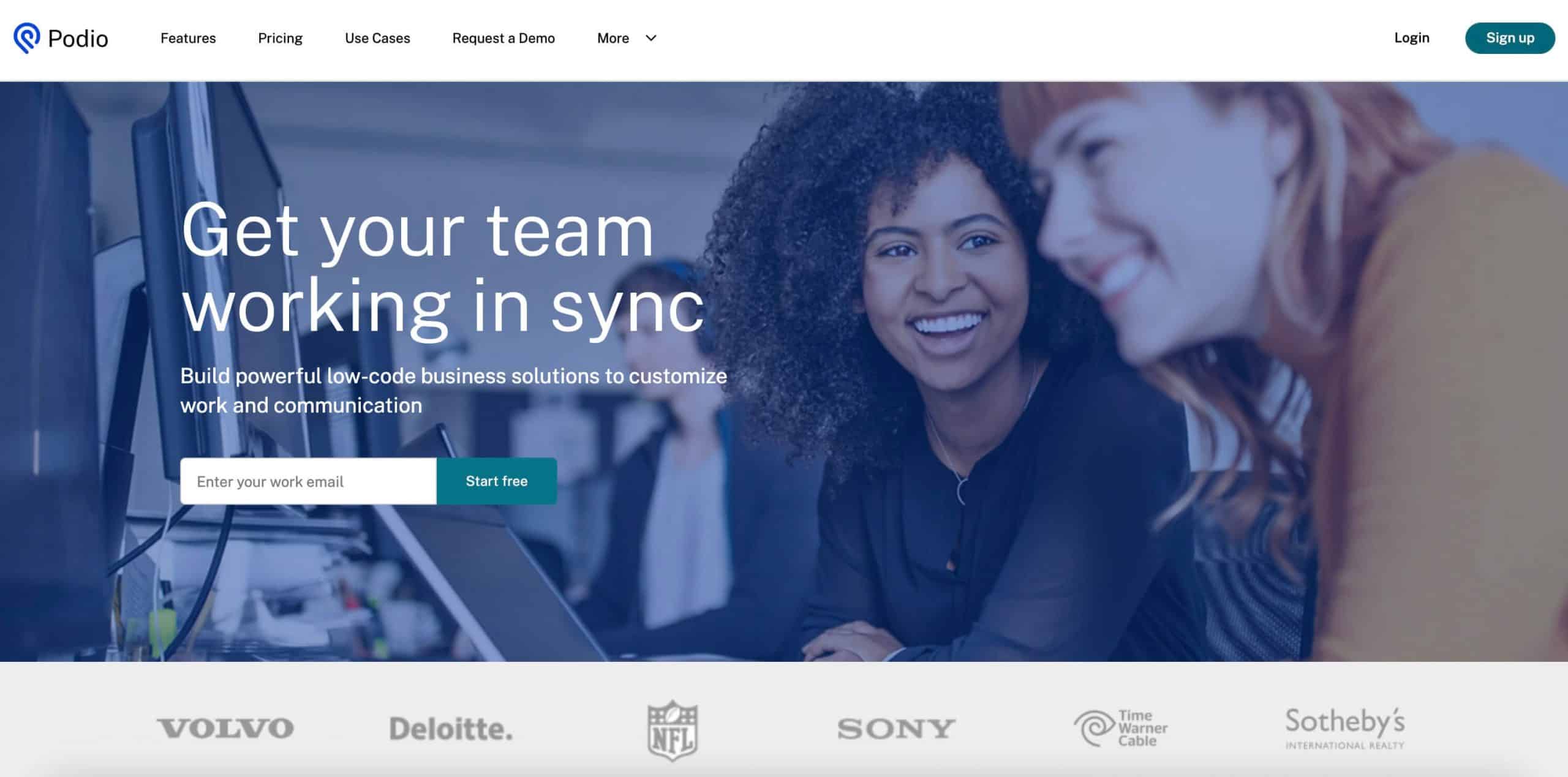 Podio uses an app-based project management approach that focuses on organizing work, tasks, and communication through if-this-then-that logic that can support various apps. Users can also use web forms for collecting structured information or keep up to date with activities through social activity streams. Its features are compatible with Zendesk, Campaign Monitor, Evernote, and Freshbooks.
Why is Podio one of the best Airtable alternatives? While Airtable might offer a rich array of customization, it often comes with a steeper learning curve and potentially higher costs as consultants might be needed. On the other hand, Podio offers a straightforward, user-friendly interface and robust integrations without extensive training.
Pros:
A powerful tool for various departments.
Offers a variety of third-party extensions.
Robust for managing diverse processes.
Enables collaborative work and communication.
Affordable without sacrificing essential features.
Cons:
Limited scalability and linking features.
Customer service experiences vary.
Lacks markup options for attachments.
Integration with other platforms can be challenging.
Reporting and views lack customization.
Plans & Pricing:
Free
Plus ($11.20)
Premium ($19.20)
9. Quip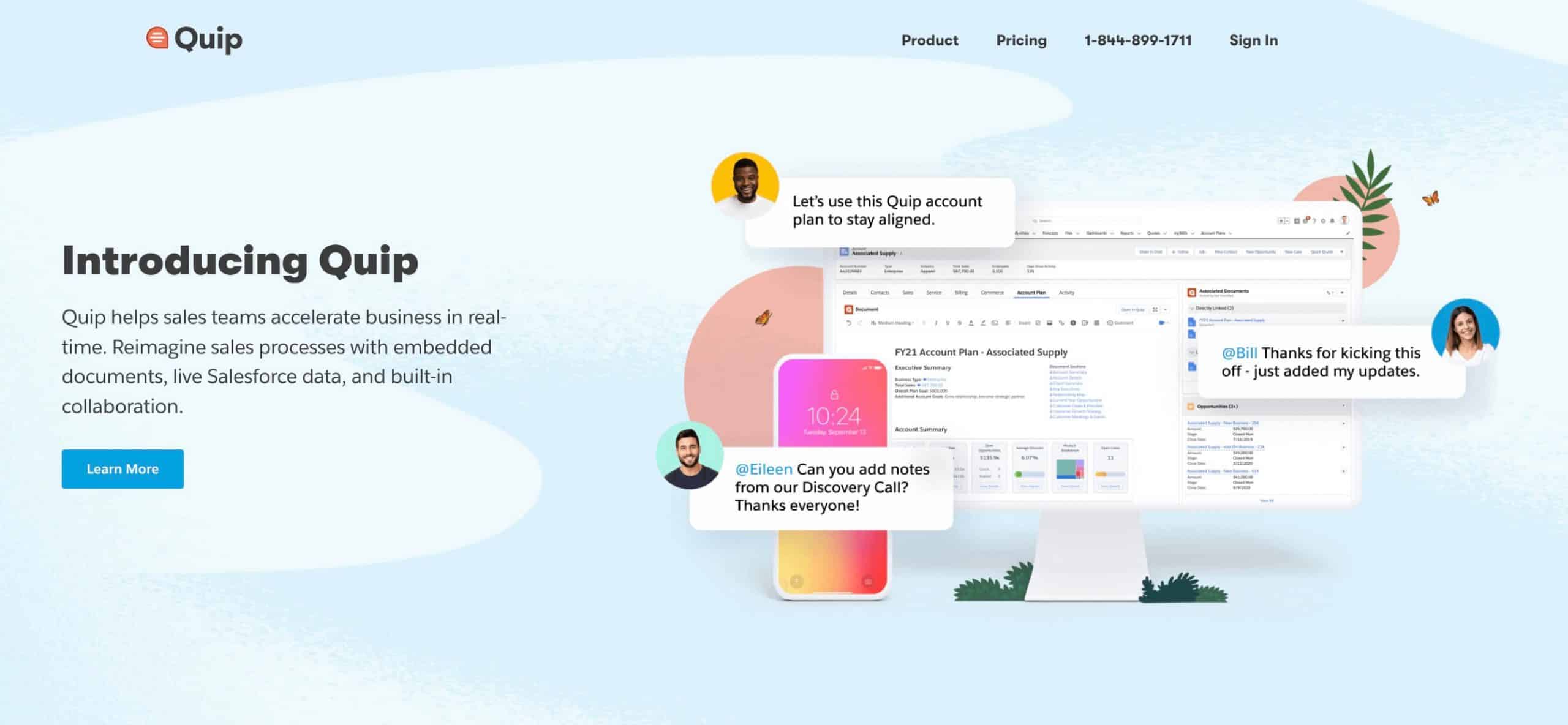 Quip, celebrated for its straightforward and focused collaboration, has become a staple for project managers and business owners who prioritize seamless communication within their teams. It's a unified workspace where documents, spreadsheets, and chat converge to manage projects, tasks, and progress efficiently.
While it may not boast the extensive database customization for tools similar to Airtable, Quip provides a clean, user-friendly interface and essential task features, making it a fantastic alternative for teams who value communication and straightforward collaboration without extensive database functionalities.
Pros:
Flawless viewing with the dark interface.
Excellent communication and collaboration features.
Flexible with various CRM integrations.
Excellent task management alternative.
Noteworthy customer service.
Cons:
Can experience slow or laggy updates.
Limited options within files.
Undo action can be tricky.
Some need clarification on the interface.
Plans & Pricing:
Quip Starter ($10)
Quip Plus ($25)
Quip Advanced ($100)

10. Basecamp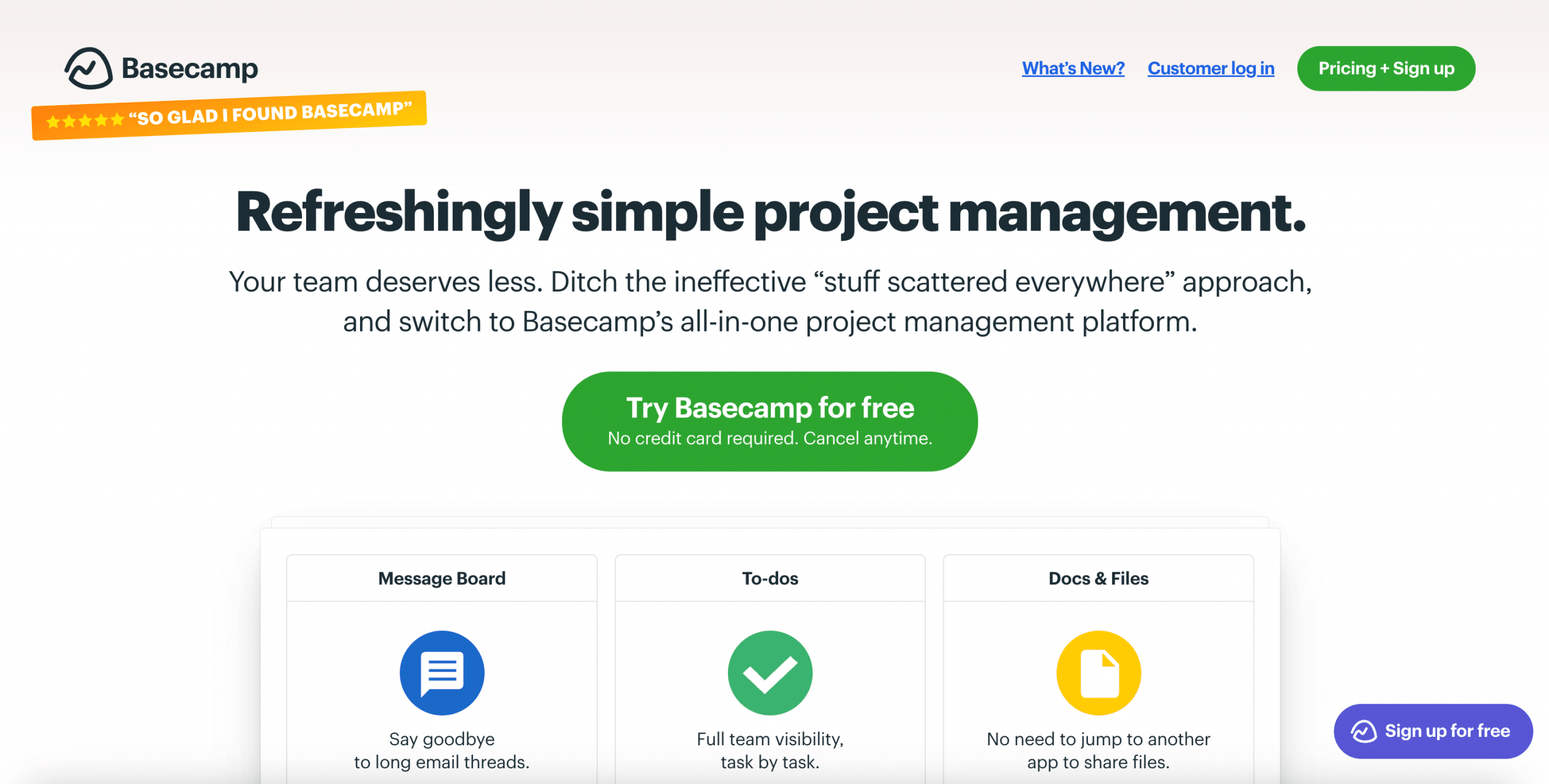 Basecamp offers a suite of tools, including message boards, schedules, to-do lists, group chat, and document storage in a single, unified place. With this approach, Basecamp ensures that every project detail is neatly organized and easily accessible, making it particularly relevant for those who value ease of use in their project management software.
As an alternative to Airtable, Basecamp stands out for its simplicity and flat-rate pricing model, offering unlimited projects without charging per user. While Airtable might offer a more extensive database and customization capabilities, Basecamp provides a straightforward, easy-to-navigate interface that brings all essential project management tools.
Pros:
Flat-rate pricing for unlimited projects.
Intuitive, user-friendly interface.
Comprehensive all-in-one project management tools.
Efficient task assignment and scheduling.
Effective communication via group chat.
Cons:
Limited premium features and customizations.
There is no native time-tracking feature.
App functionality can be restrictive.
Singular project tracking via hill charts.
Plans & Pricing:
Basecamp Pro: $15
Basecamp Pro Unlimited: $349
Related: 10 Best Basecamp Alternatives
11. Ahsuite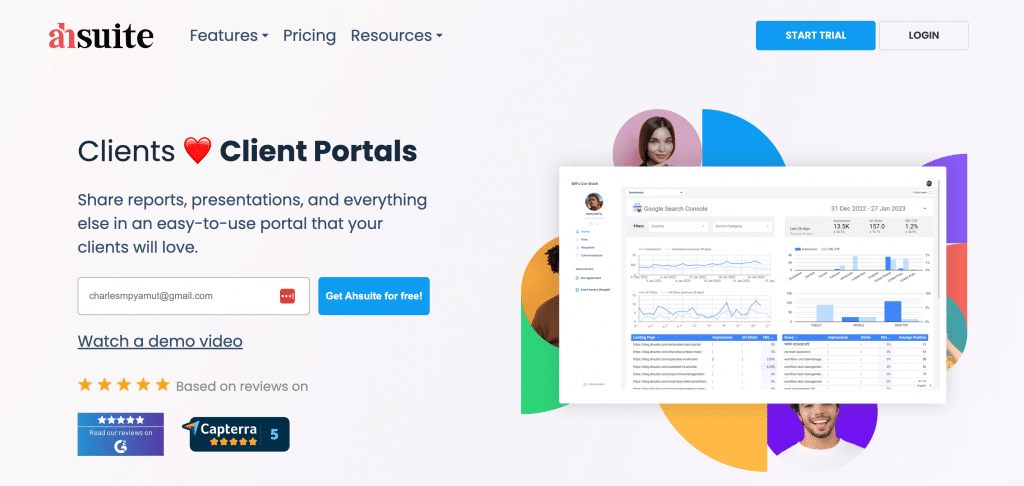 Ahsuite is a sleek, easy-to-use client portal software that aims to improve communication between businesses and their clientele significantly. With its minimalist design, Ahsuite allows the creation of user-friendly portals for sharing various content types, such as reports and presentations, for an organized, secure, and professional interaction space.
Unlike Airtable, Ahsuite focuses on providing a clean, simple client portal where companies can share various content types, manage tasks, and communicate effectively with clients. The platform's ability to embed content, manage files, and facilitate task management, coupled with its minimalist design, ensures that clients can easily navigate and access the information they need without being overwhelmed by complexity.
Pros:
Simplifies client-business communication.
Enables easy content embedding.
Facilitates organized file sharing.
Supports task management functionalities.
Offers secure client portals.
Cons:
Limited to four task dependency levels.
Lacks advanced database features.
You may need more extensive customization options.
Plans & Pricing:
Free Plan
Professional: $24
Agency: $57
Tips for Transitioning to Airtable Alternatives
Switching from Airtable to an alternative project management tool can be smooth if you follow the proper steps. Here are some tips to help you transition effectively:
Evaluate your needs: Assess team requirements and prioritize features like collaboration, customization, task management, and tool integrations.
Research alternatives: Compare features, pricing, and reviews. Also, before switching to a new tool, export your data from Airtable in a compatible format.
Data management: After selecting an alternative, import your data onto the platform using built-in tools or third-party services. Manually recreate views, workflows, or automation from your Airtable base to ensure team continuity.
Train your team: Provide training and resources to help your team members learn how to use the new tool effectively.
Monitor progress: Monitor your team's progress as they adapt to the new platform. Address any issues and provide additional support as needed.
Conclusion
And that's it. We've looked great at Airtable alternatives available with free and premium plans. We hope that you found something worth trying. If not, you can also try open source alternatives such as AppFlowy, Taiga.io, and OpenProject. These might be enough based on your needs without bombing your budget.
Are you coming from Airtable but need to know how to present your neatly organized information? What if you want to avoid trying alternatives to the Airtable database but want to level up your client touchpoints? Consider Ahsuite's minimalistic client portals to provide an organized self-service space for your clients. Sign up for a free-forever Ahsuite Starter plan and get up to 10 client portals. You can also get a 30-day trial for Professional and Agency plans.