In recent years, Notion has risen in popularity, developing a devoted following and becoming a primary tool for productivity and organization worldwide. Its versatility, flexibility, and power contribute to its widespread acclaim.
Nevertheless, Notion might not cater to everyone's needs, leading to the search for alternatives. Whether you seek a Notion-like tool with a distinct pricing approach or different features, numerous options await.
This article delves into some of the best Notion alternatives, aiding you in pinpointing the ideal choice for your requirements.
What is Notion?
Notion provides a comprehensive digital workspace for creativity, task management, and project oversight. It is known for its extensive feature set and collaboration tool, ensuring tasks, notes, to-do lists, and projects find a single, organized home that everyone can use effectively.
This is due to its adaptable features and content-focused interface. Users can mold workflows and templates to fit their needs. The platform allows task management and project oversight on a single page, simplifying progress tracking and deadlines.
Notion offers great knowledge management (like wiki) and project planning features, adeptly handling technical documents, idea pages, and various media content, all while enabling collaboration with individuals inside and outside an organization.
To further differentiate its offerings from notion competitors, the company also launched Notion AI, used for content management, aligning with its standard notes features.
Pros:
Optimal for note-taking and tasks.
Can manage tasks and projects on the same page.
Great for knowledge management and project planning.
Granular permission makes outside collaboration easy.
Available on multiple platforms.
Cons:
Navigation can be complex.
The UI design may appeal to only some.
It's not usable straight out of the box.
The initial use of building blocks can be perplexing.
Project management features are satisfactory at best.
Pricing & Plans:
Free
Plus ($8)
Business ($15)
Enterprise (Contact Sales)
11 Best Notion Alternatives in 2024
Explore the 11 best Notion alternatives in 2024, each offering unique features and functionalities for enhanced productivity and organization.
Coda – Best for integrated document & spreadsheet functionality
ClickUp – Best for all-in-one project management
Nuclino – Best for performance & ease of use
Obsidian – Best for local knowledge base management
Monday.com – Best for visual project planning
Asana – Best for goal tracking and task management
Basecamp – Best for remote team collaboration
ProofHub – Best for time tracking and collaboration
nTask – Best for issue tracking and task management
Confluence – Best for fast performance
Ahsuite – Best for client management
1. Coda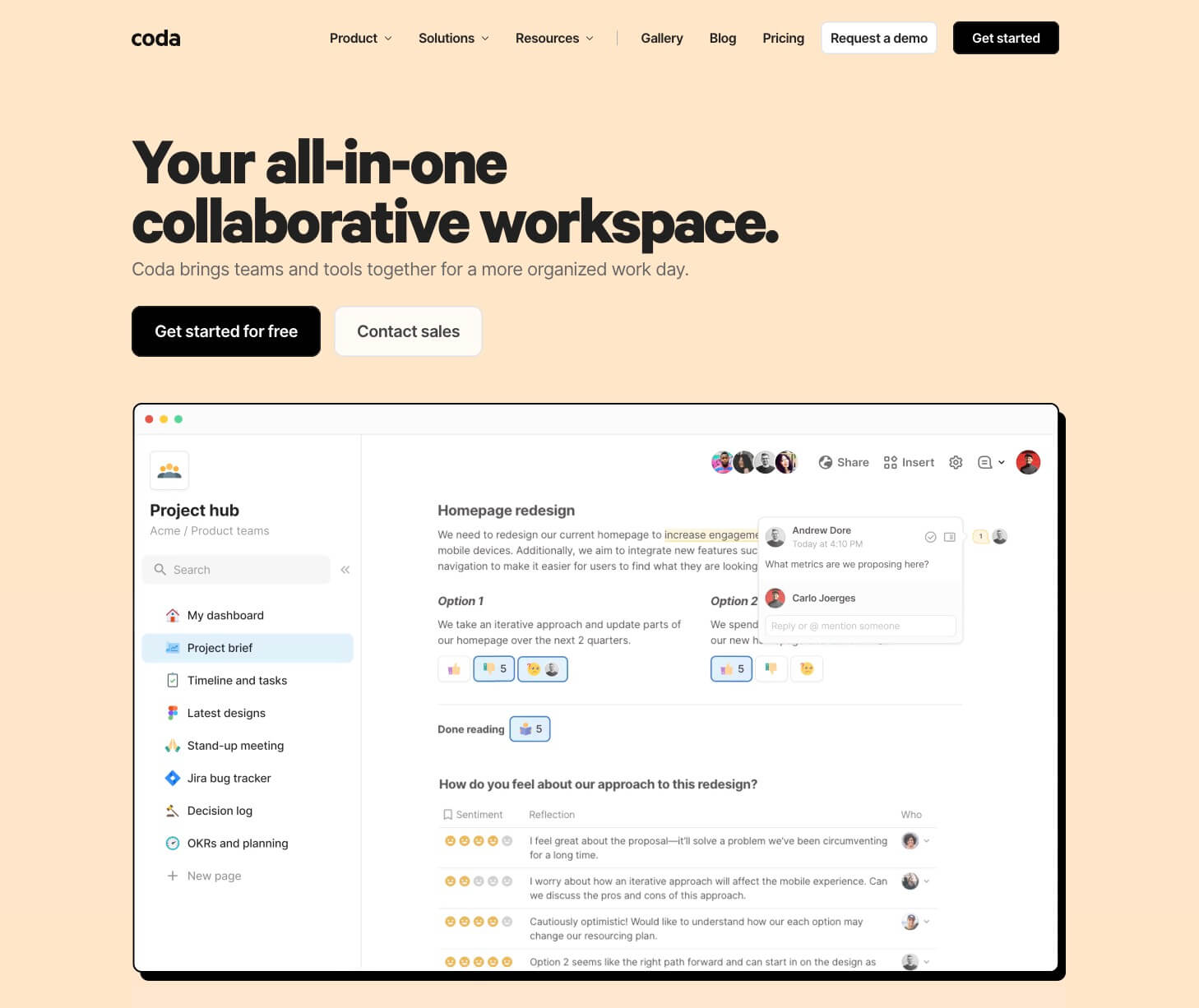 Coda is a tool where document and spreadsheet functions live in harmonious integration. This platform might not be a traditional project management tool, but users can integrate database formulas and automate workflows for managing complex data.
Like Notion, Coda integrates document creation and spreadsheet functionality into one platform. However, Coda's databases or "tables" are more powerful and flexible than Notion's. Integrating forms on websites and synchronizing them with various databases is possible.
Coda integrates with 1000+ third-party apps like Pinterest, Jira, Slack, and HubSpot. It also offers unlimited Editor and Viewer users and advanced automation features. It's easy to set up and use through pre-configured packs and API.
Pros:
Offers robust and flexible databases.
Delivers regular, consistent feature updates.
Unlimited Editor and Viewer users.
Has a wide array of integrations.
Has advanced automation capabilities.
Cons:
It may have a steep learning curve.
It can be complex for less technical users.
Some find integrations limited.
The mobile app lacks core features.
It might freeze while loading large databases.
Plans & Pricing:
Free
Pro ($10)
Team ($30)
Enterprise (Contact Sales)

2. ClickUp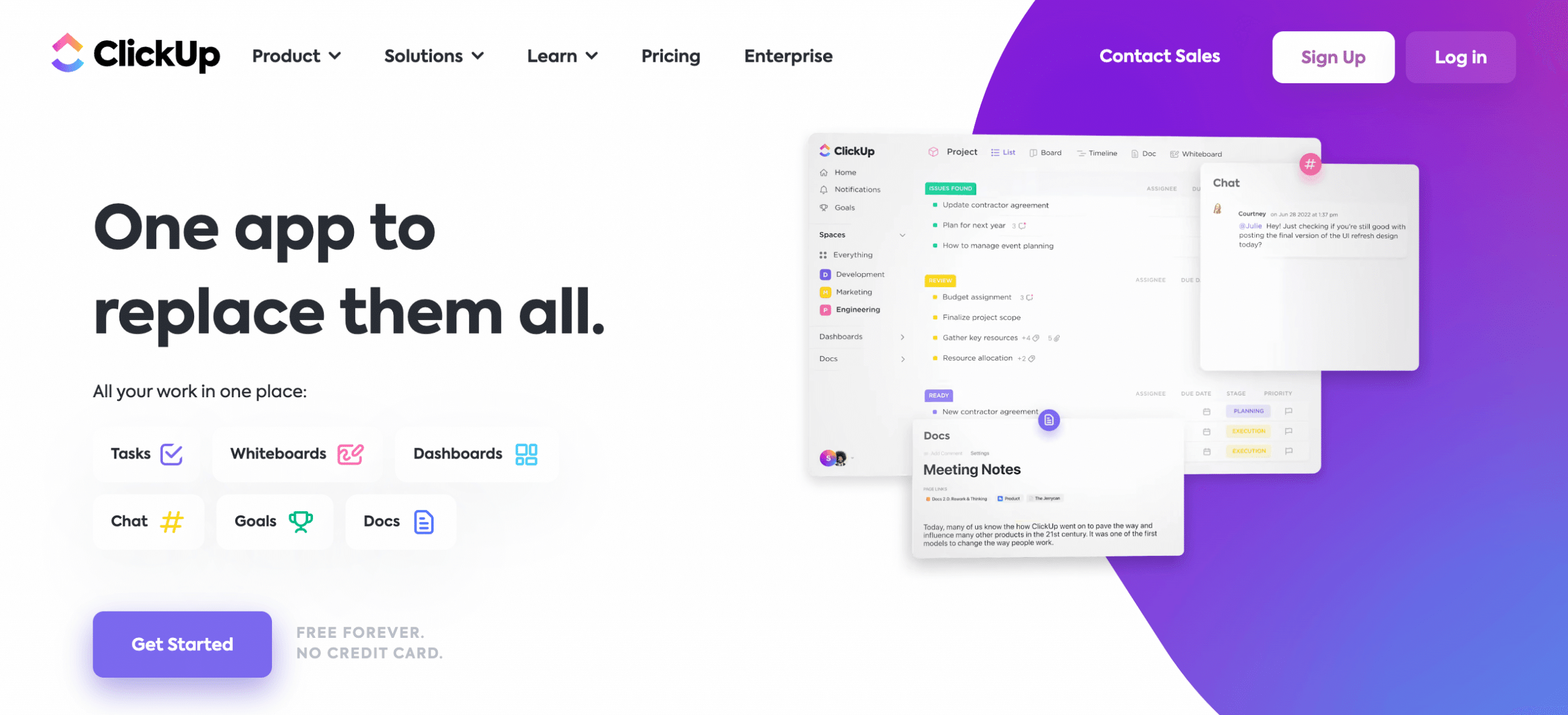 ClickUp provides a unified platform for task management and team collaboration. It offers advanced features, including calendars, time tracking, screen recording, instant messaging, and more. ClickUp provides a free version specifically designed for SMEs.
What makes ClickUp a good alternative to Notion? ClickUp offers extensive features like calendars, time tracking, and instant messaging in one place. It allows custom dashboards, easy metric tracking, and detailed user roles and is budget-friendly for small teams.
ClickUp is a great Notion alternative because it breaks down work silos, offering a central hub for various tasks and collaborative tools. In addition, ClickUp is known for adding new features regularly, including the recent rollout of docs and dashboards.
Pros:
It offers a robust, feature-rich free plan.
Unlimited access to Gantt charts.
Real-time chat/messaging functions.
Easy setup of automation.
Smooth migration from Trello.
Cons:
Can experience occasional delays.
Unwanted, irritating reminders.
Email replies need some improvement.
Some find the app glitchy.
Plans & Pricing:
Free
Unlimited: $7
Business: $12
Enterprise: Contact Sales
Related: 10 Best ClickUp Alternatives
3. Nuclino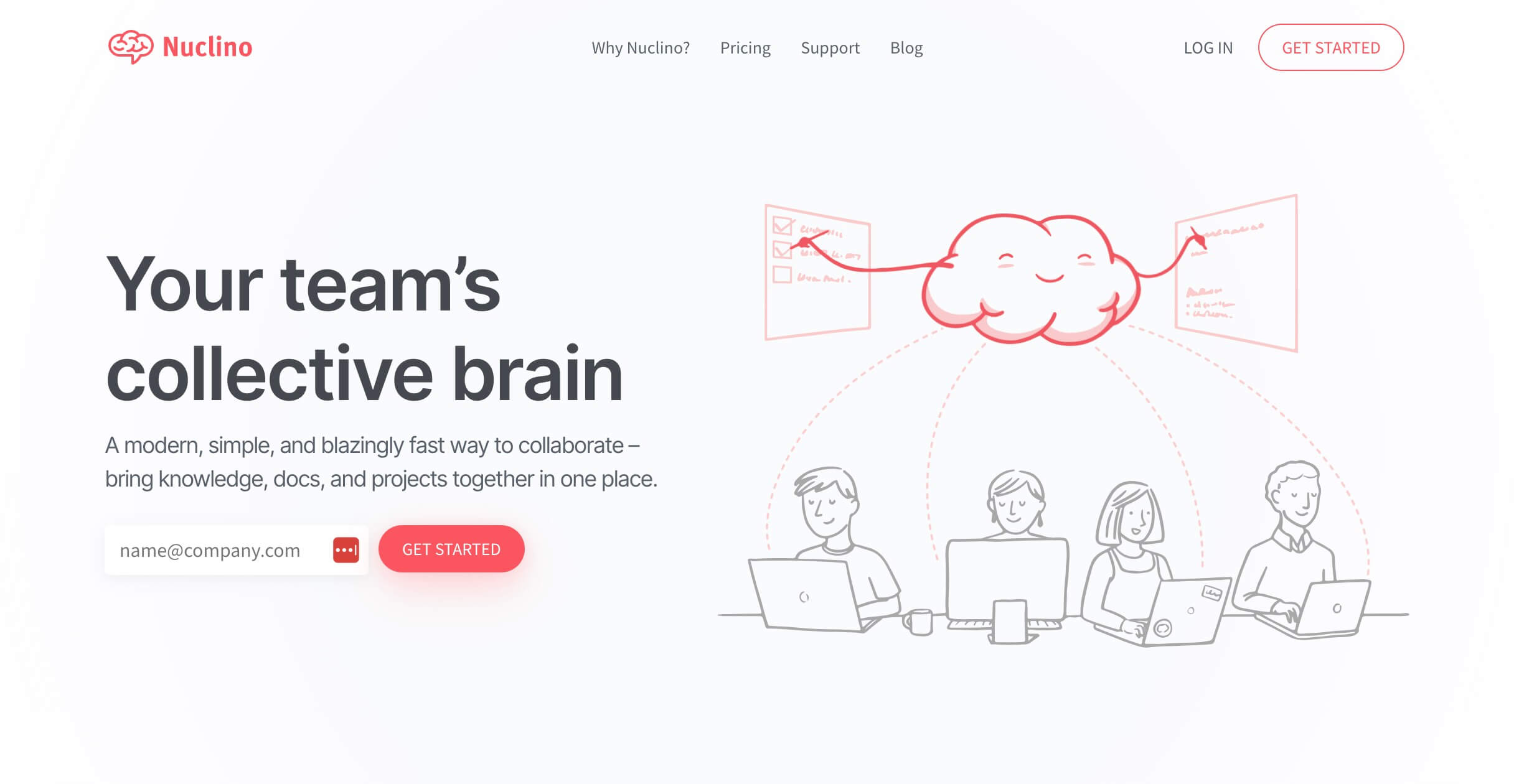 Nuclino is a unified workspace, seamlessly blending note-taking, project management, and collaboration. Its straightforward UI and adaptive workspaces facilitate smooth knowledge sharing and project oversight.
If you're looking for a straightforward, user-friendly alternative to Notion's multifaceted nature, Nuclino is the solution for your organization. It prioritizes intuitive design, featuring easy navigation and a clean note display.
With practical view sections like lists and Kanban-style boards, it provides a straightforward, user-friendly experience. Nuclino is built for speed from the ground up. Every interaction in Nuclino, from search to editing, is optimized for speed to eliminate loading screens or spinners.
Pros:
Can segment information through workspaces.
Easy content creation and editing.
Secure access and public pages.
Clean, visually appealing design.
Commendable customer service.
Cons:
Limited for large databases.
Few project management integrations.
Search results displayed are limited to the top 10.
Pricing can skyrocket as you scale.
File storage is limited to 20GB per user (even on Premium).
Plans & Pricing:
Free
Standard ($5)
Premium ($10)
4. Obsidian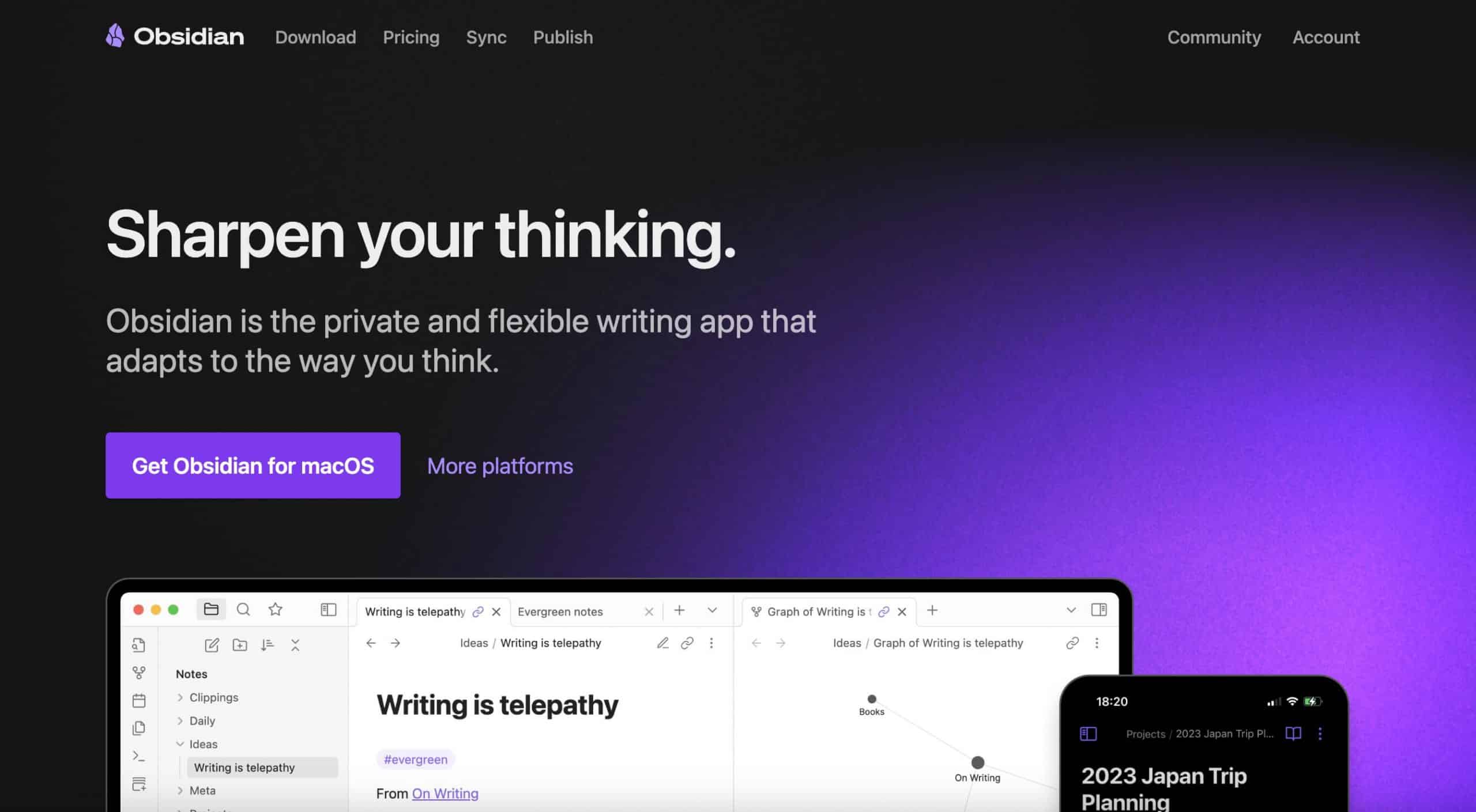 Obsidian shines brightly in knowledge management, offering a unique, local storage-based approach to note-taking. The knowledge graph structure, using bi-directional linking, is excellent for privacy-focused individuals and those who appreciate idea visualization.
Like Notion, Obsidian is a note-taking tool that places your notes, ideas, and data at your fingertips, all stored safely on your device. This tool is tailored particularly for users who value having complete control over their data storage and privacy.
Unlike Notion's cloud storage, Obsidian keeps your notes securely on your device. Its markdown language, community plugins, and knowledge graph structure offer a different yet efficient way of managing and interlinking notes.
Pros:
Local storage ensures data privacy.
One-time payment option available.
Extensive plugin selection for users.
Highly customizable with themes and CSS.
Interconnected note-taking with knowledge graph.
Cons:
No multi-user environment.
No native mobile app.
Challenging learning curve for beginners.
Lack of bibliography/citation management.
PDF annotation capabilities are limited.
Pricing & Plans:
Free
Commercial Use ($50)
5. Monday.com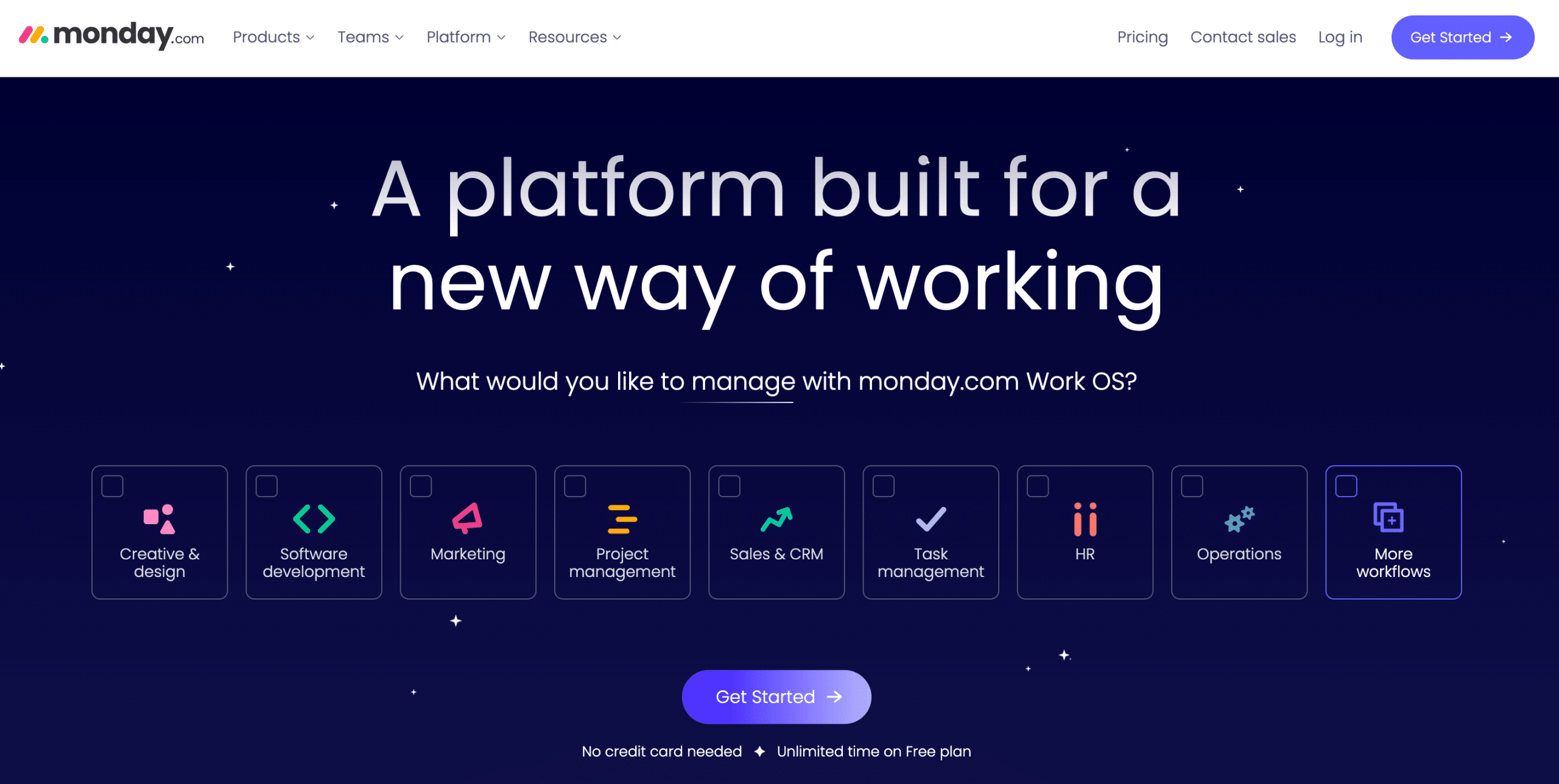 Monday.com offers an intuitive and comprehensive visual project planning platform streamlining project management. Tools like Gantt charts and diverse board views provide a visual and interactive project management approach.
Why does Monday.com stand out as a stellar Notion alternative? It's all in the visual details. The platform's Gantt charts represent project timelines and dependencies, ensuring you can swiftly identify bottlenecks and keep tasks on track.
The platform's various views, from Kanban to calendars, make it easy to visualize project progress, workloads, and distribution insights. Real-time dashboards offer instant insights on projects, which keeps you in control of your resources.
Pros:
Intuitive Gantt charts for timeline management.
Versatile board views for varied visualization.
Clear, visual project roadmaps are available.
Detailed workload views for task distribution.
Insightful real-time dashboards for instant updates.
Cons:
It may be budget-stretching for smaller teams.
Some features might be surplus to needs.
The initial setup can be daunting.
The learning curve for mastering advanced features.
Varied experiences with customer support responsiveness.
Plans & Pricing:
Free
Basic: $10
Standard: $12
Pro: $20
Enterprise: Custom Pricing
Related: 10 Best Monday.com Alternatives
6. Asana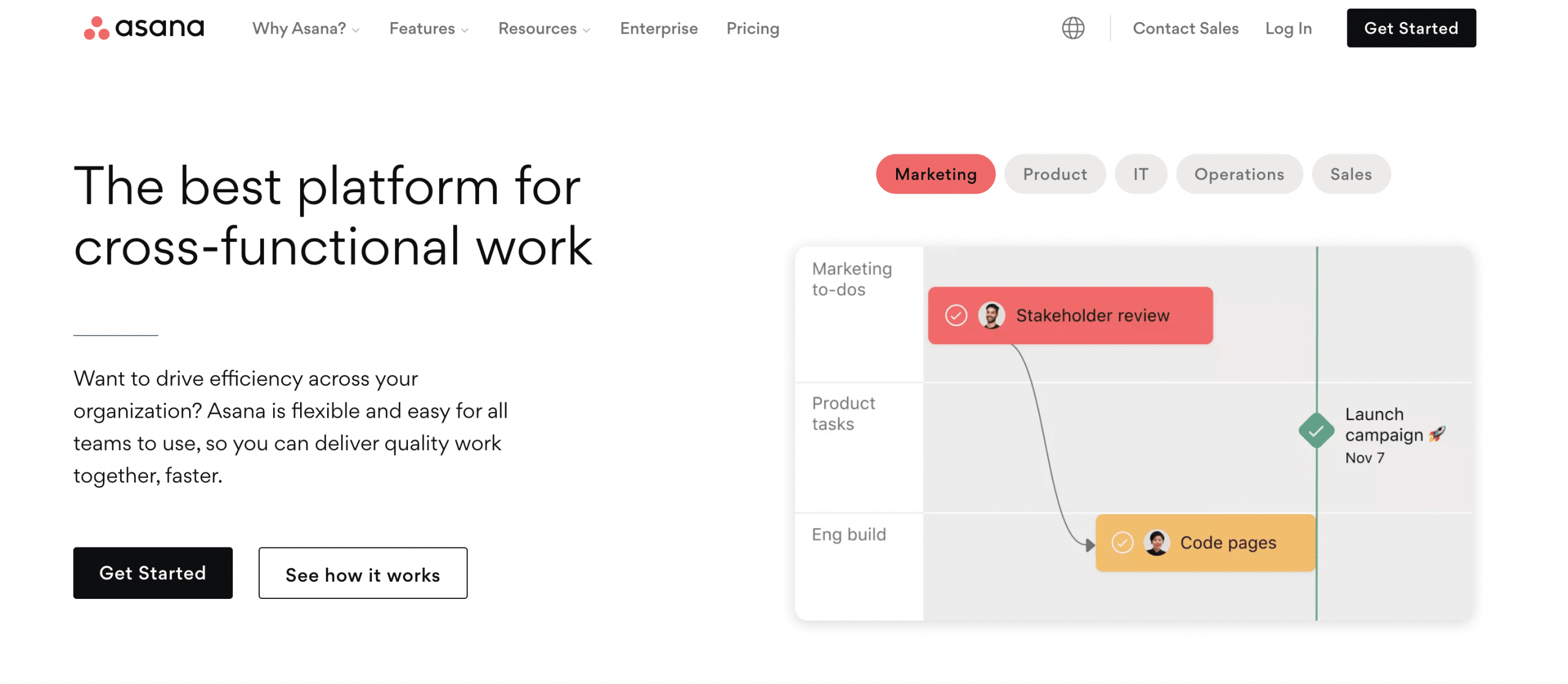 Asana is a simple and efficient tool that allows teams to organize work, assign tasks, and track goals. With features like multi-project cards, easy collaboration, and deadline tracking, it provides a user-friendly platform for managing tasks and ensuring project alignment.
As a Notion alternative, Asana stands out for its ease of use and focused feature set, particularly in goal tracking and task management. Unlike Notion, Asana offers a cleaner, less cluttered interface, making it easier for teams to navigate and manage larger projects.
Its simplicity, combined with advanced team management and collaboration features, makes it a go-to for those who need a more traditional, straightforward project management tool.
Pros:
Simplistic and user-friendly interface.
Efficient task and deadline management.
Offers a free plan for up to 15 members.
Hassle-free account switching for multiple accounts.
The handy mobile app is available.
Cons:
CSV task importing can be tricky.
Dependent tasks don't import via CSV.
No URL links to project sections.
Limited to simpler project management needs.
It may lack some of Notion's flexibility.
Plans & Pricing:
Free Plan
Premium: $10.99
Business: $24.99
Related: 11 Best Asana Alternatives
7. Basecamp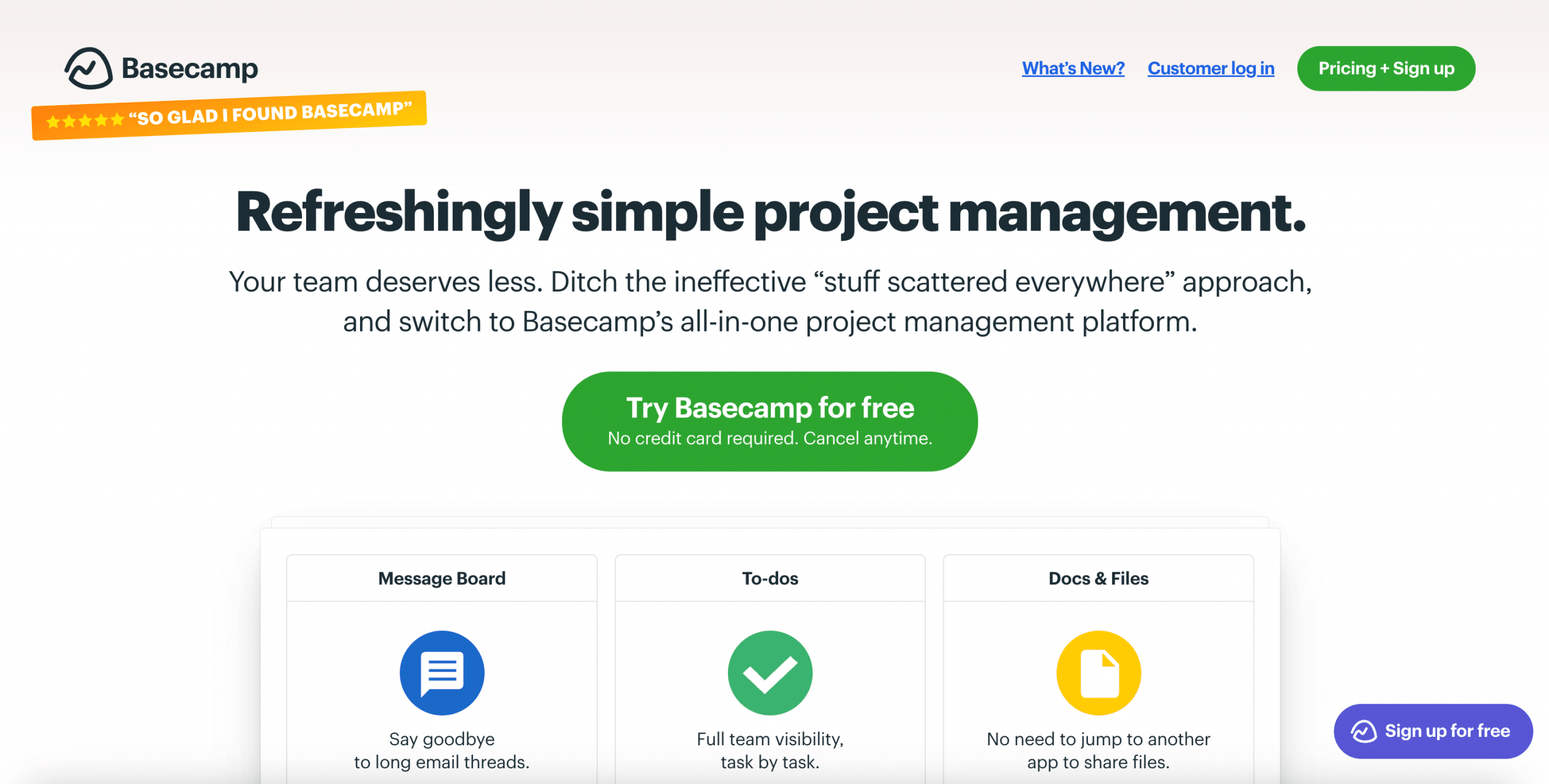 Basecamp is a simple and intuitive platform for remote teams to collaborate, communicate, and manage projects. Its Home Dashboard, To-dos, and communication tools keep projects on track and teams connected.
In contrast to Notion's sometimes overwhelming "tinkering" needed, Basecamp offers a refreshingly simple alternative that prioritizes ease of use and effective communication. You can be limited to what you can tinker with, but the experience from the box to implementation is hassle-free.
Its flat pricing model and built-in communication tools make it a cost-effective, user-friendly option, especially for large, remote, or fast-growing teams who value straightforward, intuitive project management.
Pros:
Intuitive interface that encourages easy use.
Flat pricing benefits growing organizations.
Built-in communication tools enhance collaboration.
Simplifies remote team coordination.
Efficient task and project tracking.
Cons:
Limited advanced features and lack of analytical tools.
Viewing multiple task lists is limited.
The feature set might be too basic for scaling teams.
Stiff customization options.
May lack advanced tailor-make options
Plans & Pricing:
Basecamp Pro: $15
Basecamp Pro Unlimited: $349
Related: 10 Best Basecamp Alternatives
8. ProofHub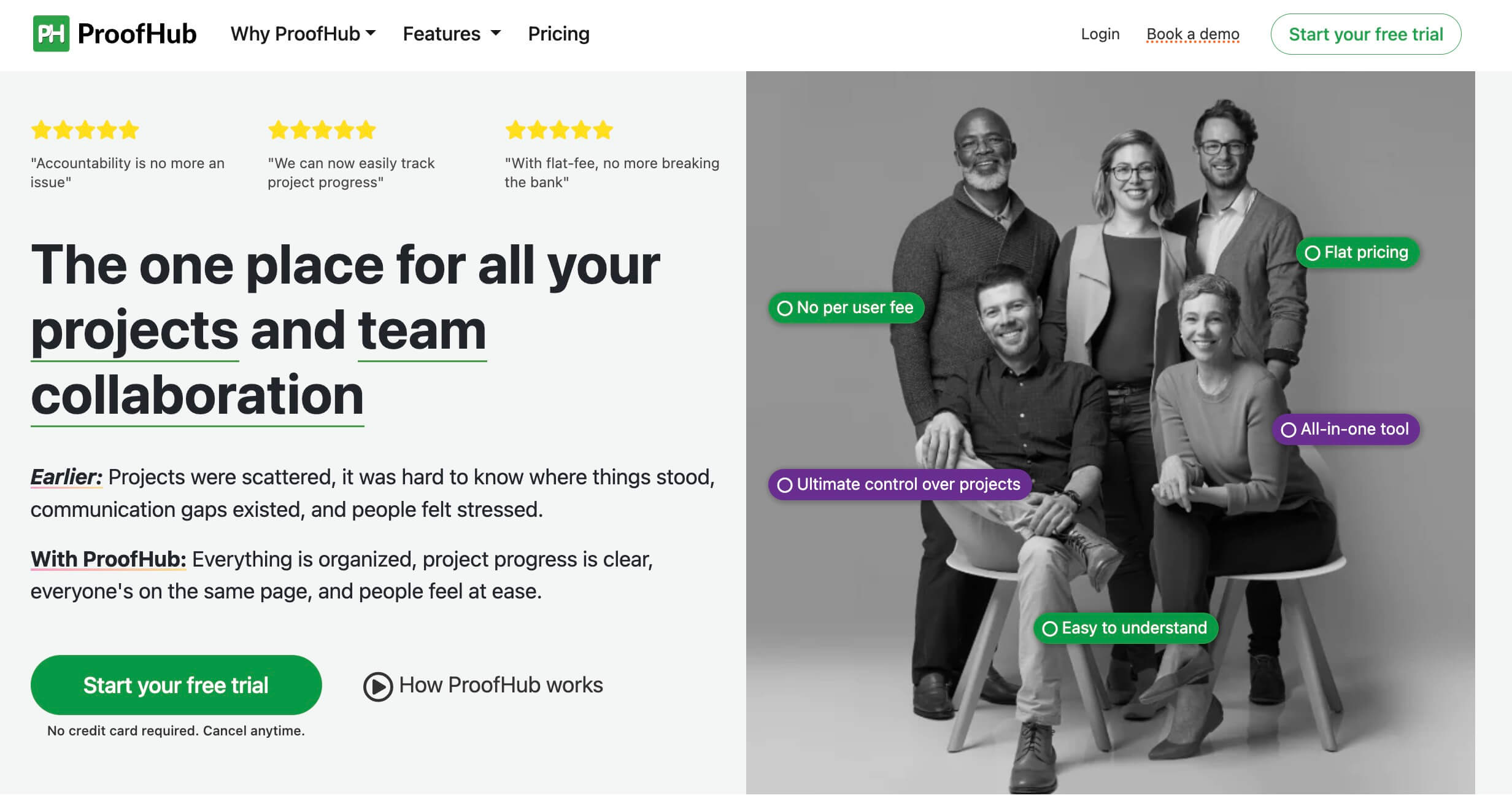 ProofHub is a comprehensive project management tool offering teams a centralized hub to plan, collaborate, and execute projects seamlessly. Compared to Notion, ProofHub provides additional benefits that make it a more comprehensive solution for managing projects and teams.
With features like task management, multiple project views, and robust time tracking, managers and team members can keep a finger on the pulse of every project, ensuring nothing slips through the cracks.
ProofHub is a powerful Notion alternative with detailed time tracking and internal communication tools. It offers multiple project views like Gantt and Board, making collaboration and communication easy. It's an excellent choice for streamlined project management without requiring a hefty investment.
Pros:
Enables real-time collaboration and communication.
Offers detailed visibility with multiple views.
Facilitates transparent, on-time task completion.
Streamlines communication with notifications and reminders.
Supports global operation without infrastructure burden.
Cons:
The notification system needs improvements.
It may lack some of Notion's customization.
Challenging learning experience for some features.
Has limited free plan options.
Requires internet for real-time collaboration.
Plans & Pricing:
Essential: $50
Ultimate Control: $150
9. nTask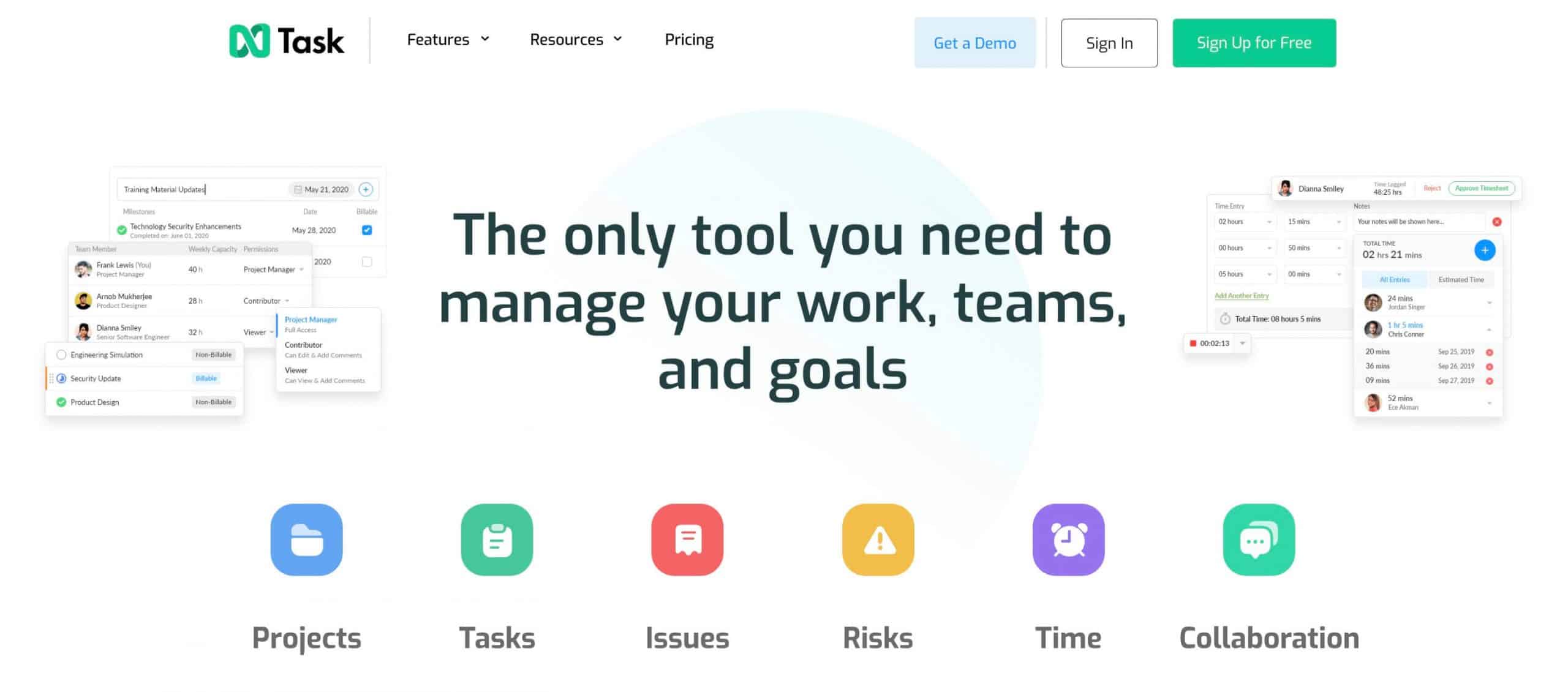 nTask, widely appreciated for its robust issue-tracking and task-management capabilities, provides a one-stop solution for project managers and teams. It offers checklists, Kanban boards, time tracking, and Gantt charts helpful in planning, managing, and visualizing projects.
An alternative to Notion is nTask, which provides a unified platform for gathering information and managing data in a seamless interface. Its strengths include detailed task and project comments, timesheet management, risk matrix, and task color coding.
The interface is comprehensive yet user-friendly, especially for managing multiple projects and teams. nTask allows users to convert comments to tasks using Slack.
Pros:
Budget-friendly options starting at $3.
Enables detailed timesheet management.
Straightforward project overviews.
Supports detailed project and task comments.
Offers solid customer support.
Cons:
Limited customization options are available.
Customer support may be lacking.
There is no dedicated desktop application.
The calendar view starts on Monday.
Some users experienced data disappearance.
Plans & Pricing:
Free
Premium ($3)
Business ($8)
Enterprise (Contact Sales)
10. Confluence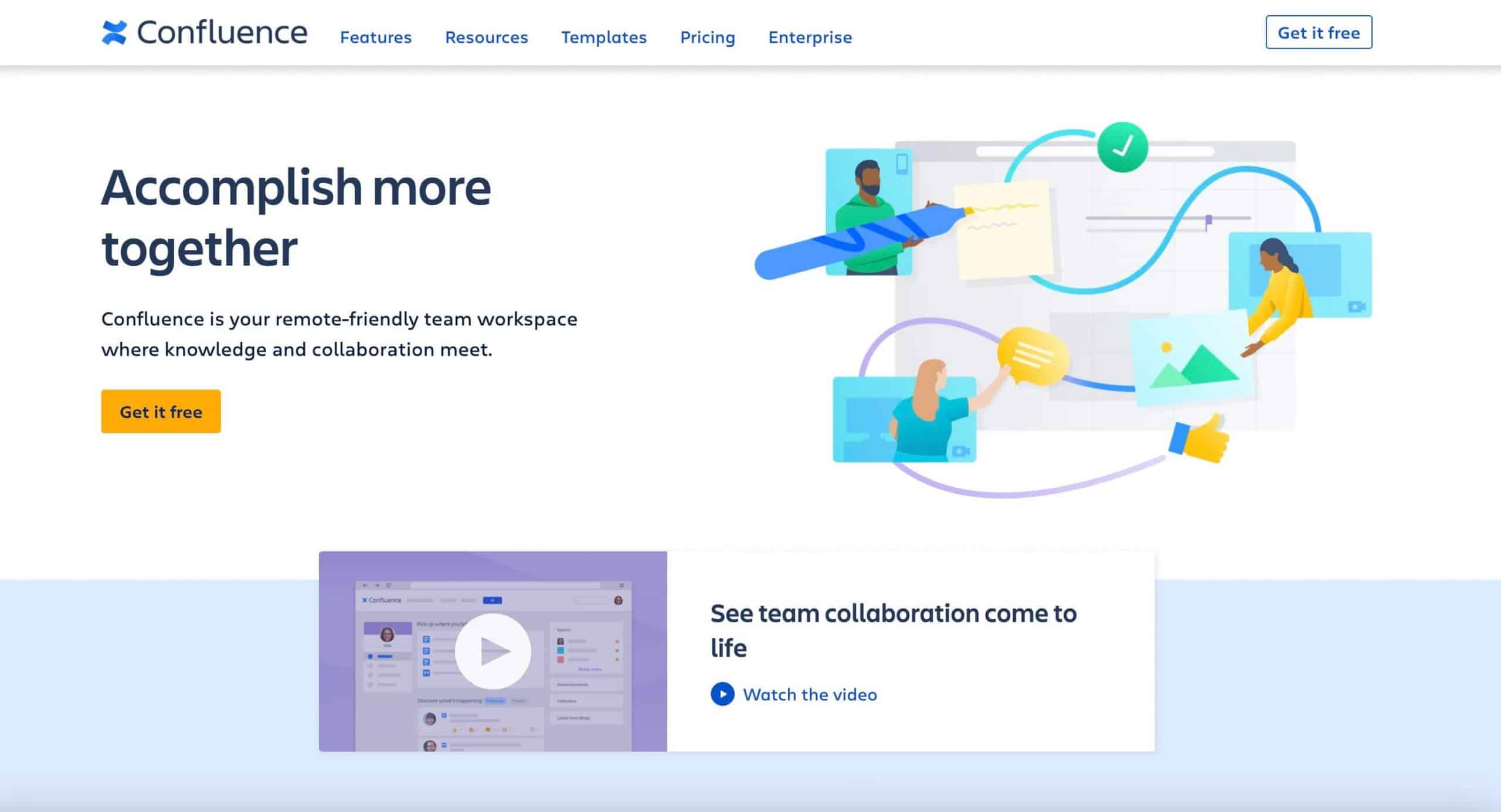 Confluence ensures that vital company updates, project plans, and other crucial intel are preserved, organized, and easily accessible. This platform enables real-time collaboration, markdown support, and a structured content tree for a cohesive organizational culture.
In contrast to Notion, Confluence excels in maintaining organized and easily searchable spaces, even as information accumulates. Advanced search, page tree, and archiving ensure data remains accessible, manageable, and retrievable on demand by users.
It seamlessly integrates with tools like Trello, Jira, Slack, and Microsoft Teams, streamlining project management and communication.
Pros:
Seamless integration with Jira.
Clean, user-friendly interface.
Effective organization of large documentation.
Supports a collaborative working environment.
Offers advanced permissions and controls.
Cons:
PDF exporting can be problematic.
Text-based search sometimes underperforms.
Page editing features may be limiting.
Copy-pasting issues between software.
Encounters occasional error messages.
Plans & Pricing:
Free
Standard ($5.75)
Premium ($11)
Enterprise (Contact Sales)
11. Ahsuite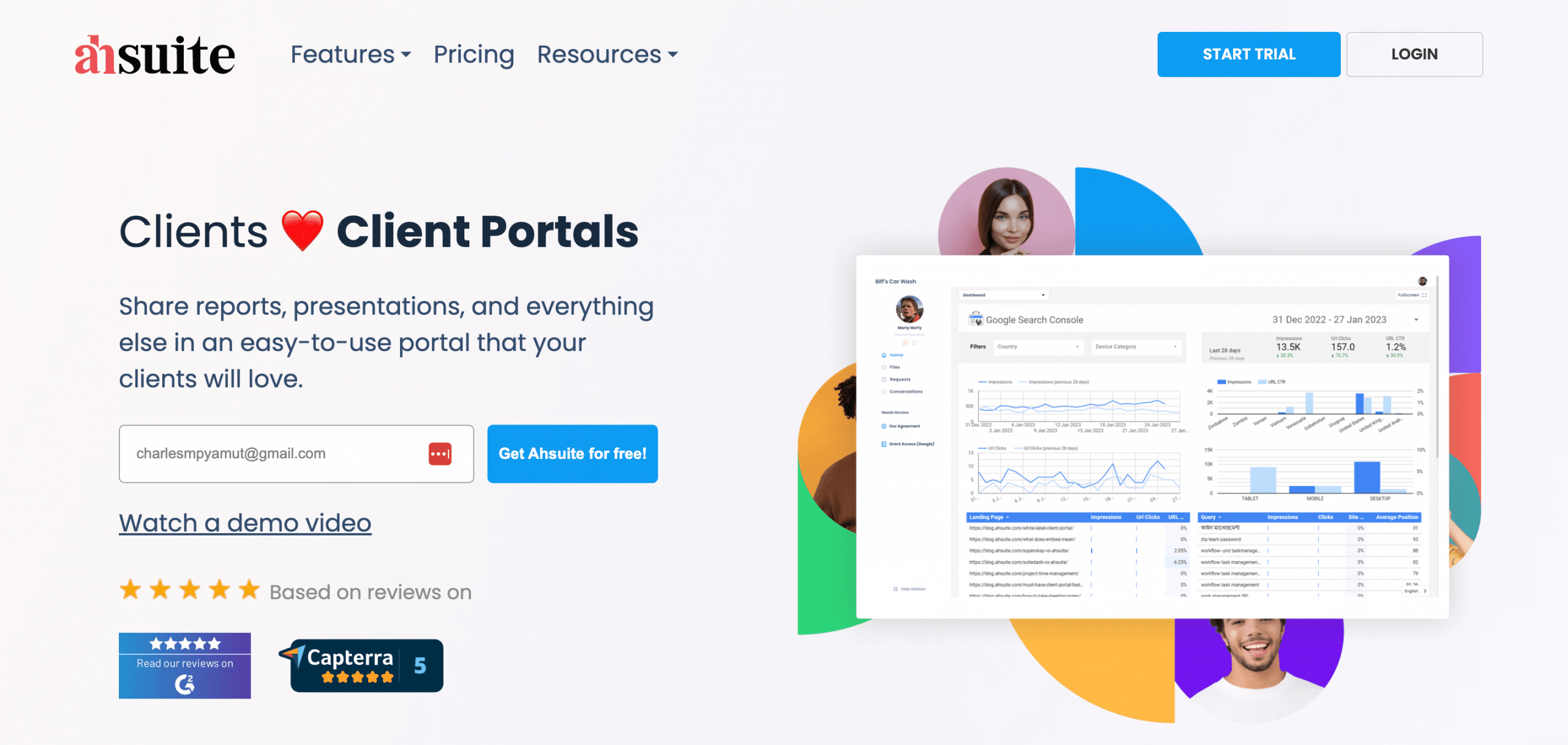 Ahsuite is an efficient client management tool that integrates client data, social information, website links, and data sharing via Google Sheets. The platform streamlines client interactions and project management, perfect for busy professionals who value transparency and efficiency.
As a Notion alternative, Ahsuite brings a client portal, a pivotal feature for businesses managing multiple clients. This ensures all communication and data is made available into one cohesive platform for both teams and clientele.
Ahsuite offers a robust task management system with various views and task chaining using dependencies. Additionally, the platform includes a file manager that allows client approvals, ensuring organized and collaborative project management. It addresses gaps found in Notion.
Pros:
Clean interface with comprehensive portals.
Efficient client data and asset management.
Offers templates and webhooks.
White-label agency with substantial portals.
Integrates scheduling calls from the interface.
Cons:
Limited to four task dependency levels.
Lacks advanced database features.
You may need more extensive customization options.
Plans & Pricing:
Free Plan
Professional: $24
Agency: $57
Tips for Transitioning to Notion Alternatives
Transitioning from Notion to an alternative platform involves several steps. Here are some steps and considerations to remember when making the switch.
Understanding the alternatives: Before transitioning, it's essential to understand the alternatives to Notion and how they might better serve your needs.
Exporting your data from Notion: Notion provides options for exporting your data. You can export a Notion page, database, or entire workspace in PDF, CSV, or HTML format.
Importing your data: Importing your data into the new platform will depend on your chosen platform. It's essential to check the specific instructions to prevent hassles.
Check your list of considerations: Consider features, performance, user experience, pricing, and learning curve. Ensure the platform offers equivalent organization features, has a user-friendly interface, and fits within your budget.
Software training: New software might have a steep learning curve. Be prepared to invest time in learning how to use the new platform effectively.
Conclusion
Embarking on a journey through Notion alternatives for 2024, we've navigated through a spectrum of tools, each offering a unique harbor of functionalities.
From Coda's integrated document handling to Ahsuite's bespoke client management features, the horizon is dotted with promising options for enhancing our project management voyage.
Turning our compass towards Ahsuite, it extends an invitation with a 30-day trial, offering us a glimpse into its world of client management expertise. Although it is not inherently a project management software, it offers robust tools to help users bring the best client experiences.
Not ready for a pro plan yet? Users can also try the Free Forever Ahsuite Starter plan with unlimited views for up to 10 portals.