In the realm of work management tools, Wrike has gained a substantial global customer base, marking its ascent from an emerging stage to a prominent player. Yet, if you're here, you're likely questioning whether it's all smooth sailing with Wrike. Perhaps you're exploring alternatives for a more robust solution to meet your management needs.
This article aims to provide a clear assessment, helping you sift through the details to determine which alternative to Wrike genuinely meets your requirements. Let's navigate the facts together and find the right fit.
What is Wrike?
As an early industry pioneer, almost every project manager knows how to use Wrike. And that's not surprising, Wrike can make complex projects simple with its plethora of features such as automated workflow planning, resource allocation, and more.
Wrike is highly regarded by users as a top-notch project management software. This work management and task management tool has been utilized to keep track of due dates, progress, and team activities. In addition, Wrike has a free tier called "Wrike Free" which is enough for individuals and teams.
It has been widely utilized as a force, for endeavors such as product development, creative projects, and marketing initiatives. However, it is not the perfect online project management software for everybody.
Pros:
Improved reporting options
Customizable project templates
User-friendly interface and navigation
Effective collaboration tools
Powerful proofing and Gantt charts
Cons:
No built-in note-taking tool
Expensive for small teams
Delayed notifications and integrations
Unchangeable default task filter
Steep learning curve
11 Best Wrike Alternatives in 2024
Let's take an in-depth look at the best Wrike alternatives that can stand with the best project management tools available in the market.
Monday.com – Best for project management
Smartsheet – Best for spreadsheet-style project management
GanttPRO – Best for gantt chart project management
Zoho Projects – Best for small and growing businesses
ClickUp – Best for remote work platform
Jira – Best for bug tracking and software development
ProofHub – Best for all-around project management
MeisterTask – Best for personal use
Teamwork – Best for team collaboration and communication
Microsoft Project – Best for large-scale project planning
Ahsuite – Best for client management
1. Monday.com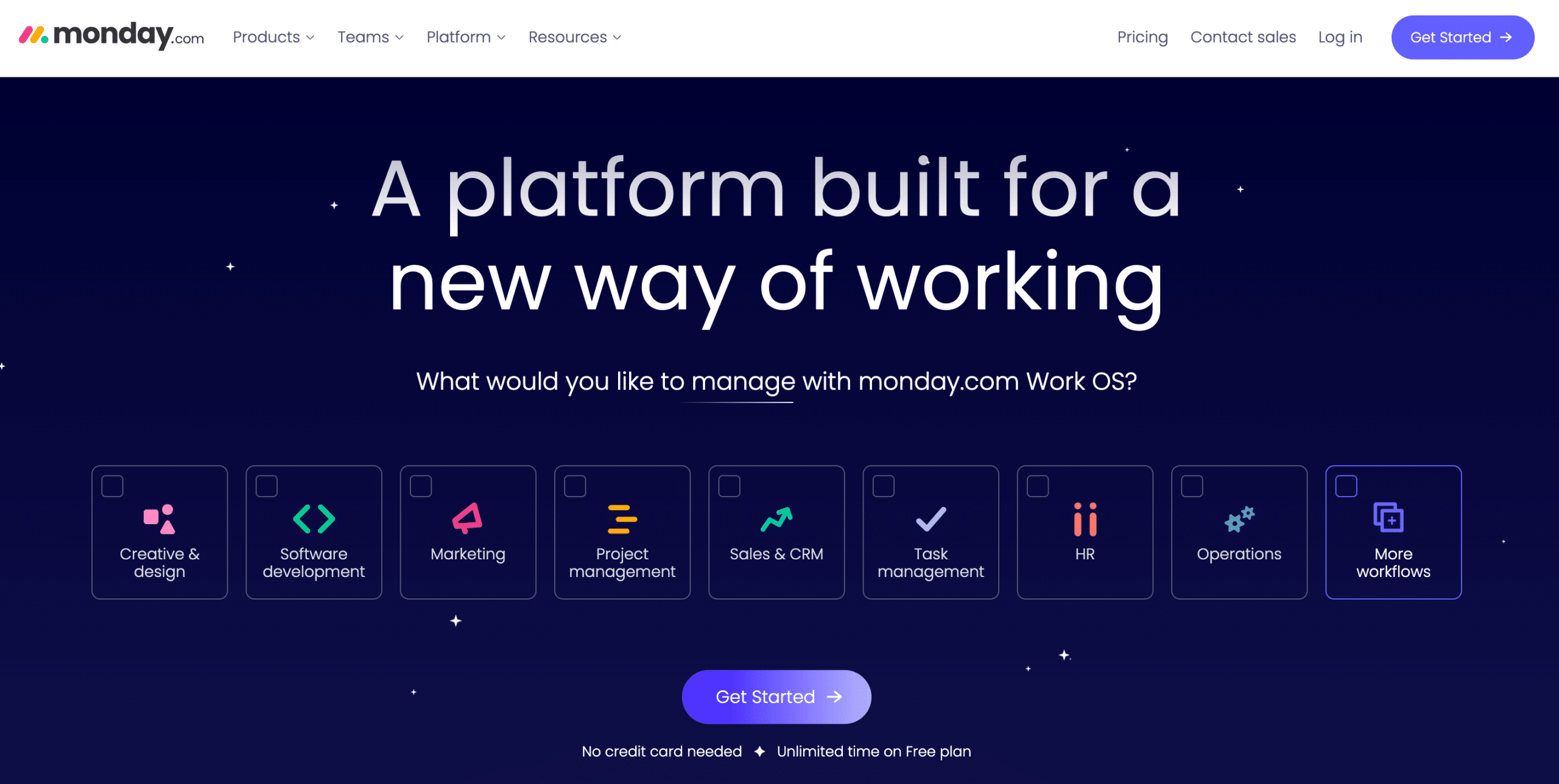 Let me introduce you to Monday.com, a project management tool that focuses on organization. With its grid-style layout, this tool excels at providing an overview of your team's activities. It allows you to easily arrange tasks and navigate project timelines giving you a picture of what's going on.
What makes Monday.com a strong member of the list is its flexible interface and real-time notifications. It offers a Kanban board that helps prioritize tasks and balance workloads based on resources. Additionally, it provides very flexible pricing options tailored to needs.
In summary, Monday.com is a choice, for those who value representation in their project management approach. Its user-friendly features and customizable notifications make it a versatile tool, for teams of all sizes.
Pros:
Customizable user interface.
Detailed visual boards.
Centralized communication system.
Efficient project organization.
Comprehensive timeline views.
Cons:
Some features may lack depth.
Premium dashboards come at an additional cost.
Mobile app enhancements are needed.
Limited third-party integration options.
No Gantt chart offering.
Plans & Pricing:
Free
Basic: $10
Standard: $12
Pro: $20
Enterprise: Custom Pricing
Related: 10 Best Monday.com Alternatives
2. Smartsheet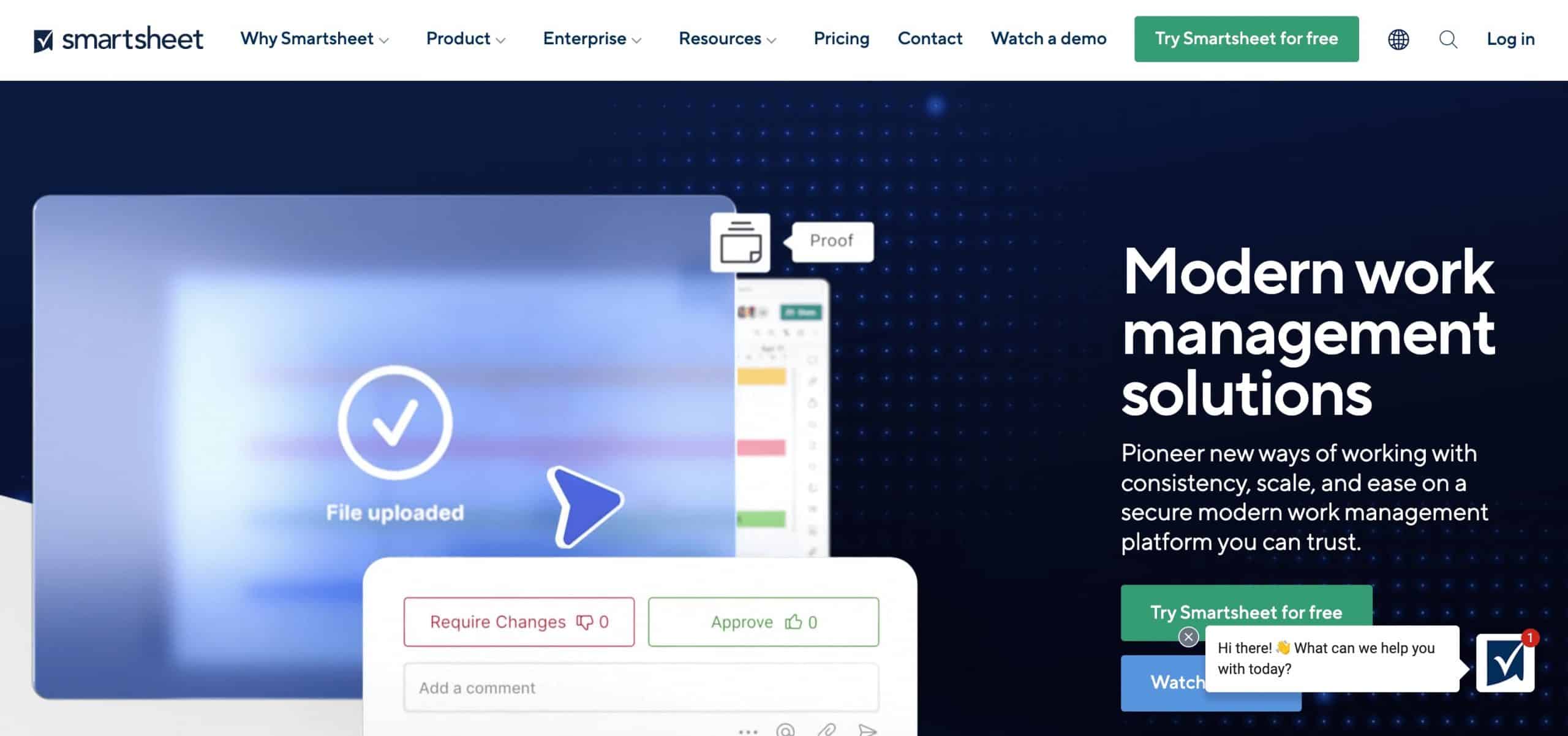 Smartsheet distinguishes itself as powerful project management software with its spreadsheet-style format. It has a wide array of essential features like time tracking, task automation, reporting, and customization that ensure smooth onboarding and operational workflow, especially for those transitioning from other tools.
As a unique member of the Wrike alternative list, Smartsheet can offer a customizable interface due to its format. Furthermore, it fosters team collaboration by offering shared workspace and centralized file storage. This tool facilitates the creation and sharing of tailored reports, positioning it as a robust choice against Wrike.
Pros:
Easy to use, with a user-friendly experience.
Seamless real-time team collaboration.
Highly customizable options are available.
Comprehensive task management system.
Efficient automation streamlines tasks.
Cons:
Limited third-party integrations.
No free plan is available.
The mobile app needs enhancement.
Some users report sluggish performance.
Plans & Pricing:
Free
Pro: $7
Business: $25
Enterprise: Contact Sales
Related: 10 Best Smartsheet Alternatives
3. GanttPRO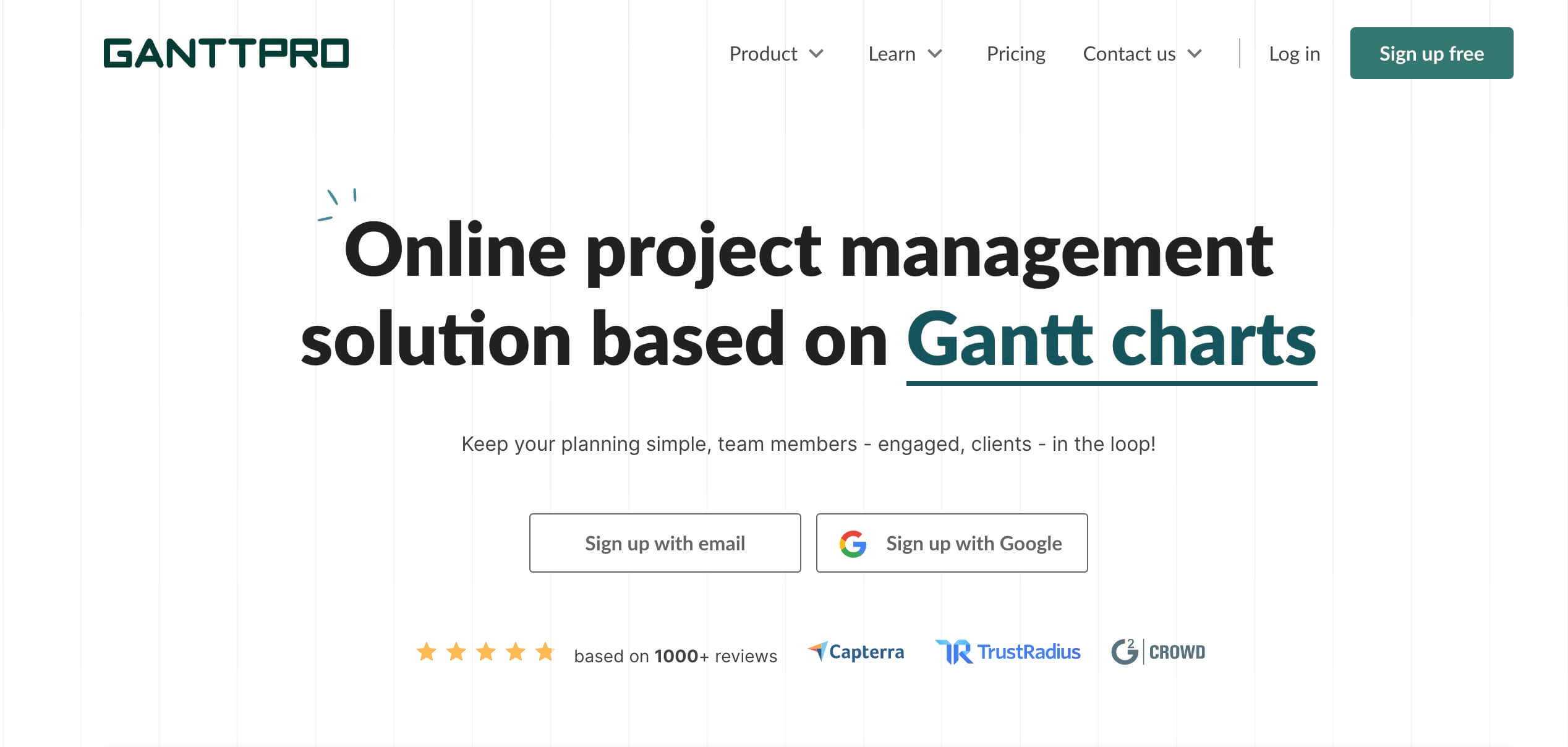 GanttPRO is a renowned online project management platform that leverages the power of Gantt charts to visualize the progress of tasks and project milestones. You can keep projects on track with visualizations and data synchronization. Analyze progress and make informed decisions with detailed visuals and trusted methodology.
Positioning itself as a formidable Wrike alternative, GanttPRO's user-friendly interface, real-time chart adjustments, and work breakdown structures provide a seamless task management and project experience. Additionally, the company champions quick technical chat support and an array of team integration tools for easy integration and usage.
Pros:
Real-time responsive charts for fast-paced decision-making.
Ready-made, customizable templates.
Quick, effective technical chat support.
Reliable big-picture project visualizations.
Cons:
Limited brand customization options.
No downloadable desktop version.
Lacks actually useful integrations.
Plans & Pricing:
Basic: $7.99
Pro: $12.99
Business: $19.99
Enterprise: Contact Sales
4. Zoho Projects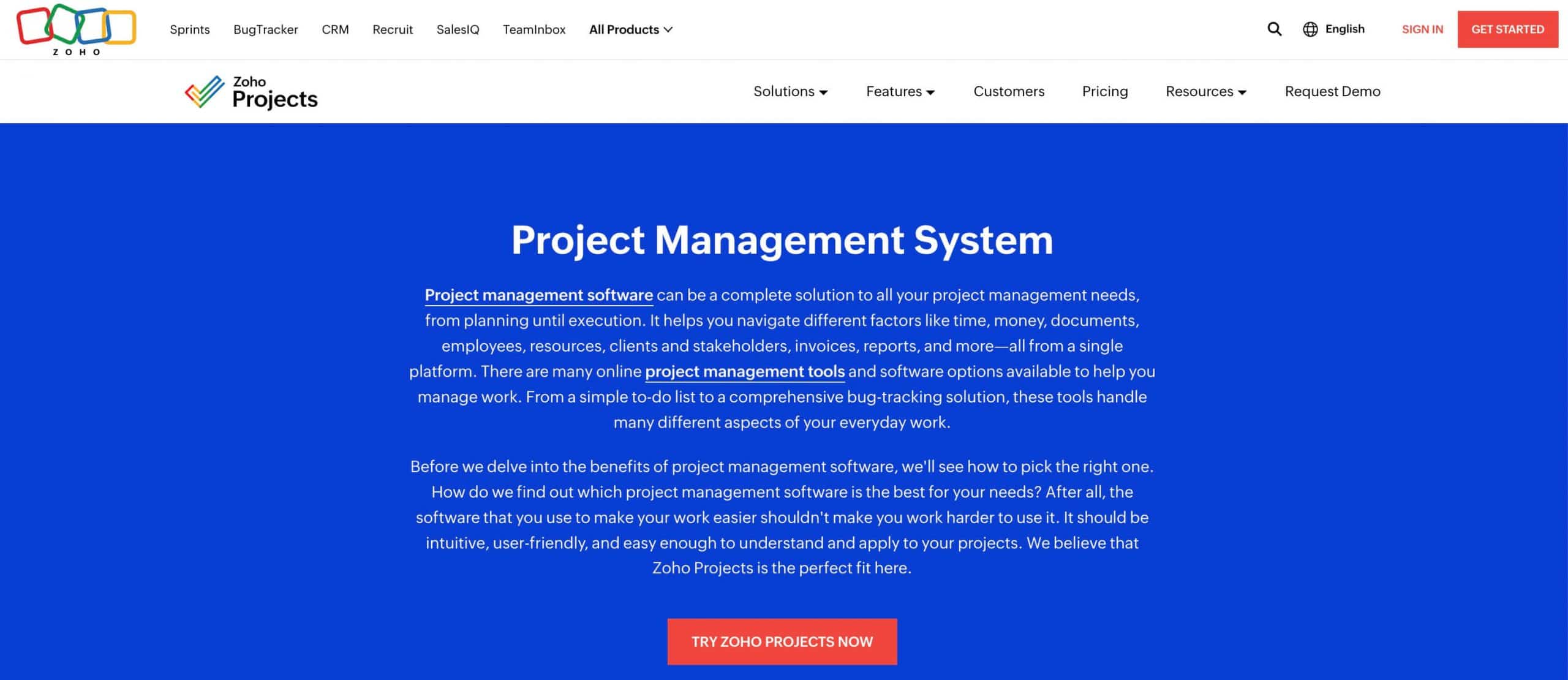 Zoho Projects distinguishes itself as a top-tier choice for businesses. The platform facilitates real-time collaboration and optimizes team performance. It brings together all the necessary tools to reach your objectives. You can also count on reminders, recurrence, and status timelines to make all stakeholders stay on the same page.
As a robust Wrike contender, Zoho Projects is known for its powerful task management, insightful Gantt charts, and adaptive workflows. With flexible pricing, seamless integrations, and reliable notifications, it's the go-to choice for agile project management.
Pros:
Easily plan projects with work breakdowns.
One-stop task and issue management.
Can integrate with Zoho apps and third-party tools.
Efficient time tracking and client billing.
Optimized resource allocation tools.
Cons:
Unconventional resource management view.
Reporting features are somewhat limited.
Periodic customer support challenges.
Infrequent software outages and bugs.
The mobile app lacks some desktop functionalities.
Plans & Pricing:
Free
Premium: $5
Enterprise: $10
5. ClickUp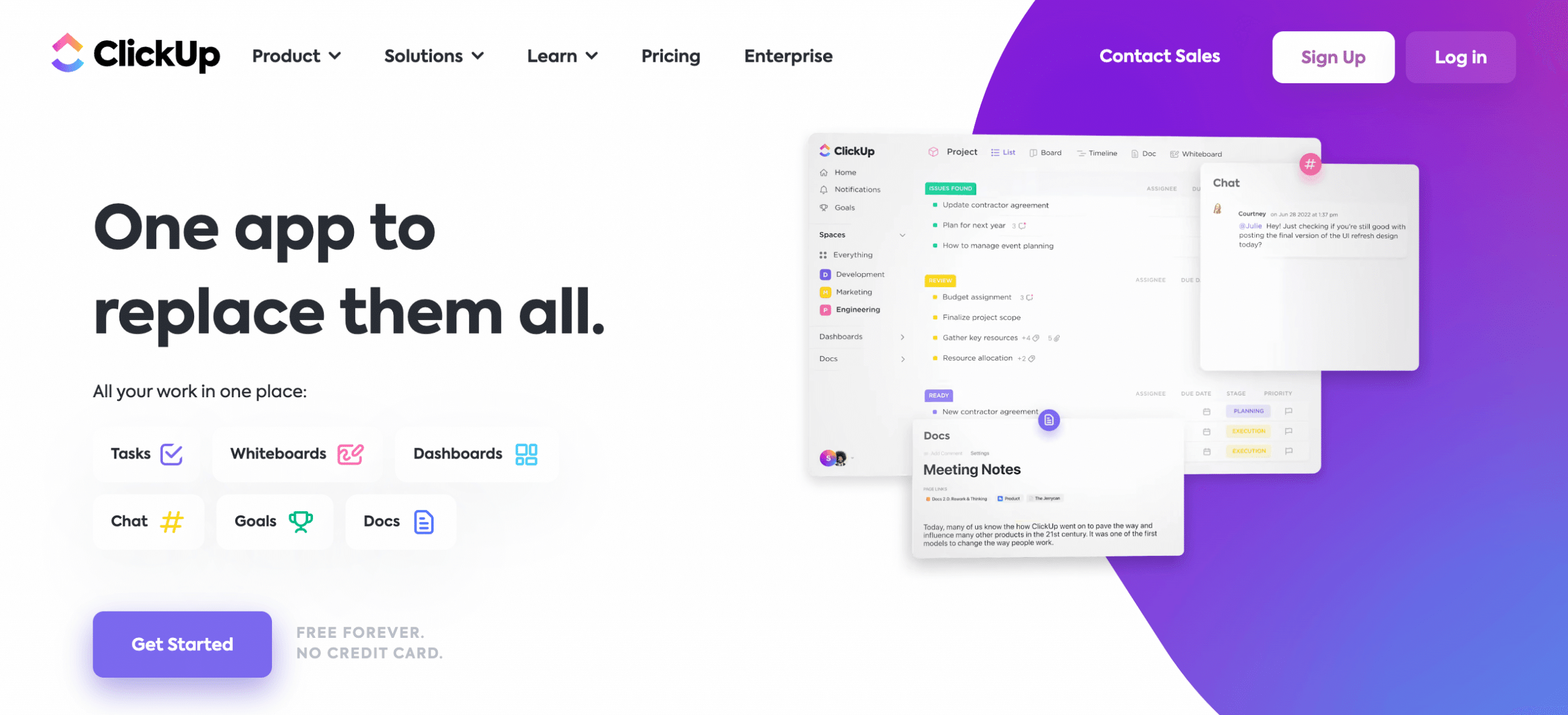 ClickUp has been the go-to platform when it comes to remote project management. The tool simplifies work through comprehensive templates and boosts synergy among teams. It has some of the most useful functions for remote work including multiple views, user hierarchy, and customization.
As a Wrike alternative, ClickUp offers an edge with its built-in reminder and team-tracking capabilities. Users can also use a document management system coupled with a very navigable, customizable interface. ClickUp can integrate with 1,000+ tools including Slack, Google Drive, and Salesforce.
Pros:
Highly customizable workflows enhance productivity.
A clean, user-friendly interface streamlines tasks.
Rich collaboration tools that bolster team communication.
Built-in time tracking optimizes project oversight.
Versatile integrations, including Slack and Trello.
Cons:
Overwhelming features cause a steep learning curve.
Complex pricing structure; variable feature availability.
Absence of immediate phone support.
Limited mobile app functionalities.
The free plan restricts advanced capabilities.
Plans & Pricing:
Free
Unlimited: $7
Business: $12
Enterprise: Contact Sales
Related: 10 Best ClickUp Alternatives
6. Jira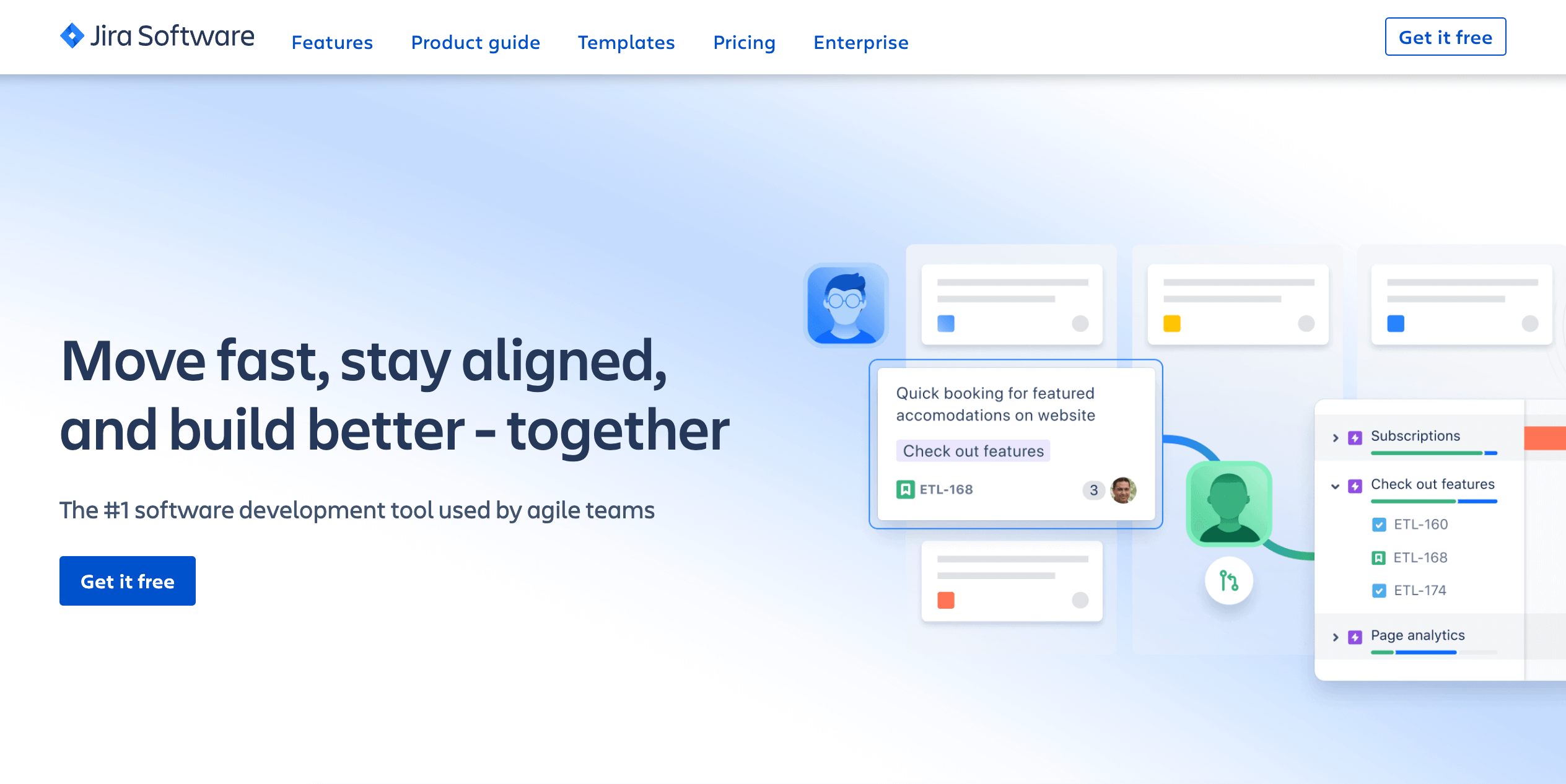 Jira is particularly popular for software development due to its issues and tracking capabilities. Its customizable dashboard and alignment with Agile methodologies make it a preferred choice for technical projects. Moreover, its real-time collaboration and analytics capabilities are great for project status, resource allocation, and KPIs.
One of Jira's most potent features is its exceptional ability to facilitate projects through the use of scrum boards and Kanban views. With its interface tracking capabilities and wide range of integrations, it offers a strong option, for individuals transitioning from Wrike, particularly in the field of software development.
Pros:
Superior Agile and Scrum management.
Extensive customization options are available.
Clear and coherent work visualization.
Work-in-progress limits prevent bottlenecks.
Smooth navigation between various views.
Cons:
Initial setup can be challenging.
Might be limited to projects outside software development.
Lacks built-in idea management features.
Advanced features are hidden on paid plans.
Slow query load times were reported.
Plans & Pricing:
Free
Standard: $7.75
Premium: $15.25
Enterprise: Contact Sales
Related: 11 Best Jira Alternatives
7. ProofHub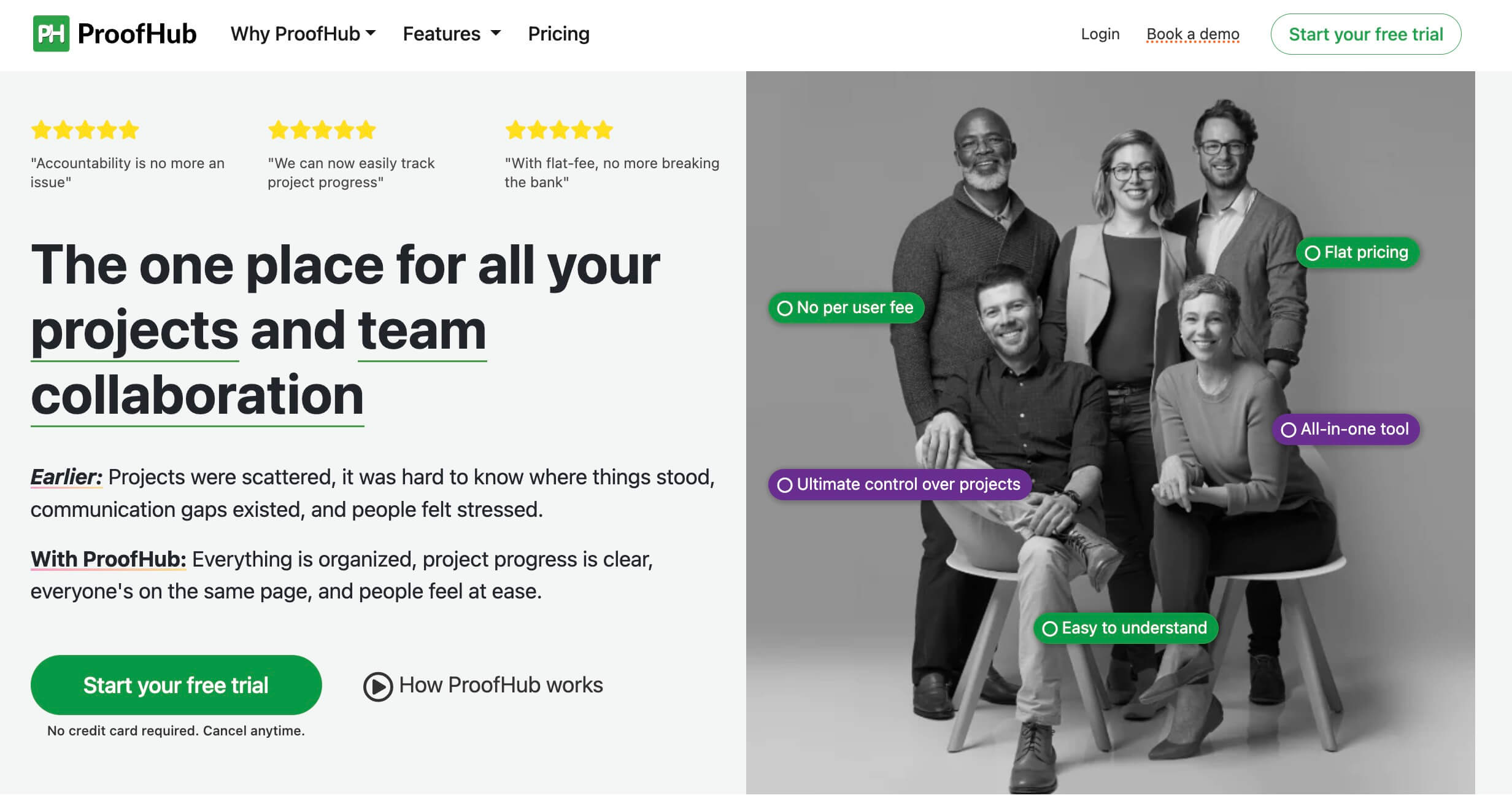 ProofHub is popular among small enterprises and Fortune 500 companies due to its comprehensive features, ease of use, and adaptability to various project types and industries.
It offers seamless team collaboration, real-time file sharing, detailed project reports, and customizable views. You can assign tasks, set deadlines, and track progress in one centralized location.
The built-in chat and discussion tools ensure everyone stays in sync, which eliminates the confusion of long email threads. Plus, with customizable views and real-time notifications, teams can focus more on the task at hand and less on managing the tool itself.
Pros:
User-friendly, easily navigable interface.
Efficient real-time collaboration tools.
Customizable views for personalized workflow.
Comprehensive project reporting features.
Mobile apps for management on the go.
Cons:
May seem overwhelming for some.
Fewer integrations than some rivals.
Customization has a slight learning curve.
Not ideal for very small teams.
Costlier option for startup budgets.
Plans & Pricing:
Essential: $50
Ultimate Control: $150
8. MeisterTask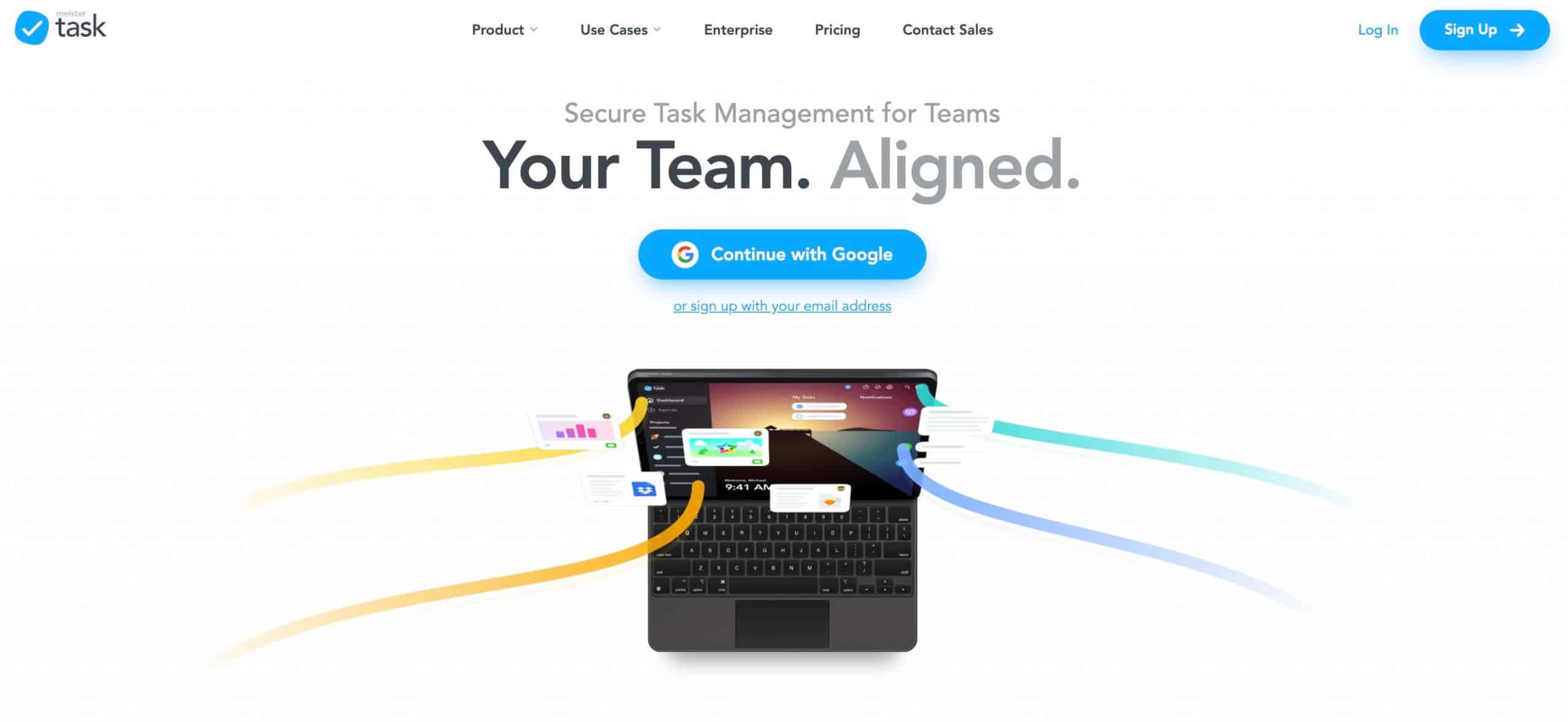 When it comes to personal project management, MeisterTask proves to be a true companion. MeisterTask's easy-to-use design and streamlined features have made it the go-to tool for task clarity and meticulous organization.
MeisterTask is the ideal choice for personal project management due to its simplicity, streamlined interface, immediate notifications, and high customizability. Despite limitations on project views and inter-project functionality, MeisterTask remains a top choice for those who value efficiency in their personal task management.
Pros:
A perfect blend of design and functionality for personal use.
Simplifies personal project and task tracking.
Intuitive interface; easy to get started.
Prioritizes essential features without clutter.
GDPR and CCPA compliance ensures personal data security.
Cons:
Limited features in the free version.
Restrained project views for personal customization.
Scheduling is limited to individual projects.
Transferring tasks between projects isn't seamless.
Plans & Pricing:
Free
Pro: $12
Business: $24
Enterprise
9. Teamwork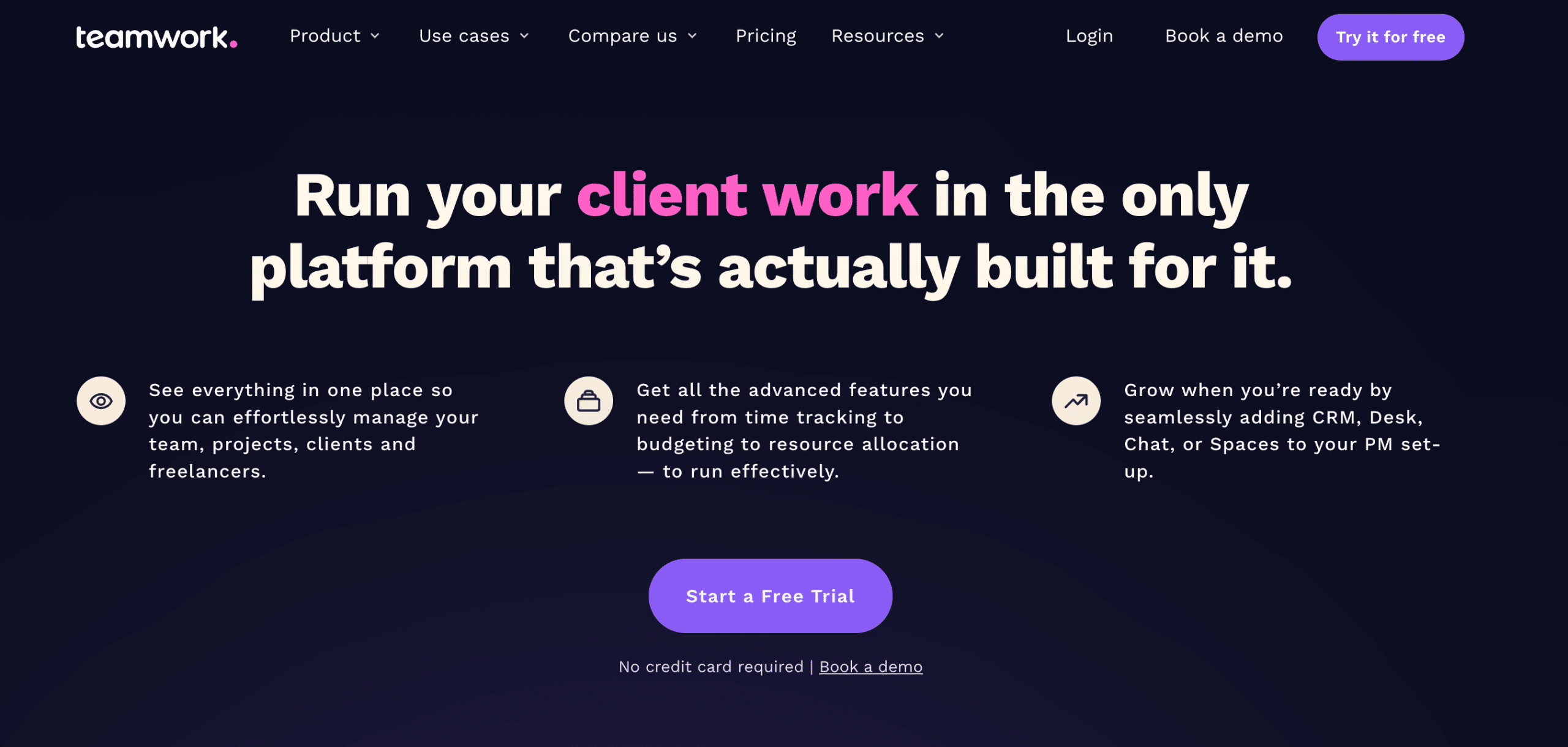 Teamwork allows users to centralize their tasks, projects, and files, making it a pivotal tool for both traditional and remote teams. With features ranging from board views to budgeting, burndown reporting, billing, and invoicing, Teamwork ensures that every project detail is meticulously managed.
The software's robust notification mechanism ensures team members stay updated, while the built-in Timer app and Board view provide seamless project tracking. Added tools like Portfolio, Resource Scheduling, and Budgeting make the management process holistic.
Pros:
Real-time task and milestone tracking.
Comprehensive team management tools.
Reliable project categorization features.
Enhances team accountability and oversight.
Robust budgeting and expenditure tracking.
Cons:
Limited chart graph functionality.
Pricey for small-scale organizations.
Kanban automation functionality is restricted.
No integration with leading CRM tools.
The initial setup can be time-consuming.
Plans & Pricing:
Free
Starter: $5.99
Deliver: $9.99
Grow: $19.99
Scale: Contact Sales
10. Microsoft Project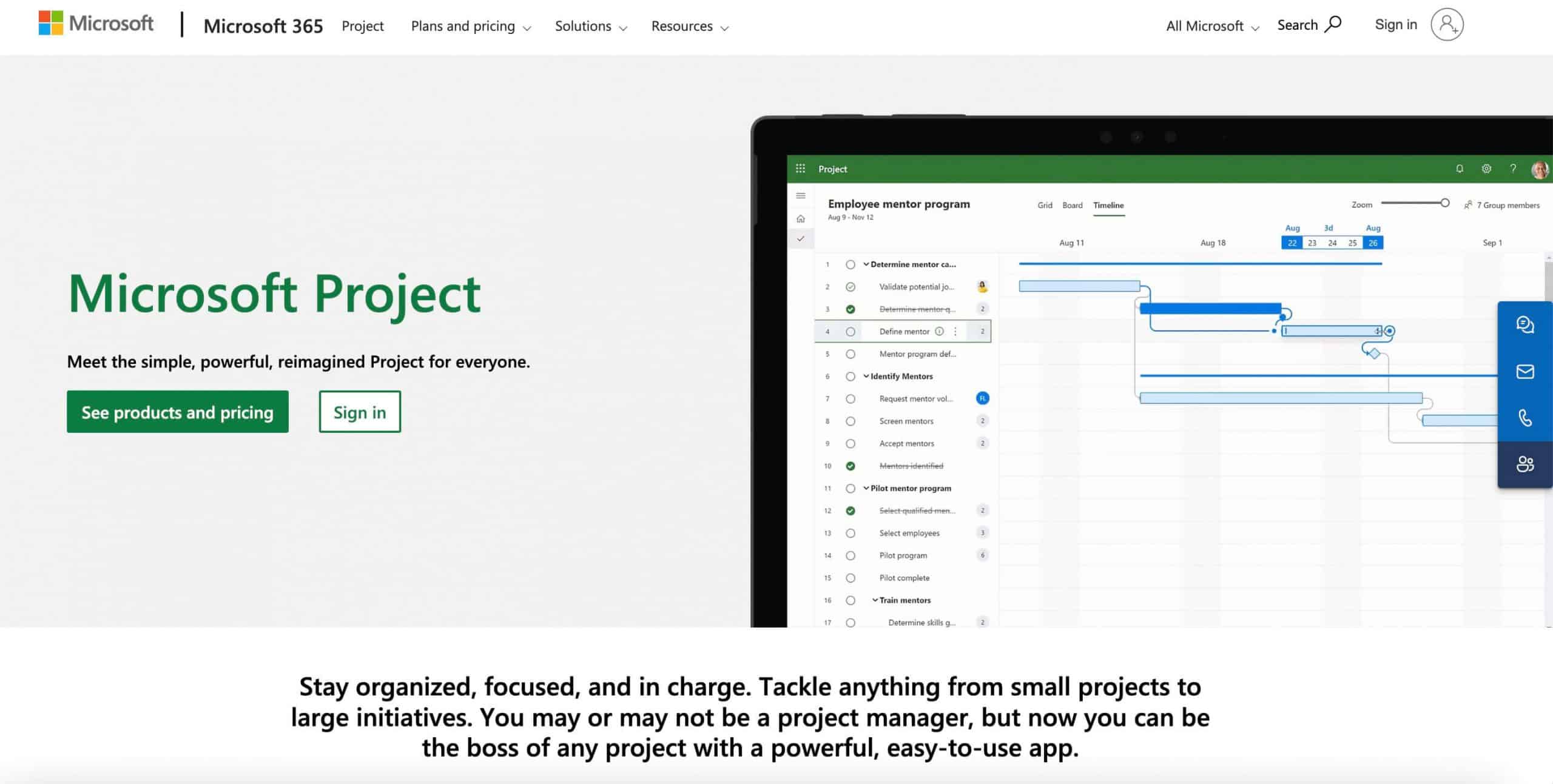 Microsoft Project is a widely recognized project management tool that offers intuitive timelines and robust role assignment features. It offers comprehensive solutions for intricate planning needs, enabling teams to synchronize tasks, resources, and timelines.
This platform offers built-in resource management, efficient task dependencies, and a real-time team schedule overview. Its user-friendly interface allows for a seamless transition of task and project data and configurations. Unfortunately, it doesn't offer a free plan outside a 30-day trial.
Pros:
Advanced resource and role assignment features.
Comprehensive charts and timeline views.
Extensive task dependency management.
Budgeting with custom cost fields.
Integrates seamlessly with other Microsoft products.
Cons:
Fewer integrations than competitors.
On-premises version is more complex.
Mostly integrates with Microsoft products only.
Watered-down web version.
Role assignments can be tedious for newcomers.
Plans & Pricing:
Project Plan 1: $10
Project Plan 3: $30
Project Plan 5: $55
11. Ahsuite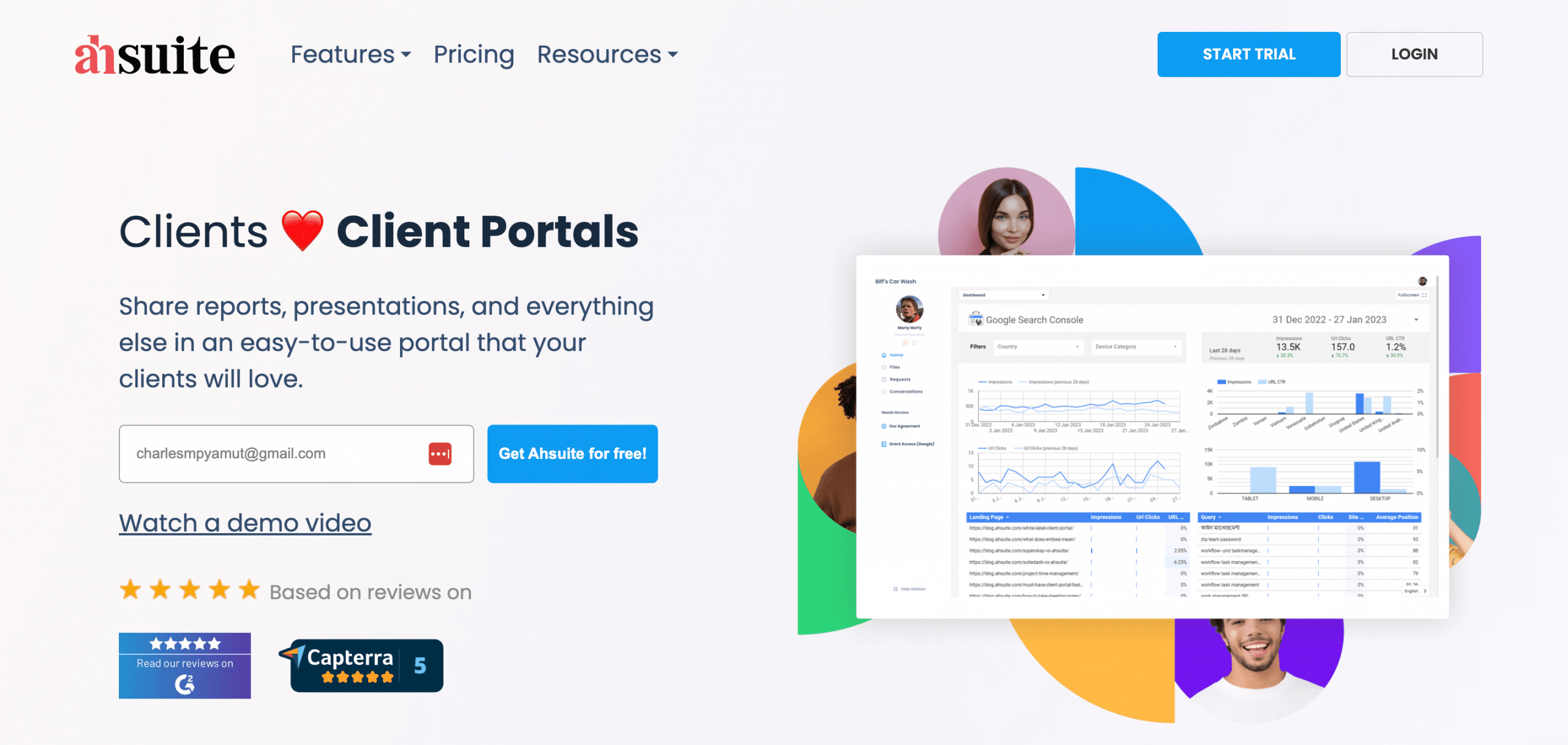 Ahsuite is a top provider of client portals for freelancers and educators, offering a secure platform that allows for the embedding of various content types. Its simple user interface promotes efficient client interactions for a seamless experience.
In addition, Ahsuite offers client management features that outshine Wrike, including a while-label client portal and self-service options. This client portal can facilitate task management, approvals, and communication all in a centralized resource.
Its interface is easily customizable and user-friendly, enabling hassle-free sharing of various content. Ahsuite also provides robust collaboration features and real-time group messaging, making it an excellent Wrike alternative.
Pros:
Intuitive dashboard with minimalist design
Features like password saver and client template creator.
Snappy platform performance.
Integration with various content types.
Easy to add custom domains and white-label branding.
Cons:
No direct integration with Google Drive/OneDrive, but these are supported.
No straightforward link is sent for client setup.
Absence of a mobile application (already in the roadmap).
Plans & Pricing:
Free
Professional: $24
Agency: $57
Tips for Transitioning to Wrike Alternatives
When considering a transition from Wrike to an alternative project management tool, it's essential to evaluate your specific needs and requirements. Here are some key factors to consider when making the switch:
Identify Wrike issues: Understand reasons for switching, like Wrike's steep learning curve, dense UI, and limited free features. A good Wrike alternative should solve these issues while fostering effective project management and team collaboration.
Evaluate feature alternatives: Prioritize tools with vital functionalities like task management, collaboration, and reporting. Make sure to get Agile Project Management methodologies.
Prioritize easy implementation: Choose tools ensuring quick setup and seamless team integration. This will minimize downtime and foster quick adoption.
Weigh cost & scalability: Opt for budget-friendly solutions scalable with evolving team needs. Consider free or tiered pricing if you're conscious of your budget.
Test tools before committing: Utilize free trials or demos to ensure the tool aligns with requirements. This will give you a hands-on experience with the tool and help you make an informed decision.
By meticulously evaluating the aspects mentioned, you're better positioned to usher in an era of enhanced project management that resonates with your team's ethos.
Summary
And that wraps up the list of best Wirke alternatives in 2024. While its feature-rich environment has many admirers, it also has its critics due to aspects like pricing and its steep learning curve.
With this in mind, many users are seeking cheaper alternatives for this product. We hope that you've found the best tool with features better than Wrike offers at the moment. Check out the top Wrike alternatives, utilize trials, and stride confidently into a decision fueling your team's momentum.
When client and project coordination takes center stage, Ahsuite emerges as a worthy Wrike alternative. It invites prospective users to dive into its ecosystem via a 30-day trial, ensuring a fit with the team's specific dynamics and operational rhythm.