Few industries benefit more from a convenient, secure, and organized client portal than the accounting industry. If your accounting practice serves small businesses or individuals, you are likely already searching for the perfect client portal for accountants. If that is you, read on.
In this article, I outline the pros and cons of the top five client portal tools for accountants. I aim to help you decide which tool is right for you, your business, and your clients.
If you are an accountant who has never heard of or thought about using a client portal, this article will help you understand the benefits of giving your clients a secure, organized experience. Email communication is simply not up to the task, and if you wish to maintain a competitive edge in 2024, client portals are a must.
What are Client Portals for Accountants?
Client portals for accountants are secure online platforms or interfaces that facilitate communication, file sharing, and collaboration between accountants or accounting firms and their clients. These portals are specifically designed to streamline the exchange of sensitive financial information, documents, and data in a secure and organized manner.
What Features Should You Look For in a Client Portal for Accountants?
Client portals for accountants often require specific functionalities to facilitate secure communication, file sharing, and collaboration while maintaining the confidentiality and integrity of financial information. Here are some essential features for client portals used by accountants:
Secure user authentication: Implement robust authentication mechanisms, such as multi-factor authentication, to ensure only authorized users have access to the portal.
Confidential file sharing: Enable secure file uploads, downloads, and sharing of financial documents, tax returns, statements, and other sensitive accounting information. Encryption should be used to safeguard data during transfer and storage.
Communication tools: Provide secure messaging and discussion functionalities for direct and real-time communication between accountants and clients. This facilitates queries, discussions, and sharing additional financial information securely.
Document management: Organize files into categories or folders, offer version control, and provide search capabilities for quick access to specific documents or information.
Access control and permissions: Allow accountants to manage different levels of access, ensuring that sensitive financial data is only accessible to authorized individuals.
Compliance and security measures: Ensure the portal adheres to industry standards, including compliance with data protection regulations (such as GDPR) and other relevant financial privacy laws to protect sensitive financial information.
Task and workflow management: Offer features to assign tasks, track progress, and manage workflow among accountants and their clients. This includes setting deadlines, tracking revisions, and managing document approval processes.
Custom branding and white-labeling: Allow customization of the portal with the accounting firm's branding for a professional and consistent appearance.
Audit trails and reporting: Maintain detailed logs of user activities and changes within the portal, providing transparency and accountability. Generate reports on document access and user interactions for tracking and auditing purposes.
Integration capabilities: Support integration with accounting software, financial management systems, or other tools commonly used by accountants to ensure seamless data transfer and workflow continuity.
These features collectively create a secure, efficient, and organized platform for accountants and their clients, facilitating streamlined communication, collaboration, and the management of sensitive financial documents and data.
8 Best Client Portals for Accountants
Here are the best client portal for accounting professionals and their clients:
1. Ahsuite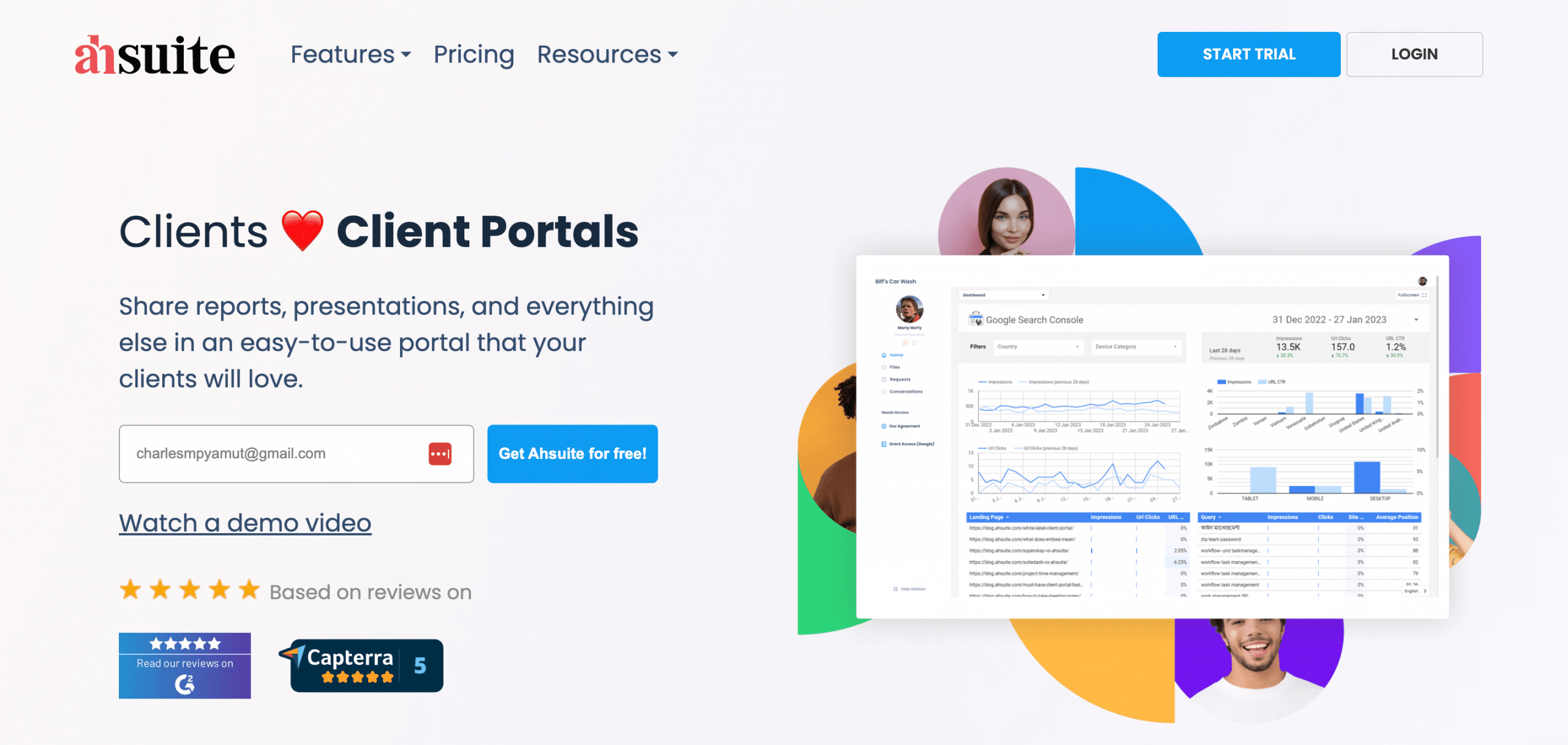 Ahsuite (pronounced "aw sweet") lets you share tasks, files, messages, and anything else in a clean, easy-to-use client portal. While originally designed for the marketing industry, Ahsuite's user-friendly interface and flexibility suit various industries.
Ahsuite's client portal software caters to accountants, offering a single platform for managing clients, secure file sharing, and efficient communication.
With customizable client portals, easy access to financial documents, and advanced security features, Ahsuite streamlines workflows and enhances collaboration between accountants and their clients.
Pros:
Comprehensive task management features
Seamless content embedding for various media types
Dedicated team password manager
Work journals for transparency and accountability
Built-in group messaging for effective communication
Customizable white-label client portals
Cons:
No built-in billing functionality (planned for future updates)
Lacks native DocuSign-like feature (integration possible)
Pricing:
Free: Ahsuite View
$24/month: Ahsuite Professional
$57/month: Ahsuite Agency
Customer Ratings:
G2: 4.8 out 5 (56 reviews)
Capterra: 4.9 out 5 (19 reviews)
In certain aspects, Ahsuite shines with an intuitive interface and the most robust task management system of any dedicated client portal. But a lack of billing functionality, at least for now, may be a dealbreaker for some business users.
2. Citrix ShareFile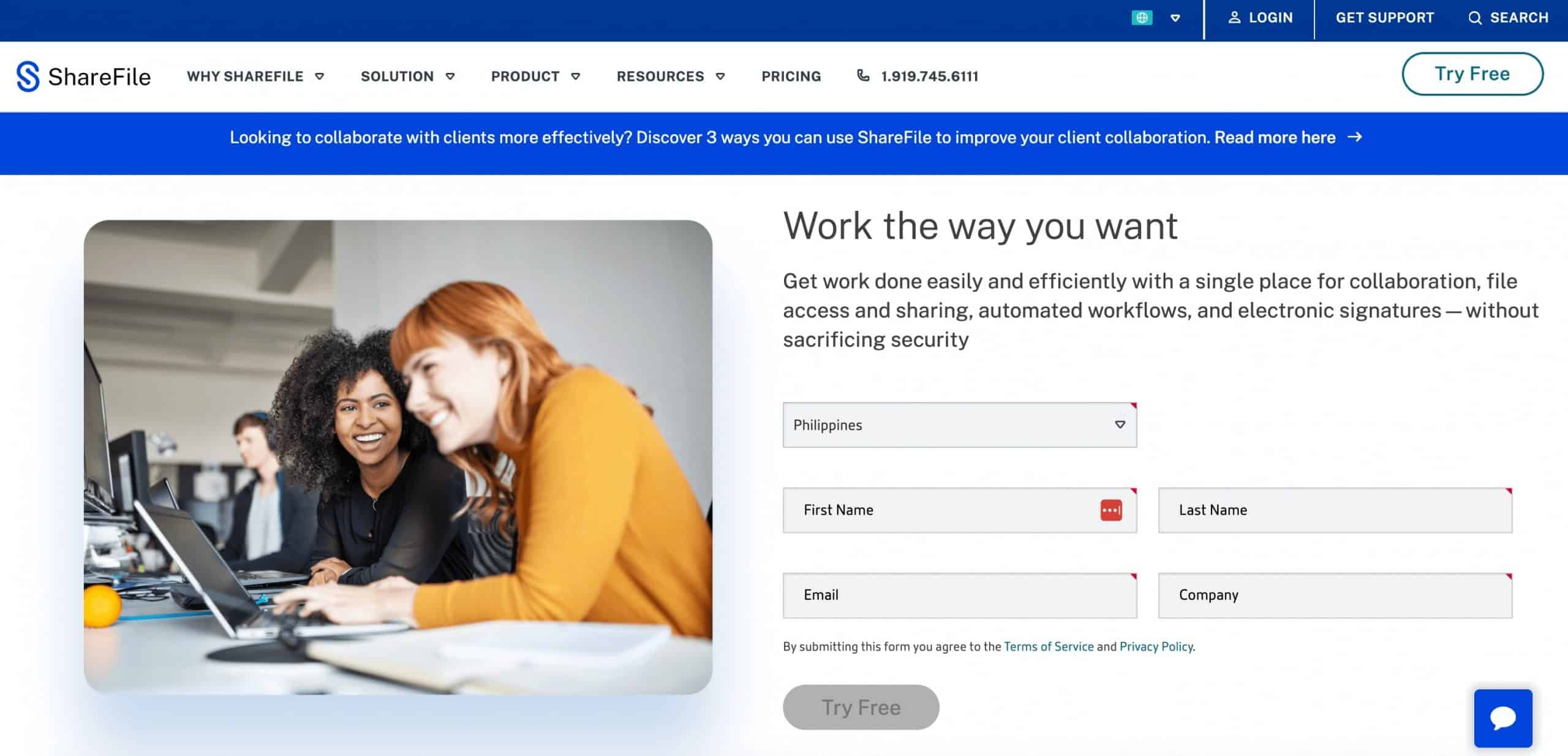 ShareFile by Citrix is secure, user-friendly solution designed for any team that values collaboration and efficiency. Whether you're a small business or an accounting department, ShareFile streamlines the way you work.
The software allows you to share any size file on any device, anytime, with bank-level encryption for optimal security. No additional software installations needed. It's like your mobile office, with quick and straightforward set-up.
ShareFile offers a custom-branded client portal where accountants can engage with their clients on specific documents or tasks. It also has a Document Request & Collection feature and Workflow Automation for efficient processes. With unlimited e-signatures and Secure Document Management, accountants can collaborate safely and effectively.
Pros:
Offers secure file sharing and collaboration
Time-saving with automated workflows
Custom-branded client portal for personalized interaction
Allows unlimited, legally-binding e-signatures at no extra cost
Safe and efficient document management
Cons:
Might be beyond the budget of smaller firms
Could be challenging for those less familiar with tech
Pricing:
Standard: $50 per month
Advanced: $80 per month
Premium: $125 per month
Virtual Data Room: $388 per month
Customer Ratings:
G2: 4.2 out 5 (33 reviews)
Capterra: 4.5 out 5 (386 reviews)
In short, ShareFile offers a blend of secure file sharing, workflow automation, and flexible document management, aiming to make an accountant's life a little easier.
3. Huddle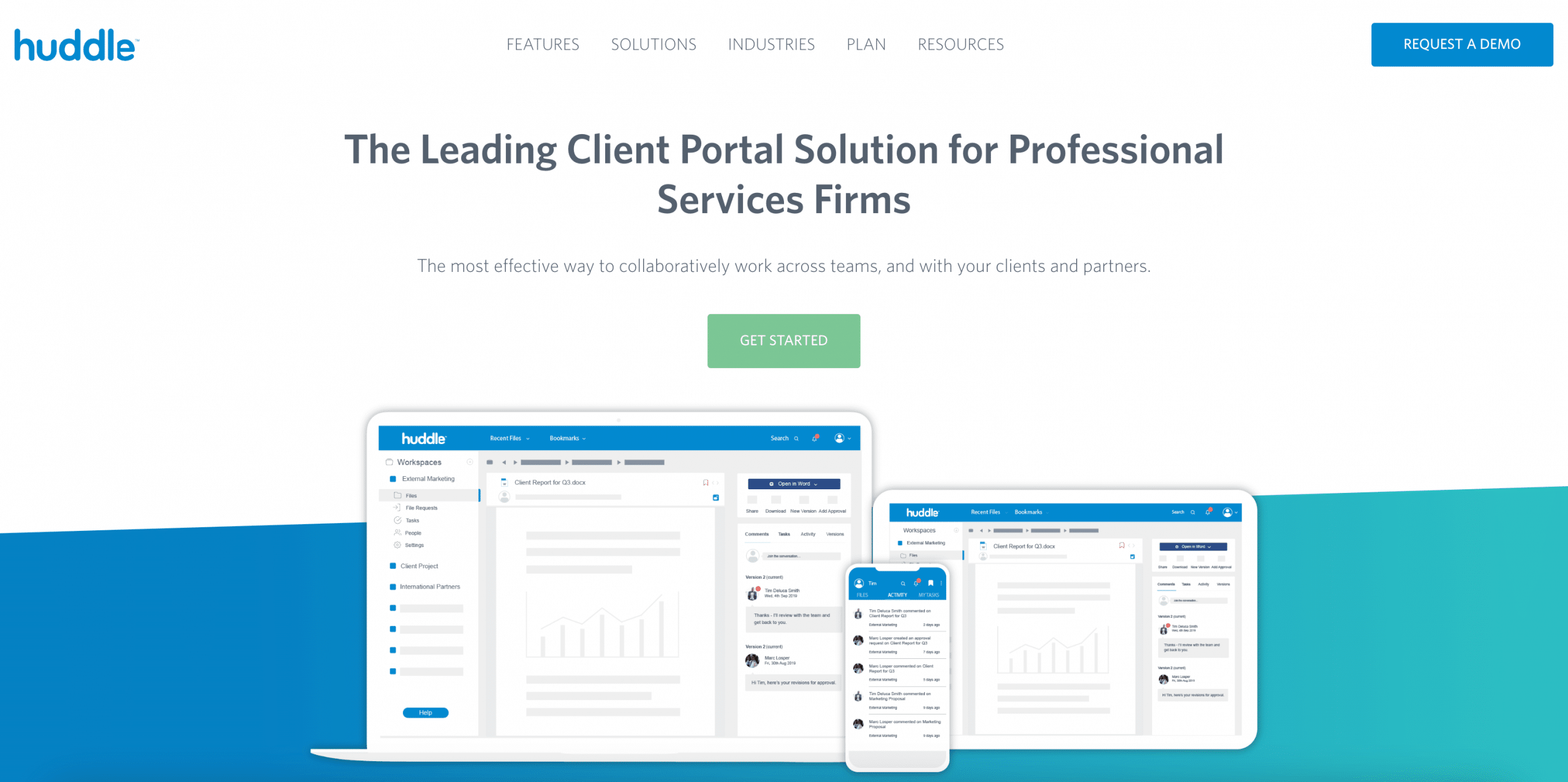 Huddle is a cloud-based platform, ideal for firms in regulated industries needing secure information sharing and efficient collaboration. The platform stands out with its government-grade security, custom client portals, and efficient collaboration tools.
Tailored to an accountant's needs, Huddle presents document collaboration features that help construct more robust client relationships and promote team efficiency. Its ability to create branded workspaces, assign tasks, and co-author content revolutionizes traditional working methods, all while eliminating the problem of file storage fragmentation.
Pros:
High-level security ensuring data protection
Customizable client portals for organized access
Tools promoting efficient internal and external collaboration
Cloud-based, ensuring synced and updated files
Cons:
Might lack some advanced features
Some features may remain underutilized
Pricing:
Essential Plan: $15
Plus Plan: $30
Team Starter Plan: $150
Premier Plan: Contact for Pricing Details
Customer Ratings:
G2: 4.2 out 5 (121 reviews)
Capterra: 4.5 out 5 (65 reviews)
Huddle is a tool for those seeking secure and regulated collaboration. Its intuitive design promotes efficient teamwork, making it a great choice for accountants.
4. SmartVault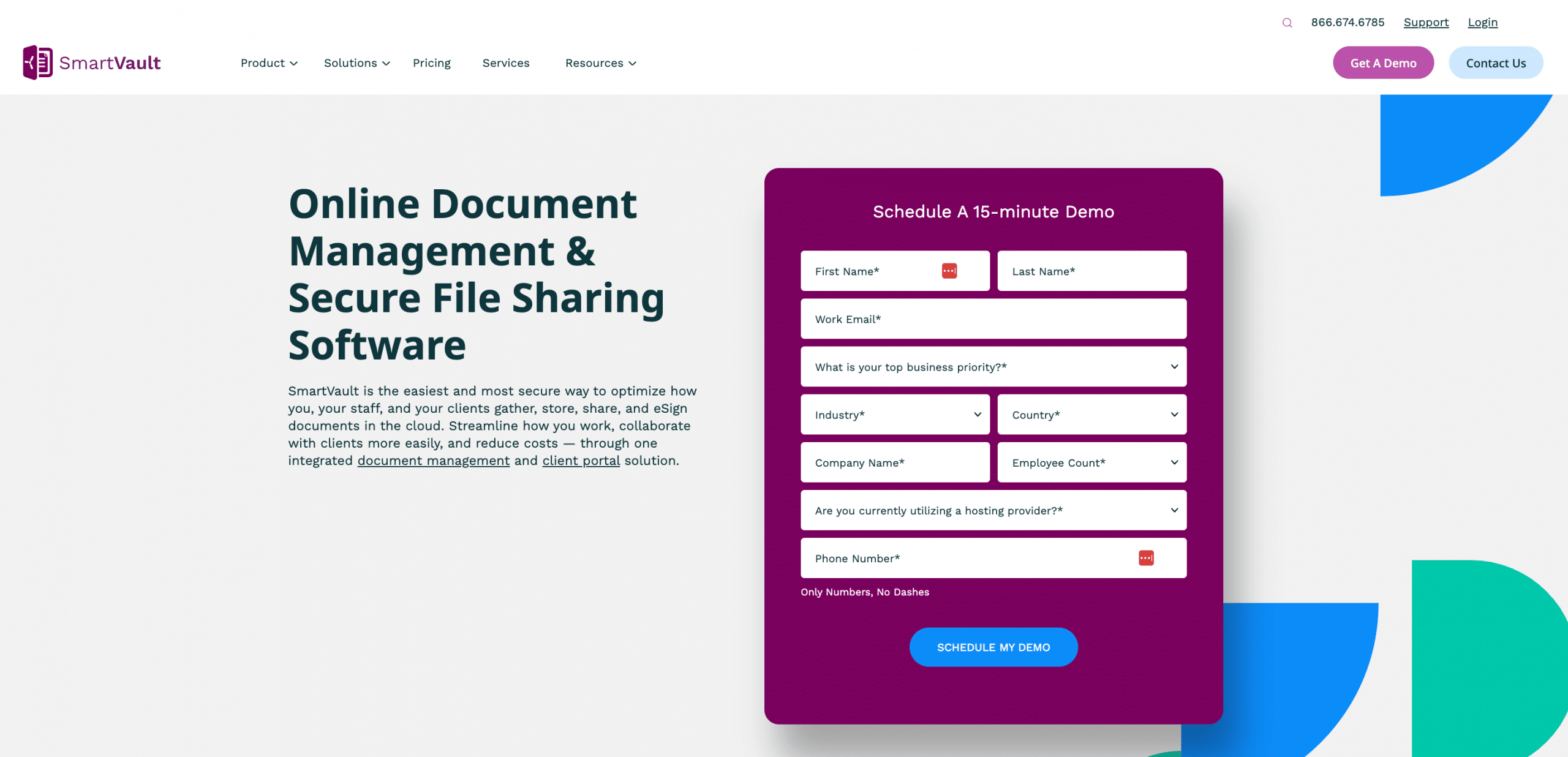 SmartVault emerges as a cloud-based competitor in the realm of secure document management and client collaboration. This platform seamlessly blends document collection, management, and sharing capabilities. It is known for its robust security, adaptability, and its capacity for seamless integration with diverse systems.
For accountants, SmartVault offers a feature-rich platform with an emphasis on security. It uses 256-bit AES encryption for data protection, ensuring secure storage and sharing. The cloud-based architecture permits remote access, facilitating real-time collaboration.
Pros:
High-level security with 256-bit AES encryption
Seamless integration with diverse software
Extensive customization possibilities
Cons:
Pricier than some cloud-based solutions
Reported customer support issues
Pricing:
Standard ($20)
Business Pro ($40)
Accounting Pro ($40)
Enterprise (Contact Sales)
Customer Ratings:
G2: 4.3 out 5 (97 reviews)
Capterra: 4.3 out 5 (121 reviews)
SmartVault's seamless integration and high-grade security make it a robust choice for accountants seeking an efficient and user-friendly cloud-based collaboration tool.
5. ClientJoy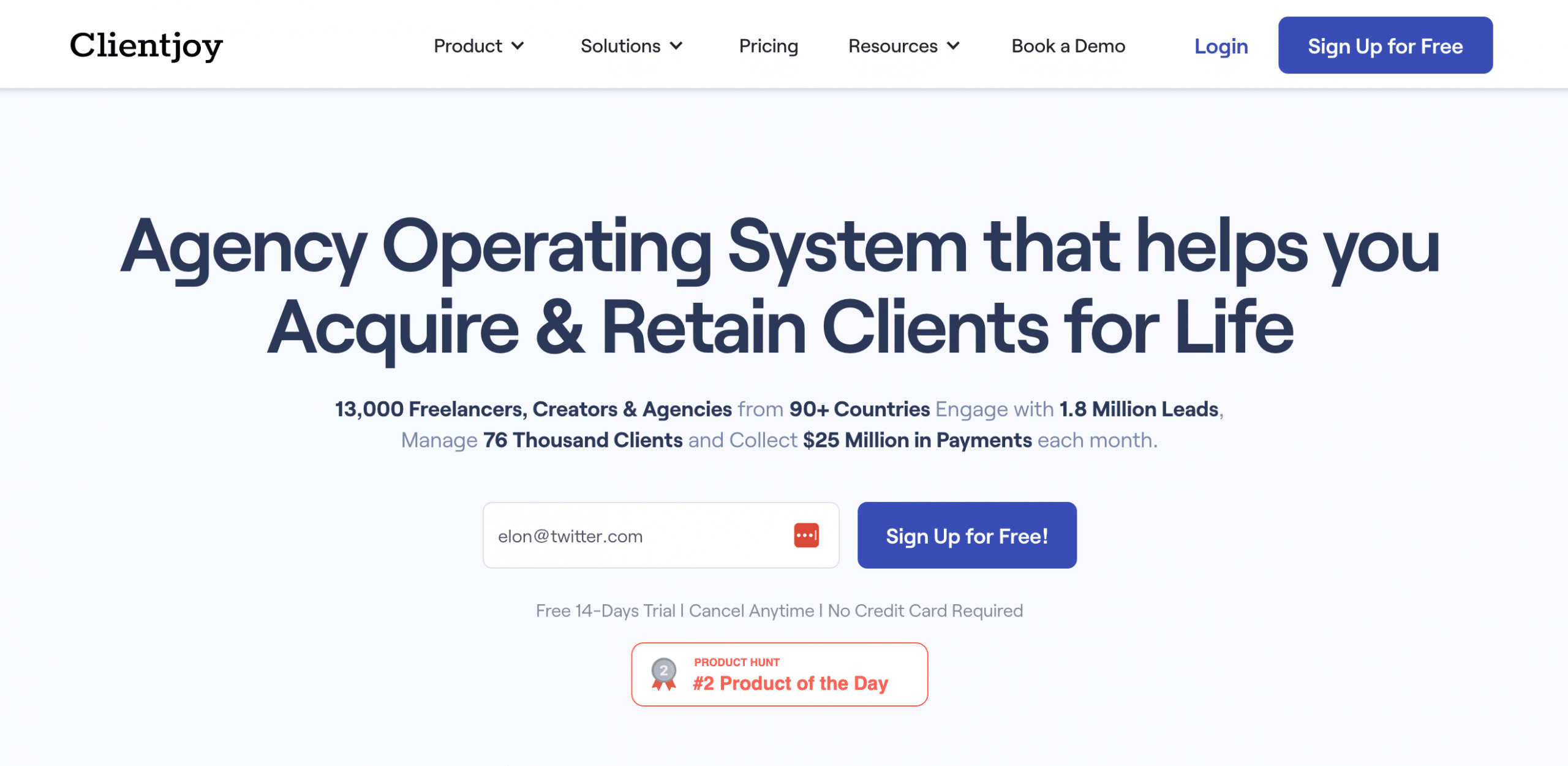 ClientJoy is "a complete client life-cycle software for modern teams and agencies that allows them to manage their Leads, Proposals, Invoices and Payments in one place." While ClientJoy greatly emphasizes CRM and sales functionality, its client portal features are also excellent.
The platform offers ISO 27001-compliant security, a smart document builder for file management, task synchronization using Google Calendar, document approvals similar to DocuSign, and extensive billing management capabilities.
Pros:
Swift and easy-to-use software
It has a file manager and smart document builder
Continuous improvements and responsive support
Time-saving and professional-looking tools
Seamless integration with easy setup tutorials
Cons:
A limited number of form templates
The complicated structure of features may be difficult to understand
Pricing:
Free
Starter Plan: $15
Agency Plan: $25
Enterprise Plan: $49
Customer Ratings:
G2: 4.6 out 5 (54 reviews)
Capterra: 4.7 out 5 (74 reviews)
ClientJoy caters to the specific needs of accountants dealing with multiple clients, offering a comprehensive set of features and pricing options, including a free plan. Its focus on security, document management, and billing makes it an excellent choice for accounting professionals seeking a versatile client portal solution.
6. Copilot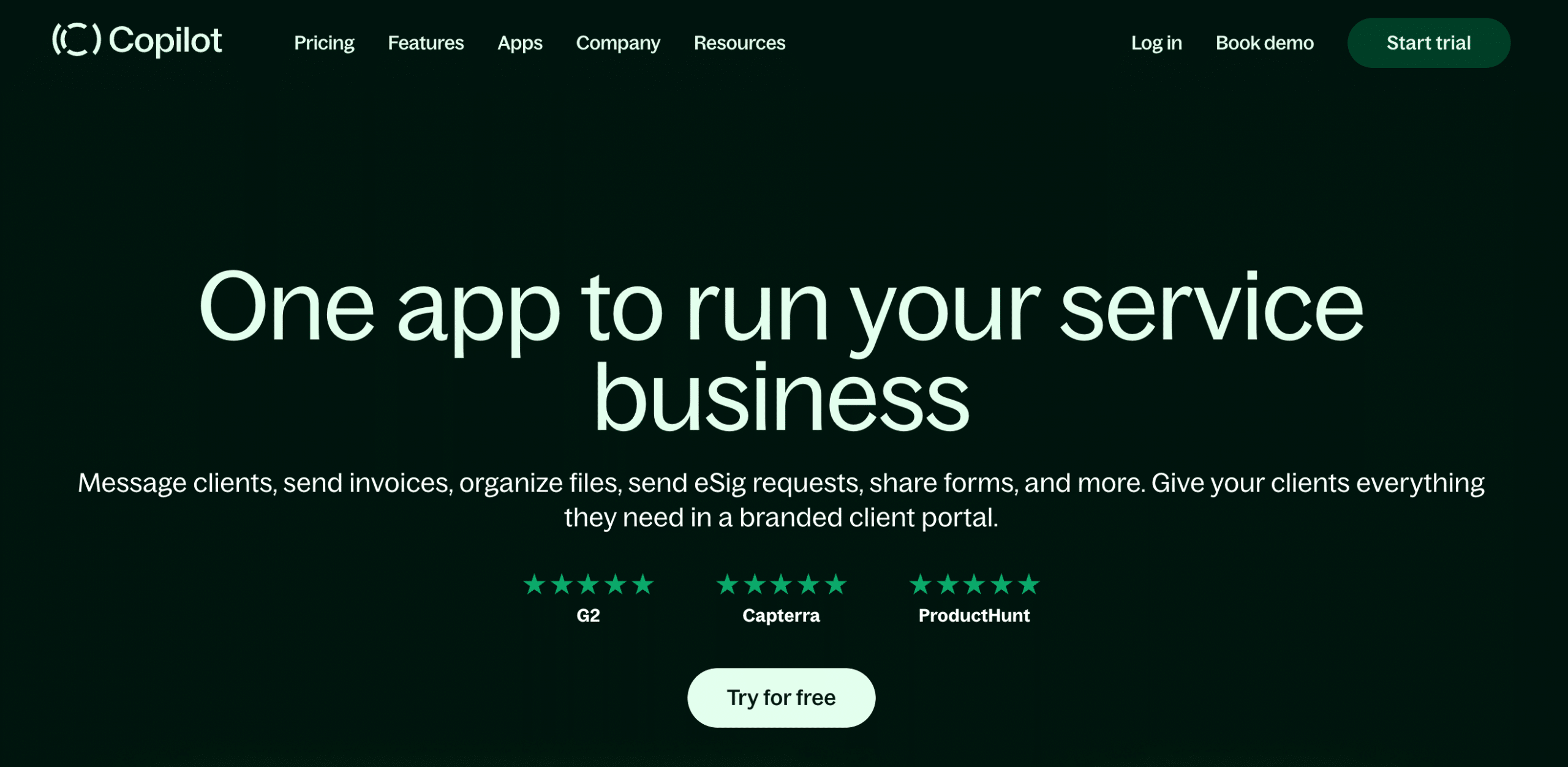 Copilot, formerly known as Portal, is a web-based platform that helps companies manage their customer service. The platform is known for its clean, efficient user interface. What Copilot does, it does well. But compared to some other tools here, it has somewhat limited functionality.
This Copilot client portal offers encrypted communication, file sharing, document approvals with DocuSign-like functionality, and billing management. It enables seamless client communication, payments, contracts, and more.
Pros:
Easy-to-use interface and mobile-first design
Comprehensive customization and branding options
Fast performance and modern user experience
Responsive and helpful support team
Cons:
Lacks two-factor authentication (2FA) at the time of writing
Can be challenging to train less tech-savvy users
No option for requesting signatures from multiple users at the same company
Pricing:
Starter: $29
Professional: $69
Advanced: $119
Customer Ratings:
G2: 4.8 out 5 (120 reviews)
Capterra: 4.9 out 5 (19 reviews)
While not having a task solution can be a major deficit when you need to assign action items to your client or vice versa, the strength of Copilot is that it offers one of the most practical and efficient user interfaces of any client portal on the market.
7. SuperOkay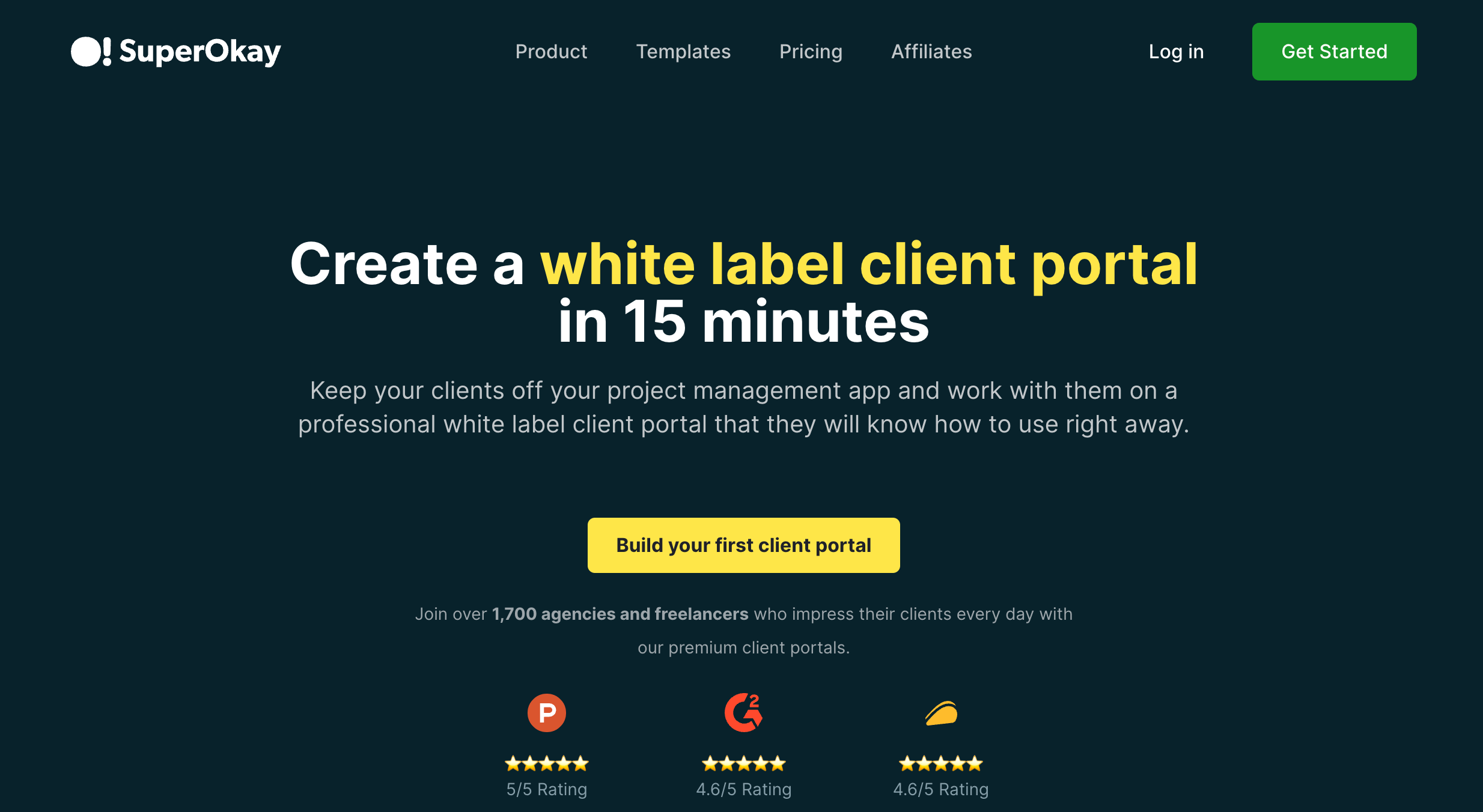 SuperOkay brings a fun, lighthearted vibe to client portals. With a beautiful, friendly aesthetic, this client portal software can help create a positive personality for your accounting business. Like ClientJoy, it lets you build smart documents such as contracts, invoices, reports, etc.
SuperOkay is a customizable client portal designed for accountants, offering features such as white-labeled dashboards, app integration, quick links, rich document editing, and reusable blocks. It enables teams to share project information, assets, and tasks with clients, streamlining collaboration and communication.
Pros:
Easy file sharing with individual client logins
Responsive team and continuous improvements
Visually appealing and user-friendly interface
Wide range of integrations and embed options
Multilingual support
Cons:
Lacks two-factor authentication (2FA) for added security
Limited customization options and hard-coded elements
Occasional bugs and overwhelming folder organization
Pricing:
Solo: starting at $19
Solo+: starting at $59
Business: starting at $112
Customer Ratings:
G2: 4.6 out 5 (38 reviews)
Capterra: 4.8 out 5 (9 reviews)
Since designers built it, SuperOkay is permeated with a focus on design – sometimes to a fault. While it allows you to customize your portals and documents deeply, those customizations can become a complicated burden if you are just looking for a straightforward client portal.
8. SuiteDash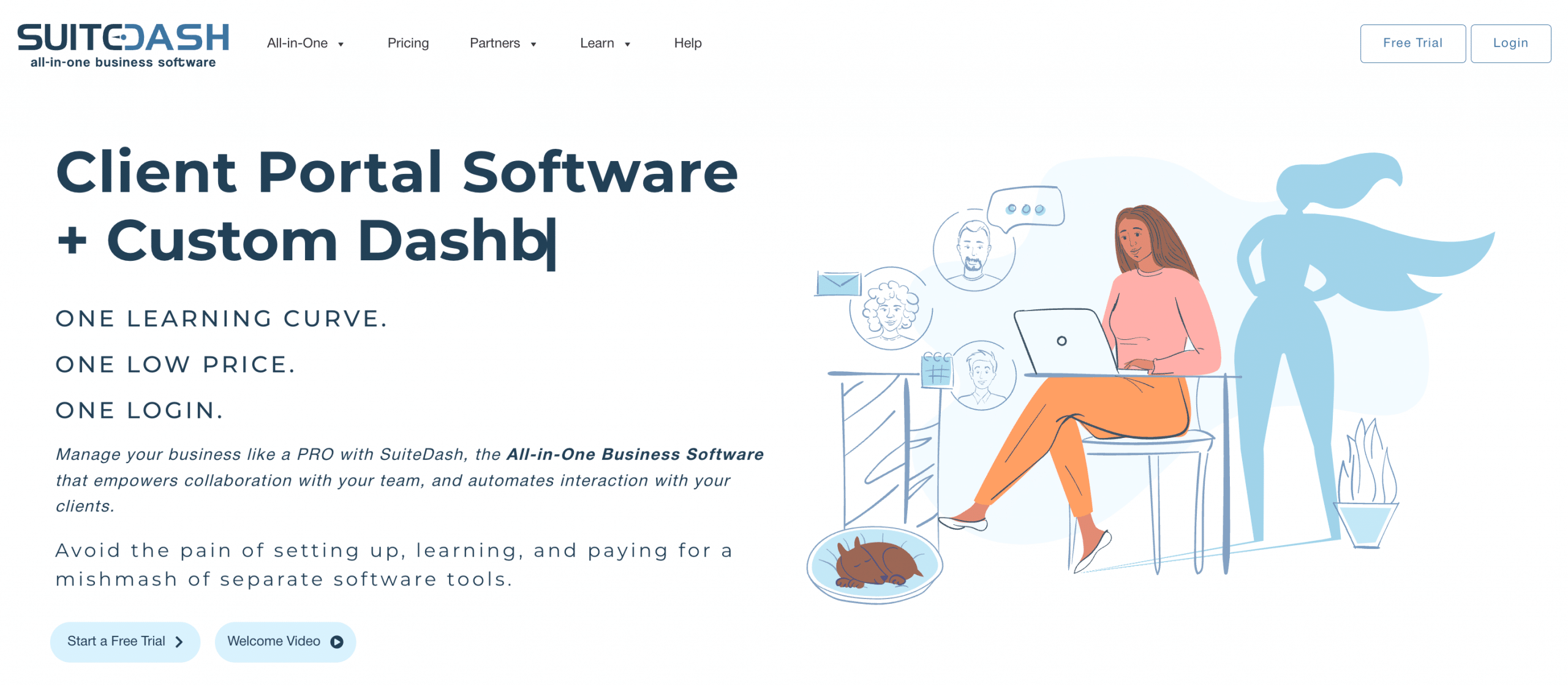 SuiteDash aims to be your do-everything business platform, claiming to replace the core functionality of everything from Zapier to Thinkific. The platform has accumulated a huge range of features and functionality.
SuiteDash is a fully integrated cloud-based platform designed for accountants, offering HIPAA-compliant security, file management, task assignment, document approvals with DocuSign-like functionality, and comprehensive billing management. It combines the most commonly used business tools into one convenient dashboard.
Pros:
Fully branded and affordable solution
Responsive and helpful customer support
Excellent white-label customization options
Regular updates and new feature implementation
Cons:
Lacks a dedicated messenger for customer communication
Requires time to familiarize with the interconnected components
Waiting for new features to become live can be frustrating
Potential issues with spam filters blocking emails
Pricing:
Start Plan: $19
Thrive Plan: $49
Pinnacle Plan: $99
Customer Ratings:
G2: 4.2 out 5 (45 reviews)
Capterra: 4.5 out 5 (33 reviews)
SuiteDash has many features, and it might be the all-in-one solution you need for your accounting firm. They offer a free 14-day trial, so you should try it out before deciding.
Related: 10 Best SuiteDash Alternatives
Conclusion
There you have it, a rundown of the best client portal for accountants. We've covered essential features, advantages, disadvantages, and pricing to help you make an informed decision.
Among the list, Ahsuite stands out with its team collaboration features and a free tier for up to three clients. As new security features and billing functionality are set to launch, Ahsuite is poised to become one of the best choice for accountants in 2024.
In conclusion, upgrading from email communication to a client portal can significantly improve your accounting practice. Whichever software you choose, it will enhance organization, efficiency, and client satisfaction.