Choosing the right business software like client portals can transform your operations and elevate them to new heights. However, the vast amount of choices, particularly in management solutions, can be overwhelming for new buyers.
In our latest deep dive, we're exploring the battle of the platforms: Clinked and Ahsuite. We've compared these white label solutions with criteria such as features, usability, pricing information, and overall value to help you decide which platform is the great choice for your business.
Clinked vs. Ahsuite at a Glance
When it comes to client portals, Ahsuite and Clinked are two outstanding products that can provide unparalleled benefits for the right users. Let's explore the functionality and features they offer, and how they can potentially meet your portal needs.
Clinked
Clinked stands out as a highly customizable, secure client portal software. Packed with collaborative utilities like file transfers, task oversight, and smooth integrations, this tool is designed to boost communication clarity with clients and associates.
Renowned for its adaptability, stringent security, and expansive features, this platform can be used across professions from accounting and law to architecture and construction.
Related: 11 Best Clinked Alternatives
Ahsuite
Ahsuite is a great option for professionals and SMEs in need of specialized client portal software while also enhancing efficiency for the whole organization. With a wide range of features, you can share files, tasks, messages, and other crucial information effortlessly across your clients and teams.
With its user-friendly interface and sturdy security measures, it's a top choice for freelancers, agencies, and remote teams spanning various sectors such as marketing, design, and software. Its hallmark? Merging communications into one easy-to-navigate platform.
How Clinked and Ahsuite Stack Up
We'll analyze how Clinked and Ahsuite, two major players in the client portal industry, stack up against each other. This in-depth comparison examines their key features and differences.
Clinked
Ahsuite
Pricing
– Free (3 Users)
– Lite ($119)
– Standard ($299)
– Premium ($599)
– Enterprise (Contact Sales)
– Free (10 Portals)
– Professional ($24)
– Agency ($57)
Key Features
– Task Management
– File Management
– Group Discussion
– Team Calendar
– Mobile App
– Activity Stream
– Views
– Conversation
– Tasks
– Files
– Password Manager
– Work Journals
– File Approval
– While Label Client Portals
Collaboration & Communication
Focused on Enterprise Users
Focused on individuals/SMEs
User Interface & Experience
Forum-Based Enterprise Environment
Portal-Based Intuitive Interface
Customizations & Integrations
– Zapier
– JotForm
– Dropbox
– DocuSign
– AdobeSign
– Zapier
– Pabbly
Customer Service & Support
9.2 on G2
9.7 on G2
User Reviews
Read Clinked reviews on G2
Read Ahsuite reviews on G2
Clinked vs. Ahsuite Feature Comparison
Peeling back the layers, let's delve into a side-by-side feature assessment for both of these client portals. Here's a comprehensive breakdown per feature.
Task Management
Ahsuite makes it easy to assign deadlines and set task dependencies. You can instantly mark tasks as completed or canceled right in your main task view without opening multiple menus. However, there is no built-in way to prioritize tasks, though this can be done through labels.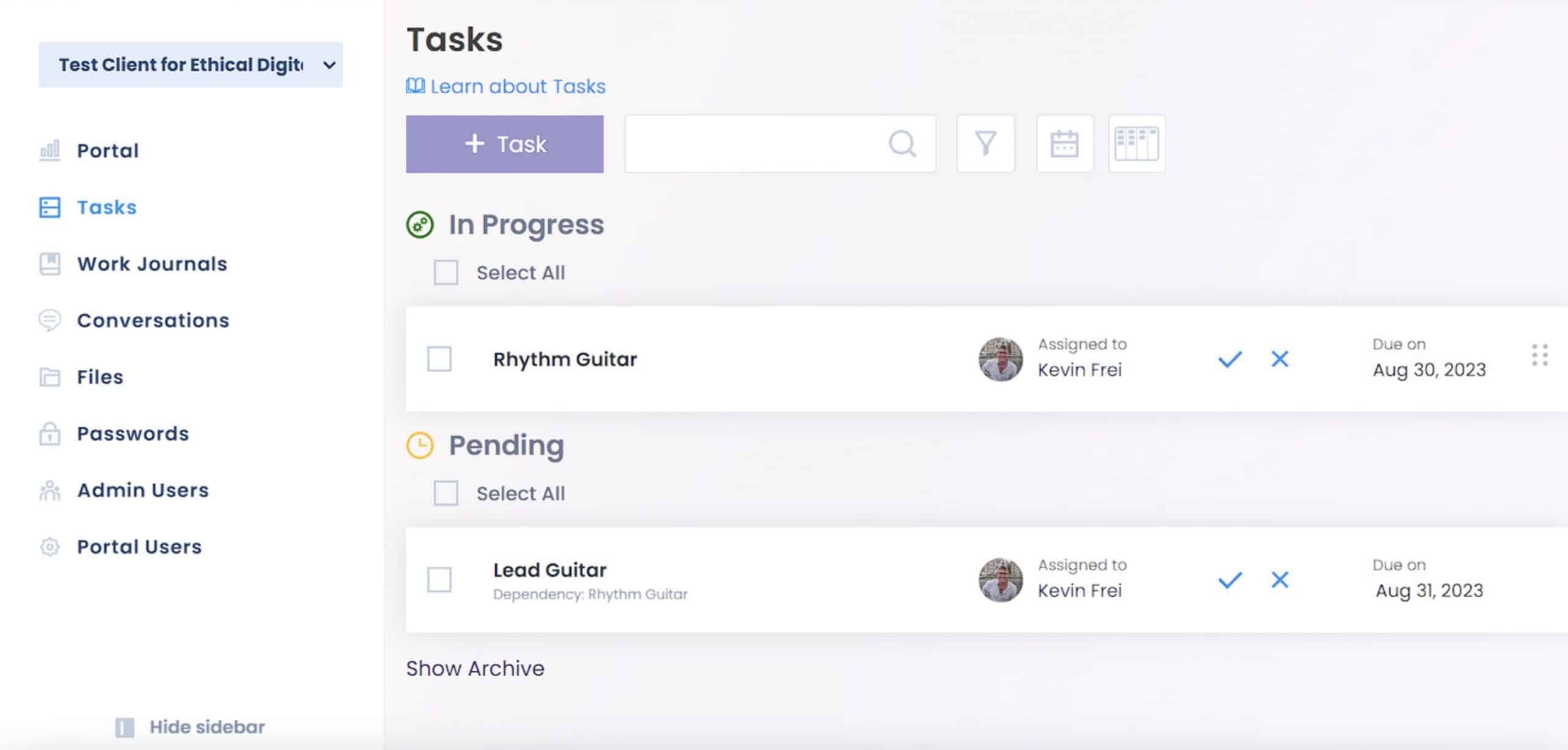 You can export .ics files from Clinked to streamline calendar management. It also has guest sharing, task prioritization, recurring tasks, progress bars, and reminders. However, navigating through simple features (such as deleting a task) can be tedious. There are also no checklist options or Kanban view.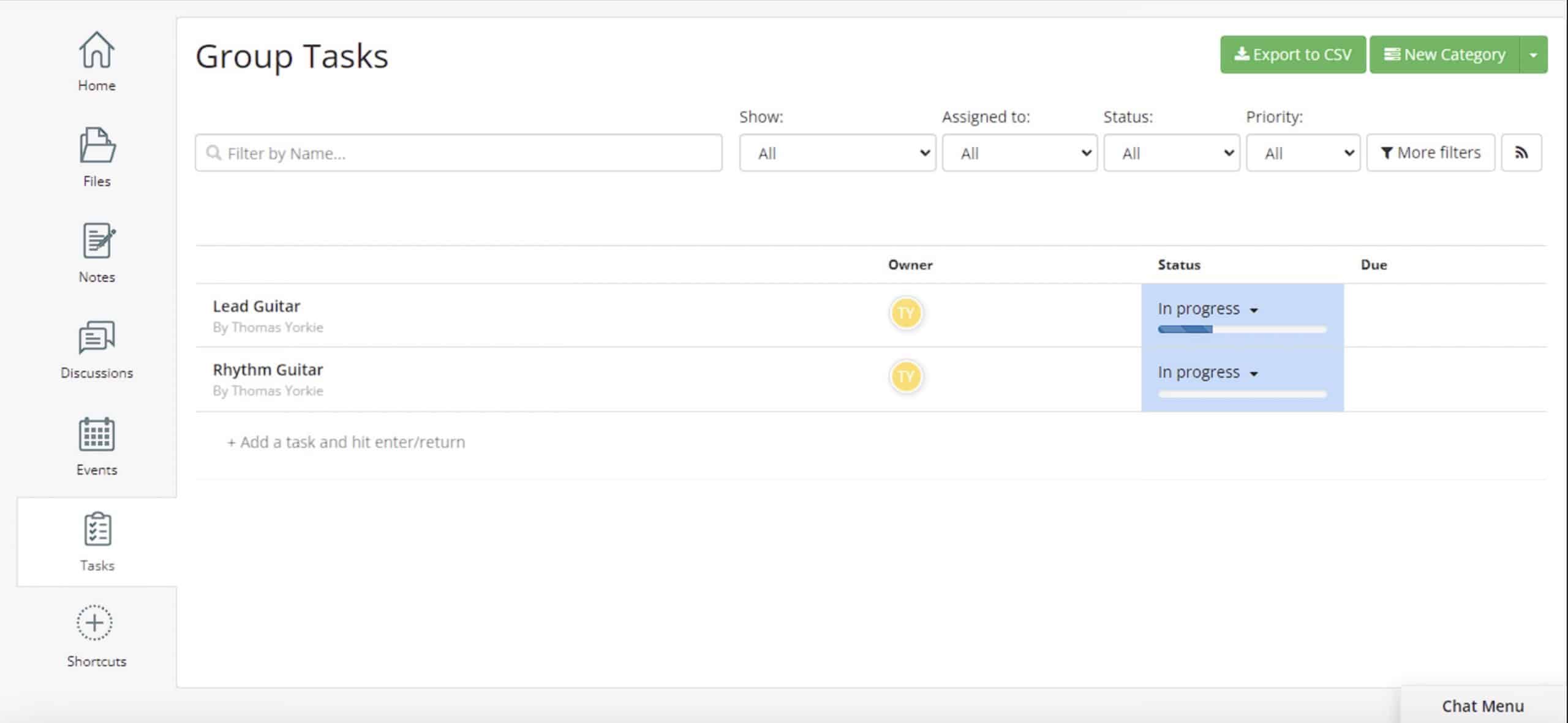 Overall, Ahsuite offers a simpler and faster way of managing tasks while Clinked has more robust options but sacrifices some user-friendliness and performance. Those needing intricate task and deadline features may lean towards Clinked, while users who want intuitive UI may prefer Ahsuite.
File Management
Ahsuite allows you to embed files directly into the client portal for easy previews. You can also filter files using labels and group them into containers for better navigation. However, the sharing options may be limited depending on your operational requirements.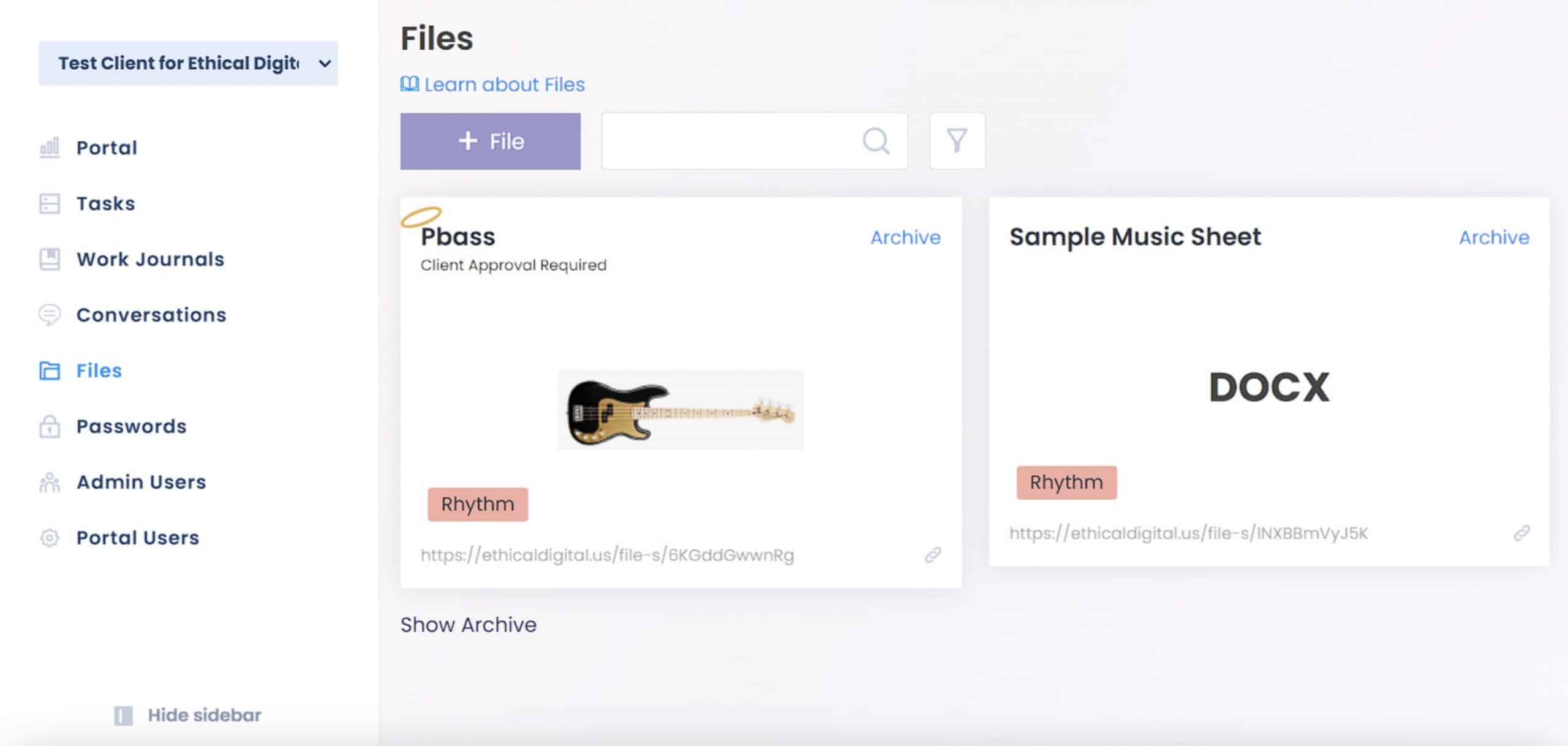 Clinked offers more advanced permission controls for files but lacks key organization features. You can also create tasks linked directly to files as well as request documents from other group members.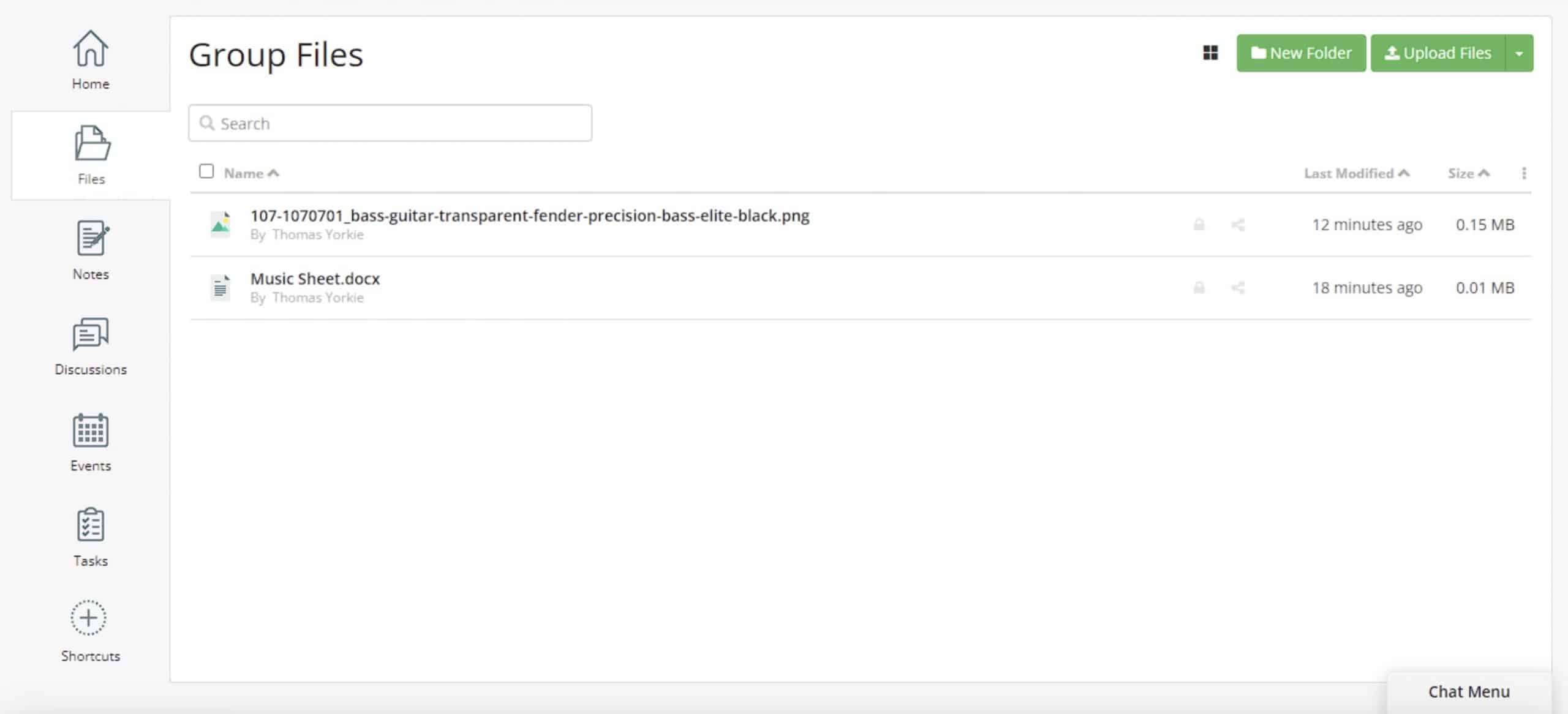 Password Management
Ahsuite offers a built-in password manager that allows you to securely store login credentials for various apps and websites. Clinked currently has no native password management capabilities.
Messaging
Ahsuite provides a clutter-free messaging environment where users can effortlessly search phrases, making it a more user-focused option. Its intuitive design ensures ease of use, staying true to its clean and modern approach. However, it does fall short by not providing any formatting options for messages.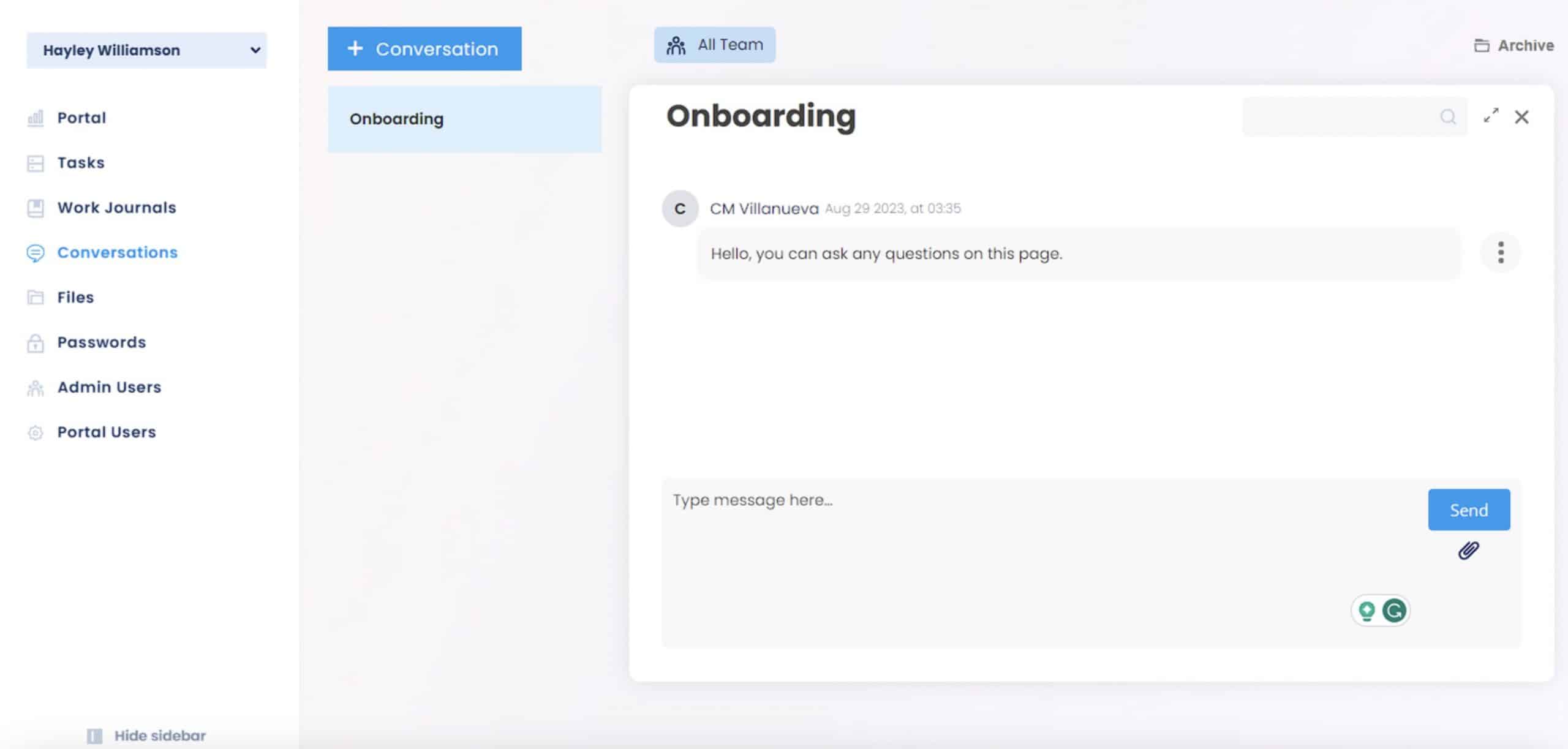 Clinked has rich message formatting and advanced permission controls. Its "reach out" feature streamlines announcements. However, filtering is restricted to names, which can slow down message searches.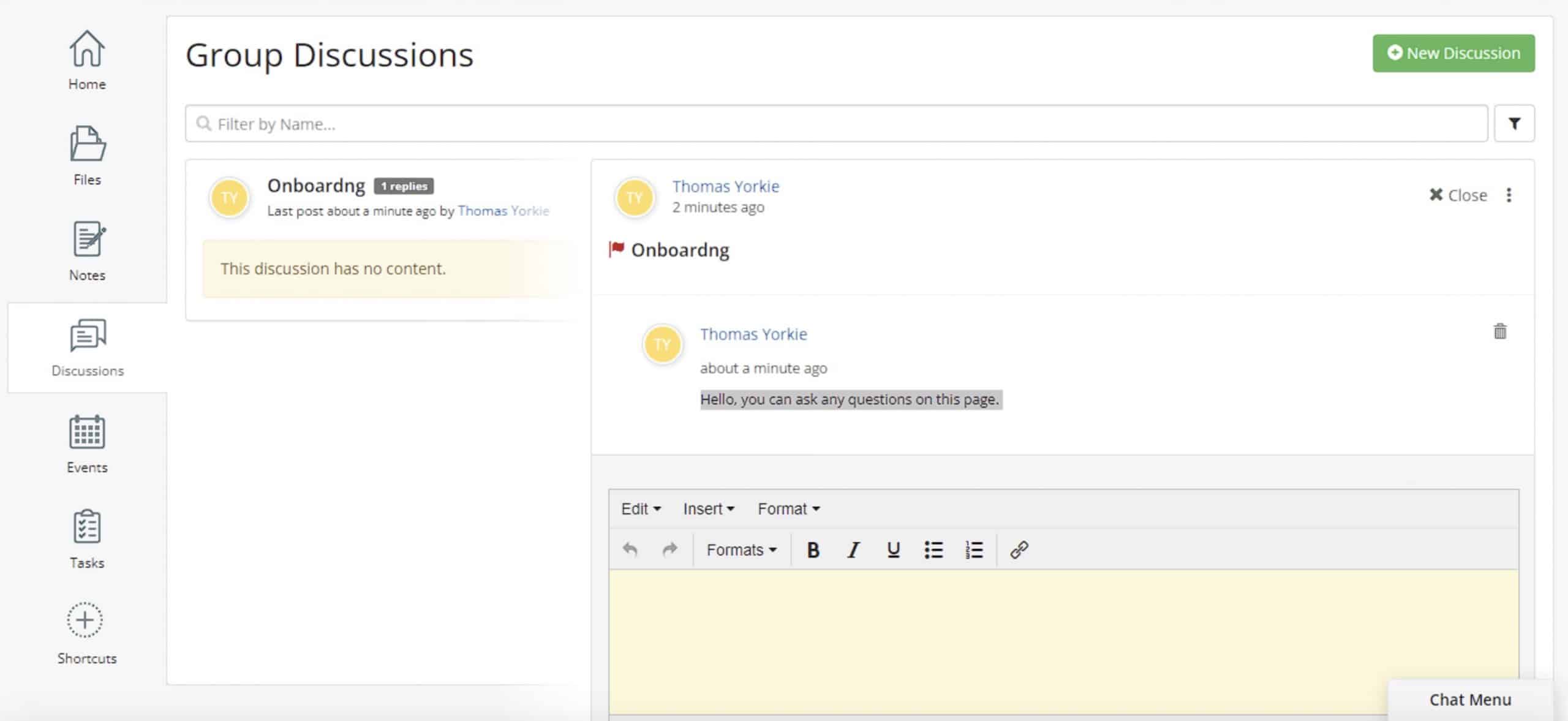 Customization & Integration
Both platforms support Zapier integration, bridging connections with thousands of renowned apps to streamline workflows. These products also grant flexibility to modify background and button colors, favicon, and logos.
In addition, Ahsuite also supports integration with third-party tools using iframe embedding. Users can seamlessly incorporate Tableau, Looker Studio, various Google utilities, Figma Boards, and even multimedia platforms like YouTube, Vimeo, Loom, and Airtables.
Ease of Use
Ahsuite offers a faster, more responsive experience with a clean and intuitive minimalist interface. You only see the information that you need on the screen. However, this might not be for power users who might need tons of data (such as activities and announcements) at a glance.
Clinked has "Widgets" to customize how content is displayed and organized. However, based on testing, this might cause lagging and delayed response times. Users also need to whitelist domains before they can embed content within the portal. Its onboarding can also be information overload.
User Feedback
Ahsuite shines with its lightweight, speedy performance—ideal for speedy remote projects. Users from G2 admire its versatility, efficient task/project management features, and intuitive client communication.
The platform's secure file sharing, coupled with an encrypted password manager, gives teams the modern, user-focused tools they need for easy and secure operations.
Meanwhile, G2 reviews praise Clinked for organizing clients' essentials: documents, tasks, and quick-access URLs. While some may not use the chat features often, they value notes, document storage, and task lists.
Its robust portal ensures secure document exchanges, appreciated daily. Plus, the availability of a mobile app boosts its user-centric approach, making accessibility even smoother.
Pricing & Plans
Let's break down the cost structures and plans offered to see which platform provides better value for your business.
Ahsuite Plans & Pricing:
Free (10 portals)
Professional ($24)
Agency ($57)
Clinked Plans & Pricing:
Lite ($119)
Standard ($299)
Premium ($599)
Enterprise (Contact Sales)

Customer Service & Support
When it comes to customer service and support, both platforms offer strong options. Ahsuite is known for its exceptionally responsive support team and scores a 9.7 out of 10 for quality of support. Users praise the friendly and consistent assistance.
Clinked also provides robust customer service with a score of 9.2 out of 10, which is above average for the client portal category. The tool is complimented for its helpful onboarding.
Factors to Consider When Choosing Between Clinked and Ahsuite
When deciding which platform to invest in for your business, it's crucial to weigh key factors like features, ease of use, customization, pricing, and integrations. Here are the key factors to consider when choosing your client portal:
Integrations: Examine integration capabilities with other apps, and data sources. This allows seamless workflows. Native support for popular cloud storage platforms is ideal.
Messaging Features: Evaluate if messaging includes options like scheduling, templates, formatting, and automation. Determine which specific messaging features are most valuable for your needs.
Ease of Use: Assess the overall intuitiveness and simplicity of the platform's interface. Look for the availability of pre-built templates to simplify setup and ensure accessibility whenever you need the tool.
Customer Support: Research quality and responsiveness of support based on customer feedback. Reliable support is important for addressing issues.
Investment Cost: Compare cost models such as flat monthly fees and usage-based plans in your purchase decision. Ensure the cost aligns with your budgetary needs and limitations.
Team Size: Consider the number of users needing access and teamwork capabilities. Scalability is key as your team grows.
Nature of Tasks: Evaluate if the software matches your workflow needs and use cases. Ensure required features and integrations are available.
Alternatives to Clinked and Ahsuite
While both platforms are strong contenders in their category, it's worth exploring other alternatives to ensure you find the perfect fit for your business needs.
SuiteDash
Accelo
ClickUp
Free Trial
14 Days
7 Days
14 Days
Starting Price
Start Plan ($14)
Plus ($24)
Unlimited ($7)
Key Features
– Project Management
– CRM
– Invoicing and Billing
– Document Management
– Team Collaboration
– White Label
– Branding
– Integrations
– Sales
– Projects
– Tickets
– Retainers
– Billing
– Reports
– Task Management
– Customization
– Team Collaboration
– Time Tracking
– Docs
– Goals
– Integrations
– Access Permissions
User Reviews
Read SuiteDash reviews on G2
Read Accelo reviews on G2
Read ClickUp reviews on G2
The Bottom Line
Ahsuite is an ideal choice for freelancers, small teams, or those seeking a snappier, more responsive experience within an easy-to-use client portal. You can try Ahsuite for free with a forever tier, or using a 30-day trial of the agency plan to test out its options.
On the other hand, Clinked is better suited for organizations in need of an enterprise tool with extensive collaboration capabilities and a forum-like interface. It caters to larger teams and offers a more comprehensive feature set.
In summary, consider your team size, budget, and desired features when choosing your customer portal. Both platforms have their unique strengths, and understanding your specific needs will help you make an informed decision that best supports your productivity and client management goals.