Acquiring multiple clients is often considered a welcome challenge by remote workers and businesses. Although it's a pleasant problem to have, managing more than 20 clients and their teams simultaneously can be challenging.
Do you need a client portal + productivity tool or a content collection tool and PRM package to elevate your business processes? Let's find out in this Content Snare vs. Ahsuite comparison.
Content Snare vs. Ahsuite at a Glance
This section offers a concise comparison between two leading portal software solutions, highlighting core differences and similarities to guide your online collaboration tool decision.
Content Snare
Content Snare assists businesses in efficiently gathering content, documents, and information from clients. It's a go-to for client onboarding, document collection, and content acquisition. 
Offering an intuitive client experience, it's adaptable across devices. Its dynamic web forms use conditional logic, and it also boasts Zapier integration for seamless automation.
Ahsuite
Ahsuite is a client portal/client management software, that makes sharing with clients straightforward and tidy. Businesses can present dashboards, designs, presentations, and more. The client portal is a self-service web platform that allows users to share information and best practice manuals. 
Its toolkit includes task management, file sharing, team password handling, work journals, and the capability to embed content from platforms like Figma. Plus, it integrates with visual collaboration tools like ContextMinds.
How Content Snare and Ahsuite Stack Up
Let's pit the two platforms when it comes to features, pricing, and reviews, dissecting their capabilities side-by-side to give you a clearer picture of how they measure up against each other.
Content Snare
Ahsuite
Pricing
– No Free
– OptionsBasic ($29)
– Plus ($59)
– Pro ($99)
– Custom ($179+)
– Free (10 Portals)
– Professional ($24)
– Agency ($57)
Key Features
– Request Builder
– Automatic Reminder
– Comments/Discussion
– Approval 
– Templates
– Integrations
– Views
– Conversation
– Tasks
– Files
– Password Manager
– Work Journals
– File Approval
– While Label Client
– Portals
Collaboration & Communication
Focused on Multi-Client Work
Focused on individuals/SMEs
User Interface & Experience
Content-Collecting Form Builder
Portal-Based Intuitive Interface
Customizations & Integrations
– Zapier
– Xero Practice Manager
– Zapier
– Pabbly
Customer Service & Support
9.2 on G2
9.7 on G2
User Reviews 
Read Content Snare reviews on G2
Read Ahsuite reviews on G2
Content Snare vs. Ahsuite Feature Comparison
Now that we have a quick glance, let's dive deeper into the features, similarities, and differences of both these cloud-based solutions designed for the digital workplace.
Task Management
Ahsuite uses a familiar traditional project management style and powerful filtering. Furthermore, its user-focused design connects the task manager with the file manager and client portal. If you want to access productivity tools and a centralized platform, this tool might be your best bet.
Plus, it offers flexible task templates that are intuitive, easy to customize, replicable, and usable across different client portals. However, it misses out on drag-and-drop cards and automatic reminder options.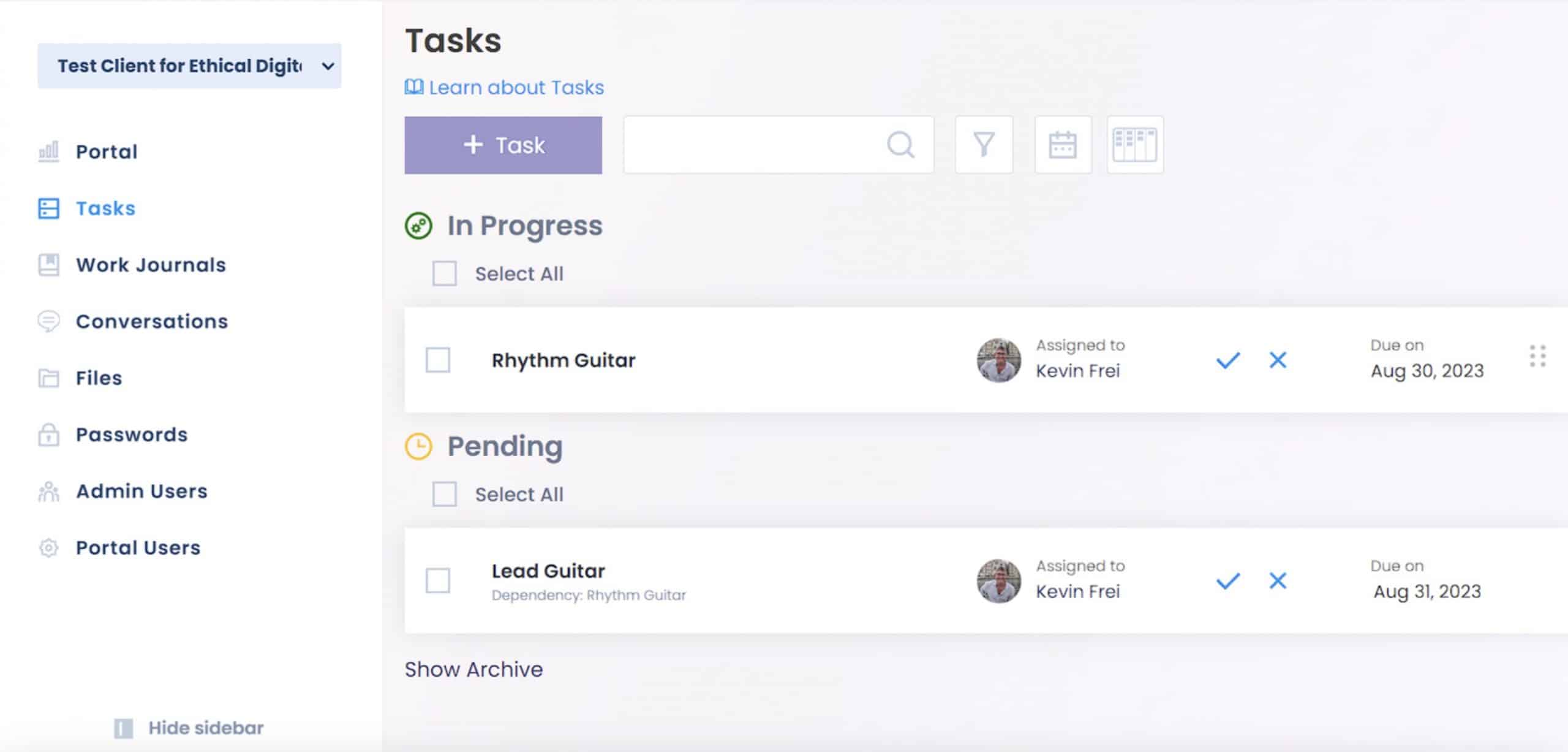 Content Snare is intuitive, with color-changing cards reflecting client progress. There are also pre-made forms to simplify information gathering, and email reminders make sure your teams can get client input on time. If you're in need of a customizable document collection process, this tool would be a great option.
However, it's worth noting that the forms are primarily client-centric, and revisiting task specifications might require a quick visit to the request form to get data.
File Management
Ahsuite's file management is intuitive and user-focused. Users can seamlessly edit, download, and organize files, all while benefiting from filtering labeling, and client approvals. In addition, the tool helps organizations in decluttering spreadsheets, audio clips, videos, pictures, and other files as a virtual data room.
Its modern versioning and commenting feature, alongside the unique 'Golden Halo' for previews, adds depth. However, its sharing capabilities might not be for those who are sharing a lot of files outside the platform.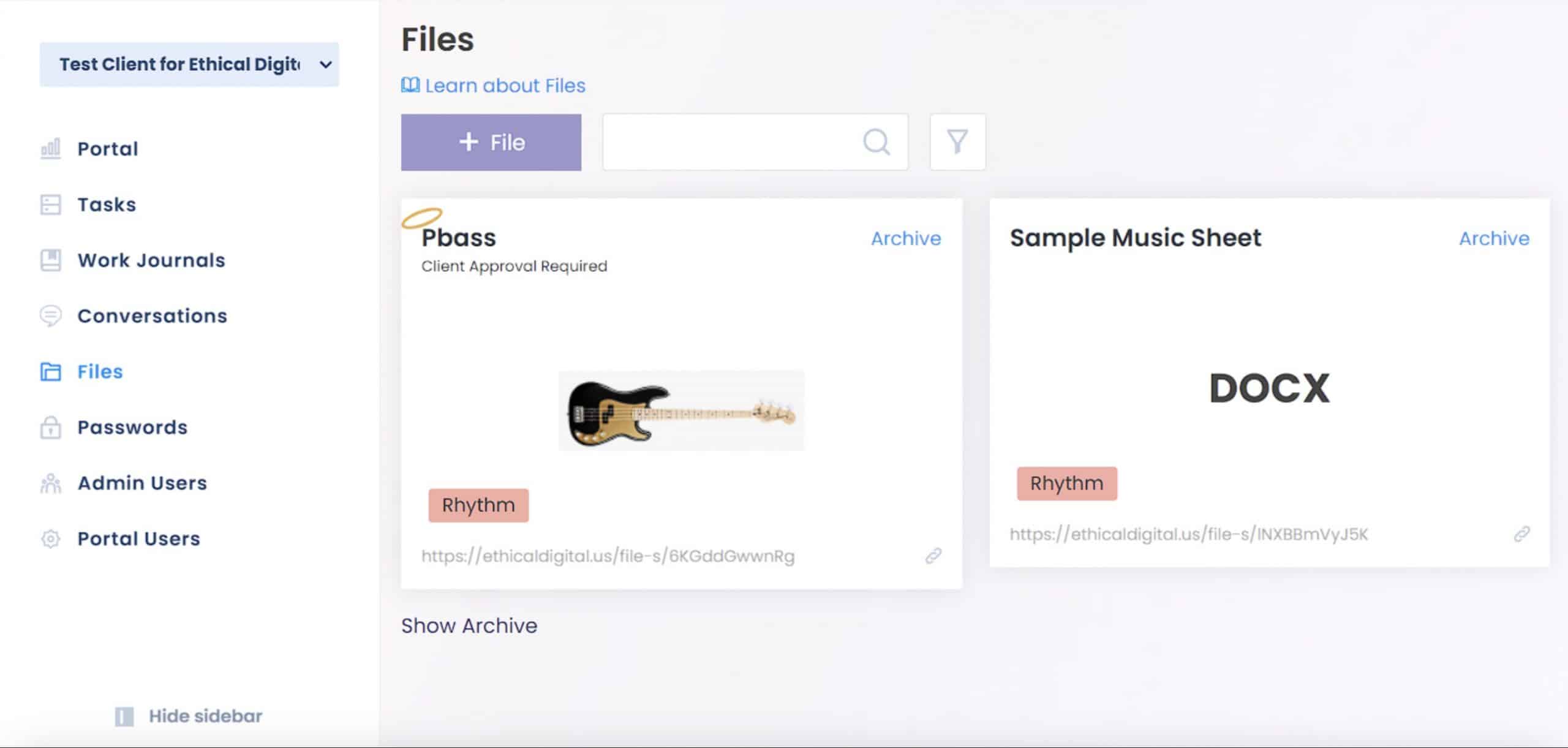 Content Snare doesn't have a dedicated file manager, which requires users to revisit client forms if they want to access files uploaded by clients. It's necessary to create a form to attach a file,  which could mean more steps than some might prefer.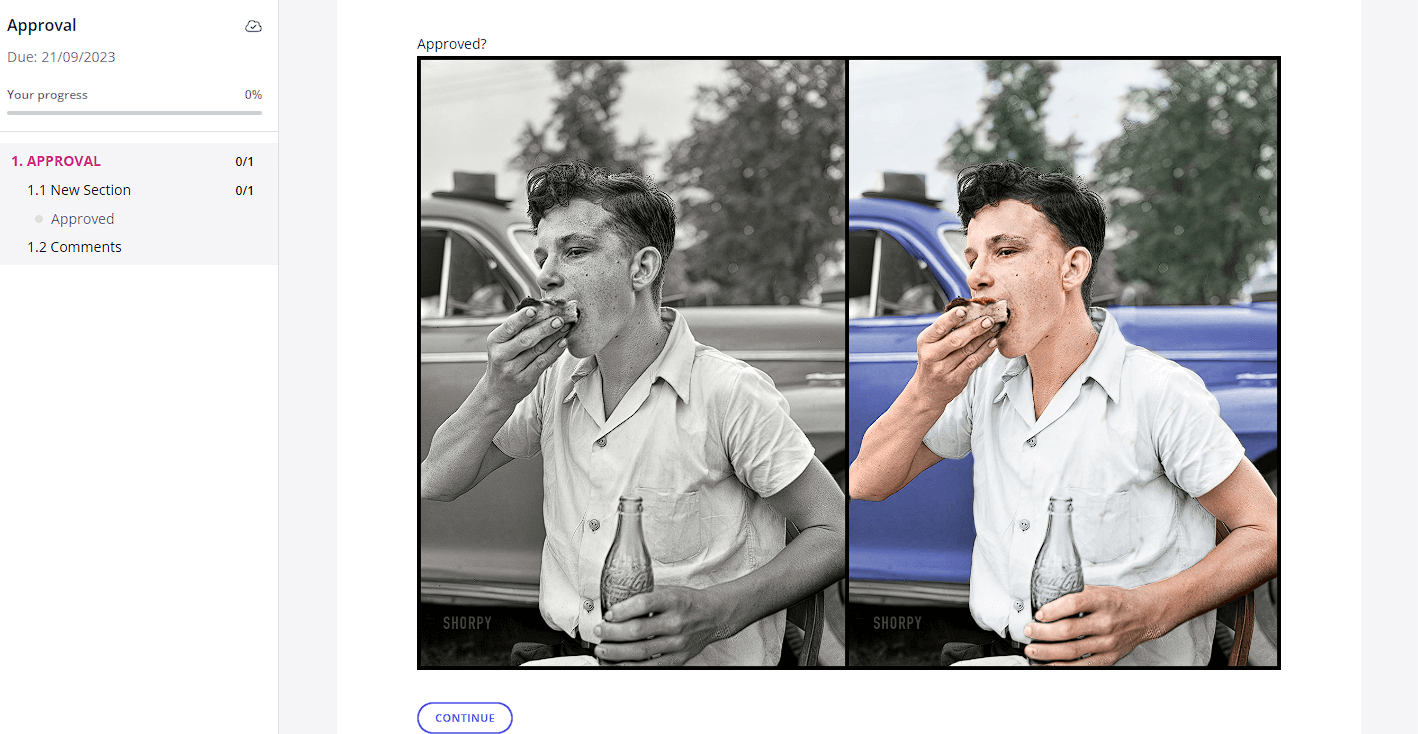 Password Management
Ahsuite introduces a modern and intuitive password manager designed with a user-focused approach. This feature simplifies the process of sharing passwords across teams and clients, ensuring easy and secure access. If password management is high on your priority list, this tool might be for you.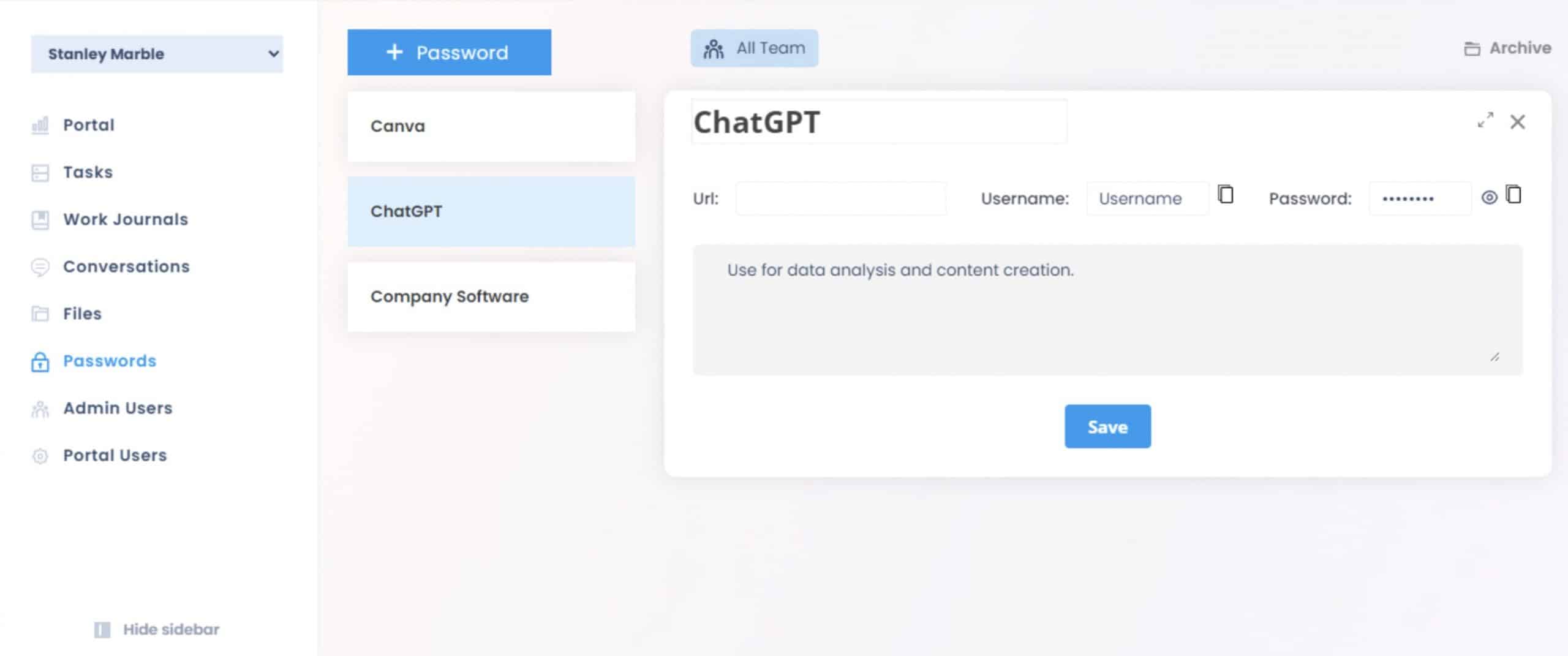 As of now, Content Snare doesn't feature a password manager. However, given the nature of the product, sharing passwords might not be that relevant in the workflow.
Messaging
Ahsuite presents a clean and clutter-free messaging environment. Employees connect with each other to discuss with clients, review progress, and deliver on other collaborative activities.
With its intuitive search bar, users can effortlessly locate phrases, ensuring smooth conversations. However, it's somewhat minimalistic in its approach, lacking formatting options which might be a deal-breaker for some.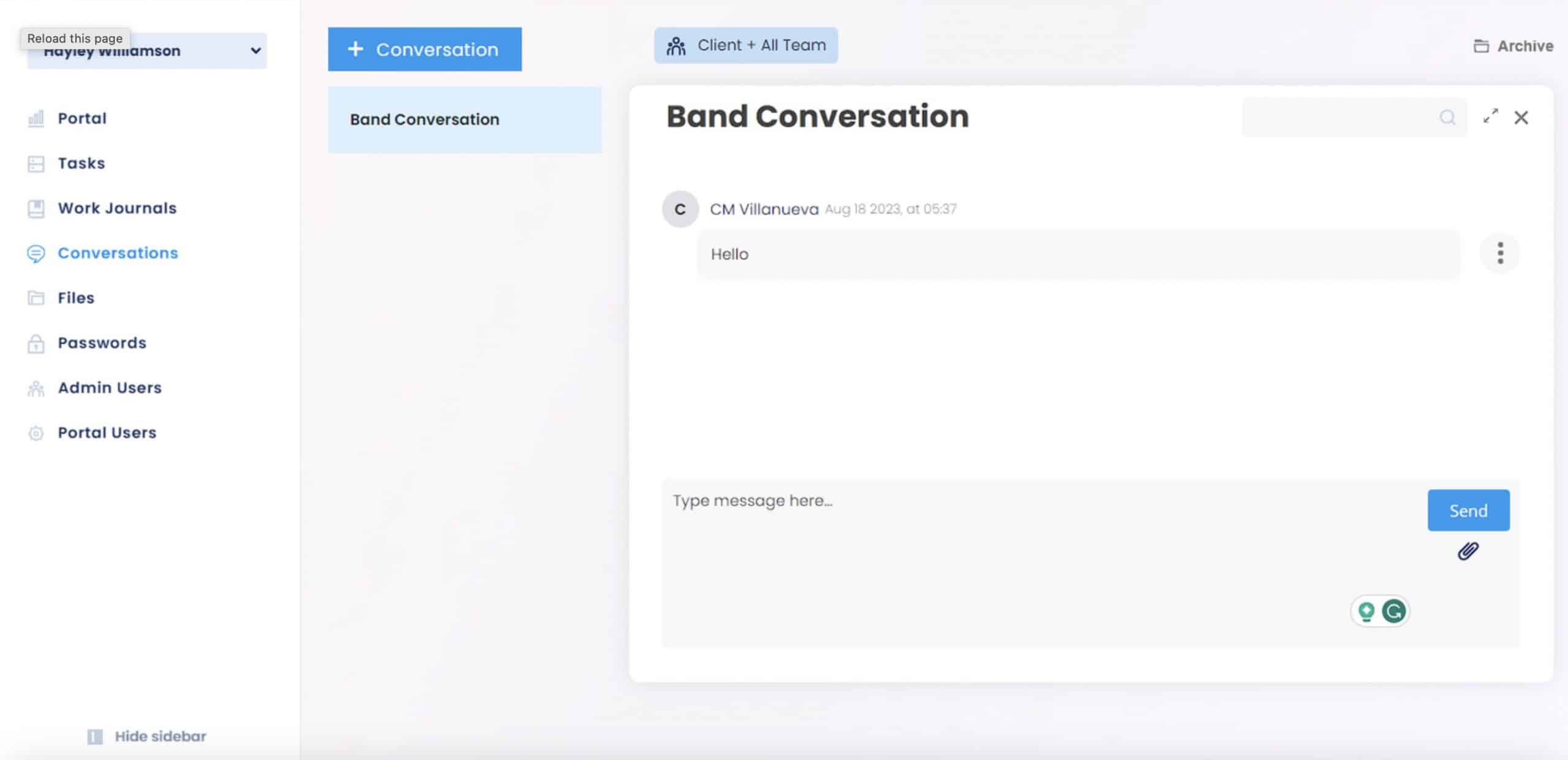 Content Snare doesn't offer a dedicated two-way communication solution, but it doesn't leave you hanging. They've integrated both email and SMS reminders for clients, keeping them on track. Clients can also comment on forms, giving form owners valuable feedback to review.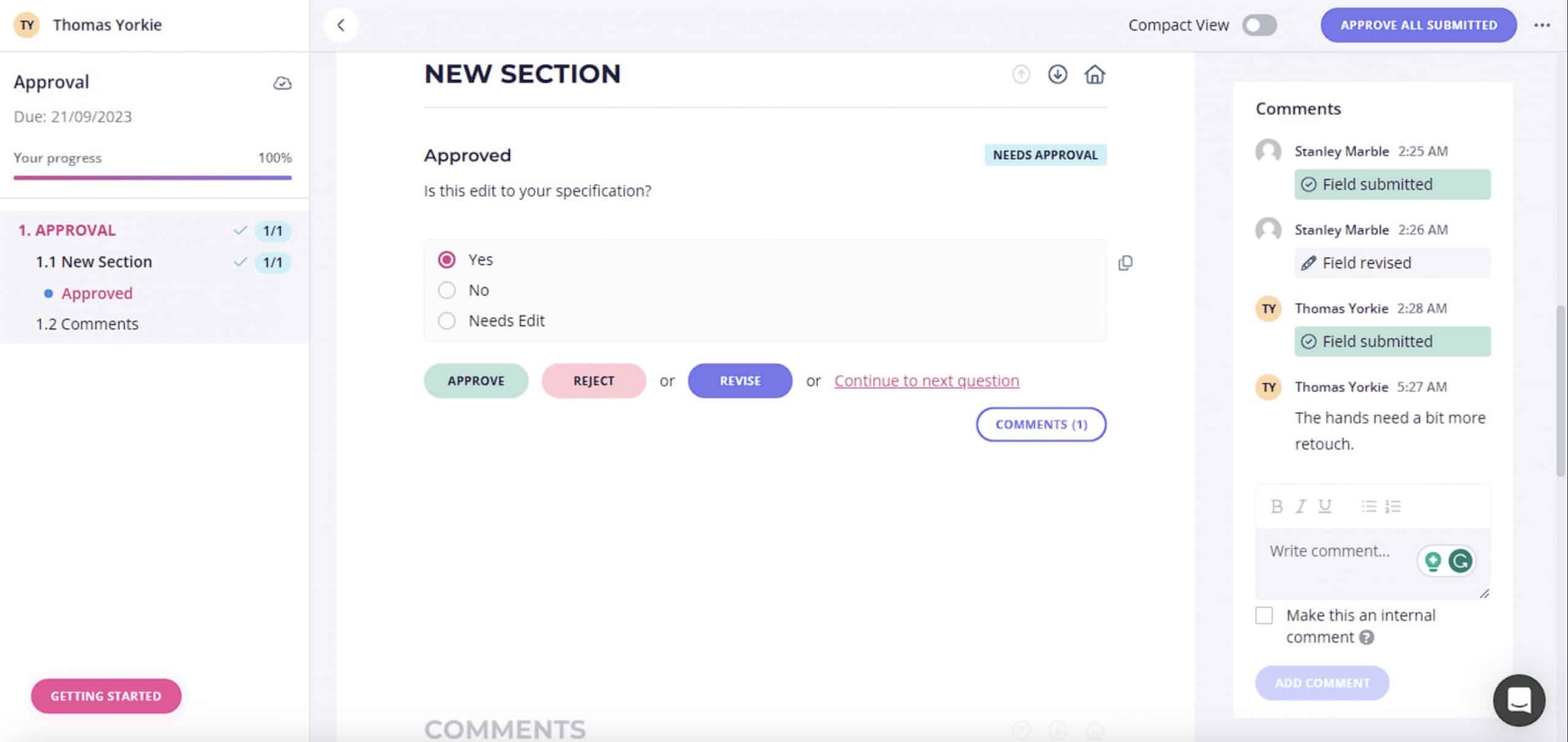 Customization & Integration
Ahsuite offers more flexibility with its modern integration capabilities. It's versatile, supporting tools like Zapier or Pably, essentially anything that harnesses webhooks. This unrestricted webhook offering maximizes a user-focused integration experience for all your customization needs.
Content Snare positions itself uniquely by emphasizing automated workflows. It's designed to play well with other apps, making your tasks fluid and intuitive. If automation is your game, the platform might be for you and your team.
Ease of Use
Speed and responsiveness take the front seat with Ahsuite through its intuitive interface and modern minimalistic design. The platform's focus is to provide a seamless and user-focused experience every time you log in.
Smooth animations set the stage for Content Snare. The clean layout and intuitive design make navigation a dream, ensuring every interaction feels effortless and engaging.
Both platforms are operating in a cloud-based environment. Your product is available whether you're connecting through a phone or laptop, as long as your browser is supported.
User Feedback
Users love Ahsuite for its impeccable customer service – always ready, patient, and receptive to feedback. It's intuitive, giving businesses a polished edge with tailored client portals. Some hiccups emerge post-updates, but the team makes sure these are promptly addressed.
Content Snare shines in streamlining client interactions, minimizing back-and-forths. Its conditional logic, customizability, and branding potential stand out. Its content/form system and client progress tracking make information collection a breeze.
Both platforms have their strengths and quirks. But one thing's for sure: they're designed to make your business operations smoother and more efficient. Pricing & Plans
Customer Service & Support
Both management platforms have great customer relationship management systems based on reviews on sites like G2 and Getapp. Their customer service score is at 9.7, leagues away compared to 9, the industry standard for client portals.
Pricing & Plans
When delving into a suite of relationship management tools as an investment for your business, the pricing options should have a front-row seat on your priorities, as these tools require recurring payments. Here's a breakdown to guide your investment decision.
Ahsuite Pricing:
Free (10 Portals)
Professional ($24)
Agency ($57)
Content Snare Pricing:
No Free Options
Basic ($29)
Plus ($59)
Pro ($99)
Custom ($179+)
Factors to Consider When Choosing Between Content Snare and Ahsuite
When deciding on your next purchase, it's essential to consider the specific needs of your business and the features each platform offers. Here are some factors to keep in mind:
Purpose: Determine if the tool is tailored to your specific needs, such as content collection, client onboarding, or content collaboration. You might also need a self-service web portal when dealing with multiple clients.
Features: Evaluate the range and depth of functionalities provided. Look for intuitive experiences, web forms, task management, and content embedding capabilities.
Usability: Prioritize platforms that offer a straightforward, user-friendly experience, ensuring both you and your clients can navigate easily.
Integrations: Check if the tool can seamlessly connect with other apps or data sources. Integration with popular platforms like Zapier or native cloud storage is a bonus.
Pricing: Compare the value delivered against the costs. Consider both the base price and additional expenses related to integrations or premium features.
Customer Support: Customer support may be a side thought, but it should not be. Always research the quality and responsiveness of customer support. Reliable, timely assistance can make all the difference.
When selecting a tool, prioritize your specific needs. The ideal choice should enhance your workflow and elevate client experiences. Choose wisely and propel your business forward.
Alternatives to Content Snare and Ahsuite
Let's delve into some alternative tools that might fit your needs, expanding your horizons in the realm of online client collaboration and content collection.
SuiteDash
Planhat
ClientJoy
Free Trial
14 Days
Contact Sales
14 Days
Starting Price
Start Plan ($14)
Contact Sales
$15
Key Features
– Project Management
– CRM
– Invoicing and Billing
– Document Management
– Team Collaboration 
– White Label
– Branding
– Integrations
– Data
– Workflow
– Security
– Automation
– Integration
– Presentation
– Sales Pipeline Management
– Creating and e-sign documents
– Appointment scheduler
– Visual charts and reporting
User Reviews
Read SuiteDash reviews on G2
Read PlanHat reviews on G2
Read ClientJoy reviews on G2
The Bottom Line
Content Snare is the way to go if you need a content management system to create approval processes and build knowledge bases for a single source of truth within the organization. This tool has got you covered when it comes to content aggregation, client onboarding, and approvals.
You will also love this tool if your business needs custom document templates and lets your clients receive personalized notifications on time. Plus, the automation with Zapier means less manual work on your end.
Meanwhile, the Ahsuite customer portal is a self-service client portal that helps teams share Word documents, have group discussions, manage projects, centralize communication sites, share materials, and deliver graphic presentations. It is an integrated digital workspace that mimics a modern intranet experience.
For those looking to provide a clean, organized space like dashboards and designs, Ahsuite's client portal is the way to go. Start your first single web portal by signing up with the forever free "Starter Package."