Whether you're a one-person powerhouse or steering a bustling team, finding a platform that feels like a partner, not a puzzle, is crucial. If you're looking for a new technology to aid you with day-to-day operations, starting on free software would be a great idea.
Today, we're putting SuperOkay and Ahsuite under the lens to find the best free client portal. Let's evaluate each tool's performance as a reliable team member through feature comparison, pricing, and user reviews.
SuperOkay vs. Ahsuite at a Glance
This side-by-side outlines what each customer portal offers, giving business owners and freelancers the essentials to distinguish their features and find your best fit in a snap.
SuperOkay
SuperOkay provides a customizable, white-labeled portal for sharing documents and links. It's compatible with various apps, such as Miro and Google Docs, and facilitates project management with templates, task assignments, and notifications.
The software can also support invoice generation by providing pre-defined paytables, perfect for users who have bundled services or rates with various clients. You can incorporate external payment services such as Stripe on your portals to make payments smooth and straightforward.
Ahsuite
Ahsuite enhances productivity by making business processes a breeze. It offers a minimalist dashboard and user-friendly client portal to help facilitate successful client interactions. The platform also has collaborative tools and project management options, perfect for task management and seamless user experience.
Offering secure messaging, file approvals, and a password manager, Ahsuite is free for up to ten clients with paid plans. The platform provides agencies with unlimited storage and white-label customization on a custom domain tailored to meet their specific requirements.
How SuperOkay and Ahsuite Stack Up
Finding the best free client portal software can feel like searching for a needle in a haystack. With a wide variety of cloud-based client portal solutions, it can take a lot of time and resources to test all features, including centralized hubs and integrations. We've created a handy comparison to help you assess SuperOkay and Ahsuite in pursuit of portals to share projects. 
SuperOkay
Ahsuite
Pricing
– Free (1 Portal)
– Solo ($19)
– Solo+ ($59)
– Business ($112)
– Free (10 Portals)
– Professional ($24)
– Agency ($57)
Key Features
– Deep Branding
– Quick Links
– Updates Timeline
– Custom Login Page
– Custom Favicon
– Open Graph Data
– File Manager
– Reusable Blocks
– Views
– Conversation
– Task & File Manager
– 2FA Password Manager
– Work Journals
– File Approval
– While Label Client Portals
Collaboration & Communication
Focused on Providing Brand-Aligned Platform
Focused on Centralizing Communication, Tasks, and Client Management
User Interface & Experience
Project-Based Customizability-Focused Client Interface
Portal-Based Client Interactions and Collaboration
Customizations & Integrations
Zapier
Zapier and Pabbly
Customer Service & Support
9.2 on G2
9.7 on G2
User Reviews
Read SuperOkay reviews on G2
Read Ahsuite reviews on G2
SuperOkay vs. Ahsuite Feature Comparison
Let's break down the features: if you're a freelancer deciding between SuperOkay and Ahsuite for your customer portal, here's the lowdown on what each brings to the table.
Client Portal
People using Ahsuite appreciate its client experience approach to business management, ensuring all client materials are organized in one location. You're set with default pages for instant messaging, scheduling, and task requests. Plus, key features like task and password management are included for every client, with up to 10 portals at no cost.
But, if you're after more flair in text formatting or prefer drag-and-drop simplicity, Ahsuite may fall short. More visual customization options would also be great for branding-conscious user.
SuperOkay offers a project-based portal approach, allowing multiple projects per client, each with distinct sections. Its search feature and embedded apps streamline your workflow, while the timeline and quick links keep you organized.
The module customization is inflexible for detailed customization and the direct file display is not easily accessible. Free users are restricted to a single client portal.
File Manager 
Ahsuite's File Manager provides custom labels and containers to help you stay organized, while activity logs keep you in the loop. The 'Halo' feature allows you to easily identify the files your clients can access without having to navigate to a different folder.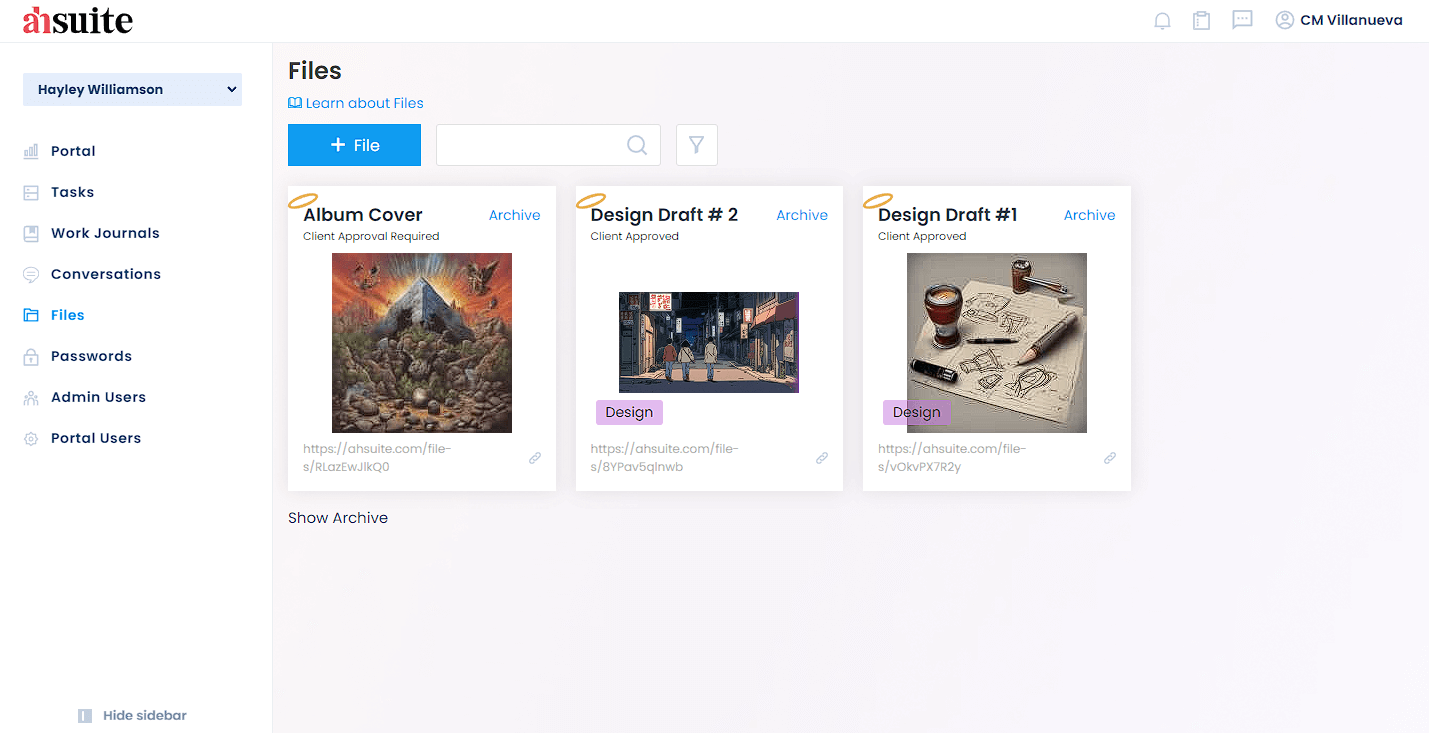 SuperOkay's approach to file management is about ease and customization. Stay updated with real-time file changes, easily share files, and customize your folder's appearance. Just note that there is no search functionality, and filtering isn't as thorough as you might want.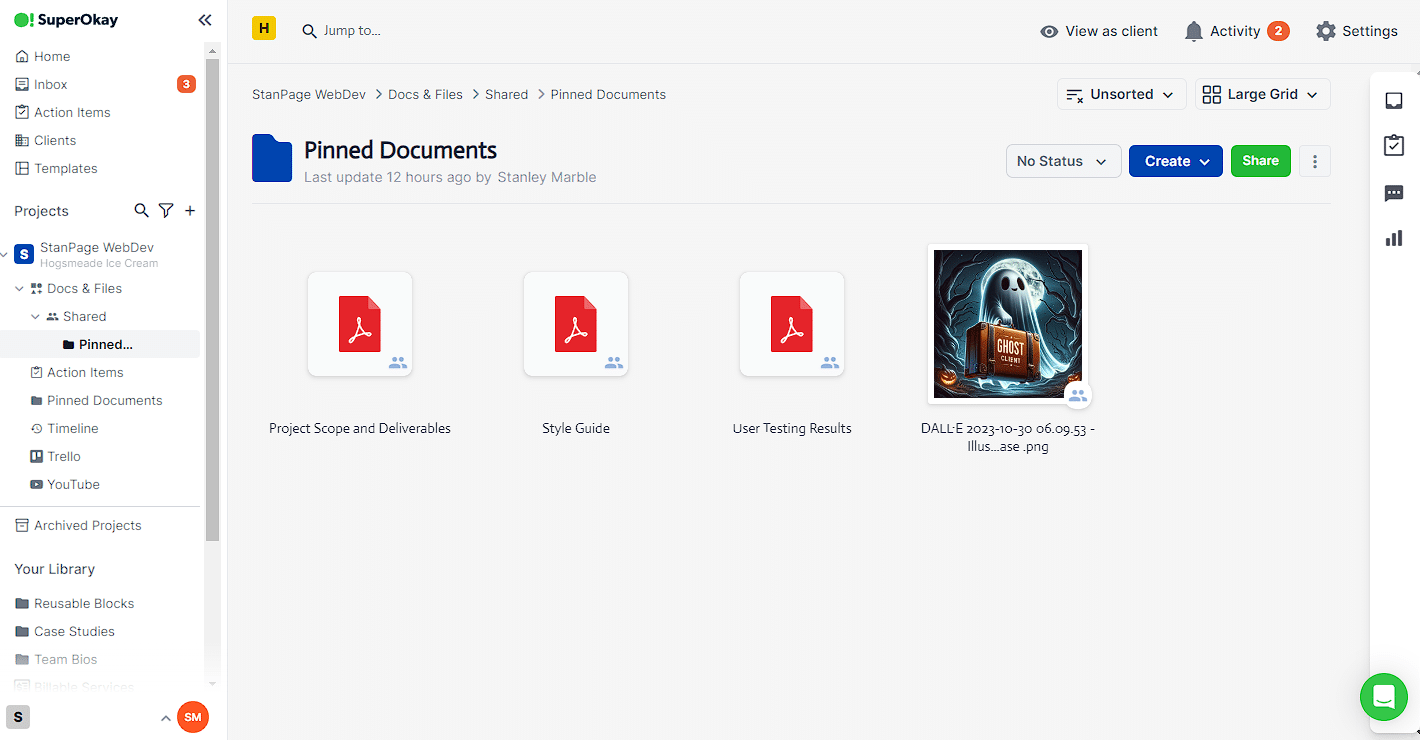 Task Manager
With various views like list, calendar, and kanban, Ahsuite's task management system is traditional and comprehensive. It supports direct client task assignments and detailed progress tracking to empower momentum before the deadlines. 
Action Items in SuperOkay offer a clean, minimalistic to-do list that's responsive and easy to navigate. This simplicity is ideal for straightforward task tracking. The platform might feel restrictive for those needing subtasks or more options.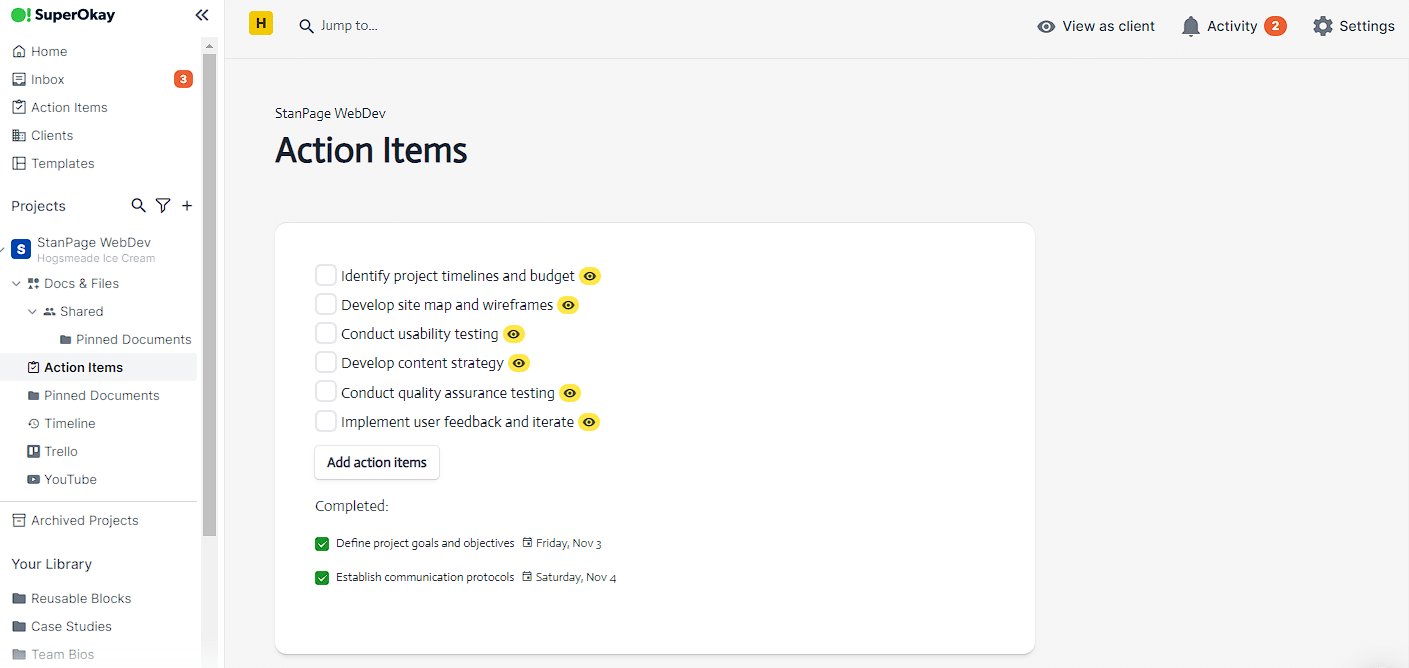 Password Management
Ahsuite's password manager is safe, simple, and encrypted with 256-bit protection. It's an essential feature for teams handling multiple logins, facilitating access without sacrificing security. SuperOkay doesn't have a password manager at the moment. 
Messaging
Ahsuite's messaging is neatly tied to each client portal, meaning conversations are always relevant. There's no room for confusion. You can view all messages across portals easily with an icon in the top-right dashboard.
SuperOkay, on the other hand, opts out of portal-specific messaging. Instead, the Inbox icon corrals all notifications from comments and activity across the board.
Customization & Integration
Ahsuite's strength lies in its secure, easy integrations with 2FA on all tiers, allowing iframe embeds from multiple platforms for a clean, intuitive experience. While it excels in offering customizable API webhooks via Zapier and Pabbly, it maintains a minimalistic interface, focusing on a responsive user design.
SuperOkay's easy-to-use configurator allows for swift customizations, including aesthetic tweaks to themes and fonts, resulting in a modern portal experience. It has a user-focused approach with easy customization, light/dark modes, and a flexible dashboard design.
Overall, both of these customizable client portals support popular external party integrations (including Figma, Trello, and Airtable) to facilitate team management and collaboration for both clients and members of your team.
Ease of Use
Ahsuite offers a streamlined, "per portal" experience that prioritizes efficiency. Its intuitive design includes templates for client views, tasks, passwords, and files, which is handy if you need to standardize tasks and documents. The modern interface prioritizes relevant elements for a responsive, user-focused experience.
On the other hand, SuperOkay provides a modern, intuitive 'per project' user interface, akin to a WordPress dashboard, with every option readily accessible. Its strength lies in a comprehensive suite of pre-made blocks and simplifying project setup—though free users encounter limitations.
Pricing & Plans
Both platforms cater to diverse budgets and needs, but Ahsuite takes advantage of the free tier with its ten client portals available with the Starter Plan. Here's a comparative glimpse into their financial commitment and value. But if you need a little leeway on pricing, SuperOkay provides more options.
Ahsuite Pricing:
Free (10 Portals)
Professional ($24)
Agency ($57)
SuperOkay Pricing:
Free (1 Portal)
Solo ($19)
Solo+ ($59)
Business ($112)
User Feedback
Users praise Ahsuite for its clean, intuitive interface, which improves client management massively. Its user-focused design emphasizes ease of use, secure file sharing, and efficient task management, making it a preferred option for businesses. However, customers suggest there's potential for more customization options, especially in client portal views, to refine its modern interface further.
Customer Service & Support
Ahsuite scores are high in customer satisfaction, particularly for the support quality, indicating their commitment to helping users effectively leverage their platform. It provides an ease of use that aligns closely with industry standards.
Ease of Use: 9.2
Ease of Setup: 9.0
Quality of Support: 9.7
SuperOkay is praised for its easy setup process, enabling users to get up and running with minimal effort.
Ease of Use: 9.5
Ease of Setup: 9.8
Quality of Support: 9.2
Factors to Consider When Choosing Between SuperOkay and Ahsuite
When deciding between SuperOkay and Ahsuite, several key factors come into play. Here are five crucial aspects to consider, ensuring your choice aligns with your business needs and workflow preferences.
Customization versatility: Ahsuite's iframe embeds offer extensive customization, though SuperOkay's easy configurator attracts those seeking simplicity in personalization.
Seamless integrations: Consider Ahsuite for its wide integration capabilities, while SuperOkay shines with user-friendly integration features for non-tech users.
User interface: Ahsuite provides a template-driven, per-portal design, whereas SuperOkay's per-project approach might suit those familiar with a WordPress-like environment.
Support quality: Ahsuite's edge in support quality could be decisive for businesses valuing ongoing assistance and user-focused interactions.
Initial setup: For rapid and intuitive setup with features like real-time reconfigurability, SuperOkay may be the preferable choice.
Alternatives to SuperOkay and Ahsuite
Want to take a look at other client management software options? Here are some of the top choices available in the market right now.
Content Snare
Clinked
SuiteDash
Free Trial
14 days
10 days
14 days
Starting Price
OptionsBasic ($29)
Lite Plan ($119)
Standard ($20)
Key Features
– Request Builder
– Automatic Reminder
– Comments
– Approval
– Templates
– Integrations
– Task Management
– File Management
– Group Discussion
– Team Calendar
– Mobile App
– Activity Stream
– Project Management
CRM
– Invoicing and Billing
– Document Management
– Team Collaboration 
– White Label Branding
– Integrations
User Reviews
Read Content Snare reviews on G2
Read Clinked reviews on G2
Read SuiteDash reviews on G2
The Bottom Line
To wrap it up, SuperOkay is a client portal platform that allows users to create custom portals for their clients, manage their content, and integrate various apps. Those who prioritize a personalized client experience will benefit from this platform.
Ahsuite is a client portal software that enables the organization of client communication in a centralized, easy-to-use platform, ensuring that no important communication gets missed.
Choose Ahsuite if you're looking for your best client portal for client communication and collaboration with a free version available for initial exploration. You can use the Ahsuite Starter Plan with 10 free client portals and task manager for free.