You want to try out a client portal to see if it's a good fit for your agency, but you don't want to shell out big bucks for a solution that might not work. Not to worry; this article discusses the best free client portal software that you can try before you buy.
All of these client portal tools offer a free trial, and some even have a free tier that you can use forever. So if your client portal needs are simple, you may be able to upgrade your client communication for the low low cost of zero.
8 Best Free Client Portal Software Picks
Want to try a client portal for free so you can decide if it's right for your agency? We have prepared a list of the most popular web portal tools to help narrow down your search.
1. Ahsuite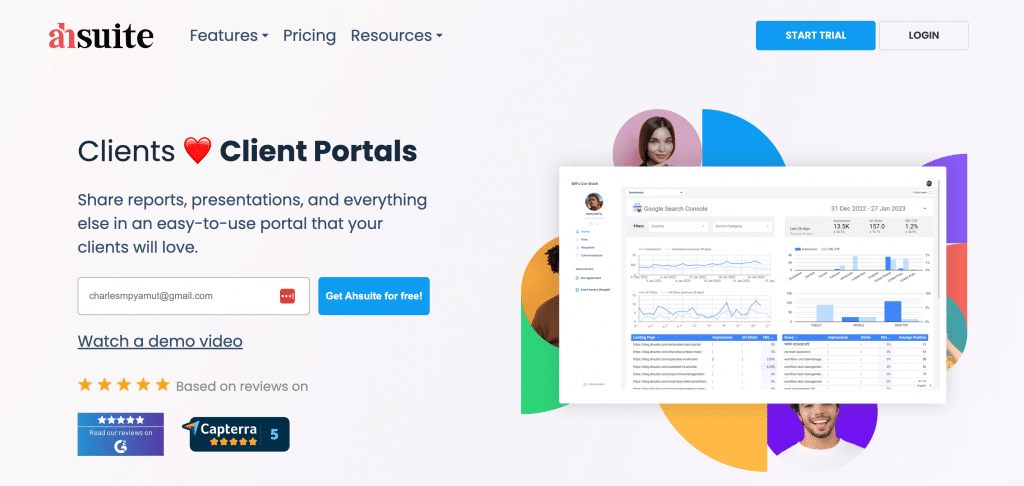 First up is our own client portal platform, Ahsuite (pronounced "aw-sweet").
Ahsuite lets you embed almost anything in a clean, minimalistic client portal. It's perfect for sharing Looker Studio and Tableau reports, presentations, Figma boards, and anything else you want to display as a View to your client.
It also has robust task management features, a file manager that lets you request client approvals, a Conversations tool with group messaging, and more. It even has an encrypted password manager.
Ahsuite is free with limited features for up to three clients. All paid plans come with 500 clients and unlimited storage, and with an Agency plan you can fully white label Ahsuite on a custom domain and add as many users as you wish.
Ahsuite also has the longest free trial in this list, letting you use Ahsuite for free for a month before you have to enter a credit card. Click here to start your free trial!
2. Accelo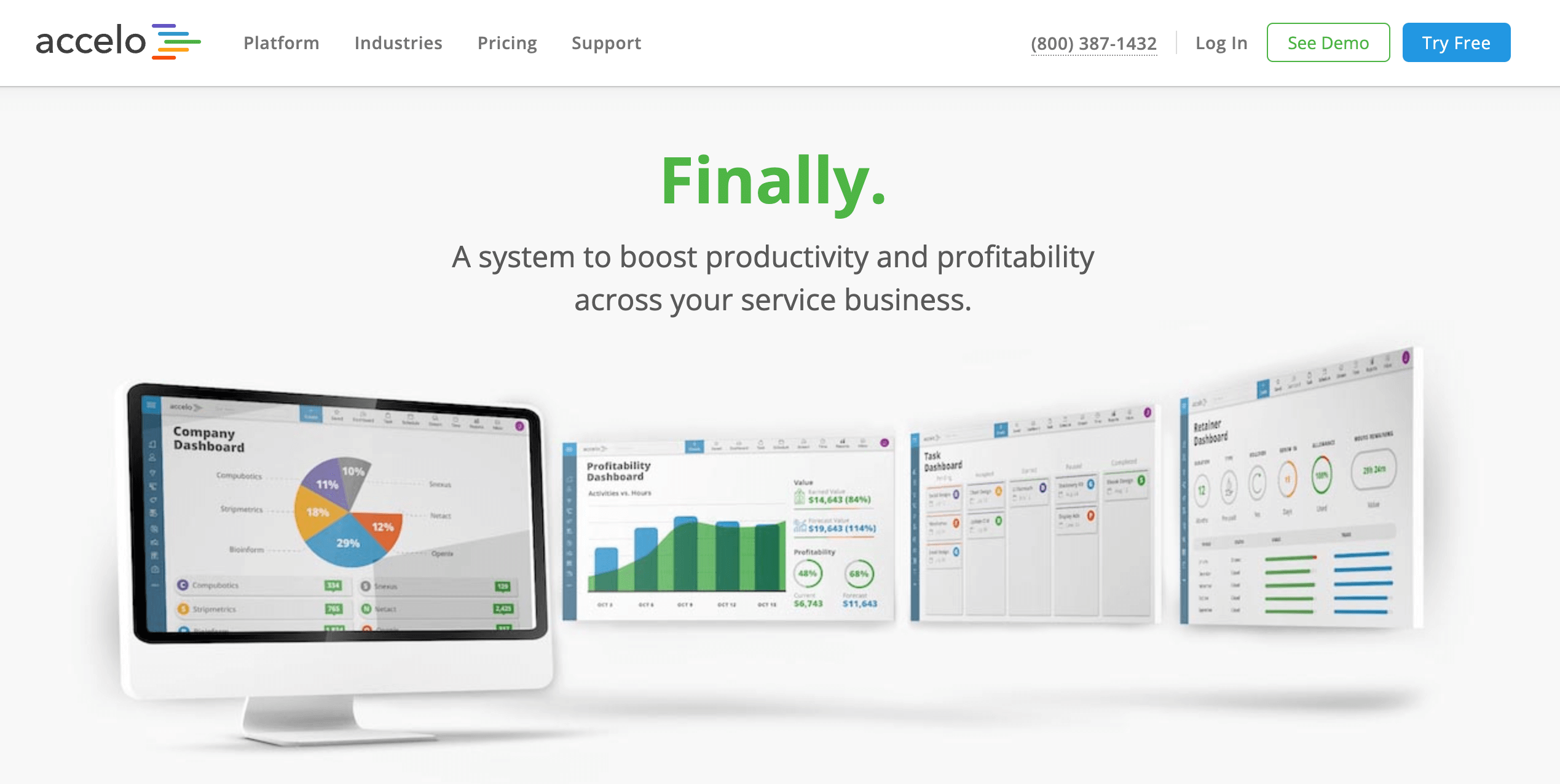 A client portal is just one of the many benefits of Accelo, a full-featured platform that can automate your client processes from proposal to billing to project and beyond.
You can share documents and grant your clients access to the projects you choose. You can decide exactly what your clients can and cannot see.
It also lets your clients submit support requests through a ticketing system.
Accelo is a comprehensive and powerful platform, and they offer a 14 day trial so you can try it risk free.
3. SuiteDash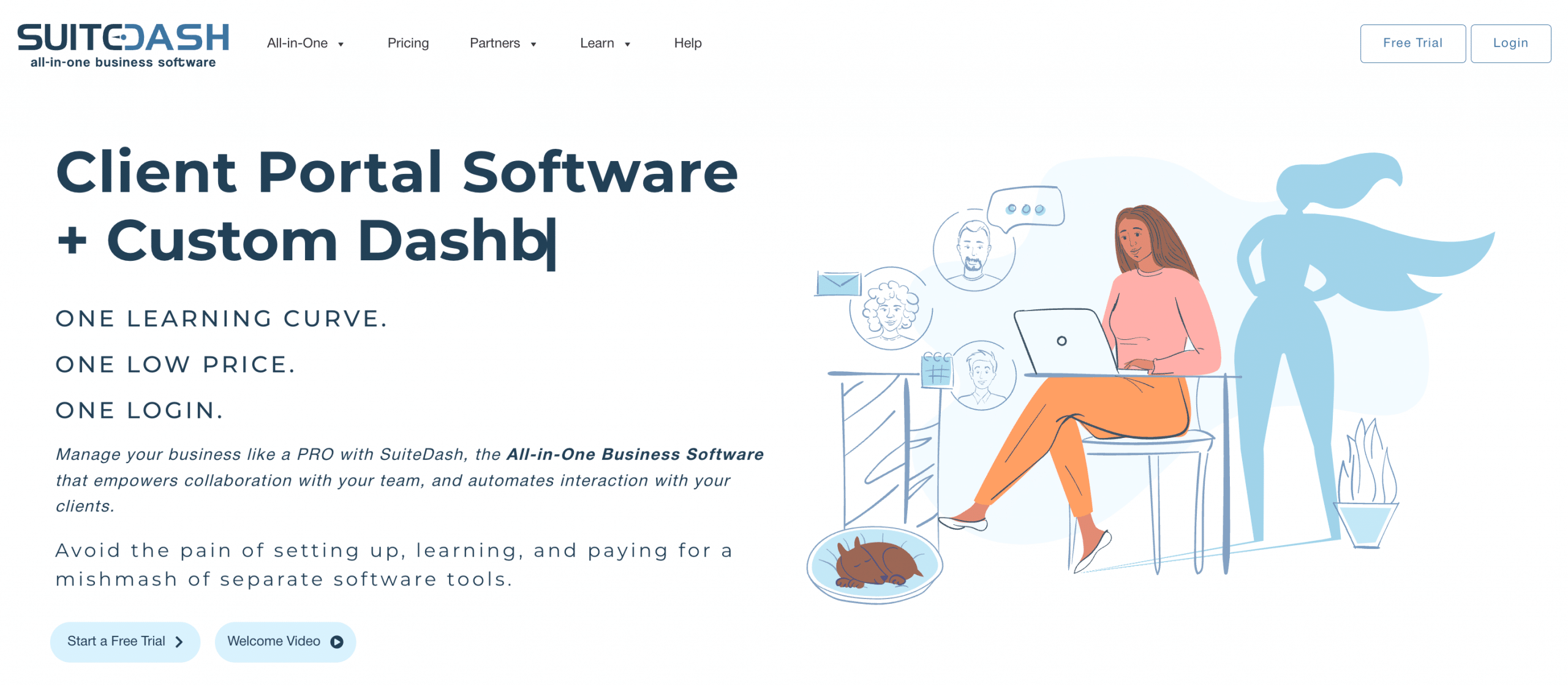 With a wide range of features, SuiteDash aims to be the "all-in-one business software" for your agency. And as their name implies, a client dashboard is at the center of their focus.
Task management, document management, client billing, marketing automation, chat, knowledge base management, activity tracking, a CRM – the list of functionalities goes on.
SuiteDash's client portals can be extensively customized with a block editor interface. And of course they offer full whitelabel on a custom domain.
If you are looking for one tool that does it all, then SuiteDash might be right for you.
They let you try it out for two weeks for free.
4. Clinked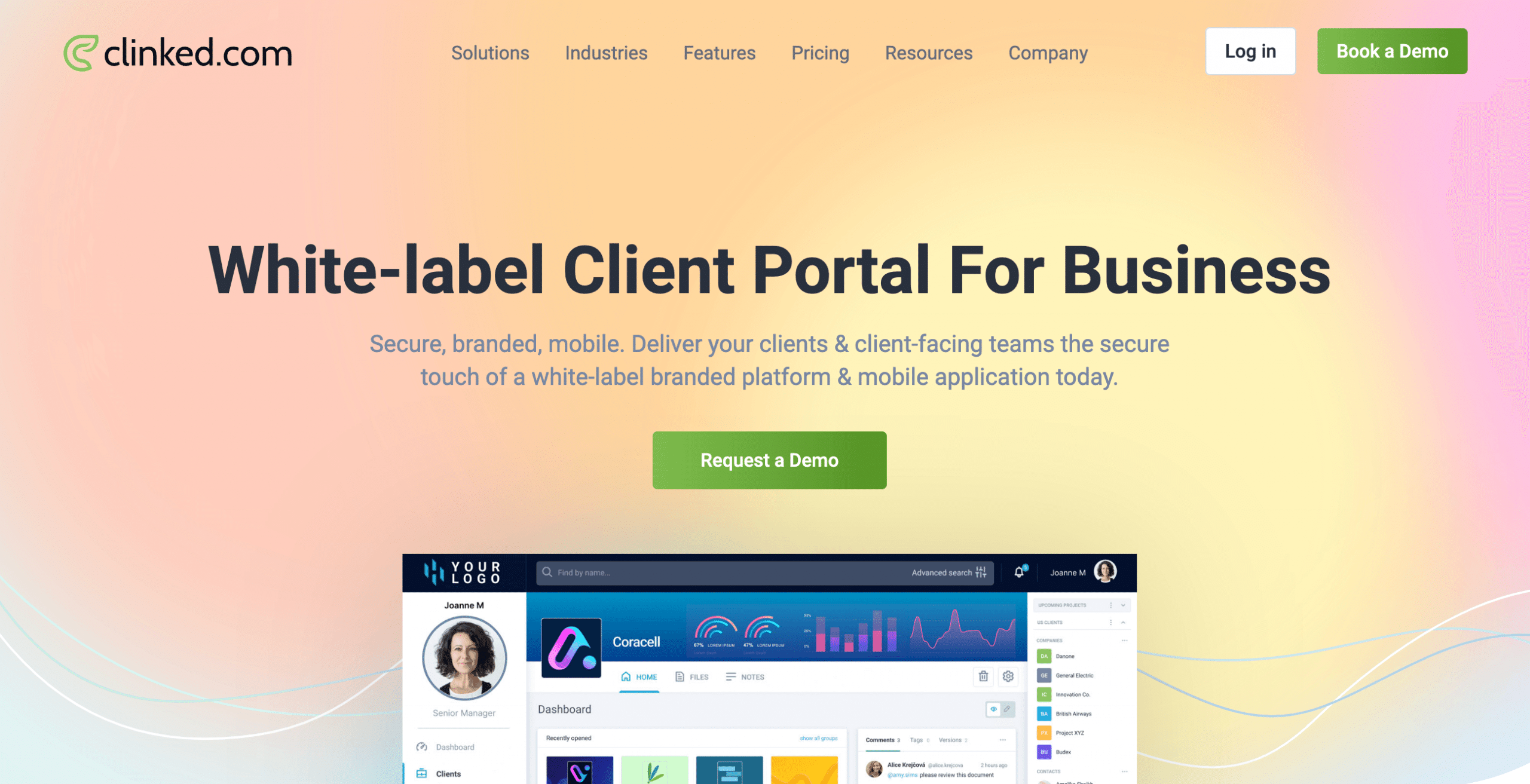 Clinked offers a stylish, intuitive, and white label-ready client portal solution for agencies.
With integrated document management, chat, and collaboration features included, it has everything you need to start consolidating and streamlining your client communication.
It is deeply integrated with Google Workspace, so if your business already uses tools like Google Docs, Sheets, and Drive, then it's a natural fit.
Clinked scores high marks among its users for its ease of use, clean design, and the fact that you can personalize portals with your client's branding.
For those interested in learning more, Clinked offers a free 10-day trial.
5. Copilot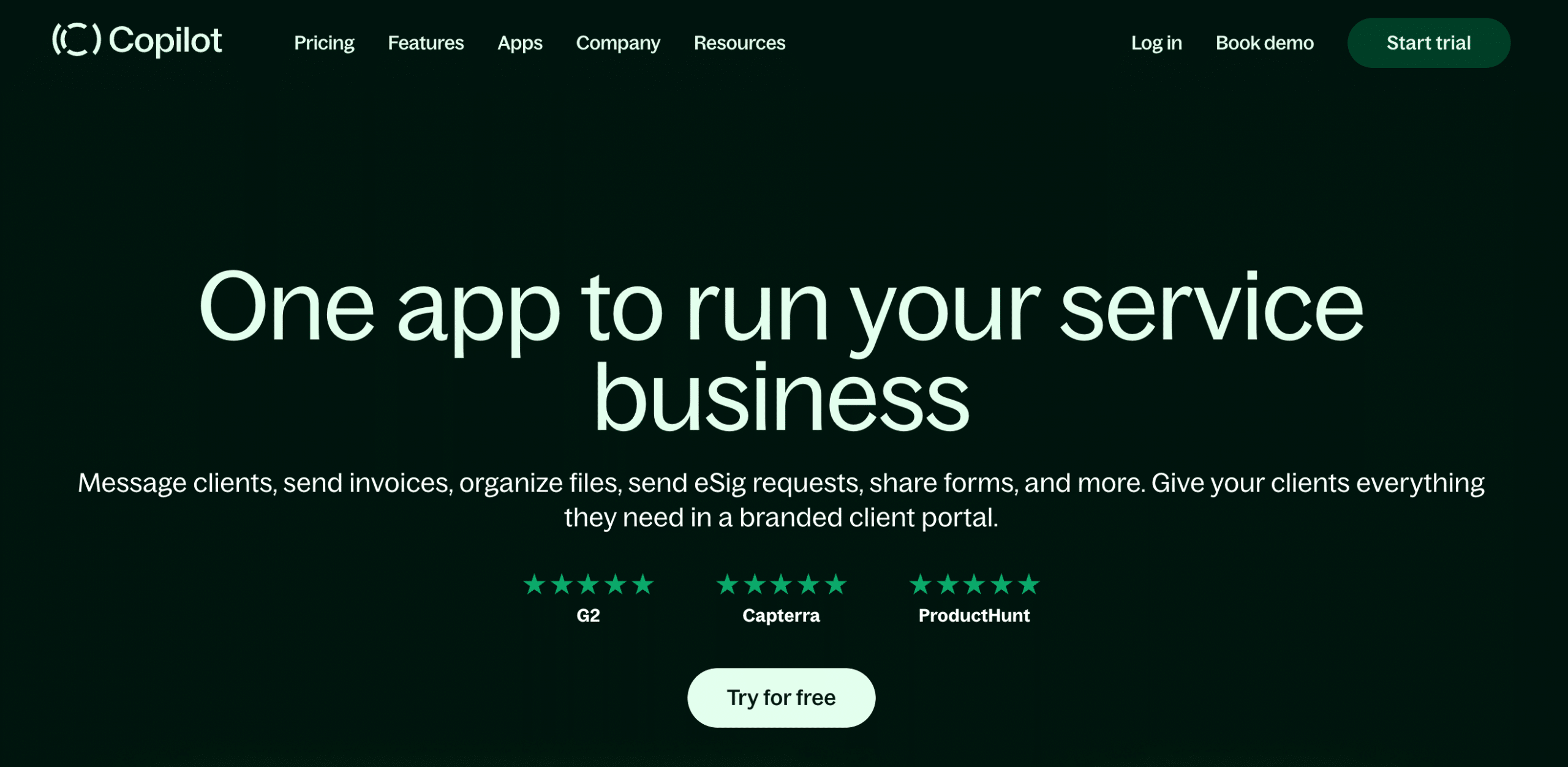 If you want a well-organized and easy-to-use client portal for files, messages, and billing then Copliot is an excellent choice.
Copilot makes it easy to message your clients as a group or individually, create and send forms, and share files. It even has a DocuSign-like capability for requesting a client's e-signature on a pdf document.
You can use Copilot to invoice your clients, and you can even set up subscriptions for recurring billing. You can decide whether you or your client will pay the processing fee, and you can schedule reminders for unpaid invoices. A nifty preview feature lets you see exactly what your billing page, invoice, and billing email will look like before you hit send.
With a straightforward and intuitive interface, you can learn your way around Copilot in a matter of minutes. So their 14-day free trial is more than enough time to decide whether Copilot has all the features you need.
6. SuperOkay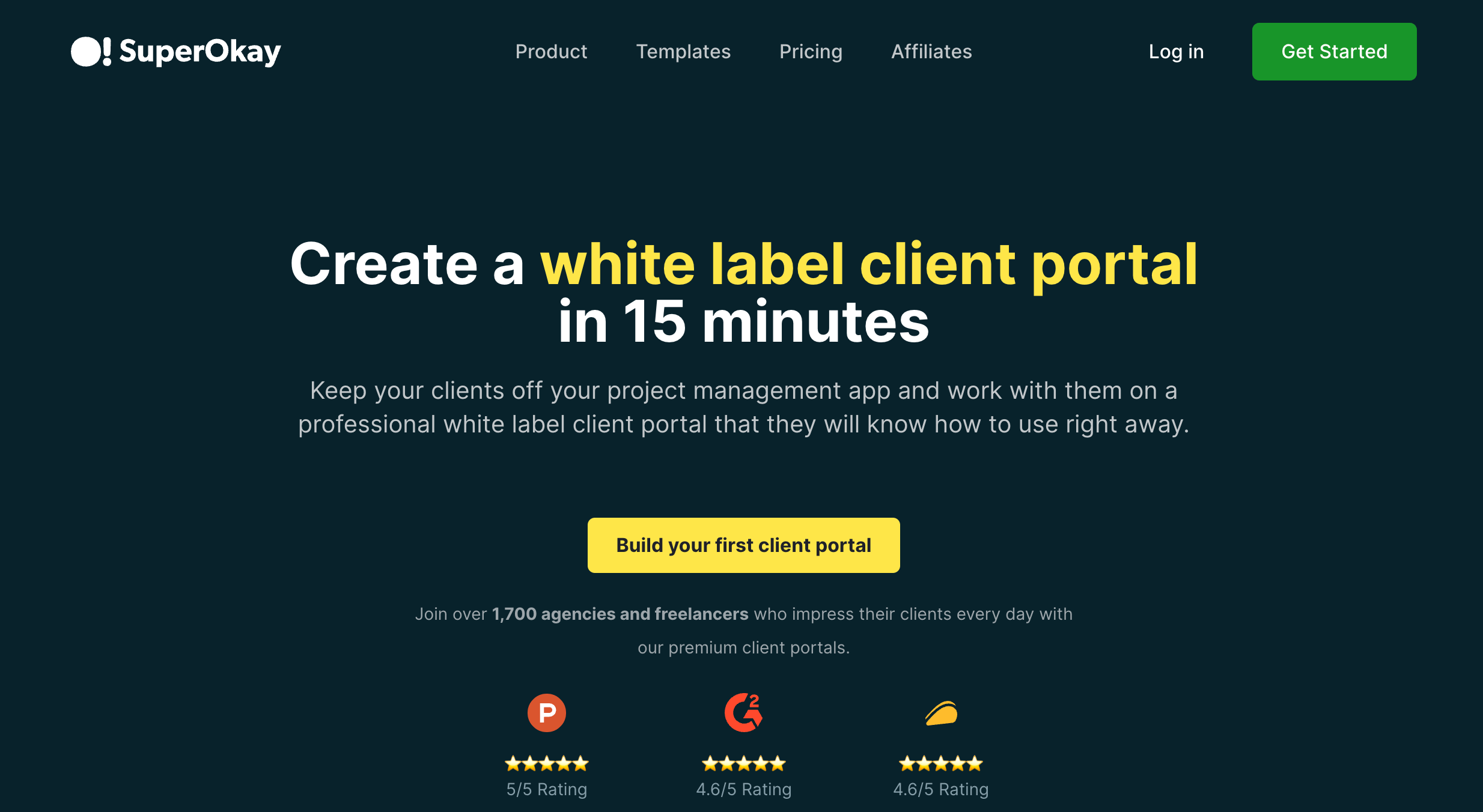 What if you could use a visual editor to build knowledge base pages, smart documents, team bios, case studies, briefs, proposals, estimates, surveys, and more, and then share them with your client in a beautiful, personalized client portal?
With SuperOkay, you can do exactly that. Their clean, user-friendly interface makes it easy to create and all of the above using a wysiwyg builder, and then you can easily decide what you want to share with the client. You can also embed external apps to display in a manner similar to Views in Ahsuite.
You can create to-do action items that are independent or linked to specific documents. If something is visible to the client, it will have an eye icon next to it.
The client logs in to view a branded dashboard with links to their files, documents, action items, and anything else you share with them.
Getting started with SuperOkay is a breeze, and they give you two free weeks to try it out.
7. Onehub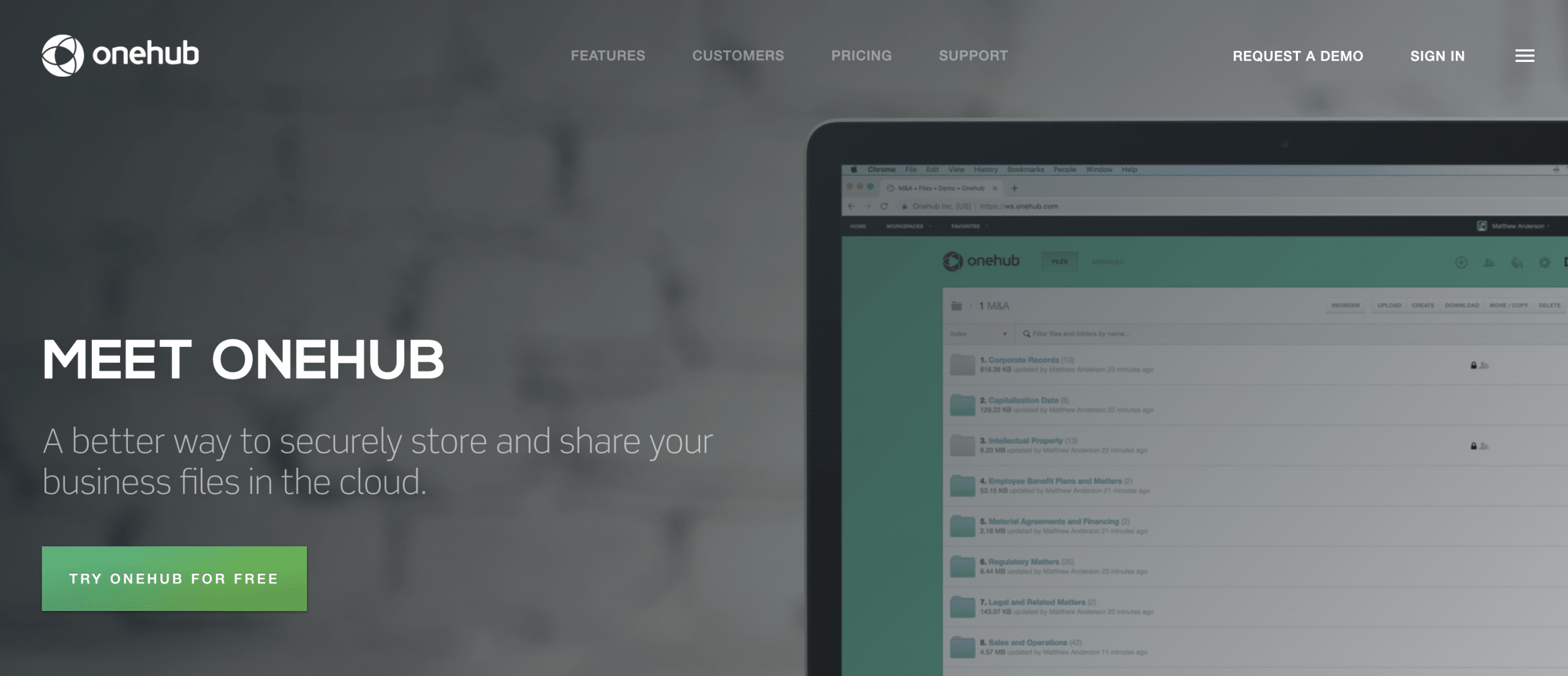 OneHub is a client portal solution with a focus on data security. It encrypts data both in transit and at rest for the client files and messages you share, making it one of the most secure client portals.
Compared to some of the other client portal tools, Onehub's feature set is rather limited. It's strongest module is file sharing, with document preview and the ability to request document review and approval.
It also has messaging. There is a Tasks module in Onehub, but it is limited to the aforementioned file review and approval tasks.
Onehub boasts over a million users of its client portals. If bank-level encryption is what you need for your business, you can try Onehub for free for 14 days to see if it's right for your business.
8. Clustdoc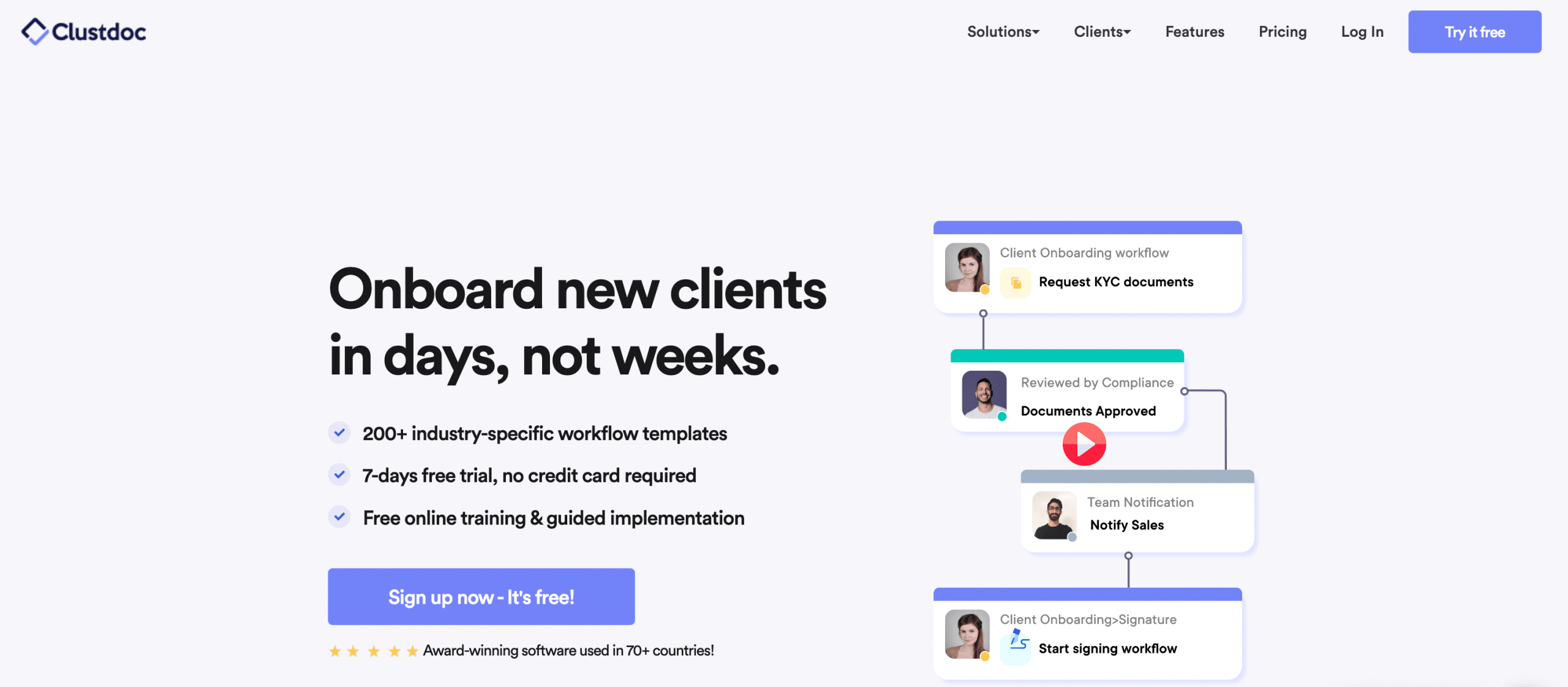 This overview of free customer portal software would be incomplete without mentioning Clustdoc. Clustdoc is designed to streamline the client onboarding process for a wide range of business services.
You can set up client-facing workflows involving forms, e-signatures, proof of identity, payment collection, and more.
As you customers work through these tasks, you can trigger notifications to your own team telling them when to take certain actions.
Clustdoc also has messaging and file storage, making it a well-rounded web portal for clients, customers, tenants, patients, and students.
Their 7-day trial means you can try it out without entering a credit card.
Conclusion
The free trials in this list range from one week to a full month, giving you plenty of time to try before you buy.
If you are looking to evaluate a client portal for free, you have multiple great options to choose from. But only Ahsuite offers a tier that is free forever for up to three clients.
Ahsuite also has a unique focus on embedding that sets it apart from the other client portal software. If you need to display a report, presentation, or anything else in a client portal, then Ahsuite is an easy choice.
And with the longest free trial in this list, you can start using Ahsuite today and not reach for your wallet for a whole month!