In the realm of project management, Trello has long held its ground as a straightforward and free Kanban tool since its debut in 2011. Over a decade later, it's still a solid choice for managing tasks using the Kanban approach.
However, is Trello the ultimate solution for teams of all shapes and sizes? Not quite.
Due to its restricted functionality and a lack of robust reporting features, Trello may fall short for project managers aiming for a comprehensive solution. While it maintains its status as a reliable tool, many teams are on the lookout for alternatives that can take their productivity to the next level.
This article dives into the best Trello alternatives available in 2024. We'll explore their features, pros and cons, and pricing details, helping you pinpoint the optimal solution for your needs.
Let's get started!
What is Trello?
Trello offers a visual way to manage projects through Kanban boards, lists, and cards. This project management software makes it easy for teams to see tasks, move them as they progress, automate tasks through Butler, and collaborate with comments or attachments.
Plus, Trello plays well with other apps like Slack and Gmail. Templates and custom fields give flexibility loved by remote teams. Fans love its functionality, versatility, and calendar integrations, which allow team members to collaborate globally.
However, some users find its Kanban tool/system limiting, dislike its reliance on potentially pricey integrations, or wish for better reporting and offline capabilities. Most of its competitors, like Asana, offer more views while making Kanban boards available.
Pros:
Best free PM tool available.
User-friendly with versatility.
It offers custom fields and subtasks.
Simple group management.
Links boards to calendars, email.
Cons:
Limiting Kanban boards.
Expensive integration is required.
The best features are paywalled.
Not scalable for big projects.
Users must be online to use.
Weak reporting and time tracking.
Plans & Pricing:
Free Plan
Standard ($5)
Premium ($10)
Enterprise ($17.50)
10 Best Trello Alternatives in 2024
Ready to upgrade your project management game? Here are the 10 bestTrello alternatives that shine in 2024, each catering to specific needs and team dynamics.
Airtable – Best for improved flexibility
Monday.com – Best for feature count
ClickUp – Best for comprehensive features
Asana – Best for structured task management
Smartsheet – Best for reporting and tracking
Wrike – Best for team collaboration
Jira – Best for agile project management
Podio – Best for customizable apps & integrations
Microsoft Project – Best for Microsoft product users
Ahsuite – Best for client management
1. Airtable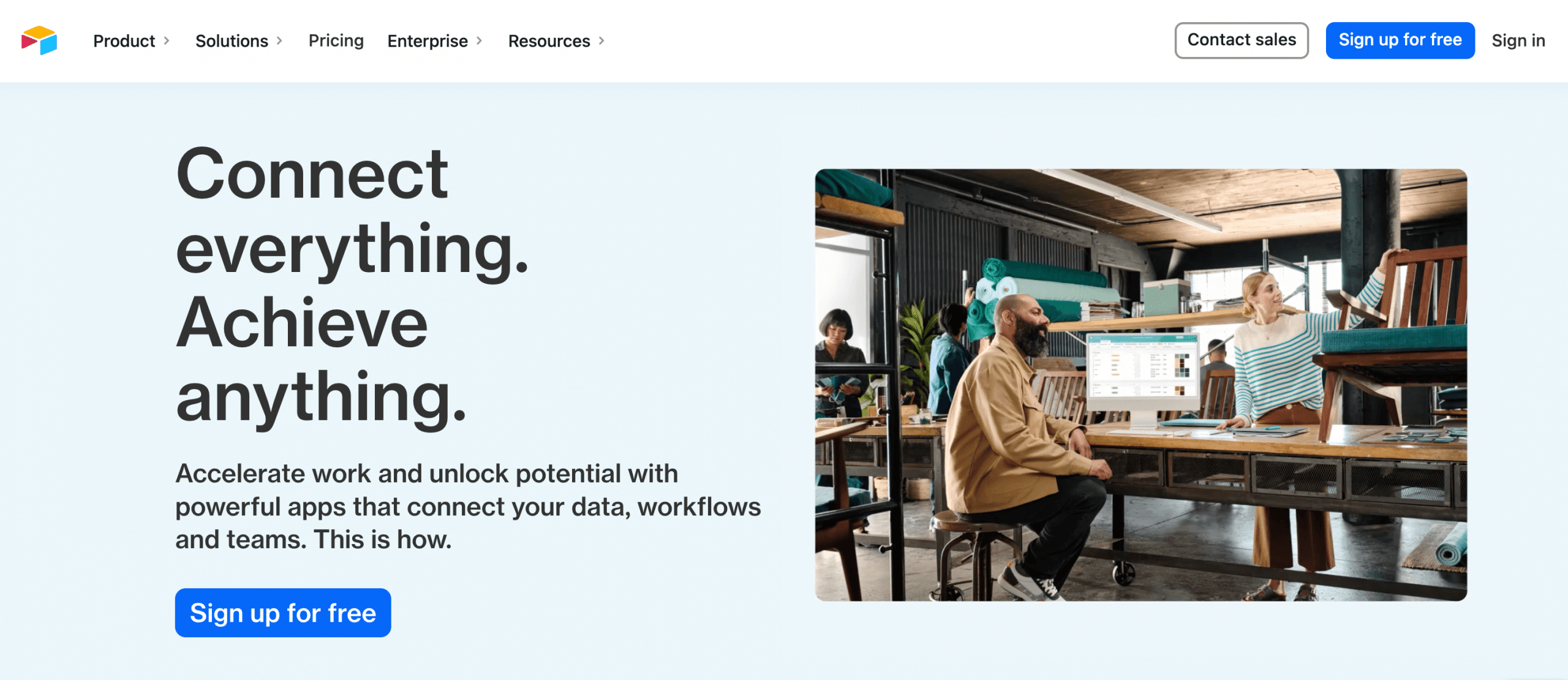 Airtable is a project management tool that is highly regarded by those who excel in working with spreadsheets. Its appealing design and practical functionality have made it a popular choice. Airtable's collaboration features make project management more engaging and interactive.
As an alternative to Trello, Airtable shines with its various project views, not just limited to Kanban. Its myriad built-in capabilities ensure users are independent of external integrations, offering a more streamlined experience. Airtable offers a free plan that provides 1,000 records per base, a good thing to note when scaling.
Pros:
Visually stunning user interface.
Flexible task-tracking mechanisms.
Extensive project template options.
Comprehensive project management features.
Flexible database structure and multiple views.
Cons:
The steeper learning curve impacts onboarding.
No direct phone support.
Requires more time for teams to adapt.
Plans & Pricing:
Free Plan
Plus: $10
Pro: $20
Enterprise: Contact Sales
Related: 11 Best Airtable Alternatives
2. Monday.com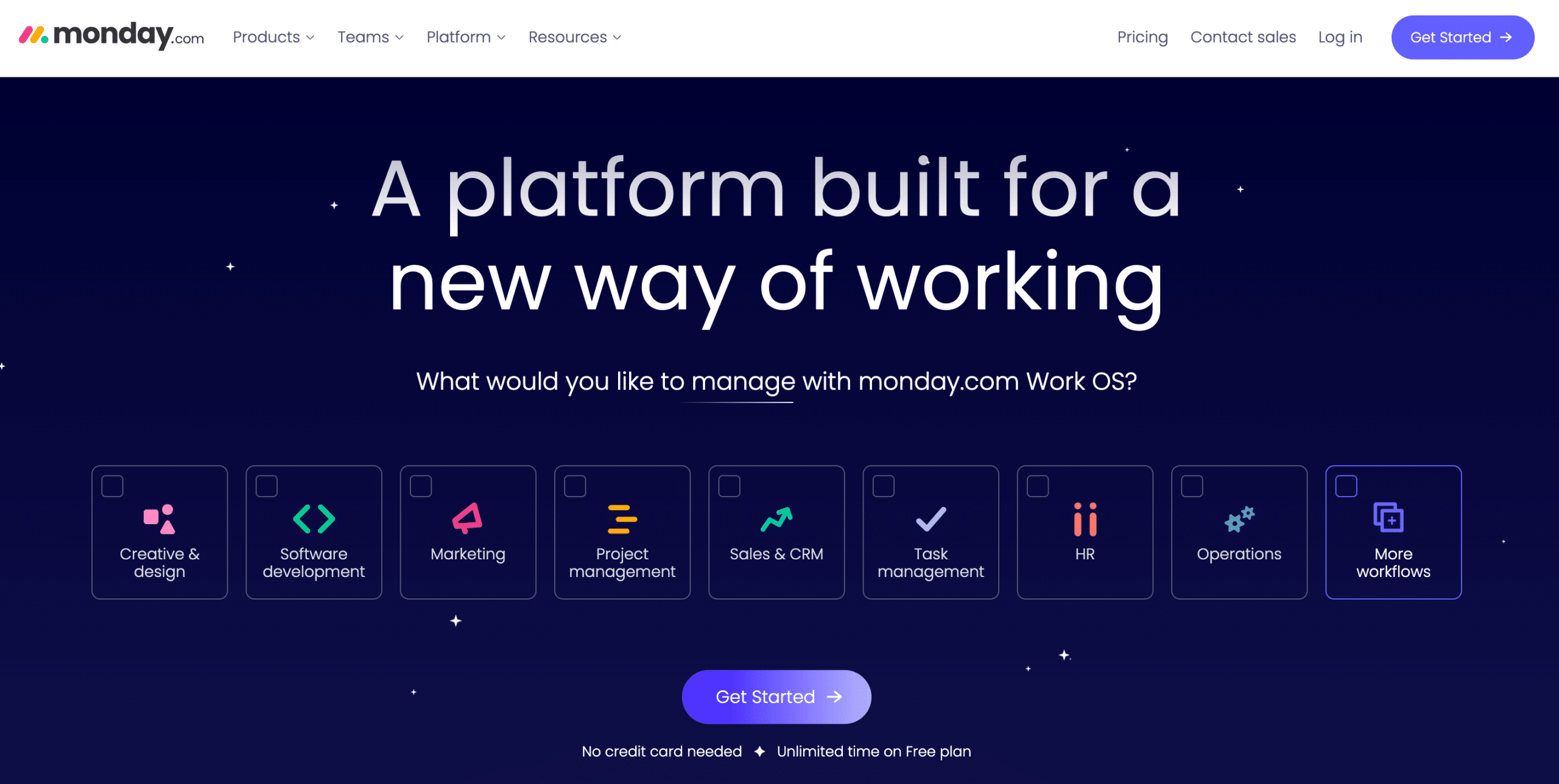 Monday.com is revered for its robust feature count, catering brilliantly to project managers and business owners. With user-friendly collaboration, over 200 templates, task lists, and custom dashboards, Monday.com's all-around features can streamline tasks and make project oversight more efficient.
This platform is better than Trello for its superior customization and a broad range of built-in tools for project management. It prioritizes features without compromising usability beyond the Kanban board view, including calendar, timeline, and Gantt chart.
Pros:
Extensive template collection (200+).
Comprehensive dashboard customization.
Built-in budgeting and invoicing tools.
Seamless task automation capabilities.
Advanced yet user-friendly functionality.
Cons:
It might be overwhelming for beginners.
Premium features can be pricey.
The mobile app needs more improvements.
Too feature-rich for smaller teams.
Plans & Pricing:
Free Plan
Basic: $10
Standard: $12
Pro: $20
Enterprise: Contact Sales
Related: 10 Best Monday.com Alternatives
3. ClickUp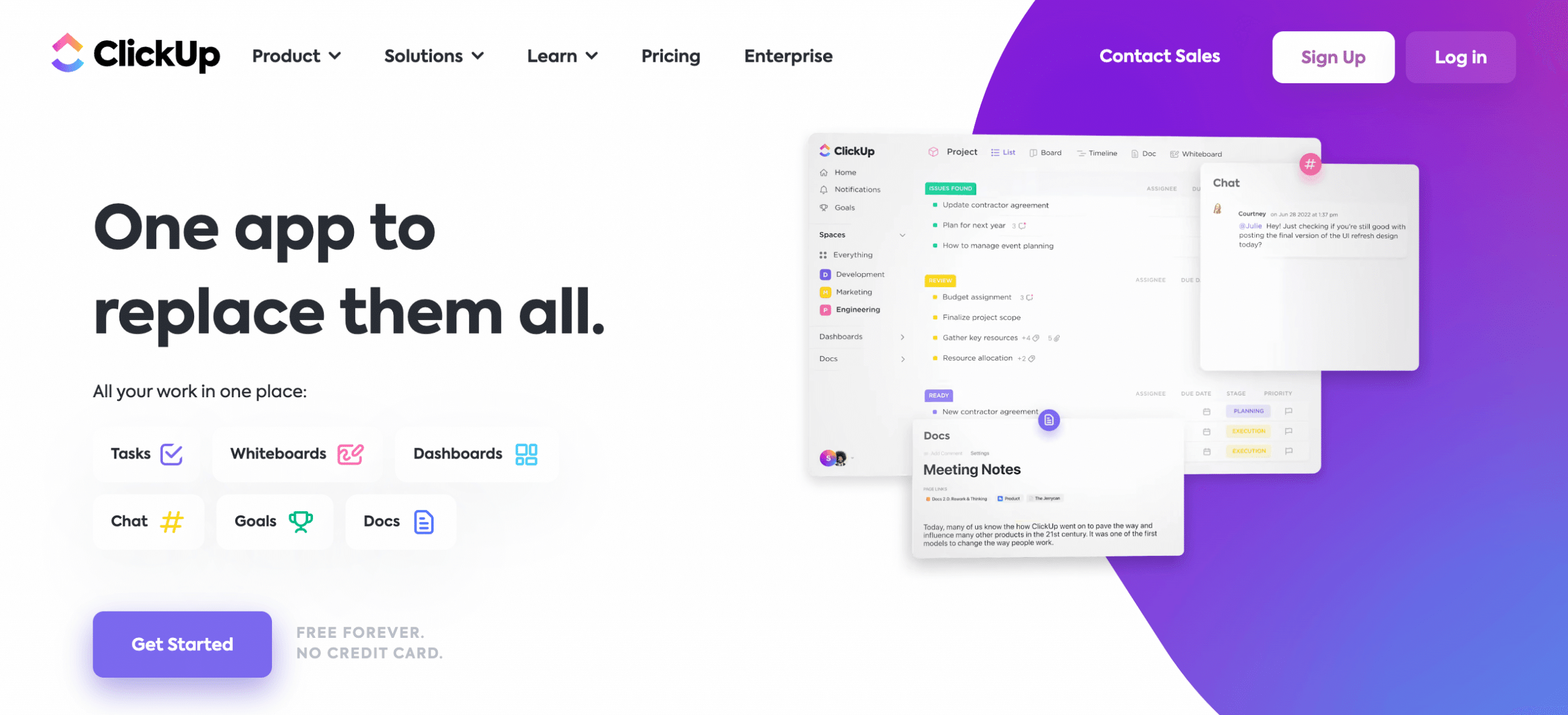 ClickUp is a comprehensive project management tool favored by business owners and project managers. With a promise to "replace all apps," it effortlessly integrates to-do lists, docs, chats, wikis, spreadsheets, and more for streamlined task management and effective collaboration.
It offers 15+ views, surpassing Trello's sole Kanban view, and built-in features like native docs, time tracking, and advanced automation. Users don't need add-ons, which is the bane to Trello's existence.
Its superior customization and affordability position ClickUp as a top-tier, feature-rich tool without the reliance on Power-Ups.
Pros:
Comprehensive built-in functionalities.
Customizable dashboards for metrics.
Advanced workflow automation capabilities.
Native docs and embedded spreadsheets.
Real-time chat for swift collaboration.
Cons:
Overwhelming for non-tech users.
Absence of immediate phone support.
There are only five accessible workspaces for the free plan.
One-day limit on activity log.
Plans & Pricing:
Free Plan
Unlimited: $17
Business: $12
Enterprise: Contact Sales
Related: 10 Best ClickUp Alternatives
4. Asana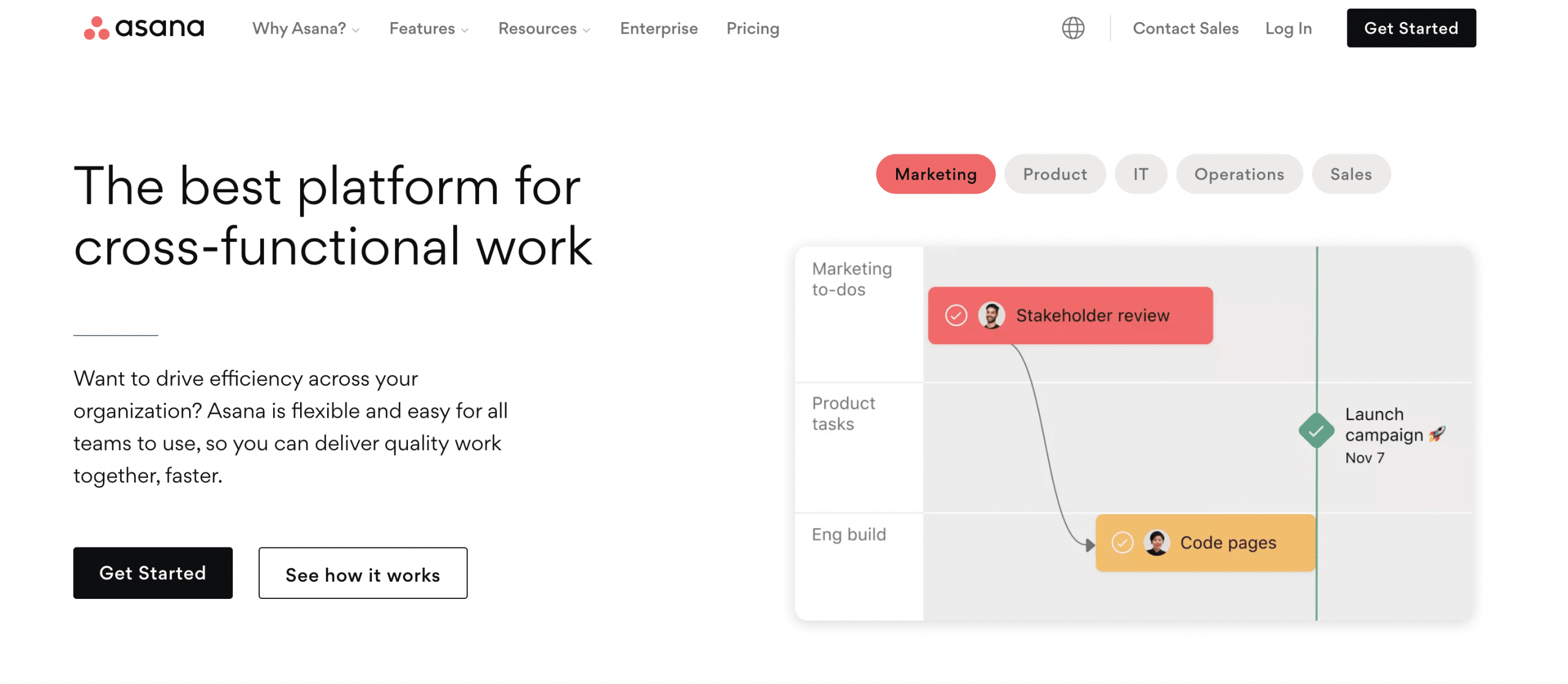 Asana is a versatile project management tool gaining popularity among project managers and business owners. It combines various project management methodologies and offers a comprehensive suite of features, from Kanban boards to timelines.
Distinguishing from Trello's singular kanban approach, Asana offers a holistic experience with multiple views. Asana provides different views, including list, board, timeline, calendar, and search views.
With flexible workflow tools like intuitive Gantt charts, calendars, and lists, Asana provides native support for milestones, dependencies, and subtasks. It is also a great free Trello alternative for small teams.
Pros:
Asana supports multiple project management methodologies.
Intuitive Gantt chart and timeline views.
Comprehensive native features for task management.
It offers detailed, high-quality reports.
Native time-tracking for team efficiency.
Cons:
The slight learning curve for newcomers,
It requires occasional navigation between various views.
Asana free plan, while robust, has limitations.
The interface may be intricate.
Plans & Pricing:
Free Plan
Premium: $10.99
Business: $24.99
Related: 11 Best Asana Alternatives
5. Smartsheet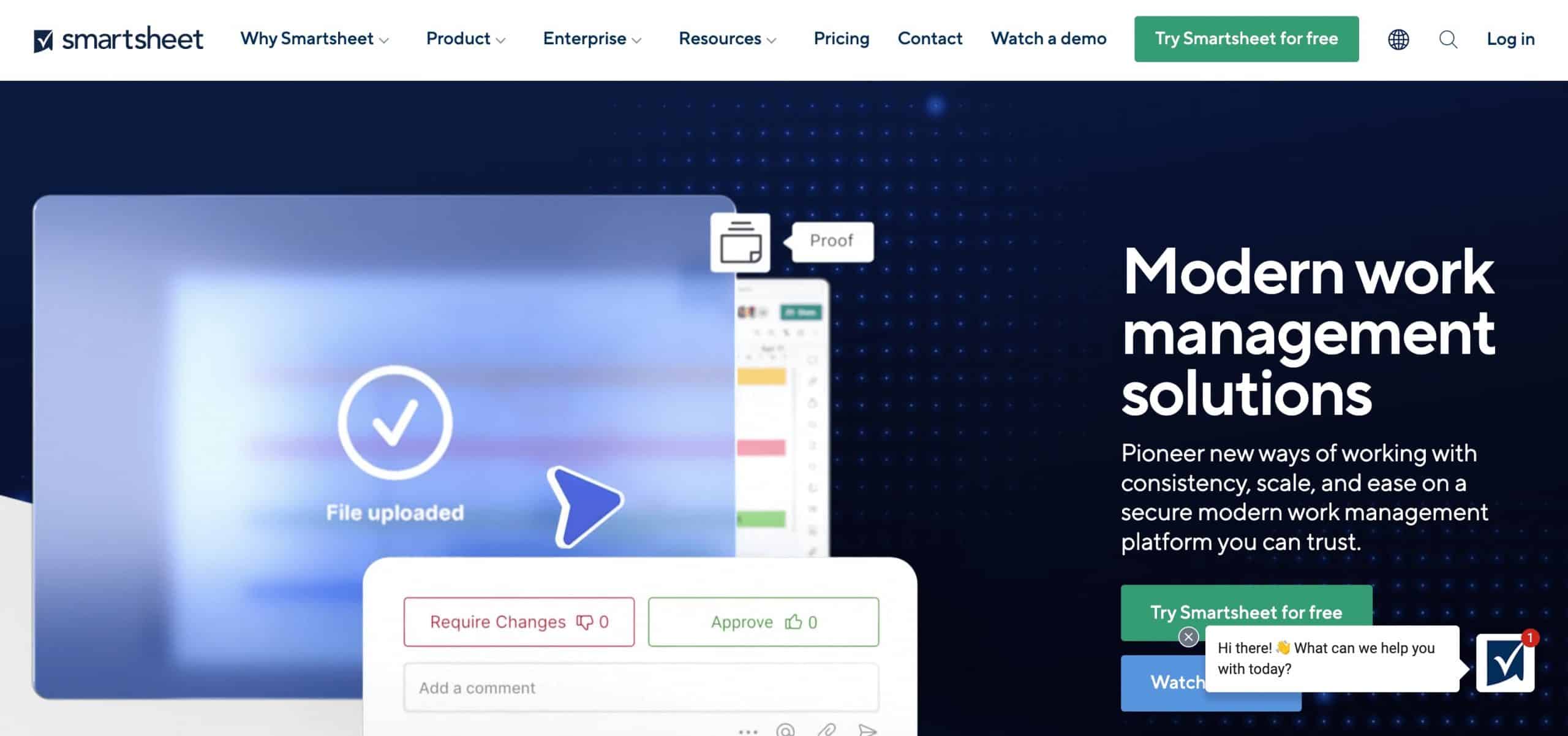 Renowned for its unique spreadsheet style, Smartsheet is a top choice among project managers and businesses, mainly medium to large-scale ones. With advanced reporting and project tracking, Smartsheet is necessary if you oversee diverse large-scale projects.
As an alternative to Trello, Smartsheet excels with its data-centric interface, making it ideal for detailed project tracking and report generation. Boasting a flexible database structure and multiple views, it offers more customization options.
Pros:
Spreadsheet style for intuitive task organization.
Advanced automation for custom task rules.
Comprehensive Gantt chart insights.
Superior reporting and business intelligence features.
Real-time visibility with live reports.
Cons:
It might be overwhelming for small projects.
It requires a learning curve for non-spreadsheet users.
Potential extra costs for full features.
The interface is less visual than Kanban-based tools.
Adjustments needed for agile methodologies.
Pricing & Plans:
Free Plan
Pro: $7
Business: $25
Enterprise: Contact Sales
Related: 10 Best Smartsheet Alternatives
6. Wrike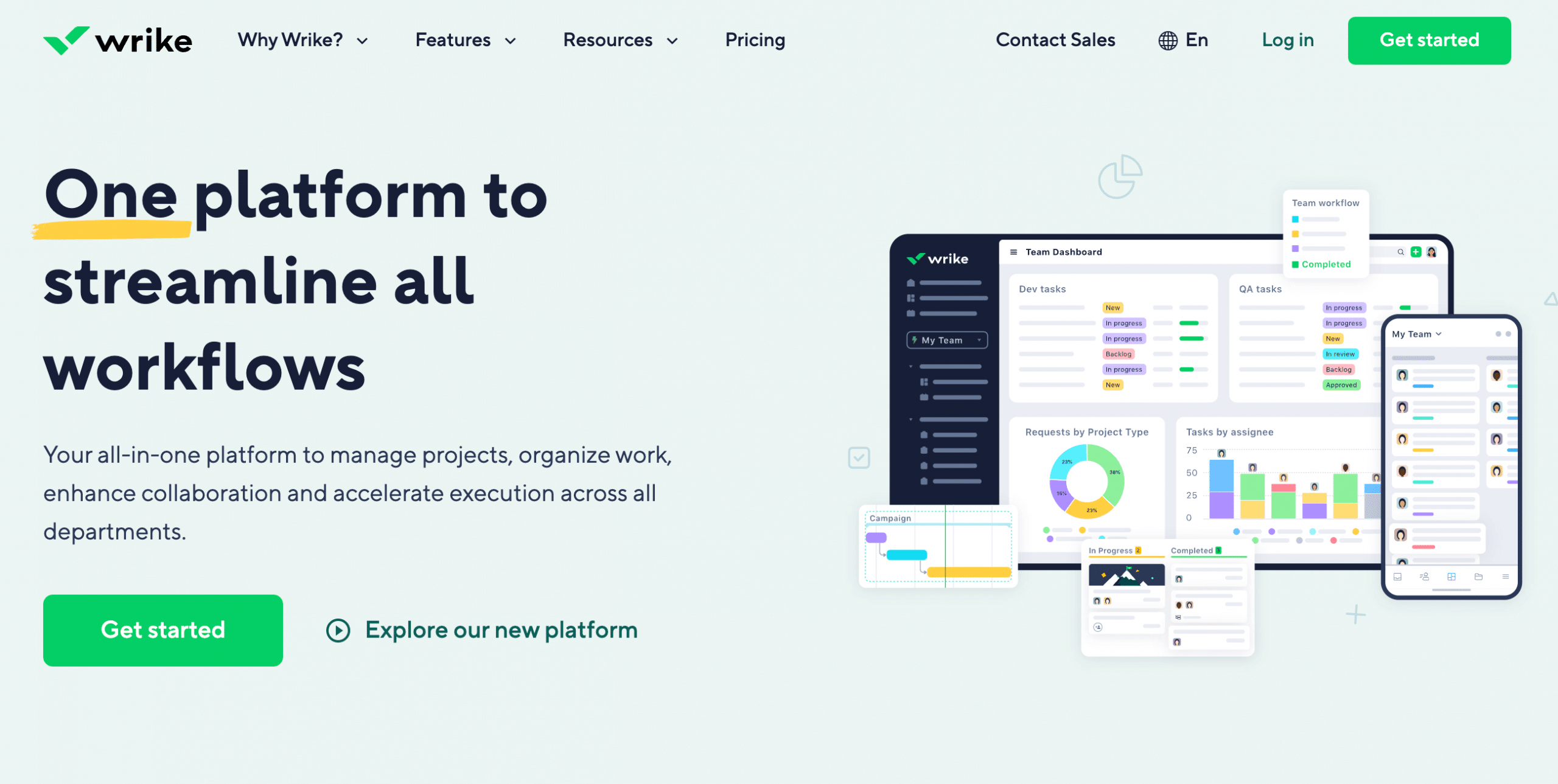 Wrike is a top-tier project management tool, especially recognized for its comprehensive collaboration features. Wrike offers custom workflows, interactive Gantt charts, advanced analytics, and more for seamless project execution and collaboration.
Compared to Trello, Wrike presents a more extensive scope with multiple views. Additionally, Wrike integrates with over 400 applications, including Salesforce, Hubspot, Bynder, Zoom, and Slack, in addition to two-way sync with other applications.
Pros:
Multiple project views: tables, Gantt, Kanban.
Customizable request forms and approvals.
Diverse chart visualizations for insights.
Integrated resource management for budgeting.
Templates drive assignments and reduce memos.
Cons:
It might be too complex for simple tasks.
The learning curve for diverse features.
Pricing could be high for some.
The interface may overwhelm new users.
Some functionalities are redundant for small teams.
Pricing & Plans:
Free Plan
Team: $9.80
Business: $24.80
Enterprise: Contact Sales
Pinnacle: Contact Sales
Related: 11 Best Wrike Alternatives
7. Jira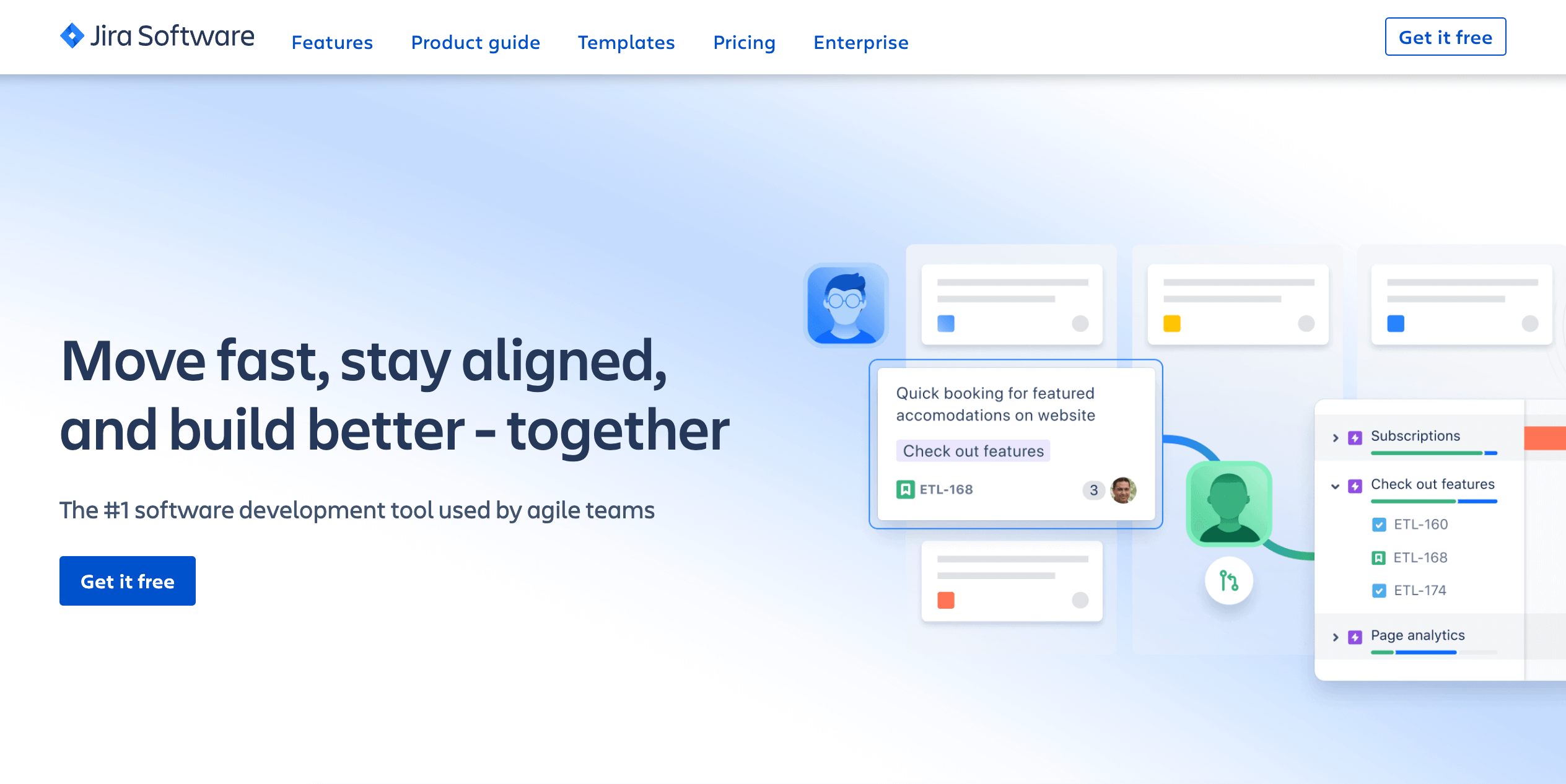 Jira is a robust project management tool tailored for software development teams. Offering Scrum, Kanban, and sprint boards, it extends beyond Trello's singular Kanban approach. Many project managers prefer Jira due to its customizable Agile project management, bug tracking, and advanced features.
As a core Trello alternative, Jira boasts multiple views, such as Kanban and Scrum, advanced customization, and an extensive range of built-in capabilities. Jira offers a more advanced Agile project management experience than Trello.
Pros:
Comprehensive Agile project management tools.
Customizable fields for each issue.
Integrates real-time collaboration features.
It offers advanced reporting and automation.
Unique views: calendars, timelines, charts.
Cons:
It has a steeper learning curve than Trello.
The free version is limited to 10 users.
It might be overwhelming for basic tasks.
Customer service is limited to the free version.
It's not as intuitive as other tools.
Pricing & Plans:
Free Plan
Standard: $7.75
Premium: $15.25
Enterprise: Contact Sales
Related: 11 Best Jira Alternatives
8. Podio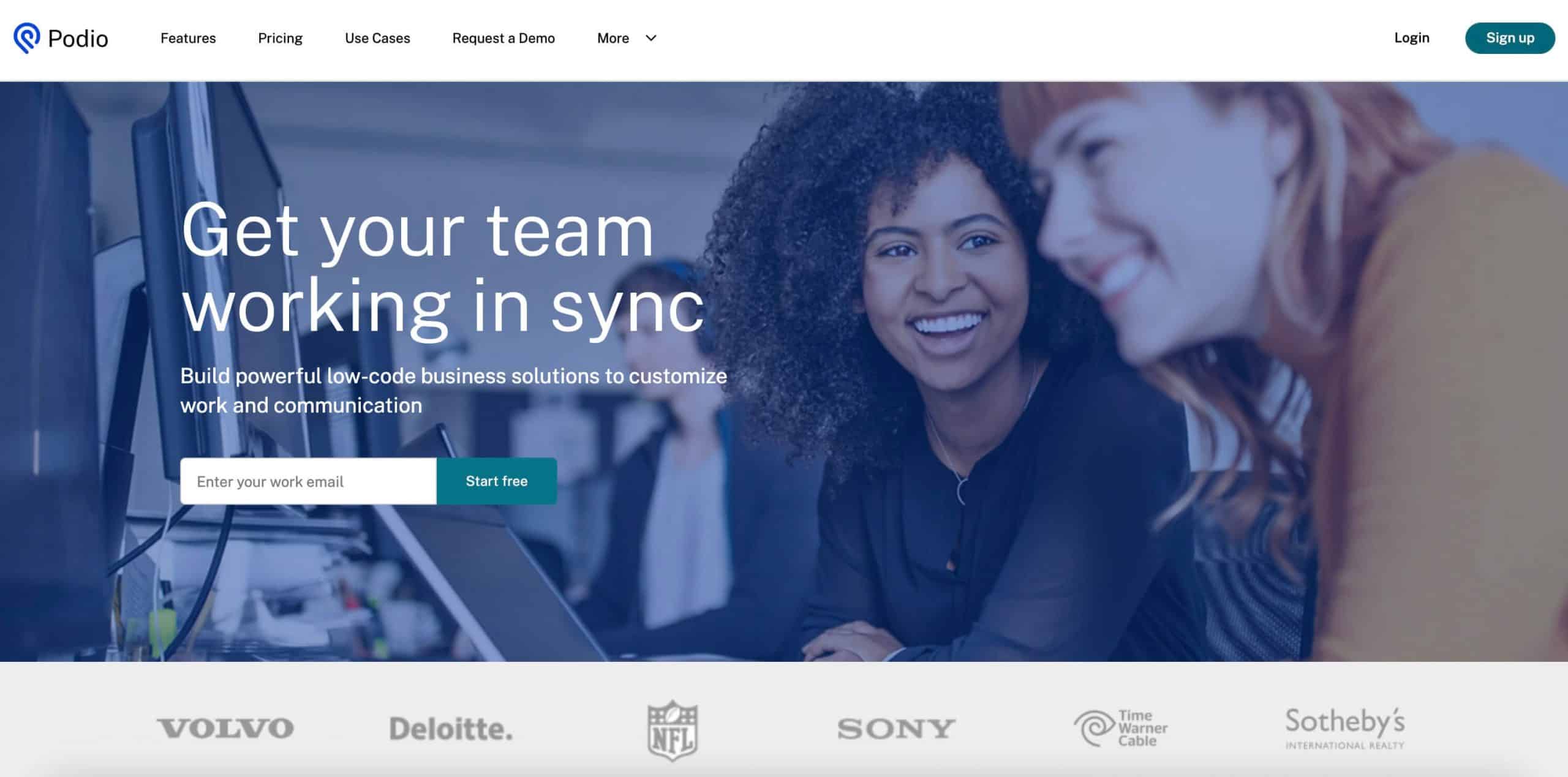 Podio excels in the project management landscape, emphasizing creating custom apps tailored for various needs, from CRM to task management. It's a crucial tool for project managers and businesses, offering unlimited items, workspaces, user management, and visual reports.
Setting Podio apart from Trello is its unparalleled flexibility in custom app creation, extensive integration capabilities, and the inclusion of advanced project management tools. Trello uses a Kanban-based model, while Podio offers more features and customization options.
Pros:
Extensive customizable apps and workspaces.
Advanced workflow automation capabilities.
Visual reports and interactive sales dashboards.
Cloud phone system with power dialer.
It grants read-only access for selective control.
Cons:
Overwhelming customization options.
The free version might feel restrictive.
It requires setup for optimal customization.
Integrations may need occasional troubleshooting.
Pricing & Plans:
Free Plan
Plus: $11.20
Premium: $19.20
9. Microsoft Project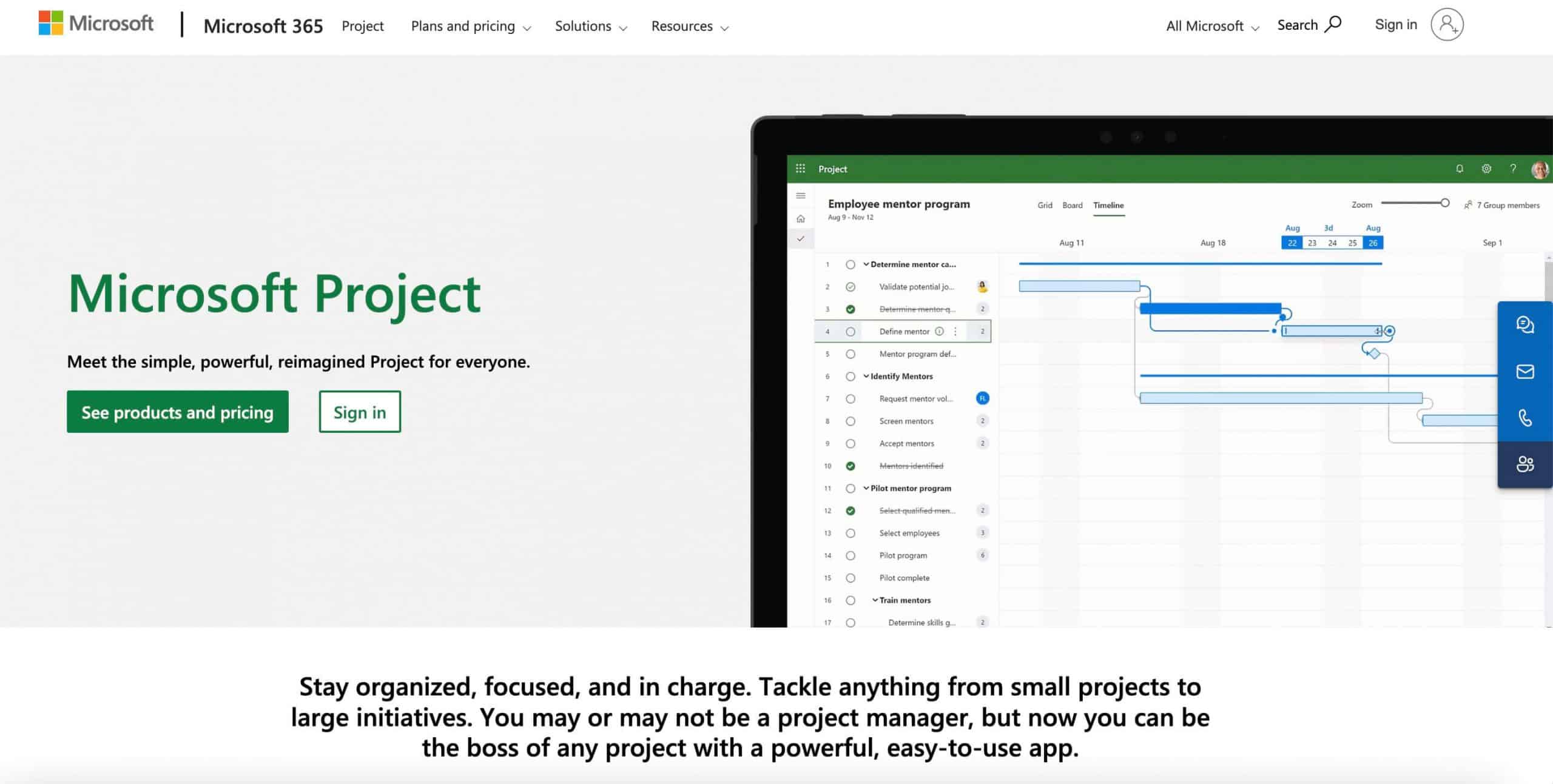 Microsoft Project (different from Microsoft Planner) is a project management software tailored mainly for medium to large enterprises. Deeply integrated with Microsoft's suite, its capabilities span from collaboration to advanced BI, dashboards, and intricate roadmaps—making it an essential choice for business owners seeking an in-depth analytical tool.
Distinguishing itself as a Trello alternative, MS Project thrives with its advanced Gantt charts, timeline views, and tailored reports. Moreover, its seamless compatibility with Microsoft 365 tools, Microsoft Teams, and Power BI creates a holistic, integrated experience, moving well beyond Trello's foundational Kanban board system.
Pros:
Deep integration with Microsoft 365 suite.
Advanced BI reporting with Power BI.
Comprehensive Gantt charts for project visualization.
Customizable and graphical report generation.
It supports diverse project views, including timelines.
Cons:
Pricier for smaller businesses.
Occasional integration glitches.
The overwhelming feature set for some.
It relies heavily on the Microsoft ecosystem.
Pricing & Plans:
Project Plan 1: $10
Project Plan 3: $30
Project Plan 5: $55
10. Ahsuite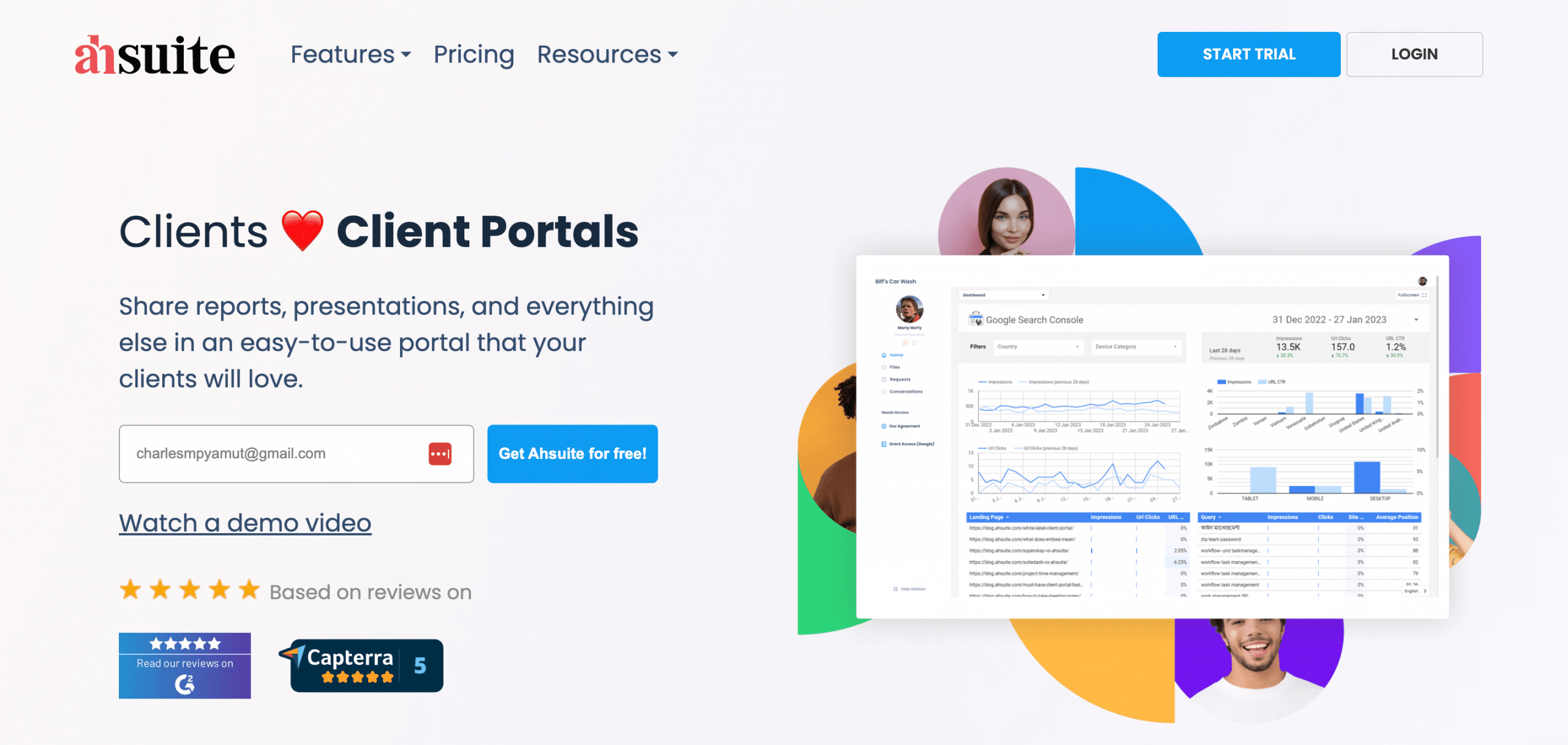 Ahsuite is a dynamic client portal tool for diverse professionals, from agencies to educators. It is designed for seamless online collaborations and elevates client interactions with a secure, organized platform with file sharing, work journals, and a task management system.
As a Trello alternative, Ahsuite thrives in client-focused environments, offering much more than a mere Kanban board view. Its expansive integrations, advanced client portal capabilities, flexibility in file management, and built-in features position it as a game-changer for businesses aiming for sophisticated client engagement.
Pros:
Intuitive dashboard with vibrant layout.
Comprehensive task management for client portals.
Efficient password saver and client template creator.
Secure file manager with client approvals.
Work journals ensure transparent collaboration.
Cons:
It might feel niche to non-client-centric projects.
Learning curve for non-tech-savvy clients.
Reliance on the platform for client communications.
Pricing & Plans:
Free Plan
Professional: $24
Agency: $57
Tips for Transitioning to Trello Alternatives
Switching from one project management tool to another can seem daunting, especially if you have a significant amount of data and processes established in Trello. Here's a guide to help you transition from Trello to its alternatives seamlessly:
Evaluate your needs: Understand why you're looking for an alternative—be it for advanced features, cost-saving, or better integration. Look for a Trello alternative that offers a free trial to ensure the best fit.
Data migration: Investigate if your chosen project management software offers direct data import from Trello. Transferring cards, boards, and lists reduces downtime.
Train your team: Any new tool can seem overwhelming. Organize training sessions or share tutorials. Ensure team members are correctly onboarded with the new platform to accelerate adoption.
Reassess workflows: A new tool might present opportunities to optimize your workflows. Consider how tasks and projects can be streamlined as you transition using the new platform's features.
Stay open to feedback: The early stages of using a new tool are crucial. Encourage your team to share their experiences, challenges, or suggestions. Addressing these insights can facilitate a more seamless transition.
Conclusion
Trello has marked its presence as a popular project management tool with unique features and integrations. However, its Kanban-centric approach, pricey integrations, and limitations in scalability and reporting have driven businesses to explore other tools like Trello that give the best project management experience.
Alternatively, there are open source alternatives for Trello board or free options like Excel or Google Sheets. Users can also use free trials before getting aboard a paid subscription.
If you're seeking a versatile solution tailored to client management, consider trying Ahsuite. They offer a comprehensive 30-day trial, allowing ample time to explore its features and assess its compatibility with your requirements.
Whether you opt for Trello or one of its many worthy competitors, the goal remains streamlined processes, enhanced collaboration, and successful project delivery. Here's to productive project management and achieving your business goals!