ClickUp is a popular project management tool that focuses on workflow customization. However, this flexibility can be a double-edged sword for organizations. Expect consistency and performance issues when there are too many baseline modifications.
If this doesn't sound like a lovely option, you should jump into a competitor ship for better performance. Check out the list of best ClickUp alternatives below to get your perfect project management tool.
What is ClickUp?
Founded in 2017, ClickUp quickly became a favorite due to its wide range of features. This platform is simple to use and easy to get into due to its competitive free version. It provides many features, including tasks, docs, goals, whiteboards, dashboards, chat, and integrations.
In addition, ClickUp boasts a great UI and project management features like board views and Gantt charts. You can visualize any workflow using multiple task views/task lists for planning and monitoring.
Of course, ClickUp's core features are its exceptional customization and advanced controls. Furthermore, this tool allows you to create custom statuses within Kanban boards and other templates to simplify progress/milestone tracking.
People use ClickUp to drive team collaboration and project planning to manage projects effectively. The competitive pricing of $7 per user per month is an excellent selling point.
Pros:
Highly customizable views and workflows.
Designed for remote collaboration.
Competitively priced at just $7.
Granular reporting in real-time.
Seamless time-tracking features.
Cons:
It can be overwhelming for newbies.
Limited third-party integrations.
No direct phone support.
Complex navigation with many users.
Default permissions may require some serious tweaking.
Pricing & Plans:
Free
Unlimited ($7)
Business ($12)
Enterprise (Contact Sales)
10 Best ClickUp Alternatives in 2024
Time to find the best ClickUp alternatives to empower your task and project management game.
Ahsuite – Best for client management
Asana – Best for enterprise usage
Trello – Best for ease of use
Monday.com – Best for diverse teams
Notion – Best for workspace organization
Wrike – Best for resource allocation
Todoist – Best for lightweight collaboration
Airtable – Best for database management
Basecamp – Best for straightforward collaboration
Nifty – Best for remote teams
1. Ahsuite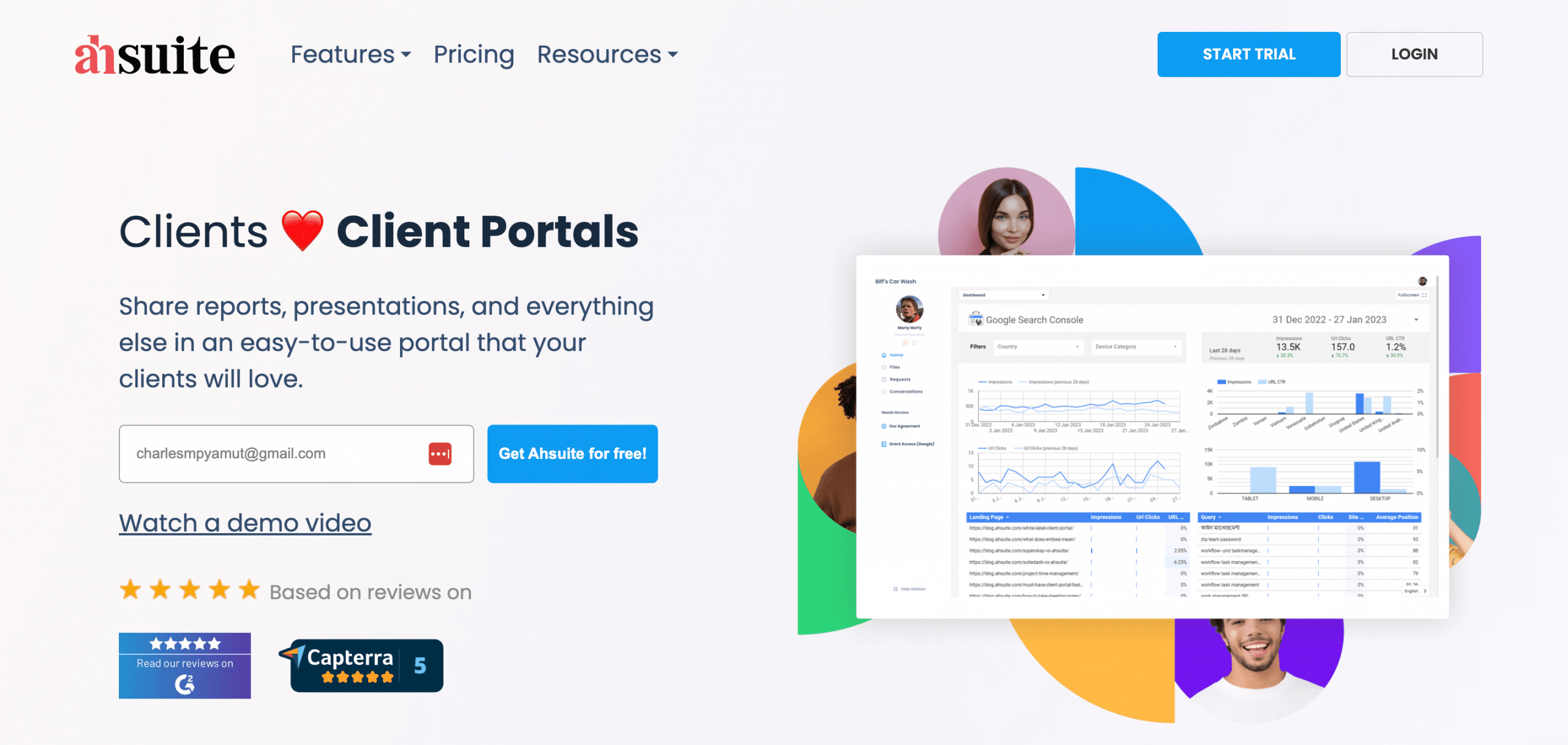 Ahsuite is one of the best ClickUp alternatives for those who engage with clients regularly. Users can securely embed content, including Google Data Studio reports, Figma boards, slide decks, and videos, in a single portal for reporting and other client touchpoints.
Users can get limitless portal customization through third-party integration capabilities through Zapier. It also drives collaboration with features like email responses, message encryption, and a detailed task management suite.
In addition, Ahsuite's task manager is also great for making complex projects into manageable tasks. You can use templates, calendar views, and sub-tasks while allowing user tagging and task dependencies for streamlined workflows.
Pros:
Powerful task management tool
Secure, multi-content embedding.
User-centric messaging with encryption.
Seamless email-chat integration.
Labels and user tagging for clarity.
Cons:
Exclusively cloud-based.
It might feel niche to non-client-centric projects.
Additional view modes would be helpful.
Pricing & Plans:
Free Plan
Professional: $24
Agency: $57
Customer Ratings:
G2: 4.8 out 5 (56 reviews)
Capterra: 4.9 out 5 (19 reviews)
2. Asana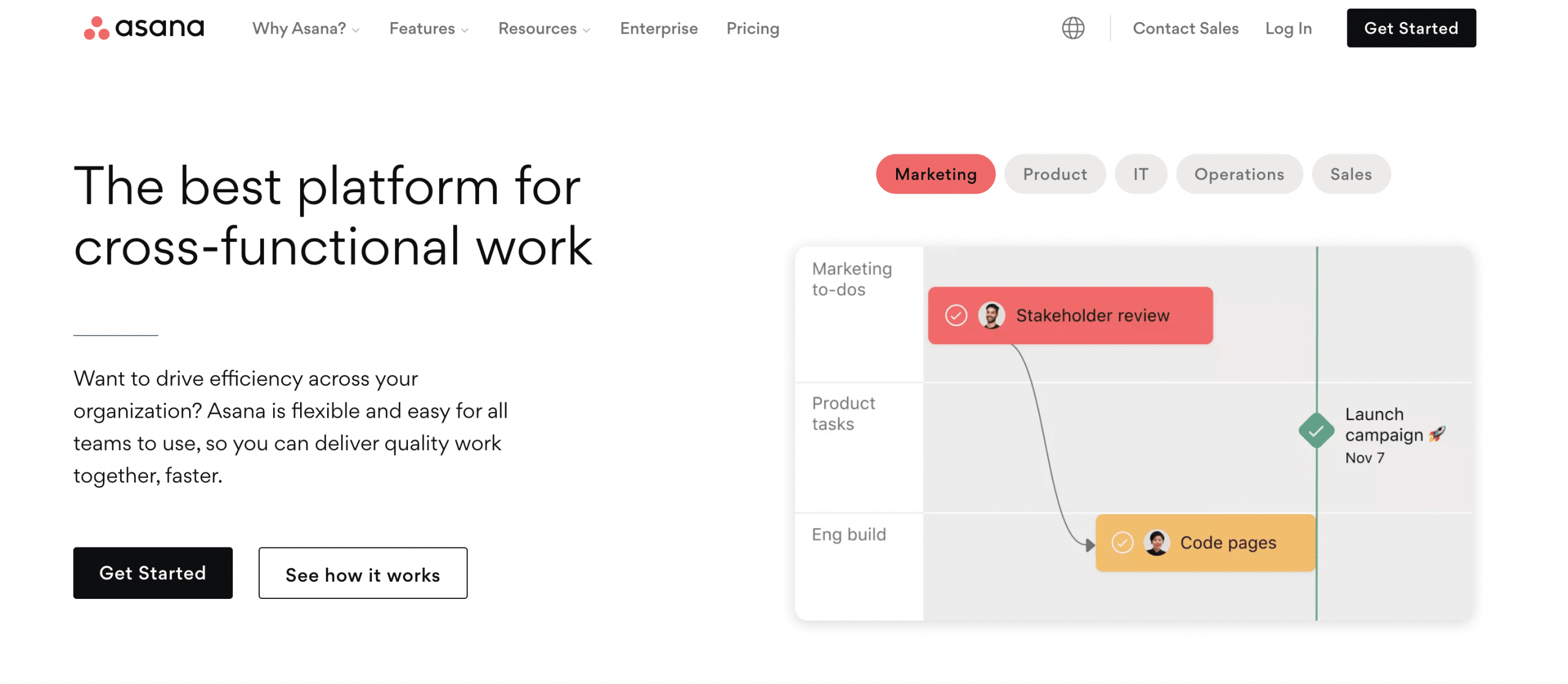 Asana's more rigid platform can tackle some of ClickUp's biggest problems: steep learning curve and cluttered interface. Features such as automation, custom fields, and status updates make it particularly compelling for businesses that need high-scale customization.
What makes Asana a great ClickUp alternative is its ability to accommodate other business needs, like automation triggers. It provides a simple UI and boasts advanced controls and robust PM features that help you stay on top of your priorities.
Pros:
Asana supports multiple project management methodologies.
Clean interface with dashboard overview.
Regular updates and improvements.
The app supports numerous app integrations.
Cons:
Important notifications can get lost due to tons of Asana emails.
Automatic opt-in to Asana email notifications.
Confusion on project visibility and access.
Limited functions for recurrent tasks.
Pricing & Plans:
Free Plan
Premium: $10.99
Business: $24.99
Customer Ratings:
G2: 4.3 out 5 (9530 reviews)
Capterra: 4.5 out 5 (12310 reviews)
Related: 11 Best Asana Alternatives
3. Trello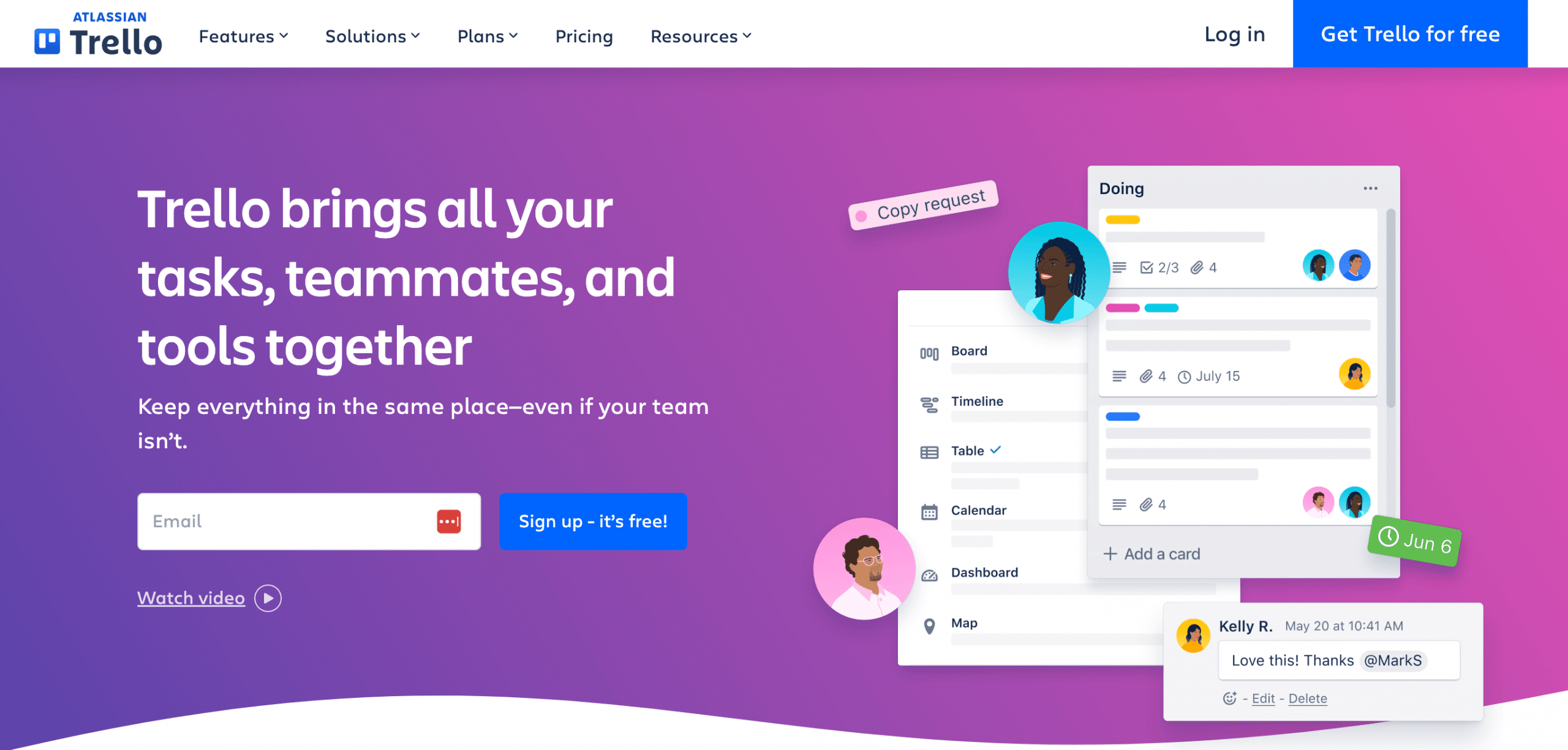 Trello offers an intuitive approach with its Kanban boards while providing many features. This tool makes tracking progress effortless with diverse views from Timeline to Dashboard. Its notifications system and advanced permissions make it indispensable for PM tool users.
Touting itself as a superior ClickUp alternative, Trello's strength is in its simple yet effective UI. Beyond its easy navigation, the platform's integration capabilities with over 200 apps make it a top choice for professionals.
Pros:
Aesthetically pleasing UI with practical design.
Comprehensive integration with 200+ apps.
Customizable notifications for cards, lists, and boards.
Multiple project views for in-depth insights.
Advanced permissions with Premium/Enterprise plans.
Cons:
The app lacks native Linux support.
Needs online access to ensure continued workflow.
Card deletion could be more straightforward.
Absence of mouse side-scroll.
Operational phase task management needs improvement.
Pricing & Plans:
Free Plan
Standard ($5)
Premium ($10)
Enterprise ($17.50)
Customer Ratings:
G2: 4.4 out 5 (13442 reviews)
Capterra: 4.5 out 5 (23070 reviews)
Related: 10 Best Trello Alternatives
4. Monday.com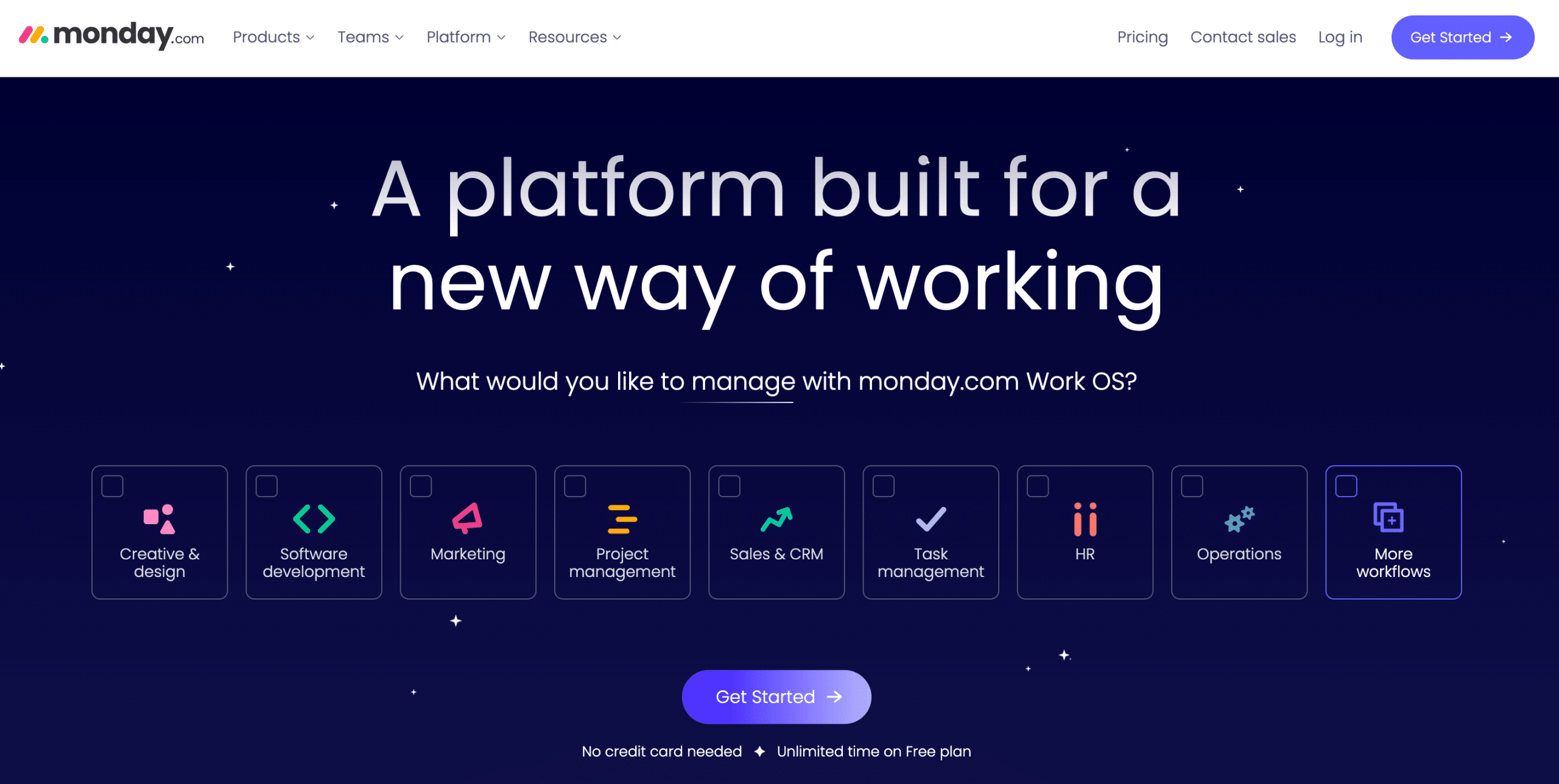 Due to its no-code workflow blocks, Monday.com is a top choice for PMs across various industries. The tool boasts customizable workflows and diverse view options like boards and timelines, which makes managing diverse teams more accessible and more structured.
In comparison to ClickUp and its "all for one" philosophy, Monday.com contends through routine workflows. Both platforms excel in integrations to enhance team capabilities. Monday.com only has time tracking for premium users but compensates with its diverse collaboration tools.
Pros:
Vibrant and straightforward interface.
Extensive app integrations.
Multiple work views for efficiency.
Has robust collaboration tools.
Reliable customer support praised by users.
Cons:
Time tracking is limited to higher plans.
The layout can feel confusing for some.
Limited report customization.
The info boxes feature feels constrained.
Initial setup can be time-consuming.
Pricing & Plans:
Free Plan
Basic: $10
Standard: $12
Pro: $20
Enterprise: Contact Sales
Customer Ratings:
G2: 4.7 out 5 (9861 reviews)
Capterra: 4.6 out 5 (4492 reviews)
Related: 10 Best Monday.com Alternatives
5. Notion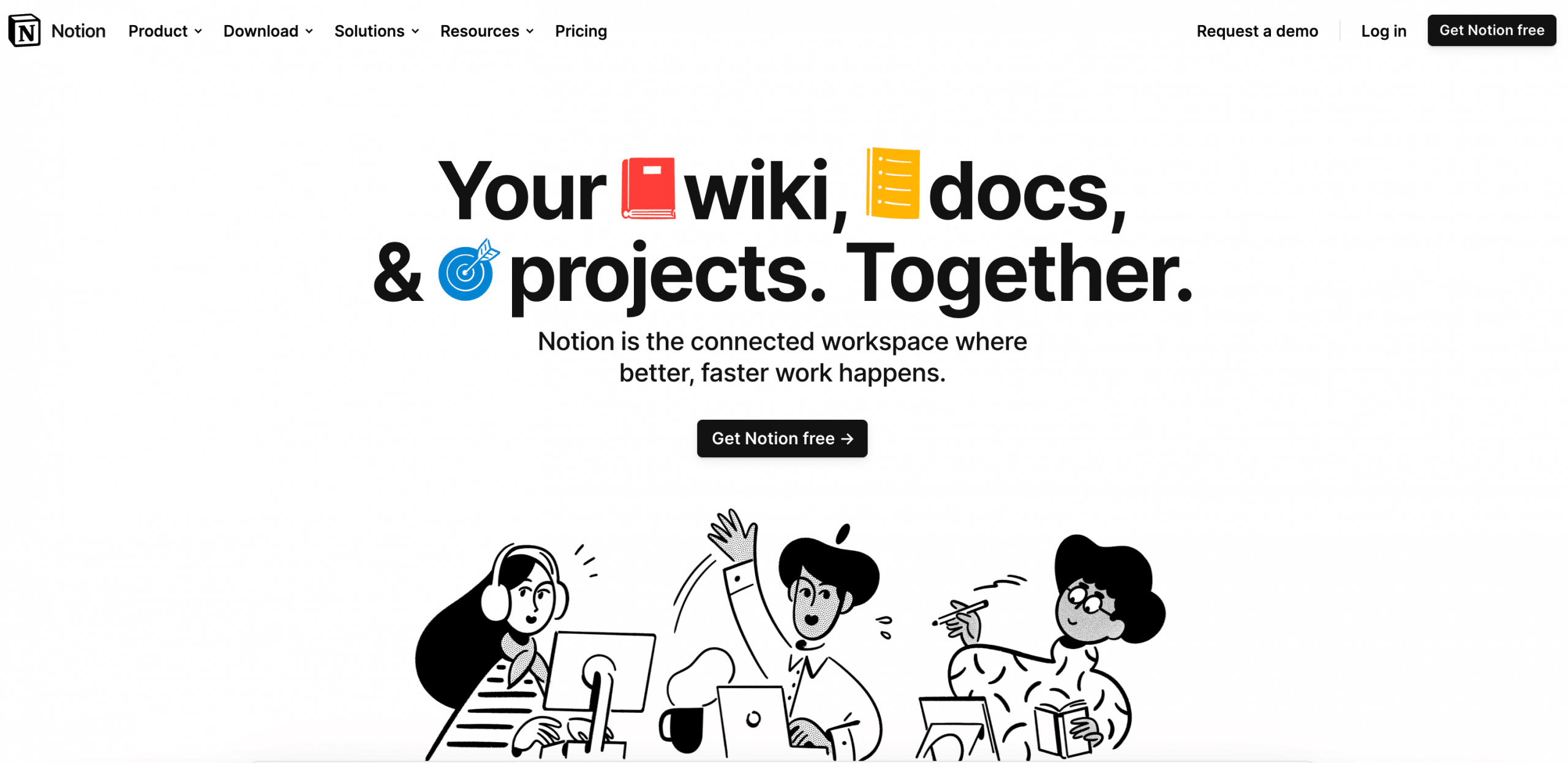 Notion is a popular PM tool recognized for its dynamic blend of features that supports databases, text, and images. Its diverse views, like tables and calendars, streamline tasks and projects, offering unparalleled workspace organization.
Unlike ClickUp, Notion's customization feature is achievable through its numerous properties. Its integration with tools like Slack and its robust project management features make it a compelling ClickUp alternative.
Pros:
Customizable layouts support individual work styles.
Comprehensive digital calendar interface.
The app offers diverse tools and valuable integrations.
Efficient role and permission assignment.
Cons:
Collaboration notifications can be imprecise.
The absence of recurring tasks limits functionality.
Glitches occasionally. Which might lead to content loss.
Setting periodic reminders can take time and effort.
Plans & Pricing:
Free
Plus: $8
Business: $15
Enterprise: Contact Sales
Customer Ratings:
 G2: 4.7 out 5 (5014 reviews)
 Capterra: 4.8 out 5 (2033 reviews)
Related: 11 Best Notion Alternatives
6. Wrike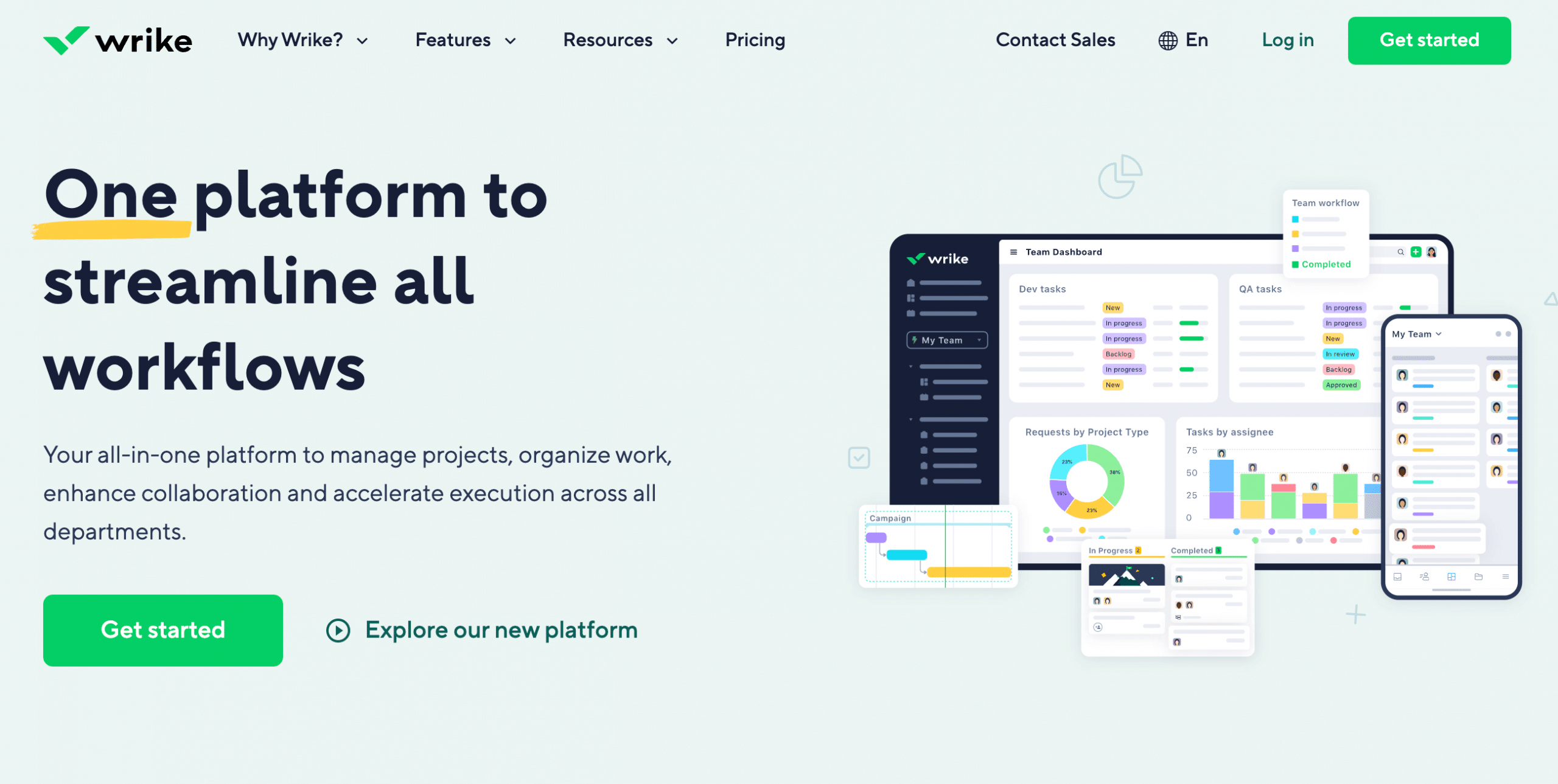 Wrike is a top choice for decision-makers due to its stellar resource allocation tools. The platform offers a comprehensive view of tasks, subtasks, dependencies, and milestones with features like Gantt charts and dynamic dashboards.
The advanced controls and permissions solve what ClickUp lacks regarding account management. Switching to ClickUp is a seamless process thanks to its extensive project views and powerful tools that can handle any workflow.
Pros:
Has broad integration capabilities.
Personalized homepage themes and schemes.
Ad hoc reporting ensures business continuity.
Granular permission setups bolster security.
Comprehensive project and task management.
Cons:
Initial learning curve for newcomers.
Some core features require additional purchases.
The interface may get crowded with tasks.
Offline functionalities can be restrictive.
Plans & Pricing:
Free
Team: $9.80
Business: $24.80
Enterprise: Contact Sales
Pinnacle: Contact Sales
Customer Ratings:
G2: 4.2 out 5 (3500 reviews)
Capterra: 4.3 out 5 (2555 reviews)
Related: 11 Best Wrike Alternatives
7. Todoist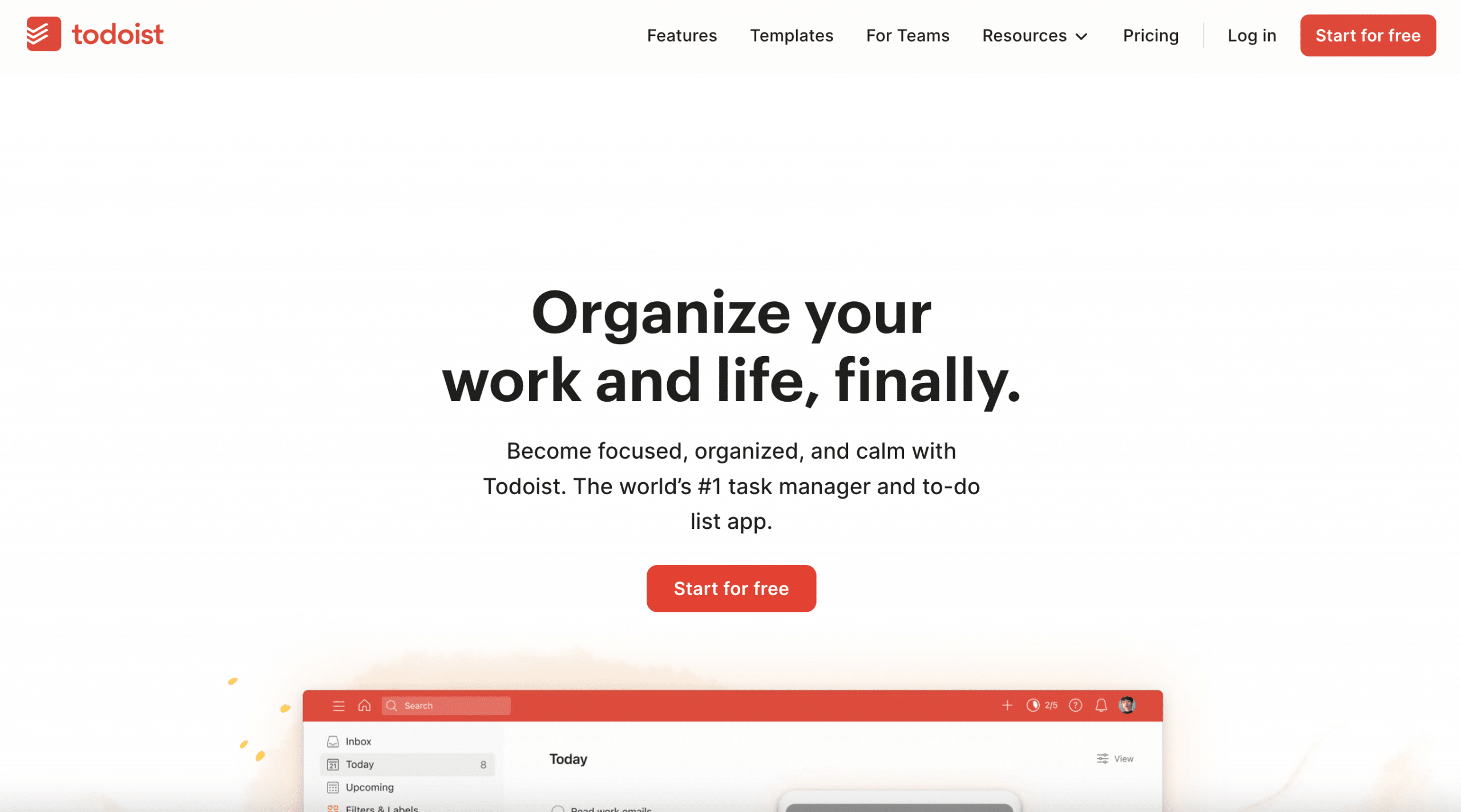 Every project manager has unique needs. While some demand complex tools, others seek straightforward solutions. Todoist is a powerful yet simple task manager that allows easy task delegation and Quick Add, perfect for detail-oriented managers.
Not everyone needs exhaustive platforms. Many cherish Todoist's uncomplicated design. With its vast integration capabilities, precise notifications, and advanced Business plan controls, it's a tailored answer to specific collaborative challenges.
Pros:
The tool celebrates achievements with year-end reports.
Ingeniously designed to boost task completion morale.
It adapts beautifully across iOS environments.
It offers vast features with a user-friendly UI.
Educates users with in-app productivity tips.
Cons:
Persistent reminders may not suit everyone.
Essential features locked behind a paywall.
Collaborating with groups might require extra effort.
Initial use may feel like navigating uncharted waters.
Task elaboration feels restricted.
Plans & Pricing:
Beginner Plan: Free
Pro Plan: $5
Business Plan: $8
Customer Ratings:
 G2: 4.4 out 5 (768 reviews)
 Capterra: 4.6 out 5 (2354 reviews)
8. Airtable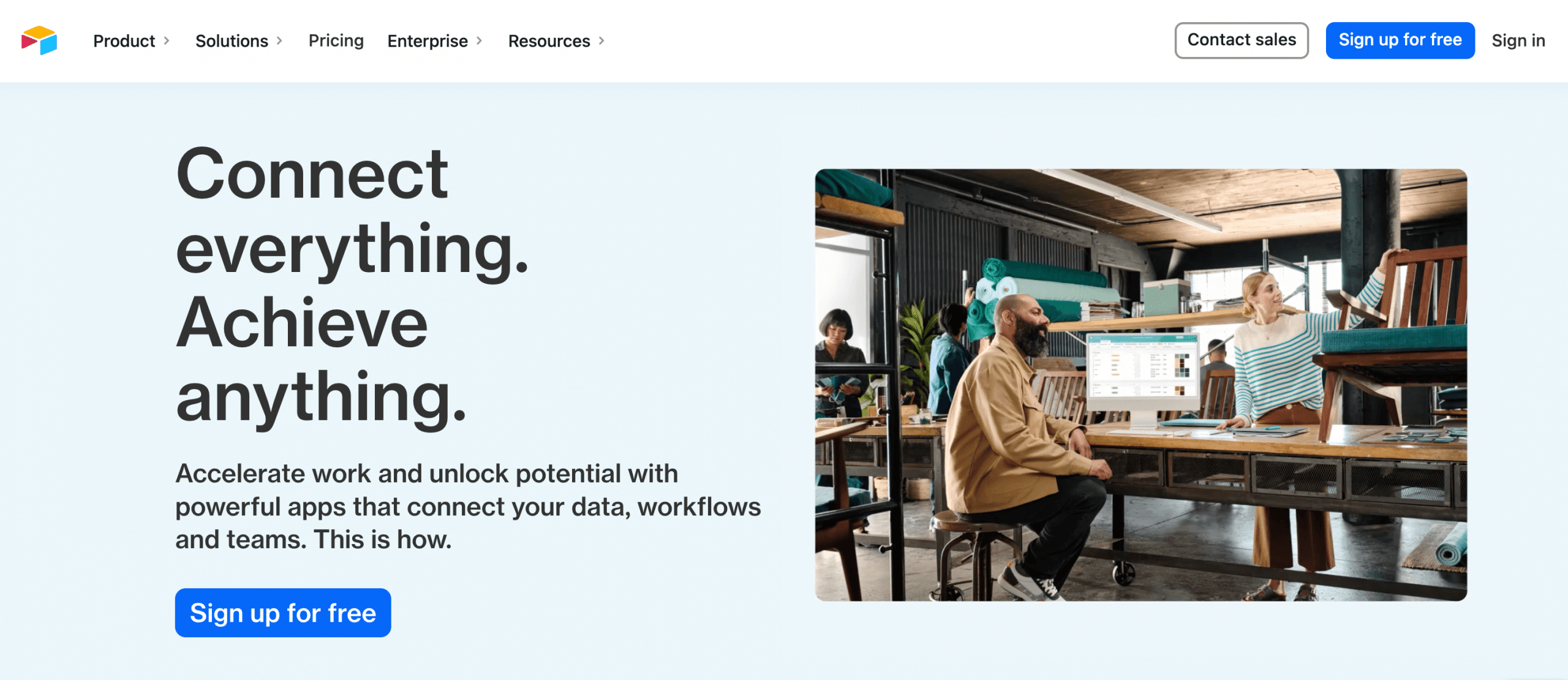 Airtable excels as a revolutionary low-code platform tailored for crafting bespoke applications and databases. It redefines project management by integrating relational databases that source data seamlessly. Its offerings, including dashboards and forms, are crucial for real-time insights.
The tool pairs easy usability with deep customization, a simplified UI, and robust project features. Add advanced permissions and third-party integrations, and you've found a tool reshaping modern project management dynamics.
Pros:
Superb for comprehensive project management.
Streamlines employee activity organization effectively.
It enhances collaboration even with non-Google users.
Stable core for generating client reports.
Cons:
It lacks comprehensive design features.
UI complexity: documentation is scarce on linked fields.
The iOS app functionality is severely limited.
There is no customization for base icons.
Plans & Pricing:
Free
Plus: $10
Pro: $20
Enterprise: Contact Sales
Customer Ratings:
 G2: 4.6 out 5 (2193 reviews)
 Capterra: 4.7 out 5 (1932 reviews)
Related: 11 Best Airtable Alternatives
9. Basecamp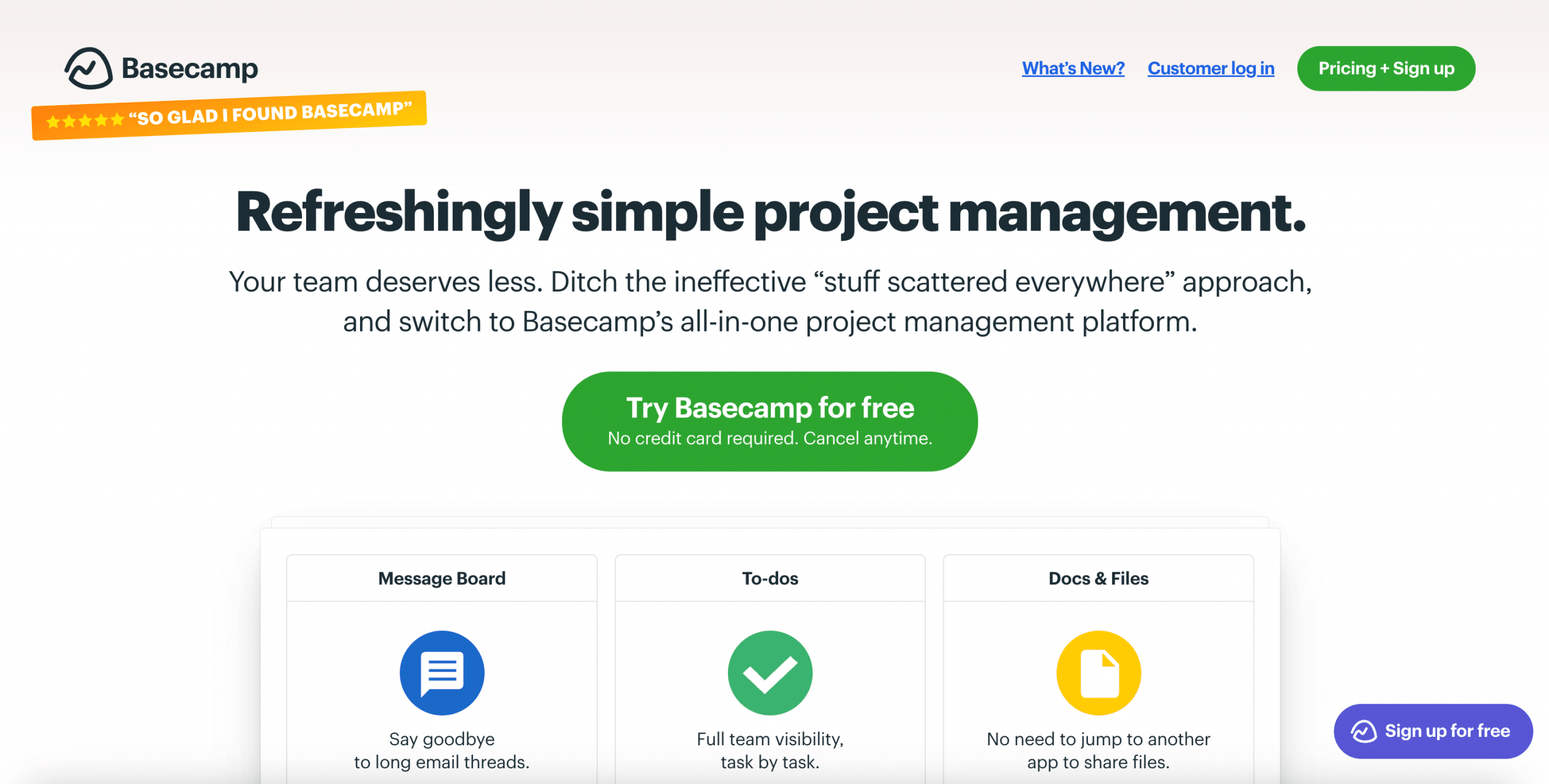 Basecamp shines as a game-changer for simplistic, efficient collaboration. Embraced by project managers globally, its features, from centralized messaging to the unique hill charts, present a cohesive view of project trajectories.
Basecamp is an excellent alternative to ClickUp due to its team-oriented focus. Celebrated for its uncomplicated UI, robust integration capabilities, and easy customization, it excels in project management essentials.
Pros:
A centralized, organized platform for straightforward collaboration.
Hill charts offer insightful team progress snapshots.
Seamless third-party integrations enhance functionality.
Effective for solo brainstorming and team discussions.
Cons:
It might seem redundant for individual projects.
Advanced features may require API utilization.
Solo use could lead to scattered thoughts.
The search function can occasionally lag.
Pricing & Plans:
Basecamp ($15)
Basecamp Pro Unlimited ($299)
Customer Ratings:
 G2: 4.1 out 5 (5261 reviews)
 Capterra: 4.3 out 5 (14371 reviews)
Related: 10 Best Basecamp Alternatives
10. Nifty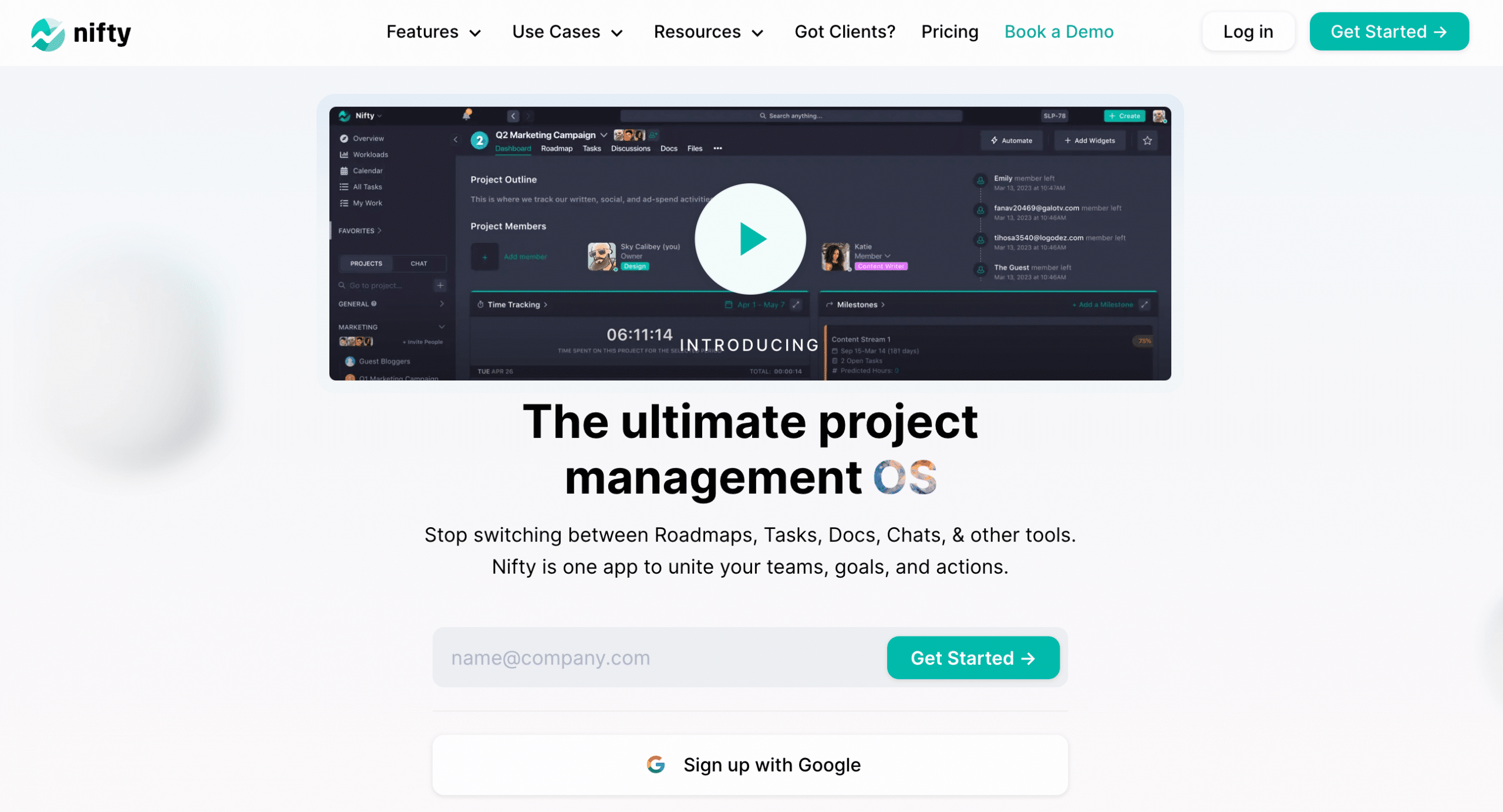 Tailored for the modern remote working culture, Nifty centralizes roadmaps, tasks, documents, and chats, ensuring teams stay aligned. This unified platform promises automated progress reporting, ensuring teams stay abreast of developments.
With its deep integration capabilities linking with over 2,000+ apps and many in-built project management features, Nifty promises simplified project views, enhanced task tracking, and seamless collaboration for remote teams.
Pros:
Streamlines tasks within projects and timelines.
Superior milestones configuration and eager support.
It combines multiple tools for a holistic platform experience.
Constantly evolving, user-friendly interface.
Recognized as an all-encompassing SAAS tool.
Cons:
It requires a page refresh for recent uploads.
It needs to include advanced features, including cost tracking.
Forms not included in standard plans.
The interface can sometimes seem cluttered.
Pricing & Plans:
Free
Team: $9.80
Business: $24.80
Enterprise: Contact Sales
Pinnacle: Contact Sales
Customer Ratings:
 G2: 4.7 out 5 (430 reviews)
 Capterra: 4.7 out 5 (414 reviews)
Tips for Transitioning to ClickUp Alternatives
Transitioning to a ClickUp alternative can be very challenging, especially when working with diverse teams in a fast-paced environment. Here are some tips to help you make the switch smoothly.
Identify needs: Evaluate your team's requirements and the features you need in a PM tool, such as collaboration, task management, reporting, and integrations.
Research alternatives: Explore various ClickUp alternatives like Asana, Trello, Monday.com, Wrike, and Basecamp, comparing their features, pricing, and user reviews.
Develop a transition plan: Create a detailed plan outlining the steps and timeline for transitioning from ClickUp to the new tool, including tasks like exporting data and training team members.
Communicate with your team: Keep your team informed about the transition and its reasons, encouraging them to provide feedback and ask questions.
Provide training and support: Offer training sessions and resources to help your team members learn how to use the new tool effectively, and be prepared to provide ongoing support as they adapt to the new system.
Conclusion
ClickUp has been a pivotal player in the project management realm. It serves many with many features and a competitive price point. However, certain limitations have led users to seek out fitting alternatives tailored to their specific needs.
As we navigate the vast seas of project management tools, finding the anchor that steadies our work is crucial. No matter your preferences, there's an optimal tool waiting for you. We hope one of the top ClickUp competitors in this list is the best fit to replace ClickUp in your business. For those seeking specialized client management, Ahsuite offers a promising alternative. Embrace its features with a free forever plan or a 30-day trial and discover if it fits your needs, especially when handling multiple clients with diverse requirements.