As remote work continues to shape professional industries, it's clear that traditional team collaboration methods simply aren't enough. The virtual landscape requires tools that can effectively help remote team members overcome the barriers of digital workspaces. As per HBR, this need has driven a shift towards "richer" technology, such as video conferencing. Let's uncover the top 10 remote work tools for many remote settings in 2023.
Here are 10 Essential Remote Work Tools for Remote Teams
The efficacy of a virtual workspace depends heavily on the type of work and access to the right resources. Choosing the right remote working tools can ensure a project's success or accelerate its failure. A set of tools can make or break the team's productivity based on configuration.
A great tool for remote teams makes it easier to integrate with other tools and remote workforce. Not only that, the right tools can empower teams to be on top of their work. Considering all of these factors, we created a list of popular tools for managing remote work effectively while allowing teams to work from anywhere.
1. Ahsuite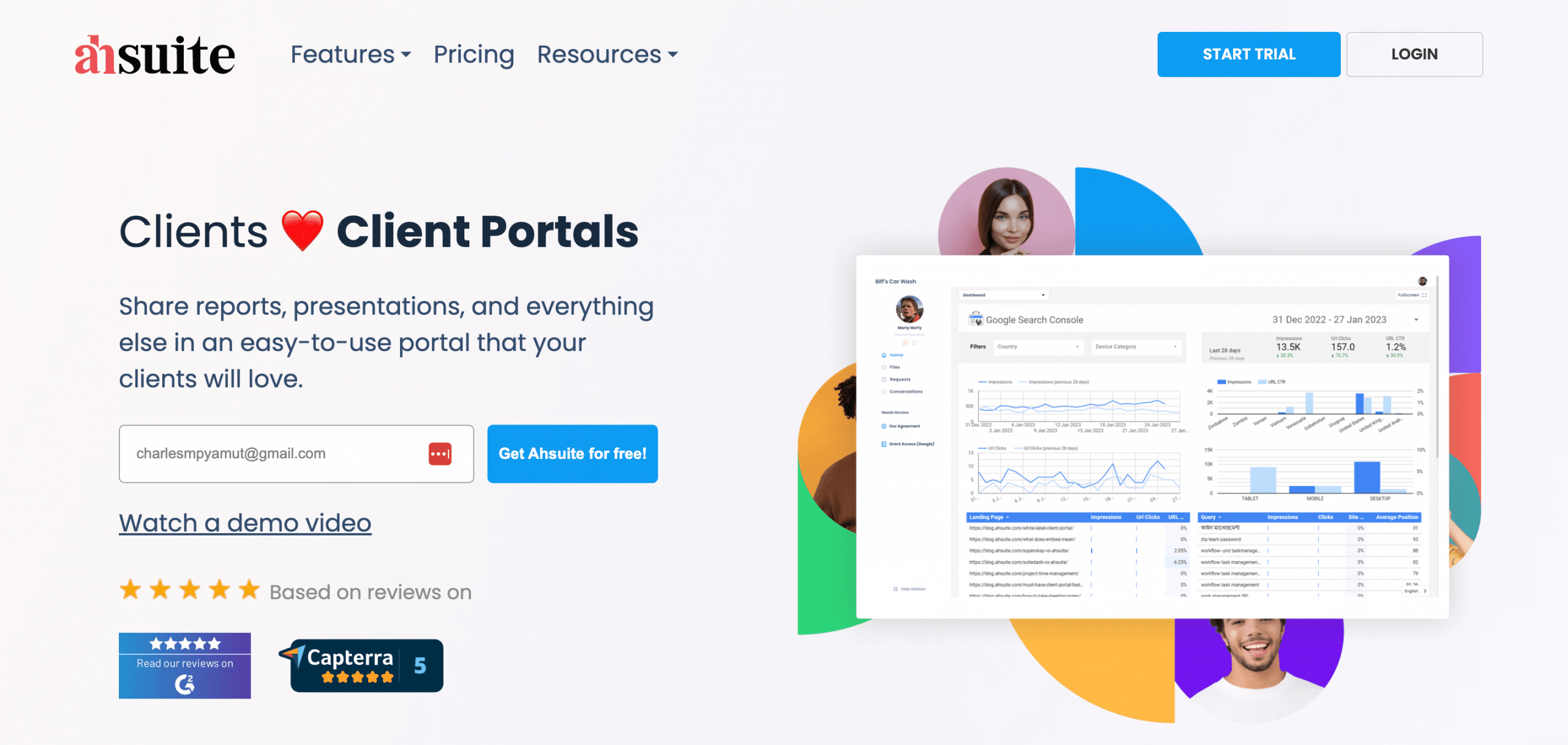 Ahsuite is a client portal tool known for delivering a secure, organized, and great remote work experience for users, teams, and their clients. It is commonly used by freelancers, agencies, and educators, due to its ability to facilitate work more efficiently while improving client management.
One standout feature is Ahsuite's ability to embed different content in a secure portal for file sharing. From Google Data Studio reports to Figma boards, Ahsuite's integrated toolset simplifies the process of sharing information. With the right configuration, it can enhance productivity and effectiveness across virtual teams.
With Ahsuite, you're not just sharing links over email; you're providing a portal where team members and clients can access all they need in an easy to use environment. This boosts workflow and productivity while giving your work a professional edge that your clients will appreciate.
Ahsuite can also serve as an integrated project management software if centralized collaboration is essential for team members and remote employees.
2. Zoom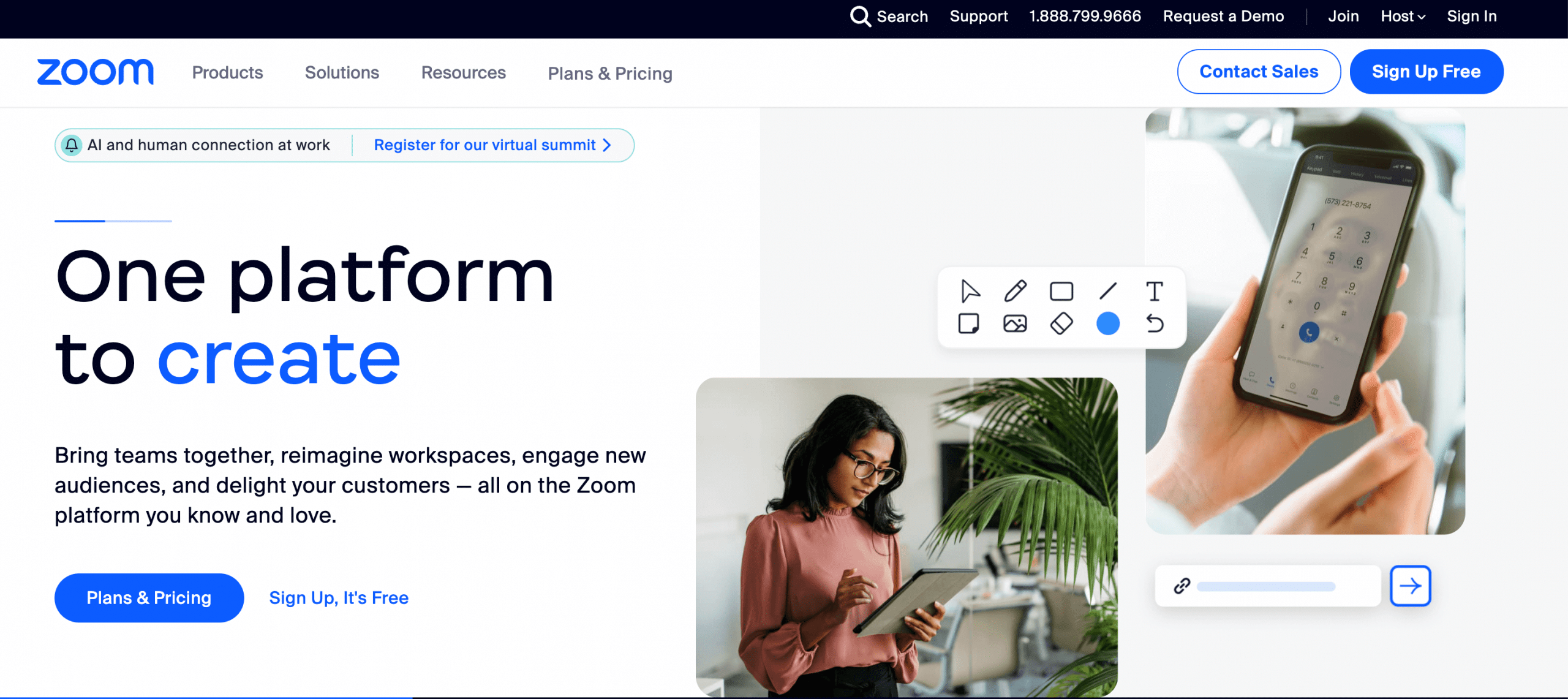 Zoom is the go-to solution that lets remote teams collaborate through scheduled/instant video calls. Its popularity stems from its adaptability to accommodate different types of remote environments. Moreover, its ease of use and reliability makes it one of the most essential tools when working with teams across the globe.
The most significant asset of the platform is its excellent video conferencing capabilities. Many remote workers agree that the most crucial part of remote work is communication. Zoom's intuitive HD video conferencing feature cements its reputation as one of the best tools for working remotely.
Zoom benefits remote teams in ways that elevate the standard of global collaborations. It's uncomplicated set-up and user-friendly design enables users to easily host or join meetings from any corner of the world. It strengthens teamwork and promotes shared progress rather than a solitary grind.
3. Slack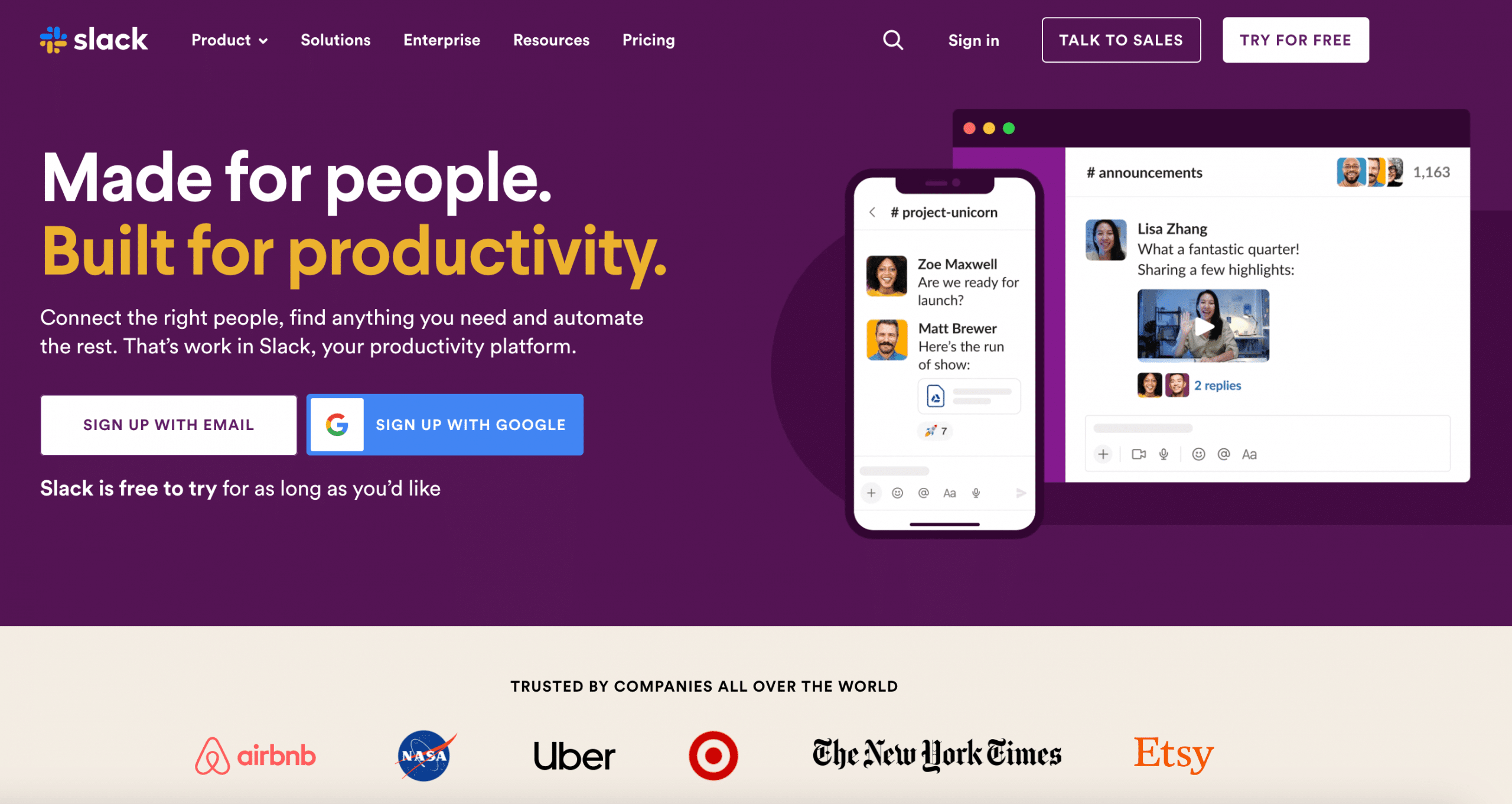 Slack has gained a reputation as a robust remote collaboration tool for all kinds of remote workers. Its prominence is attributed to its advanced features that accommodate various work setups. Additionally, it is known as one of the simplest remote work tools right now due to its user-centered design.
One feature that sets this software tool apart from its competitors is its smart channel organization. Channels, or specifically organized communication streams, give structure to work discussions. This allows teams to track and manage their work across multiple projects while not getting lost in an ocean of updates.
Slack offers benefits that are uniquely suited to the needs of a globally distributed workforce. Its emphasis on swift and effective communication aligns perfectly with the demand for clear, continuous dialogue. Its integration capabilities with tools like Trello and Google Drive can amplify its utility.
4. Asana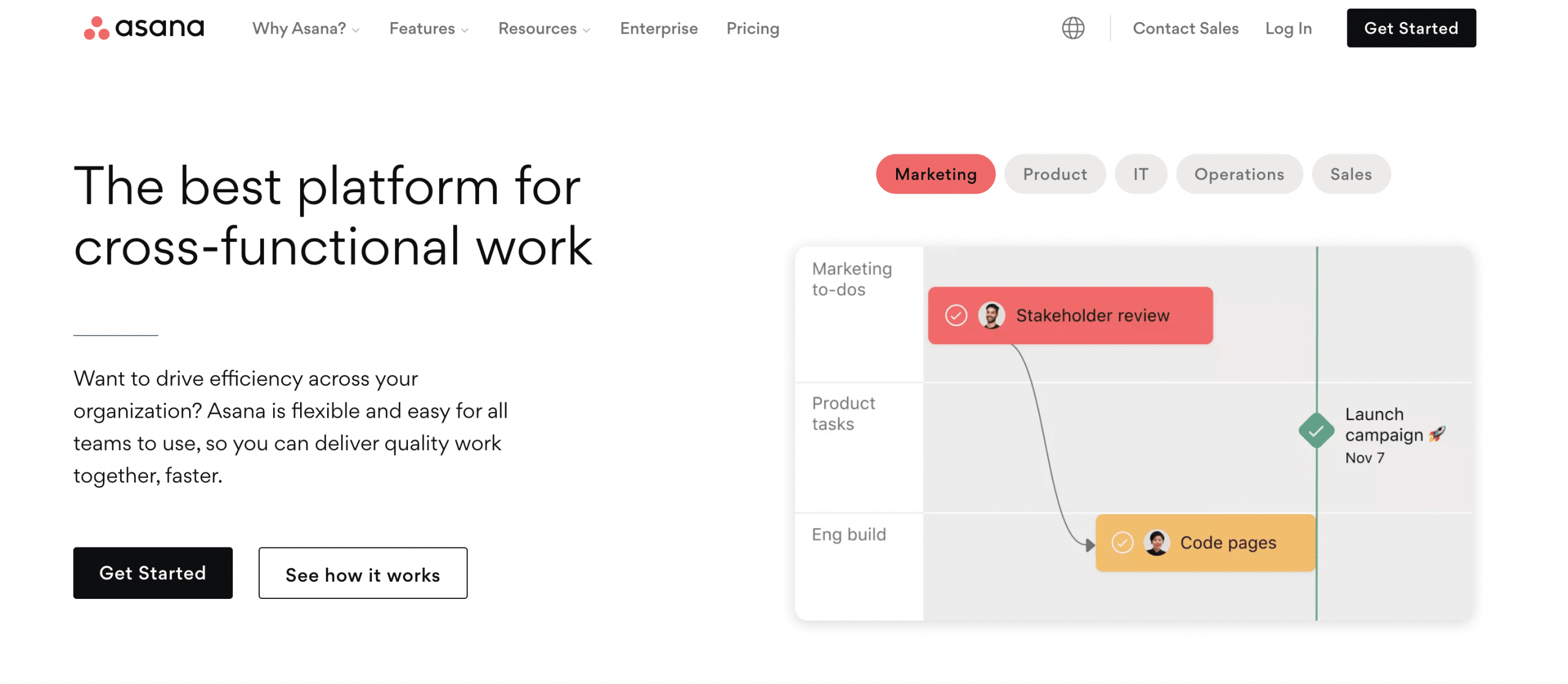 Asana is a project management software that helps remote teams and other professionals to stay organized. Recognized as one of the industry-standard project management tools, its popularity stems from its capability to track, organized, and communicate progress across big and small projects. Paired with Microsoft Teams, Asana can be a strong contender for one of the best remote work software.
Standing tall among Asana's features is its ability to visualize project timelines. With its tracking tools, it's easier to see when each task begins, when it's due, and how it fits within the bigger picture among distributed teams. This level of clarity in project management makes Asana one of the most handy collaboration tools for remote teams.
With Asana's to-do list and timeline view, remote workers can anticipate deadlines, prevent bottlenecks, deliver projects, and get work done efficiently. Its capacity to provide a bird's-eye view of project timelines means everyone is aligned on what needs to be done and when.
5. Loom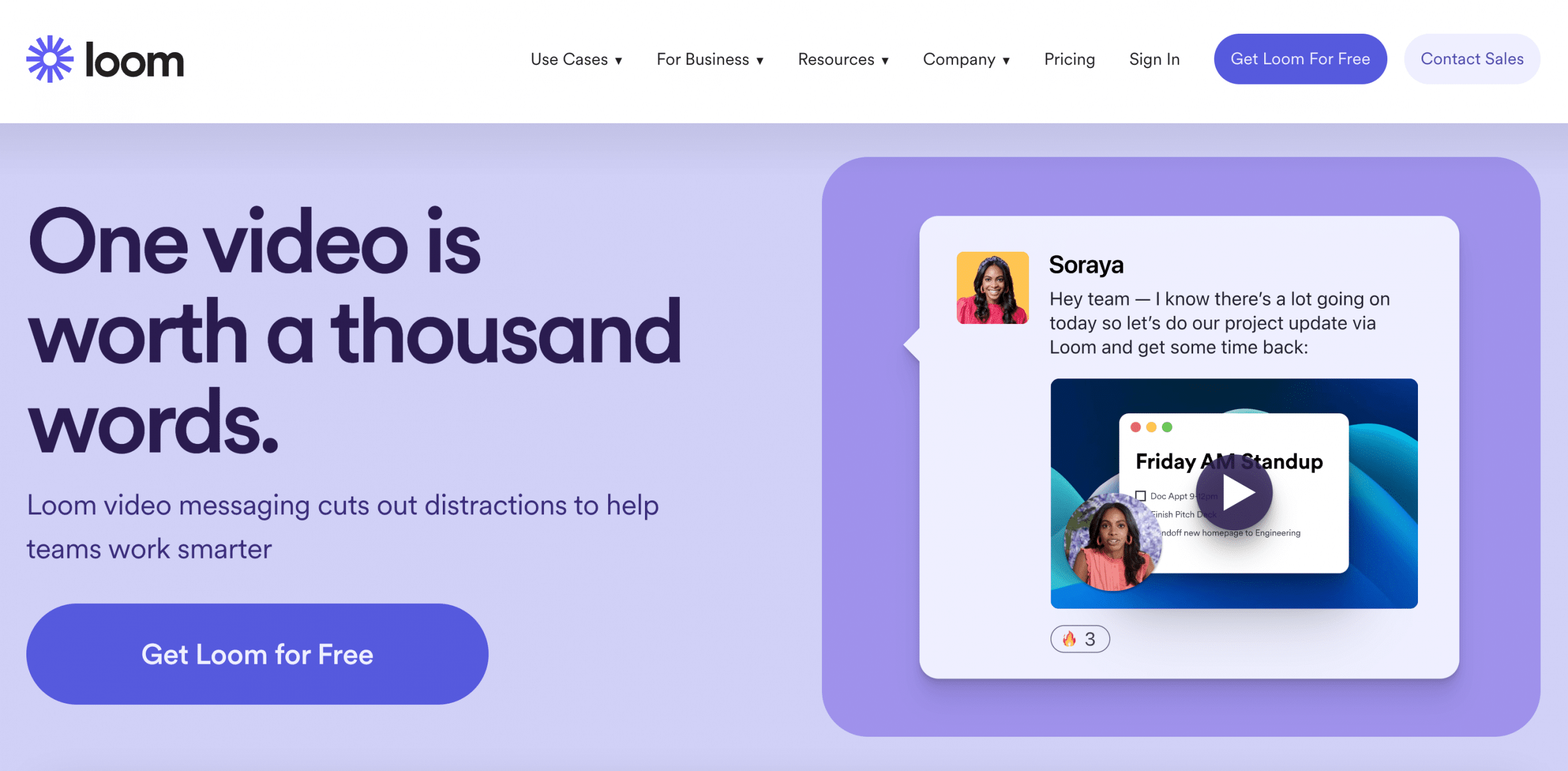 Known for its asynchronous video messaging, Loom allows teams to communicate effortlessly through video recordings, saving time and reducing the need for lengthy emails. Its popularity has skyrocketed, with over 21 million users and over 200,000 businesses that leverage its services, including well-known companies like Twitter, Netflix, and LinkedIn.
One of the best Loom features is its flexible recording options. It allows you to record your face, voice, or screen, to share information or announcements, making it the ideal tool to cater to diverse team collaboration needs. It's like carrying a meeting room in your pocket, enabling you to relay instructions, explain concepts, or give feedback just as you would in person.
6. Hubstaff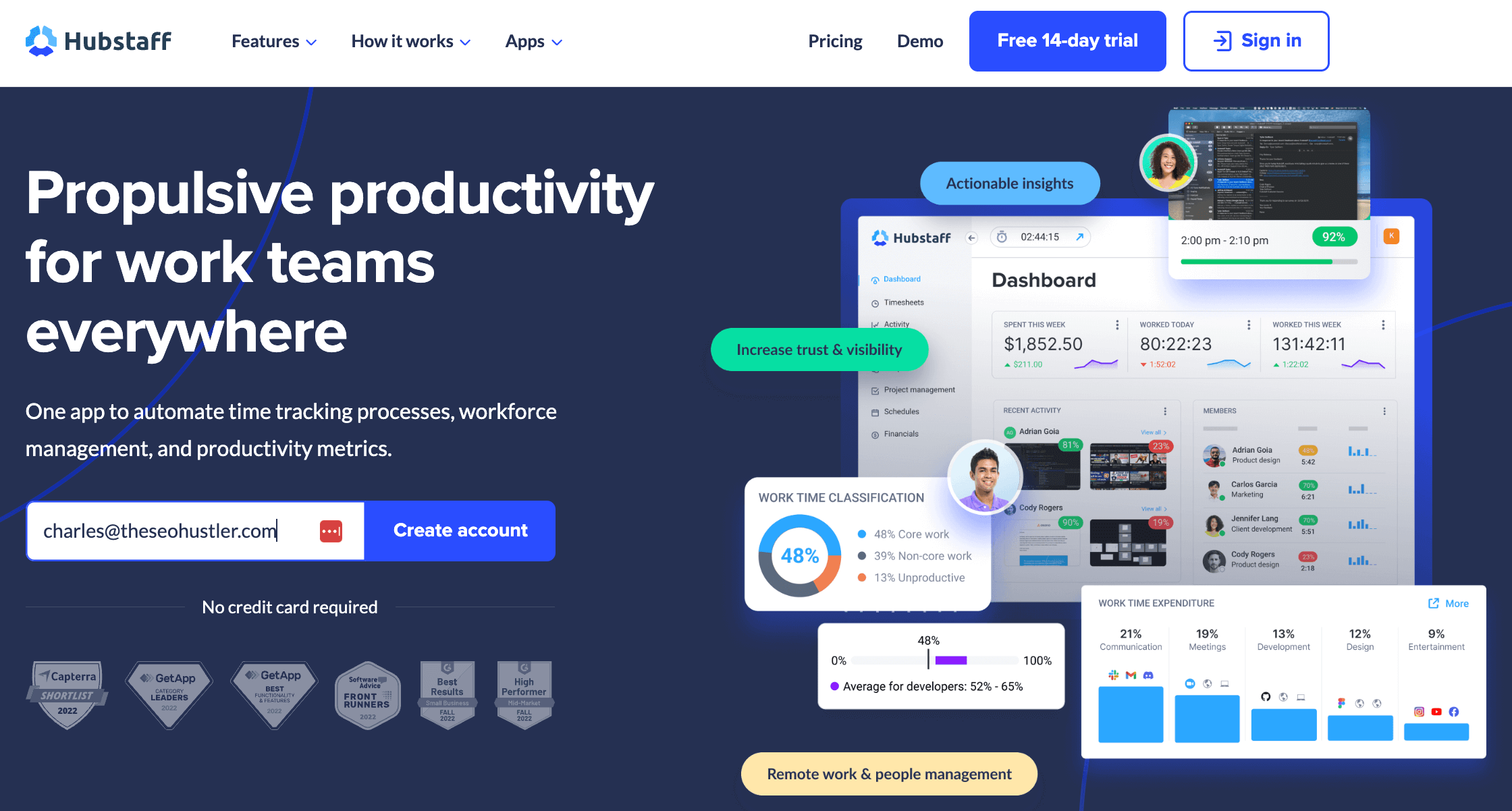 Hubstaff, a widely-recognized time tracking and employee monitoring software, has become a mainstay in the list of work-from-home toolkits. The strength of Hubstaff lies in its user-friendly design and robust functionality, making it the gold standard for a remote management tool.
One notable Hubstaff feature is its advanced tracking system. It's not just about counting hours; Hubstaff provides detailed work reports and productivity metrics that enable better insights into team performance. These insights can be critical in boosting productivity and overcoming distractions.
Hubstaff helps identify potential roadblocks in work processes by providing transparency and data-driven insights. Detailed time logs and activity reports allow managers to see where time is spent and which tasks are taking longer than expected.
7. Google Drive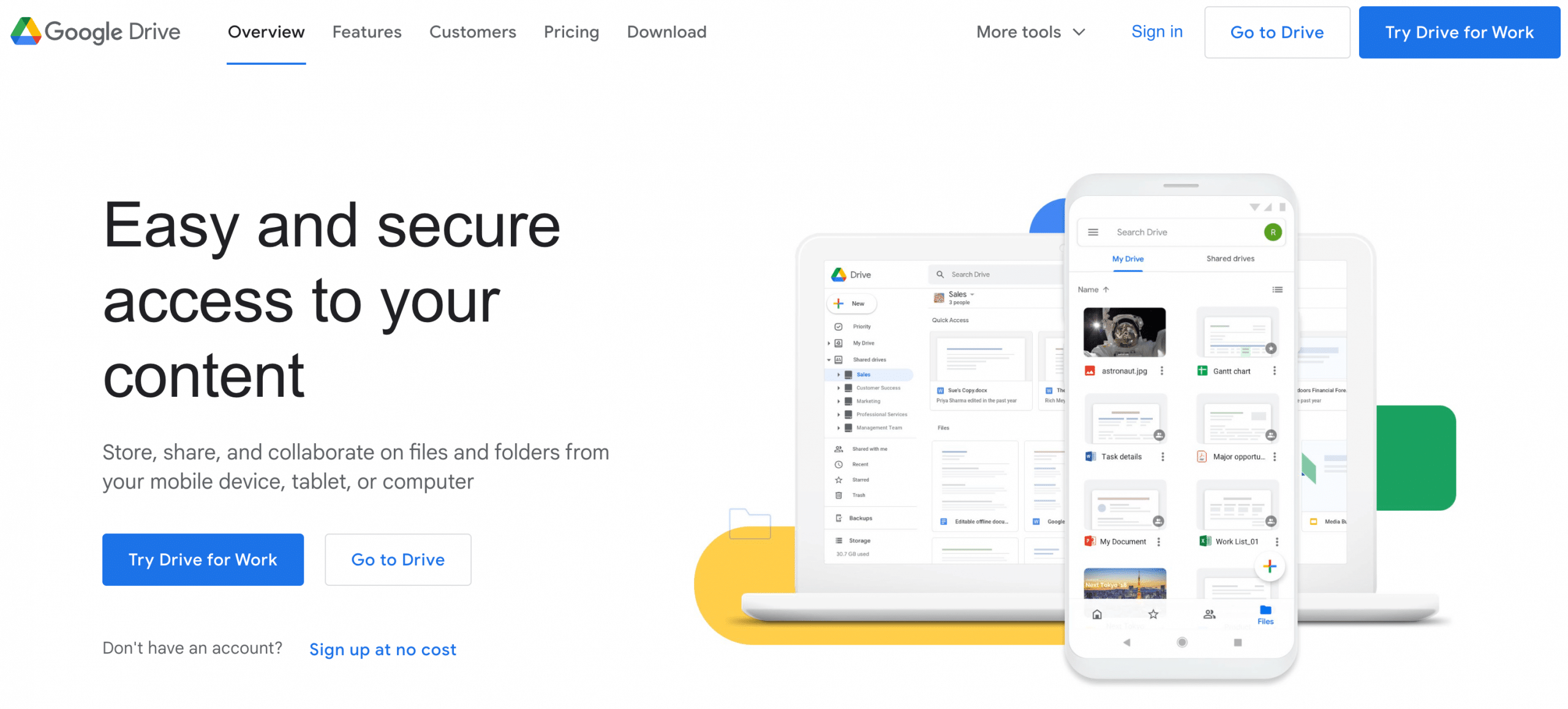 Google Drive is one of the most popular platforms for remote storage. This platform enables users to save, share, and collaborate on files and documents remotely. Known for its ease of use and impressive storage capabilities, the platform serves as a common digital ground for millions of remote workers by allowing remote access across multiple devices and authors.
The platform enables documents, spreadsheets, presentations, and more files to be created, shared and collaborated upon in real time. And with the rise of real-time collaboration, Google Drive allows multiple users to work on a single document concurrently, which eliminates version confusion.
Furthermore, tools like Google Docs are integrated into the platform, enabling access to essential documents anywhere, anytime, from any device without additional installations. The extensive sharing options and access controls maintain document security while promoting teamwork.
8. Krisp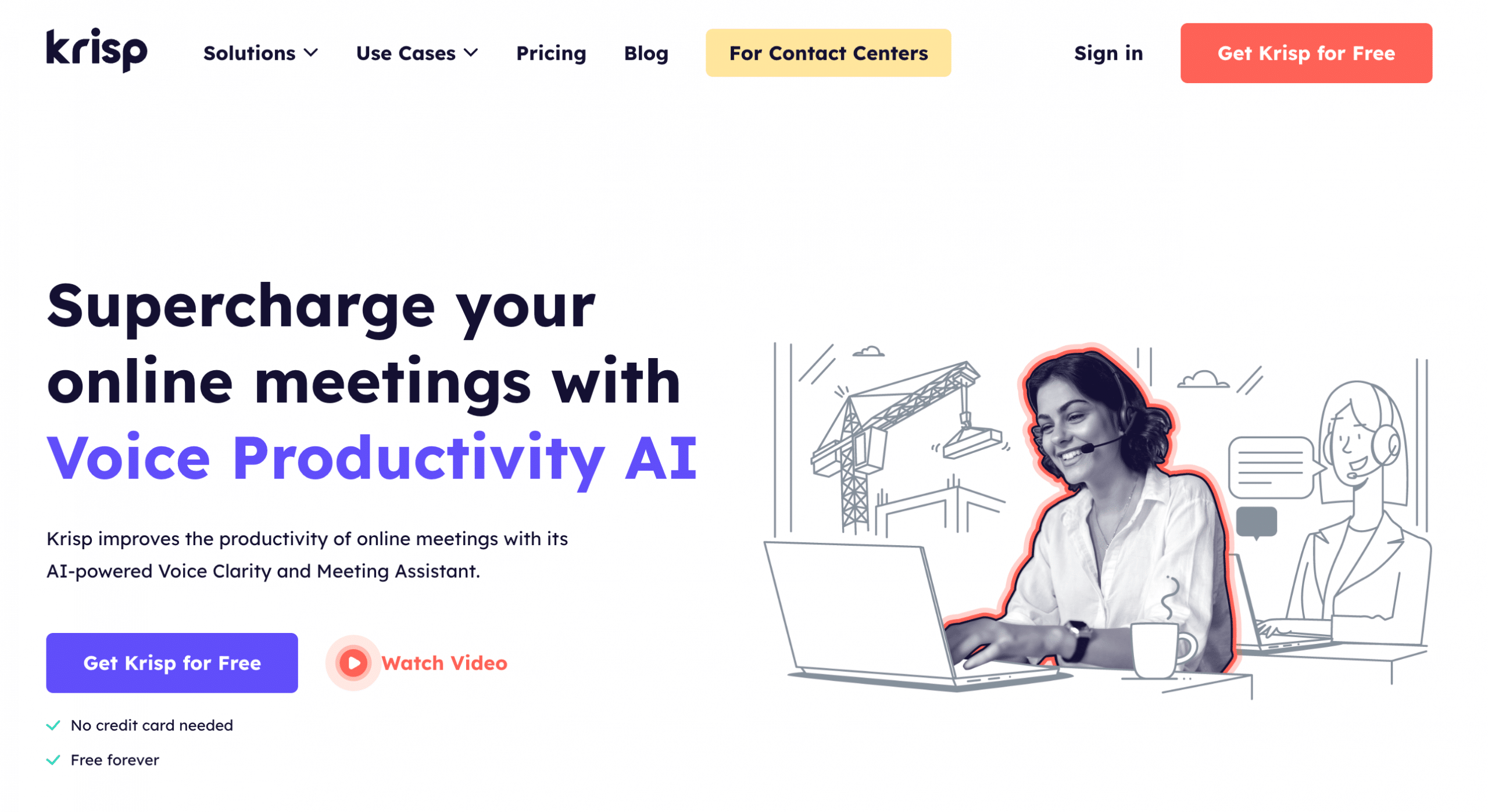 Krisp has become a significant player for all "team work from home" members, earning recognition for its unique ability to enhance the effectiveness of communication tools. The surge in popularity is no surprise given the demand for clear and noise-free online conversations.
The platform boasts its revolutionary noise cancellation technology, which eliminates background noise from both ends of the call. This ensures visibility and clear communication, an absolute necessity for remote work where distracting sounds are often unavoidable.
With this tool, remote teams can engage in discussions with confidence, knowing their messages are heard clearly. It enhances the quality of immediate communication and helps to prevent misunderstandings that could impact future collaborations.
9. Grammarly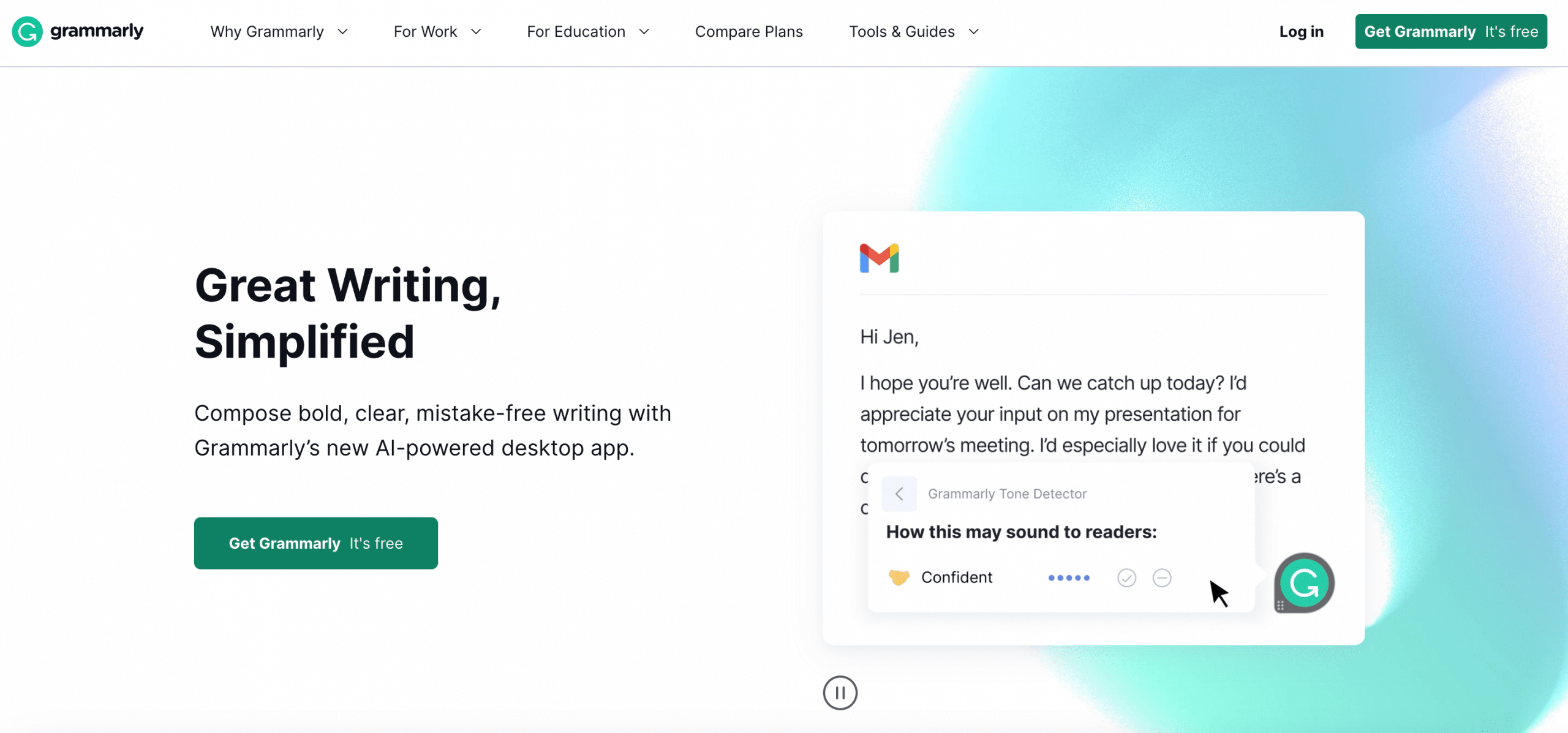 Grammarly is a well-regarded writing tool that helps in content curation and polishing. Its popularity comes from its innovative approach to making writing easier, more precise, and more effective.
The real standout feature of Grammarly is its AI-powered writing assistance. This goes beyond simple spell-checking—it refines your writing to communicate your message clearly and concisely, which is key for remote work.
With Grammarly, you can cut down on grammatical errors, typos, or unclear sentences. It's like having a personal editor looking over your shoulder, ensuring your content is top-notch and resonates with audiences. You're delivering clear, professional writing every time, building credibility and trust with clients and teammates alike.
10. Canva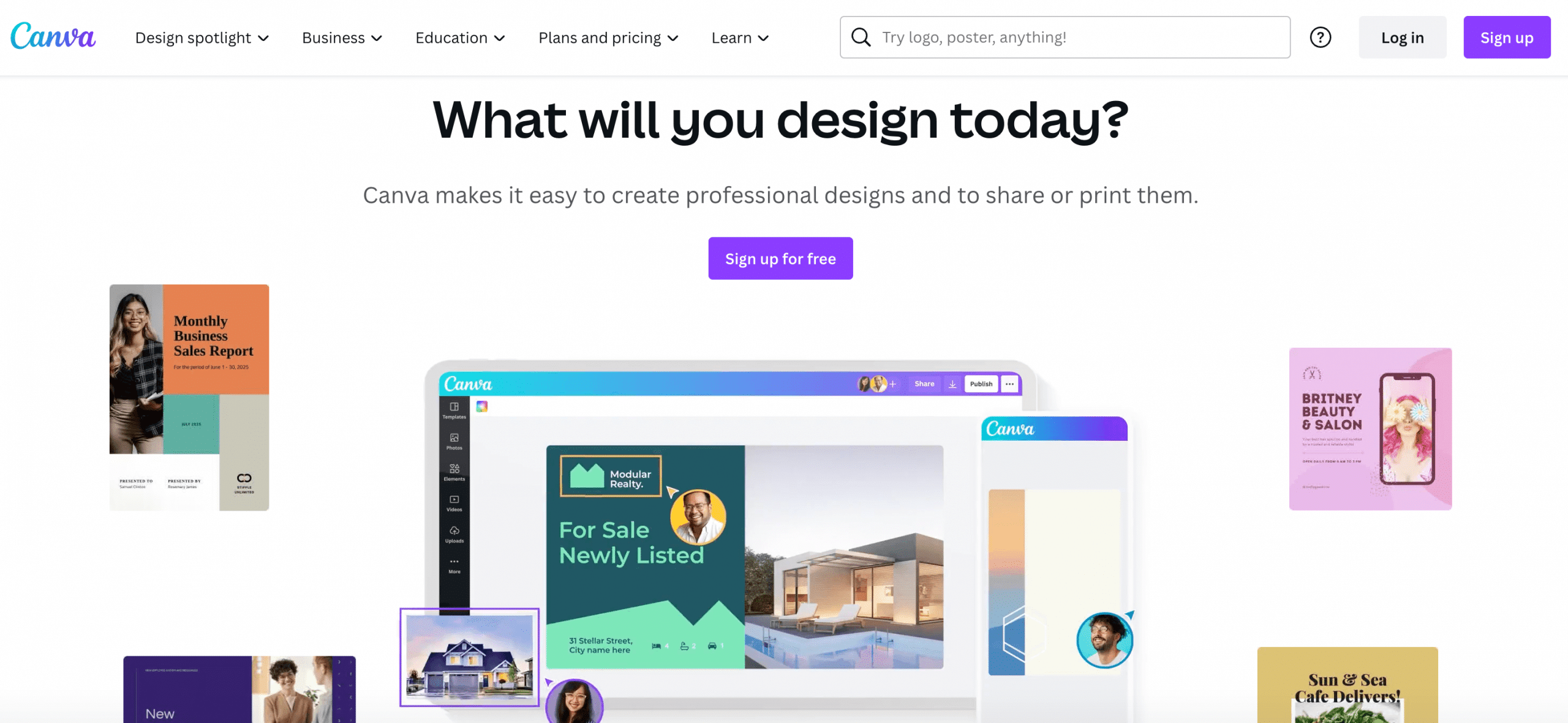 Canva is a design tool known for its simplicity, versatility, and features fit for remote work. With millions of users, it's become a popular choice for creating visually stunning content. The appeal lies in its user-friendly interface and a massive library of pre-designed templates which answer the needs of remote workers in the creative field.
Its most notable feature is its drag-and-drop design setup, a real game-changer for non-designers who are not familiar with the technical aspects of creative content creation. It's this simplicity that makes it one of the essential tools for remote professionals without the help of an in-house design team.
Furthermore, Canva's feature set offers a significant boost to your work in streamlining the creation of visually appealing and memorable reports, presentations, or social media posts. Imagine making complex data digestible with sleek infographics, or creating eye-catching presentations in minutes.
Summary
Working remotely is a dynamic experience thanks to the impressive lineup of remote tools to choose from. Remote team tools contribute a unique strength to the remote work ecosystem. The best remote work tools suited to your team's needs will make communication and collaboration aspects more streamlined.
If you need a range of tools focused on managing multiple clients while ensuring productivity, consider giving Ahsuite a try. It offers a 30-day trial period that allows you to familiarize yourself with its centralized features. You can also check out these work from home tips to stay productive at work.
Remember, technology is an ally that promotes remote team collaboration. Incorporating the right tools into your workflow can stimulate your team's best work. So, here's to productivity, collaboration, and successful remote work in 2023 and beyond.