Simplifying the process of gathering information from clients is a common challenge for businesses, especially in marketing agencies and accounting firms. Content Snare, situated in the development category, addresses this frustration. In 2024, we explore seven alternatives to Content Snare, ranging from websites to SaaS apps, with Ahsuite emerging as a noteworthy choice. Whether you prioritize project management or team collaboration, this article introduces alternatives tailored to your specific needs without the fluff.
What is Content Snare?
At its core, Content Snare is a cloud-based content software that securely facilitates data collection, information sharing, and organization between providers and their customers. With a centralized document approach, this solution is designed to help you and your crew ask customers for information needed to deliver services.
What makes this app a league ahead of its competitors is the availability of useful templates that can be customized, replicated, and utilized immediately for various projects. These templates help provide and collect specific information on numerous use cases like Accounting, Merchant Onboarding, Tax Return Documentation, and more.
Pros:
Client-centric, every feature makes it easy to receive feedback.
Customizing forms is easy and aesthetically pleasing.
Minimizes back-and-forths with customers.
You can follow the client's progress in filling out forms.
Automated reminders are great for engaging customers.
Cons:
It doesn't have a free plan, only a free trial.
There is no way to follow emails within the platform.
Missing and undelivered email notifications encountered.
No dedicated document management is included.
You need to put significant effort into customizing forms and get better results.
Plans & Pricing:
Core ($20)
Professional ($50)
Business ($70)
Advanced ($90)
Elite (Contact Sales)
11 Best Content Snare Alternatives in 2024
Explore the best Content Snare alternatives in 2024, offering advanced content gathering and client collaboration solutions for streamlined workflow efficiency.
Ahsuite – Best for client management
SuiteDash – Best all-in-one solution
Accelo – Best for professional services
Zoho CRM – Best for sales, marketing, and customer service
ChurnZero – Best for reducing churn
Planhat – Best for customer success automation
GatherContent – Best for content collaboration
DocSend – Best for secure document sharing and tracking
Rocketlane – Best for customer onboarding
ClientSuccess – Best for client growth and retention
Process Street – Best for workflow management
1. Ahsuite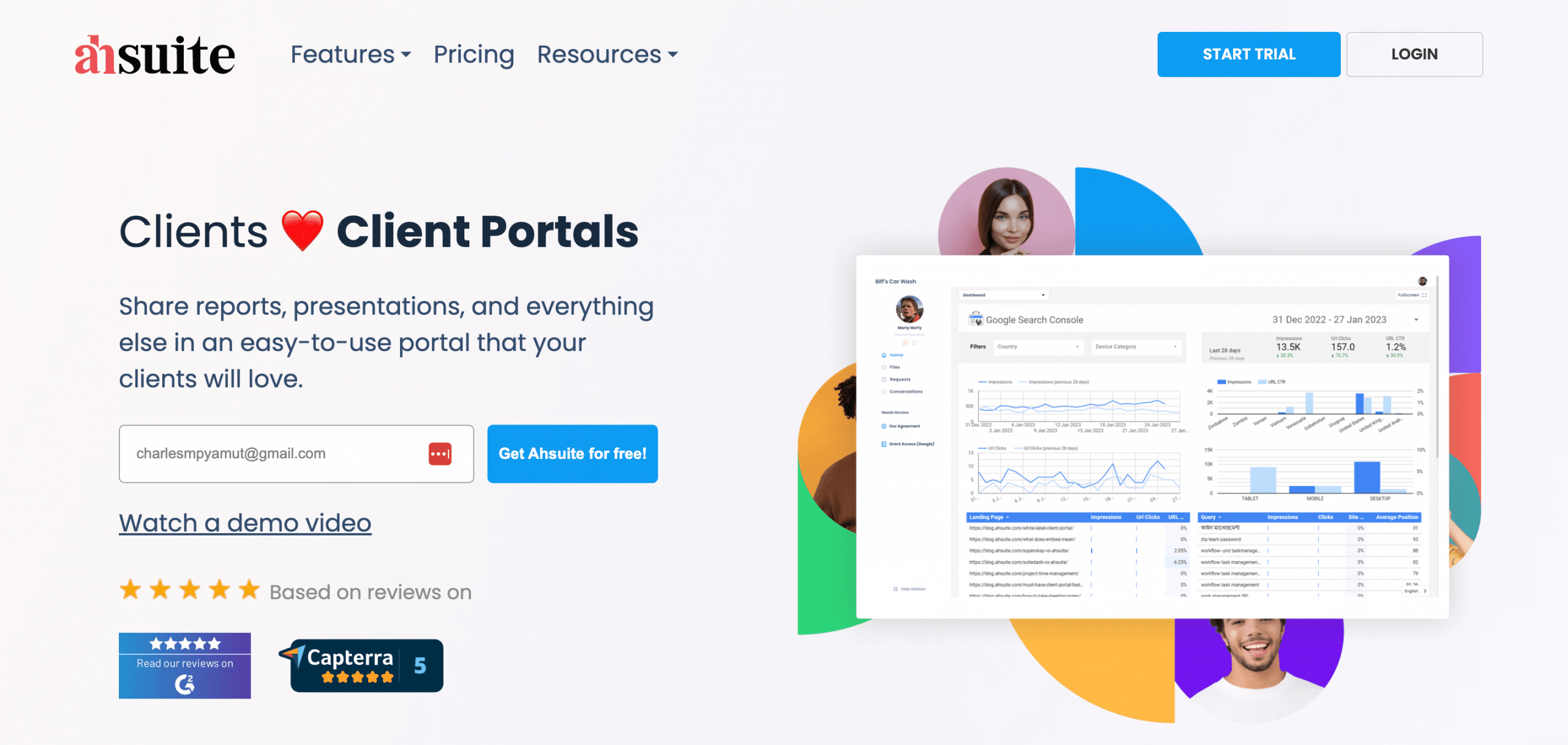 While Content Snare emphasizes client-to-provider interactions, Ahsuite offers a channel for teamwork and interactions. More than a client portal, Ahsuite features an easy to use project management tool and document hub that keeps all files in one place.
Its customizable environment also helps in maintaining consistent branding across the portal. Ahsuite can facilitate information aggregation, onboarding, and secure data sharing with its file and task management features, excellent additions if you work with multiple members.
Check our Content Snare vs. Ahsuite comparison for an in-depth view of both solutions.
Pros:
Fast, responsive, and helpful customer service.
Customizable white-label client portals usable in multiple industries
Easy navigation, improved accessibility, and overall professional feel.
Integrated data sharing and scheduling for both in-house units and clients.
Zapier and webhooks are available.
Free ten client portals from the Starter Plan.
Offers a wide range of client interaction options.
Cons:
It is still in the growth phase, with features actively being added.
The UI/UX might not be for everyone.
Tiny font can cause readability issues for some.
Plans & Pricing:
Starter (Free)
Professional ($24)
Agency ($57)
2. SuiteDash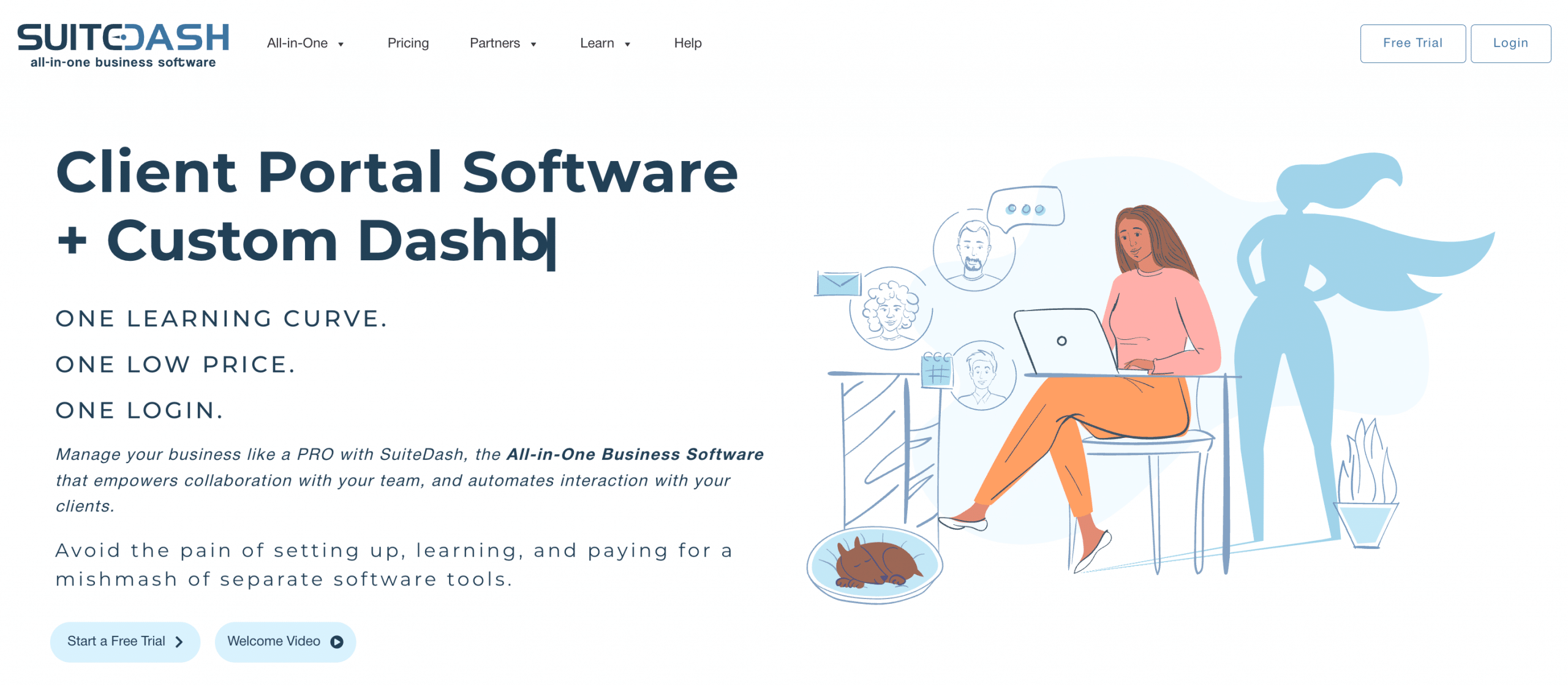 SuiteDash accommodates establishments of all sizes through its business management software suite, including CRMs, file exchange, and billing/invoicing options. Its document generation and file control capabilities make it a solid content management system.
Additionally, users can facilitate feedback collection with adequate storage for all their files. SuiteDash is an excellent option if data collection is not just the feature you need in a solution.
Pros:
It's easy to find workarounds and get things done.
Insightful feature roadmap visibility.
Extensive white-label customization.
All-in-one company management solution.
Affordable with comprehensive features.
Cons:
Lacks a dedicated messenger.
Requires time to learn functionalities.
It might stretch too thin on some features.
Issues with emails and spam filters.
Feature abundance can be overwhelming.
Pricing & Plans:
Start ($19)
Thrive ($49)
Pinnacle ($99)
Related: 10 Best SuiteDash Alternatives
3. Accelo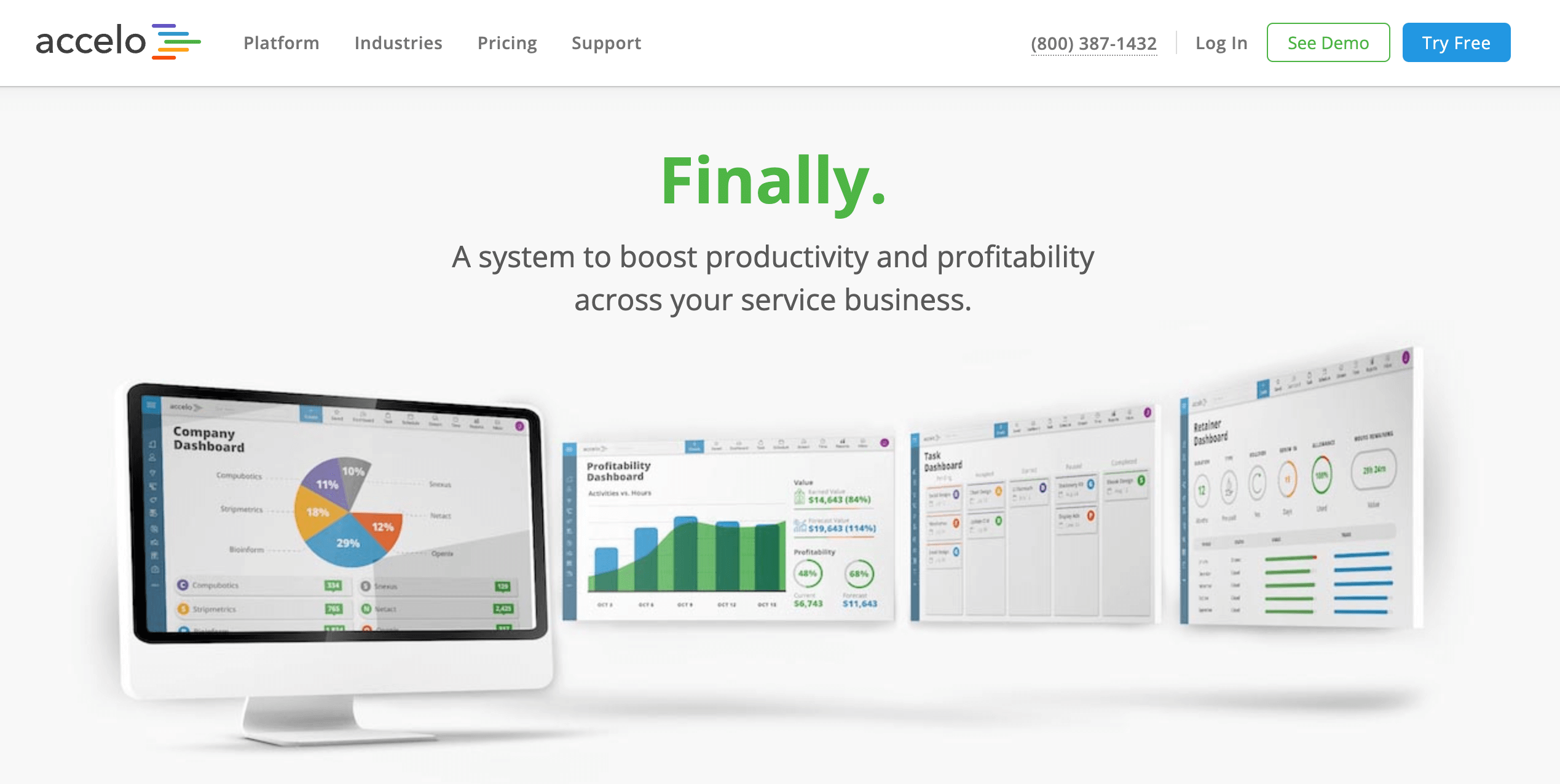 Accelo is a digital service solution that helps businesses primarily in the service space. Automating client work through web and mobile apps makes this product highly desirable for streamlining project administration, sales, and financial insights.
In addition, Accelo provides a simple interface while offering a wide range of third-party connectivity options. The platform's ability to personalize customer experiences makes it a notable software in your repertoire.
Pros:
Automates critical functions seamlessly.
Enhances sales with detailed project plans.
Offers extensive third-party connectivity.
The mobile package can be convenient depending on the defined requirements.
Slick, intuitive UI for remote collabs.
Cons:
Sometimes, it is overly ambitious in functionality.
Inconsistent customer service experiences.
Quality concerns with some updates.
Some third-party connections may not meet expectations.
Pricing & Plans:
Core ($60)
Professional ($250)
Business ($350)
Advanced ($900)
Elite ($1,900)
4. Zoho CRM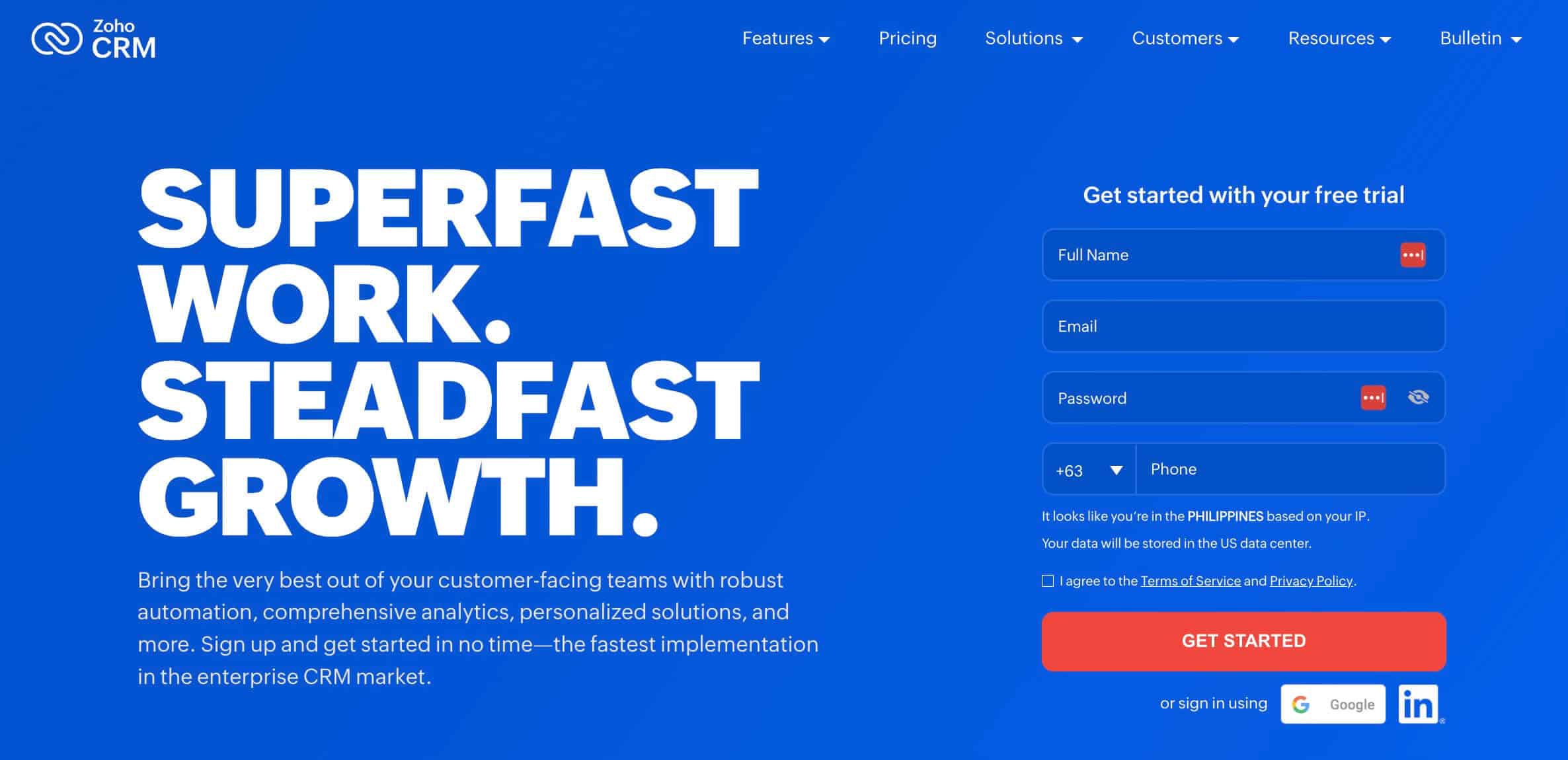 Zoho CRM is known for automating sales, refining customer acquisition, and improving customer experience management by leveraging automation, tasks/event management, and advanced filters. This is a great option to improve sales, marketing, and customer experience.
While this software focuses more on customer relationship management, sales automation, and business intelligence, it still facilitates efficient and collaborative interactions between customers and service providers.
Pros:
Deployment is seamless compared to other products.
Affordable pricing for sole traders.
On-the-go access and mass email support.
Competitive pricing with helpful support.
Offers extensive functionalities for Sales, Marketing, and CX.
Cons:
Custom functions programming language is complex.
There are reports of frustrating UI/UX reviews.
Users conveyed poor customer support.
Confusing features led to subscription cancellation.
Inconsistent support and unreliable store offerings.
Pricing & Plans:
Standard ($20)
Professional ($35)
Enterprise ($50)
Ultimate ($65)
5. ChurnZero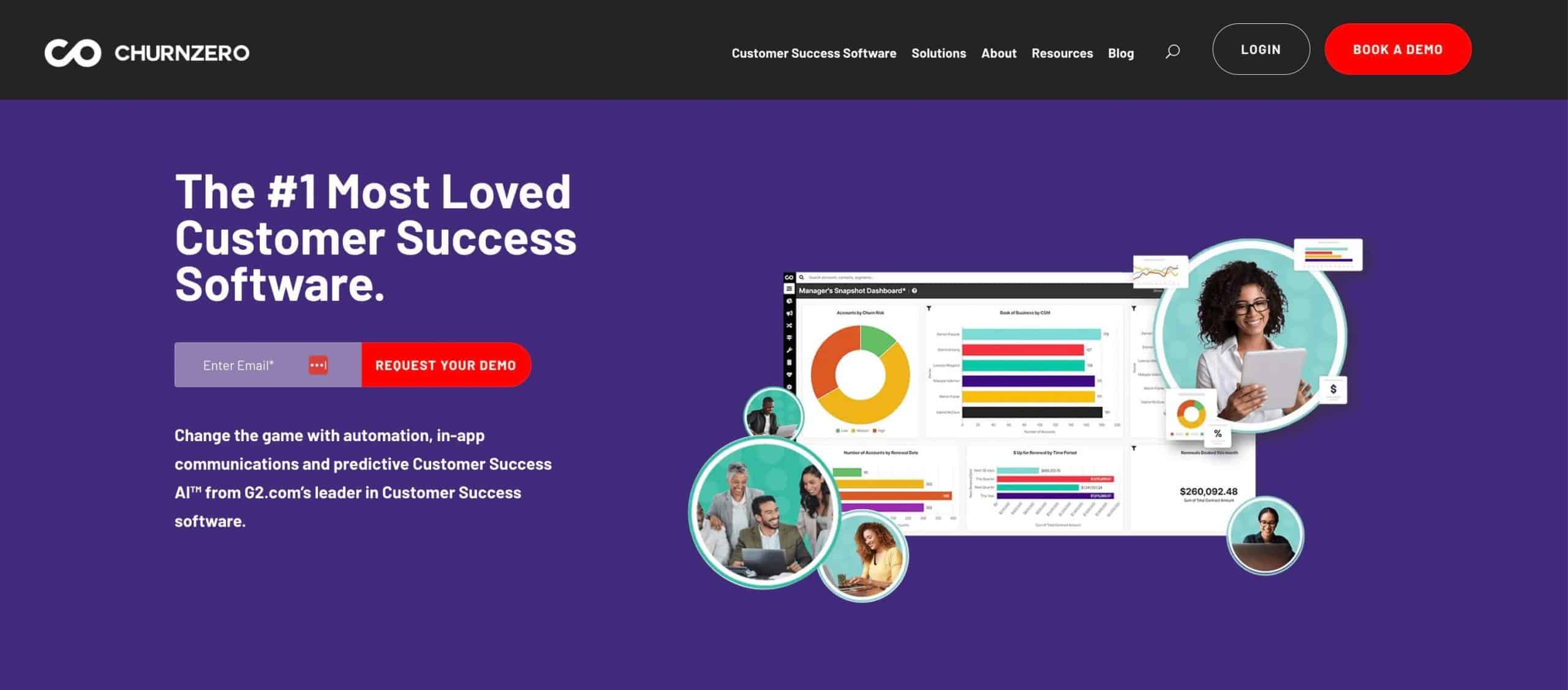 ChurnZero's various mechanisms, such as health scores, surveys, and Customer Success AI, are perfect for companies prioritizing and organizing customer engagement strategies. This platform proactively drives success and improves efficiency in customer relationships.
In addition, it is designed to elevate the customer experience while providing the necessary instruments to monitor and improve customer engagement effectively.
Pros:
Exceptional customer support and success teams.
Quick data access and export capabilities.
Excellent at monitoring client usage/adoption.
Measure customer lifecycle success through analytics.
Facilitates accurate revenue forecasting.
Cons:
Initial UI adoption can be challenging.
Complex setup for intricate products.
Limited HubSpot sync functionality.
Poorly formatted custom table UI/UX.
Requires dedicated time for data entry.
Pricing & Plans:
6. Planhat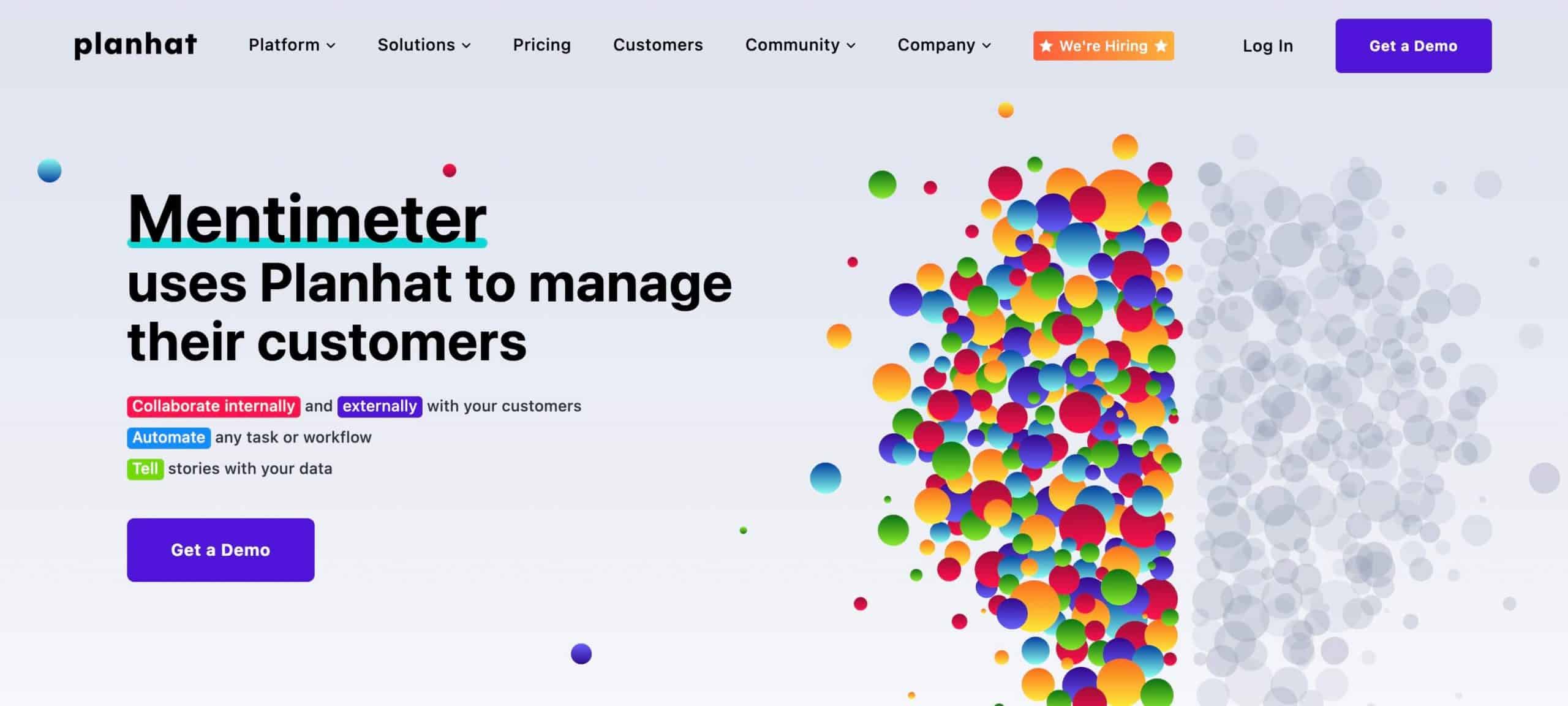 Planhat integrates various aspects of customer management into a single, intuitive platform. It helps companies focus on their customers' needs and lifecycle by centralizing operations around customer needs, with playbooks and automation for maximized lifetime value.
With its Workflows module, Planhat offers a seamless customer-focused solution by consolidating diverse data. It can also be used for sales briefings, planned activities, and cross-departmental communication, featuring unlimited user licenses and customizable roles.
Pros:
Consolidates data from various systems effectively.
Streamlines task execution with the Workflows module.
Prompt and clear support from teams.
Enhances visibility into customer lifecycles.
Facilitates cross-department communication efficiently.
Cons:
Initial implementation can be challenging.
Centralizing data is an ongoing task.
Feature releases sometimes cause confusion.
Requires dedicated resources for training.
Implementation time can be resource-intensive.
Pricing & Plans:
Start-Up (Contact Sales)
Professional (Contact Sales)
Enterprise (Contact Sales)
7. GatherContent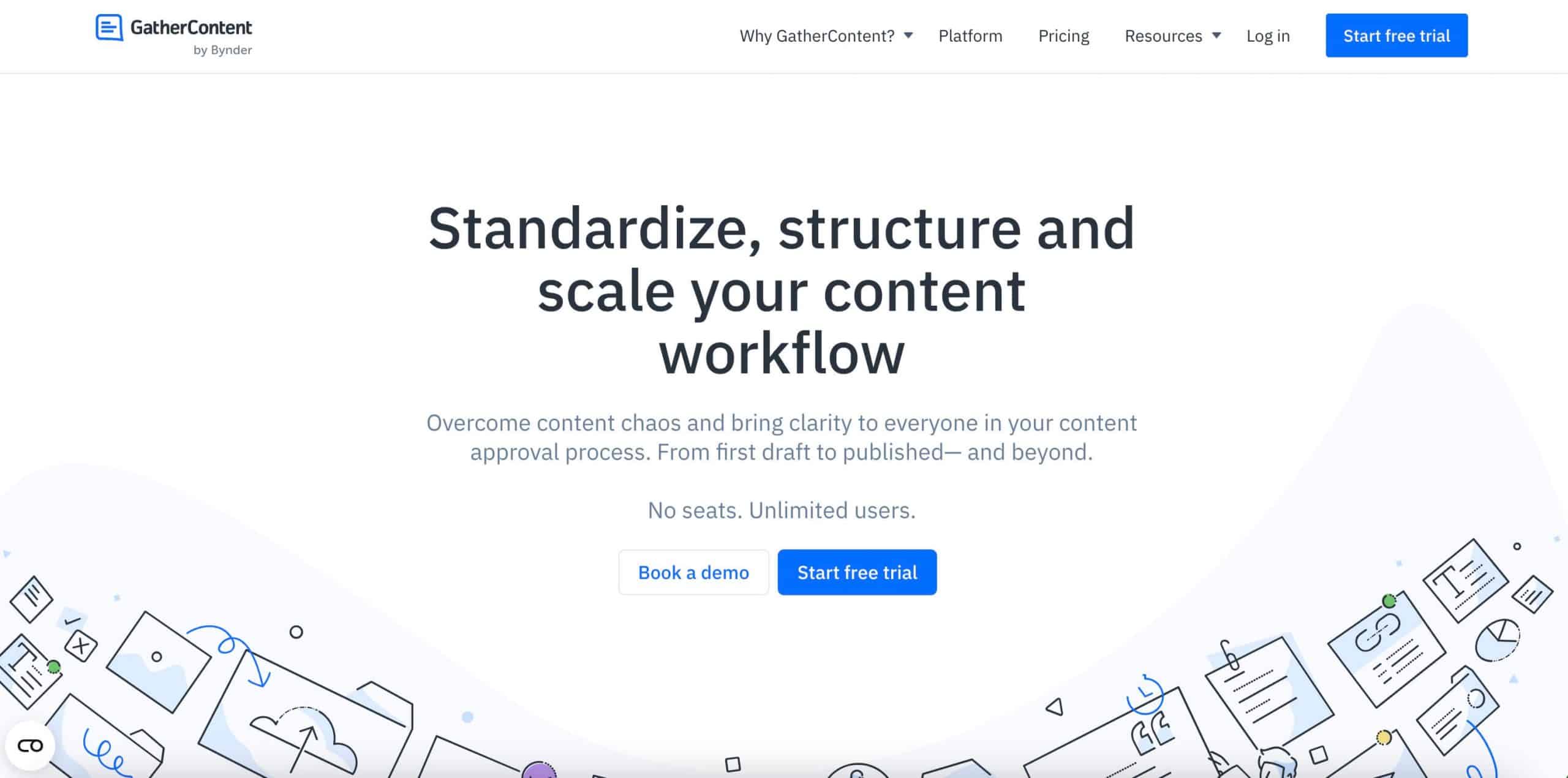 GatherContent streamlines editorial workflows from planning to publication. Its ability to arrange workflows and prompt units to collaborate efficiently can be a valuable investment for operations and multifaceted projects.
It allows teams to generate briefs, set tasks, outline workflows, and monitor progress efficiently. This cloud-based app simplifies planning and organization, making it a robust product for editorial teams.
Pros:
Streamlines editorial processes, saving time.
Automated notifications and organized material.
Customized tagging for flexible organization.
Encourages efficient planning and monitoring.
User-friendly interface for easier cooperation.
Cons:
Can experience occasional glitches.
Custom HTML sometimes doesn't save.
Initial learning curve for new users.
The complex feature set can be overwhelming.
Requires time to master workflows.
Pricing & Plans:
Start ($99)
Scale ($299)
Transform ($799)
Enterprise (Contact Sales)
8. DocSend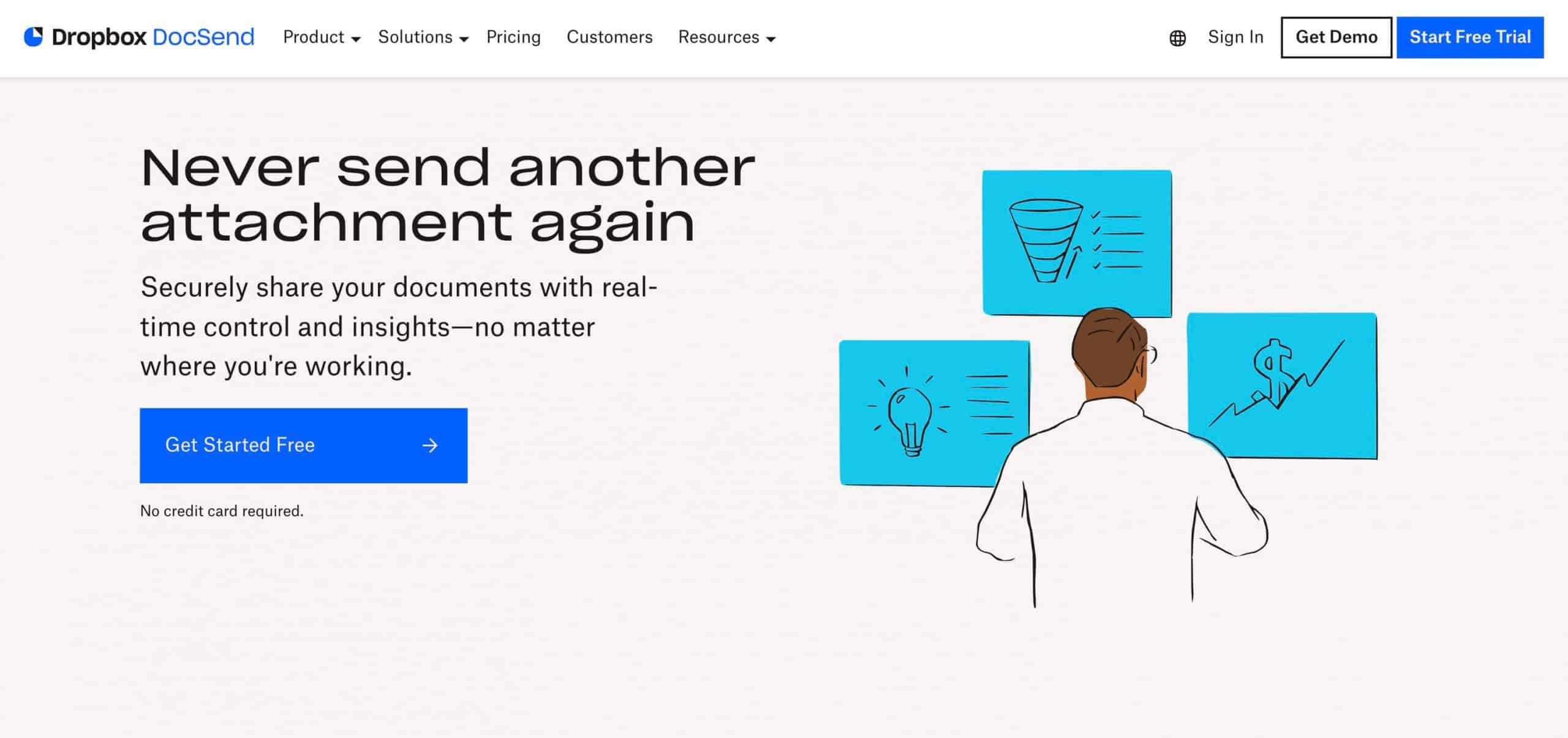 DocSend, now a part of Dropbox, provides a link-based solution that allows businesses to control and secure shared files and materials meticulously. Stakeholder-specific security, notifications, and detailed performance analysis make it the go-to for secure file administration.
It is compatible with popular outlets like Google Drive, Dropbox, and OneDrive. Additionally, it can analyze engagement in-depth, making it the best choice for secure, efficient, and insightful file sharing and monitoring.
Pros:
Secure and easy file sharing.
Highly mobile-friendly UI/UX.
User-friendly with excellent customer service.
Serves as a transparent utility with helpful features.
Responsive customer support.
Cons:
Page-specific engagement monitoring is needed.
Lacks clear feature communication.
It can be confusing to navigate.
Requires exclusive DocSend use for sharing.
Pricing & Plans:
Personal ($10)
Standard ($45)
Advanced ($150)
Enterprise (Contact Sales)
9. Rocketlane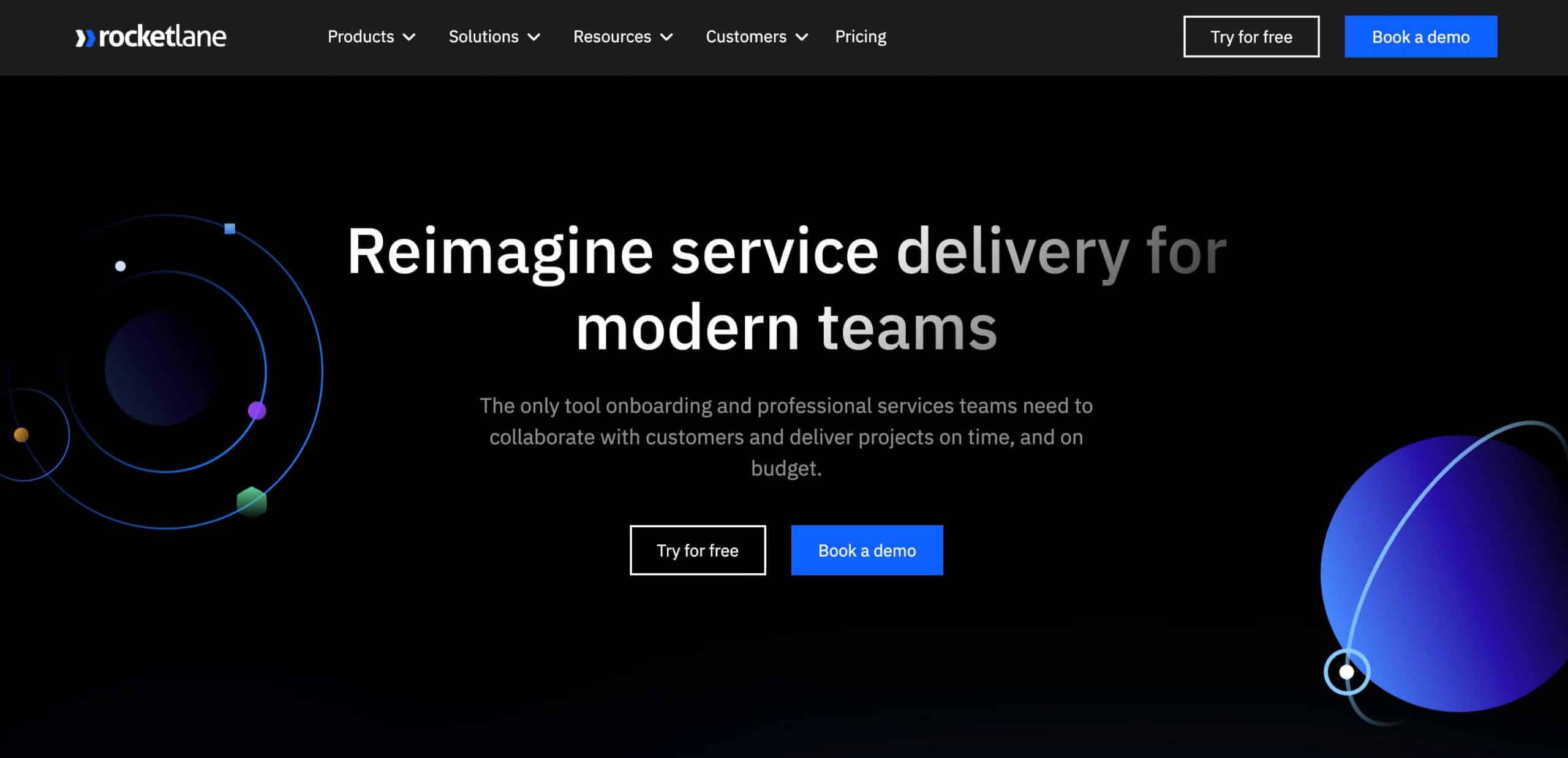 Rocketlane focuses on three main pillars as a core for its products: project management, resources/financials, and customer experience. Modern businesses use this solution to shorten time-to-value and elevate customer experiences.
To streamline onboarding for clients and service teams, Rocketlane offers unmatched visibility into the kickoff process, resulting in enhanced execution and process consistency. The solution creates repeatable playbooks, giving insight into projects and customer sentiment.
Pros:
Offers a start-up discount for pre-Series A or bootstrapped companies.
Transparent overview of project status.
Strong security and user-friendly design.
Consolidates projects for group efficiency.
Cons:
Lacks certain desirable features.
Missing drag-and-drop functionality.
Free plan option and pricing concerns.
There are customization limitations.
Pricing & Plans:
Essential ($19)
Standard ($49)
Premium ($69)
Enterprise ($99)
10. ClientSuccess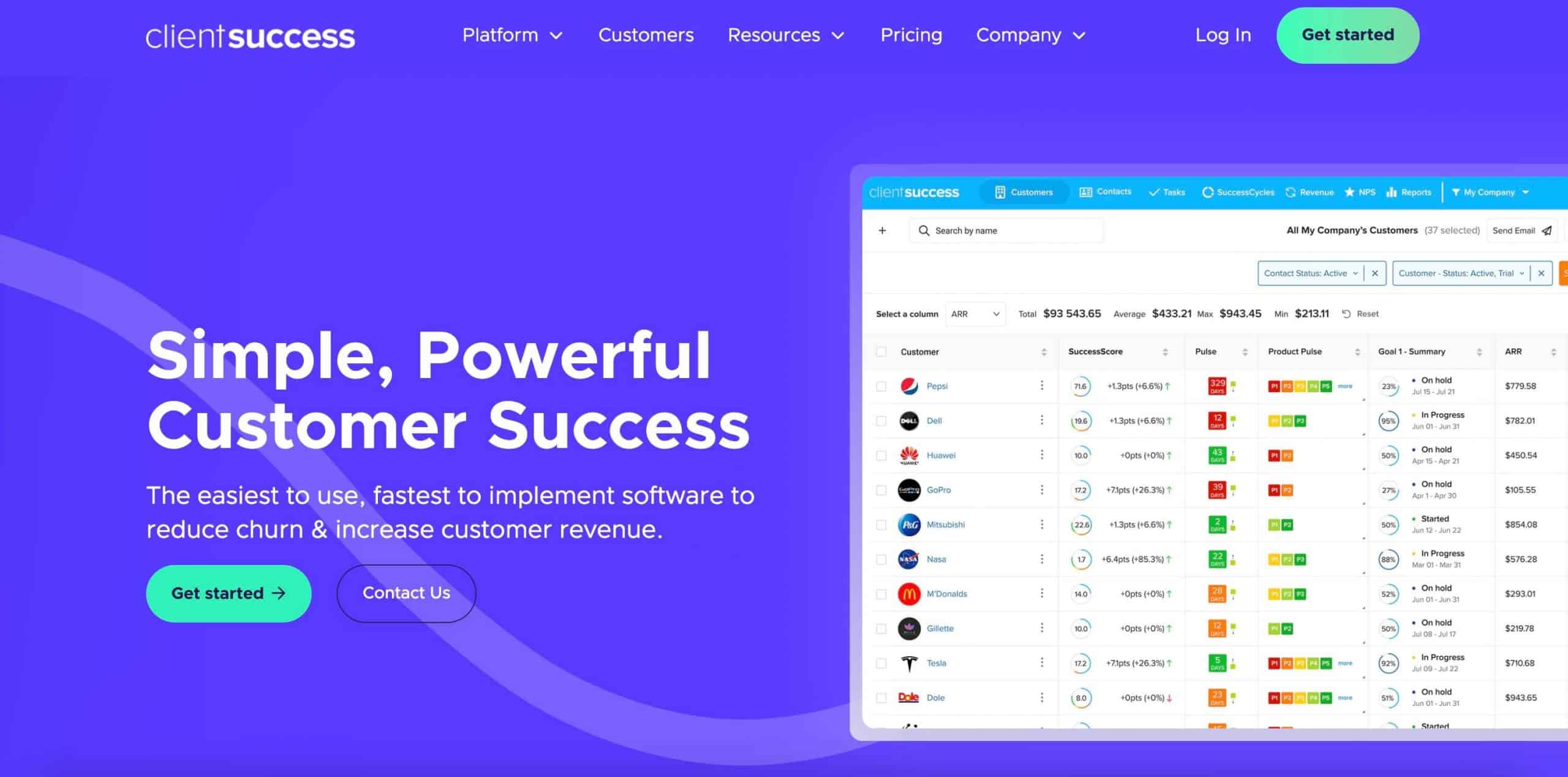 ClientSuccess is a customer success software tailored for SaaS companies focusing on client growth and retention. Its strength lies in effectively managing client onboarding and ongoing relationships. The platform integrates email, monitors interactions, and maintains detailed client records for fostering long-term relationships.
Its ability to integrate with email for automatic updates and its specialized functionalities for tracking quantifiable and intangible aspects of customer relationships make it a top-notch product. For those prioritizing detailed, holistic client management, this software is a great fit.
Pros:
Efficient client relationship monitoring.
Automatic email-to-client profile updating.
Captures detailed customer behavior insights.
Responsive to product enhancement suggestions.
Streamlines customer success management tasks.
Cons:
It is not ideal for immature services/organizations.
Requires a clear understanding of customer needs.
Adoption may be complex without specific goals.
It can feel cumbersome for frequent data updates.
Pricing & Plans:
Startup (Contact Sales)
Growth (Contact Sales)
Enterprise (Contact Sales)
11. Process Street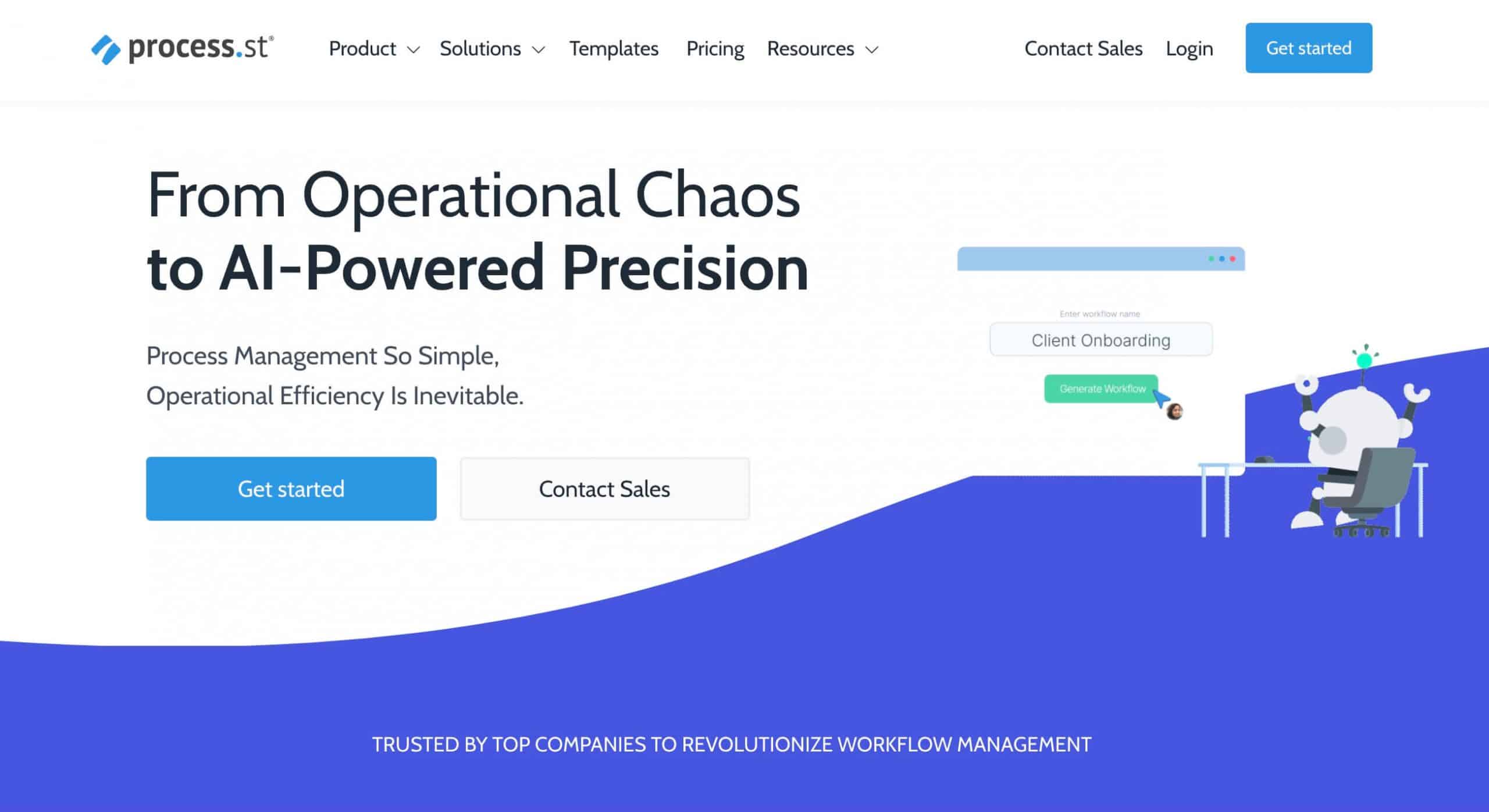 Process Street is an excellent choice if you're looking for a web-based, no-code solution to improve your operations. Its combination of AI-driven process administration and user-friendly workflow automation products makes it easy to ensure process consistency.
With its AI-powered workflows, Process Street positions itself as an outstanding choice for managing and automating tasks. Efficient process adherence with task assignments, approvals, and integrations.
Pros:
Exceptional at automating complex workflows.
Intuitive, AI-powered workflow management.
Accessible user guides and in-app support.
Reasonable pricing structure.
Enhances operational consistency and efficiency.
Cons:
Payment issues can affect accessibility.
Finding archived items can be challenging.
Occasionally encounters file recognition errors.
Additional costs for extra functionality.
Some users find logic flow complex.
Pricing & Plans:
Startup ($100)
Pro ($415)
Enterprise ($1,660)
Tips for Transitioning to Content Snare Alternatives
Now that we've explored the list of best Content Snare substitutes using feature analysis and real user reviews, it's time to decide which website/apps to add to your digital repertoire.
Feature compatibility: Assess if your prospect program offers similar or improved features to Content Snare, including content collection, workflow automation, and client collaboration.
Data migration: Gauge and address the challenges of transporting data from one system to another. It would be great if your substitute could support Google Drive or other storage for seamless conversion.
Purpose of change: Do you need a unique feature only a few solutions offer? For example, if you need a more robust PM functionality, your substitute should address that.
Integration capabilities: Check if the new tool integrates seamlessly with other systems you are currently using, such as CRM, email, cloud storage (like Google Drive, Dropbox, OneDrive), and other applications.
Long-term ROI: Evaluate the cost-effectiveness of the new product. CConsider both subscription fees and ROI in efficiency, time savings, and client satisfaction.
Security and compliance: Your substitute should adhere to security best practices and compliance requirements since you handle sensitive customer data.
Customer experience: Considering how the new product will impact your clients is important. Ideally, it should enhance their experience by making interacting with your services easier and providing necessary information.
Conclusion
And that's it; we've covered the top Content Snare alternatives to use when working remotely. People who need to use open source software must find something else to have a cost-effective solution.
For those who need an agency-wide solution, you can also try the Ahsuite Agency plan, which gives you a client portal, task manager, document manager, and white label with a custom domain. You can start a 30-day trial for the Agency plan or enjoy a free client portal with the Ahsuite Starter plan.