Exploring alternatives to Smartsheet?
While Smartsheet offers basic project management features, it comes with notable limitations. Managing complex projects or making updates can be a bit cumbersome in Smartsheet. Additionally, its cost for agile projects and resource tracking may not align with more budget-friendly options available in alternative platforms.
Functioning on a spreadsheet format similar to Excel, Smartsheet may lead you through a maze of cells and columns, consuming valuable time in project management. If the idea of navigating projects through spreadsheets doesn't appeal to you, worry not! We're here to introduce you to tools that not only organize projects effectively but also offer diverse views.
In this article, we present the top 10 Smartsheet alternatives, providing comprehensive details on each tool's main features, pros and cons, and pricing.
What is Smartsheet?
Smartsheet is a versatile tool for businesses, big and small. It's known for making collaboration and organization smoother. Whether tracking software projects or handling extensive portfolios, the spreadsheet-like platform has features tailored for you.
Loaded with collaborative tools, Smartsheet serves as a combination of both modern project management features and spreadsheets. It offers automation, integrates seamlessly with Microsoft 365, and generates valuable analytics. Starting a project is easy with pre-made templates.
Pros:
Intuitive and user-friendly interface.
Real-time collaboration and communication.
Highly customizable templates and forms.
Efficient task and deadline tracking.
Time-saving automation features.
Uses AES 256 encryption and SSO.
Great automation tools.
Cons:
Complex interface for some users.
Limited third-party integrations.
It can be expensive for small teams.
The mobile app lacks some web features.
Limited reporting capabilities.
There is no real-time sync for interactive spreadsheets.
Users might need prior spreadsheet experience.
Pricing:
Free
Pro: $7
Business: $25
Enterprise: Contact Sales
10 Best Smartsheet Alternatives in 2024
Delve into our curated list of the best Smartsheet alternatives that redefine productivity and collaboration this year. The list below offers a comprehensive project management experience.
Wrike – Best for gantt chart and spreadsheet views
Microsoft Project – Best for excel spreadsheet integration
Google Sheets – Best for tracking and visualization
Zoho Projects – Best for integrated spreadsheets
Airtable – Best for database capabilities
Monday.com – Best for visual table view
Asana – Best for combining views
Workzone – Best for user-friendly interface
Podio – Best for spreadsheet customizability
Ahsuite – Best for client management
1. Wrike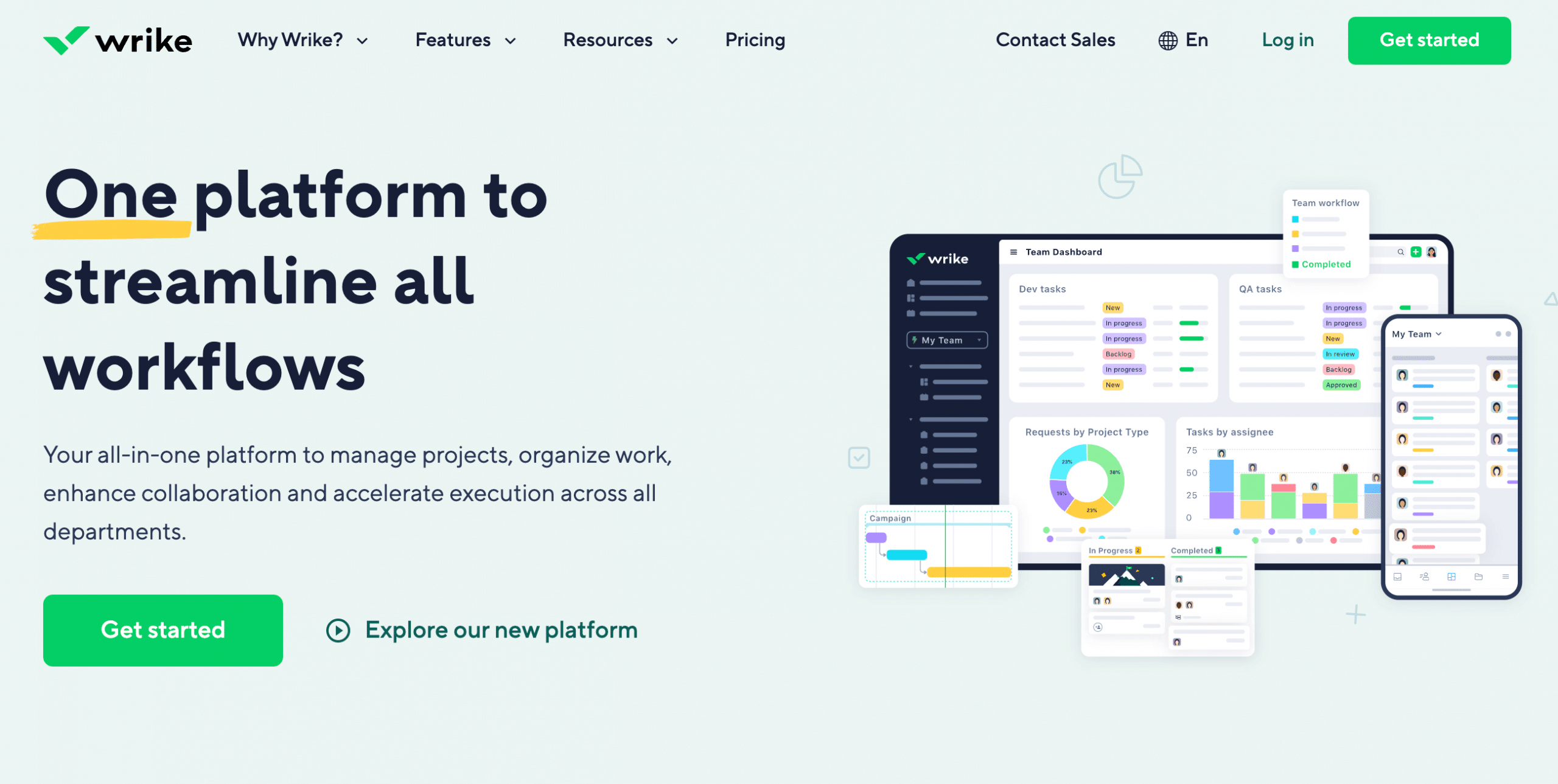 Wrike is a leading project management tool celebrated for diverse task views, especially Gantt charts. By integrating with over 400 applications, including heavyweights like Zoom and Salesforce, Wrike simplifies workflow and enhances team productivity.
As a popular Smartsheet alternative, Wrike stands out due to its fantastic use of spreadsheet-like features. Users can benefit from its structured file systems, user-friendly pre-designed templates, and customizable workflows catering to varying requirements.
In addition, it boasts a revamped "Table View," which allows users to add and delete columns, change sorting, expand/collapse items, and manipulate content visibility. Like Smartsheet, Wrike has pre-defined templates to be used immediately or to be tinkered with for customization.
Pros:
Multiple views, including Gantt charts.
It can integrate with 400+ applications.
Streamlined, organized file management.
Ready-to-use, efficient templates.
Adaptable, user-friendly workflows.
Effective collaboration tools.
Cons:
Reports show inconsistent customer service.
Communication gaps noted by users.
Unchangeable default task filter.
It needs to be optimized for smaller screens.
Pricing:
Free
Team: $9.80
Business: $24.80
Enterprise: Contact Sales
Pinnacle: Contact Sales
Related: 11 Best Wrike Alternatives
2. Microsoft Project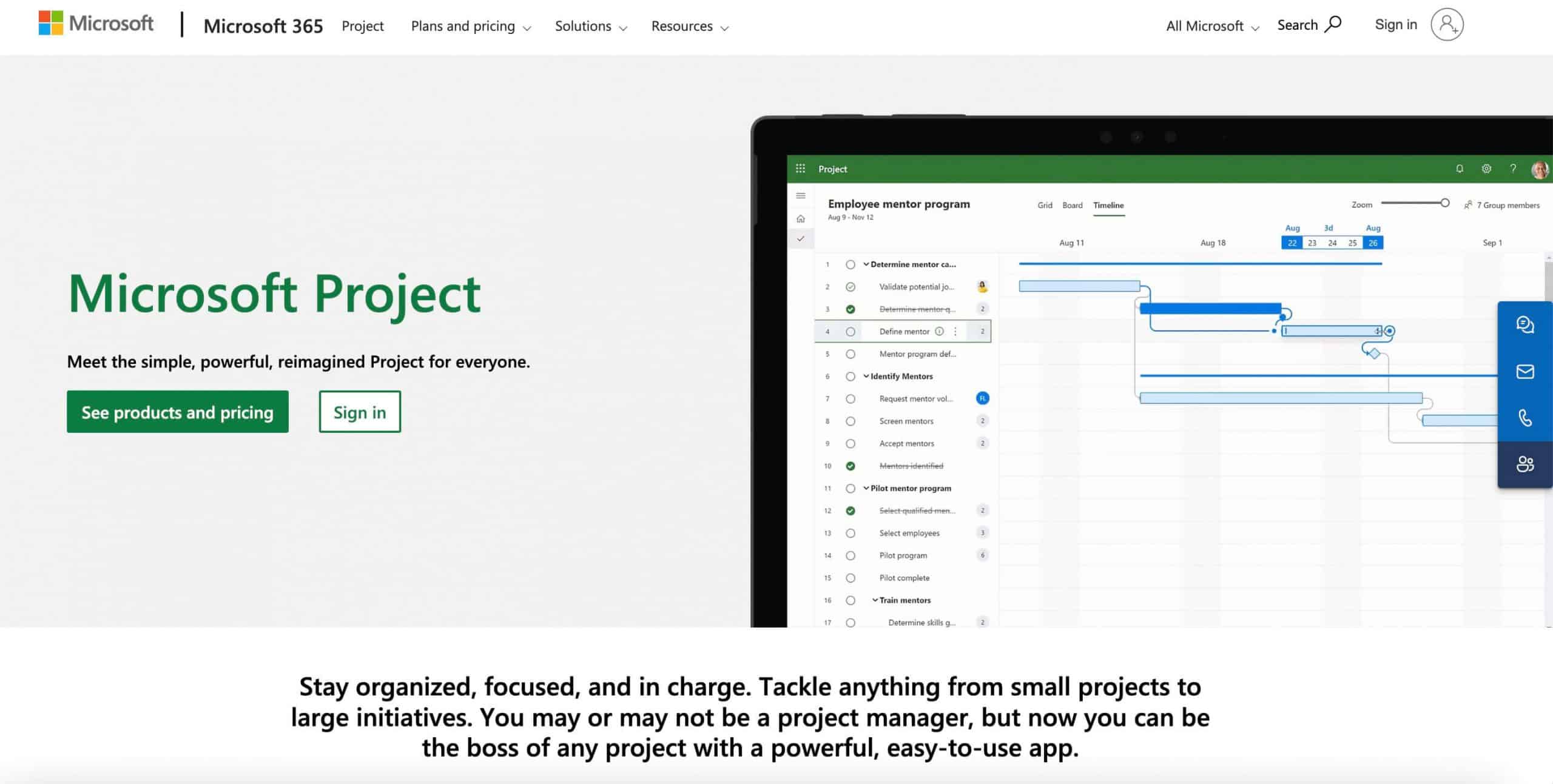 Microsoft Project (often called MS Project) combines classic Excel spreadsheet capabilities with modern project management tools. Renowned for its built-in spreadsheet functionality, this platform efficiently serves many user types, from startups to expansive enterprises.
If you're looking for a project management solution (and a Smartsheet Alternative) that integrates with familiar Office tools, Microsoft Project is a great option. It offers dynamic Excel sheet linking, resource tracking, and Gantt chart creation to streamline your project management experience.
Pros:
Seamless integration with Office tools.
It visualizes data attractively.
User-friendly interface and tools.
Efficient Gantt chart management.
Robust report generation features.
Cons:
Errors in date information can cause complications.
Additional Office suite license required.
Watered-down web version.
Role assignments can be tedious for newcomers.
The potential learning curve for some.
Pricing:
Project Plan 1: $10
Project Plan 3: $30
Project Plan 5: $55
3. Google Sheets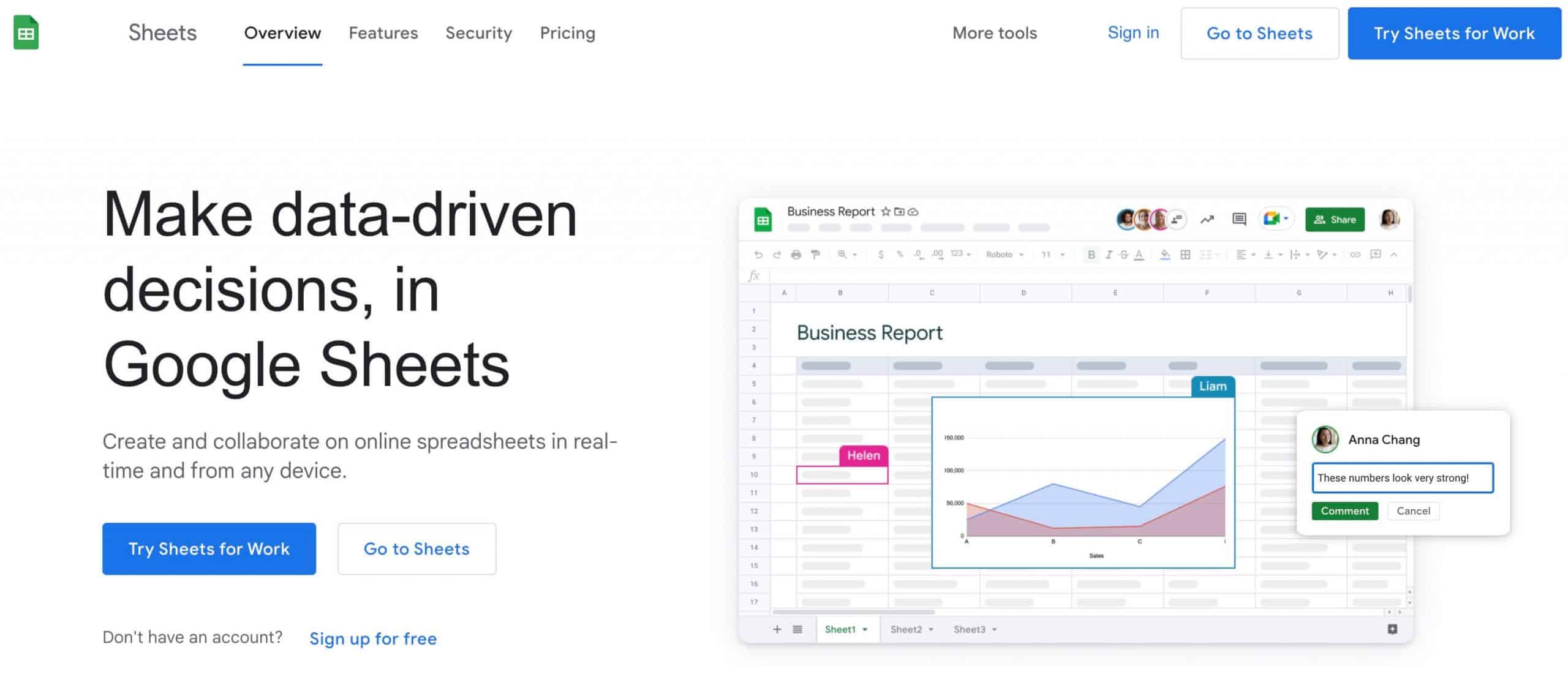 While not a conventional project management tool, Google Sheets has soared in popularity among individuals and SMBs.its charm lies in its customizable spreadsheets and unique tabbing system, offering a simplistic yet practical approach to tracking and visualizing projects.
As an alternative to Smartsheet, Google Sheets shines due to its easy-to-use interface and universal accessibility. It is excellent for essential project tools with limited personnel and tasks or for those who want a free alternative to Smartsheet.
Pros:
Free for Gmail and G Suite users.
Accessible anywhere with internet.
Easily shareable among teams.
Customizable for various tasks.
Familiar interface for Google users.
Cons:
It lacks advanced management features.
It offers limited visibility and insights.
No automation or reporting tools.
Prone to user-induced errors.
Formulas can be complex.
Pricing:
4. Zoho Projects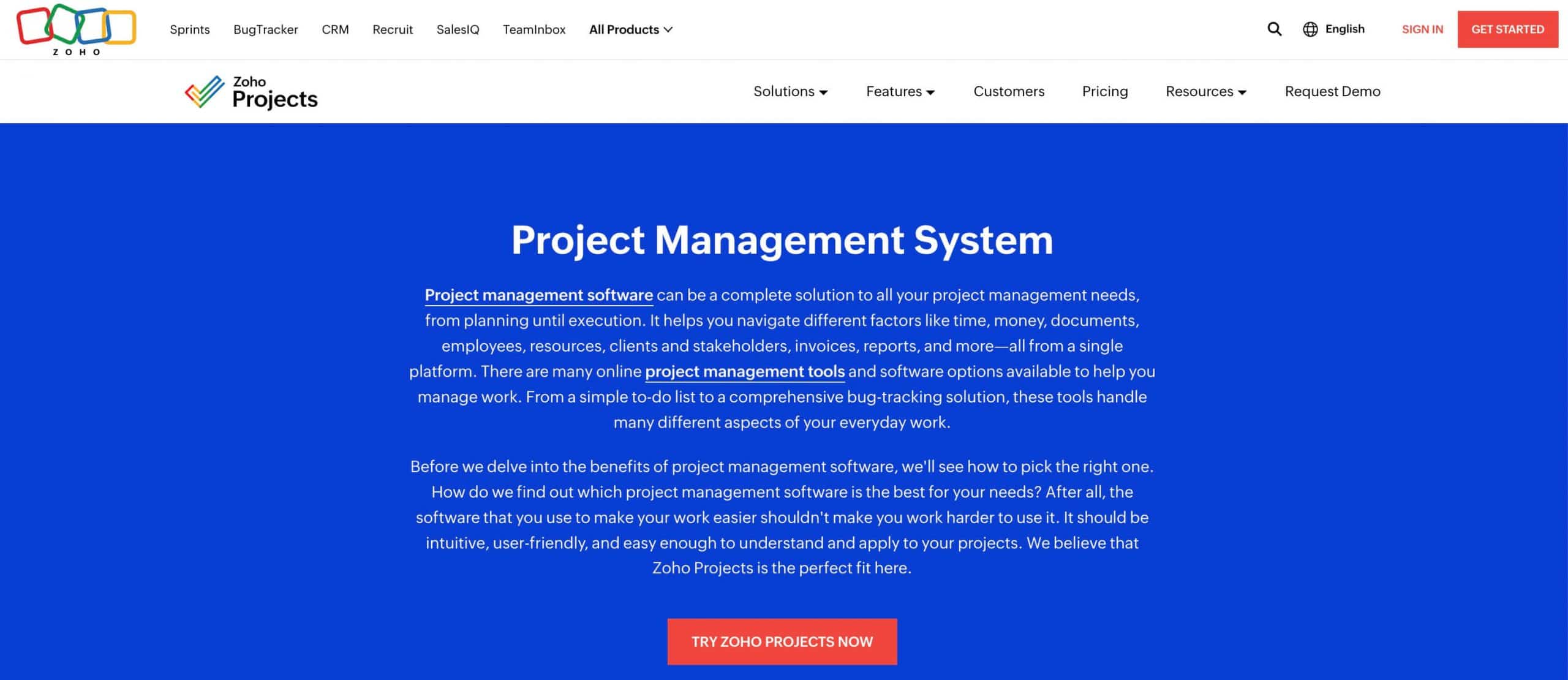 Zoho Projects stands out for its integrated spreadsheet functionalities. Its cloud-based approach combined with Gantt charts, kanban boards, and timesheets ensures comprehensive project oversight. The integration of automated sheet entry with Zoho Forms is also convenient.
This tool proves a worthy Smartsheet alternative because of its user-friendly interface and cloud document management. The multiplatform support guarantees seamless transitions between devices, and its email alerts system rivals Smartsheet's communication prowess.
Pros:
Comprehensive project tracking with Gantt charts.
Seamless third-party app integrations.
Integrated chat for swift communication.
Organized team forums for discussions.
Multiplatform support across various devices.
Cons:
Integration with Zoho tools is cumbersome.
The interface can be overwhelming for new users.
It lacks dedicated customer support.
Settings navigation proves challenging.
Limited multi-select for customized fields.
Pricing:
Free
Premium: $5
Enterprise: $10
5. Airtable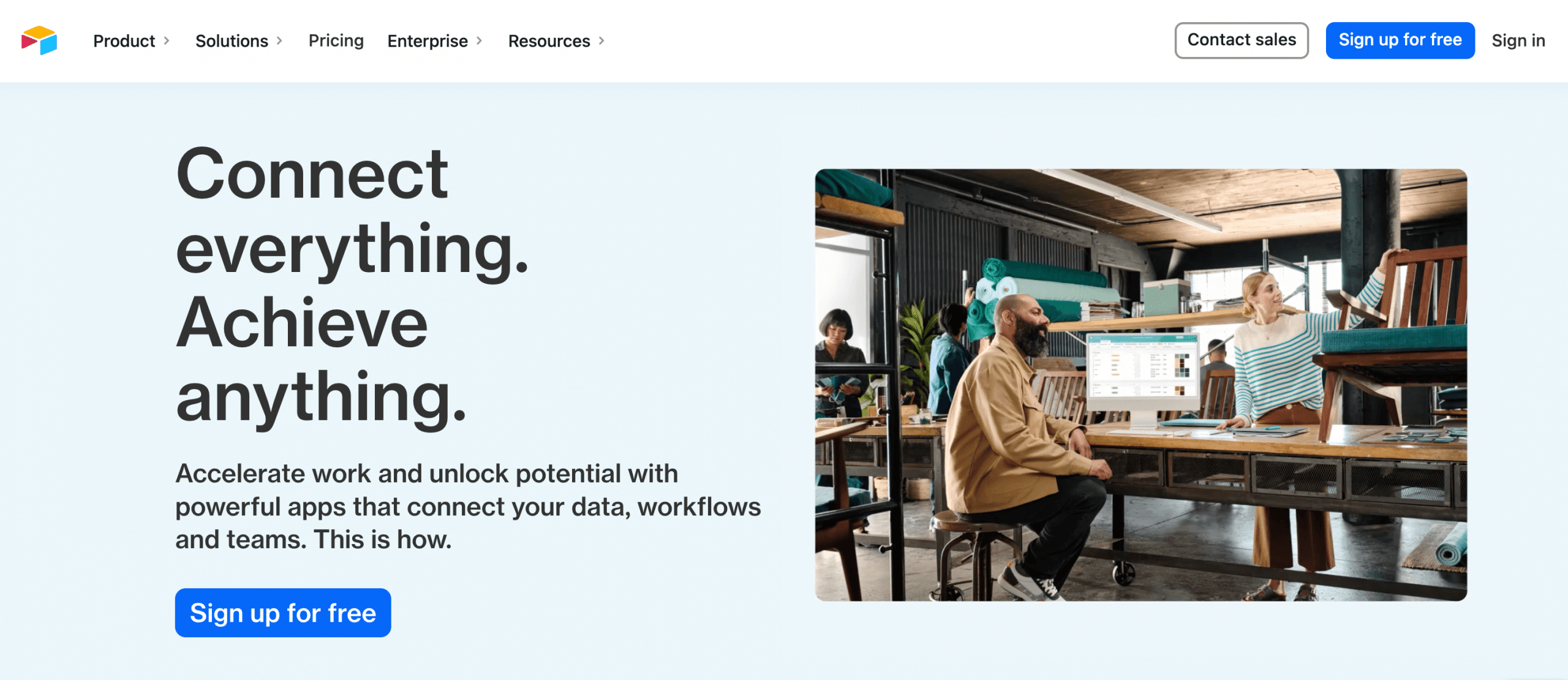 Airtable is a unique blend of a spreadsheet and database, offering an impressive range of functionalities. It's known for its diverse views, multiple templates, and robust integration, especially with tools like Zapier and Hubspot.
With its easy-to-grasp interface, anyone can jump in and start working on this Smartsheet alternative. The integration capabilities, particularly with apps like Zapier, make it a favorite for project managers. Plus, its pricing options cater to small businesses and larger teams within organizations.
Pros:
Great for all project management needs.
Enhances collaboration, even with non-Google users.
Highly flexible; replaces multiple tools.
It makes client and customer reporting stable and fun.
Helps organize employee activities efficiently.
Cons:
UI can be slightly complicated.
Limited design features; no custom icons.
It lacks comprehensive documentation.
The free version has a quick record limit.
iOS app lacks core functionalities.
Pricing:
Free
Plus: $10
Pro: $20
Enterprise: Contact Sales
Related: 11 Best Airtable Alternatives
6. Monday.com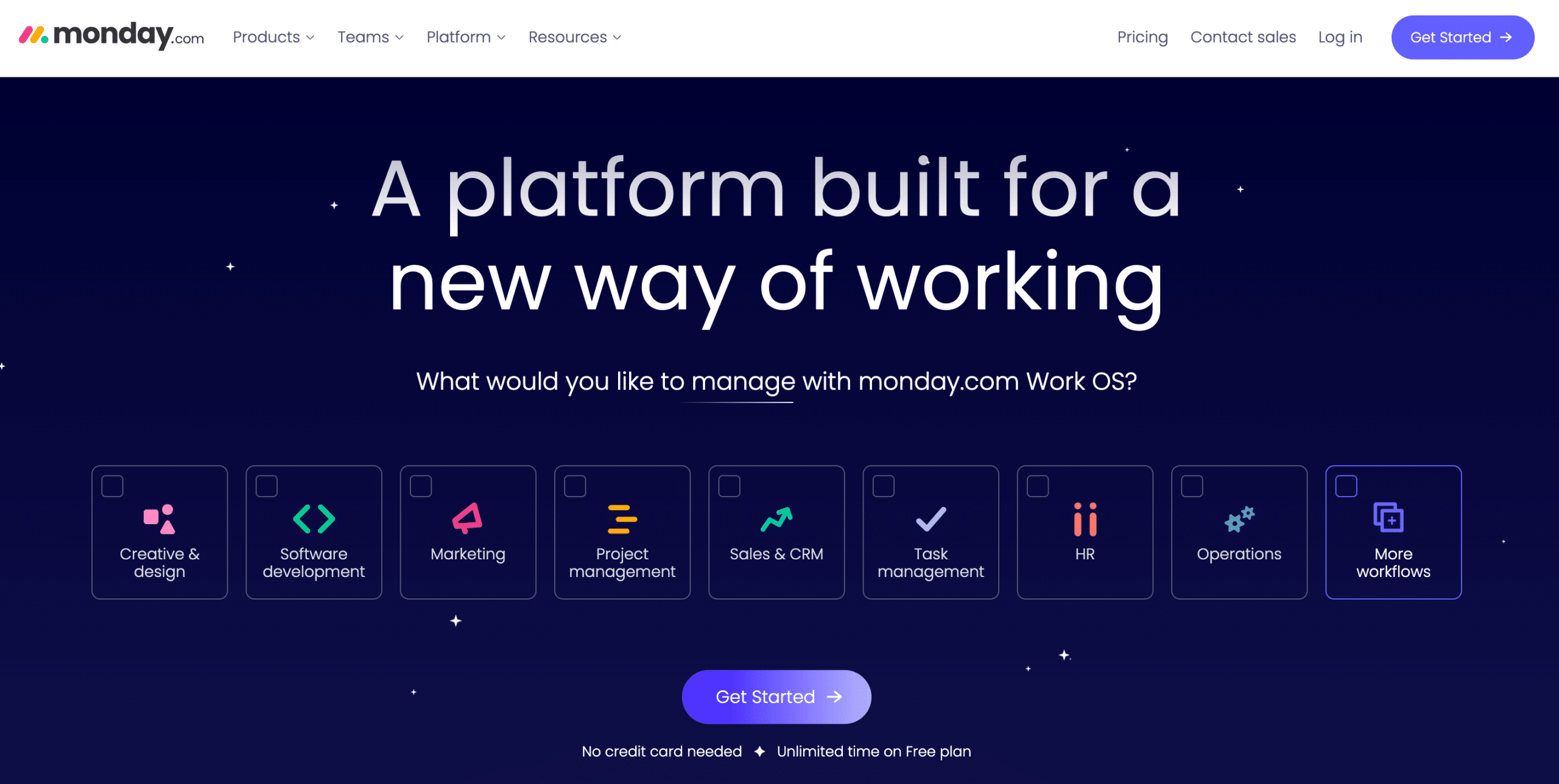 Monday.com is a robust work management platform with practical project and task management features. This tool is known for its advanced visualization capabilities, customizable boards, and many integration options that make assigning basic project management tasks easier.
With its customization options, users tailor their experience to specific needs. Additionally, its integration with over 200 applications, from Google Drive to Salesforce, makes it a compelling choice.
Pros:
Brilliant, vibrant visualization with great support.
It simplifies project tracking and progress monitoring.
Intuitive interface with seamless customization.
Low learning curve despite deep features.
Cons:
Confusing layout; challenging event tracking.
Limited report customization capabilities.
Lacks some essential feature workarounds.
"Info boxes" are narrow and collapsed.
Time tracking can be improved.
Pricing:
Free
Basic: $10
Standard: $12
Pro: $20
Enterprise: Custom Pricing
Related: 10 Best Monday.com Alternatives
7. Asana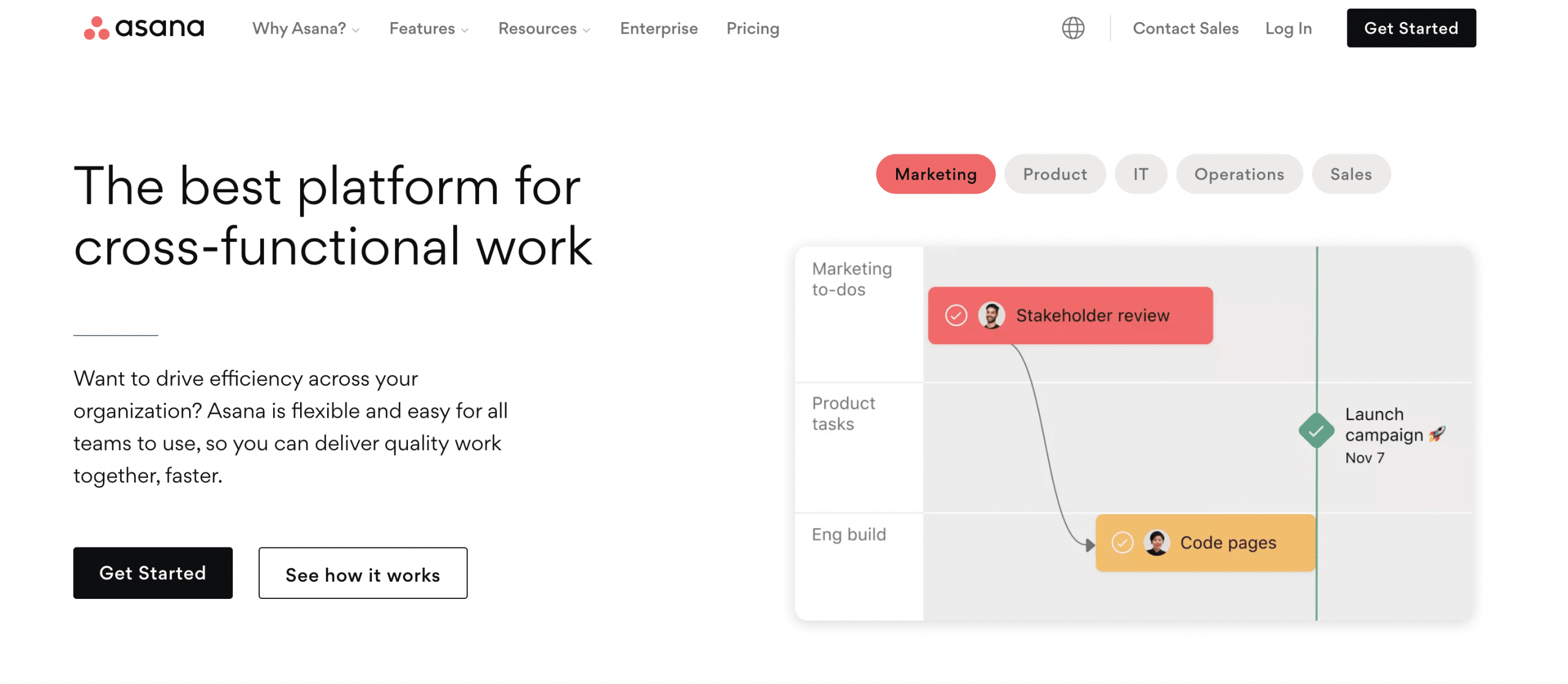 Asana is an exceptional PM tool, especially for multiple viewing options. Renowned for its adaptability and robust visualization capabilities, Asana caters to many industries, establishing itself as a crucial tool in successful project orchestration.
With its intuitive interface, expansive project view options, and over 200 seamless integrations, Asana facilitates collaboration across organizations efficiently. It's more than just an alternative; it's a sophisticated evolution.
Pros:
Multiple visualization options.
Interconnected workflows.
Comprehensive status hub.
Cons:
It is possible to miss notifications.
Default email notifications are many.
Some confusion about project visibility.
The recurring tasks feature is limited.
Pricing:
Free
Premium: $10.99
Business: $24.99
Related: 11 Best Asana Alternatives
8. Workzone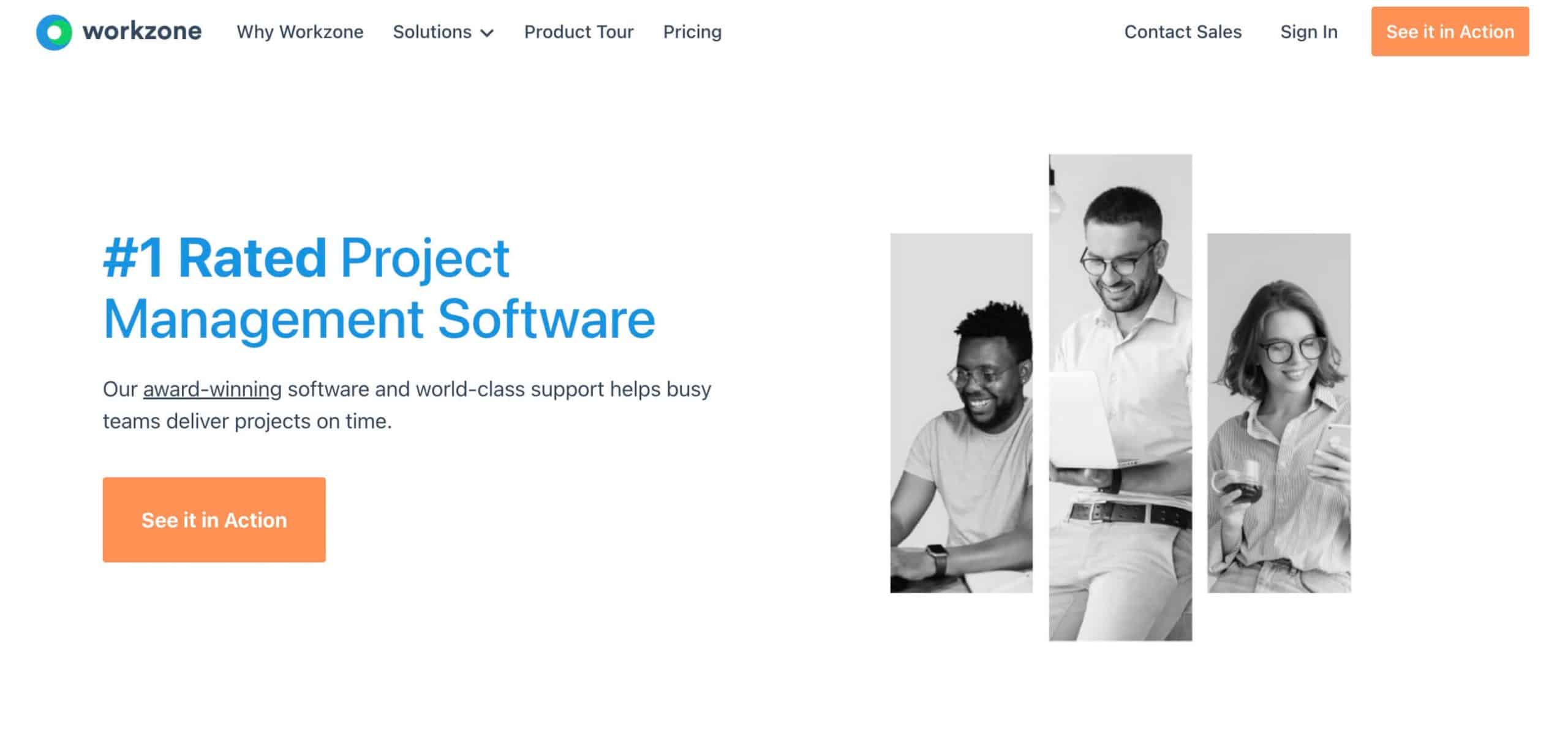 Workzone, established in 2000, shines as a balanced project organization tool. With a blend of sophistication and user-friendliness, it bridges the gap between essential tools like Basecamp and complex ones like Microsoft Project, making it a top choice for diverse teams.
As a Smartsheet alternative, Workzone offers a user-friendly interface tailored to experienced and novice users. Its decent integrations and robust performance make it ideal for dynamic business environments, mainly for marketing, agency, and operations teams.
Pros:
Integrated Excel and core features to track projects.
Enhances team collaboration and document sharing.
Continual product improvements and feature additions.
Outstanding customer support and feedback response.
Powerful yet easily adaptable for teams.
Cons:
No batch task selection option.
Tedious date adjustments for tasks.
Retrieving older projects can be challenging.
Reporting from unique fields is restricted.
Manual date change is needed after broken dependencies.
Pricing:
Team: $24 / per user per month
Professional: $34 / per user per month
Enterprise: $43 / per user per month
9. Podio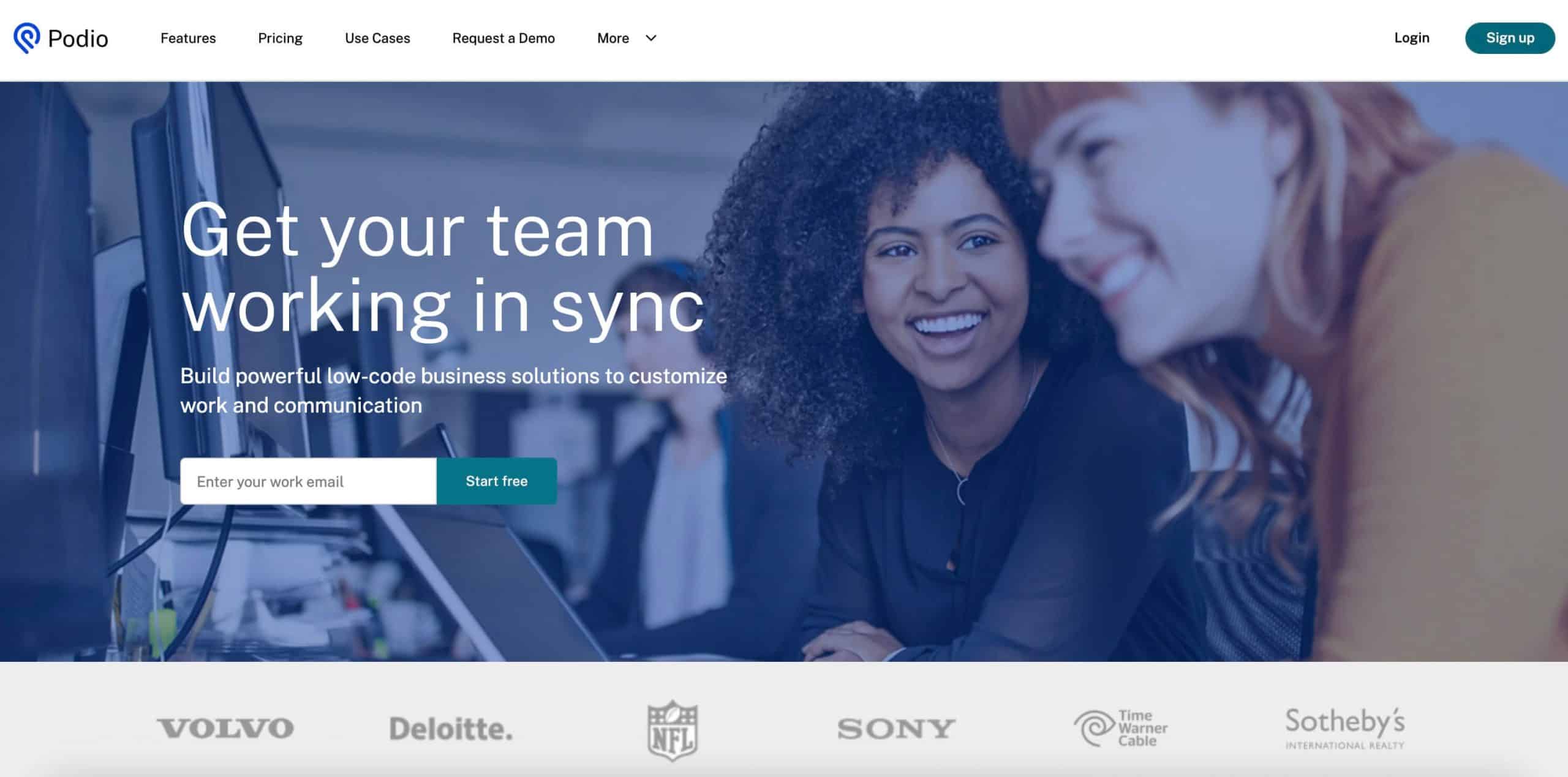 As a versatile collaboration database, Podio excels in digitizing processes, streamlining data collection, and automating workflows, making it the go-to for industries ranging from legal services to construction.
Podio emerges as an apt Smartsheet alternative due to its flexible interface, customizable fields, and robust data collection capabilities. Integrating with platforms like Google Sheets promotes efficient work processes.
Pros:
Powerful collaboration across varied departments.
Streamlines email, task, and project management.
Facilitates custom app creation with ease.
Modified app templates enhance user convenience.
Integrates seamlessly with Google Sheets.
Cons:
Scaling features are limited.
Customer service is reportedly unsatisfactory.
No attachment markup or time-lapse feature.
Integration issues with specific platforms.
Linking to related modules is challenging.
Pricing:
Free
Plus: $11.20
Premium: $19.20
10. Ahsuite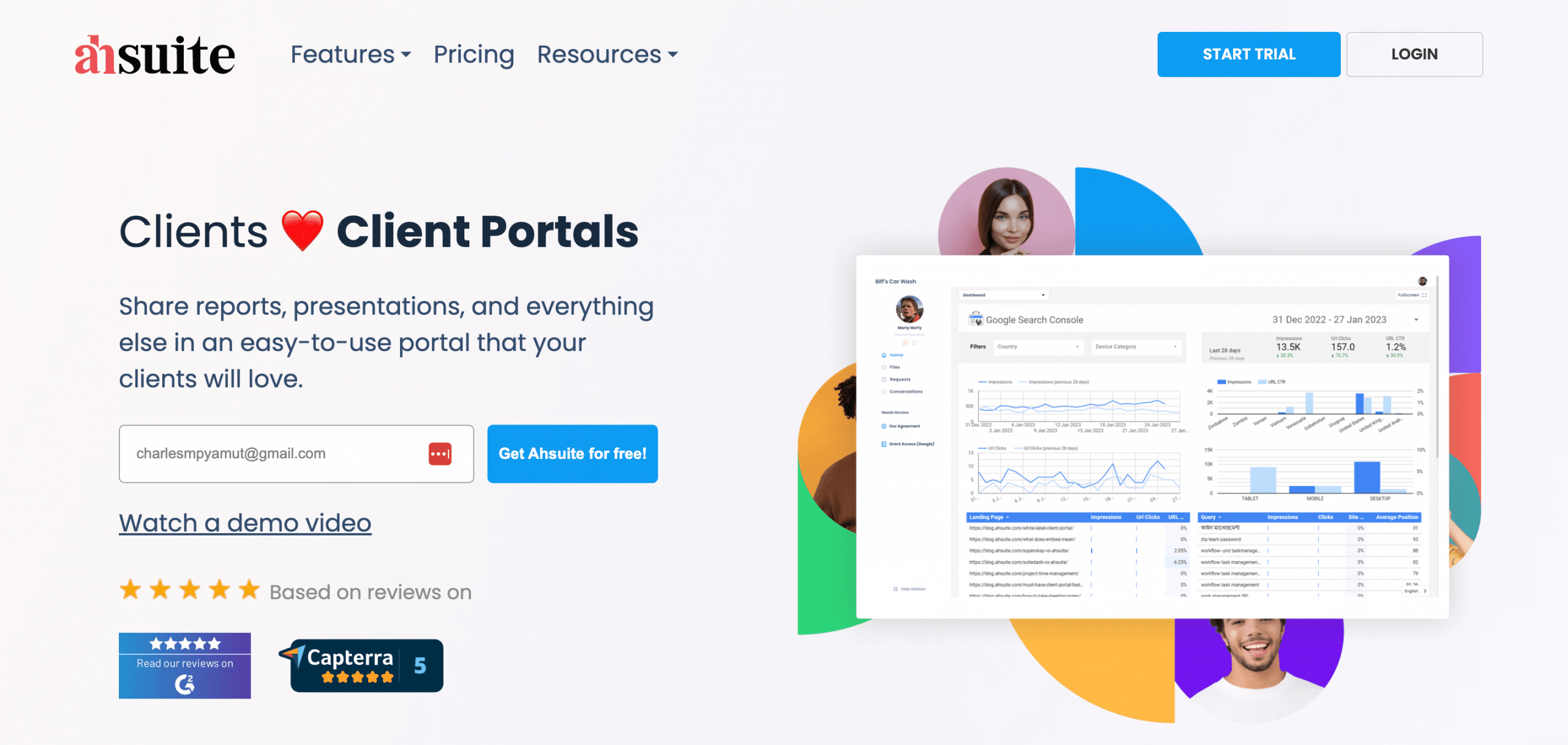 Although Ahsuite does not have inherent spreadsheet capabilities, its default view and powerful filter options make up for it. It offers versatile embedding in secure client portals designed to enhance client management.
Its unique proposition as a Smartsheet competitor is tied to its emphasis on client management. Its clean client portals, integrated task system, file sharing, and password management make it a comprehensive solution.
Pros:
Intuitive dashboard with versatile features.
Convenient password saver and template creator.
Simplifies client support with self-service portals.
Enhances professional presentation of work.
Unified login streamlines various tasks.
Cons:
Features visible only upon hovering.
No mobile application is available.
Misses deeper management functionalities.
Pricing:
Free
Professional: $24
Agency: $57
Tips for Transitioning to Smartsheet Alternatives
When considering a replacement for Smartsheet, it is essential to focus on various benchmarks such as customization, setup, visuals, functionality, integration, flexibility, and security. To streamline the transition, you can follow these helpful tips.
Pinpoint your options: Look for Smartsheet alternatives and also a list of project management contenders that resonate with your set benchmarks.
Stack up features: Compare prospect features for project management needs. Focus on customization, visuals, and integration.
Gauge user experience: Immerse yourself in free trials or demo versions, offering a firsthand experience of these alternatives' setup fluidity and overall user interface.
Scrutinize security protocols: When it comes to cybersecurity, prioritizing encryption, access controls, and compliance is crucial to transitioning into your Smartsheet alternative of choice successfully.
Empower your crew: Furnish comprehensive training modules and insightful resources, ensuring your team acclimatizes to the novel environment seamlessly.
Summary
Smartsheet is an excellent tool for businesses that enhance collaboration and organization. Its spreadsheet-inspired features make project tracking efficient. Yet some users need help with its capabilities and astronomic price points for some use cases. Using our list, we hope you find the right Smartsheet alternative for your team.
For professionals seeking a tailored solution for client management, Ahsuite offers a promising alternative. Experience its benefits firsthand by signing up for a 30-day trial. Or, if you're short on the budget right now, try the Ahsuite Starter package. This package offers a free client portal that you can use to present a wide array of documents for client communication.