A competent project manager should know how to determine, use, and implement the perfect Agile tool to maximize their project success. Hence, it is their top-most priority to find the best Agile project management solution that supports various frameworks like Scrum, Kanban, and Lean.
Let us explore the best Agile project management software that you can use in your projects, whether you're in software development or other industries. 
What are Agile Tools? 
Agile tools specialize in facilitating effective planning, accurate tracking, and seamless execution of Agile projects. These endeavors use Agile frameworks and principles to deliver a product in a flexible, adapble, and customer-oriented manner. 
According to Atlassian, project managers should pick tools that can facilitate the following functions during the Agile software development process: 
Estimation
Reporting
Backlog prioritization
Backlog grooming
Stakeholder communication
The most popular tools used by Agile teams combine effective project management, task management, and team collaboration to ensure consistently optimal project health and results.
What Makes a Great Agile Tool for Project Management? 
If you're new in the market, make sure to familiarize yourself with essential factors that make a tool suitable for powerful, agile project management:
Use-friendly interface: A tool that complements the right agile project management process with an intuitive, user-friendly interface simplifies adopting an agile approach for teams at any experience level.
Integrations: Effective agile project management tools seamlessly integrate with other tools such as Slack, enhancing the utility of tools for agile project management.
Agile support: The best tools provide robust support for agile processes, catering to the dynamic framework nature while ensuring adaptability in fast-paced environments.
Collaboration & planning: These tools empower teams to maximize project outcomes with comprehensive project plan features, facilitating seamless collaboration and effective planning.
Project organization: Superior project management features such as task management are essential to the package, offering a structured yet flexible organization tailored to agile workflows.
Process fit: Choosing the right agile management tools perfectly fits your team's processes, aligning with your specific methods and objectives.
Backlog management: A great Agile tool should allow for easy prioritization, updating, and tracking of the product backlog to drive focused progress. 
10 Best Agile Tool for Project Management in 2024
Many popular Agile Project Management tools are available in the market. Shopping for the right tool can be overwhelming due to countless choices. We've curated a list of the best Agile project management tools to help you select the right option based on your needs. 
Ahsuite – Best for client collaboration
Asana – Best for unlimited projects, tasks & storage
ActiveCollab – Best for QuickBooks & Xero Integration
Jira – Best for customizable peporting 
Trello – Best for Kanban & simplicity
Monday.com – Best for pre-built products
Wrike – Best for Agile project management
Kanbanize – Best for extensive integrations
ClickUp – Best for versatile progress monitoring
Axosoft – Best for scrum & bug tracking
1. Ahsuite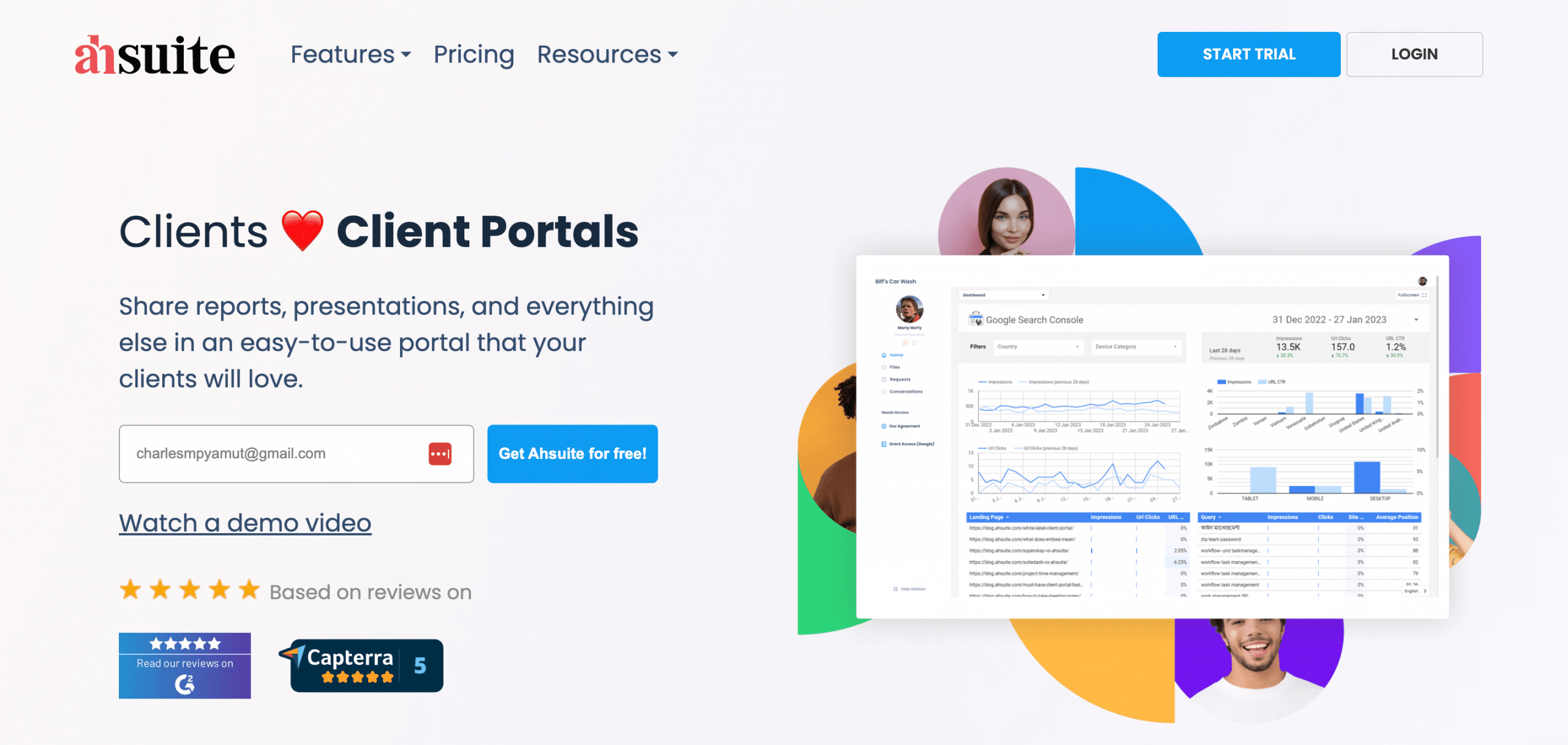 Ahsuite is the quintessential tool for teams seeking a seamless, easy to use project management solution. Tailored for client collaboration, this cloud-based project tool supports agile workflows and unlimited storage needs, enabling teams to manage tasks and projects easily.
This tool elevates project handling through its comprehensive task management tool features. Agile teams benefit from Ahsuite's diverse views and automated notifications, making it a powerful asset for any project. It's a go-to tool for your team, ensuring that every aspect of your project is managed efficiently and effectively.
Pros:
Simplifies project management.
Agile-friendly task views.
Efficient document management.
Customizable for specific needs.
Enhances team workload visibility.
Cons:
No accounting software integrations.
The layout could be more compact.
Documentation needs improvements.
Pricing & Plans:
Starter (Free)
Professional ($24)
Agency ($57)
Customer Ratings:
G2: 4.8 out 5 (56 reviews)
Capterra: 4.9 out 5 (19 reviews)
2. Asana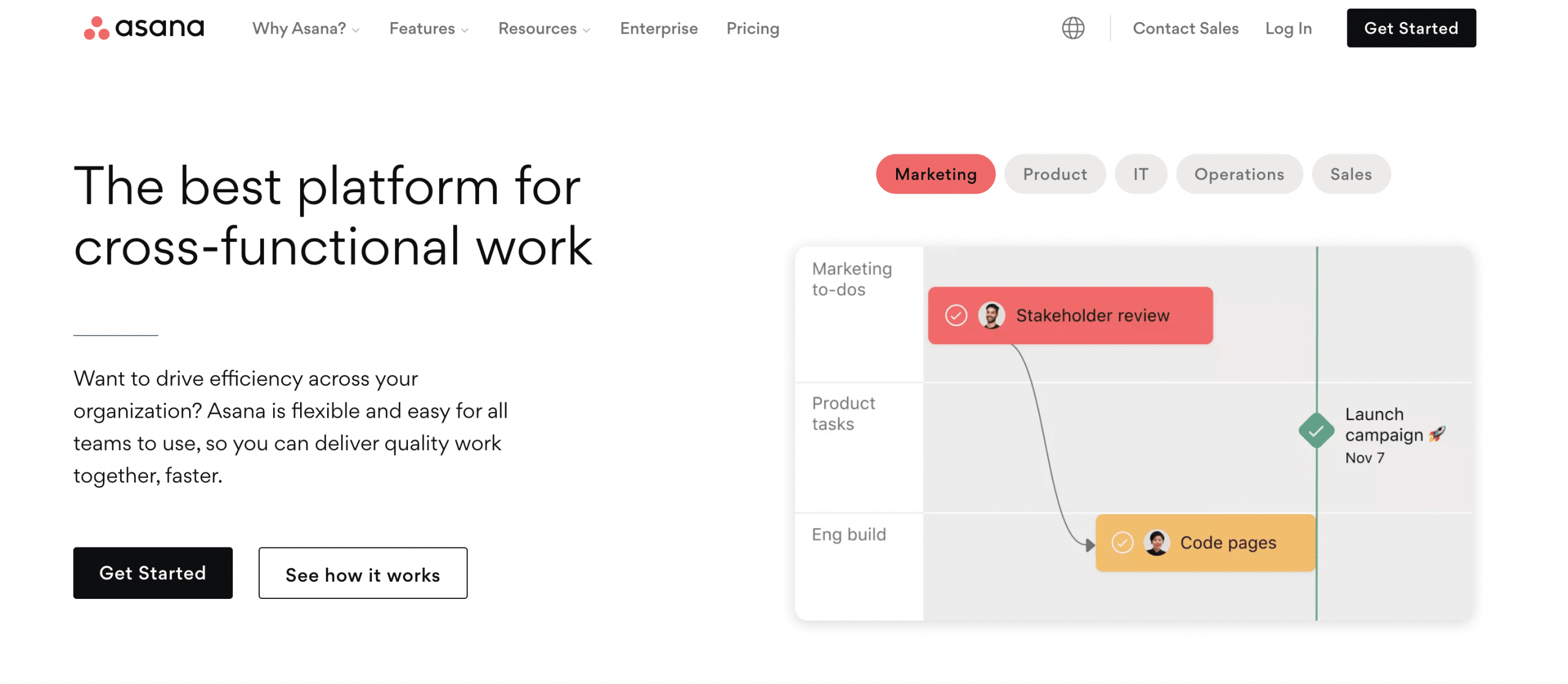 Asana serves teams with a penchant for managing multiple Agile projects, providing a scalable platform that excels in task tracking and unlimited storage. It's a versatile tool for any team size, facilitating extensive project management without worrying about storage constraints, perfect for a dynamic, iterative Agile workflow.
Custom fields and real-time updates align with Agile's responsive nature. At the same time, integrations, automated notifications, and robust reporting tools keep teams on the pulse of project progress, embodying the principles of effective project management methodologies and work management.
Pros:
Handles unlimited projects and tasks.
Flexible project and task views.
Real-time updates enhance agility.
Extensive app integrations are available.
Robust reporting dashboards included.
Cons:
More built-in templates are desired.
The steep learning curve for newcomers.
Data privacy could be a concern.
Dependency on the tool's market longevity.
Pricing & Plans:
Personal (Free)
Starter ($10.99)
Advanced ($24.99)
Enterprise (Contact Sales)
Enterprise+ (Contact Sales)
Customer Ratings:
 G2: 4.3 out 5 (9530 reviews)
 Capterra: 4.5 out 5 (12310 reviews)
Related: 11 Best Asana Alternatives
3. ActiveCollab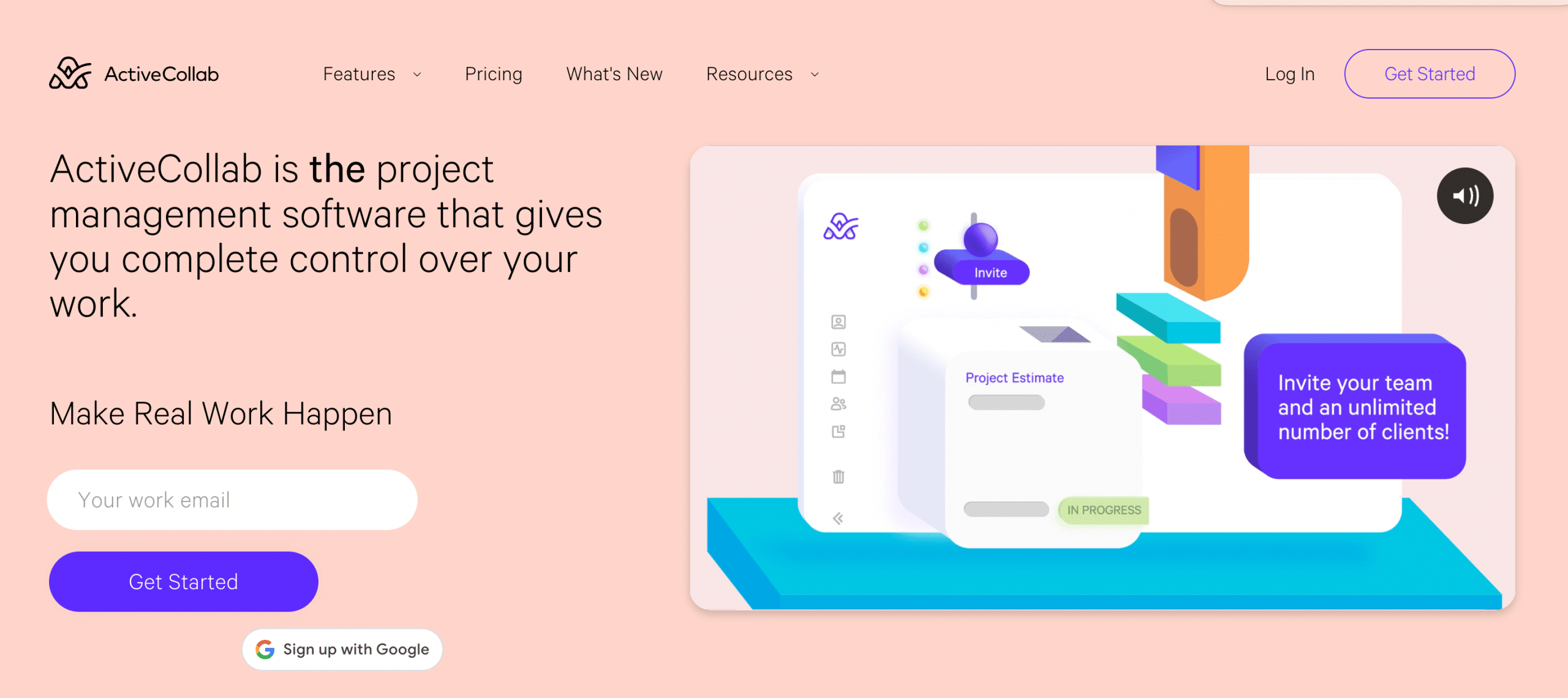 ActiveCollab is ideally suited for teams that require seamless integration with financial platforms like QuickBooks and Xero, streamlining Agile project management. Specializing in task dependencies and project templates, it's the go-to solution for repetitive, interconnected tasks, offering financial management and invoicing capabilities.
In Agile environments, ActiveCollab's features, like a built-in stopwatch, batch editing, and task duplication, enhance efficiency. Its Zapier integration allows for smooth automation, making this tool a robust choice for managing work, team collaboration, and resource management, all while keeping an eye on business profitability.
Pros:
Superior QuickBooks and Xero integration.
Efficient task and project templating.
Built-in stopwatch for accurate time tracking.
Batch editing simplifies task management.
Automated workflows via Zapier integration.
Cons:
More extensive integration is desired.
Limited customization options.
The mobile application needs enhancement.
Pricing & Plans:
Plus ($11)
Pro ($9)
Pro+Get Paid ($14)
Customer Ratings:
 G2: 4.2 out 5 (93 reviews)
 Capterra: 4.5 out 5 (399 reviews)
4. Jira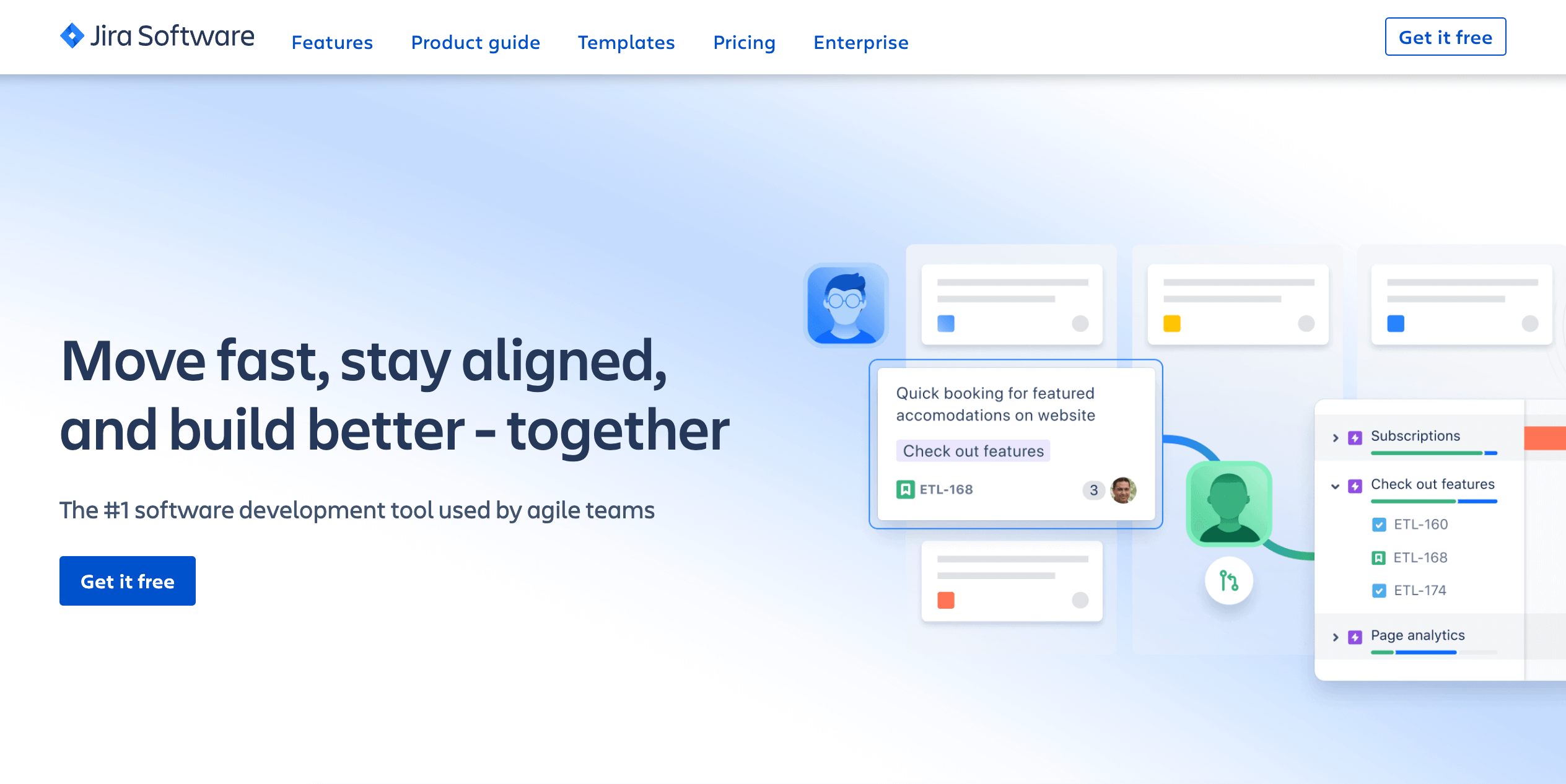 Jira excels for organizations focused on agile development, offering unparalleled customizable reporting. Its real-time insights assist Agile and Kanban teams enhance productivity and project flow. This tool is excellent for advanced data analytics in agile projects and integrates well with external BI tools like Power BI.
Empowering agile development teams, Jira's Timelines, and Agile Boards simplify project tracking and management. The software provides Reports and insights, Customizable Workflows, and Drop automation for efficient, agile methods. It also includes code and deployment features for team autonomy and structure.
Pros:
Flexible for various project types and methodologies.
Multilanguage support enhances multicultural team collaboration.
Free trial available for initial assessment.
Simplified startup with diverse templates.
Customizable roles and permissions for effective team management.
Cons:
Complexity can be challenging for newcomers.
Additional tools needed for complex financial management.
It primarily focuses on agile and less on traditional methodologies.
Extensive notifications require careful management.
Pricing & Plans:
Free Plan
Standard Plan ($8.15)
Premium Plan ($16)
Enterprise Plan
Customer Ratings:
 G2: 4.3 out 5 (5635 reviews)
 Capterra: 4.5 out 5 (13841 reviews)
Related: 11 Best Jira Alternatives
5. Trello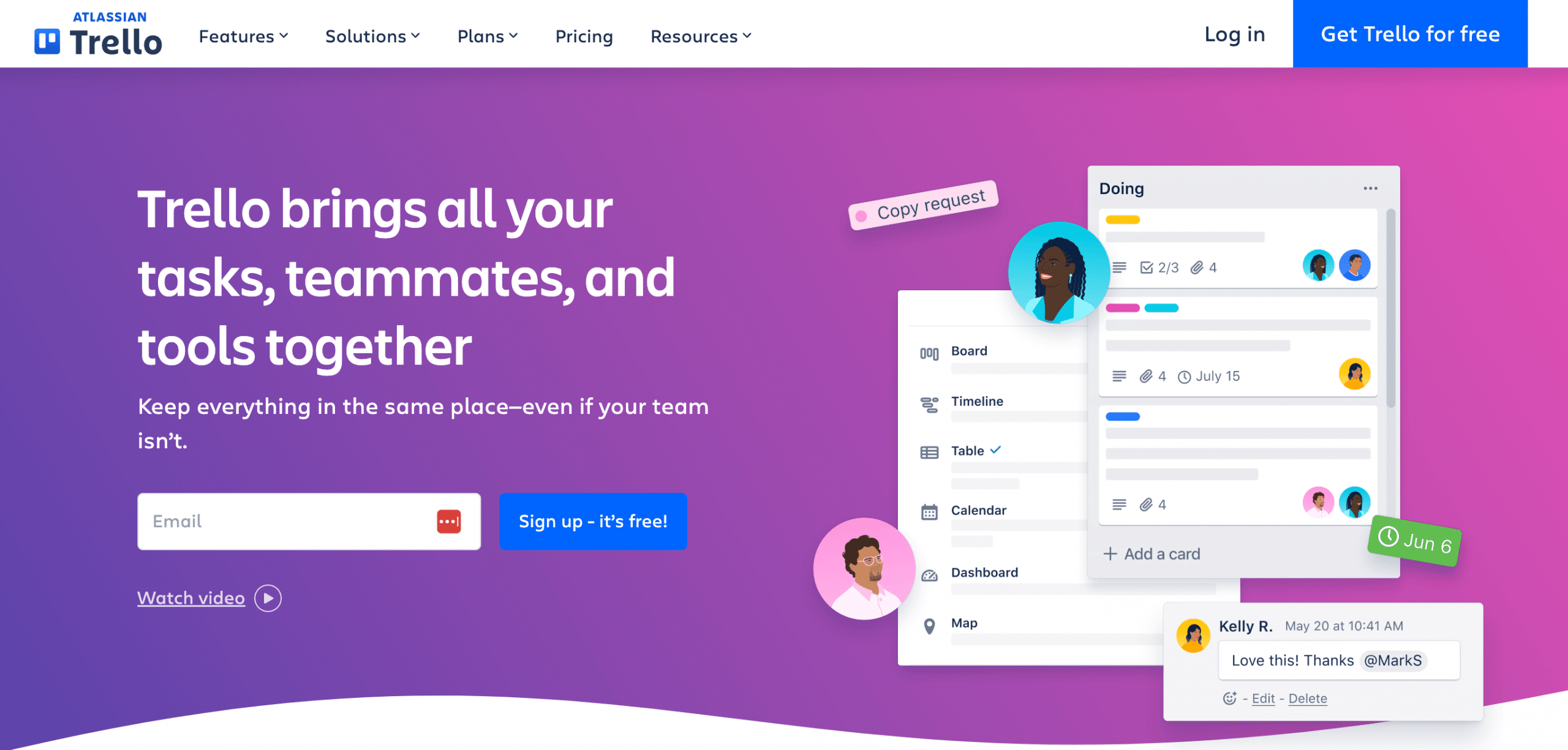 Trello, renowned for Kanban simplicity, is the go-to for teams that manage agile projects with a visual approach. It effectively reduces project completion times and supports continuous improvement and team commitment. Ideal for those who prefer visual tools, Trello boosts productivity with Power Ups for list limits and task approvals.
This tool revolutionizes planning and project management with its diverse views: Board, Timeline, Calendar, and more. In addition, templates help in quick setup, making them comprehensive tools to help teams manage and organize visual projects.
Pros:
Simplifies virtual Kanban for remote teamwork.
The quick learning curve, no training needed.
Color-coded boards for easy status checks.
Integrates with multiple tools for versatility.
Customizable for various workflow preferences.
Cons:
Requires Kanban experience for best use.
It is not ideal for large-scale project management.
Lacks a built-in time-tracking feature.
The team member addition process is tedious.
Card archiving limits visibility in lists.
Pricing & Plans:
Free Plan
Standard Plan ($5)
Premium Plan ($10)
Enterprise Plan ($17.50)
Customer Ratings:
 G2: 4.4 out 5 (13442 reviews)
 Capterra: 4.5 out 5 (23070 reviews)
Related: 10 Best Trello Alternatives
6. Monday.com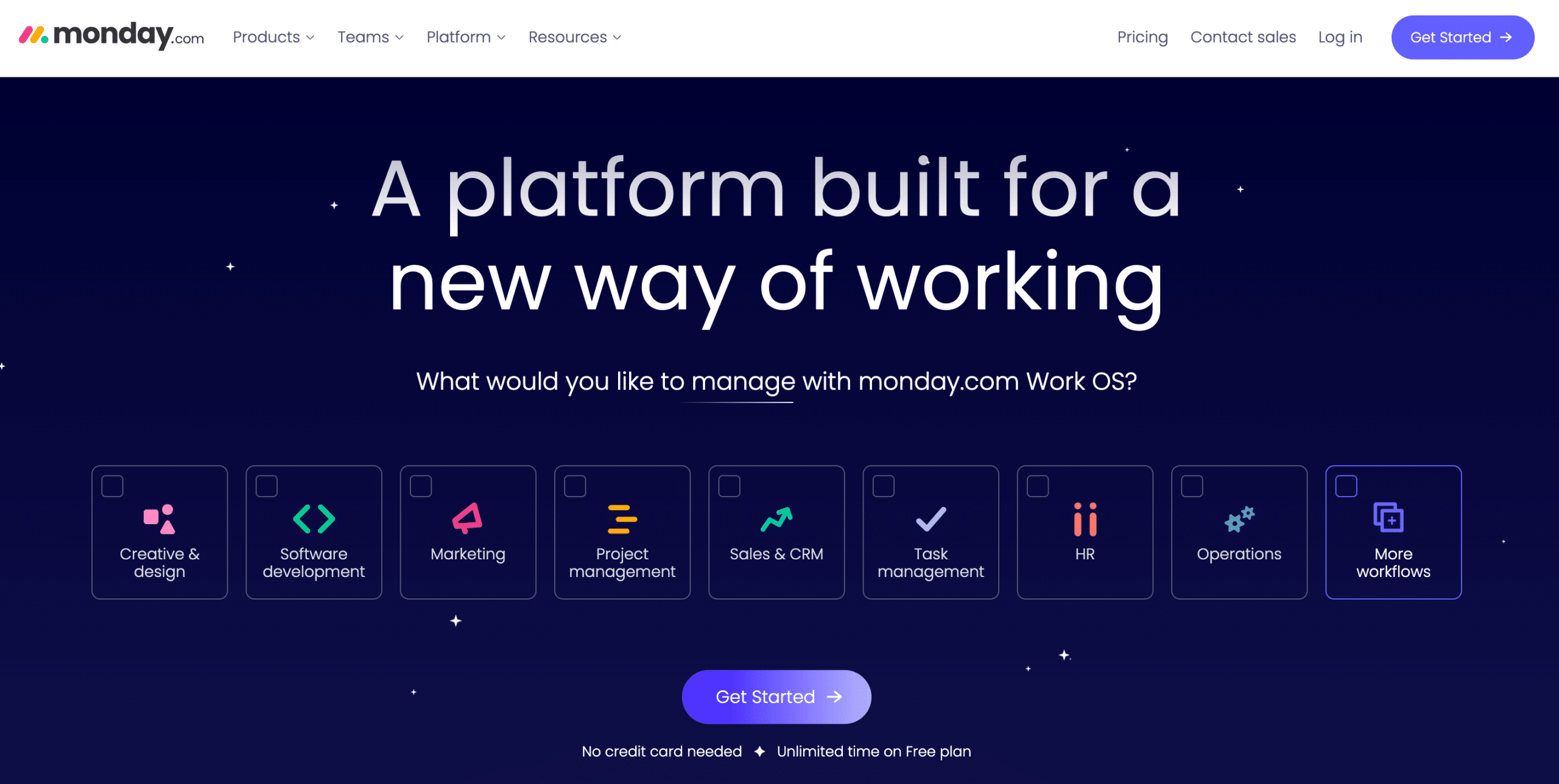 Monday.com excels in Agile project management, offering pre-built products for managing sprints, roadmaps, bugs, and tasks. Ideal for both single projects and complex portfolio management, it simplifies project requests and approvals. It is known for resource management and portfolio management features. 
Adapting to Agile workflows, the platform offers customizable templates and colorful sprint status views. Embedded reports for retrospectives enhance project visibility, making Monday.com invaluable for streamlined project management.
Pros:
Streamlines workflow integration.
Promotes user-friendly collaboration.
Effective for development project management.
Acts as a central resource hub.
Boosts productivity and efficiency.
Cons:
Limited group column content variation.
Full potential requires proficiency.
It can have a steep learning curve.
Pricing & Plans:
Free
Basic ($8)
Standard ($10)
Pro ($16)
Enterprise (Contact Sales)
Customer Ratings:
 G2: 4.7 out 5 (9861 reviews)
 Capterra: 4.6 out 5 (4492 reviews)
Related: 10 Best Monday.com Alternatives
7. Wrike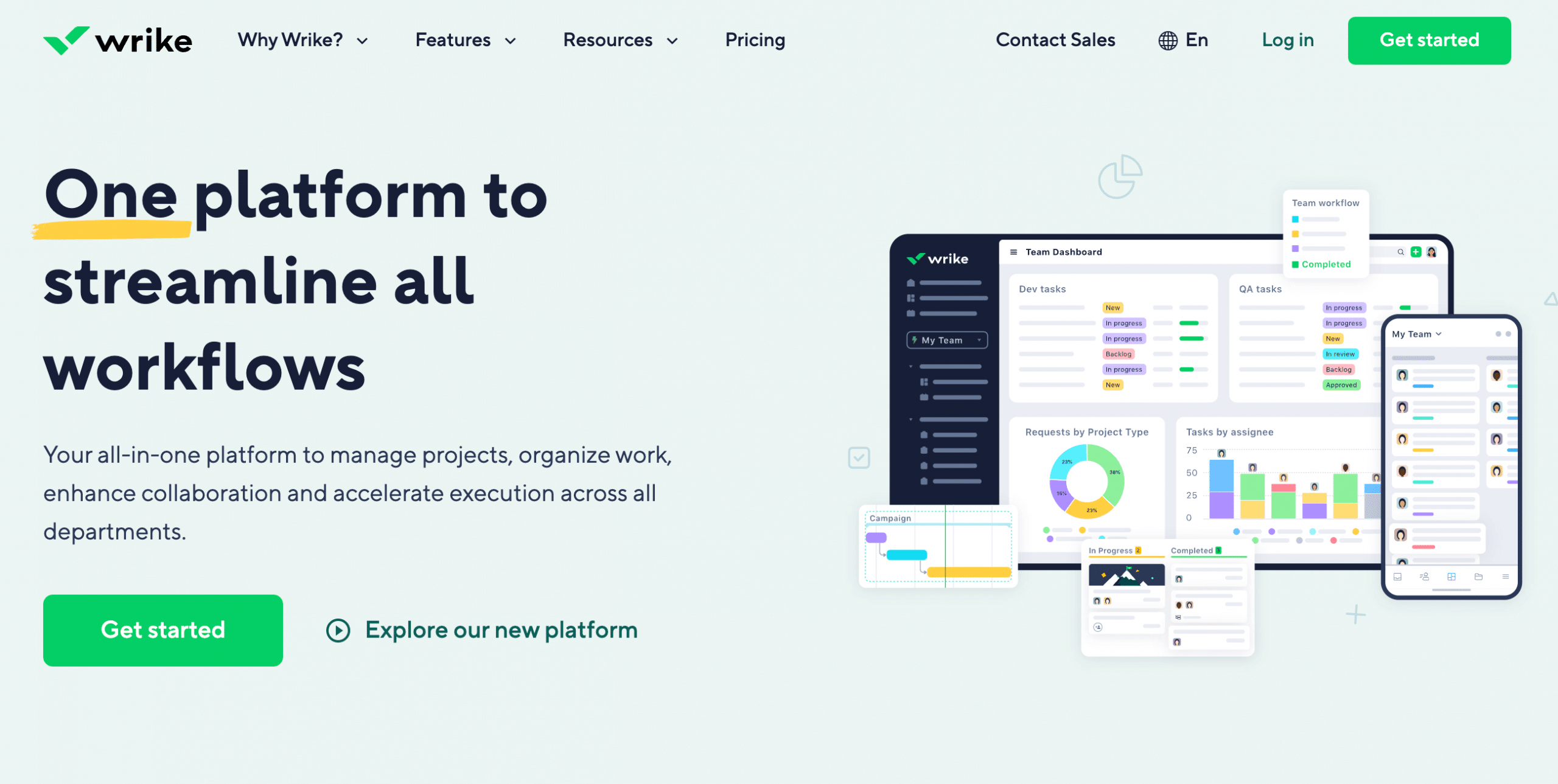 Wrike excels in Agile project management, offering features tailored for dynamic work environments. It is ideal for teams that need a cloud-based project management tool to manage and adapt to changes seamlessly, providing customizable intake forms, workload balancing, and clear task ownership for continuous Agile iteration.
Facilitating effective team management, Wrike integrates dashboards, Gantt charts, and automated status reports. Its capacity to handle your project with Kanban boards and dynamic request forms makes it a versatile tool for various project types, streamlining approvals and integrations.
Pros:
Customizable for various workflows.
Streamlined team communication.
Continuous updates and responsive support.
Centralizes work and improves visibility.
Diverse tracking for projects and resources.
Cons:
Less tailored for Agile development.
Potential complexity with many blueprints.
File viewing across locations is limited.
Pricing & Plans:
Free.
Team ($9.80).
Business ($24.80).
Enterprise (Contact Sales).
Pinnacle (Contact Sales).
Customer Ratings:
 G2: 4.2 out 5 (3500 reviews)
 Capterra: 4.3 out 5 (2555 reviews)
Related: 11 Best Wrike Alternatives
8. Kanbanize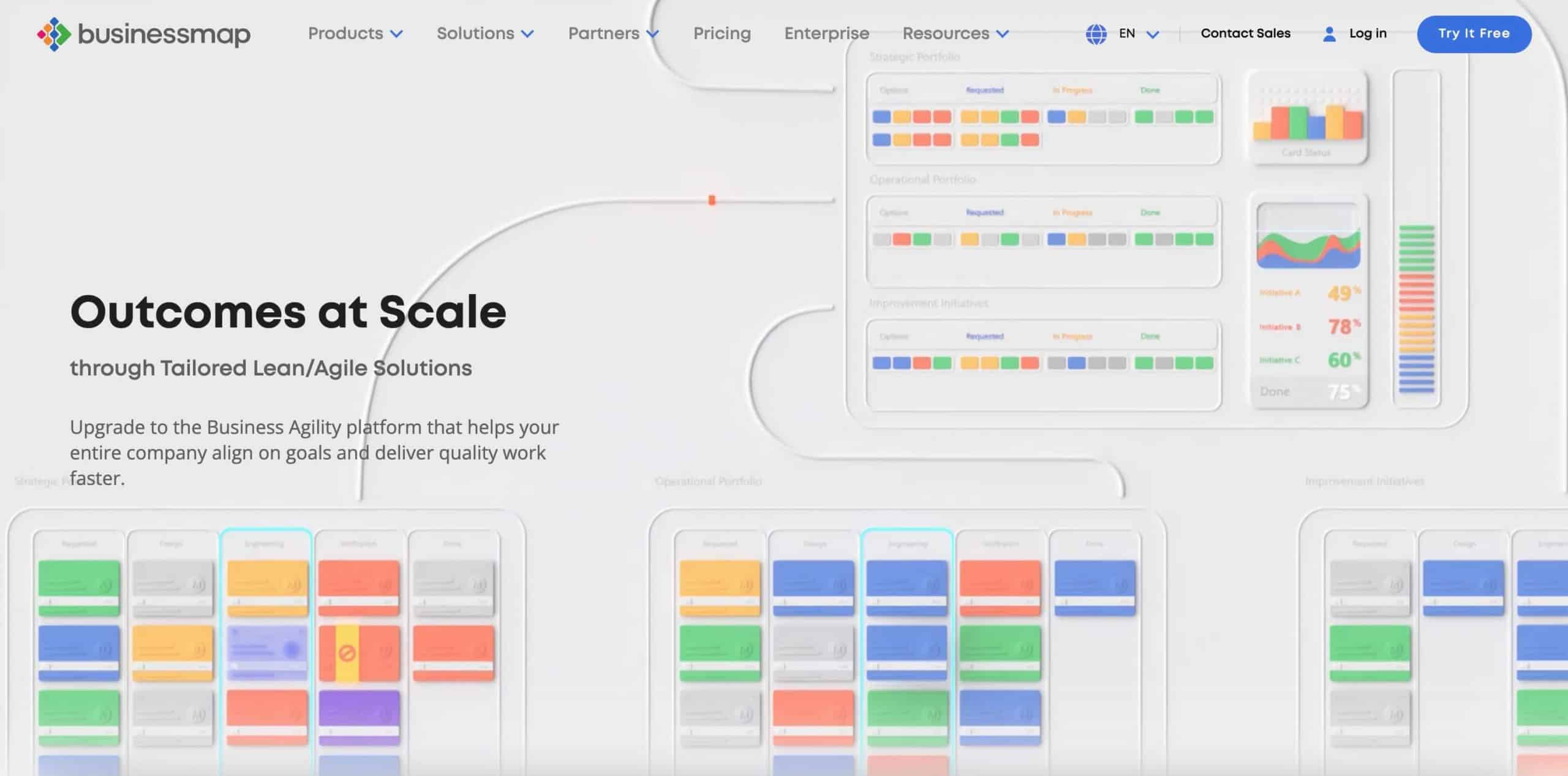 Kanbanize by Businessmap, known for extensive integrations, offers an online Kanban platform that enhances the connection between planning and execution. It is one of the best tools for streamlining workflows and improving collaboration through its flexible and integrative capabilities.
The platform facilitates top agile processes with customizable Kanban boards and multi-layered board management for various workflows. Features like project forecasting, workflow analytics tools, and 'if-this-then-that' automation rules make Kanbanize a powerhouse in process efficiency.
Pros:
Simple setup and open API.
Balances work processes effectively.
Advanced analytics and reporting.
Extensive app and service integrations.
Supports OKRs and strategy alignment.
Cons:
Updates may disrupt automation.
Limited functionality for smaller projects.
Single pricing plan, no free tier.
Engagement and task delegation are undeveloped.
Pricing & Plans:
15-Users Monthly ($179).
15-Users Annual ($1,788).
Customer Ratings:
 G2: 3.9 out 5 (23 reviews)
 Capterra: 4.8 out 5 (142 reviews)
9. ClickUp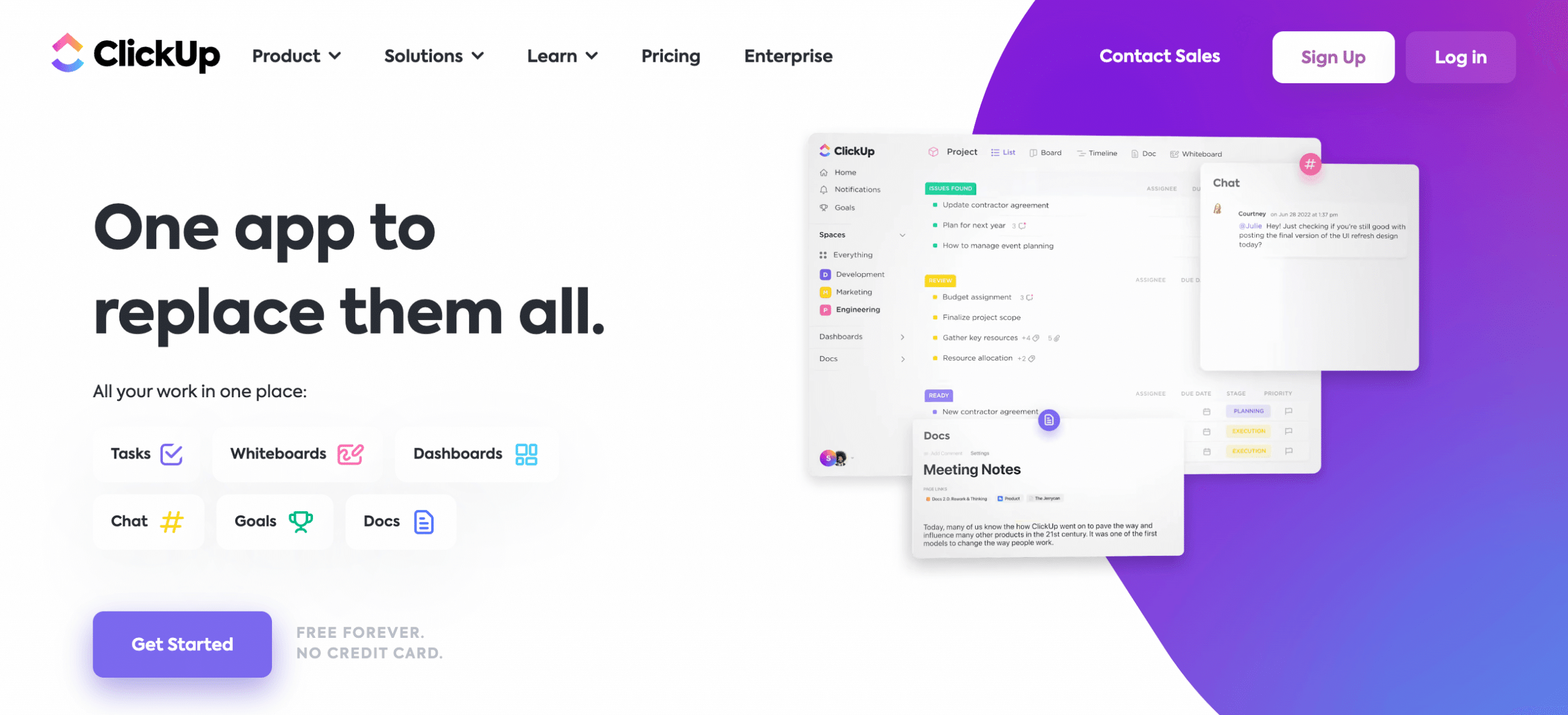 As an all-in-one project management platform, ClickUp excels in Agile project management, offering versatile views and real-time reporting. Ideal for teams using agile methodologies, it's known for customizable workflows, extensive API support, and over 1,000 integrations. 
ClickUp offers multiple views integrated with over 1,000 third-party tools, including Gantt and Timeline. Its no-code customization, automation templates, and communication tools like Email and Chat enrich the tools list. Its whiteboard, basic document sharing, goals, and milestones are invaluable for setting and tracking project goals.
Pros:
Simplifies workflow with robust integrations.
User-friendly features to enhance collaboration.
Ensures security in daily operations.
Centralizes task management effectively.
Versatile for various workflow aspects.
Cons:
Occasional glitches affect user experience.
The steep learning curve for new users.
Response times can be slow.
Pricing & Plans:
Free Plan
Unlimited Plan ($7)
Business Plan ($12)
Enterprise Plan (Contact Sales)
Customer Ratings:
 G2: 4.7 out 5 (9201 reviews)
 Capterra: 4.7 out 5 (3948 reviews)
Related: 10 Best ClickUp Alternatives
10. Axosoft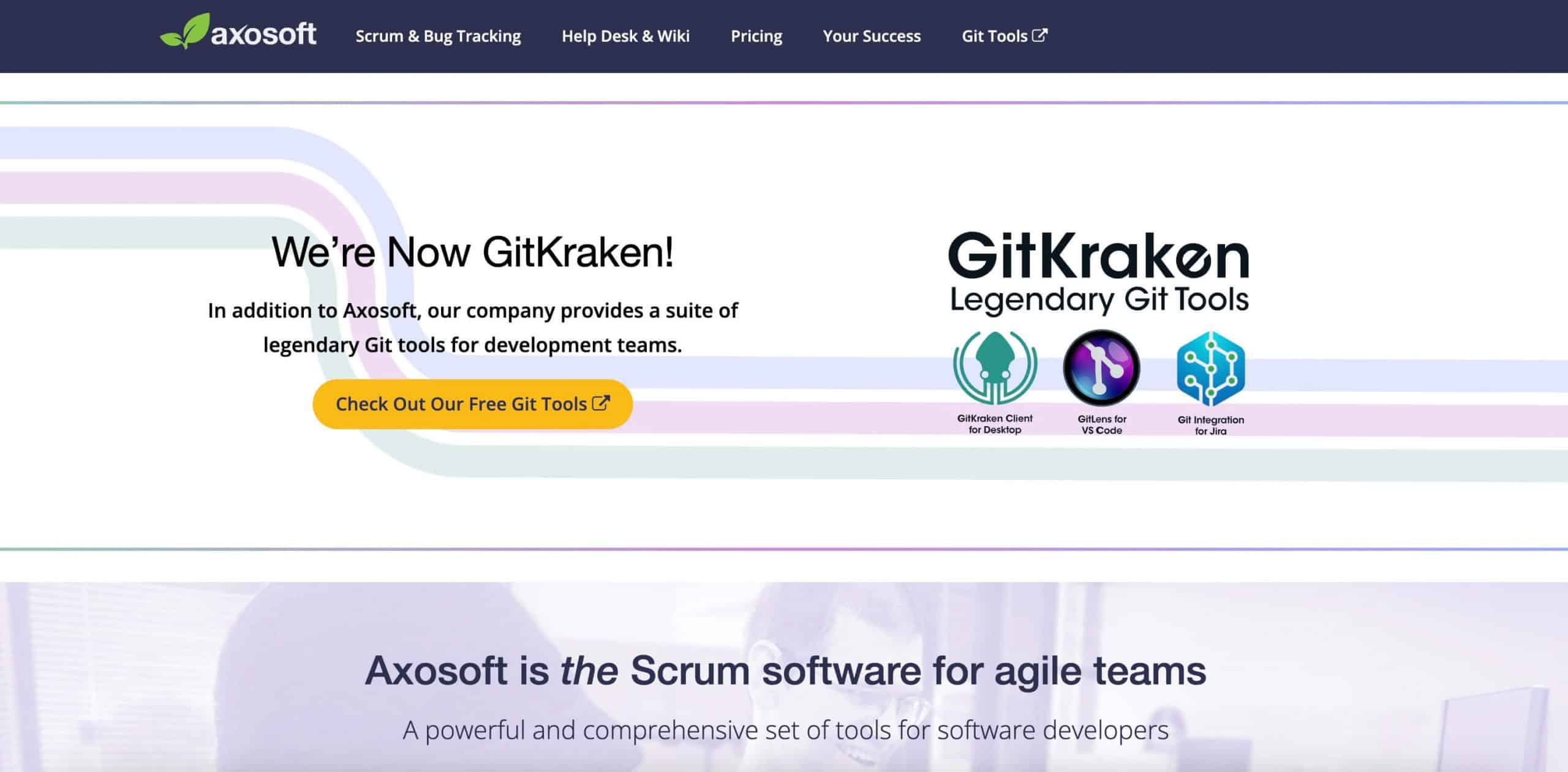 Axosoft, distinguished for Scrum and bug tracking, is designed for development teams focusing on sprint planning and progress visualization. It offers comprehensive reporting, a customizable ticket portal, and robust API integrations. Axosoft is the go-to tool for agile teams prioritizing efficiency and detailed project oversight.
This tool features Scrum and Bug Tracking, Release Planner, and Stack Ranking. Estimating and Card View support detailed project tracking, while Workflows and Daily Scrum enhance team coordination. Progress Monitoring and extensive Integration capabilities give teams a comprehensive view of project status.
Pros:
Easy setup and user-friendly.
Efficient in bug tracking and management.
Ideal for employee time log tracking.
Suitable for team and activity monitoring.
Configurable to fit organizational needs.
Cons:
Lacks graphical interactivity in the portal.
Absence of a guide for new users.
Navigation can be challenging for newcomers.
Pricing & Plans:
Hosted – 5 Users Plan ($126).
Installed – 5 Users Plan ($1,250).
Customer Ratings:
 G2: 3.9 out 5 (40 reviews)
 Capterra: 4.1 out 5 (40 reviews)
Tips for Implementing Agile Tools for Project Management
Here are essential tips to help you leverage these agile tools for maximum efficiency and success:
Align with Agile principles: Focus on collaboration, customer-centricity, and responsiveness to change. Ensure that your tool of choice implements these principles in your project management process.
Select the right tool: Choose a tool specifically designed to support agile methodologies like Scrum, Kanban, or Lean, with support for sprint planning, backlog management, and visual task boards.
Training and Agile mindset: Provide comprehensive training that covers all aspects of tool usage while promoting an agile mindset among team members
Customization for Agile workflows: Customize the tool to match your team's agile workflows. Tailor fields, statuses, and workflows to reflect your specific agile practices. 
Regular Agile inspections: Use retrospectives to track and analyze team performance, gather feedback, and make iterative improvements to your overall processes. 
User support and training: Good customer support, along with resources for training and best practices, can significantly enhance the tool's effectiveness.
Conclusion
We've rounded up the best Agile tools that the tech market can offer right now. Remember, the best project management tools for Agile teams should focus on Agile core practices. Check this blog to learn more about Agile work environment and keys to successful implementation. 
If you're ready to catalyze productive change in your organization, opt in for best Agile project management software that fits with your team, workflow culture, and budget. Not ready to jump ships yet? You can try free offerings like the Ahsuite Starter Plan with no strings attached.