Managing your business efficiently is key to success, and Flowlu has been a go-to solution for many with its comprehensive features like customer relationship management, invoicing, collaboration, and workflow organization. However, its pricing may not align with the budgets of smaller businesses or those with extensive team needs.
If you're in search of Flowlu alternatives that strike the right balance between functionality and affordability, we've got you covered. Explore these alternatives as you navigate the landscape of business management solutions in 2024.
What is Flowlu?
Flowlu brings a lot to the table for project management. Its neat blend of CRM, task management, and workflow automation makes it a hit for keeping projects on track. Its standout features? A solid knowledge base and real-time online collaboration tools that make team coordination a breeze.
This project management tool makes it easy to tackle any project by automating repetitive tasks, syncing email and calendar, and making account management easy. With this all-in-one business management solution, you can quickly generate invoices, manage new accounts, and analyze leads through its CRM system.
While Flowlu shines in its designated project management arena, it hits a few snags regarding versatility. Its CRM and financial management functionalities are great, yet they might not be the perfect fit for everyone's needs. This is where exploring alternatives becomes worth your while.
Pros:
Excellent customer service and transparent roadmap.
Integrated CRM for better customer handling.
Fully integrateable built-in apps for automation.
Actively expands API to connect with other SaaS.
Accurate time tracking capabilities.
Cons:
Onboarding can be tricky.
CRM features may feel limited.
There is some rigidity in feature adaptation.
Tutorials need better clarity.
Plans & Pricing:
Free
Team ($29)
Business ($59)
Professional ($119)
Enterprise ($199)
10 Best Flowlu Alternatives in 2024
Discover the best Flowlu alternatives in 2024, showcasing a range of comprehensive project management and business productivity tools for enhanced efficiency and collaboration.
Ahsuite – Best for client management
ClickUp – Best for customization
Monday.com – Best for intuitive design and UX
Wrike – Best for scalability and large teams
Agiled – Best for all-in-one Business operations
Asana – Best for task hierarchy and management
Trello – Best for simplicity and quick setup
Airtable – Best for integrating spreadsheets with databases
Todoist – Best for personal task management
Nifty – Best for goal-oriented project milestones
1. Ahsuite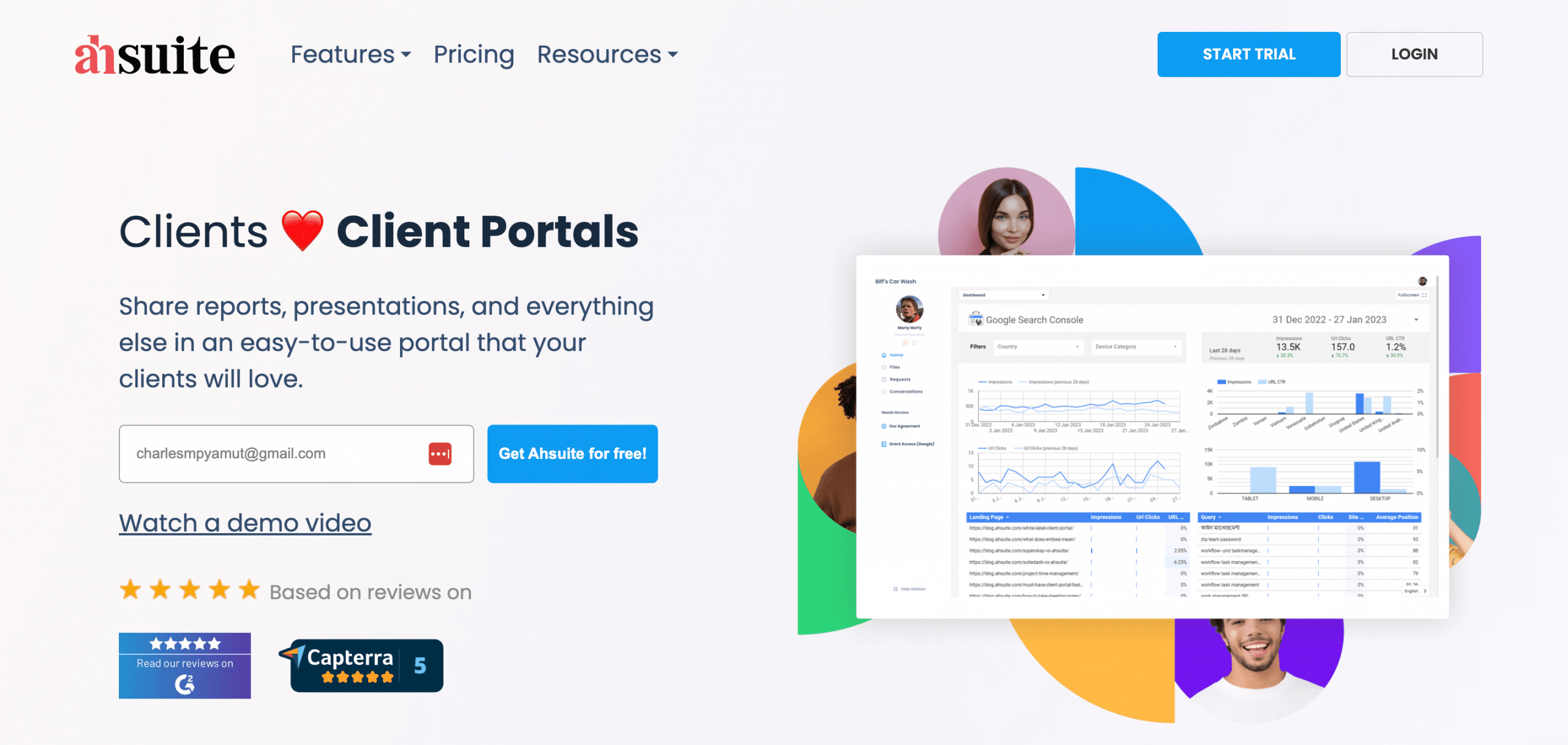 Ahsuite is a cloud-based, minimalist, and easy-to-use client portal that facilitates client work while allowing professionals to collaborate and showcase their work. It provides clients and teams with a unified platform to share and receive information, track and manage tasks, and communicate securely.
Users can embed diverse content like reports, videos, and Jotform files in a secure, minimalist portal, making client interactions smooth and professional. Ahsuite supports an extensive labeling system that tracks dependencies and documents changes within the task cards.
Pros:
The ease of navigation makes using the platform simple.
Customization options meet various business requirements.
Streamlined client communication improves relationships.
Advanced task management ensures efficient project completion.
Simplified client management processes increase productivity.
Cons:
Limited external resource linking restricts integration options.
A lack of advanced database features may hinder complex data management.
Plans & Pricing:
Free Plan
Professional: $24
Agency: $57
2. ClickUp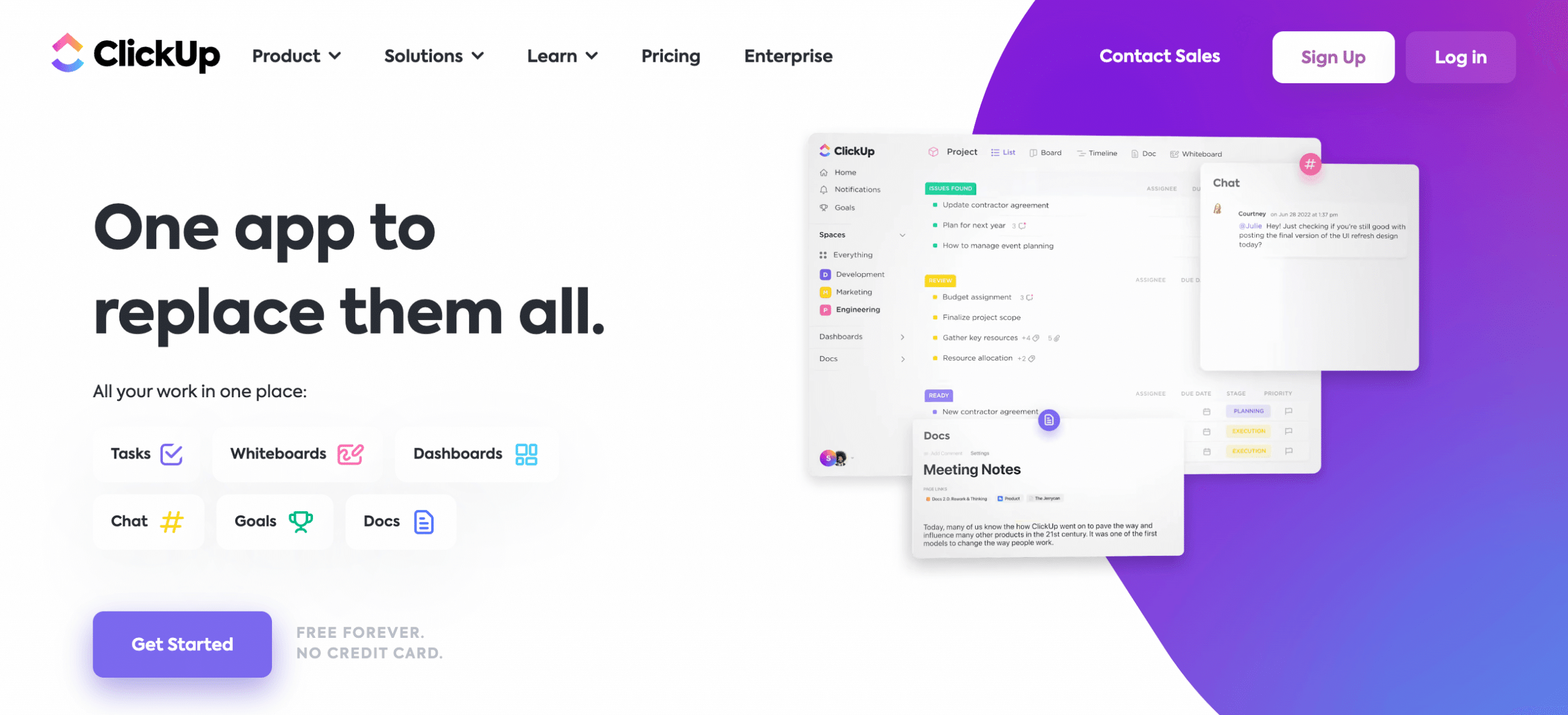 ClickUp revolutionizes project management with its all-in-one productivity tools. This platform is a game-changer, offering everything from goal-setting to whiteboard collaboration. Its standout feature? The ability to tailor every aspect to fit your team's unique workflow makes it a lifesaver for time management.
With features like deadline tracking and template customization, ClickUp is regarded as a strong Flowlu contender. It's not just about managing tasks; it's about redefining how teams collaborate and achieve goals, offering a seamless, cloud-based experience that keeps projects on track.
Pros:
Customizable options lead to better workflow fit.
Automation features save significant time.
Template variety enhances project planning.
Deadline tracking keeps teams on schedule.
Centralized collaboration improves team efficiency.
Cons:
Change management communication can be unclear.
Unpredictable update schedules disrupt planning.
Insufficient notice for significant rollouts.
Admins need more control over updates.
Communication around updates needs enhancement.
Plans & Pricing:
Free
Unlimited: $7
Business: $12
Enterprise: Contact Sales
Related: 10 Best ClickUp Alternatives
3. Monday.com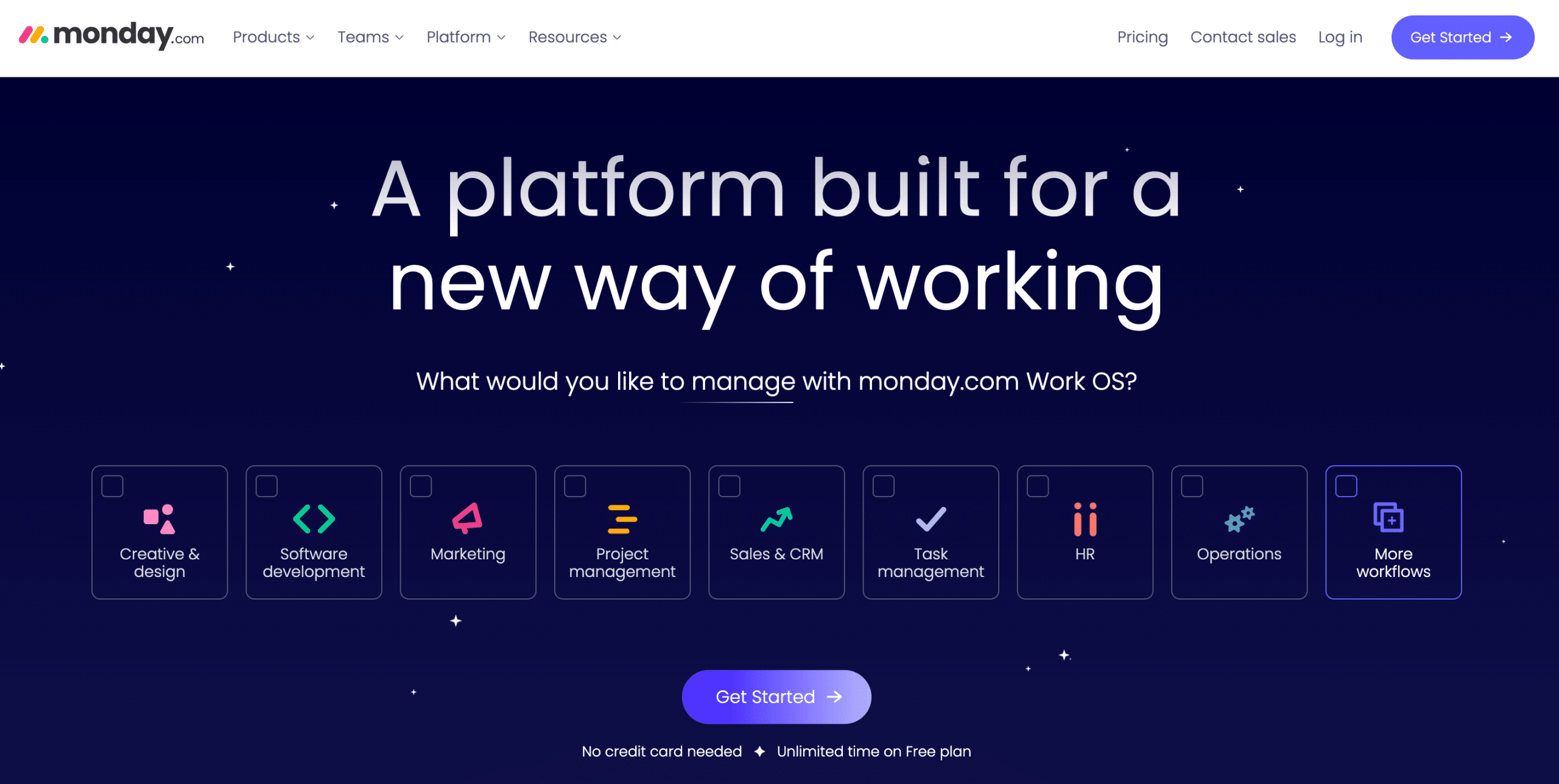 Monday.com revolutionizes team collaboration and productivity with its versatile remote collaboration software. It's not just about managing tasks; it's about creating a visual workspace where ideas flourish. With user-friendly templates and live updates, it's a favorite for streamlining work processes and enhancing team coordination.
Like Flowlu, Monday.com offers a user-friendly interface for effective project management. Its features, like Gantt charts and task management tools, make it an ideal choice for those seeking a balance between functionality and user experience.
Pros:
Reduces meeting times, increasing focus.
Automates tasks for efficiency.
Provides consolidated work data.
Email integration for instant updates.
The mobile app supports on-the-go management.
Cons:
It may be overwhelming for new users.
Advanced features require a learning curve.
Pricing can be steep for small teams.
Customization may need some tech know-how.
Limited offline functionality.
Plans & Pricing:
Free
Team: $9.80
Business: $24.80
Enterprise: Contact Sales
Pinnacle: Contact Sales
Related: 10 Best Monday.com Alternatives
4. Wrike
Wrike transforms work management with its powerhouse platform. It's all about bringing teams into one space to tackle everything from product development to marketing. This platform simplifies complex tasks, making it a go-to for organizations that need to scale and move quickly in a competitive landscape.
With its scalability and powerful team collaboration features, combined with robust resource management and collaboration tools, Wrike is an ideal solution for businesses looking to improve their growth and efficiency.
Pros:
The straightforward interface boosts user efficiency.
Strong customer service enhances user experience.
Adapts to various team workflows easily.
Suitable for multiple team disciplines.
Cons:
Occasional account charges need clarity.
Some find customer support needing improvement.
Sudden account deactivations disrupt workflow.
Storage limits for large files.
Plans & Pricing:
Free
Team: $9.80
Business: $24.80
Enterprise: Contact Sales
Pinnacle: Contact Sales
Related: 11 Best Wrike Alternatives
5. Agiled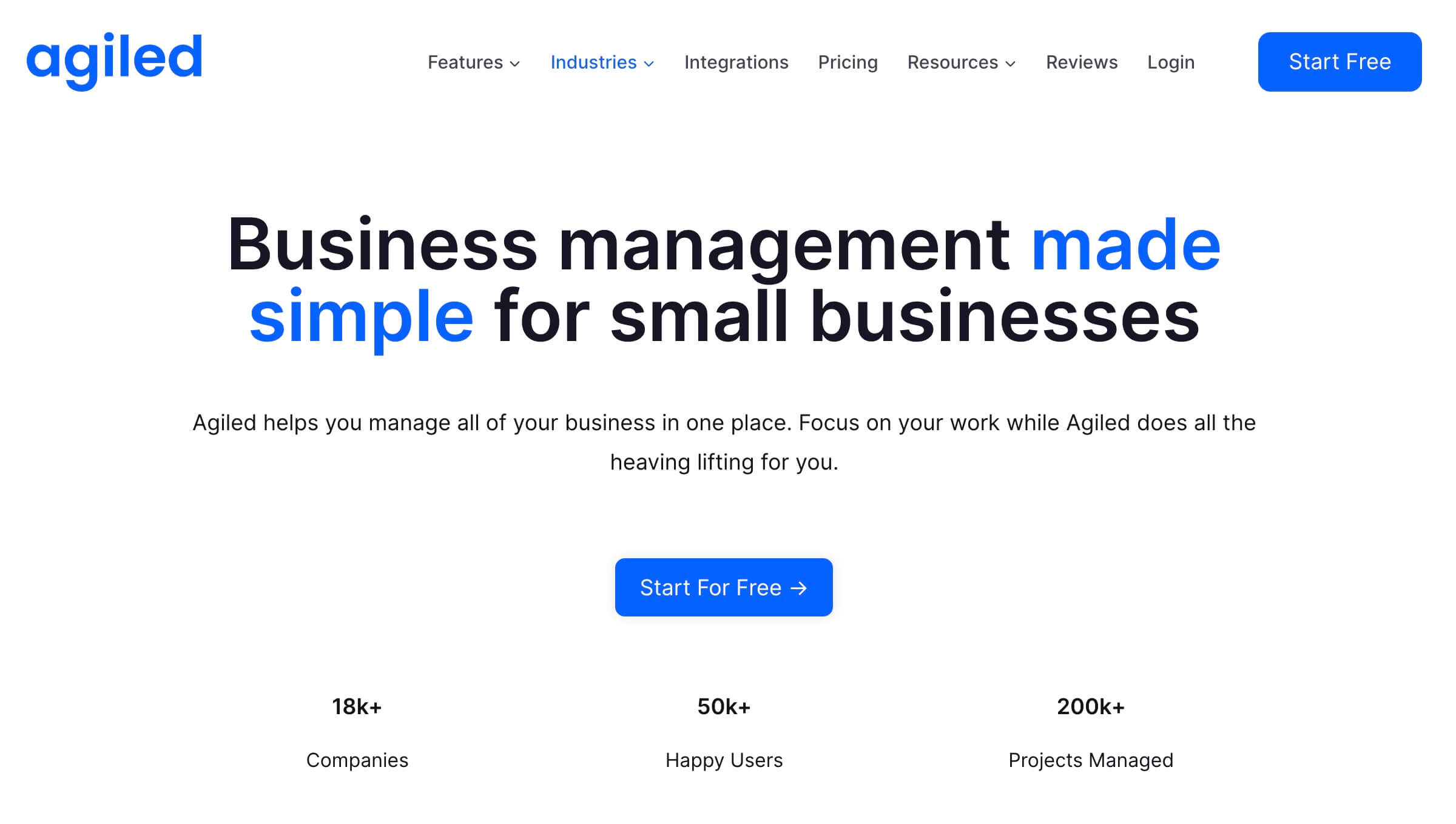 Agiled is an all-in-one business operations platform that blends CRM, HRM, financial management, and project management in a neatly bundled package. It streamlines tasks, contracts, and finances, making it a top choice for fast-growing businesses. Its invoicing and proposal management features add to its versatility.
With its comprehensive suite of tools, Agiled makes it easy to manage businesses. This tool streamlines business operations with integration capabilities and a user-friendly interface for budgeting, task management, and more. Premium options have tools that help in invoicing, estimates, and subscriptions.
Pros:
CRM integration simplifies client management.
Efficient financial tools aid billable tracking.
Comprehensive task tools enhance project oversight.
Start-up management aids new business setups.
Intuitive use benefits new entrepreneurs.
Cons:
The absence of group booking complicates scheduling.
Lack of mind mapping limits project visualization.
Gantt chart needs more flexibility and features.
No archive system leads to design clutter.
Time-tracking reports require better analytics.
Pricing & Plans:
Free
Pro ($9.99)
Premium ($14.99)
6. Asana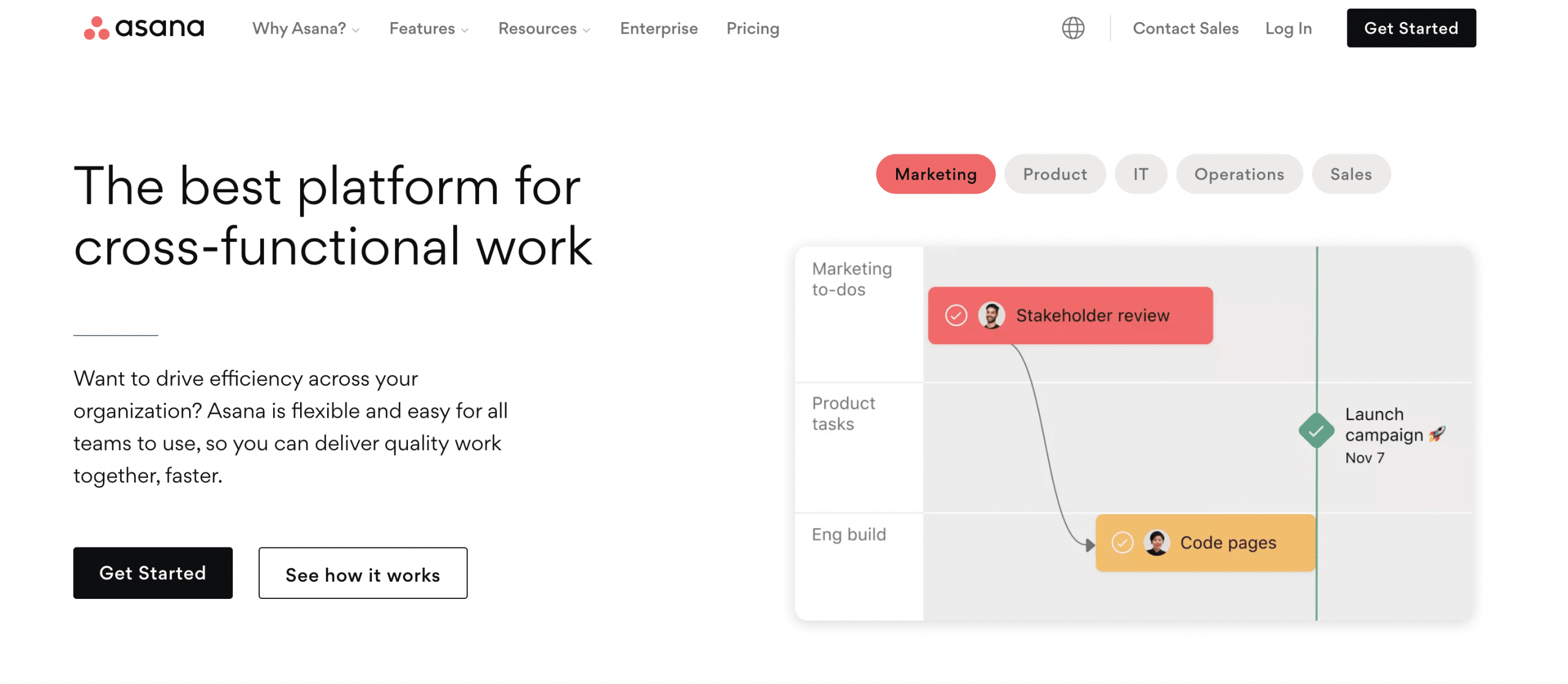 Asana elevates task management to new heights, enabling teams to orchestrate their work from daily tasks to strategic initiatives. With its focus on task hierarchy, Asana stands out for its ability to connect goals with tasks. Its live reporting and pipeline management make it indispensable for dynamic work environments.
Asana's approach to managing work, emphasizing task hierarchy and management, aligns well with the needs of Flowlu users. Its key features include robust automation, versatile work views like lists and Kanban boards, and integration with other tools, offering a comprehensive project tracking and collaboration solution.
Pros:
Collaboration on tasks ensures progress tracking.
Interface clarity boosts efficiency and cost-saving.
Continuous updates enhance user experience.
Integrates multiple PM methodologies.
Cons:
Critical notifications can get overlooked.
Email notifications are overly abundant.
Project visibility settings can be confusing.
Recurrent task functions need more flexibility.
Pricing & Plans:
Free
Premium ($10.99)
Business ($24.99)
Related: 11 Best Asana Alternatives
7. Trello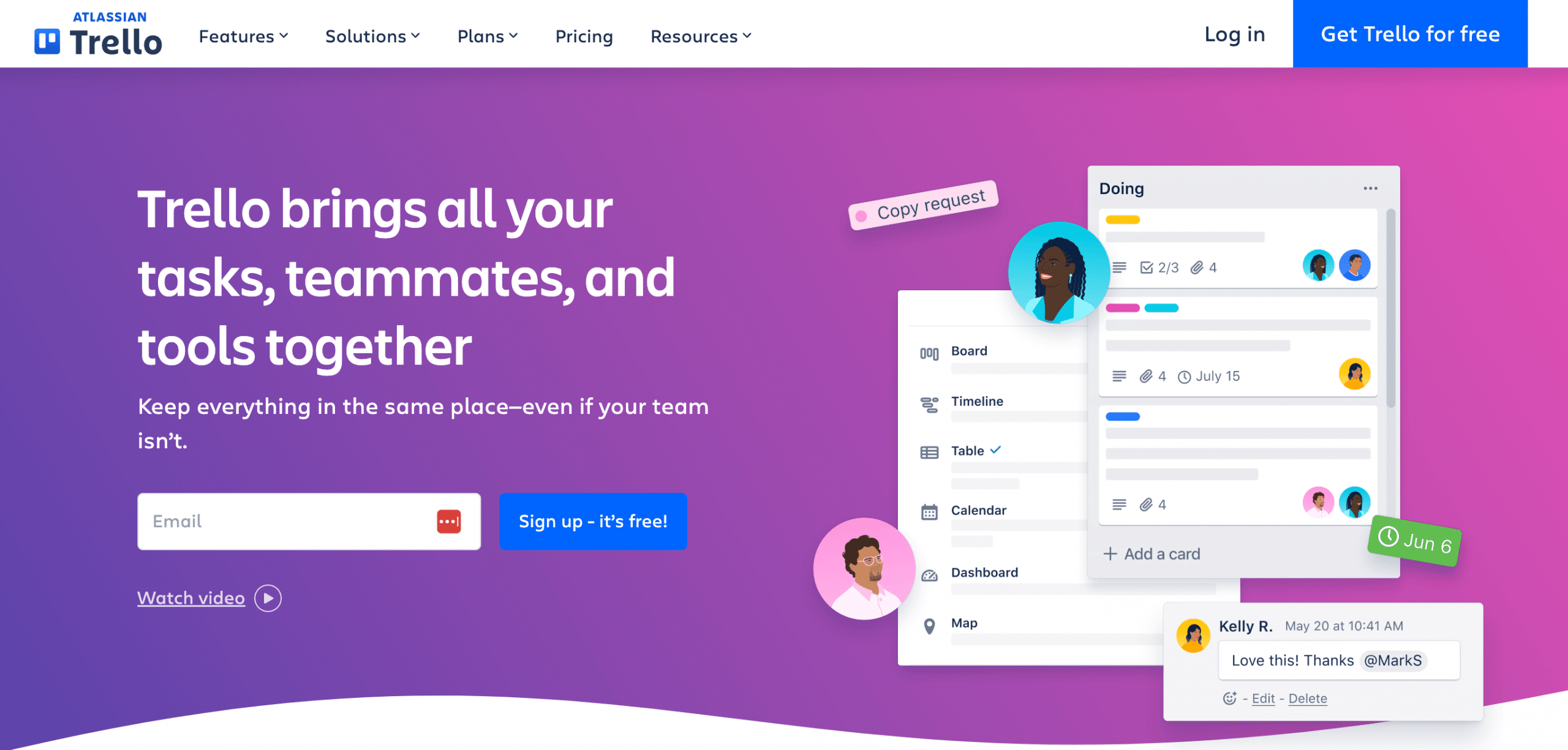 Trello, known for its simplicity and quick setup, excels in streamlining work organization. Its web-based, kanban-style approach transforms project tracking into an intuitive visual experience. This platform is top-rated for its easy-to-use interface and versatile list-making capabilities, making it a favorite for project managers and business owners.
Matching Flowlu in terms of usability, Trello brings the added advantage of a visual workspace for innovation. With its kanban boards and user-friendly design, Trello is an excellent choice for teams looking for a straightforward, efficient tool to manage their projects and foster collaborative work environments.
Pros:
The Kanban system makes it easy for users to use.
Virtual whiteboard replaces paper clutter.
The intuitive interface aids in quick adoption.
Updated for scalability in large projects.
Butler tool automates repetitive tasks.
Cons:
No dedicated Linux client is available.
Deleting cards can take time and effort.
Lack of side-scrolling with the mouse.
Task administration can be inefficient.
Heavy reliance on power-ups.
Pricing & Plans:
Free
Standard ($5)
Premium ($10)
Enterprise ($17.50)
Related: 10 Best Trello Alternatives
8. Airtable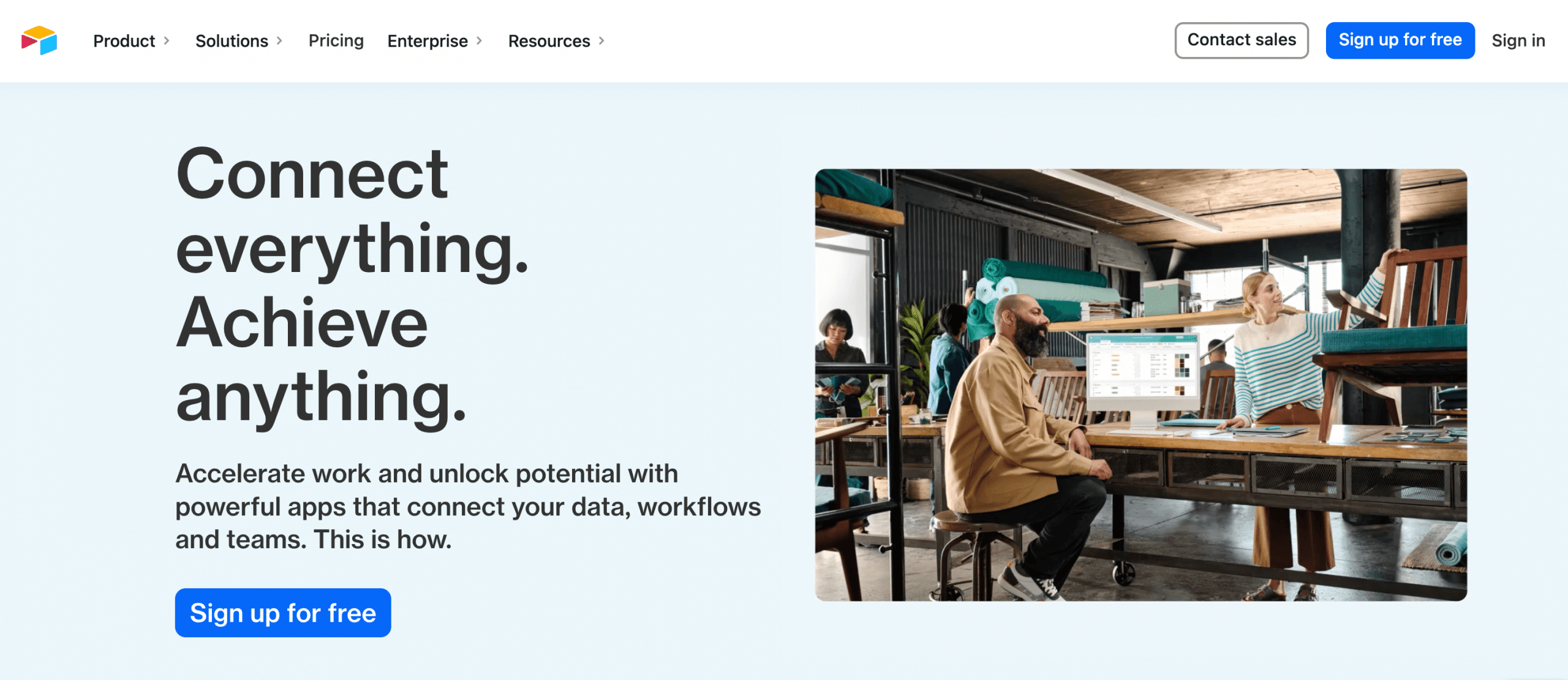 Airtable combines spreadsheet flexibility with robust database features. It's a go-to for small businesses and teams within larger organizations who need to manage projects seamlessly. The platform's blend of card stacks, calendars, and reporting helps teams move project progress.
With its dual spreadsheet management and database integration strengths, Airtable emerges as a versatile Flowlu alternative. It caters primarily to those in software development and other fields requiring detailed project tracking and a collaborative environment, offering an intuitive interface that bridges the gap between simple spreadsheets and complex databases.
Pros:
Pre-made templates make it easier to manage projects.
Simplifies team content collaboration.
Affordable with excellent customer service.
Enhances collaboration with non-Google users.
Cons:
Limited text input in single cells.
The setup process can be challenging.
UI complexity and lack of clear documentation.
iOS app functionality is limited.
Pricing & Plans:
Free
Team ($20)
Business ($45)
Enterprise (Contact Sales)
Related: 11 Best Airtable Alternatives
9. Todoist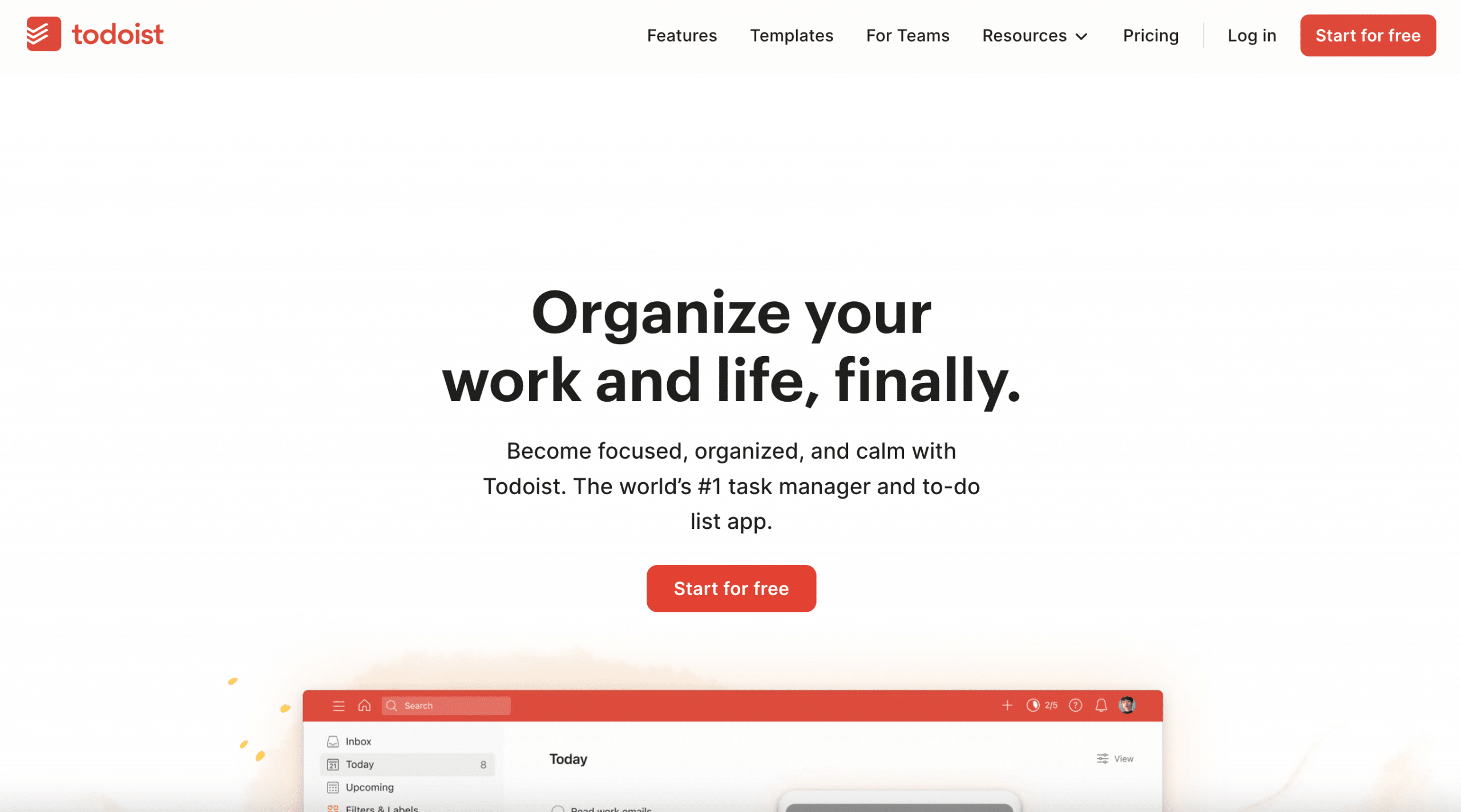 Todoist excels in personal task management with its top-rated to-do list and task manager features. It's celebrated for bringing clarity and calmness to users by efficiently organizing tasks. Its simple, powerful interface, accessible across devices, and natural language input make it a preferred choice for personal and team productivity.
Aligning well with Flowlu's project management capabilities, Todoist offers a more personalized work management solution. Its seamless task access across devices, smart date recognition, and practical collaboration tools provide an excellent framework for individuals and teams who need a straightforward yet powerful task-organizing tool.
Pros:
User-friendly across multiple devices.
Natural language input simplifies task creation.
Intelligent date recognition for easy scheduling.
Effective prioritization and project organization features.
Smoother team collaboration on shared projects.
Cons:
Limited offline functionality hinders access.
Third-party app integration could improve.
Subtask handling needs more dynamic features.
The calendar view could be more robust.
Lacks direct task attachment options.
Pricing & Plans:
Beginner (Free)
Pro ($5)
Business ($8)
10. Nifty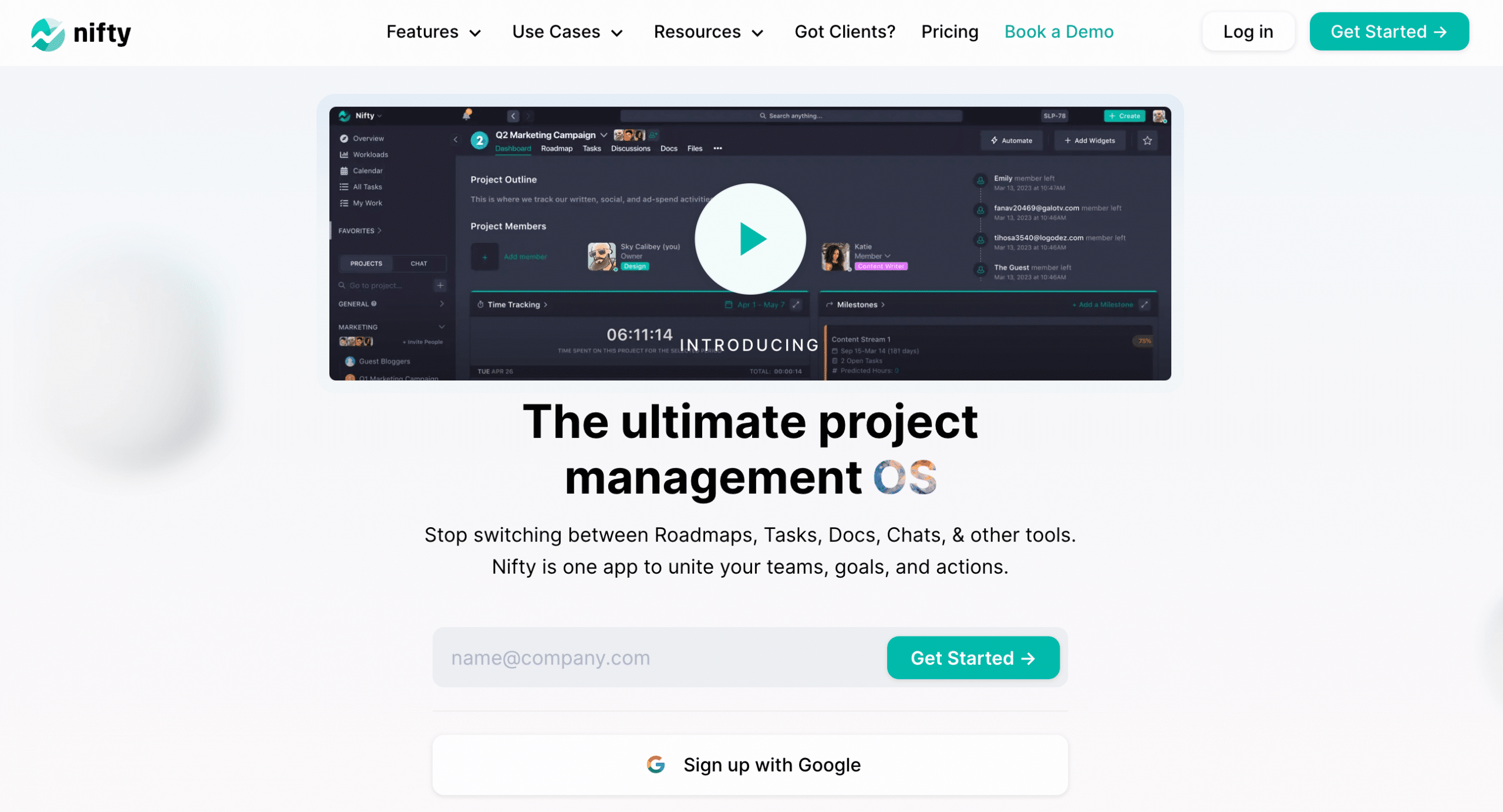 Nifty aligns teams, tasks, goals, documents, and communication in a single workspace. It reduces project development cycles and boosts team productivity, offering milestone-driven progress automation. This online project management tool helps keep organizational goals on schedule, making it a favorite among project managers.
Offering features through List and Timeline views and facilitating cross-departmental collaboration, Nifty stands as a solid substitute for Flowlu. Its focus on goal-oriented project milestones and built-in calendar with integration capabilities make it an ideal tool for teams aiming to track and organize projects efficiently.
Pros:
Efficient task and project organization.
Broad feature set and excellent design.
Superior milestones configuration and support.
Consolidates needs in one platform.
User experience continually improves.
Cons:
File updates require a page refresh.
Delay in CNAME implementation.
Non-removable system notifications in discussions.
iPad app lacks functionality.
iPhone app's limitations on iPad.
Pricing & Plans:
Free
Starter ($39)
Pro ($79)
Business ($124)
Unlimited ($399)
Tips for Transitioning to Flowlu Alternatives
When transitioning team members to alternatives to Flowlu, it's essential to consider user reviews to ensure the new tool aligns with your team's needs.
Know your substitute: Explore competitors and alternatives to Flowlu. Dive into real user reviews to understand how different solutions meet various needs.
Feature set: Seek an alternative that is a one-stop project management solution with powerful features. The new tool should enhance efficiency without compromising the quality of the PM capabilities you're accustomed to with Flowlu.
Client and team compatibility: Consider how the alternative helps teams collaborate and communicate. The ideal choice should resonate with your team's dynamics and client interaction style, ensuring a hassle-free transition.
Workflow integration: Assess how the new tool integrates with your existing tasks and projects. Effective integration is crucial during transitions to maintain continuity and minimize disruptions.
Price & ROI: Evaluate the cost-effectiveness of alternatives. The goal is to find a solution that offers the necessary business tools without overextending your budget, ensuring a balance between functionality and affordability.
Conclusion
Does something from the list of top Flowlu alternatives? We hope these suggestions will empower you to get the right tools to complete your projects on time. If you want to drive project collaboration and customer relationship management, you should take the Ahsuite Starter plan for a spin, all for free. You can use task organization and coordination tools while improving real-time client collaboration with a client portal.