Choosing the best project management tool is crucial for streamlining workflows and adhering to best practices. However, with many PM tool options available, making a well-rounded purchasing decision can be challenging due to time and resource constraints.
After all, your time testing various project management apps can be spent managing client interactions and business operations. So we've done the tedious part: check the list of the best project management tools below and pick your best team weapon.
What is a Project Management Tool?
A project management tool is a task, resource, and team management system that facilitates real-time, efficient collaboration. It allows project managers to track progress efficiently, manage requirements, and deliver on stakeholder communication duties.
Most project management tools include portfolio management capabilities that keep stakeholders informed, which is crucial for a successful project. Such tools are integral for aligning team efforts, managing resources, and achieving project goals.
Essential Project Management Tool Features to Look For
A good project management tool makes it easy to facilitate every project manager's tasks. Although key features might vary from product to product due to design/user philosophy, most tools offer these core capabilities below in one form or another:
Workflow customization: This is a must-have if you have complex processes or client needs that default apps or most market offerings cannot support.
Integration: Make sure that your software can connect with a third-party app to enable data sharing and reduce the need for redundant tasks across platforms.
Collaboration tool: Real-time chats and messages are indispensable, especially if you need everyone to share updates, files, and feedback as needed.
Task management: Organized tasks can clarify prioritization and resource management strategies, which is a game changer if you simultaneously handle multiple projects.
Agile project management: Modern project management tools should incorporate Agile functions like Gantt Chart and Kanban Boards for navigating changes.
Resource management: This feature is an umbrella term for planning, time tracking, timeline management, and progress monitoring for allocation optimization.
10 Best Project Management Tools in 2024
Different project management tools are designed for different users and use cases. Find the right one for your company by checking out the 10 best project management tools in 2024. 
1. Ahsuite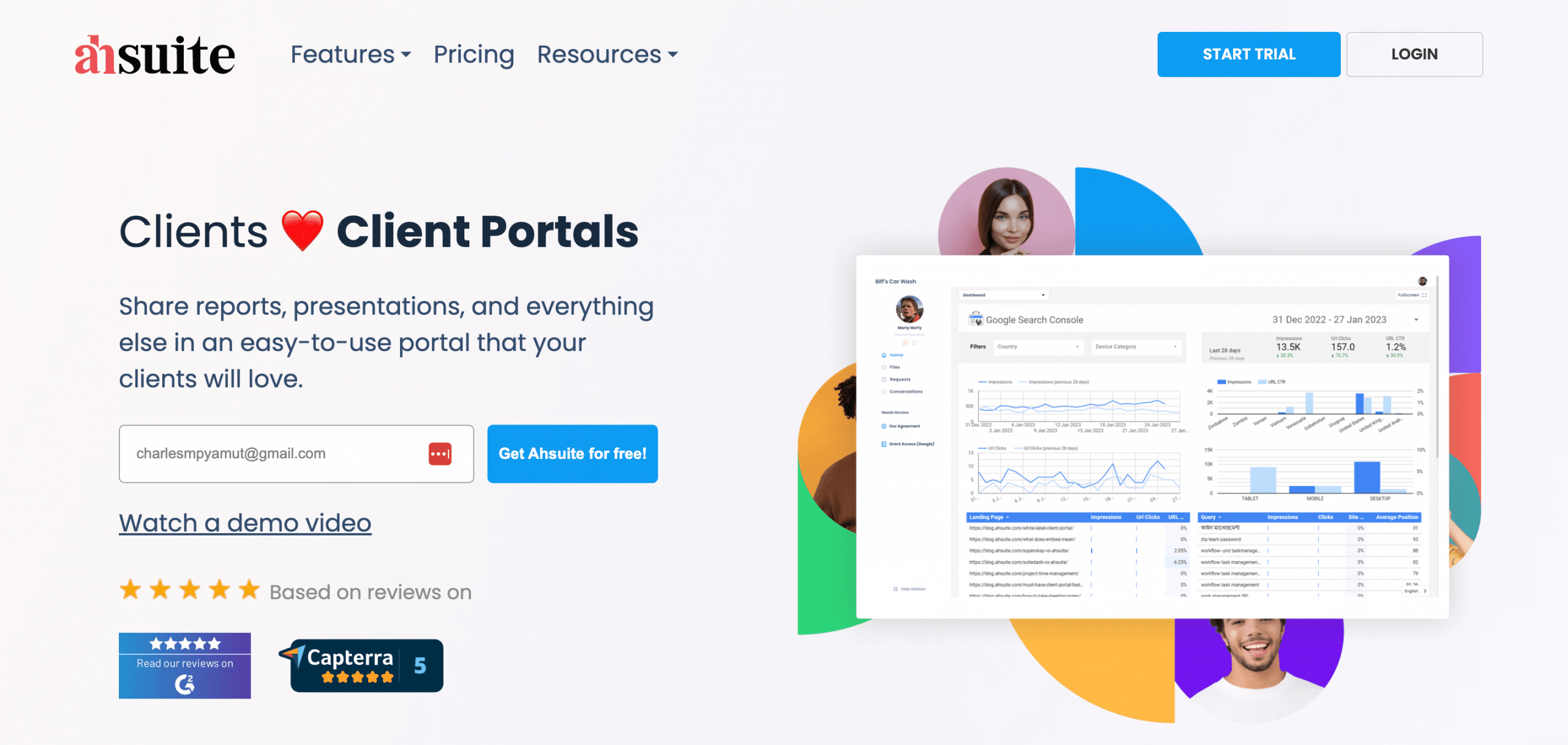 Ahsuite is renowned for its clean and minimalistic client portals and project management features, which combine task management with centralized knowledge sharing.  It is a go-to solution to streamline client interactions with a user-friendly, customizable interface.
The platform offers messaging, task and file management, and password management to enhance project management for small teams and freelancers. In addition, you can integrate other platforms by using Zapier and similar products. 
Pros:
Simple to use with blazingly fast performance.
Allows custom domain and white labeling.
Robust task management features.
Google Drive integrations support.
File management with client approvals.
Secure team password management.
Cons:
Less depth than specialist PM tools.
Rapid evolution based on feedback.
Might not be for power users.
Pricing & Plans:
Starter (Free)
Professional ($24)
Agency ($57)
Customer Ratings:
G2: 4.8 out 5 (56 reviews)
Capterra: 4.9 out 5 (19 reviews)
2. Trello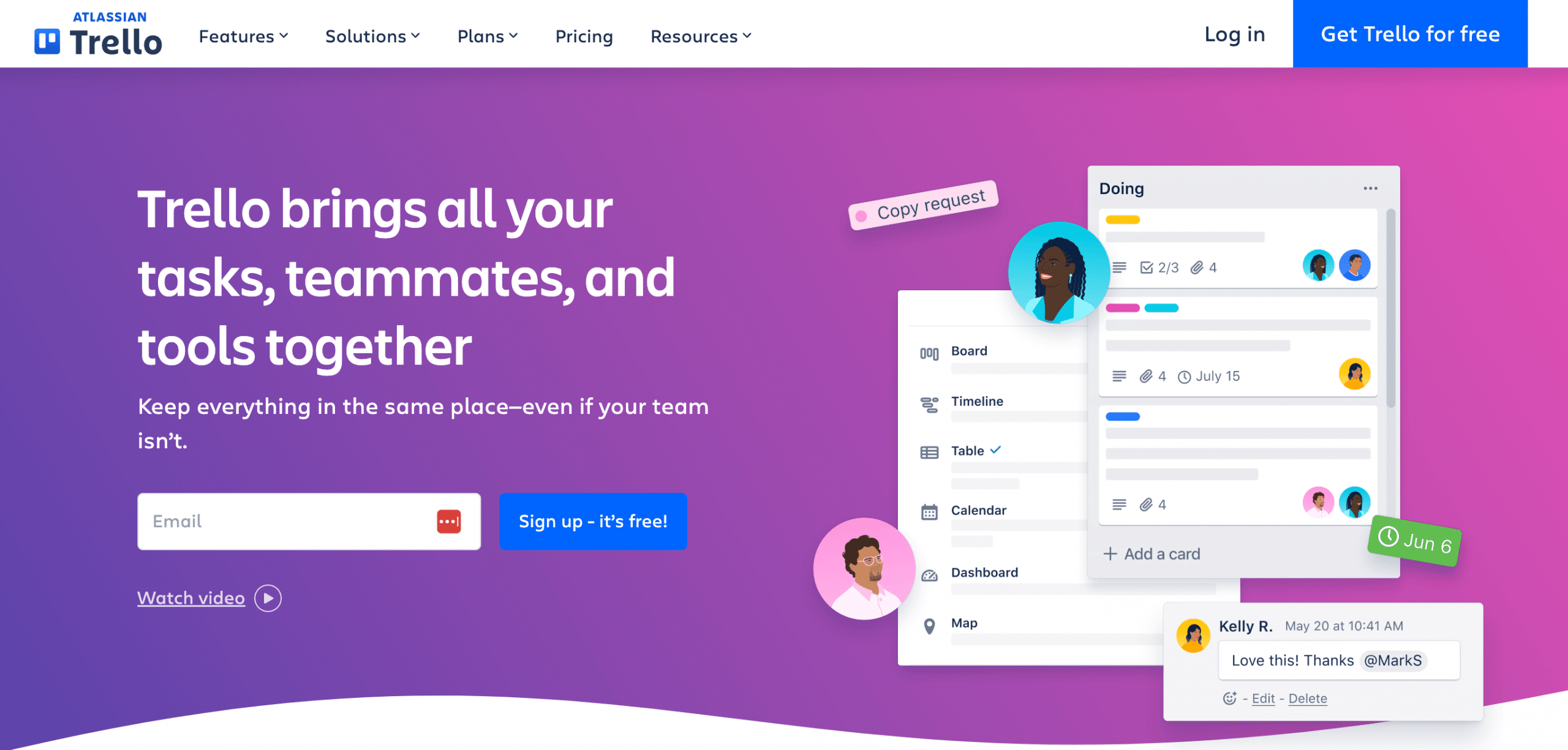 There is no doubt that Trello is a top-notch tool for project management, team collaboration, and task organization. You can hear positive reviews for its incredible efficacy in visualizing workflows and managing editorial calendars. 
In addition, this tool offers various viewing options such as board, timeline, table, calendar, dashboard, map, and workspace. It is a competitive option for teams seeking a visual, intuitive project planning and management approach.
Pros:
Effortless task administration.
User-friendly drag-and-drop functionality.
Adaptable multi-board work environment.
Aids in project visualization and streamlining.
Cons:
Limited task hierarchy levels.
Reporting and privacy settings are restricted.
The free version limits attachment size and third-party support.
Pricing & Plans:
Free
Standard ($5)
Premium ($10)
Enterprise ($17.50)
Customer Ratings:
G2: 4.4 out 5 (13442 reviews)
Capterra: 4.5 out 5 (23070 reviews)
Related: 10 Best Trello Alternatives
3. Asana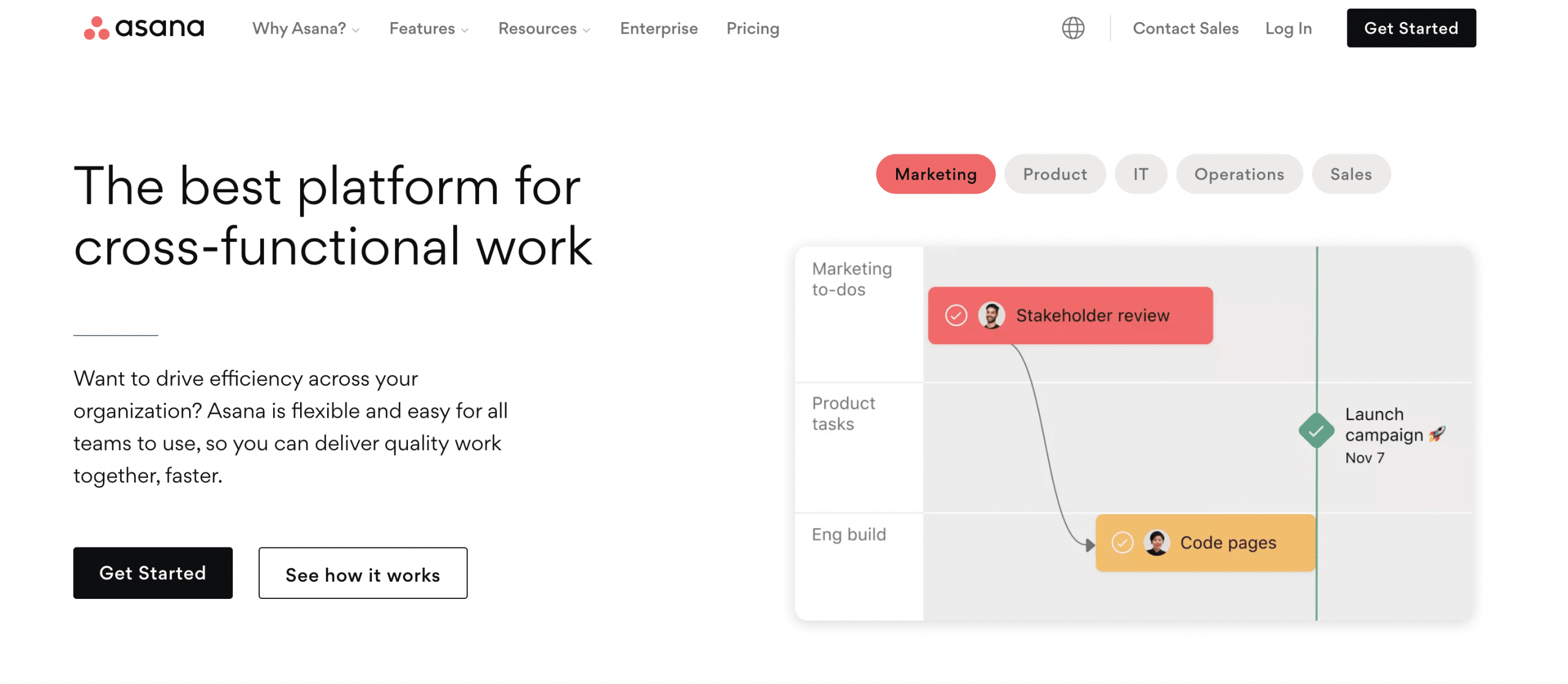 Asana can be a good option if your team needs to handle unlimited projects, streamline workflow automation, and enhance collaboration. Its strength lies in customizable workflows, making it ideal for complex, multi-departmental projects.
This tool provides multiple views, including List, Board, and Timeline, for better project oversight. Custom fields and automated notifications aid efficient management and team alignment. In addition, its time-tracking functionalities and dashboards are excellent features.
Pros:
Offers an unlimited number of projects, tasks, and storage.
Customizable task templates.
Personal "My Tasks" dashboard for each user.
The free plan accommodates up to 15 users.
Risk-free 30-day trial for Premium.
Cons:
External projects are limited to single-user assignments.
There are few data export options.
The higher initial cost for paid plans.
The time needed for software adaptation.
Pricing & Plans:
Personal (Free)
Starter ($10.99)
Advanced ($24.99)
Enterprise (Contact Sales)
Enterprise+ (Contact Sales)
Customer Ratings:
G2: 4.3 out 5 (9530 reviews)
Capterra: 4.5 out 5 (12310 reviews)
Related: 11 Best Asana Alternatives
4. Jira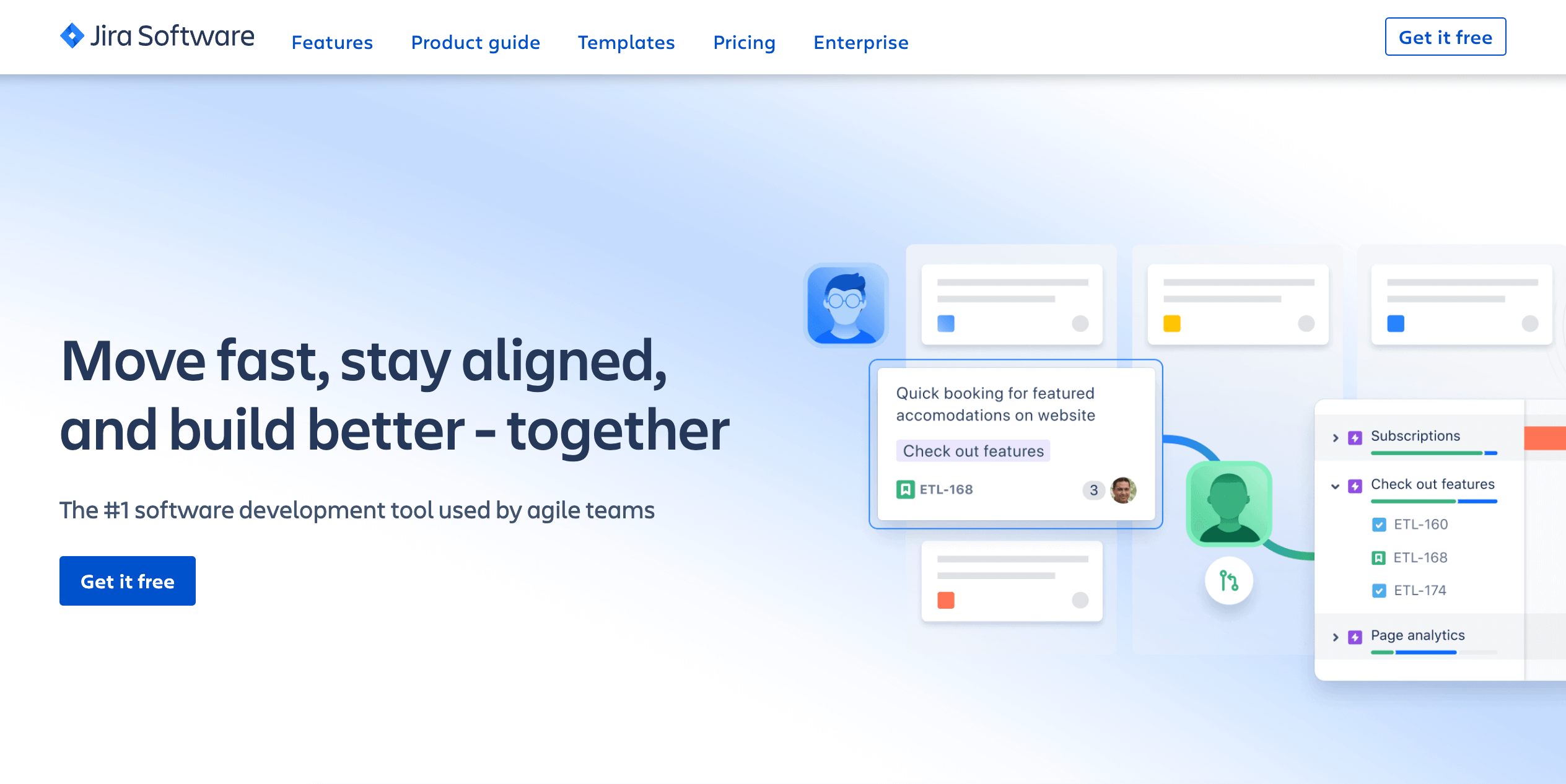 Jira is the premier choice for agile development teams, specifically in software development and bug and issue tracking. It supports Scrum, Kanban, and other agile methodologies, which is ideal for teams in the market to customize their development workflows.
This project management solution offers Agile Boards and customizable workflows, along with various timelines, advanced reports, and drag-and-drop automation for tracking. It combines autonomy and structure to keep development teams organized and productive.
Pros:
Extensive customization options.
Superior issue and task tracking.
Supports Agile core principles seamlessly.
Effective collaboration and communication tools.
Generous free plan for teams.
Cons:
Steep learning curve.
Complexity for non-software teams.
Costly for large teams and multiple projects.
Time-intensive customization requiring expertise.
Pricing & Plans:
Free
Standard ($8.15)
Premium ($16)
Enterprise
Customer Ratings:
G2: 4.3 out 5 (5635 reviews)
Capterra: 4.5 out 5 (13841 reviews)
Related: 11 Best Jira Alternatives
5. Basecamp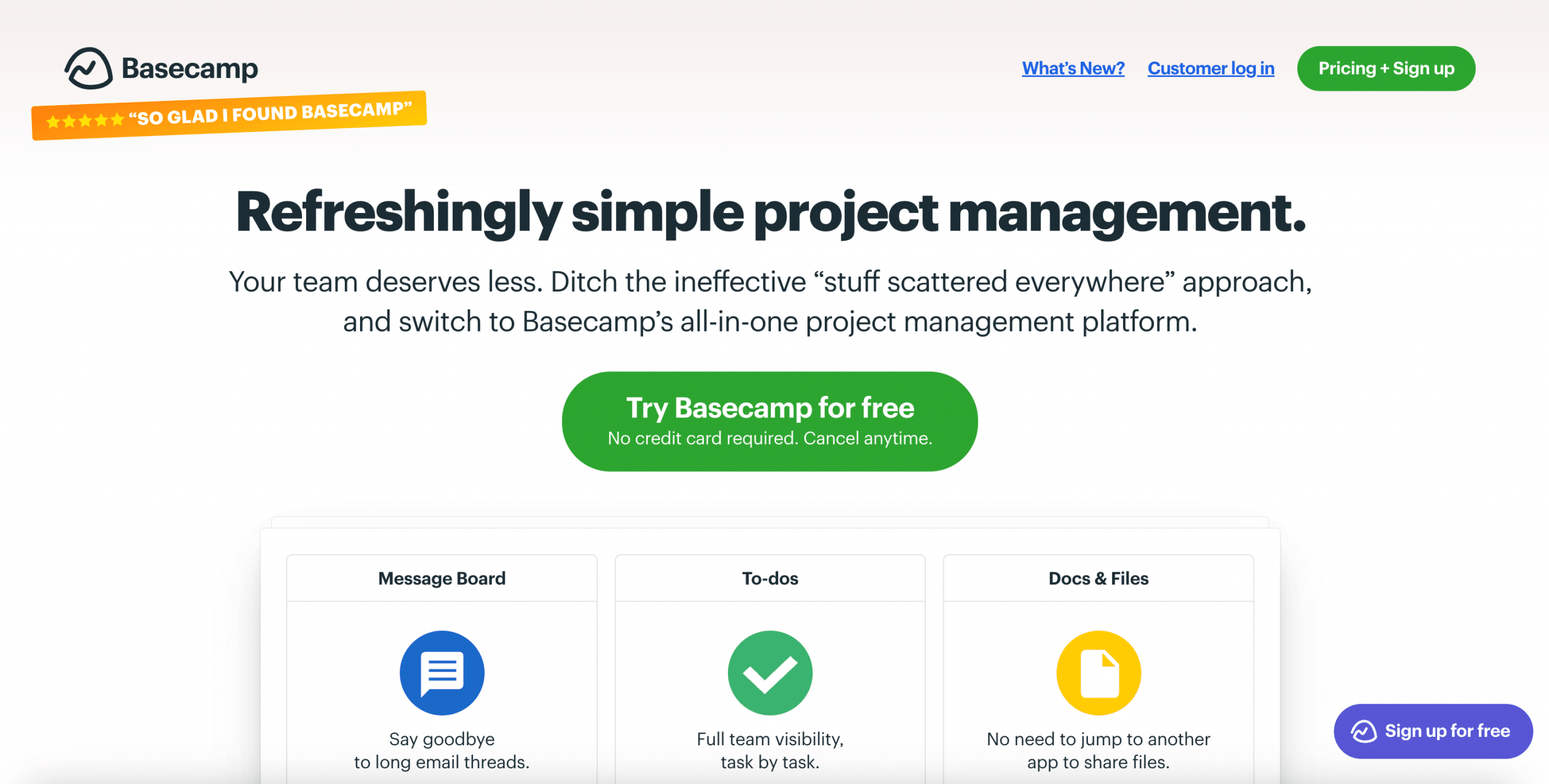 For those who need to unify their workspace (communication, tracking, and resource centralization included), you should consider getting Basecamp. It is particularly known for its practical one-stop solution for collaboration and team alignment due to its clean dashboard. 
The real-time group, chat, and scheduling features can do wonders for multifaceted team coordination, while role-based permissions and templates provide tailored project oversight. Its design is focused on maximizing productivity for a varying number of users.
Pros:
One-the-fly task and deadline tracking.
Improved communication and regular updates.
User-friendly, structured interface.
Cons:
Lacks subtask functionality.
Potential performance issues with cloud-based setup.
Unreliable mobile application.
Limited third-party app compatibility.
Pricing & Plans:
Basecamp ($15)
Basecamp Pro Unlimited ($299)
Customer Ratings:
G2: 4.1 out 5 (5261 reviews)
Capterra: 4.3 out 5 (14371 reviews)
Related: 10 Best Basecamp Alternatives
6. Wrike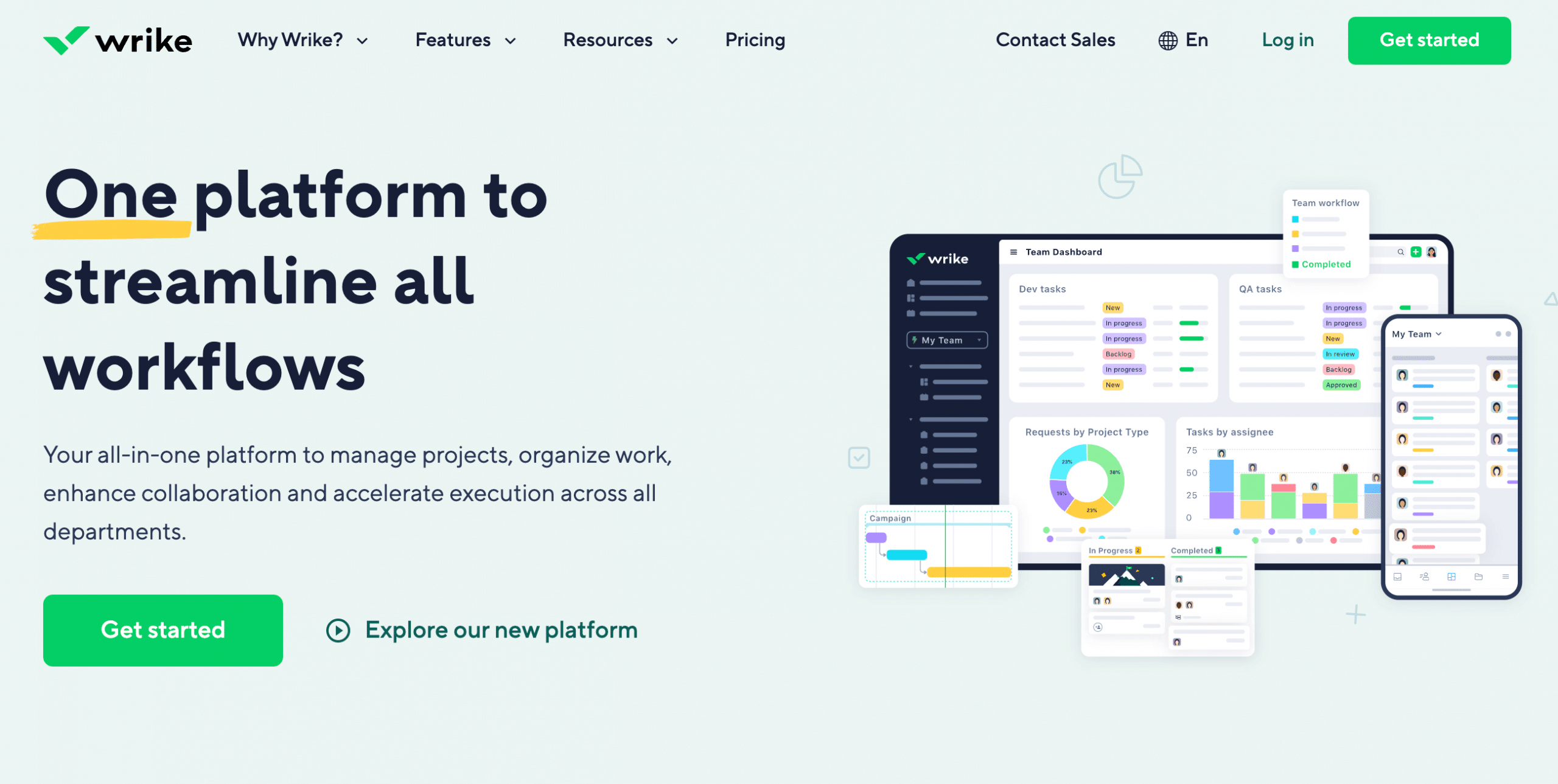 Wrike is known for the adaptability it brings to complex projects, which is achieved using customizable workflows, making it a top pick for organizations requiring a flexible solution. Wrike offers instantaneous collaboration and advanced analytics. 
This tool's most outstanding feature is its customizable dashboards and proofing, resource planning, and dynamic request forms. Its features like automation, cross-tagging, Gantt charts, and Kanban boards facilitate efficient planning and tracking.
Pros:
Diverse visualization options for projects and tasks.
Efficient use of histories and follow-ups.
Outstanding customer support.
Seamless interface for mobile and desktop.
Cons:
A centralized platform may hinder tracking.
An intensive training system may be necessary.
Limited bandwidth for large attachments.
The form builder needs UI/UX and API improvements.
Pricing & Plans:
Free
Team ($9.90)
Business ($24.80)
Enterprise (Contact Sales)
Pinnacle (Contact Sales)
Customer Ratings:
G2: 4.2 out 5 (3500 reviews)
Capterra: 4.3 out 5 (2555 reviews)
Related: 11 Best Wrike Alternatives
7. Monday.com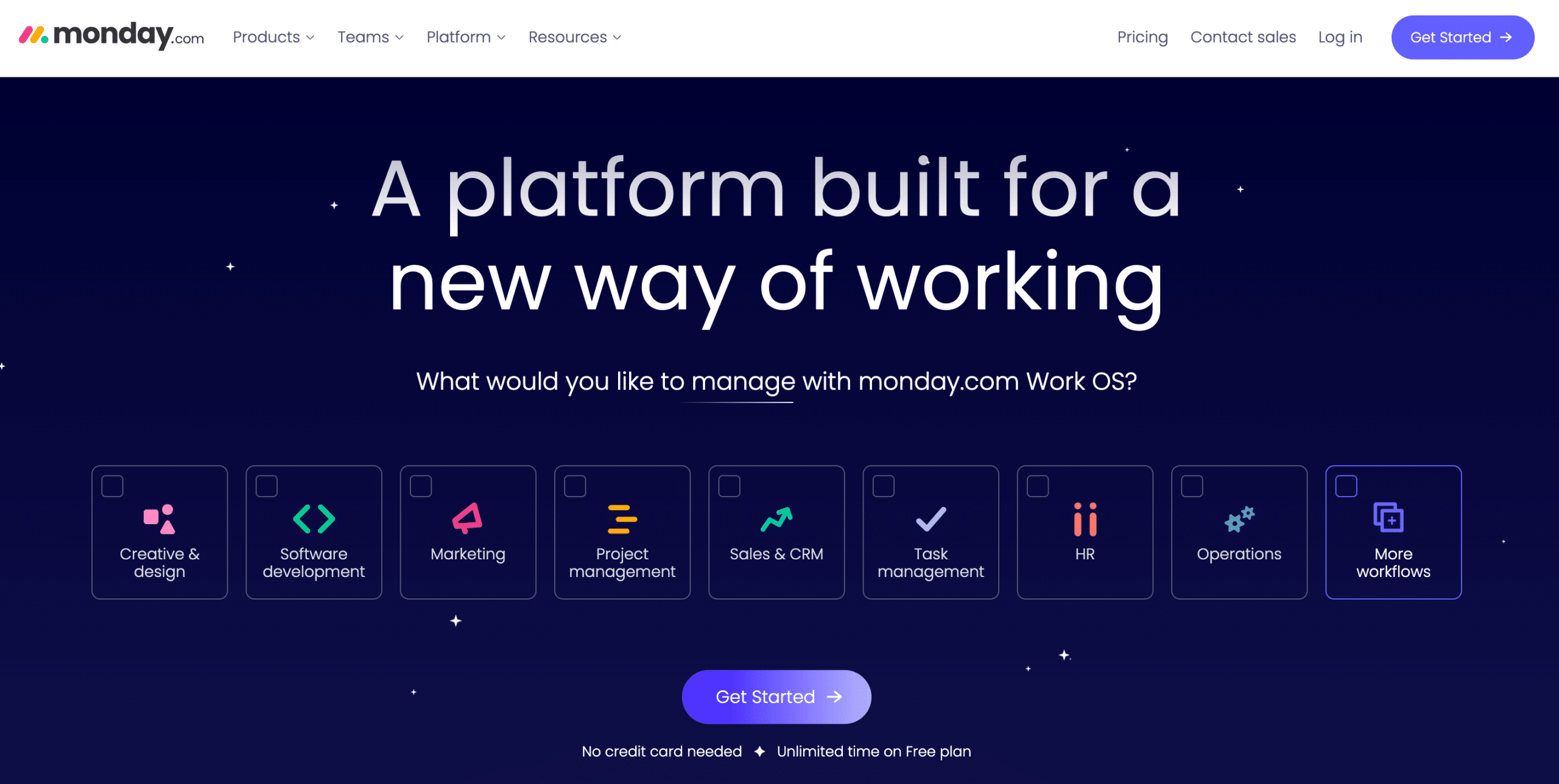 Monday.com is known for its intuitive task organization and customizable boards that can display visual data in Kanban, Gantt, and calendar views. There are collaboration options such as file sharing, commenting, mentions, and notifications to expedite project progress, 
Known as a work operating system, Monday.com offers dashboards and docs to help users navigate every project management challenge. Its features are designed to streamline progress tracking, data handling, and project execution.
Pros:
Tailored solutions for various management needs.
Collaboration tools, including a virtual whiteboard.
Five pricing options catering to diverse budgets.
24/7 customer support across all pricing tiers.
Complimentary 14-day trial for the Pro plan.
Cons:
There are heavy limits in specific plans.
It doesn't have actual task dependencies.
Restrictions on file storage space.
Pricing & Plans:
Free
Basic ($8)
Standard ($10)
Pro ($16)
Enterprise (Contact Sales)
Customer Ratings:
G2: 4.7 out 5 (9861 reviews)
Capterra: 4.6 out 5 (4492 reviews)
Related: 10 Best Monday.com Alternatives
8. Teamwork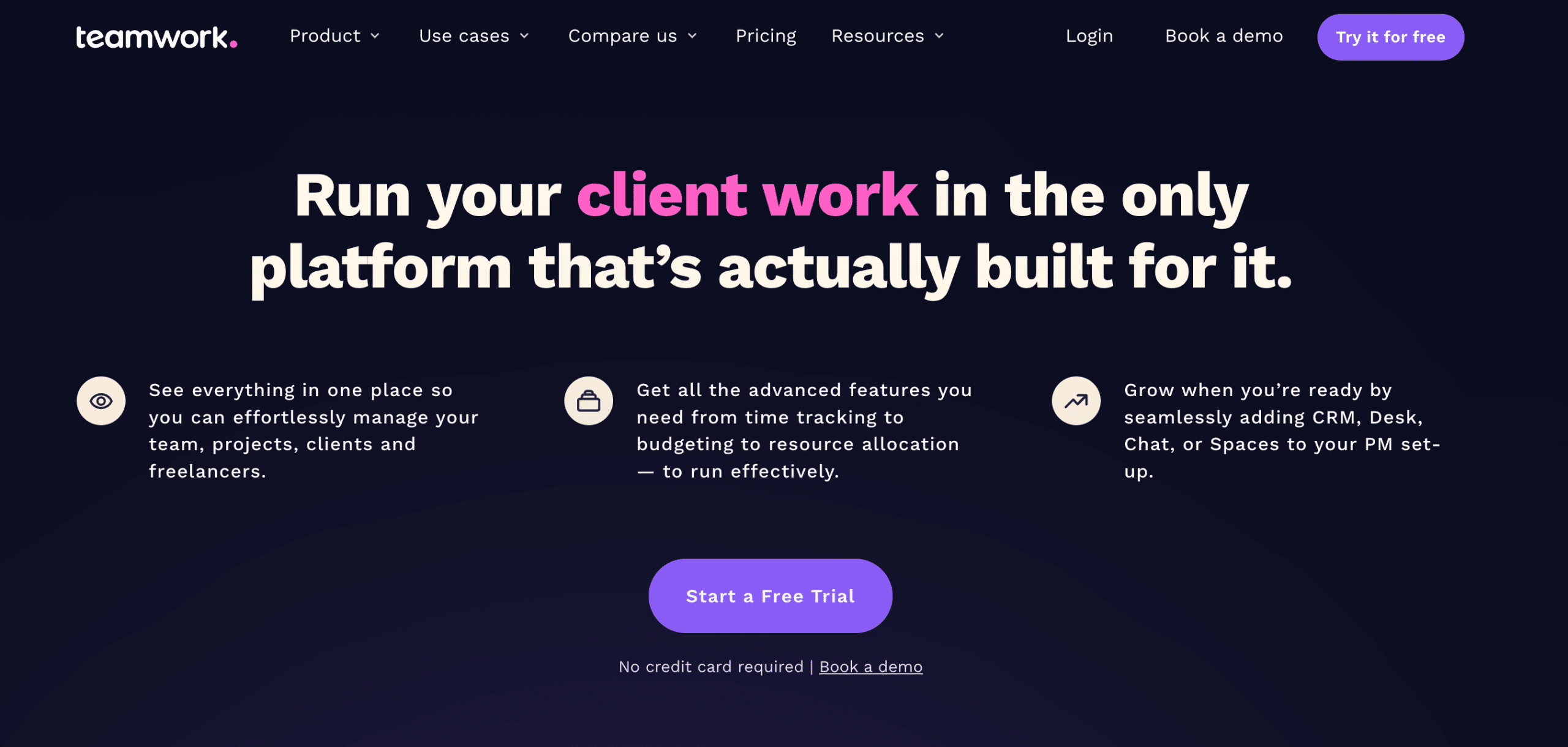 Teamwork boasts features focusing on task delegation, time tracking, and collaboration. Features like end-to-end project management, customizable templates, and client access allow project managers to manage project lifecycles efficiently.
In addition, it integrates project management with efficient time tracking and collaboration features to optimize project control. To maximize project resources, you can bet on automation, resource and workload management, milestones, intake forms, and invoicing.
Pros:
Seamlessly assigns and tracks tasks.
Suits complex project requirements.
Features time tracking and reporting.
Cons:
Chat feature may lag with high activity.
Cost considerations for smaller or budget-conscious teams.
Potential for unnecessary feature expenses.
The customization process can be complex.
Pricing & Plans:
Free
Starter ($5.99)
Deliver ($9.99)
Grow ($19.99)
Scale (Contact Sales)
Customer Ratings:
G2: 4.4 out 5 (1072 reviews)
Capterra: 4.5 out 5 (837 reviews)
9. Notion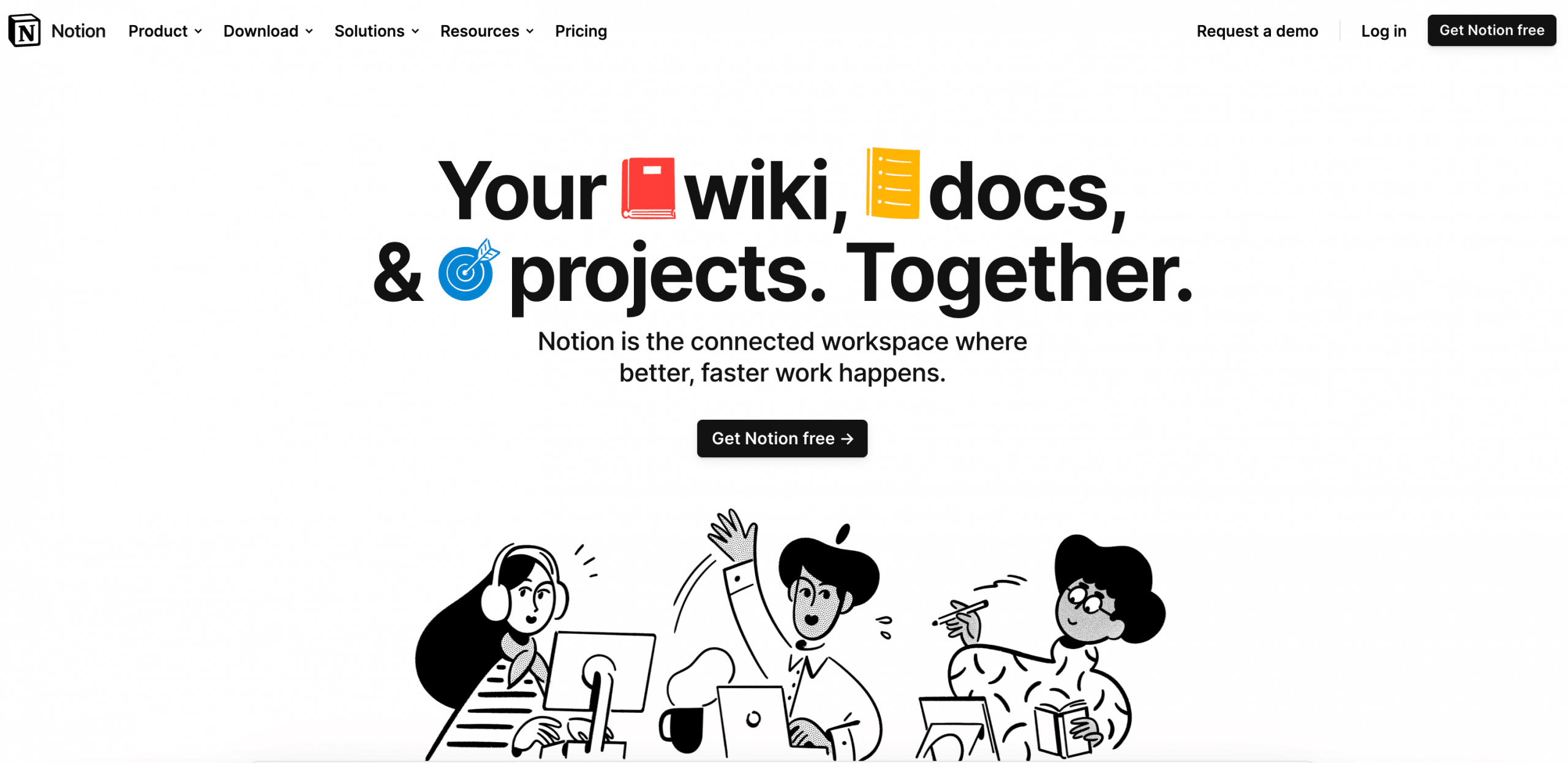 Notion specializes in comprehensive knowledge bases. This platform is an excellent option for teams and individuals with limited budgets. It facilitates task/project management, note-taking, and document storage within a collaborative working space. 
The platform includes wikis, projects, docs, and a customizable interface with robust features. Its integrated task management merges notes, tasks, and projects seamlessly. Collaboration tools and rich media integration support various project management methodologies.
Pros:
Offers database flexibility and multiple views.
Simplifies project and task initiation with templates.
Efficiently organizes notes and documents.
Updates notification aids in tracking changes.
Provides a versatile and smooth formatting experience.
Cons:
Requires internet for notes and tasks.
Complex templates may be time-consuming.
AI may slow down with large data volumes.
Pricing & Plans:
Free
Plus ($8)
Business ($15)
Enterprise (Contact Sales)
Customer Ratings:
G2: 4.7 out 5 (5014 reviews)
Capterra: 4.8 out 5 (2033 reviews)
Related: 11 Best Notion Alternatives
10. Airtable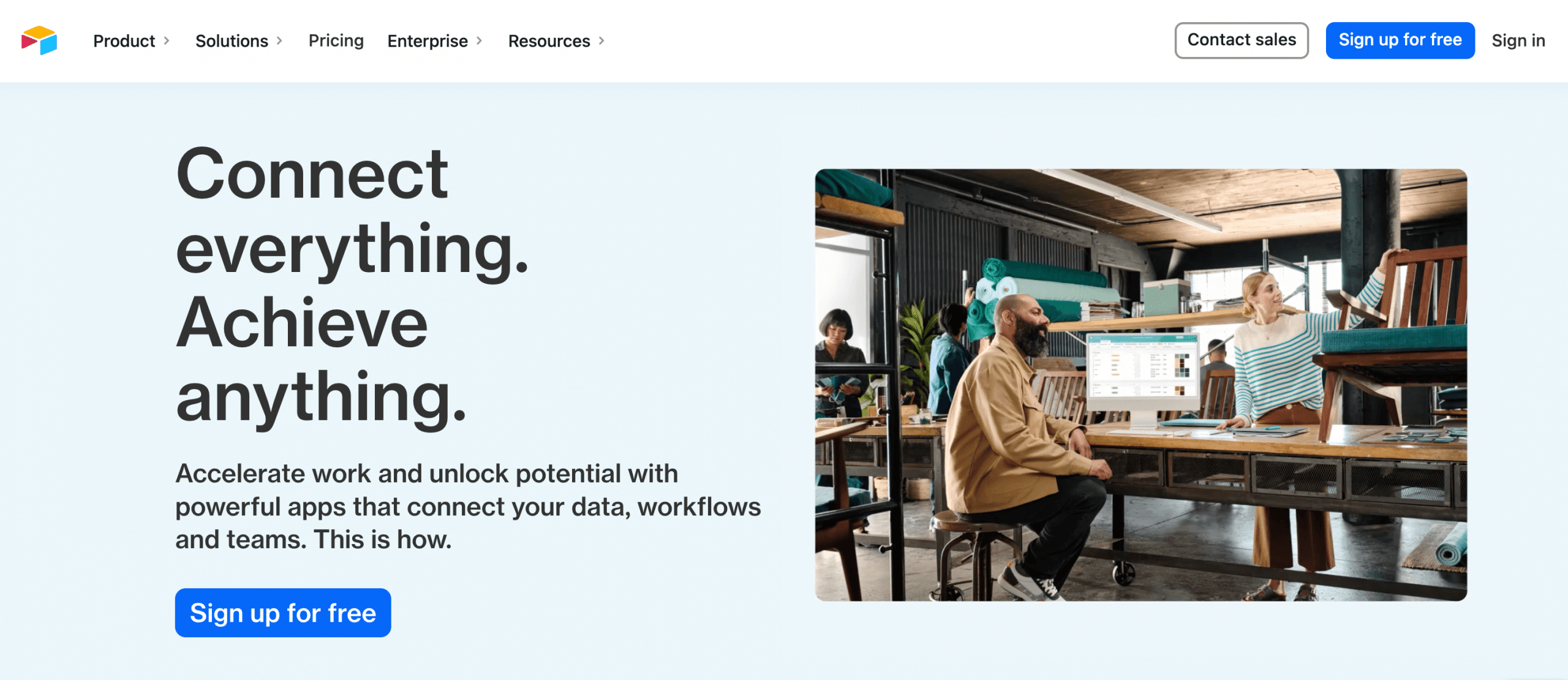 Airtable is a versatile project management tool suitable for teams needing robust tools for complex project management, inventory tracking, CRM, and event planning. Its customizable databases, data visualization, and integration make it perfect for organizing and analyzing data.
This platform centralizes product roadmap, monitors OKR progress, and provides a feedback repository. It also offers file sharing, role assignment, various view options, and reporting functionality.
Pros:
Grid and Gallery Views add unique perspectives.
Simplifies workflow and template customization.
Offers robust data management capabilities.
Cons:
Complex configuration for Calendar, Timeline, and Gantt.
Customer support could be improved.
Pricing & Plans:
Free
Team ($20)
Business ($45)
Enterprise (Contact Sales)
Customer Ratings:
G2: 4.6 out 5 (2193 reviews)
Capterra: 4.7 out 5 (1932 reviews)
Related: 11 Best Airtable Alternatives
Tips for Implementing Project Management Tools
Implementing a project management tool can revolutionize your team's work, but it can also be daunting. Here are some tips to help make the process smoother and more successful:
Suitable for small businesses: Choose a project management tool that scales with growth, essential for small businesses needing adaptable features.
Tool selection: When choosing the right project management tool, focus on user-friendliness and how well it integrates with existing systems for seamless workflow.
Tools for team efficiency: Select tools that allow efficient collaboration and communication to keep your teams productive and interconnected within a project.
Advantage of pre-built options: Utilize pre-built templates and workflows in tools to streamline project setup and execution, getting work done quickly.
Cost-effective strategies: Consider "member per month" pricing models for a cost-effective approach, especially for expanding teams.
Team collaboration: Ensure the tool allows teams to manage various project aspects easily, leveraging diverse tools and features.
Prioritizing essential features: Focus on selecting the necessary tools avoiding extraneous features to maintain a straightforward and effective management process.
Conclusion
The best project management tools offer unique features, from standard functionalities to innovative chat tools, catering to diverse business needs. Highly beneficial for marketing teams or general project management.
If you're on a budget but want a great project management app for your team, try the Ahsuite Starter Plan. You can get a free task management tool with robust client portal capabilities and no credit card is needed to register.